text in

EN, GR
Diploma thesis by Konstantina Kalomoiri & Eirini Sofikitou deals with the island of Makronissos and its heavy history, resulting in their systematic study of the historical promotion of the place.
-text by the authors
Wanting to highlight the historical landscape of the island, our main goal was to treat the battalions as historical sites without altering them and actually intervening in them. We have designed a network of corridors that connect areas of interest to each other based on important elements that characterize them, which are historical, architectural, urban and geomorphological, as well as based on the chronological order that governs them.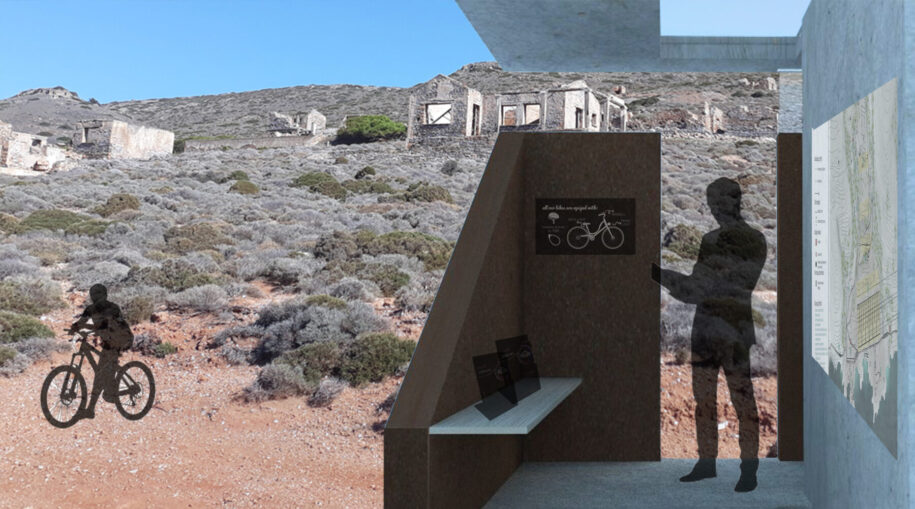 This is analyzed through our trial interventions in two categories, the first concerns a key path that connects areas of interest in their entirety, and the design of internal experiential paths in each battalion. The routes are divided into categories, the main one which is a historical route and its direction is defined by indications located on the ground, and has secondary routes that each visitor can follow freely according to his personal experiences, and the nature that crosses inaccessible places.
The second category concerns six (6) independent building volumes which are connected on the one hand through the main route located on the axis of the ravine and in extension of the bridge of new entrance to the island, and on the other hand through secondary horizontal and vertical movements. The building volumes consist of the reception, the cafe-restaurant and the administrative offices, the experiential museum, the periodical exhibition space and the amphitheater, the library and the nature-loving workshops and finally the research center of the archaeologists which includes laboratories, warehouses and hostels.
The main idea behind the project is the management of collective memory and the recruitment of history by the younger generations, who are at a distance – both temporal and emotional – from major historical events. How the idea will move from theory to practice has been a major issue in our research and design.
The experiential museum of Makronissos was designed to refer to all human senses, to provide knowledge and at the same time experience, which provokes thought, creates stimuli and conveys messages, which are presented in the most comprehensible and illustrative and original way.
Its main structure consists of the alternation of two categories of rooms, the characterized exhibits that have material to be researched, as well as the emotion rooms, which produce emotions that we have identified through the deep history of Makronissos, and are expressed through materiality depending on their background.
Facts & Credits
Project title  From the shadow to the light : a narration about Makronisos
Students  Konstantina Eleni Kalomoiri, Eirini Sofikitou
Supervisors  Stavros Gyftopoulos,  Eirini Klampatsea
Date  October 2019
Course  Diploma thesis
Institution  School of Architecture, National Technical University of Athens (NTUA)


---

Η διπλωματική εργασία της Κωνσταντίνας Καλομοίρη και της Ειρήνης Σοφικίτου, με τίτλο "Απο την σκιά στο φώς : μια αφήγηση για τη Μακρόνησο", έχει ως αντικείμενο έρευνας το νησί της Μακρονήσου και την πλούσια ιστορία του με σκοπό την ιστορική ανάδειξη του τόπου.
-κείμενου από τις δημιουργούς
Θέλοντας να αναδείξουμε το ιστορικό τοπίο του νησιού, βασικός μας στόχος ήταν να αντιμετωπίσουμε τα τάγματα ως ιστορικούς τόπους χωρίς να τους αλλοιώσουμε και να επέμβουμε ουσιαστικά σε αυτούς. Σχεδιάσαμε ένα δίκτυο διάδρομων που ενώνει τις περιοχές ενδιαφέροντος μεταξύ τους με βάση σημαντικά στοιχεία που τις χαρακτηρίζουν, τα οποία είναι ιστορικά, αρχιτεκτονικά, πολεοδομικά και γεωμορφολογία, καθώς επίσης και με βάση την χρονολογική σειρά που τα διέπουν.
Αυτό αναλύεται μέσα από τις δικές μας παρεμβάσεις σε δύο κατηγορίες, η πρώτη αφορά μια βασική διαδρομή που συνδέει τις περιοχές ενδιαφέροντος στην ολότητα τους, και τον σχεδιασμό εσωτερικών βιωματικών διαδρομών σε κάθε τάγμα. Οι διαδρομές διακρίνονται σε κατηγορίες, την κύρια που είναι ιστορική διαδρομή και ορίζεται η κατεύθυνση της από σημεία ένδειξης τοποθετημένα στο έδαφος, και διαθέτει δευτερεύουσες διαδρομές που ο κάθε επισκέπτης μπορεί να ακολουθήσει ελευθέρα σύμφωνα με τα προσωπικά του βιώματα, και την φυσιολατρική που διασχίζει δύσβατα σημεία.
Η δεύτερη κατηγορία αφορά έξι (6) ανεξάρτητους κτιριακούς όγκους οι οποίοι συνδέονται αφενός μέσω της κεντρικής διαδρομής που βρίσκεται πάνω στον άξονα της χαράδρας και σε προέκταση της γέφυρας νέας εισόδου στο νησί, και αφετέρου μέσω δευτερευόντων οριζόντιων και κατακόρυφων κινήσεων. Οι κτιριακοί όγκοι αποτελούνται από την υποδοχή, το καφέ-εστιατόριο και τα διοικητικά γραφεία, το βιωματικό μουσείο, τον χώρο περιοδικών εκθέσεων και το αμφιθέατρο, την βιβλιοθήκη και τα φυσιολατρικά εργαστήρια και τέλος το κέντρο έρευνας των αρχαιολόγων που περιλαμβάνει εργαστήρια, αποθήκες και ξενώνες.
Βασική ιδέα πίσω από το εγχείρημα είναι η διαχείριση της συλλογικής μνήμης και η πρόσληψη της ιστορίας από τις νεότερες γενιές, οι οποίες έχουν απόσταση – τόσο χρονική όσο και συναισθηματική – από τα μεγάλα ιστορικά γεγονότα. Το πώς θα προχωρήσει η ιδέα από τη θεωρία στην πράξη αποτέλεσε βασικό ζητούμενο της έρευνας και του σχεδιασμού μας.
Το βιωματικό μουσείο της Μακρονήσου, σχεδιάστηκε με στόχο να αναφερθεί σε όλες τις ανθρώπινες αισθήσεις, να προσφέρει γνώση και ταυτόχρονα εμπειρία, η οποία προκαλεί τη σκέψη, δημιουργεί ερεθίσματα και μεταφέρει μηνύματα, τα οποία έχουν παρουσιαστεί με τον πιο εύληπτο, παραστατικό και πρωτότυπο τρόπο.
Η βασική δομή του αποτελείται από την εναλλαγή δύο κατηγοριών αιθουσών, τις χαρακτηριζόμενες εκθεματικές που διαθέτουν υλικό προς έρευνα, καθώς και τις αίθουσες συναισθήματος , οι οποίες παράγουν συναισθήματα που έχουν εντοπιστεί μέσα από την βαθιά ιστορία της Μακρονήσου, και εκφράζονται μέσω της υλικότητας ανάλογα το θεματικό τους υπόβαθρο.
Στοιχεία έργου
Τίτλος εργασίας  Από την σκιά στο φώς : μια αφήγηση για τη Μακρόνησο
Φοιτητική ομάδα  Κωνσταντίνα Ελένη Καλομοίρη , Ειρήνη Σοφικίτου 
Επιβλέποντες καθηγητές  Σταύρος Γυφτόπουλος, Ειρήνη Κλαμπατσέα
Εξεταστική περίοδος  Οκτώβριος 2019
Σχολή  Τμήμα Αρχιτεκτόνων Μηχανικών, Εθνικό Μετσόβιο Πολυτεχνείο (ΕΜΠ)
READ ALSO:
Science Fiction Museum DYSTOPIA | Two supplementary Master Diploma Theses by Melina Papadopoulou & Sofoklis Binieris