text in

EN, GR
Diploma thesis by Evgenia-Winifred Dickins deals with the creation of a Centre for Creative activities and organization of events in the city of Serres, giving the opportunity to young people to create recreational and cultural groups.
-text by the author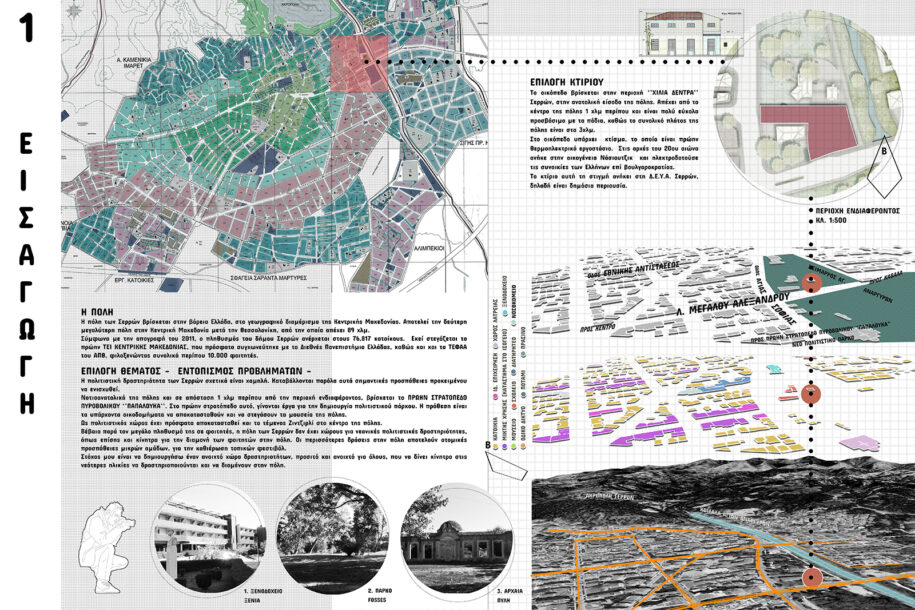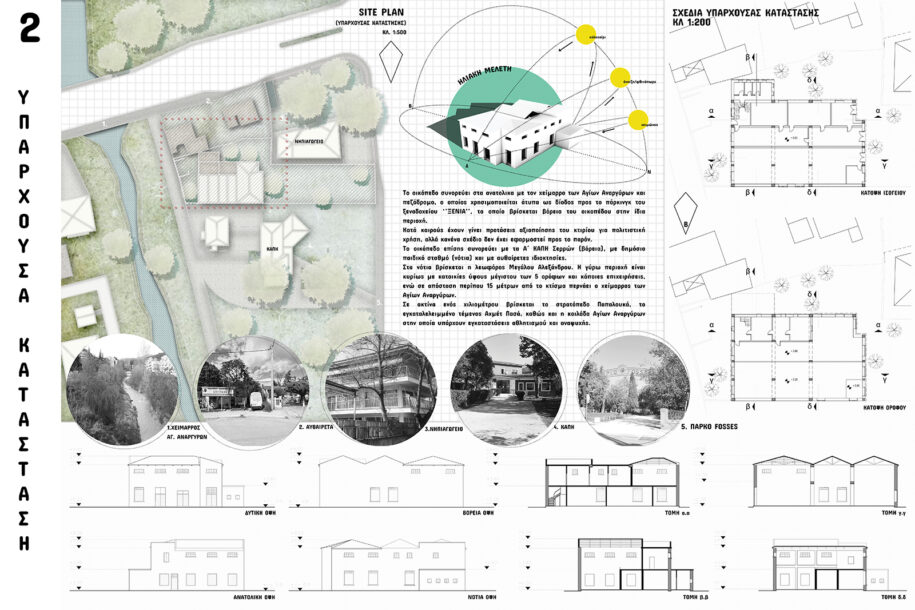 BUILDING
In the valley of Serres and not far from the city center, there is a building of historical importance, which is abandoned. Its initial use was a power plant, donated by the Nasiudzik family, for the power supply of the Greeks of the city during the Bulgarian occupation (1913). The building currently belongs to the municipality.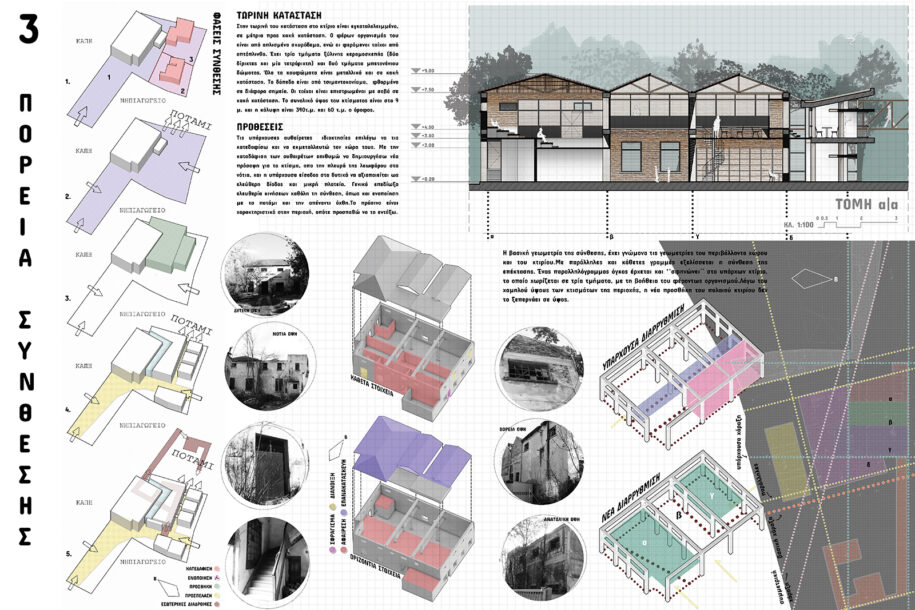 It is adjacent on the east with the torrent of Agioi Anargyroi and a pedestrian street, which is used informally as a passage to the parking lot of the hotel "XENIA", which is located north of the plot in the same area. The site is also adjacent with an Elderly Home (north), with a public kindergarten (south) and with arbitrary properties. To the south is Megalou Alexandrou Avenue.
From time to time proposals have been made for the use of the building for cultural use, but no plans have been implemented so far.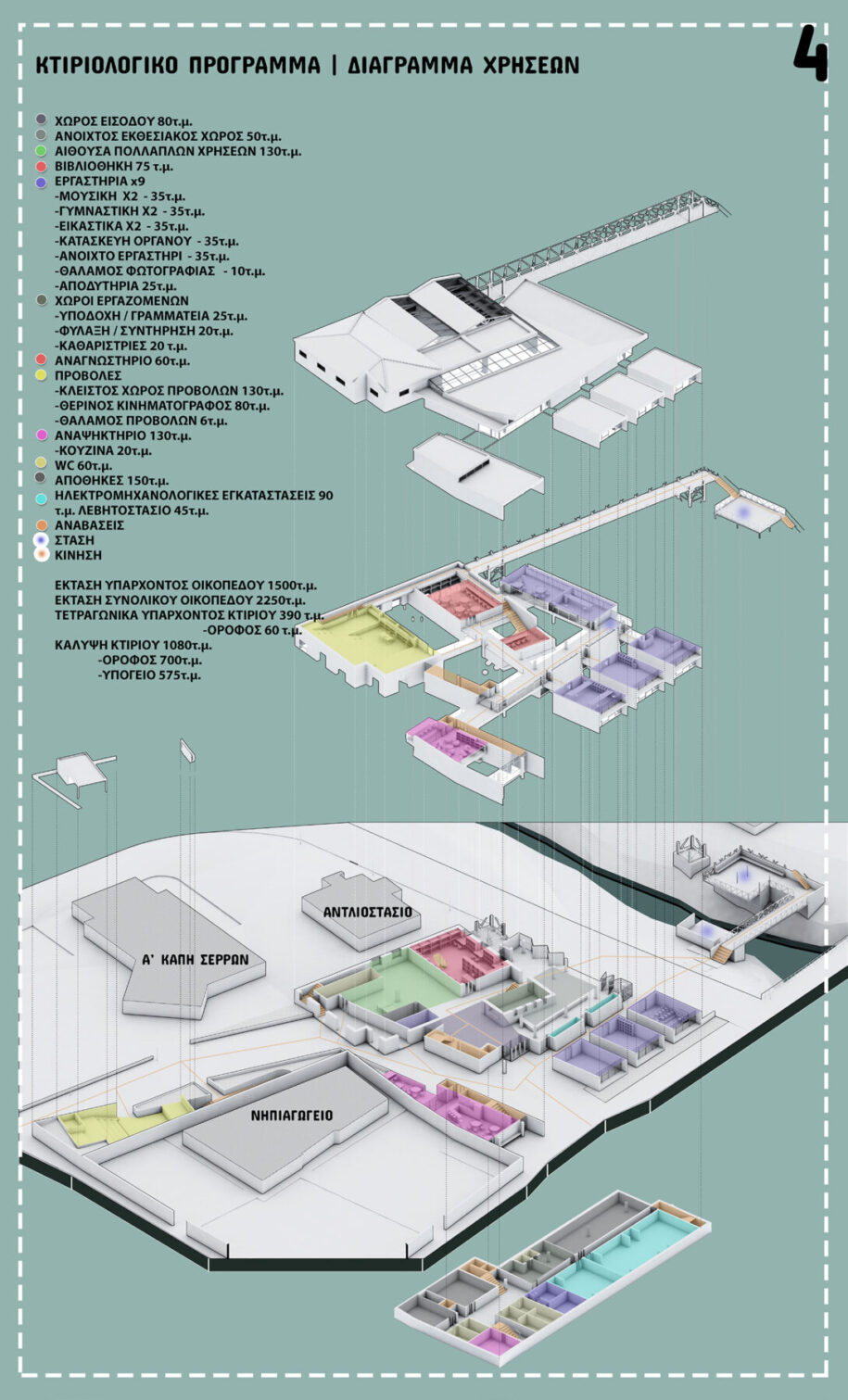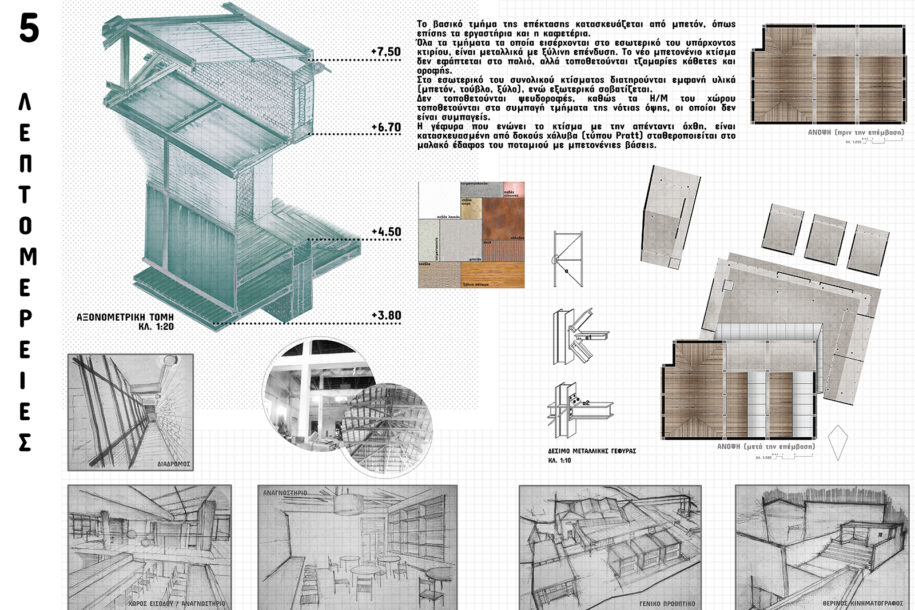 TROUBLESHOOTING
One of the shortcomings of the city is that of cultural activity, especially among young people and students who are always looking for opportunities to find a way out.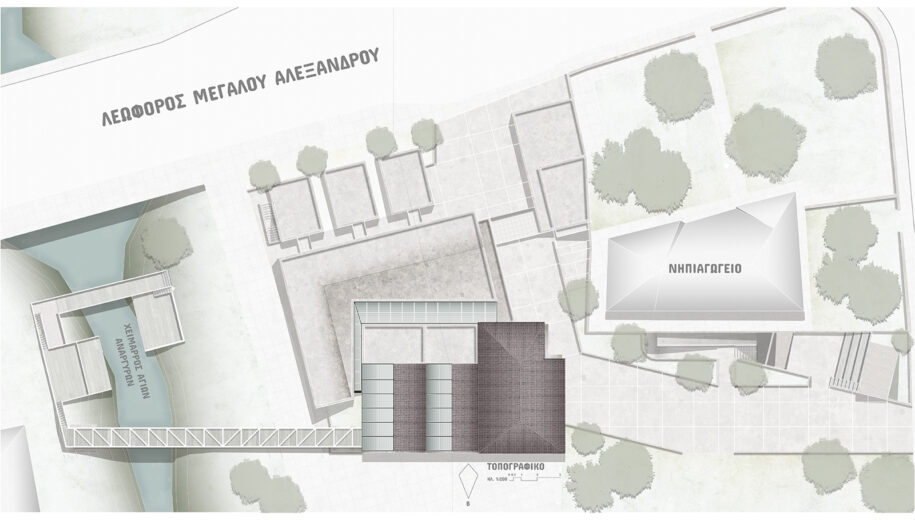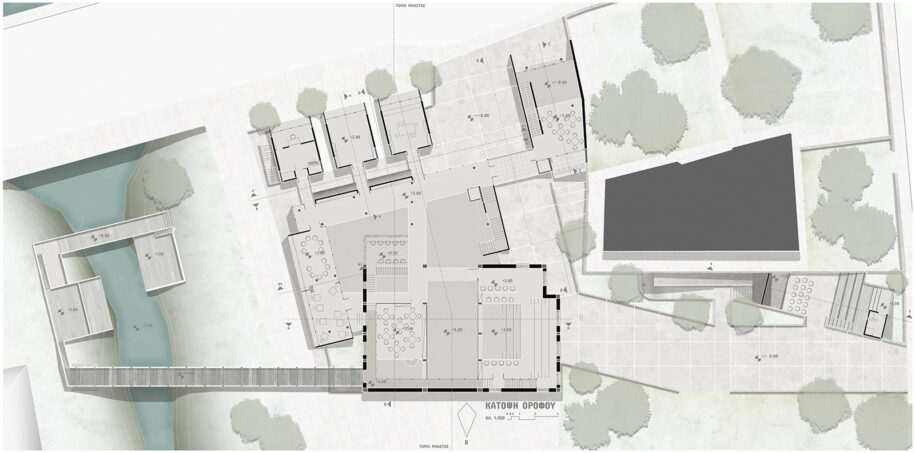 Nevertheless, significant efforts are being made to strengthen it. Southeast of the city and at a distance of about 1 km from the area of ​​interest, is the FORMER ARTILERY CAMP "PAPALOUKA". Currently, architects are working on creating a Cultural park on the site of the former army camp.
The purpose of the composition is to create a Centre for Creative activities and organization of events, giving the opportunity to young people to create recreational and cultural groups.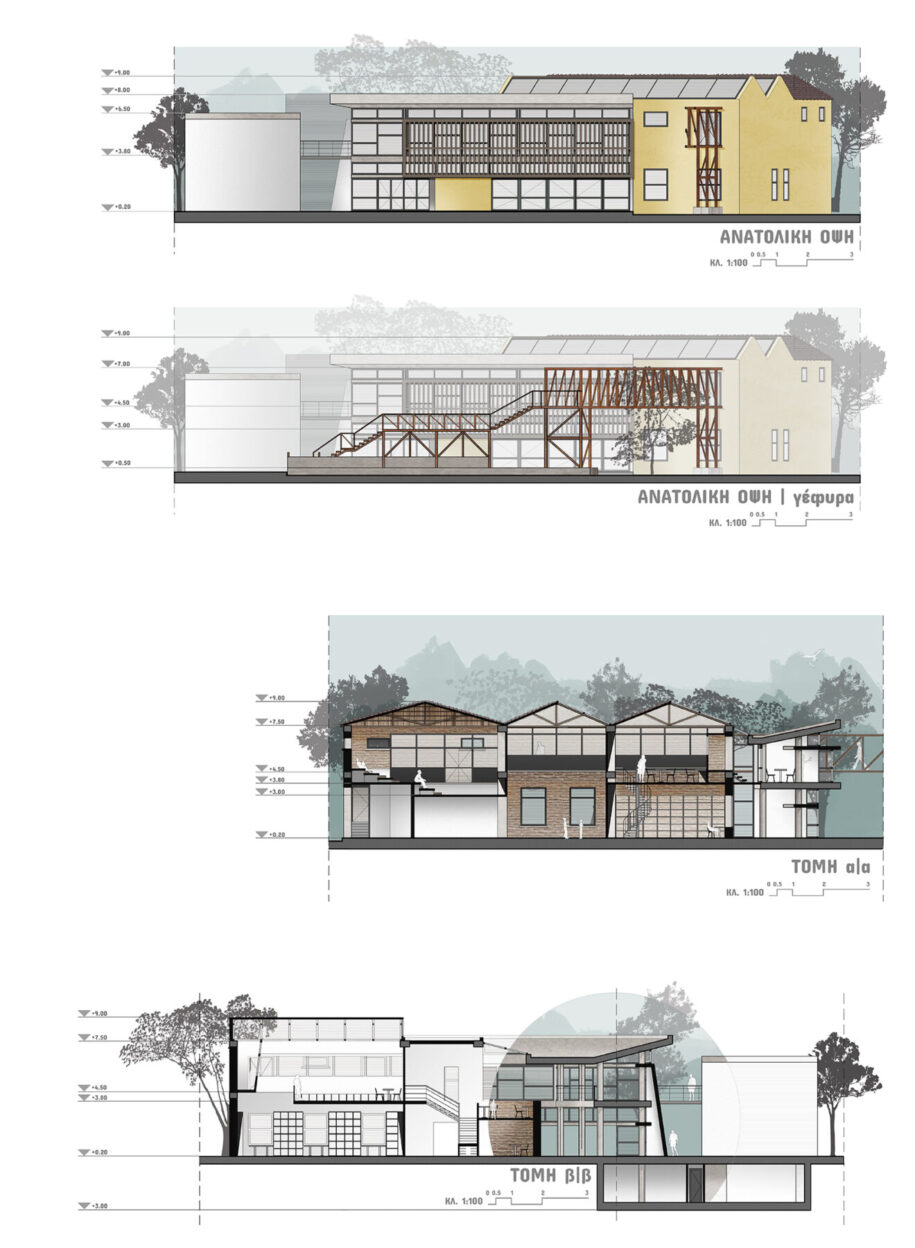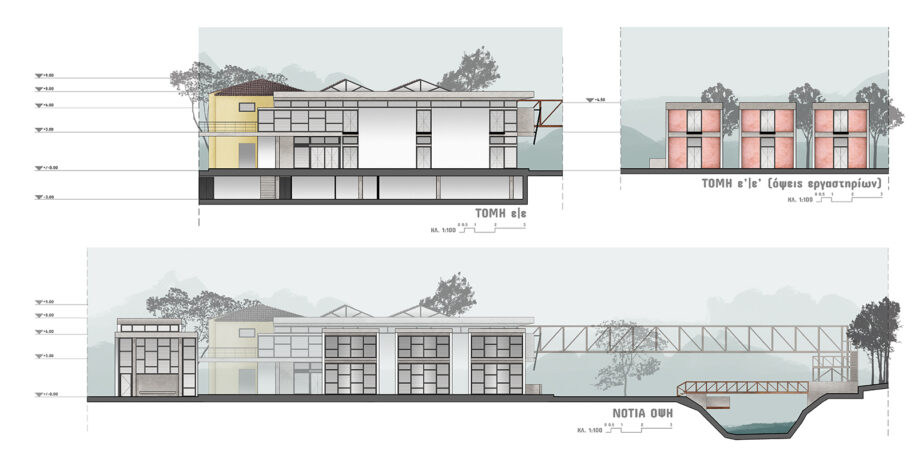 CURRENT CONDITION OF THE BUILDING
In its current state the building is abandoned, in moderate to poor condition. Its load-bearing body consists of concrete, while the load-bearing walls are made of brick. It has three sections of wooden tiled roof (two two-pitched and one four-pitched) and two sections of concrete roof. All frames are metal and in poor condition. The floor is made of cement mortar, worn in various places. The walls are plastered in poor condition. The total height of the building is 9m and the coverage is at 390sq.m. and 60 sq.m. the first floor.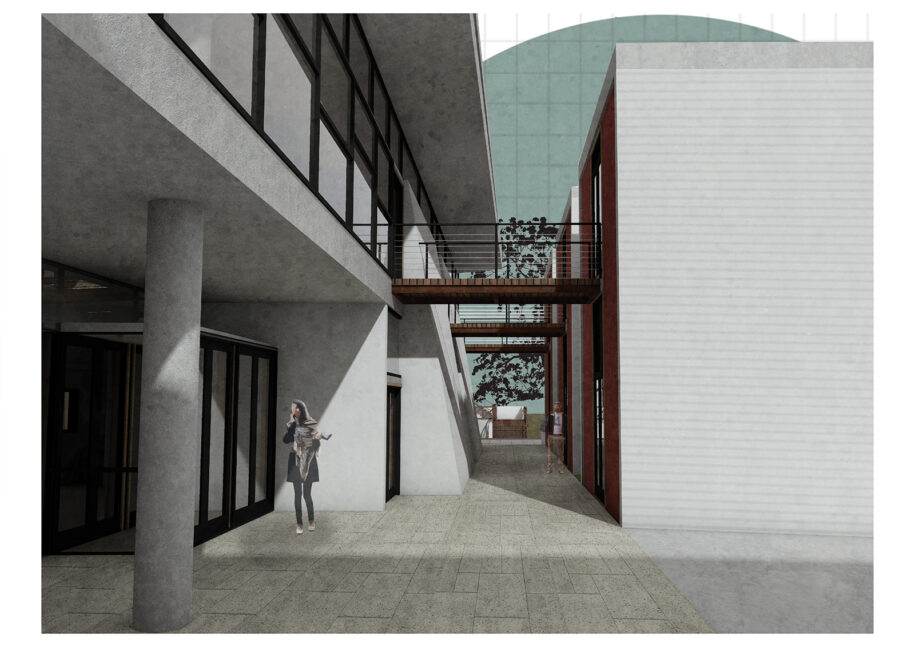 I choose to demolish the existing arbitrary properties and take advantage of their space and creating a new facade for the building, and the existing entrance to the west will be used as a free passage and a small square.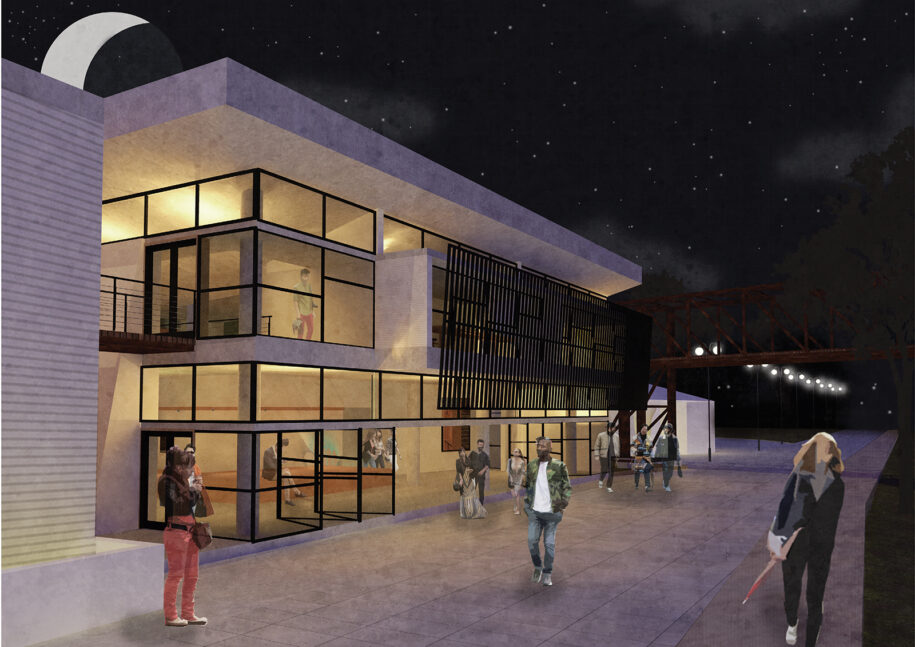 Facts & Credits
Project title  Centre for Creative activities in the city of Serres 
Student  Evgenia-Winifred Dickins 
Date  June 2020
Course  Diploma thesis
Supervisors  Eleni Amerikanou, Georgios Papagiannopoulos, Panagiotis Kokkoris
Institution  School of Architecture, Democritus University of Thrace


---

Η διπλωματική εργασία της Ευγενίας-Γουίνιφρεντ Ντίκινς ασχολείται με την επανάχρηση ενός πρώην θερμοηλεκτρικού εργοστασίου, που βρίσκεται στη κοιλάδα των Σερρών αποτελώντας δωρεά της οικογένειας Νάσιουτζικ για την ρευματοδότηση των Ελλήνων της πόλης επί Βουλγαροκρατίας, και τη μετατροπή του σε Κέντρο Δημιουργικής Απασχόλησης και οργάνωσης εκδηλώσεων με σκοπό τη δημιουργία ομάδων ψυχαγωγίας και δραστηριοτήτων στη περιοχή.
-κείμενο από τη δημιουργό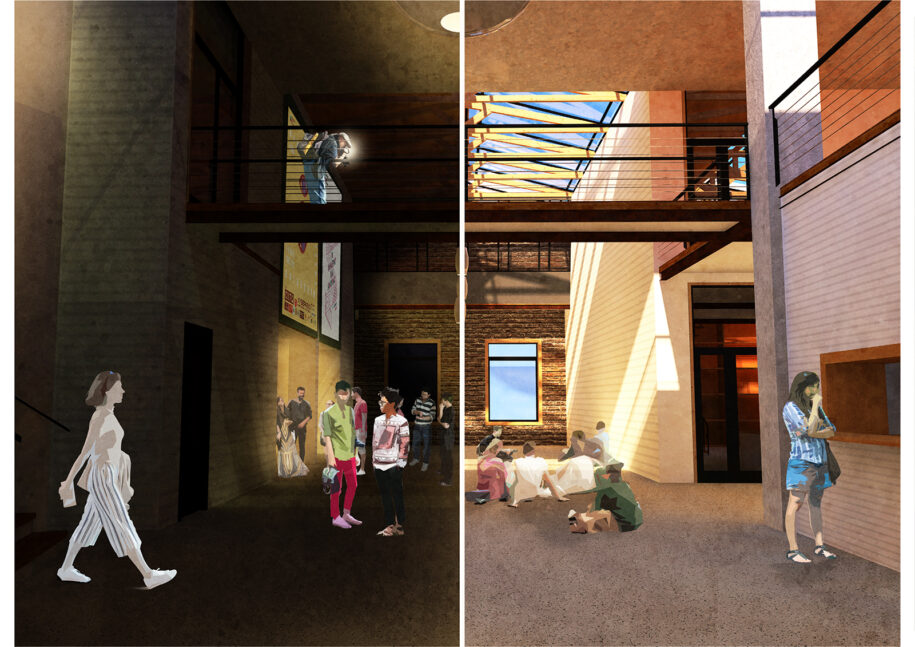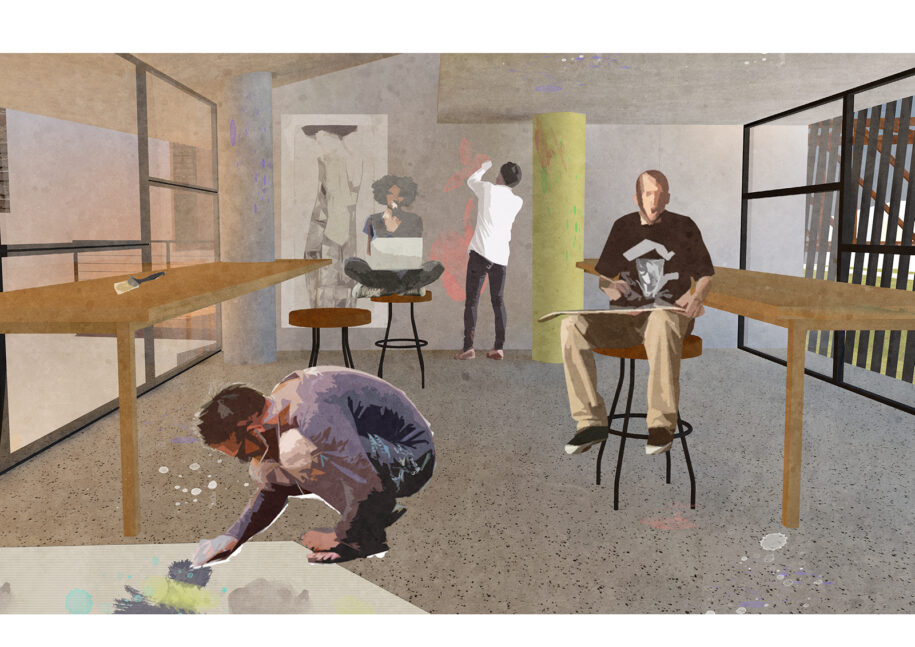 Στην κοιλάδα των Σερρών και όχι πολύ μακρυά από το κέντρο της πόλης, υπάρχει ένα κτίριο ιστορικής σημασίας, το οποίο είναι σε εγκατάλειψη. Η αρχική του χρήση ήταν θερμοηλεκτρικό εργοστάσιο, δωρεά της οικογένειας Νάσιουτζικ, για την ρευματοδότηση των Ελλήνων της πόλης επί Βουλγαροκρατίας.
Μία από τις ελλέιψεις της πολής είναι αυτή της πολιστικής δραστηριότητας και δημιουργικής απασχόλησης, ιδιαίτερα ανάμεσα στους νέους και φοιτητές οι οποίοι πάντα ψάχνουν ευκαρίες διεξόδου.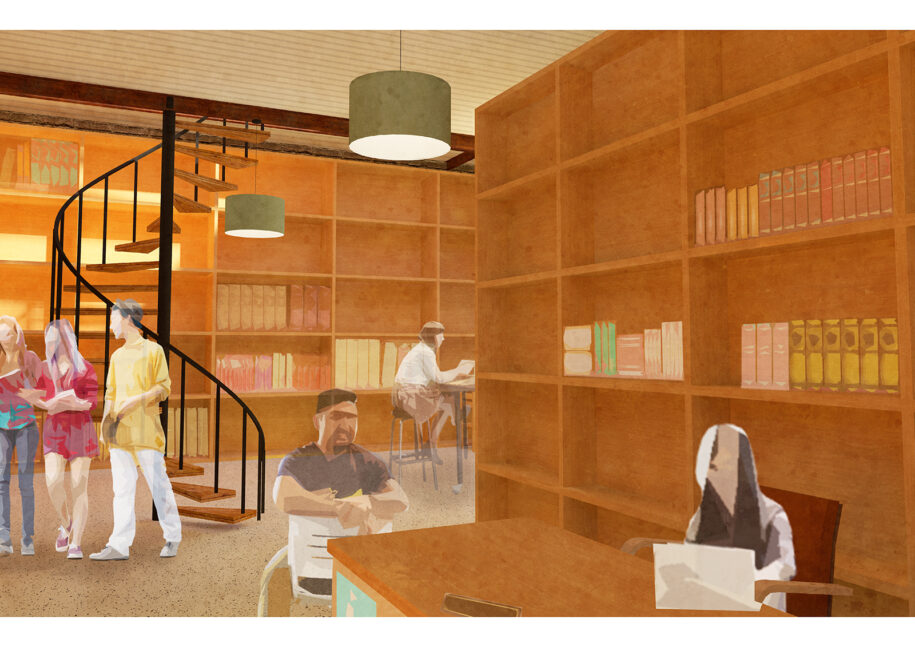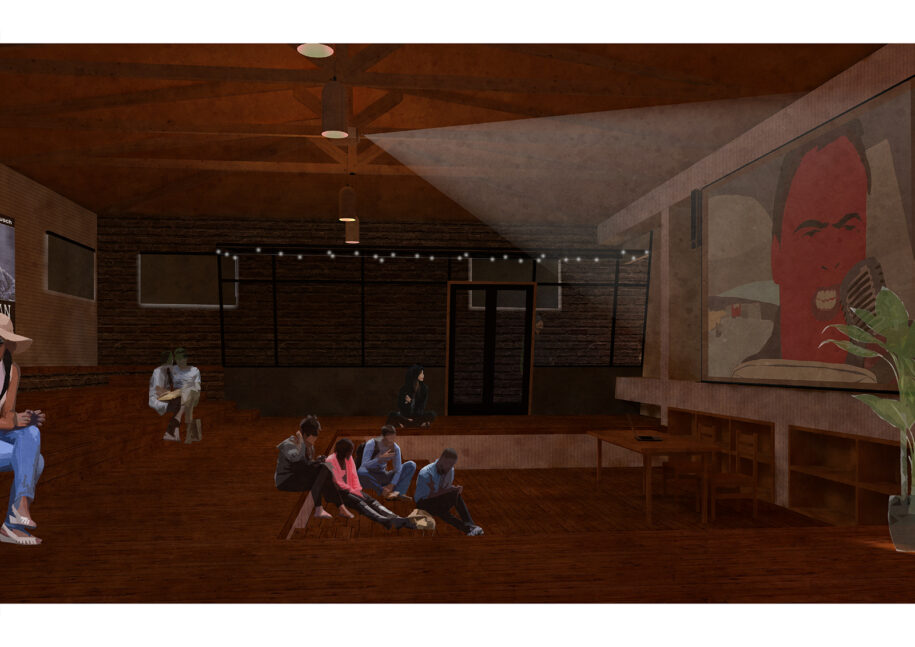 Σκόπος της σύνθεσης είναι η δημιουργία ένος Κέντρου Δημιουργικής Απασχόλησης και οργάνωσης εκδηλώσεων  έτσι ώστε να δίνεται η ευκαιρία σε νέα άτομα να δημιουργούν ομάδες ψυχαγωγίας και δραστηριοτήτων.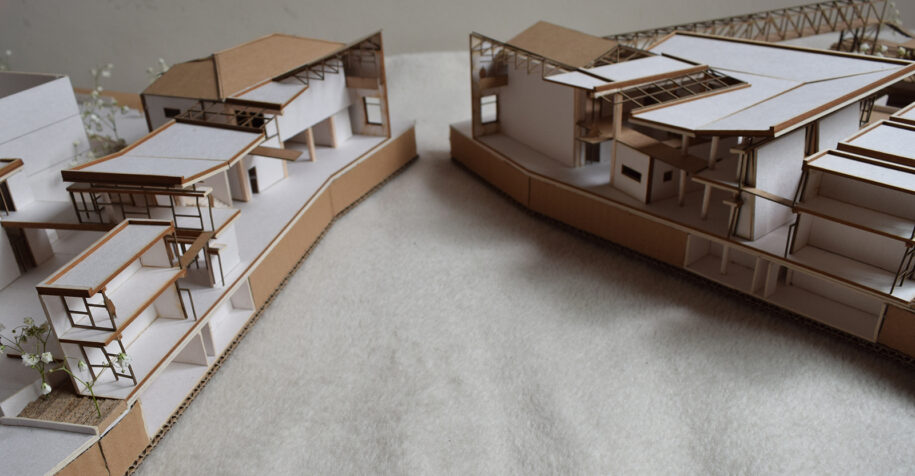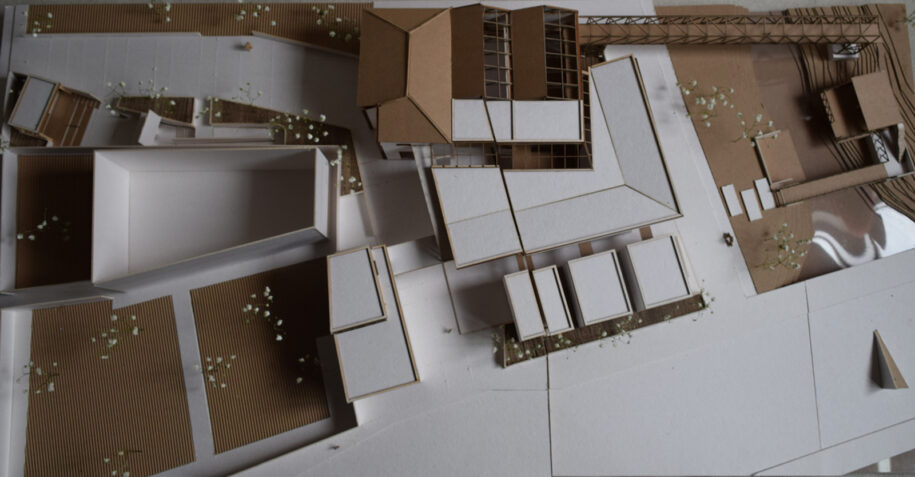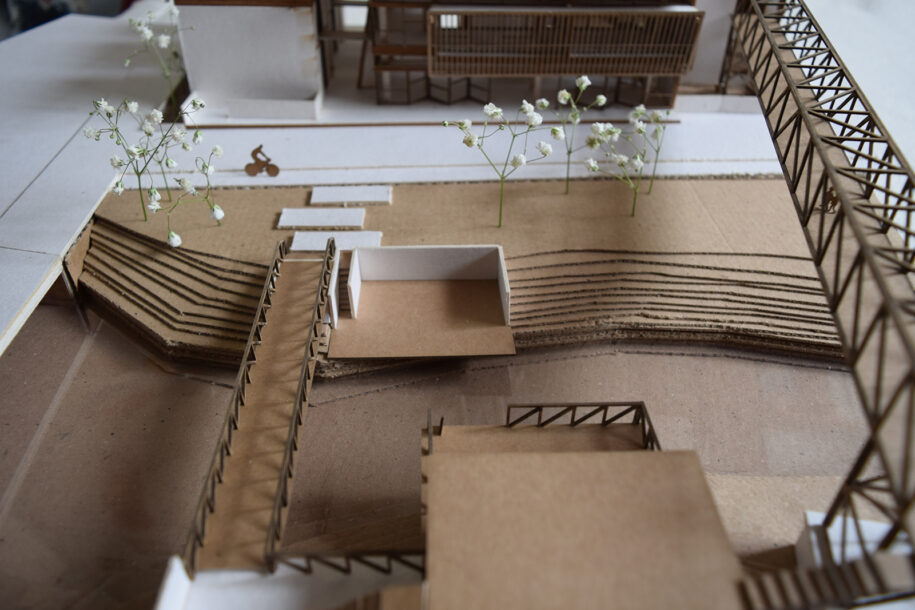 Στοιχεία έργου
Τίτλος εργασίας  Κέντρο Δημιουργικής Απασχόλησης στη πόλη των Σερρών
Φοιτήτρια  Ευγενία-Γουίνιφρεντ Ντίκινς
Εξεταστική περίοδος  Ιούνιος 2020
Μάθημα  Διπλωματική εργασία
Επιβλέποντες καθηγητές  Ελένη Αμερικάνου, Γεώργιος Παπαγιαννόπουλος, Παναγιώτης Κοκκόρης
Σχολή  Τμήμα Αρχιτεκτόνων Μηχανικών, Δημοκρίτειο Πανεπιστήμιο Θράκης
READ ALSO:
Ανεστραμμένες Τοπογραφίες στον θηραϊκό τόπο | Διπλωματική εργασία από την Αληγιάννη Δωροθέα, τον Μήτση Ιωάννη και τη Μίχου Μαρία