text in

EN, GR
Amalgama architects designed a pharmacy store, located in a central street of the historic center in Ioannina, holding a design approach that aims to emphasize on spatial qualities such as the airiness, the light and the height of the space.
–text by the architects
The upper part of pharmacy's street façade was initially covered, thus making the space quite dark. In order to allow more light into the space, the façade was altered fully glass.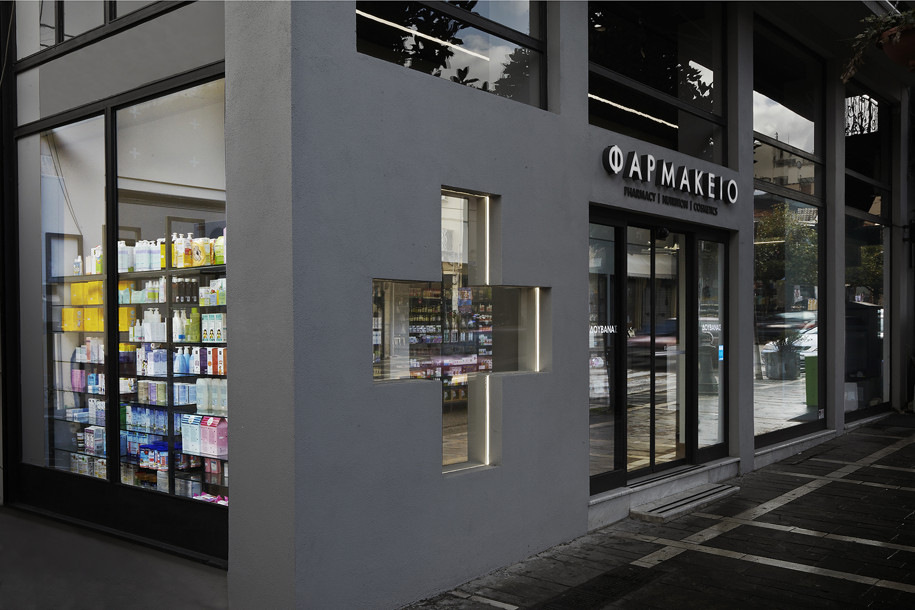 The new façade creates a large store front right on the street level while revealing the inner space of the pharmacy and allowing every sunbeam to shine brightly in.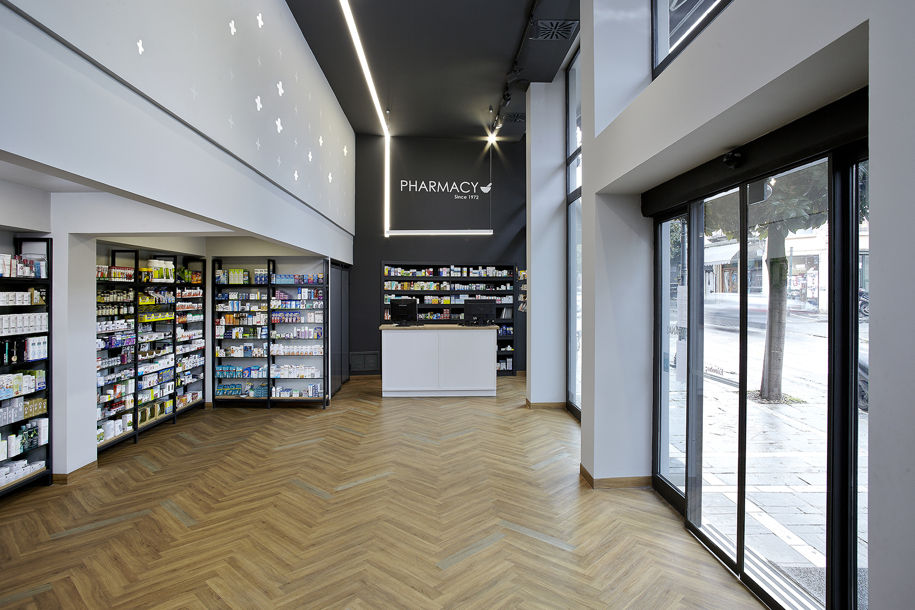 The overall aesthetic and the lights are consistent to a minimalistic aspect. The wooden floor softens the lightness of the space and adds to the store's atmosphere, as it combines the nostalgia of the fishbone motif with the contemporary new character of the space. The dividers – a combination of metal and glass with the semi-transparent texture – maintain a necessary privacy, while allowing the light to enter due to translucency. Furthermore, the grey metallic display furniture of moderate height showcases the products in a modern and minimalistic way. White walls contrasting the dark grey ceiling and furniture complete the overall aesthetic.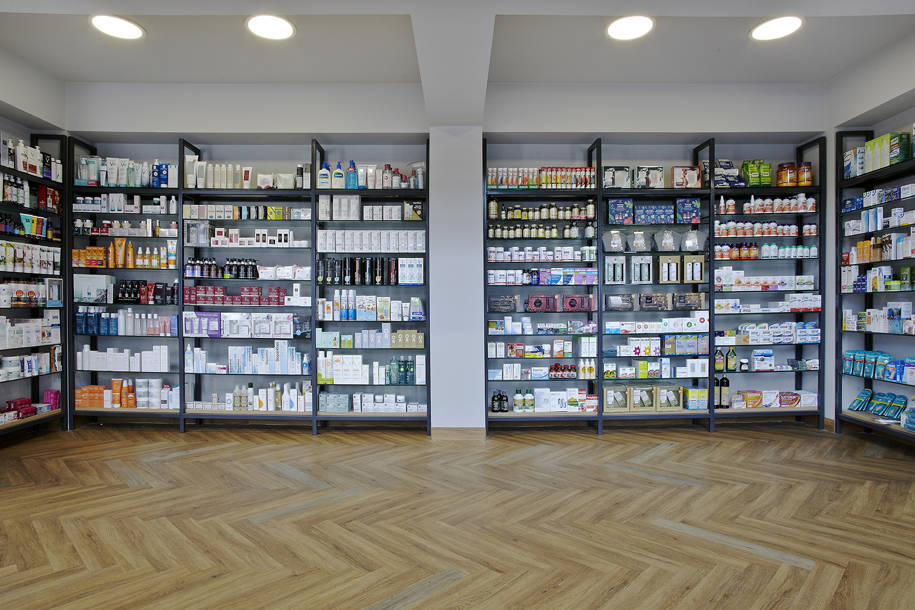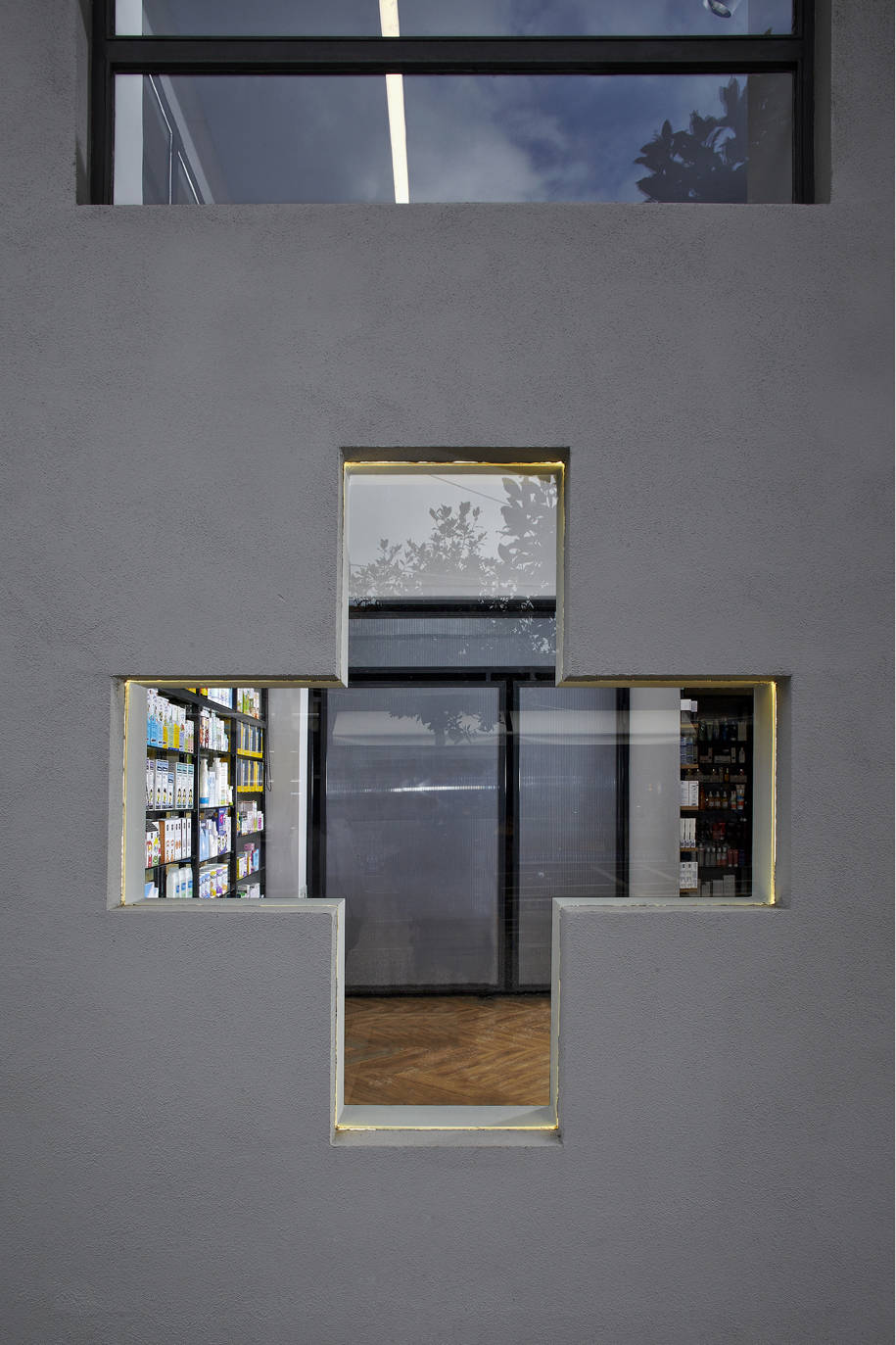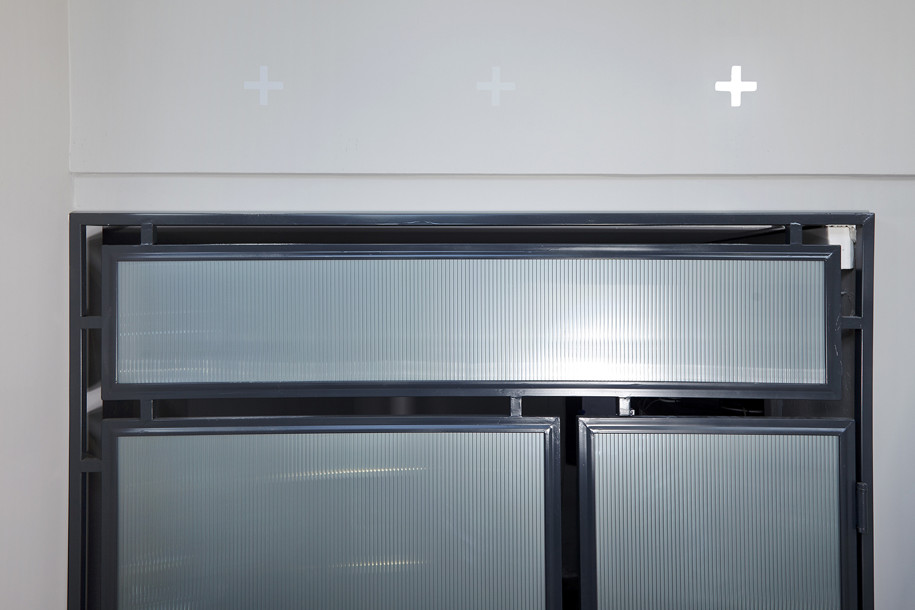 The pharmacy is designed with emphasis on details. The selection of the lighting elements was essential for the overall atmosphere.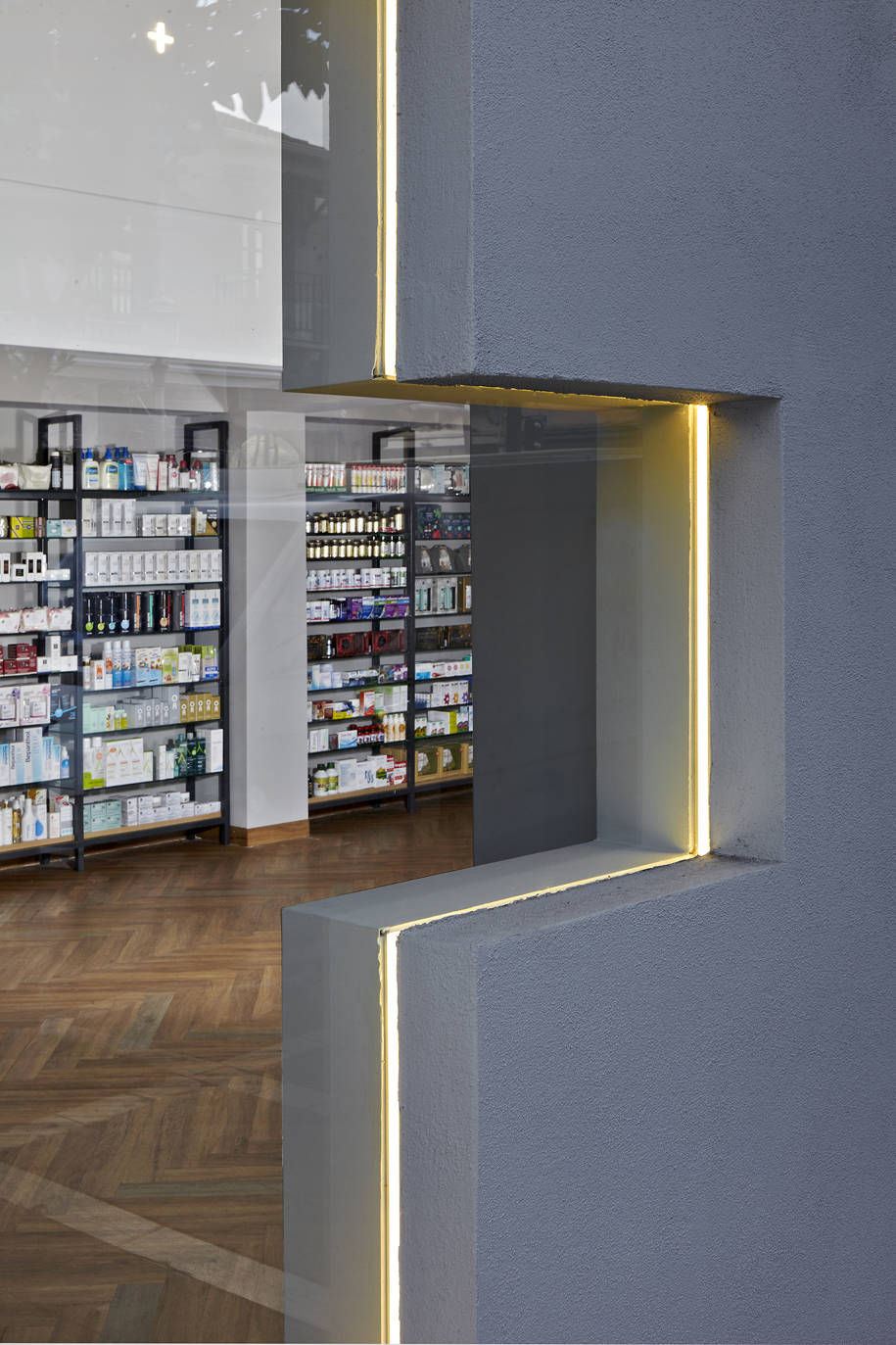 The unique detail of the façade -the cross illuminated window structure- the linear light which continues to the vertical elements of the space and the cross lights on the front façade while entering the pharmacy, constitute the main illumination elements of the design.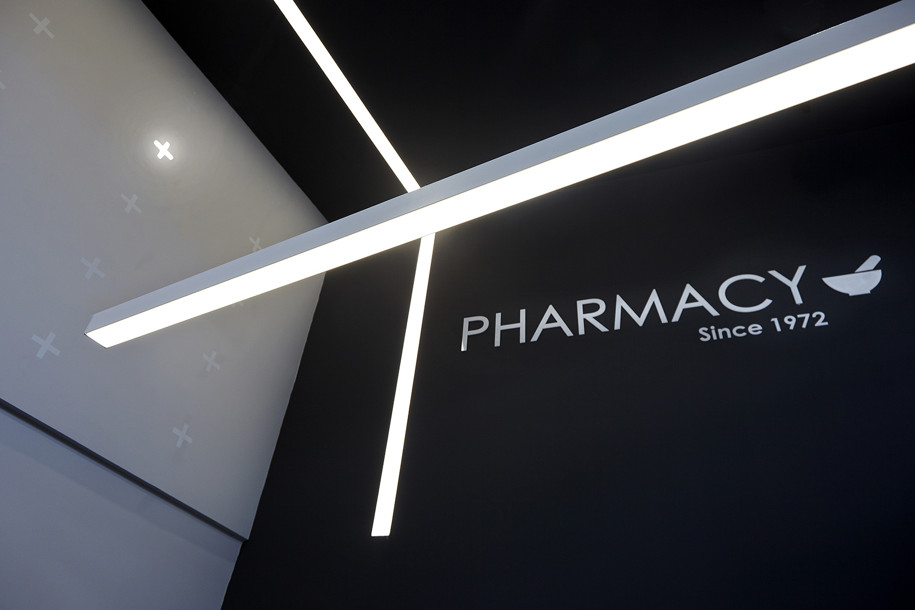 Facts & Credits
Architectural design  Amalgama Architects
Construction  Amalgama Architects
Project type  Pharmacy
Location  Ioannina, Greece
Area  48.80 m2
Completion time  2018
Photography  Yannis Zindrilis
---

Το αρχιτεκτονικό γραφείο Amalgama architects σχεδίασε ένα φαρμακείο, σε έναν κεντρικό δρόμο του ιστορικού κέντρου της πόλης των Ιωαννίνων, θέτοντας ως ζητούμενο του σχεδιασμού την ανάδειξη χωρικών αξιών όπως η διαπερατότητα, το φως και το ύψος του χώρου.
–κείμενο από τις αρχιτέκτονες
Το άνω τμήμα της τζαμαρίας του φαρμακείου ήταν αρχικά καλυμμένο, κάνοντας τον χώρο αρκετά σκοτεινό. Για να εισέλθει περισσότερο φως στον χώρο το τμήμα αυτό αντικαταστάθηκε με γυαλί.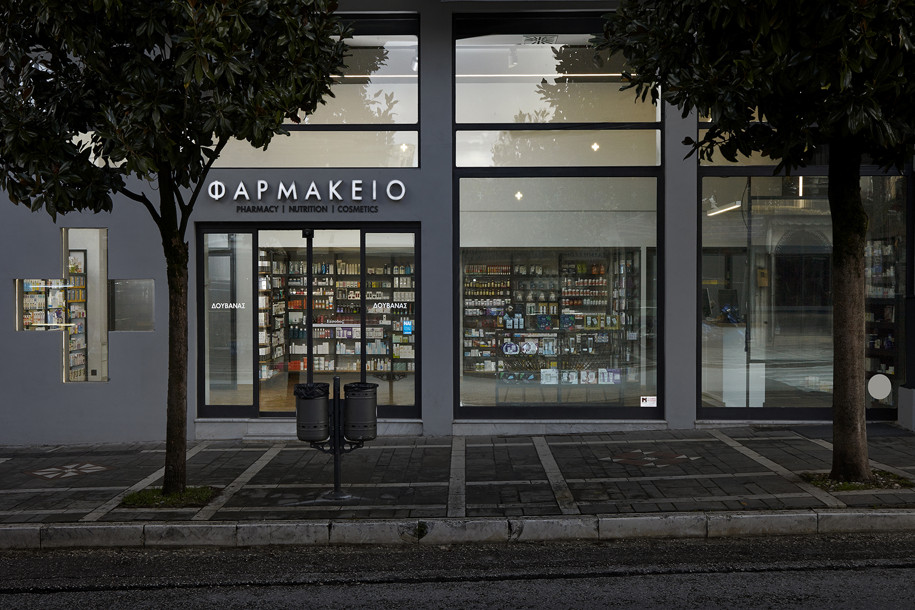 Η νέα όψη είναι προσανατολισμένη προς την πλευρά του δρόμου αποκαλύπτοντας, από τη μία πλευρά, τον εσωτερικό χώρο του φαρμακείου και επιτρέποντας, από την άλλη, στο φως να διαχυθεί στον χώρο.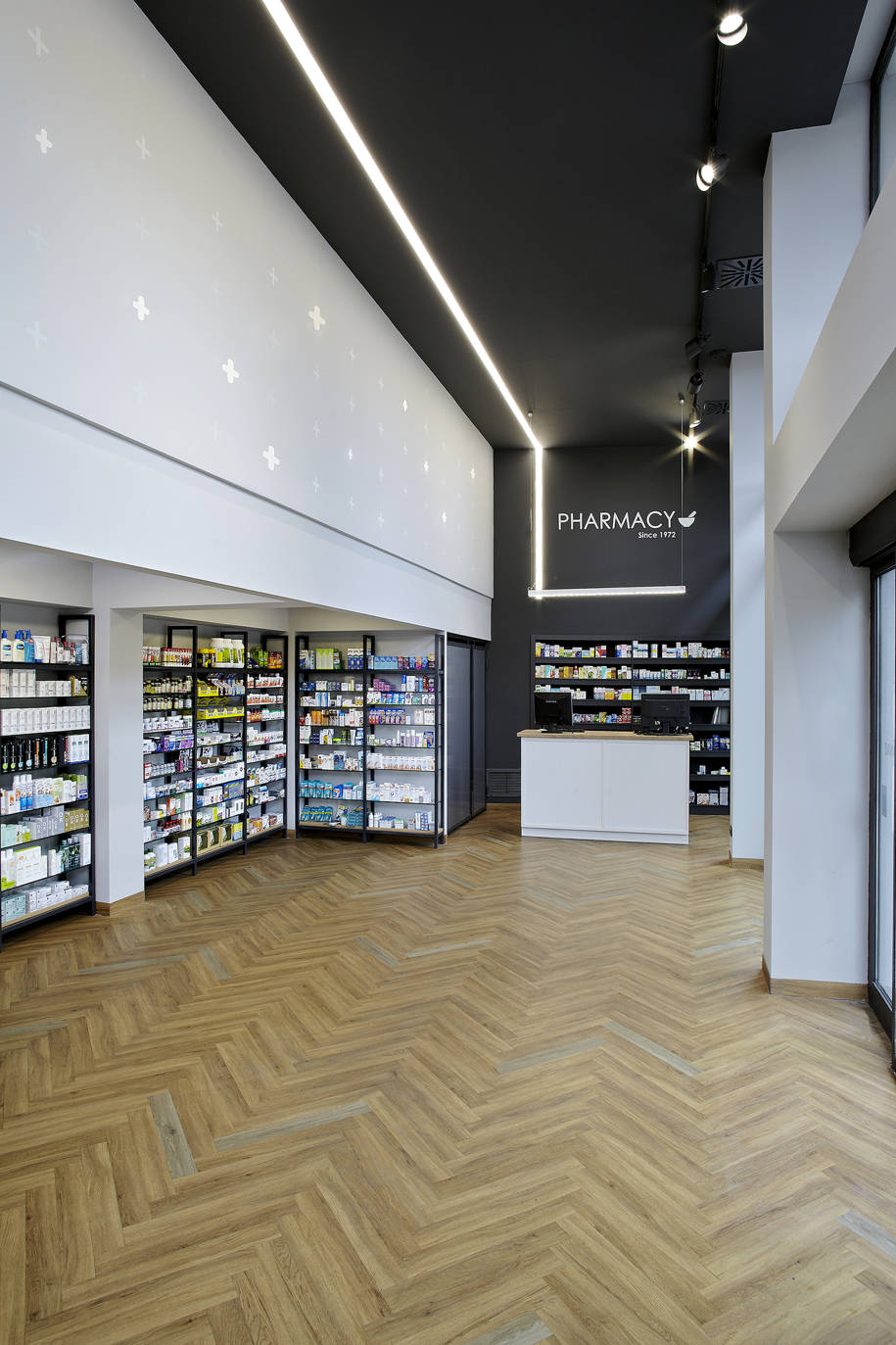 Σ' ένα παρόμοιο πλαίσιο αισθητικής ομοιογένειας, τα φώτα προσδίδουν επίσης μια μινιμαλιστική χροιά. Το ξύλινο πάτωμα γλυκαίνει την ψυχρή αίσθηση του λευκού χώρου, συνδυάζοντας τη νοσταλγική αίσθηση του μοτίβο που έχει χρησιμοποιηθεί με τον σύγχρονο χαρακτήρα του χώρου. Τα διαχωριστικά -ένας συνδυασμός μεταλλικής κατασκευής και πολυκαρβονικού φύλλου με ημιδιαφάνεια- διατηρούν την απαραίτητη ιδιωτικότητα ενώ παράλληλα δεν εμποδίζουν το φως να εισέλθει στον χώρο. Τα γκρι μεταλλικά έπιπλα μεσαίου ύψους αναδεικνύουν τα προϊόντα με έναν σύγχρονο και μινιμαλιστικό τρόπο. Οι λευκοί τοίχοι έρχονται σε αντίθεση με την γκρι οροφή και τα έπιπλα, ολοκληρώνοντας την αισθητική του χώρου.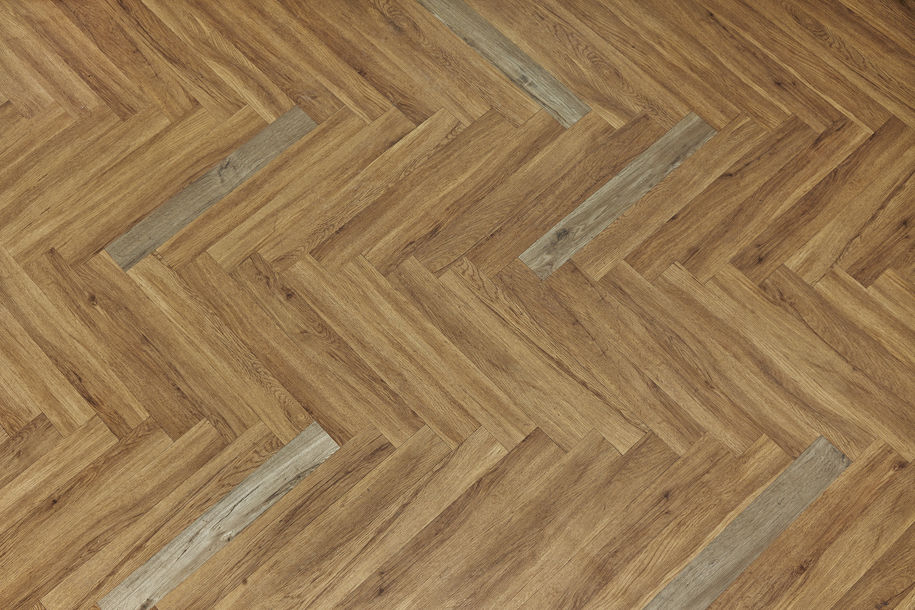 Το φαρμακείο έχει σχεδιαστεί με έμφαση στη λεπτομέρεια. Η επιλογή των φωτιστικών υπήρξε σημαντικό στοιχείο του σχεδιασμού και της συνολικής ατμόσφαιρας.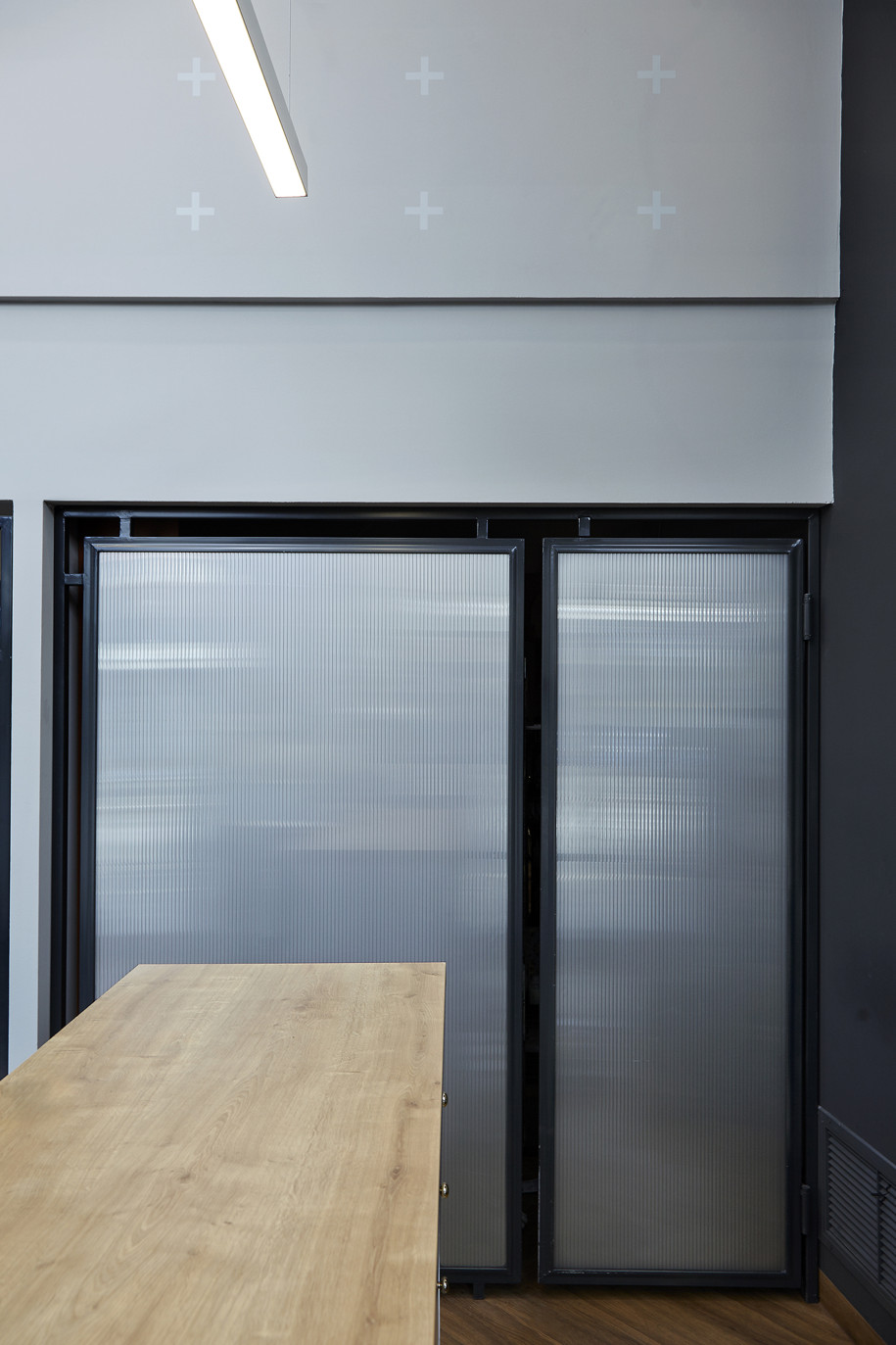 Η φωτεινή κατασκευή του σταυρού στην όψη του κτηρίου, το γραμμικό φως που συνεχίζει και στα κατακόρυφα στοιχεία του χώρου, καθώς και οι φωτεινοί σταυροί στην επιφάνεια της εισόδου αποτελούν βασικά στοιχεία φωτισμού και του σχεδιασμού.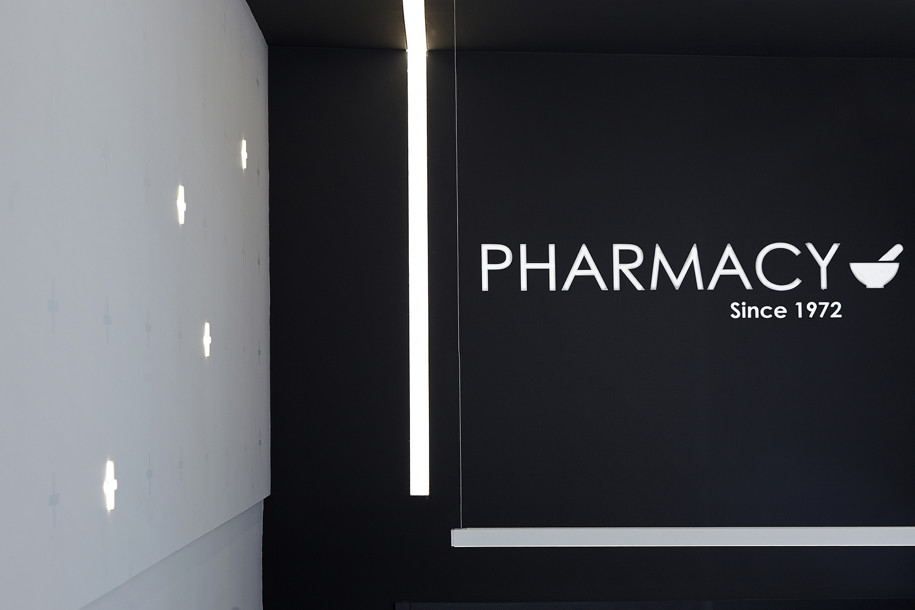 Στοιχεία έργου
Αρχιτεκτονική μελέτη  Amalgama Architects
Κατασκευή  Amalgama Architects
Τύπος έργου  Φαρμακείο
Τοποθεσία  Ιωάννινα, Ελλάδα
Εμβαδόν  48.80 τ.μ.
Έτος Υλοποίησης  2018
Φωτογραφία  Γιάννης Ζινδριλής
---

See, also, Third place coffee shop by Amalgama architects, here!
Δείτε, επίσης, την καφετέρια Third place από το αρχιτεκτονικό γραφείο Amalgama architects, εδώ! 
READ ALSO:
São Brás house | Fala Atelier