text in

EN, GR
Amalgama Architects completed a tiny Jewelry Concept Store in the heart of Ioannina focusing their design approach on pure geometric shapes.
–text by the authors
The 25 square meter jewelry store is located in the heart of Ioannina. The owner, Mr Alexis Kittas is a multifaceted, talented person. His work is bounded by some persistent and recurring ideas such as the quality of light their creations emit, the kin geometrical patterns, the vigorous and fine workmanship, the intricate detailing. These elements -which compose the heteroclite sum of ideas and experiences- were the starting point of the study for the architecture studio Amalgama Architects that undertook the project.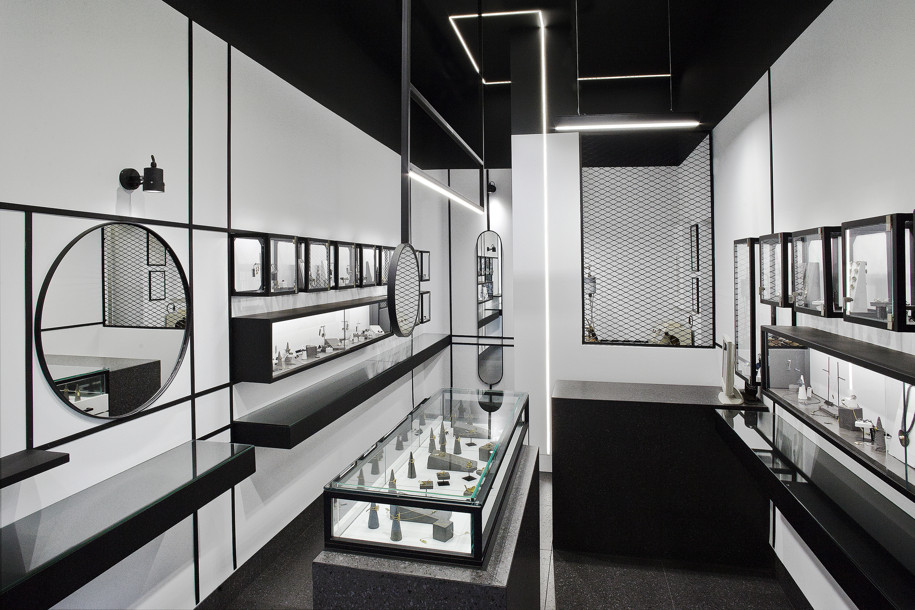 Clear metallic stripes -lining the walls- create pure geometric shapes, glass cubic vitrines, rectangle metallic boxes and round mirrors are the main showcases. Round and oval mirrors are placed in a way that creates depth and multiple views through their reflections. All furniture pieces, along with the modern 'U' shape chandelier and the mirror with brass framework, were designed by the architects especially for the store. The fluorescent strip lighting illuminates the space leading to the jeweler's studio. The black terazzo tile is used on the floor and to the main monolithic furniture.
"We wanted the user to be able to explore the space with freedom as if he is part of a Kandinsky painting sustained by the imagination and creative force of Alexis Kittas."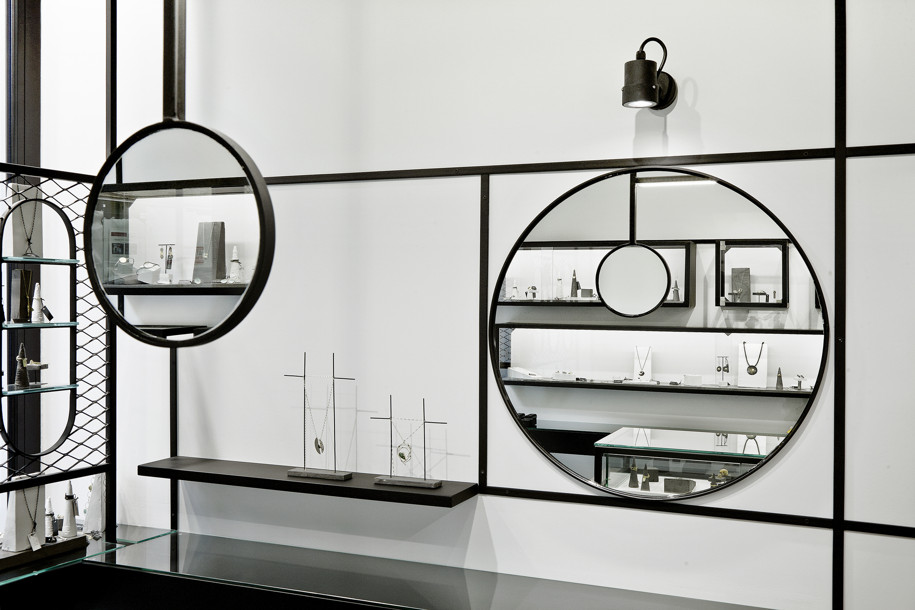 Every element was carefully considered: the architecture, the light, the materials used, the palette, the furniture pieces are all linked in a harmonious way.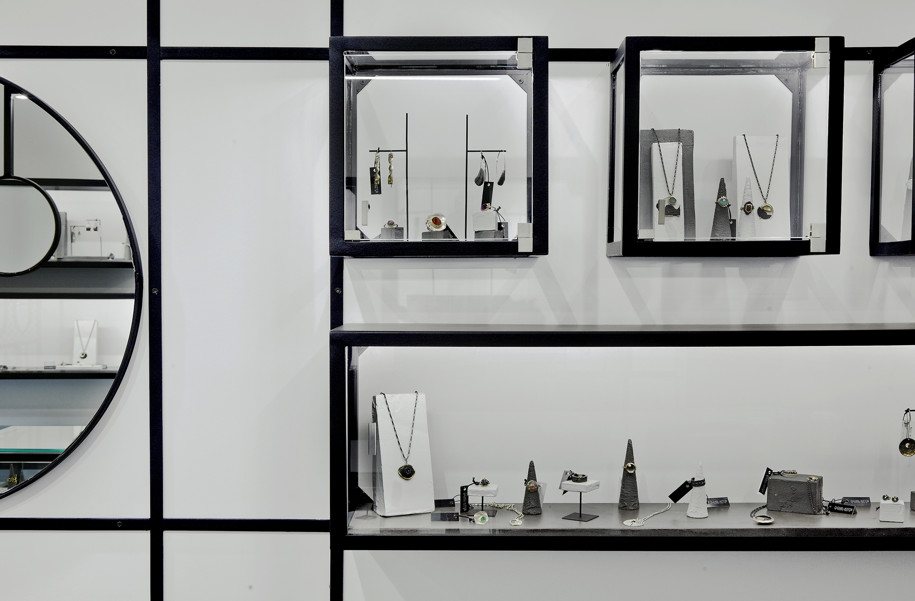 The lights are casted absorbed and reflected on the materials during the passage of the day and create a different atmosphere that would be conducted by the main synthetic approach. Architects' goal was go beyond the given architectural typologies of the jewelry store and create a concept store that would reflect the multifaceted aspect of the owners's creations and the ethos of his work.
Facts & Credits
Project  Alexis Kittas | Jewelry Concept Store
Architecture & Construction  Amalgama Architects
Area  25 sqm
Location  Ioannina, Greece
Completion Date  2018
Photography  Yannis Zindrilis
---

Το αρχιτεκτονικό γραφείο Amalgama Architects ολοκλήρωσε ένα μικροσκοπικό κοσμηματοπωλείο στο κέντρο των Ιωαννίνων, δίνοντας έμφαση σχεδιαστικά στα καθαρά γεωμετρικά σχήματα.
–κείμενο από τους δημιουργούς     
Το κατάστημα των 25 τ.μ. βρίσκεται στο κέντρο των Ιωαννίνων. Στόχος του σχεδιασμού υπήρξε η δημιουργια ενός καταστήματος που ξεφεύγει απο τις τυπικές συνθετικές προσεγγίσεις των κοσμηματοπωλείων, προτείνοτας μια εναλλακτική προσέγγιση.
Μαύρες μεταλλικές γραμμές διαγράφουν στους τοίχους καθαρά γεωμετρικά σχήματα, εγκυβωτίζοντας διάφανες μεταλλικές βιτρίνες και ορθογώνια μεταλλικά κουτιά. Στρογγυλοί και οβάλ καθρέφτες τοποθετούνται με τρόπο που δημιουργούν πολλαπλές θεάσεις μέσα απο τις αντανακλάσεις τους. Όλα τα έπιπλα, καθώς και το κεντρικό μεταλλικό φωτιστικό σε σχήμα U σχεδιάστηκαν απο τους αρχιτέκτονες ειδικά για το κατάστημα και κατασκευάστικαν απο τοπικούς τεχνήτες. Το γραμμικό φως που ξεκινά απο τον κυρίως χώρο, αναδιπλώνεται απο τον τοίχο στην οροφή και οδηγεί στο εργαστήριο του ιδιοκτήτη.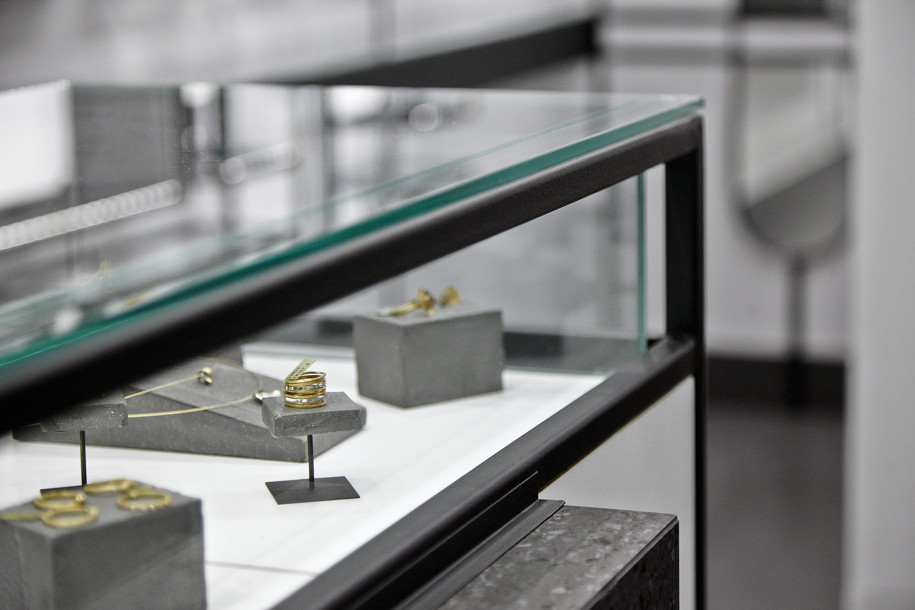 Μαύρο μωσαικό χρησιμοποιείται στο δάπεδο, καθώς και στα βασικά μονολιθικά έπιπλα. Κάθε στοιχείο είναι προσεκτικά σχεδιασμένο -η αρχιτεκτονική του χώρου, το φως, τα υλικά, η χρωματική παλέτα, τα έπιπλα.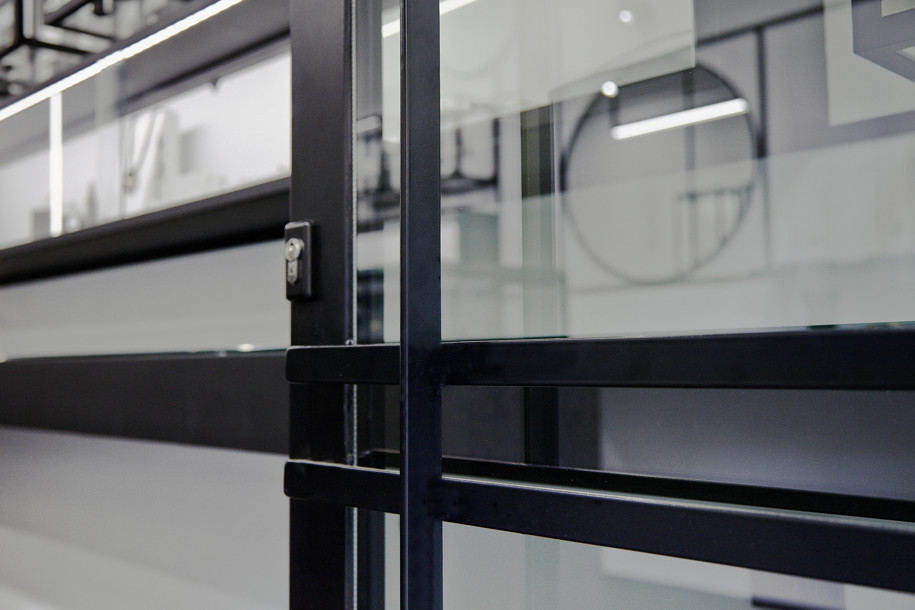 Όλα είναι συνδεδεμένα με ενα αρμονικό τρόπο. Στόχος υπήρξε η δημιουργια ενός καταστήματος που ξεφεύγει απο τις τυπικές συνθετικές προσεγγίσεις των κοσμηματοπωλείων, προτείνοτας μια εναλλακτική προσέγγιση.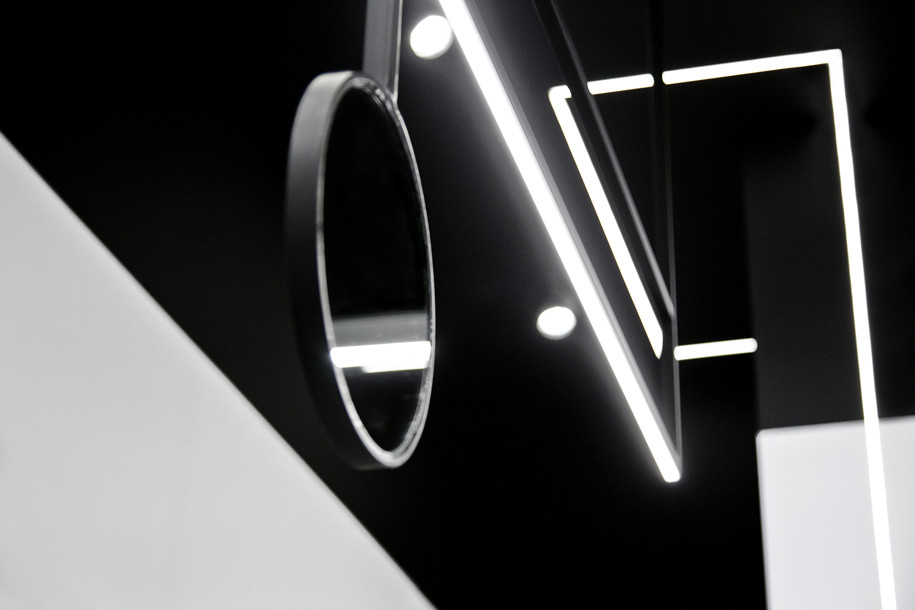 "Θέλαμε να δημιουργήσουμε μια εμπερία περιπλάνησης του επισκέπτη σε έναν κόσμο κατασκευασμένο απο τη φαντασία του Αλέξη Κήττα."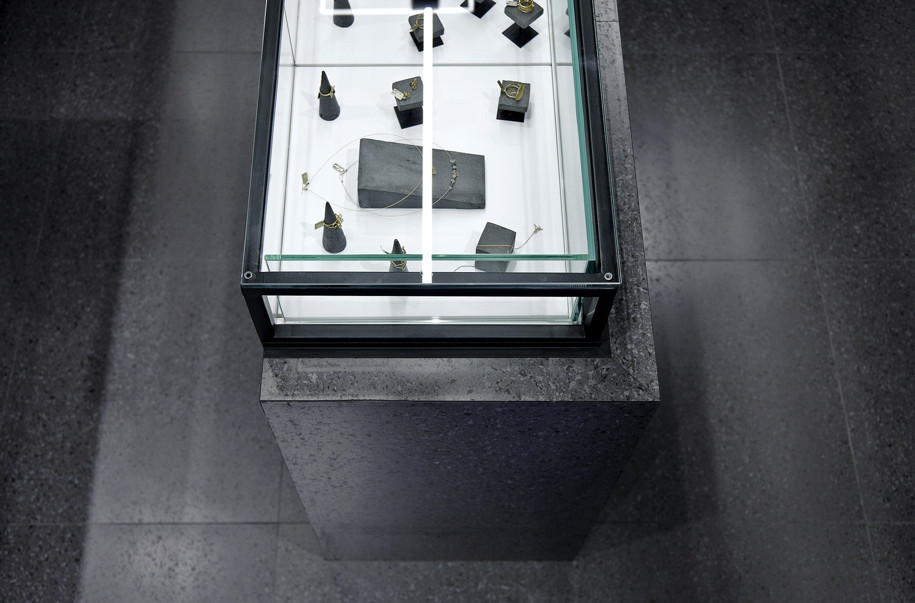 Στοιχεία έργου
Τίτλος έργου  Alexis Kittas | Jewelry Concept Store
Αρχιτεκτονική Μελέτη & Κατασκευή  Amalgama Architects
Εμβαδόν  25 τ.μ.
Τοποθεσία  Ιωάννινα, Ελλάδα
Έτος ολοκλήρωσης  2018
Φωτογραφία  Γιάννης Ζινδριλής
---

See, also, a pharmacy store in Ioannina by Amalgama Architects, here!
Δείτε, ακόμα, ένα φαρμακείο στα Ιωάννινα από τους Amalgama Architects, εδώ!
READ ALSO:
VyTA Covent Garden in London by COLLIDANIELARCHITETTO combines the warmth of Italian hospitality and contemporary taste