text in

EN, GR
Diploma thesis by Anastasia Kanareli & Maria Eirini Konstantinidi Manesi deals with the creation of an oil mill with olive tourism facilities in Skiathos island.
-text by the authors
Olive growing is the cultivation symbol of Skiathos island. In the post-war years, there were twenty oil mills, several of which were located in the center of the island. The 20th century is a turning point for the architectural physiognomy of the islands of the North Aegean, with the typical case of Skiathos. In Skiathos, which was completely transformed into an island only for tourism, during the 1970s and 2000s, types of buildings began to "disappear", which in the past were wide spread, such as olive mills, due to the great interest of residents in tourism and its facilities.
The result of tourism development is the absence of an olive mill from the island. Before five years, the last olive press in Skiathos island has been closed, and residents are forced to transport tons of olive crops to Glossa, an area in Skopelos island, by ship in order to produce their olive oil, because there is the nearest olive mill in Skiathos island. This is an expensive and a tedious process for the Skiathos olive growers and destructive for the quality of the olive oil. The synthesis of the olive mill is organized in three thematic zones: the storage and auxiliary zone, the production of olive oil zone and the visitors zone.
The basic design principle is the porosity of the volume, which will ensure a constant contact and interaction of the zones.
The aim is to connect the visitor with the olive grower, making the oiling process more understandable and experiential for the visitor.
Although the connection between visitors and olive growers is the main concern of our composition, the production process and the movement of visitors are controlled, through our synthesis, to ensure safety and functionality. The visitor is not limited to a tour of the olive mill. He learns the whole environment of the olive tree. Olive tourism is the "aesthetics" of centuries-old olive trees, the beauty that olive groves give to the landscape. It is the Greek cuisine itself, inextricably linked with their crops. It is also every organized action in the village or in the city, which conveys the knowledge, the experience, but also the image of Greece all over the world, through the culture of olive oil.
Facts & Credits
Project title  Olive Mill & Olive Oil Tourist Facilities in Skiathos island
Students  Anastasia Kanareli, Maria Eirini Konstantinidi Manesi
Date  July 2020
Course  Diploma thesis
Supervisor  George Mitroulias
Institution  School of Architecture, University of Thessaly 
Photographer  Miltiadis Igglezos


---

Η διπλωματική εργασία της Αναστασίας Καναρέλη και της Μαρίας Ειρήνης Κωνσταντινίδη Μάνεση ασχολείται με τη δημιουργία ελαιουργείου με υποδομές ελαιοτουρισμού στο νησί της Σκιάθου.
-κείμενο από τις δημιουργούς
Η ελαιουργία είναι η καλλιέργεια σύμβολο της νήσου της Σκιάθου. Στα μεταπολεμικά χρόνια αριθμούνταν είκοσι ελαιοτριβεία, αρκετά από τα οποία βρίσκονταν στο κέντρο της χώρας. Ο 20ος αιώνας, αποτελεί τομή για την αρχιτεκτονική φυσιογνωμία των νησιών του Βορείου Αιγαίου, με χαρακτηριστική την περίπτωση της Σκιάθου. Στη Σκιάθο, η οποία ολοκληρωτικά μεταλλάχθηκε σε νησί μόνο για τον τουρισμό, κατά την τριακονταετία 1970-2000, αρχίζουν να "εξαφανίζονται" τύποι κτιρίων, οι οποίοι στο παρελθόν ήταν διαδεδομένοι, όπως τα ελαιοτριβεία, λόγω του μεγάλου ενδιαφέροντος των κατοίκων για τουριστικά επαγγέλματα και εγκαταστάσεις.
Αποτέλεσμα αυτής της εξέλιξης, είναι η απουσία ελαιοτριβείου από το νησί. Εδώ και πέντε χρόνια που σταμάτησε να λειτουργεί και το τελευταίο ελαιουργείο του νησιού, οι κάτοικοι αναγκάζονται μετά τη συγκομιδή της ελιάς να μεταφέρουν με πλοίο τόνους φορτίου ελαιόκαρπου στη Γλώσσα, που είναι οικισμός της Σκοπέλου, προκειμένου να παράγουν ελαιόλαδο. Πρόκειται για μία διαδικασία δαπανηρή και κουραστική για τους Σκιαθίτες ελαιοπαραγωγούς καθώς και καταστροφική για την ποιότητα του ελαιόλαδου. Η σύνθεση του ελαιοτριβείου οργανώνεται σε τρείς θεματικές ζώνες: των αποθηκευτικών και βοηθητικών χώρων, της παραγωγής του ελαιόλαδου και των επισκεπτών.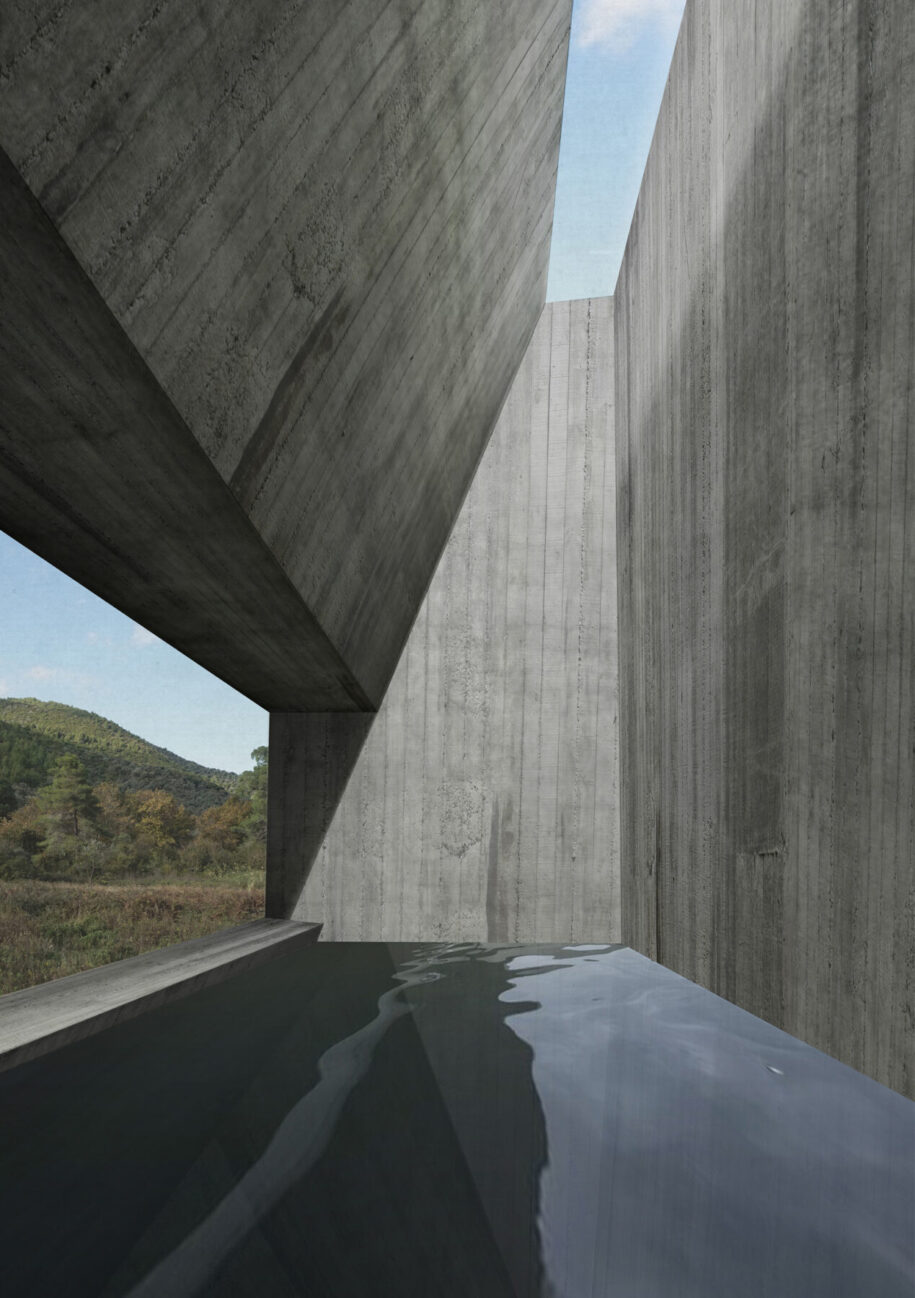 Βασική αρχή σχεδιασμού, είναι το πορώδες του όγκου, το οποίο θα εξασφαλίσει μία συνεχή επαφή και αλληλεπίδρασή των ζωνών.
Στόχος είναι η σύνδεση του επισκέπτη με τον ελαιοπαραγωγό, κάνοντας τη διαδικασία ελαιοποίησης πιο κατανοητή και βιωματική για τον επισκέπτη.
Αν και η σύνδεση επισκεπτών και ελαιοπαραγωγών είναι το κύριο μέλημα της σύνθεσής μας, η διαδικασία της παραγωγής αλλά και η κίνηση των επισκεπτών ελέγχεται, μέσω της σύνθεσης, ώστε να διασφαλίζεται η ασφάλεια και η λειτουργικότητα. Ο επισκέπτης, δεν περιορίζεται απλώς σε μια περιήγηση στο ελαιοτριβείο. Μαθαίνει όλο το περιβάλλον της ελιάς. Ο Ελαιοτουρισμός είναι η "αισθητική" των υπεραιωνόβιων ελαιόδεντρων, το κάλλος που προσδίδουν οι ελαιώνες στο τοπίο. Είναι η ίδια η ελληνική κουζίνα, δεμένη άρρηκτα με τους καρπούς τους. Είναι, επίσης, η κάθε οργανωμένη δράση στο χωριό ή στην πόλη, η οποία μεταφέρει στον επισκέπτη τη γνώση, την εμπειρία, αλλά και τις εικόνες της Ελλάδας σε όλο τον κόσμο, μέσα από την κουλτούρα του ελαιολάδου.
Στοιχεία έργου
Τίτλος εργασίας  Ελαιουργείο με Εγκαταστάσεις Ελαιοτουρισμού στη Σκιάθο
Φοιτήτριες  Αναστασία Καναρέλη, Μαρία Ειρήνη Κωνσταντινίδη Μάνεση
Εξεταστική περίοδος  Ιούλιος 2020
Μάθημα  Διπλωματική εργασία
Επιβλέπων καθηγητής  Γεώργιος Μητρούλιας
Σχολή  Τμήμα Αρχιτεκτόνων Μηχανικών, Πανεπιστήμιο Θεσσαλίας
Φωτογράφος  Μιλτιάδης Ιγγλέζος
READ ALSO:
 8+1 Acts of Body Drama | Διπλωματική εργασία από τον Τριαντάφυλλο Δάνιο