The Digital Bamboo pavilion explores the innovative combination of a naturally grown material with digital fabrication. The Digital Bamboo Pavilion is designed by students of the Master in Advanced Studies in Architecture and Digital Fabrication 2019-2020 at the ETH Zurich and is based on research at the chair of Digital Building Technologies.
-text by the authors
Bamboo is an excellent sustainable building material, because of its rapid growth and very low weight-to-strength ratio. Customized computational tools were developed to design the ultra-lightweight structure, whose bespoke connections were manufactured using HP's Multi Jet Fusion 3D printing technology. The structure covers more than 40 sqm with a total weight of only 200 kgs.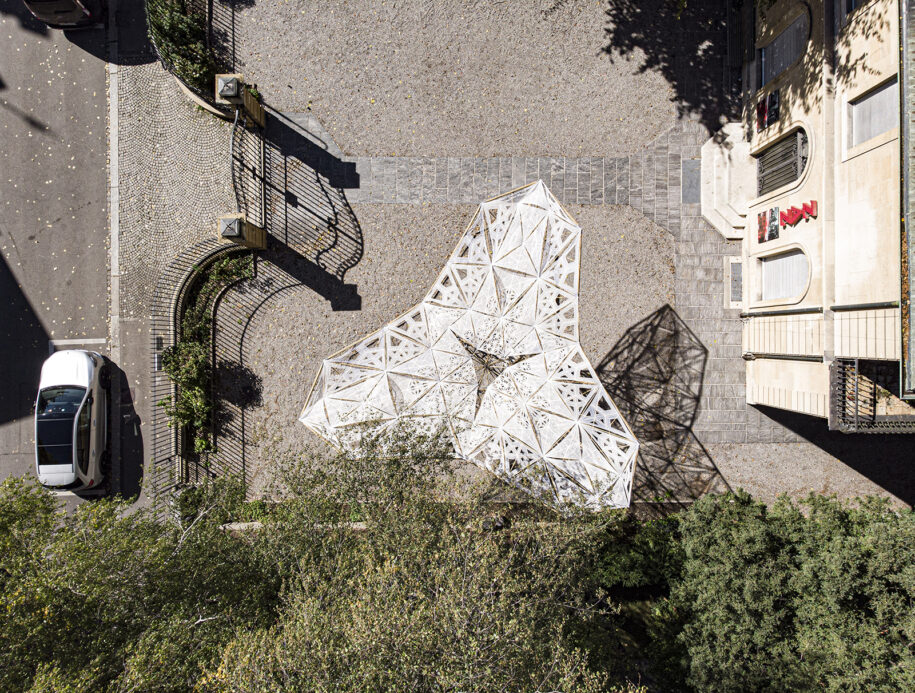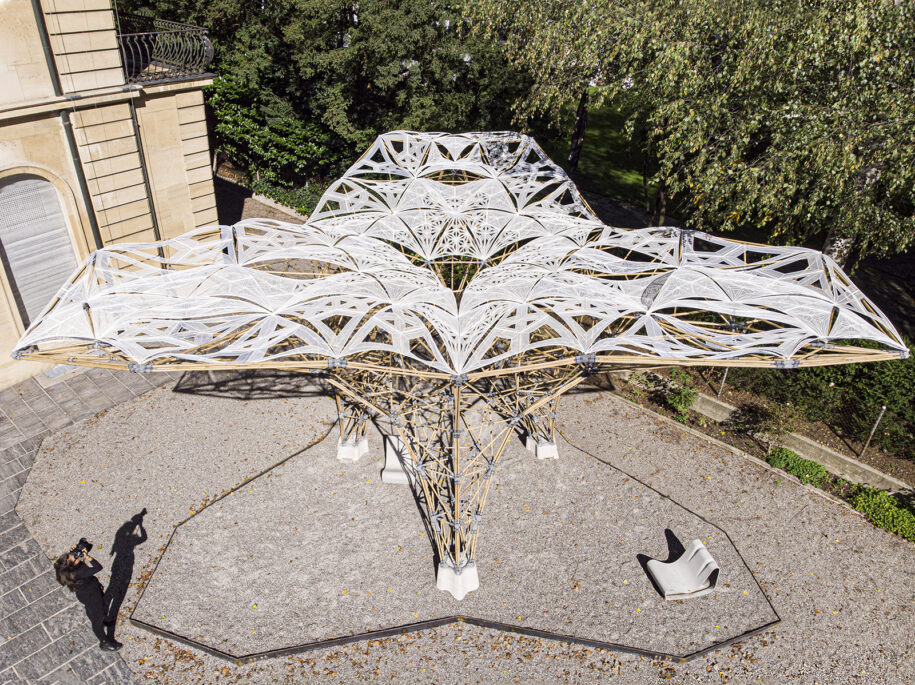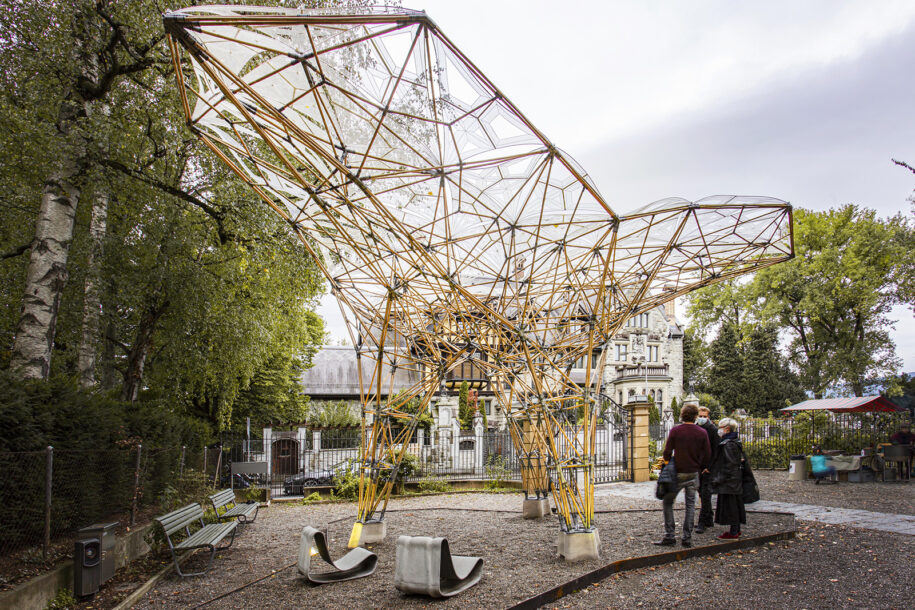 The Digital Bamboo pavilion showcases a filigree and engaging architecture that surpasses the standardized space frame vocabulary.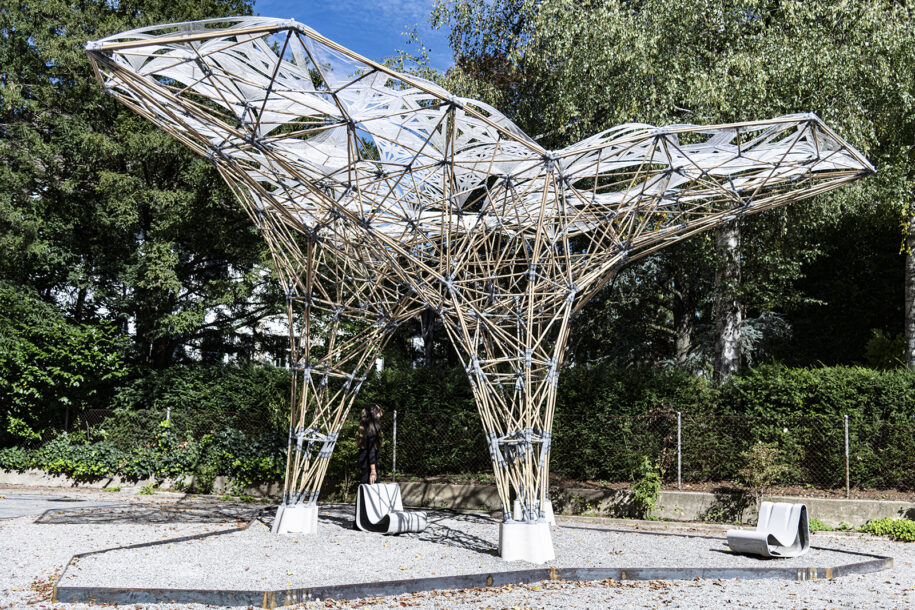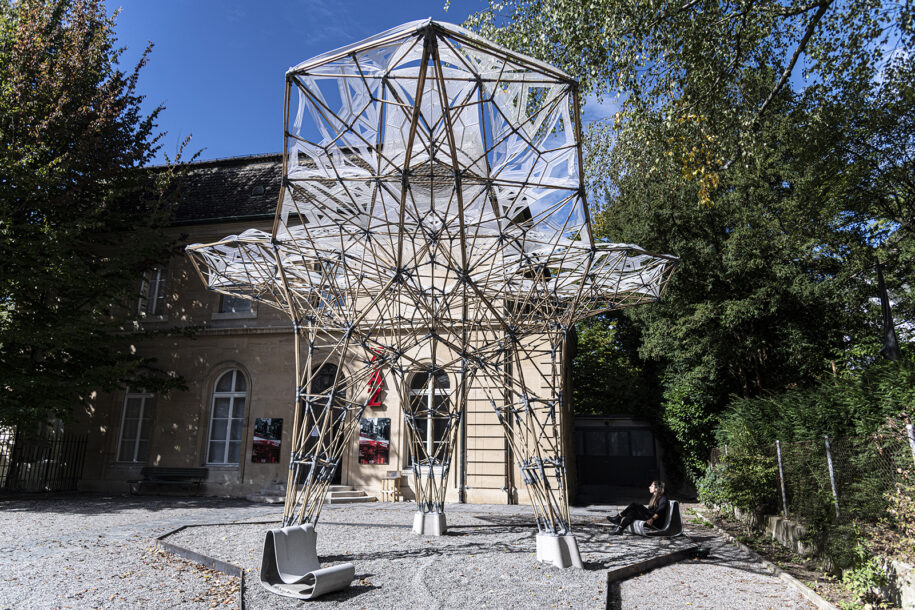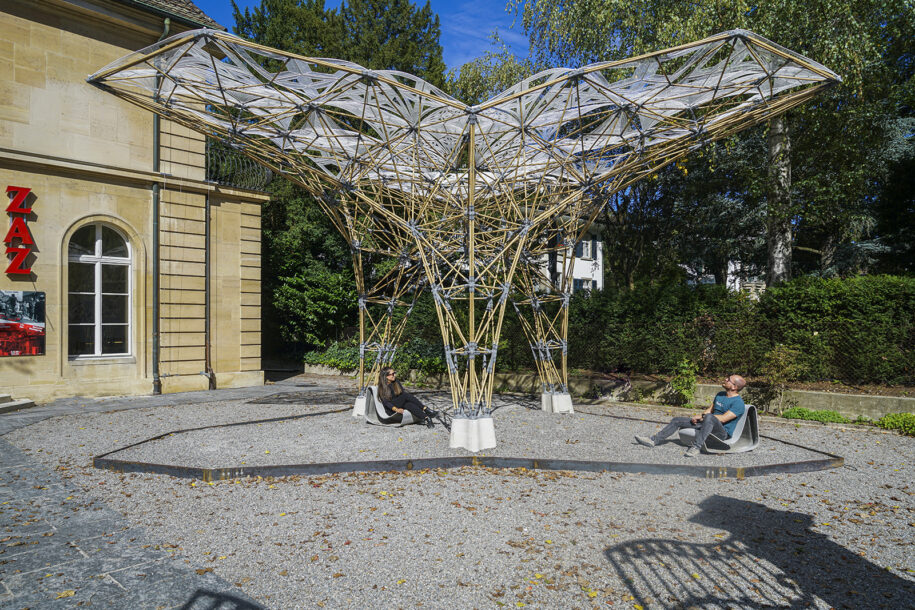 Computational design allows the optimization and formal exploration of complex structures. 3D printing gives the opportunity for architects and engineers to be more flexible when designing, as it breaks down barriers often presented by traditional manufacturing methods. The high-performance structure covers a large area, cantilevering almost 5 meters  in three directions whilst requiring minimal support. The main load-bearing system is defined by a spatial truss reinforced by post-tensioned cables. The geometry of the pavilion, consisting of more than 900 bamboo elements, was form-found using specifically developed digital tools.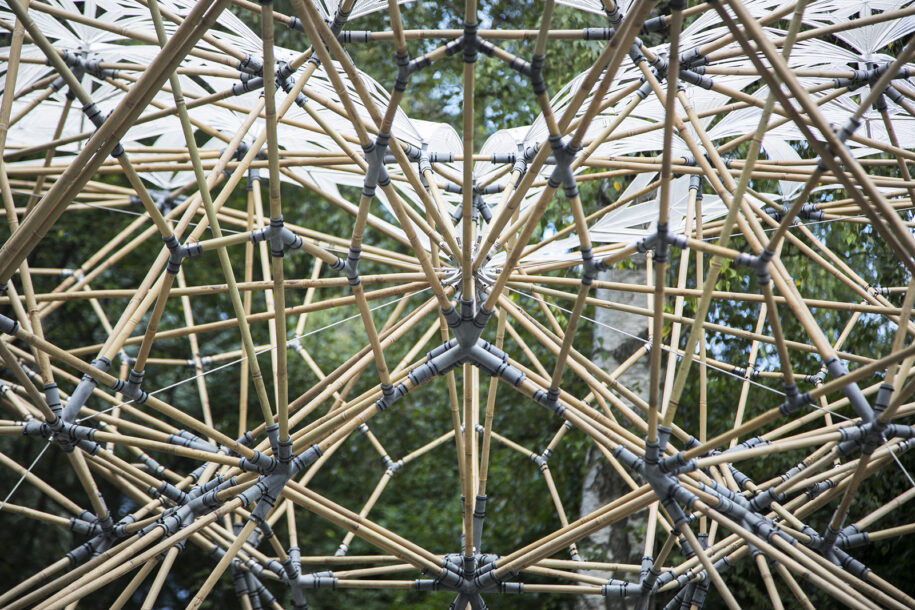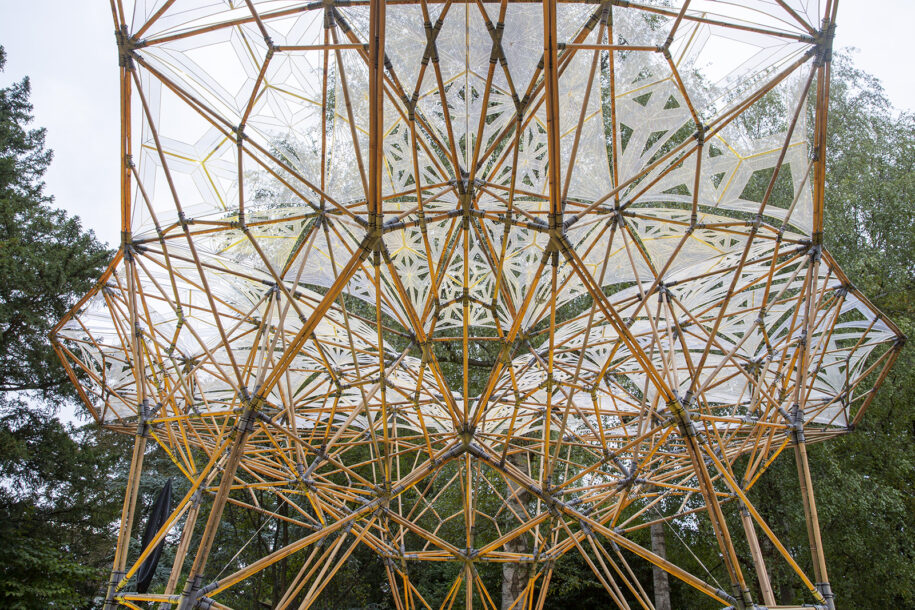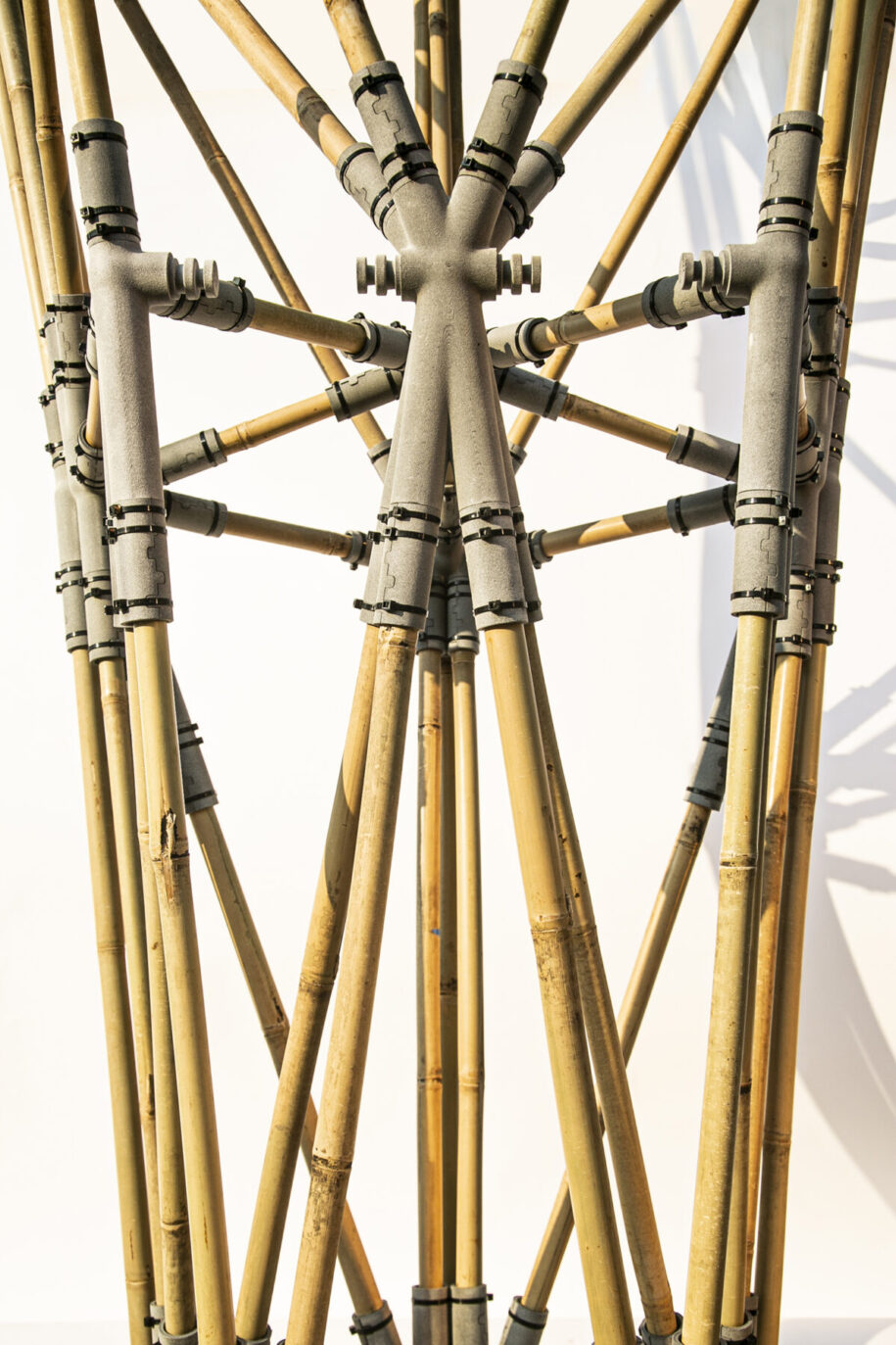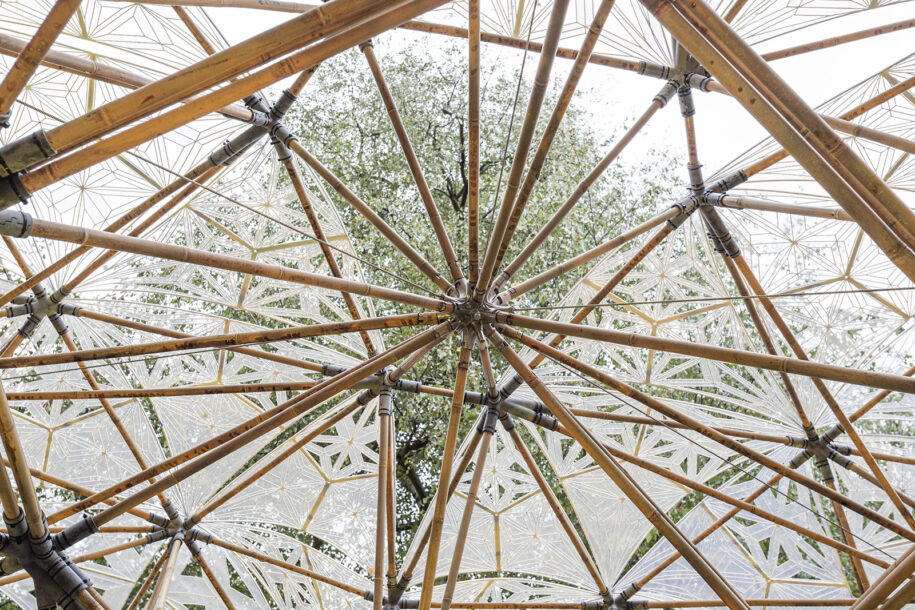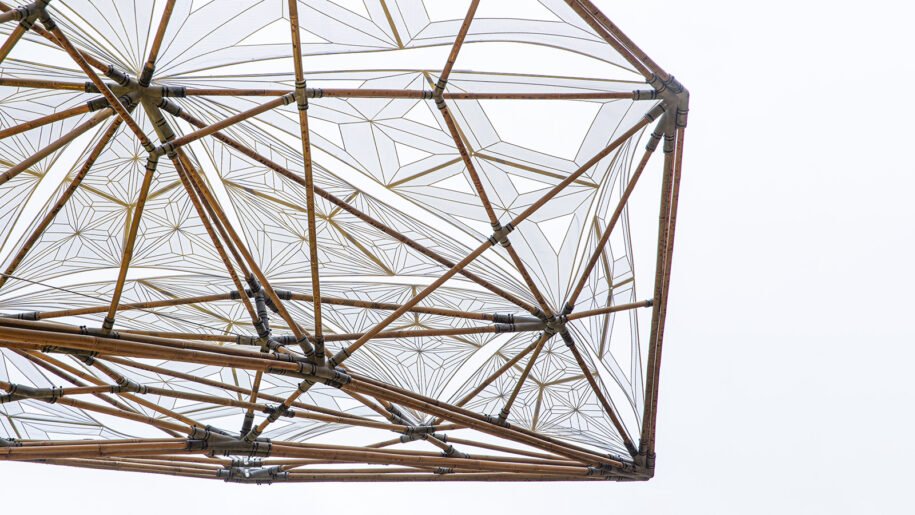 The bamboo elements are connected via a new system of plastic joints, based on 3D printing. The computational design process allowed an optimization of the manufacturing process of these joints from the first prototype to the final geometry – flexible and within a short time. The generation of each unique connection was automated thanks to a digital process and developed to fulfill mechanical requirements. Their intricate geometry encapsulates necessary functions such as tolerances for assembly and bamboo inhomogeneities, connections to the shading panels, labeling, and cable fittings. In parallel, their volume is minimized to save time and cost. Using HP's Multi Jet Fusion Technology for the 379 joints ensured a cost-effective production method with low material costs. The plastic parts were made of PA12, a very  durable material which is particularly suitable for outdoor applications. One connection, where all the post-tensioning cables meet, was fabricated in stainless steel using DMLS technology.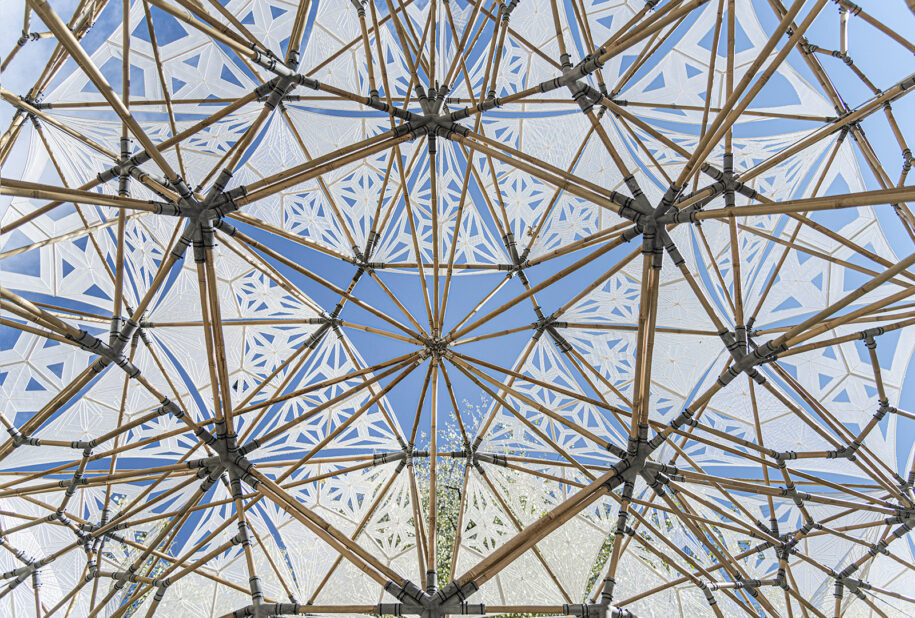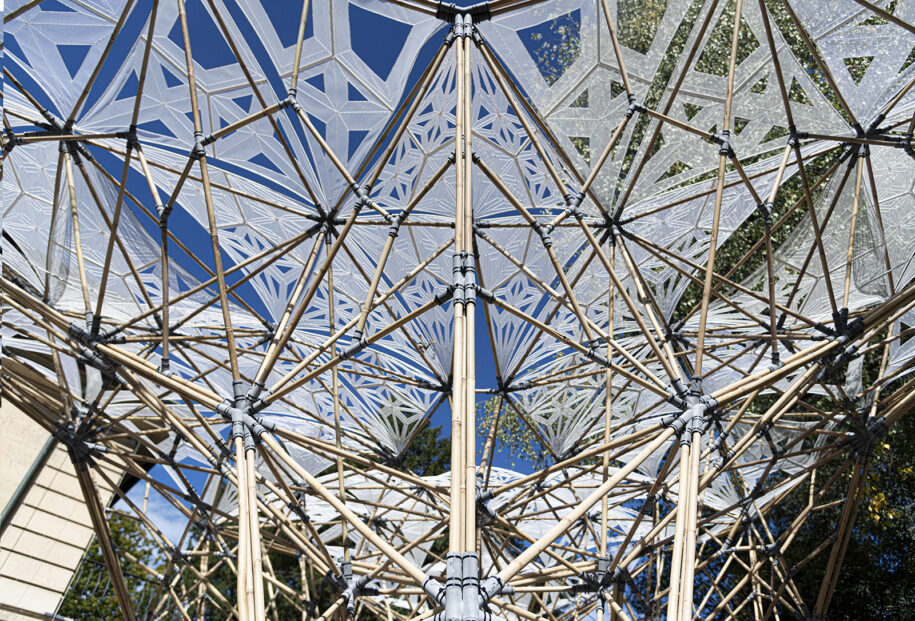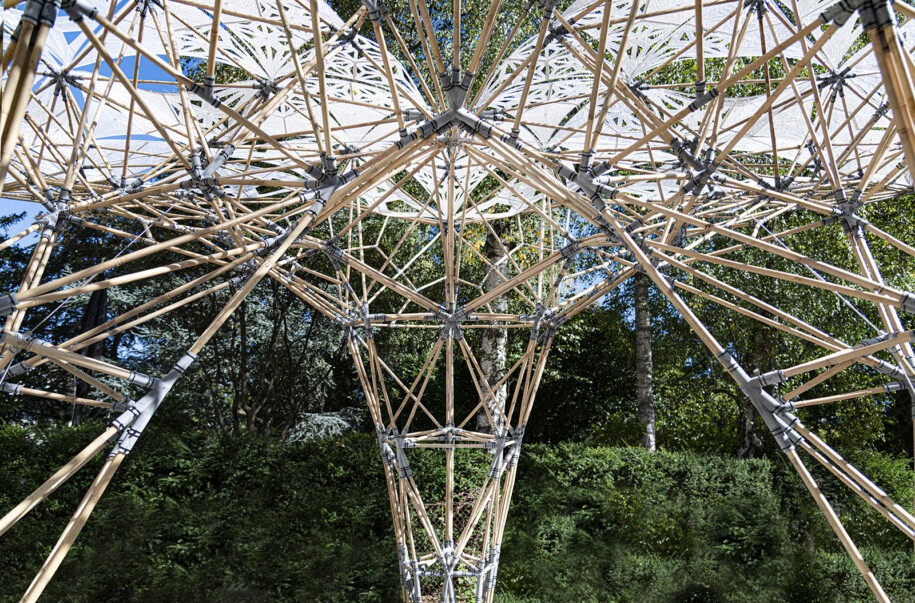 The shading panels of the pavilion are designed through a custom computational process and fabricated through add-on 3D printing of a recyclable UV resistant thermoplastic on a lightweight lycra textile. 3D printing stiffens and shapes the fabric into flexible bespoke panels. The composite elements are locally reinforced reducing the amount of material used.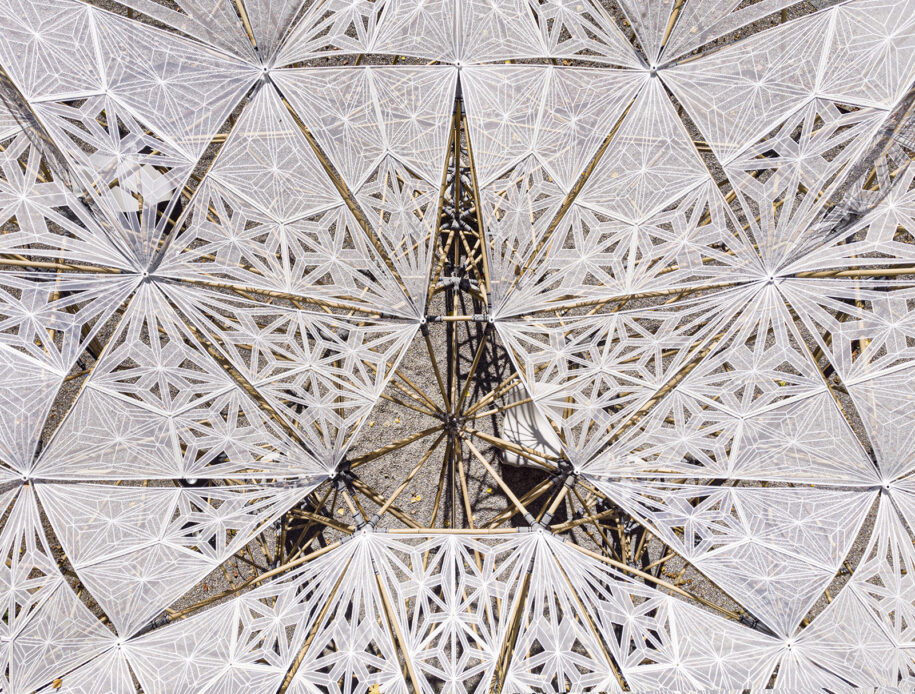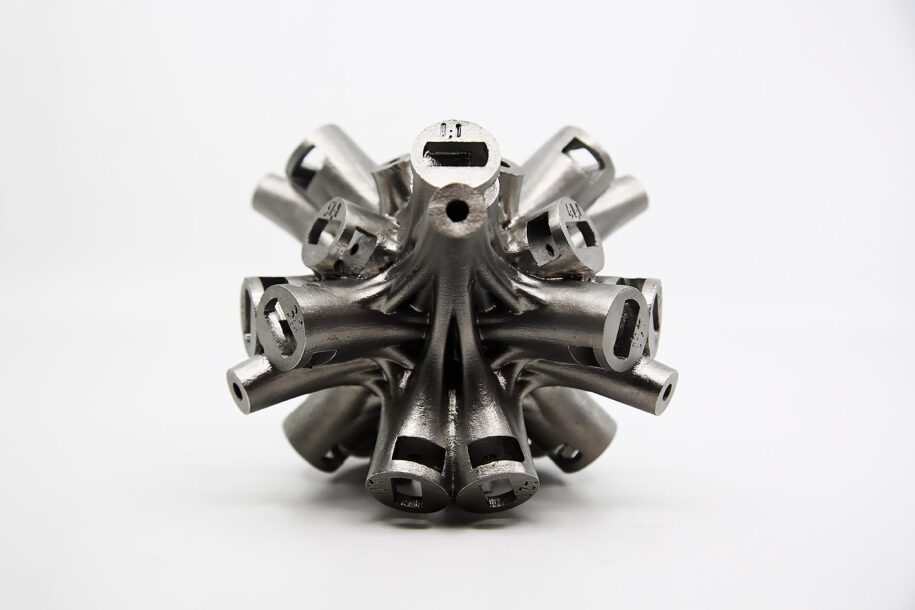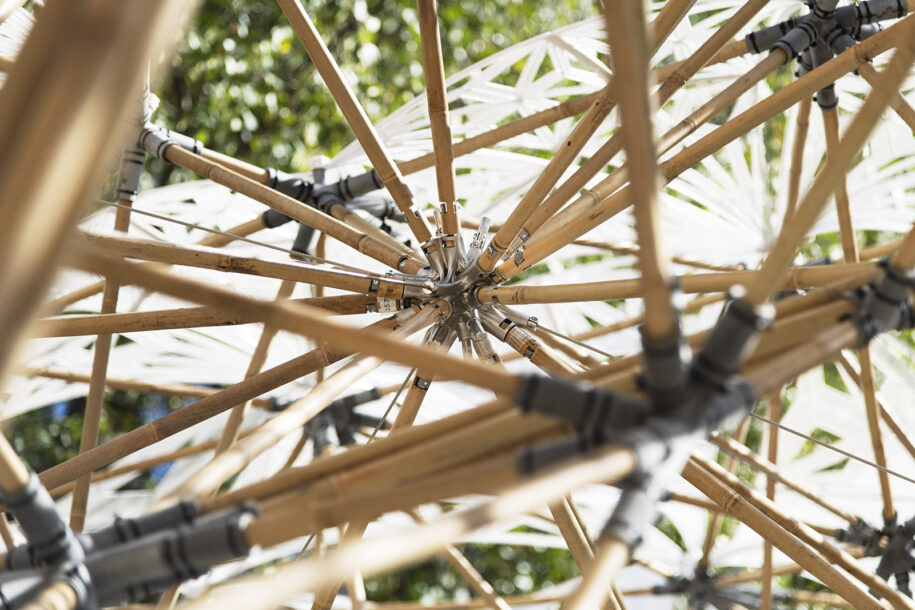 The construction system developed for the Digital Bamboo pavilion aims to reduce the logistic efforts of construction while exploiting the advantages of digital fabrication for more sustainable building culture. Following the principle of distributed prefabrication, the complexity of the structure is encapsulated in small parts that can be fabricated all over the world using 3D printing. These custom parts can be used to construct high-performance structures together with local materials. Thanks to a modular construction scheme, the structure allows fast assembly and disassembly. The pre-assembled parts of the pavilion were mounted on-site in only 48 hours.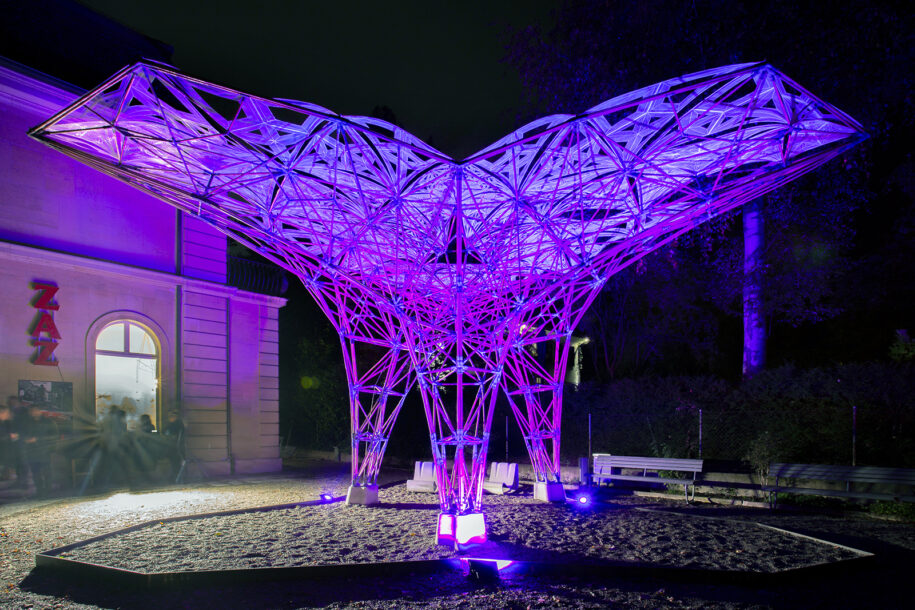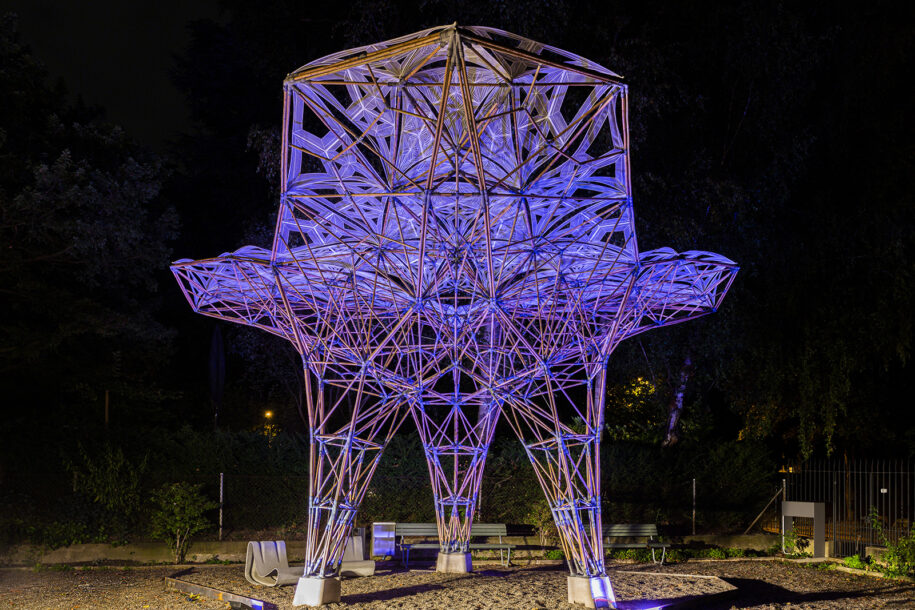 Digital Bamboo offers a new paradigm for how digital fabrication can lead to a sustainable future in construction, combining locally sourced materials with 3d printed parts to achieve new immersive architectural expression.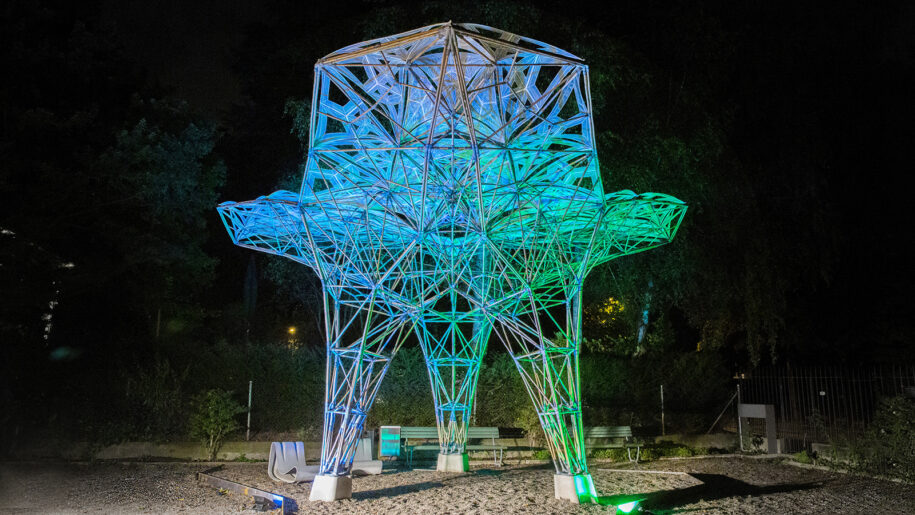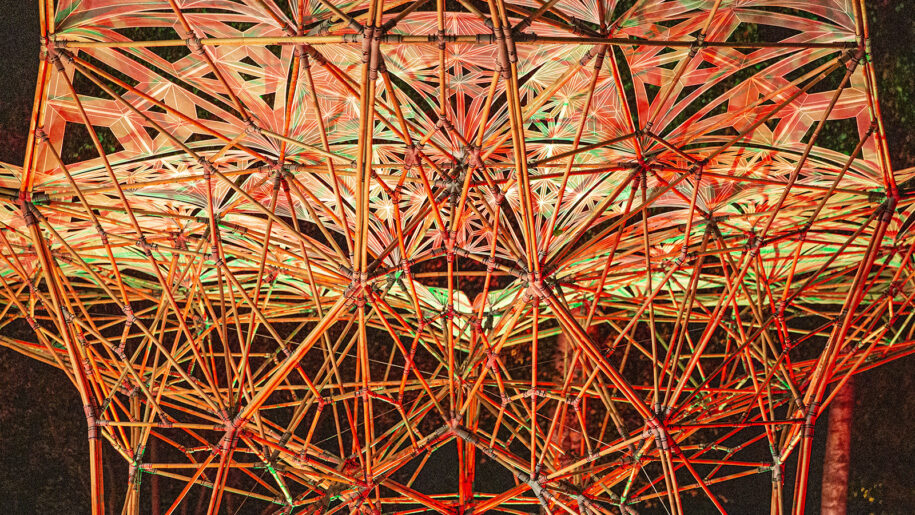 Facts & Credits
Project title  Digital Bamboo pavilion
Location  The pavilion will travel around the world. It is currently exhibited at the Zentrum Architektur Zürich, ZAZ Bellerive in Switzerland from September to the end of November 2020.
Dimensions: 9 x 9 m (footprint) x 5m height
Total area: 40 sqm
Total weight: 200kg
On-site assembly time: 48h
930 bamboo poles with 20mm diameter
380 connections in PA12, 1 joint in 316L Stainless Steel
35 sqm of shading panels
Design by students of the Master in Advanced Studies in Architecture and Digital Fabrication 2019-2020 Maria Pia Assaf, Jomana Baddad, Frederic Brisson, Yu-Hung Chiu, Rémy Clemente, Ioulios Georgiou, Mahiro Goto, Anton Johansson, Laszlo Mangliar, Dinorah Martinez Schulte, Edurne Morales Zuniga, Fatemeh Salehi Amiri, Emmanuelle Sallin, Indra Santosa, Eliott Sounigo, Chanon Techathuvanun, Ping-Hsun Tsai.
Teaching team  Marirena Kladeftira (Project lead), Matthias Leschok, Eleni Skevaki (Chair of Digital Building Technologies, ETH Zurich), Davide Tanadini (Chair of Structural Design, ETH Zurich), Yael Ifrah (MAS ETH DFAB coordination, Chair of Digital Building Technologies).
Support structural design  Dr. Ole Ohlbrock, Dr. Pierluigi D'Acunto (Chair of Structural Design, ETH Zurich)
Research collaboration partner on AM for bespoke joints  HS HI-TECH, Seoul, South Korea | Dr. Seungkyu Yoo (CTO), Yena Jung (Project lead), Hyunsoo Park, Sangjae Park, Seunghyun Baek, Heesang Jeong, Hoyeon Lee, Eungseo Kim, Yonghee Jeong, Jonghak Park, Hyowon Jung, Youngmin Joo, Younhyun Kim (Vice President), Ino Lee (Chief Executive Officer).
The development of the hybrid joints project in collaboration with HS HI-TECH is supported by the Bilateral Science and Technology Cooperation Program of ETH Zurich with an Innovation Partnership Grant (Project #IPG 02-112019 "AM for bespoke temporary structures.")
Supporting technicians  Christian Egli, Tobias Hartmann, Michael Lyrenmann, Thomas Posur, Andrea Perissinotto, Andreas Reusser
Sponsoring and Support  HP Inc., SGSolution AG, AF Fercher AG, Holcim, Abuma Gmbh, Zentrum Architektur Zürich, ZAZ Bellerive
Photography  Andrei Jipa, Benjamin Dillenburger, Dinorah Martinez Schulte, Marirena Kladeftira, Matthias Leschok
This research was supported by the NCCR Digital Fabrication, funded by the Swiss National Science Foundation (NCCR Digital Fabrication Agreement #51NF40-141853).
READ ALSO:
Νόστος: Επι-στροφή στη Βιβλιοθήκη | Διπλωματική εργασία από το Θάνο Μουσμουλίδη