text in

EN, GR
Research thesis by Dafni Maragkou examines the spatiality and the experience of the body in the toilet area.
-text by the author
The toilet room is the place where the hidden interior of the body is in close contact with the hidden interior of the building, two plumbing systems temporarily connected. But to speak of it as a room is already to speak too quickly [1]. Space connected to private waste, beyond the dominant social scene.
"The toilet is the fundamental zone of interaction between humans and architecture. Today we can imagine buildings without almost any of the other elements of architecture, but not without the toilet. (Koolhaas, 2014, Venice Biennale: Elements of Architecture exhibition)
The body holds a key role in the processes of production, conceptualization and use of space, and in particular a decisive role in relation to the examined area of personal hygiene.
Theoretical correlations such as normal / pathological, sexuality / hygiene, public / private are studied. Search formed in the area of the toilet, a meeting place both of attraction and aversion.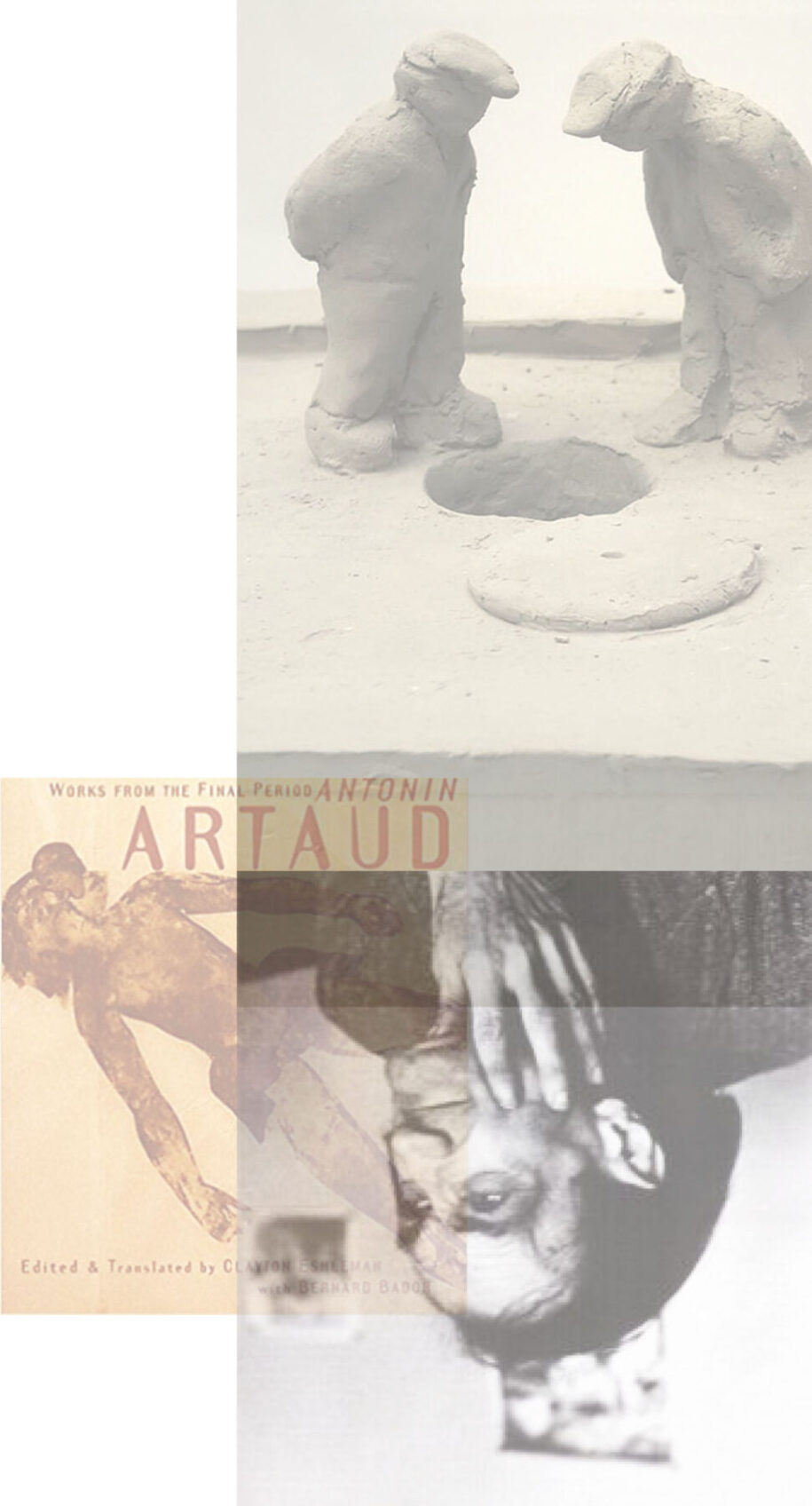 The following is an analysis from social, body boundary issues and applied cleanliness- hygiene correlations, to the applications of the toilet area. The private condition in constant renegotiation with public space. Accordingly, the aim of this project is to search hidden issues in the spatial interior, present in the background scene; activities that cross the boundaries between public/private and exist in the in-between space.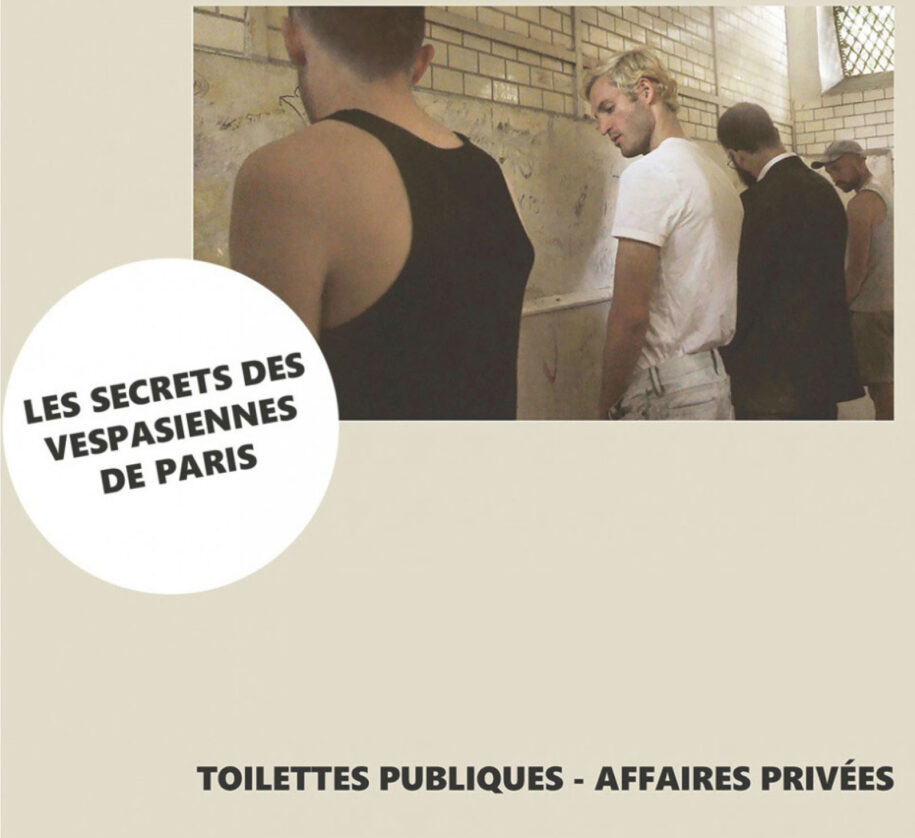 How bodily practices are transformed to what is considered normal; how toilet contributed to the formation of the modern Western spatial perception; what do the spatial effects of these designs suggest on a broader scale [2].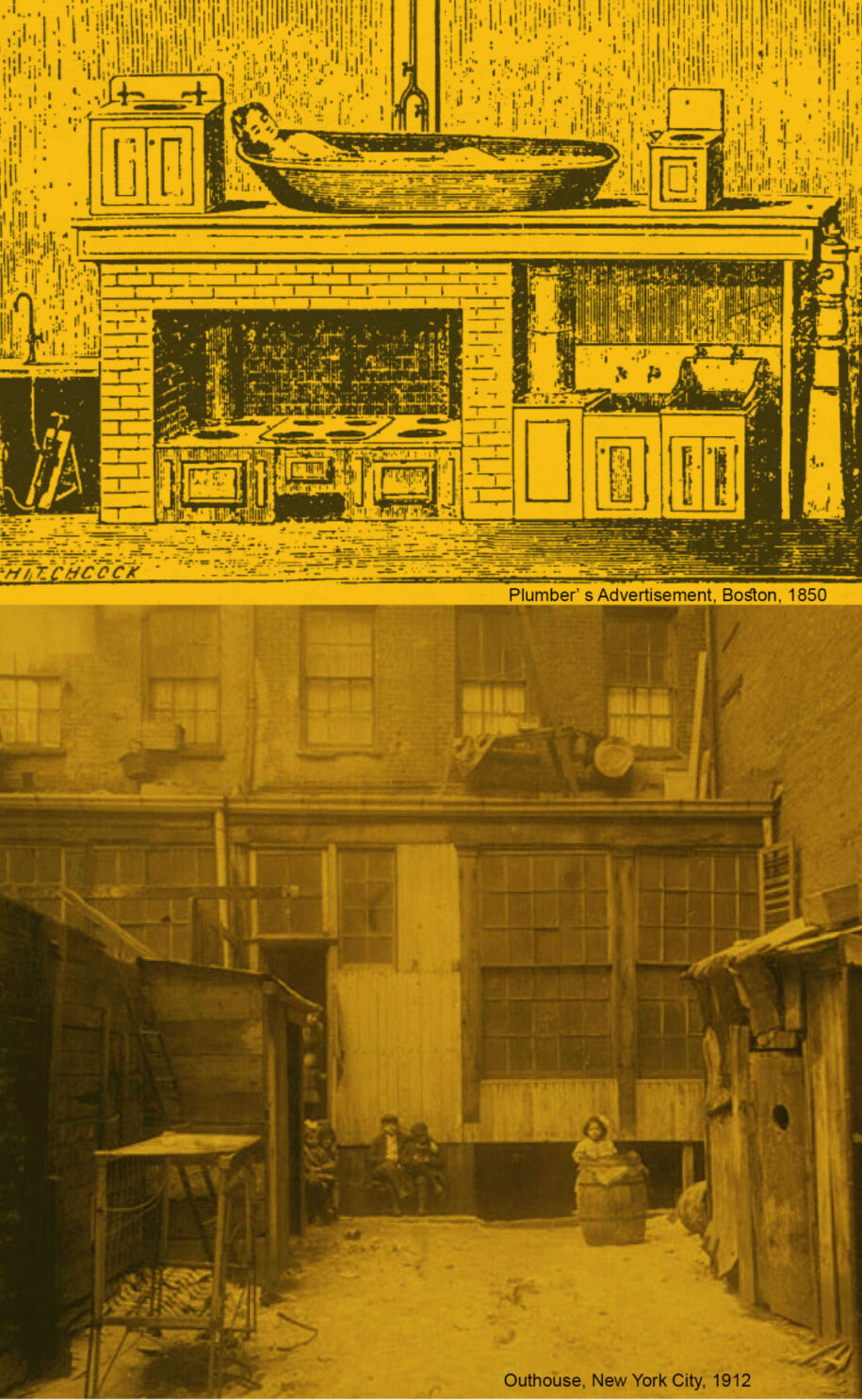 In this context, the research moves into three sections. In the first one the body and space relationship is examined with understanding tool the theoretical correlation between sexuality and hygiene. In the second, a selective route from 18th century and after is attempted. More specifically, it examines the events that contributed to sanitation, medicalization and introduction of the plumbing technology the highlight of which is considered to be the Modern Movement.
The research focuses spatially on the individual bathroom, with elements that contributed to its evolution. Finally, the third section focuses on studying cases of different possible connections with the toilet — as a deregulation of the public and private, mixing elements of both categories.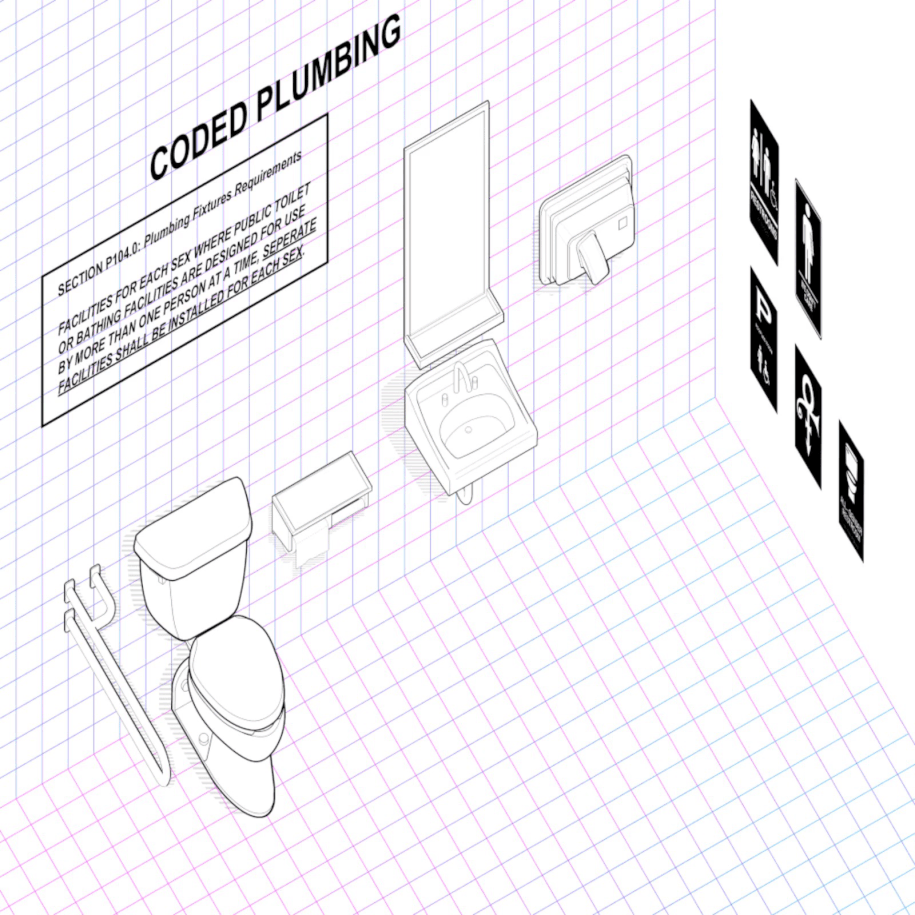 Facts & Credits
Project title  Corporeality, Hygienic spaces, WC| body and space under special conditions
Student  Dafni Maragkou
Supervisor  Dimitra Chatzisavva
Date  June 2020
Course  Research thesis
Institution  School of Architecture, Technical University of Crete


---

Η ερευνητική εργασία της Δάφνης Μαραγκού, με τίτλο "Σωματικότητα, Χώροι "Εξ-υγίανσης", WC | σώμα και χώρος σε ειδικές συνθήκες", επιχειρεί να εξετάσει τη χωρικότητα και την εμπειρία του σώματος στον χώρο της τουαλέτας.
-κείμενο από την δημιουργό
Ο χώρος της τουαλέτας είναι ο χώρος όπου το κρυμμένο εσωτερικό του σώματος έρχεται σε στενή επαφή με το κρυμμένο εσωτερικό του κτιρίου, δύο "υδραυλικά συστήματα" προσωρινά συνδεδεμένα. Χώρος συνδεδεμένος με το ιδιωτικό απόβλητο, πέρα από την κυρίαρχη κοινωνική σκηνή.
Το σώμα παίζει πρωτεύοντα ρόλο στις διαδικασίες παραγωγής, νοηματοδότησης και χρήσης του χώρου και ειδικότερα αποφασιστικό ρόλο σε σχέση με τον εξεταζόμενο χώρο της προσωπικής υγιεινής.
Ακολουθείται μία πορεία ανάλυσης από κοινωνικά θέματα, θέματα ορίων του σώματος και εφαρμοσμένες θεωρητικές συσχετίσεις καθαριότητας-υγιεινής, έως τις εφαρμογές του χώρου της τουαλέτας, δηλαδή τοv χώρο του ατομικού μπάνιου.
Μελετώνται σχέσεις: κανονικού/παθολογικού, σεξουαλικότητας/υγιεινής, δημόσιου/ιδιωτικού. Αναζητήσεις που σχηματοποιούνται στο "πεδίο" της τουαλέτας, ενός "τόπου" σύμπτωσης μεταξύ έλξης και αποστροφής [3].
Ζητήματα που απορρέουν από την προσωπική υγιεινή, τη σεξουαλικότητα και την τοποθέτηση των σωμάτων, στιγμές στα όρια του κοινωνικού συνόλου.
Πώς οι σωματικές πρακτικές μετασχηματίζονται σε αυτό που θεωρείται "κανονικό"· πώς συνέβαλε η τουαλέτα στη διαμόρφωση της σύγχρονης δυτικής χωρικής αντίληψης· τί υποδηλώνουν τα χωρικά αποτελέσματα αυτών των σχεδίων σε μια ευρύτερη κλίμακα. Ο σχεδιασμός του μπάνιου έχει διαμορφωθεί τόσο από πολιτιστικές αξίες, πεποιθήσεις, φαντασιώσεις σχετικά με το σώμα, την ευπρέπεια, την υγιεινή, το φύλο, όσο και από την εκάστοτε τεχνολογική εξέλιξη.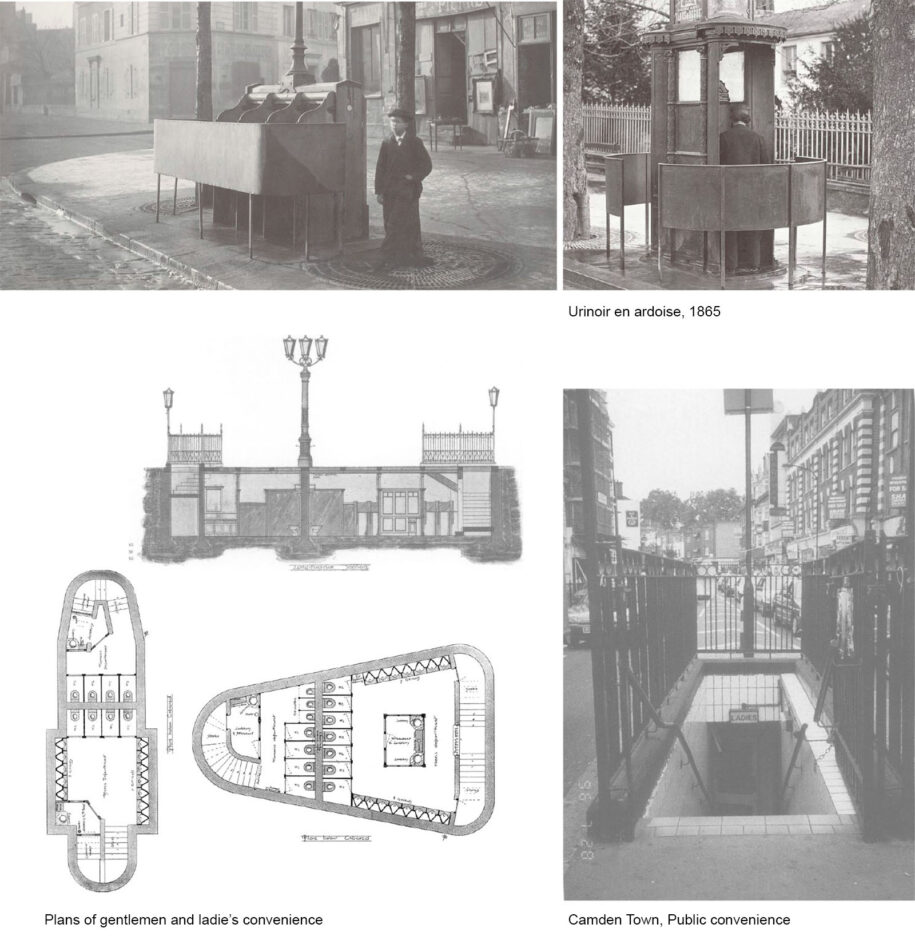 Στόχος της εργασίας είναι η παρατήρηση, μελέτη, και καταγραφή ζητημάτων κρυμμένων στο χωρικό εσωτερικό, που υπάρχουν στο πίσω πλάνο της κοινωνικής σκηνής· δραστηριοτήτων που παραβιάζουν τα όρια μεταξύ δημόσιου/ιδιωτικού και υφίστανται στον χώρο που αντιστοιχεί στην κάθετο [4].
Σε αυτό το πλαίσιο, η εργασία αναπτύσσεται σε τρεις ενότητες: Στην πρώτη, επιχειρείται να μελετηθεί η σχέση σώματος-χώρου με εργαλείο κατανόησης τη θεωρητική συσχέτιση μεταξύ σεξουαλικότητας-υγιεινής.
Στη δεύτερη, γίνεται μια εξελικτική καταγραφή συμβάντων από τον 18ο αιώνα και μετά , που συνέβαλαν στην "εξυγίανση", στην ιατρικοποίηση και στην εισαγωγή της "τεχνολογίας" των "υδραυλικών", αποκορύφωμα της οποίας θεωρείται το Μοντέρνο κίνημα· σταθμός στον εξεταζόμενο χώρο καθαριότητας.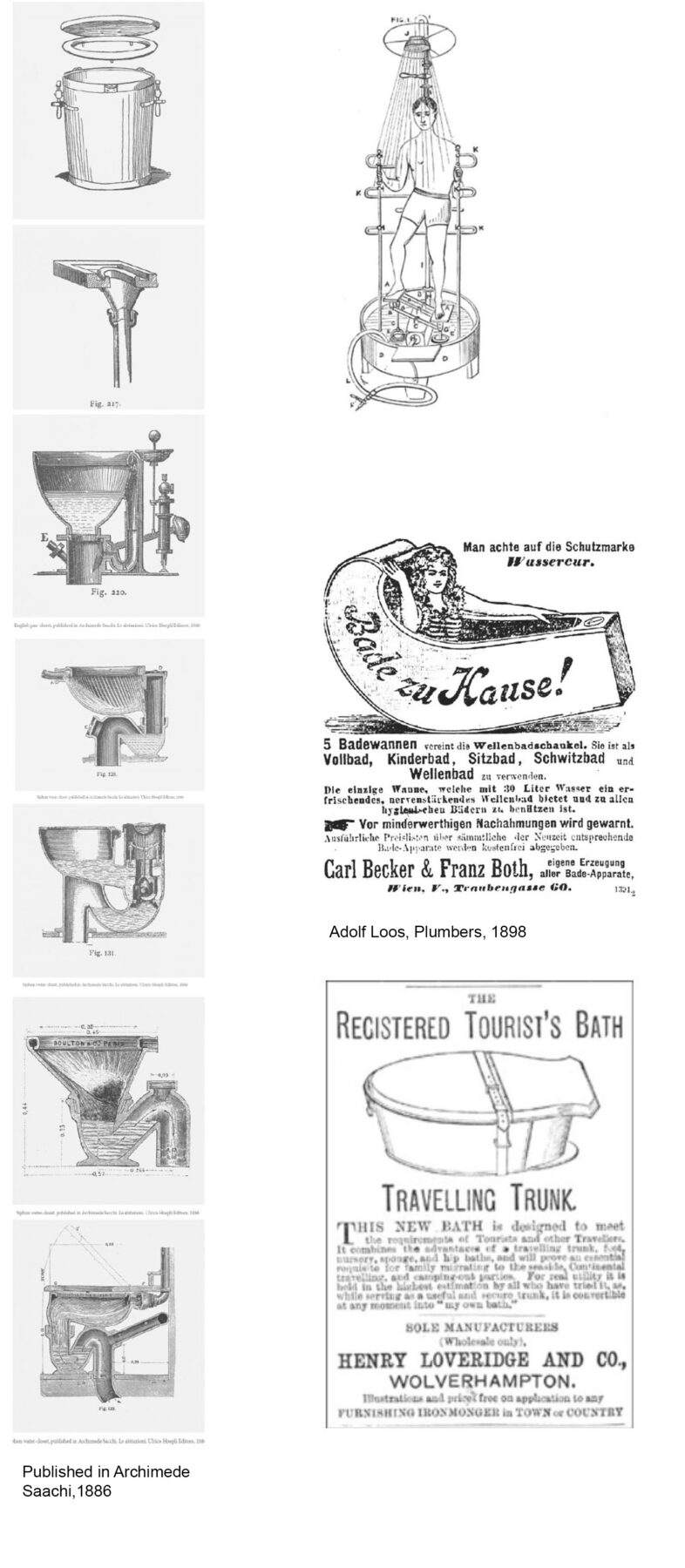 Η έρευνα, επικεντρώνεται χωρικά στο ατομικό μπάνιο, με σημεία που συνετέλεσαν στην εξέλιξή του. Τέλος, η τρίτη εστιάζει στη μελέτη παραδειγμάτων —διαφορετικών δυνατών συνδέσεων σε σχέση με την τουαλέτα— ως απορρύθμιση του δημόσιου και του ιδιωτικού που αναμιγνύει στοιχεία και των δύο κατηγοριών.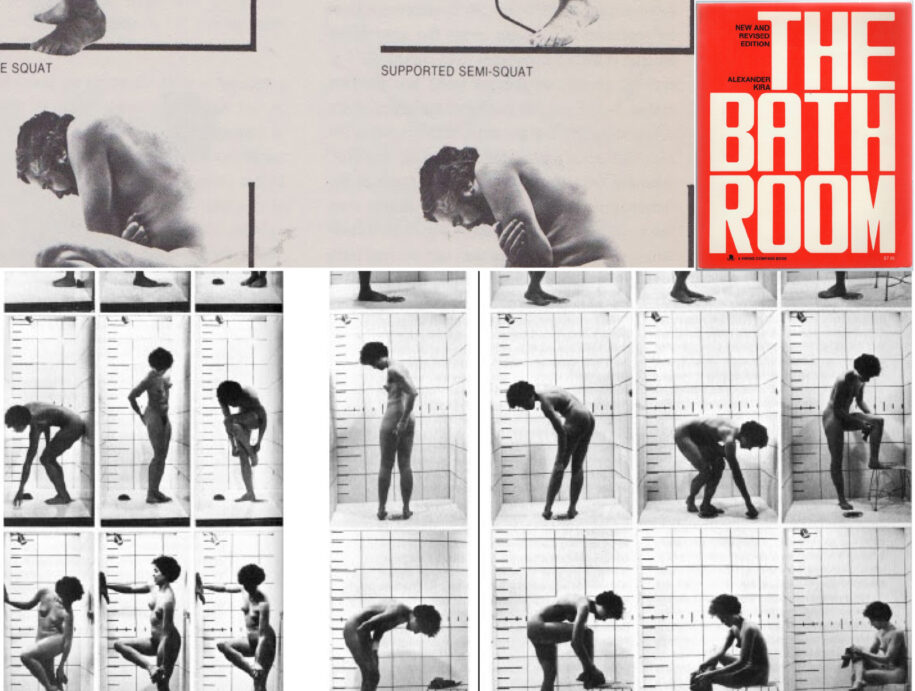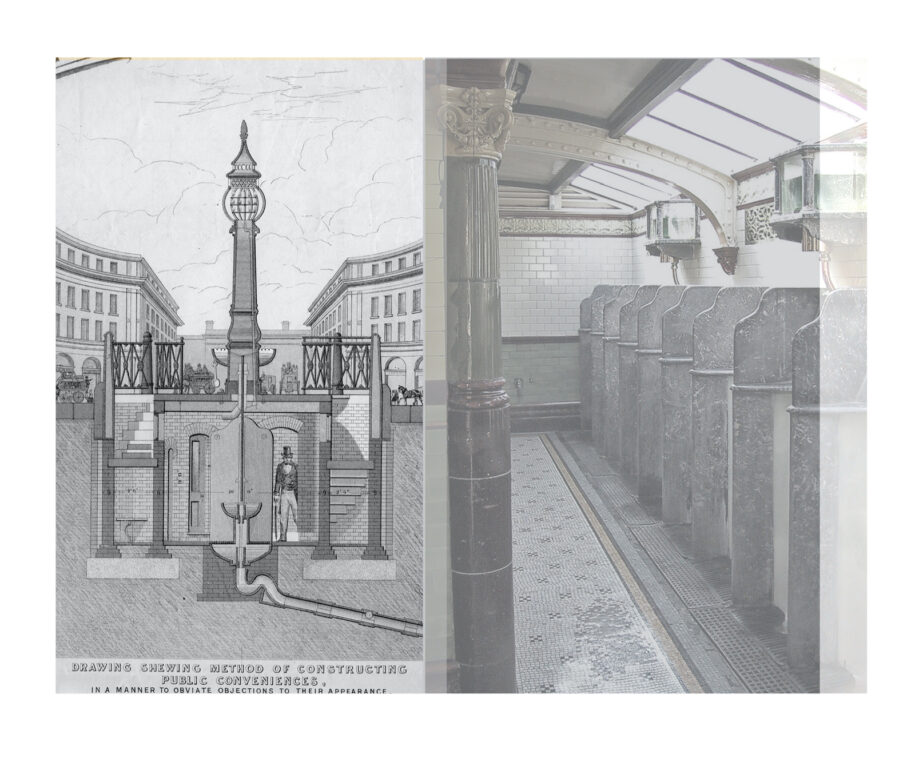 Αρθρογραφία/ Βιβλιογραφία
[1] Colomina, B., Wigley, M. (Fall-Winter 2017-2018), "Toilet Architecture: An essay about the most psychosexually charged room in a building", in PIN–UP Magazine (23)
[2] Meltem, G. Ö (2008), "Bathroom as a modern space", in The Journal of Architecture (13[3]), London: Routledge
[3] Αθανασίου, Α. (2004), Γυναίκες και φύλα: Ανθρωπολογικές και ιστορικές προσεγγίσεις: Η μελέτη του φύλου ως αναλυτικού εργαλείου στο χώρο της υγείας, Τμήμα Κοινωνικής Ανθρωπολογίας και Ιστορίας: ΕΠΕΑΕΚ Νέα Προγράμματα Μεταπτυχιακών Σπουδών, Πανεπιστήμιο Αιγαίου
[4] Μαρνελάκης, Γ. (2014), Στενές Επαφές Φύλου, Σεξουαλικότητας και Χώρου: 7 κείμενα του Γιώργου, Eθνικό Μετσόβιο Πολυτεχνείο: future
Στοιχεία έργου
Τίτλος εργασίας  Σωματικότητα, Χώροι "Εξ-υγίανσης", WC | σώμα και χώρος σε ειδικές συνθήκες
Φοιτήτρια  Δάφνη Μαραγκού
Επιβλέπουσα καθηγήτρια  Δήμητρα Χατζησάββα
Εξεταστική περίοδος  Ιούνιος 2020
Μάθημα  Ερευνητική εργασία
Σχολή  Τμήμα Αρχιτεκτόνων Μηχανικών, Πολυτεχνείο Κρήτης
READ ALSO:
Sub_ industry: procedures for prominence of industrial heritage | Diploma thesis by Ilias Vouras