Parti Architecture designed 29 °, a villa located in Kolymvari area, a location of outstanding beauty.
The design process basics were defined by the steep slope and the orientation of the land towards the verdant olive tree lowland. The main focus was the harmonization of the new building with the terrain and the integration of the quality features that compose the area (olive trees, rocks, garrigue), into an architectural proposal.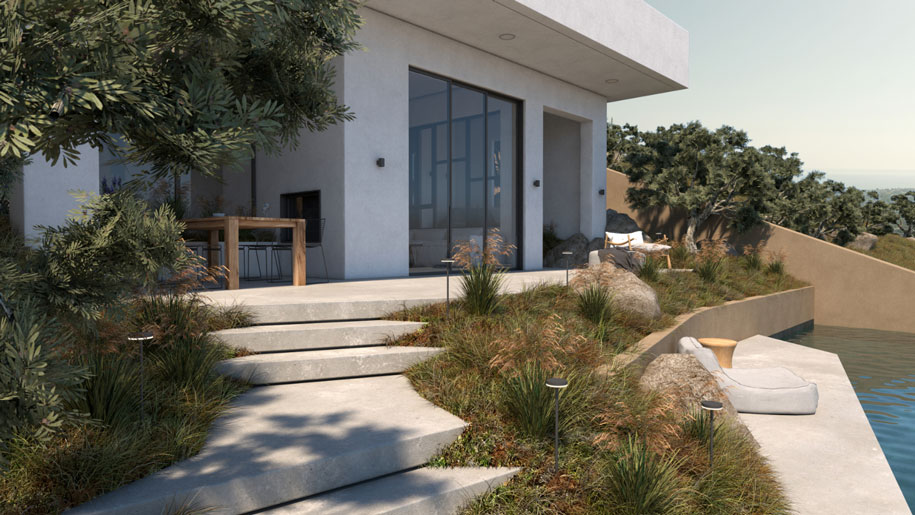 The building is developed in three levels, parallel to the contour lines and with access designed from top to bottom.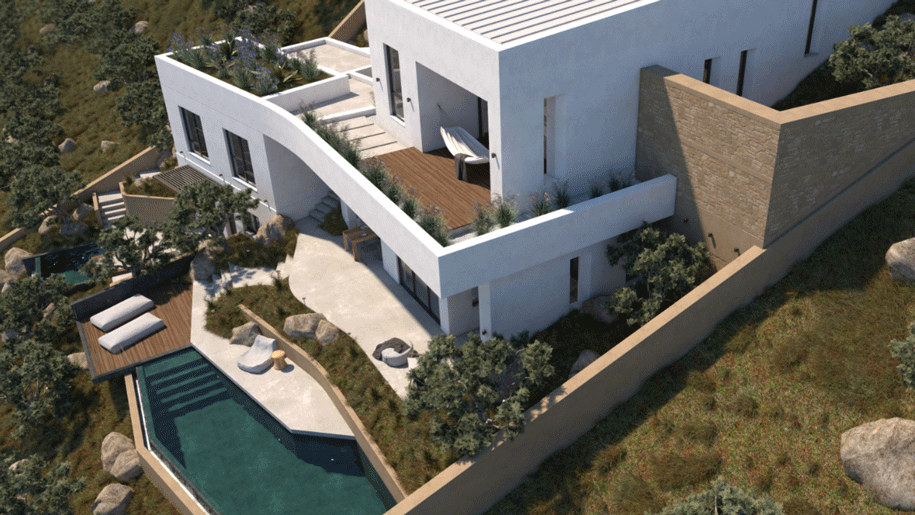 The main residency is divided into two levels. The master bedroom along with the private bathroom, is located on the highest level. The kitchen along with the living room, the bedrooms, the bathrooms and the storage areas are located on the middle level.
The private accessed guesthouse is located on the lowest level, offering an autonomous and private outdoor space.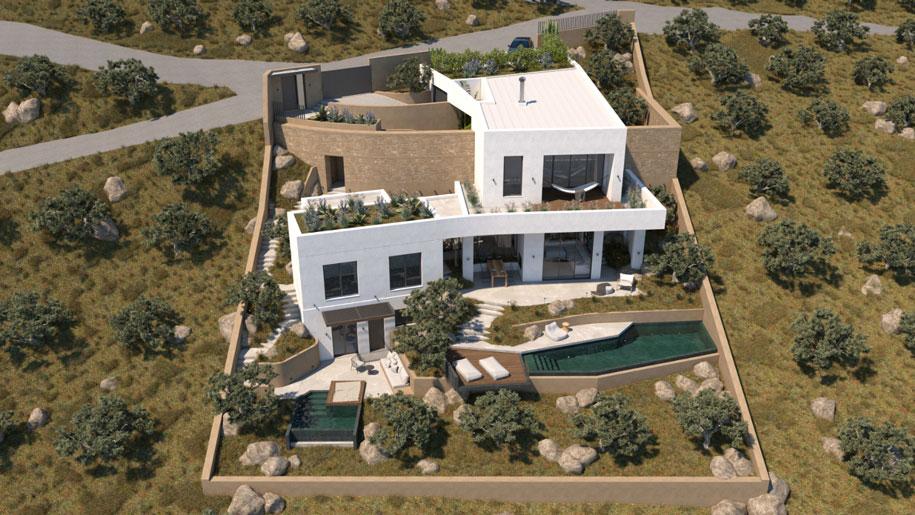 The initial design was marked by a single stone wall which retrieves and controls the slope, allowing the main functions (bedrooms, kitchen, living room) to face the view and hiding on the back side the secondary ones.
This wall also defines the route to the building through the exterior stairway while at the same time it creates an entrance towards the home and the guesthouse.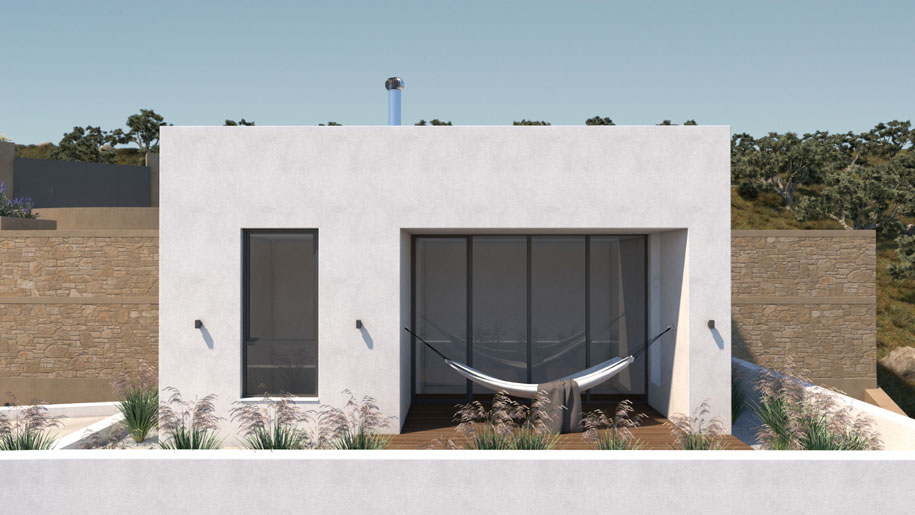 As a result, Parti Architecture have created a horizontal building partially below the ground, which adjusts to the land and the landscape, through a variety of levels internally and externally. The rotation of the building's volume contributes in a way that allows the guestroom along with its exterior to integrate with the ground gently.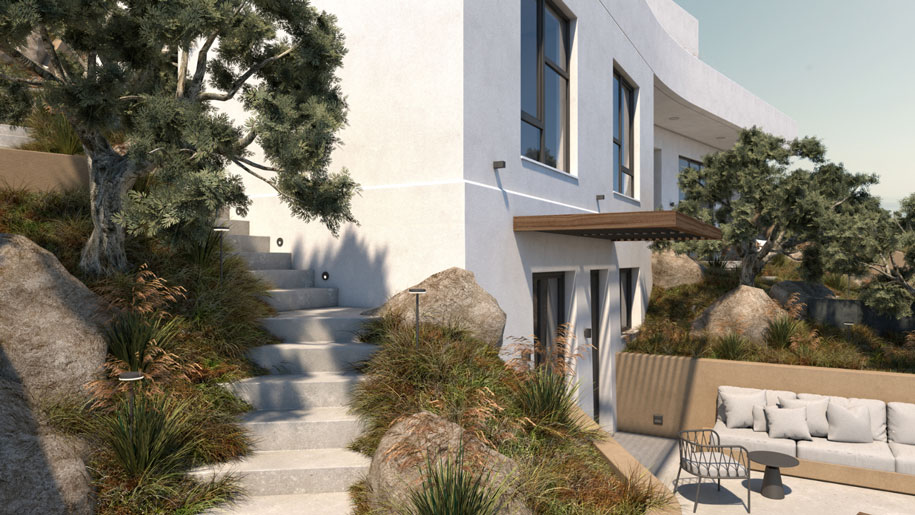 The individual building volumes come together through the single plate. This plate acts not only as a shelter in the "occupancy – vacancy" agreement that is being created in the middle level, but also as the master bedroom's exterior.
Additionally, the planted garage area along with the entrance are the only parts that are visible from the road level, as the home escalates on the downhill, minimizing this way the visual footprint.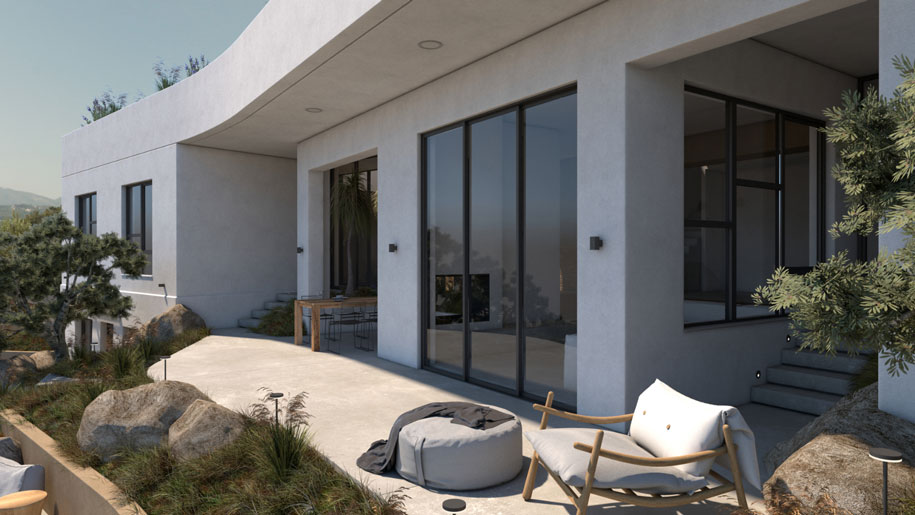 The outdoor living spaces, such as the pool, are developed organically in levels, in a way that allows them to always remain directly connected to the ground. Rocks and garrigue are mixed with the structured elements, the external levels and the passages, creating this way a harmonious blend of architecture and nature.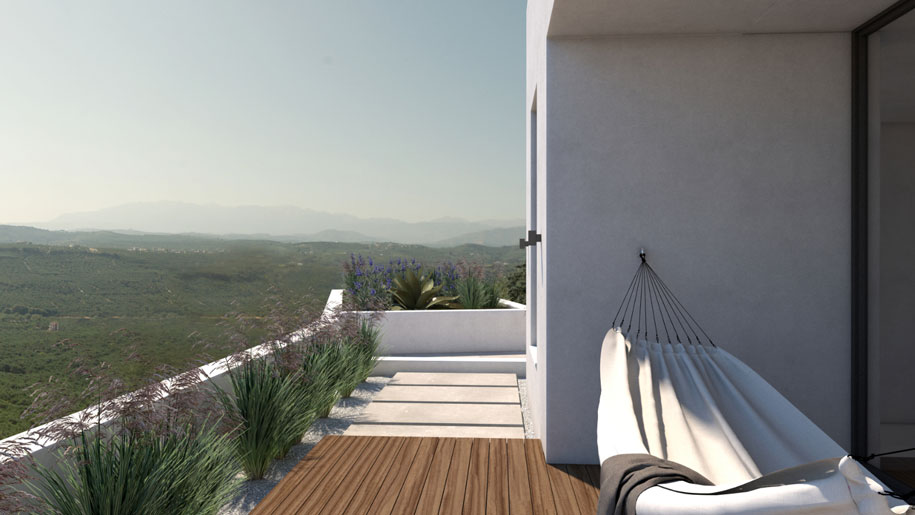 The materials proposed are following the same philosophy. The rough terracotta plaster assimilates the external built-in elements into the landscape. The stone, on the distinctive wall, acts as the building's volume background. This background emerges from the slope through the white plaster and finally meets with the Mediterranean landscape.
Facts & Credits
Project title   29°.
Project type  Residence
Location  Kolymvari, Chania, Crete
Interior area  290 m2
Exterior area  560 m2
Year of study  2020
Estimated year of construction  2022
Architectural Study  Parti Architecture
Structural design Efthymiou Engineers
Mechanical study  Balomenakis Dimitris
Construction   Critiland Architects
Exterior design and lighting  Parti Architecture
Editing and architectural rendering  Parti Architecture


READ ALSO:
Military Museum in Palau competition | Finalist mention