H ομάδα Μπουλούκι διοργανώνει εργαστήριο για την πέτρινη δόμηση στα Τζουμέρκα, σε συνεργασία με το Μετσόβιο Κέντρο Διεπιστημονικής Έρευνας του Εθνικού Μετσόβιου Πολυτεχνείου και το Δήμο Β.Τζουμέρκων. 
Το εργαστήριο θα λάβει χώρα στις 20-31 Αυγούστου 2018, πλησίον του Γεφυριού της Πλάκας, το οποίο βρίσκεται στη φάση της αποκατάστασης, και συμπεριλαμβάνει πρακτική εκπαίδευση στην τέχνη της πέτρας από ντόπιους μάστορες, αλλά και ένα σύνολο διαλέξεων από καταξιωμένους ακαδημαϊκούς. Αφορά φοιτητές και επαγγελματίες, αλλά και γενικότερα όσους ενδιαφέρονται για την παραδοσιακή αρχιτεκτονική, την αρχιτεκτονική κληρονομιά και την πολιτισμική διαχείριση. 
Για περισσότερες πληροφορίες και δηλώσεις συμμετοχής, παρακαλούμε επισκεφτείτε την ιστοσελίδα της ομάδας στο σύνδεσμο.

Πληροφορίες για την ομάδα:
Είμαστε μια διεπιστημονική συλλογικότητα που ασχολείται με τη μελέτη των παραδοσιακών τεχνικών δόμησης, τα ζητήματα προστασίας της πολιτιστικής κληρονομιάς, της ανανέωσης και ανάδειξης του πολιτιστικού αποθέματος, καθώς και την κριτική διερεύνηση των στρατηγικών που εκδιπλώνονται στα εν λόγω πεδία. Με επίκεντρο τους θεματικούς αυτούς άξονες, η δράση της ομάδας περιλαμβάνει τη διεξαγωγή έρευνας, τη διοργάνωση εργαστηρίων, συνεδρίων και ευρύτερων δράσεων, την προώθηση έργων, σε συνεργασία με τις τοπικές κοινότητες και τους φορείς τους. 
* Η λέξη Μπουλούκι αναφέρεται στα σινάφια των μαστόρων που μετακινούνταν από τόπο σε τόπο σε αναζήτηση εργασίας, διαδίδοντας τις παραδοσιακές μορφές και βαθαίνοντας τη γνώση τους.

To Archisearch.gr υποστηρίζει το εργαστήριο ως κύριος χορηγός επικοινωνίας.
---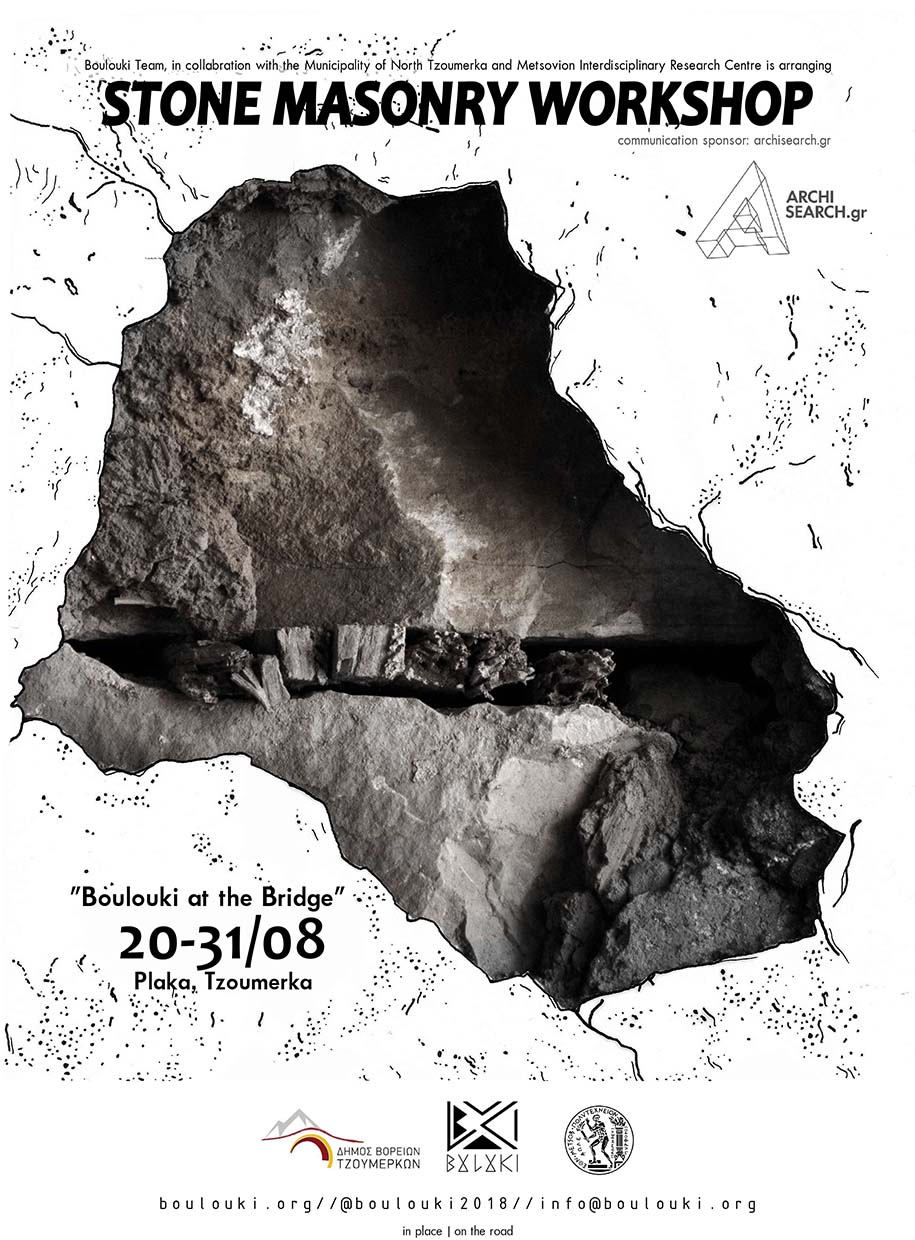 The workshop will take place between the  20th-31st of August, next to the Plaka Bridge, which is currently under restoration. Experienced and acclaimed local craftsmen, will teach and supervise the practical training, while the theoretical and technical aspects of stone masonry will be discussed through a series of lectures given by reputable professors. The workshop is open to both students and professionals, and generally anyone interested in traditional architecture, architectural heritage and cultural management.  
For more information and the application form, please follow this
link.
About the team:  
Our team is called  Boulouki, named after the nomadic groups of masons traveling, building and advancing their craftsmanship. We are an interdisciplinary group, whose work is focused on the study of traditional building techniques and materials related to the protection, conservation and promotion of cultural heritage, keeping a critical mind towards the current policies related to them, as well as promoting values like interculturalism, sustainability and multidisciplinarity. Based upon these thematic axes, the group's course of action includes conducting research, organising workshops, conferences and events, and promoting projects in collaboration with the local communities and their stakeholders. The group exists in the form of the Urban Non-Profit Company, based in Athens. 
*The word Boulouki comes from the nomadic groups of masons travelling, building and advancing their craftmanship.
Archisearch.gr supports the workshop as the main media sponsor.
READ ALSO:
Unpacking My Library | 14 Ιουνίου - 15 Ιουλίου, Βιβλιοθήκη του ΕΜΣΤ