Pandemic Architecture, an International Ideas Competition curated by the Design Ambassador for ARCHISEARCH.gr,  invited the creative community to open up a dialogue and create a think tank, looking for ideas from the architectural and design community about the future of the living, the workspace, the public space and the tourism industry after the outbreak of Covid-19.
Adaptive Societies: The Mall as a Pandemic Care Facility, was shortlisted in top 50 out of 440 projects.
-text by the authors
Malls symbolize a global consumerist utopia, where one is spoilt for choice. Whether its shopping, watching movies or relishing assorted meals, malls have quickly fire balled into extensive structures that provide diverse holistic experiences.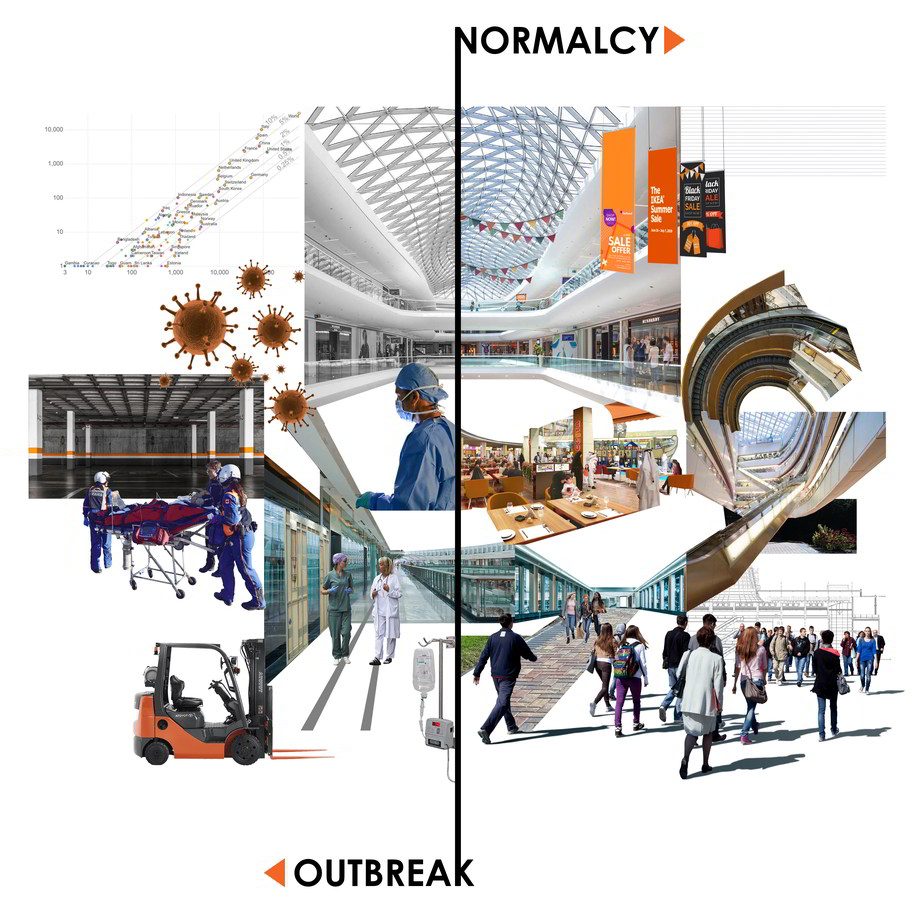 However, the current COVID-19 pandemic, and the imposition of strict curfews, have had a devastating impact on malls, rendering them completely abandoned.
While there has been an onslaught of research regarding the adaptive use of existing buildings such as schools, sports fields and universities as quarantine centres, malls are yet to be visualised in similar adaptations, which is disheartening as they are equipped with all the front and back ended operations required in this regard.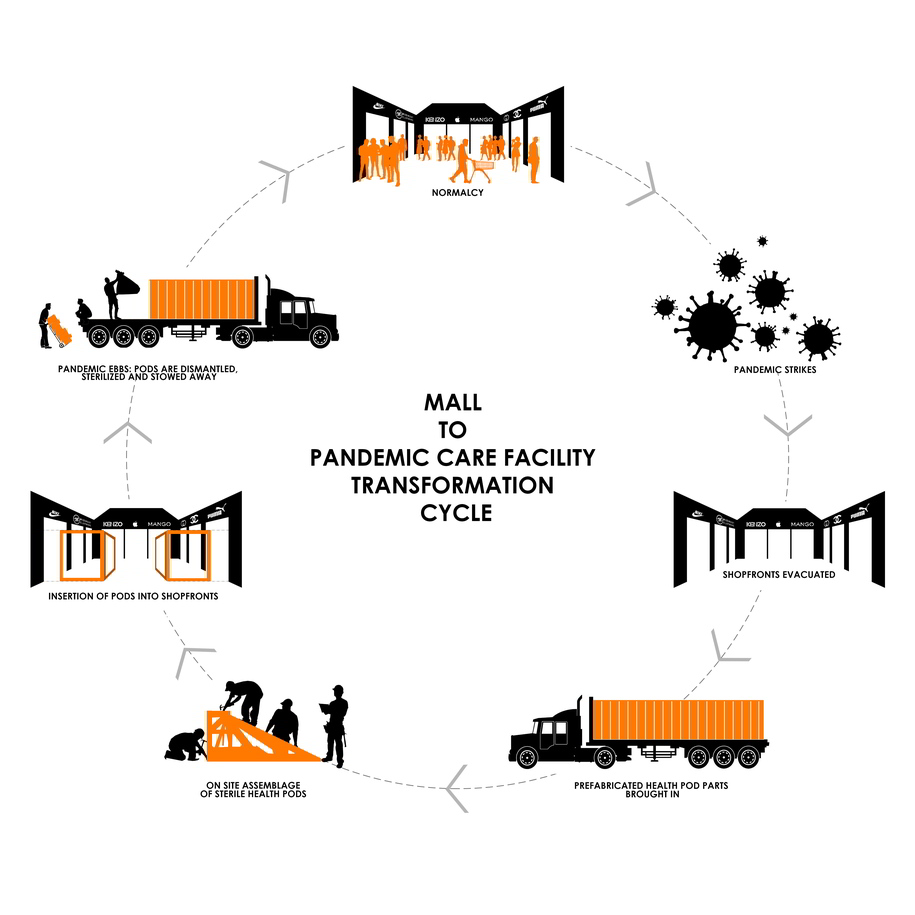 These include loading and unloading docks, sterilized food preparation zones, storage facilities, parking etc. Moreover, large airy passageways, meant normally for unrestricted pedestrian movement, allow gurneys and bulky medical equipment to be transported smoothly, while also supporting practice of stringent social distancing norms.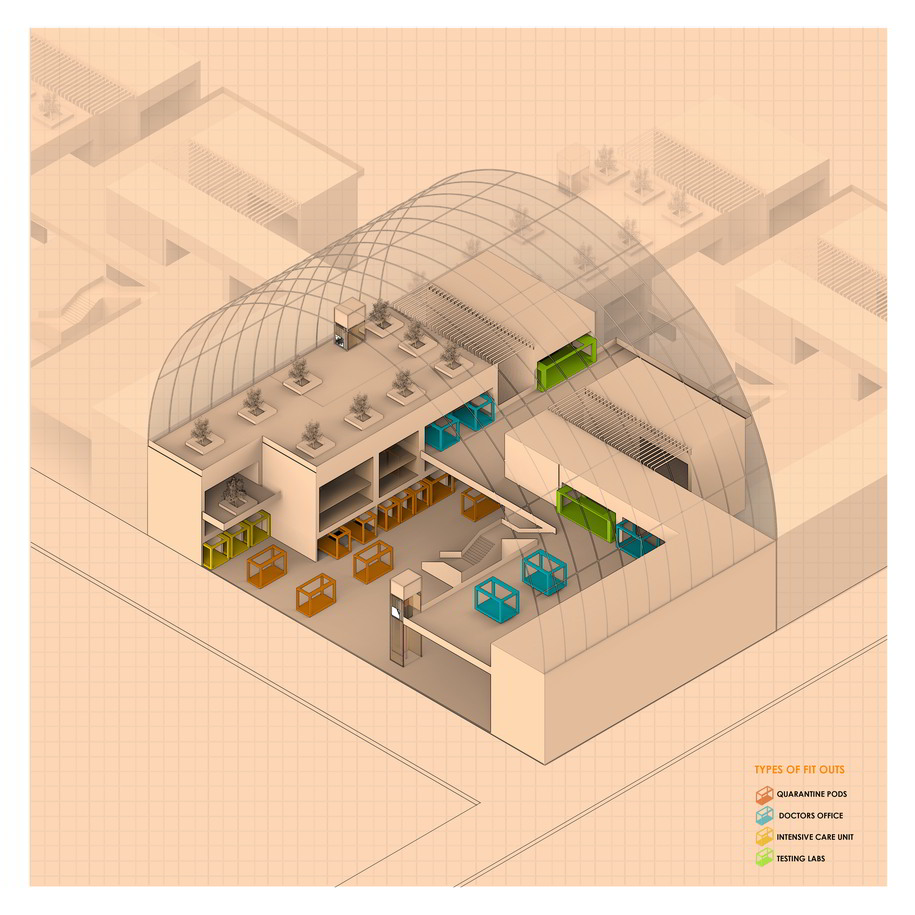 Lastly, such adapted use of malls could provide employment to a percentage of mall staff, as against the current scenario of mass unemployment, while also fulfilling 'Corporate Social Responsibilities'.
These observations paved way for a much larger architectural question on the transformation of existing malls during a pandemic.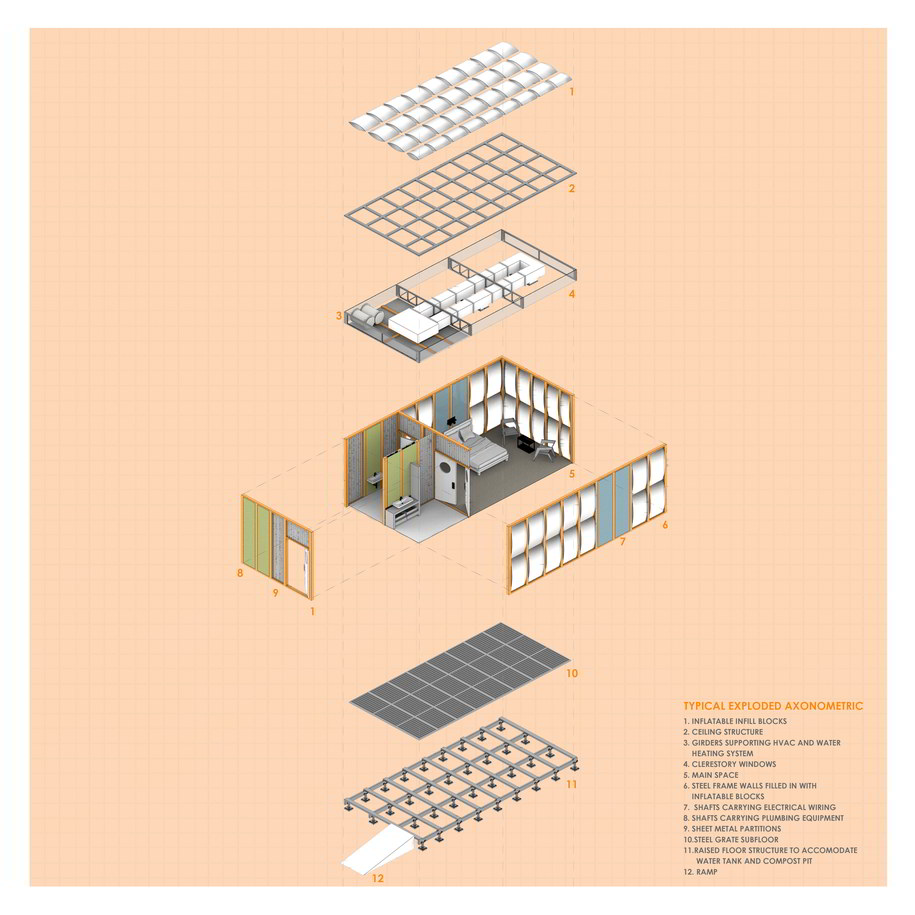 This would entail the fabrication and assemblage of highly specific, sterile spaces that could fit into the unused shopfronts, atriums, corridors and food courts. Such compact 'health care pods' would need to be produced, transported, assembled, and later disassembled and stowed away swiftly and efficiently, to fulfil their respective functions seamlessly without wasting time and resources.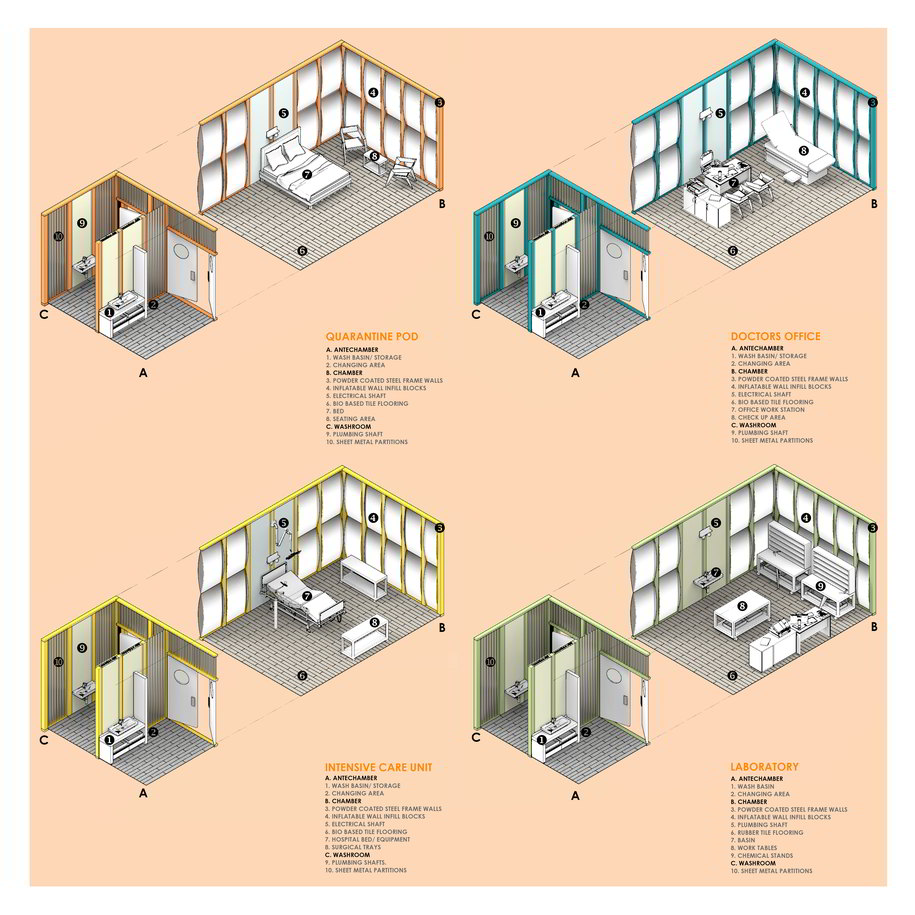 As the concept evolved, a utilitarian approach focussing on maximized use of space, efficiency and functionality was adopted. The pods were imbued with effortless customisability according to available space with the use of a steel frame structure, while being hermetically sealed using inflatable, light weight ETFE infill blocks. Each pod was thought of as a self-sustaining unit, replete with bootstrap air conditioning systems, compost toilets and inbuilt electrical and plumbing units.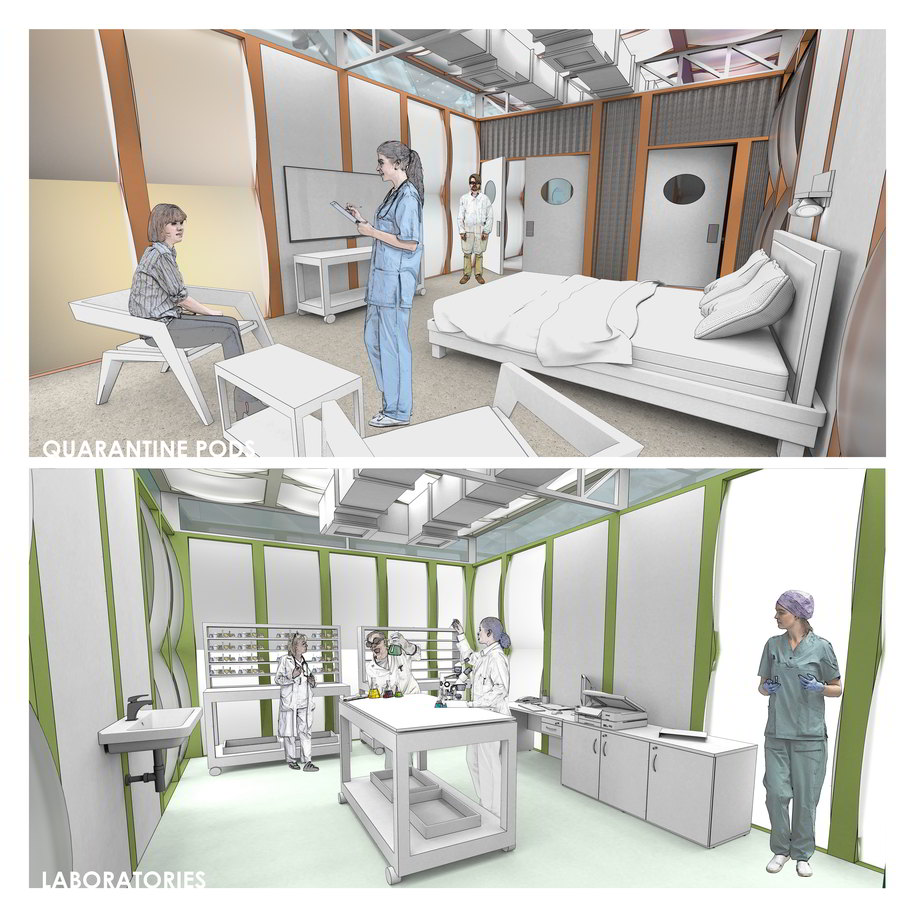 The pods were slightly raised to allow for the positioning of water tanks and septic tanks below, with a ramp permitting ease of access. All units consist of a transitionary antechamber that allows for disinfection, the main programmatic space and an attached washroom.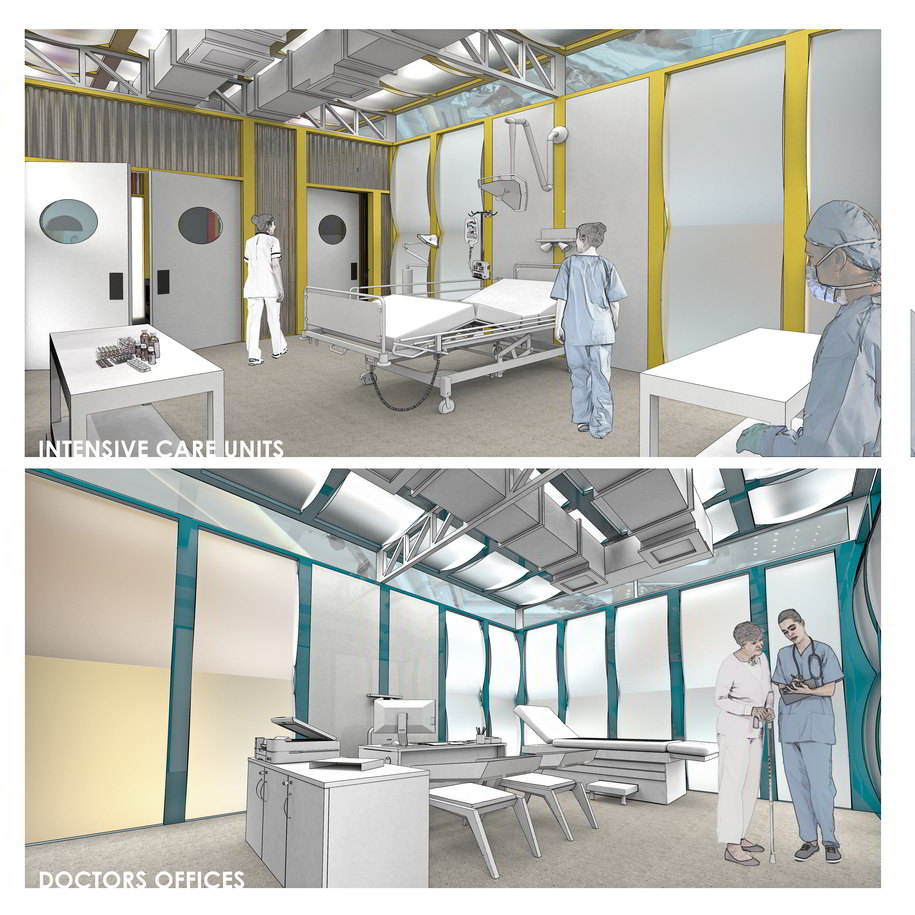 While this concept presents myriad possibilities, four spaces were delved into, namely: Intensive care units, quarantine isolation chambers, labs for testing, and offices for doctors. In each of these, the steel frame was powder coated in varied colours to act as an immediate wayfinding system while traversing through the breadth of the mall.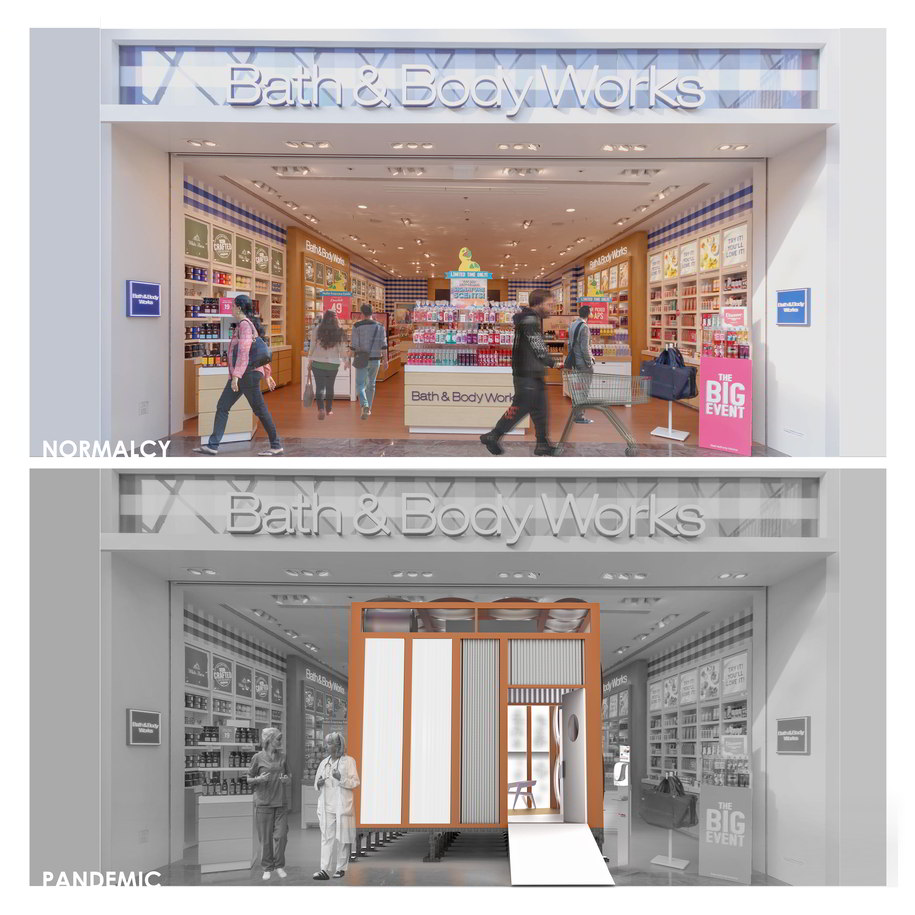 This project presents the feasibility of formulating fully functioning pandemic care facilities within the varied space typologies of a mall, while switching back effortlessly as normalcy returns.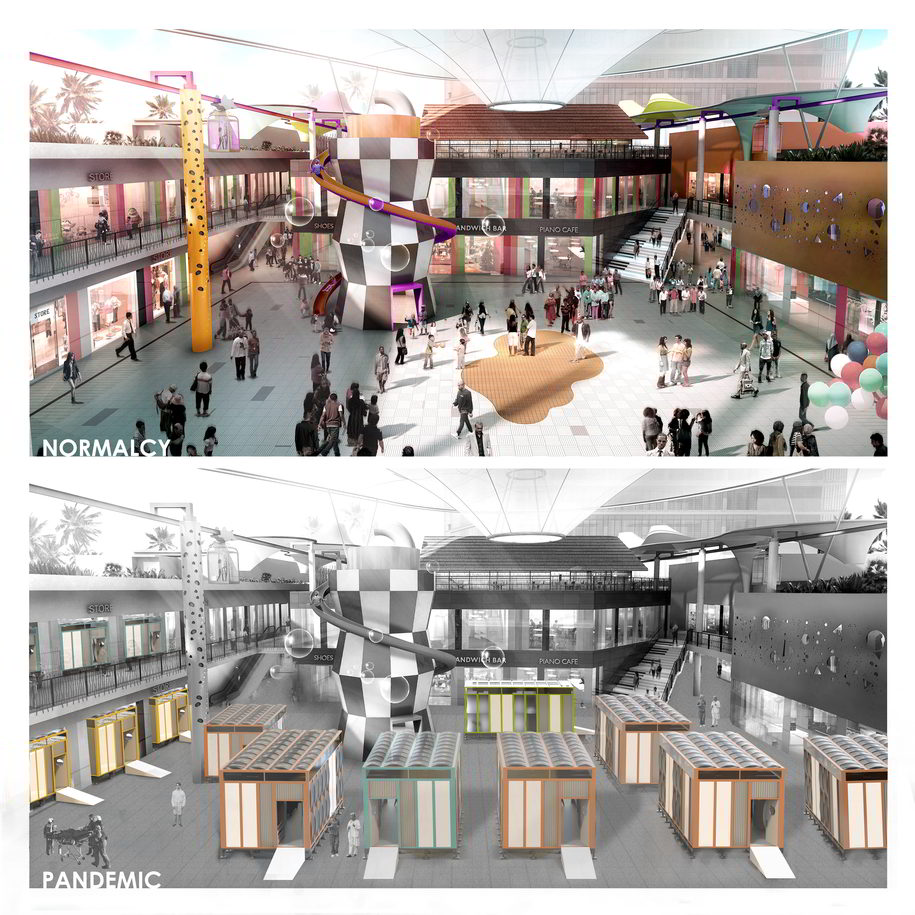 The overall objective, therefore, was to orchestrate efficient use of space that could augment community healthcare to such an extent that this flexibility is incorporated into the future design of malls right from the initial design stages.
_______________________________________________________________________
Facts & Credits
Participants: Dhruva Lakshminarayanan
Country:       Kuwait

The project was shortlisted in top 50 out of 440 projects.


The impact of Pandemic Architecture competition on the international architectural community was astonishing, with the number of registrations to exceed 800, with the final proposals to exceed 400 and with participants from more than 60 different countries.
Results will be officially announced on the 25th of September.
_________________________________________
Check out the open call and the jury here!
READ ALSO:
Vertical Village - Domestic Space | Pandemic Architecture Top50