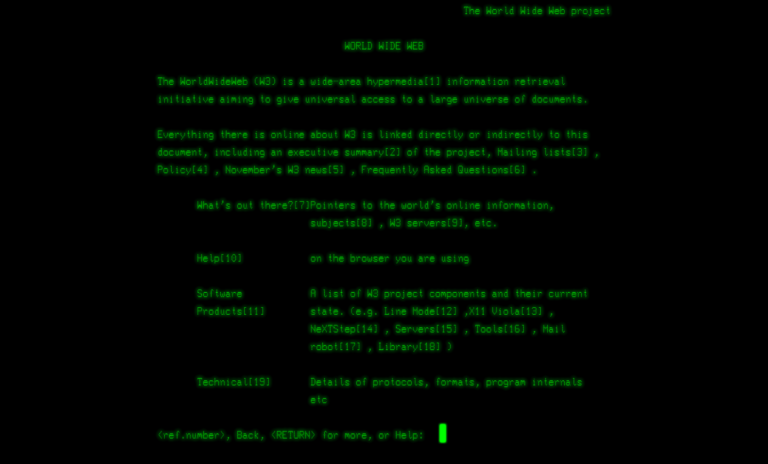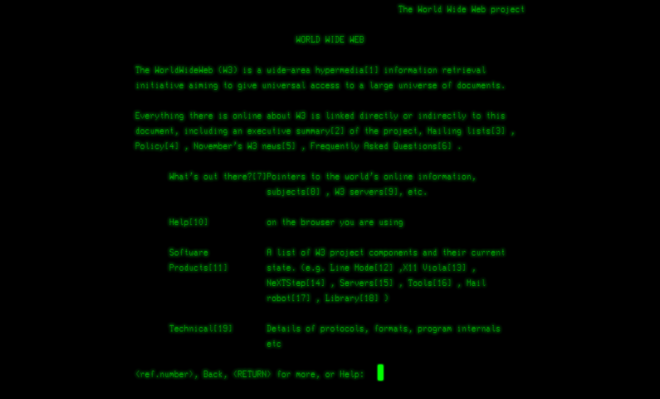 Do you remember the days when your website loaded for ages with the singing sound of your modem in the background? 
Then a page appeared looking like craigslist with hyperlinks in text and a small menu on the side. 
The internet was a clunky technology in 1995 that promised to change the world, and yet very few people really understood its potential. Most of us just surfed (pun intended) our way to modern days embracing the ever-growing transformation brought by this significant lap of a lifetime. 
Now, twenty-seven years later we find ourselves at a similar juncture, standing at the gate to a brand new Yellow Brick Road. As we come out of a global pandemic that alone had a massive influence on our interactions and forced us to use zoom technology for almost every aspect of our life we begin to relate to a new internet dimension, called Web 3.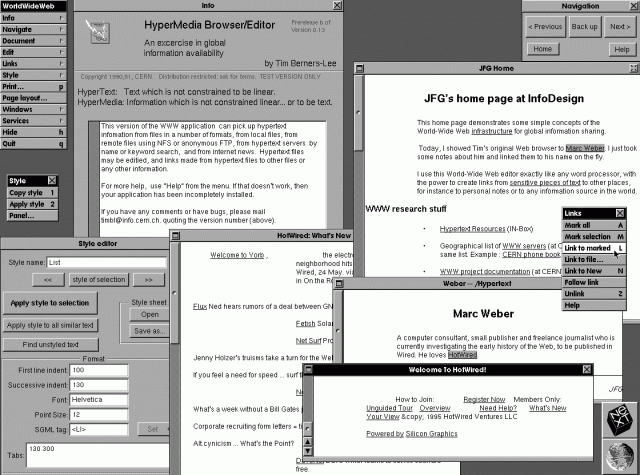 Web 3 is a dimension that promises to turn our world upside down, and yet 99% of my sophisticated acquaintances together with the rest of the world can't comprehend it, explain it, or appreciate the life-changing impact that it will have! You can join the 1% of people who as soon as today can begin profitable projects and enterprises in the Metaverse, and yes I am talking to you, architect!
Hope this article can serve as inspiration and information as to the potential the Metaverse holds for you and your business!
Get in touch with me, if by the end of this reading my goal was served, and even better so: join us at the upcoming virtual Disrupt Symposium – the first ever event organised for Architects, Engineers and construction specialists to speak about practice operations.  
The event is taking place from 1-3rd Nov 2022 at 19:00 CET and runs for 3 hours per day, 3 days in the raw. 
This edition welcomes to stage top architecture practices and is a continuation of the same event organised earlier this year. We will be hosting Ben van Berkel, founder of UnStudio and a celebrity architect in his own right, Winka Dubbeldam, founder and principal at Archi-tectonics and a Dean of Architecture at UPenn, 2023 First VP/2024 President-elect of the American Institute of Architects (AIA)- Kimberly Dowdell, who also is a Marketing Principal at HOK in Chicago, Herzog de Meuron's very own Michael Drobnik who leads firms efforts in BIM and coordinates discussions on the digital future of the architectural profession, Andy Watts a Director of Design Technology at Grimshaw, Marzia Bolpagni who is an Associate Director at MACE, Dimitris Karampatakis of Greek K-Studio, Christian Robert, Director at LA-based OFFICEUNTITLED, HKS Architects will be joining us, represented by Fabio Roberti, Christy Zweig Niehue who is the Director at Zweig Group, Jerónimo Van Schendel– Director of the Master in Business for Architecture and Design at IE School of Architecture and Design and HP with a representation form Z by HP and Teradici.
The topic of Metaverse Opportunities for Architects which this article discusses has been presented at the Disrupt Symposium in May this year by Patrik Schumacher and this article is based on that presentation, so I welcome you to keep reading to find out more.
Web3 and beyond.
Current advancements in AR and VR open new doors to what is possible and as we step into this place we begin to breathe in a completely new and unique type of dimensionality of experience. Experience which happens to fall completely into your skillset as an architect! Therefore it is time to specifically hone in on what this might mean for you and the future of your practice!
We are stepping into Web 3, and even more so into the Metaverse- one of the least understood concepts of Web 3. A concept now ridiculed as much as the World Wide Web in the 90's.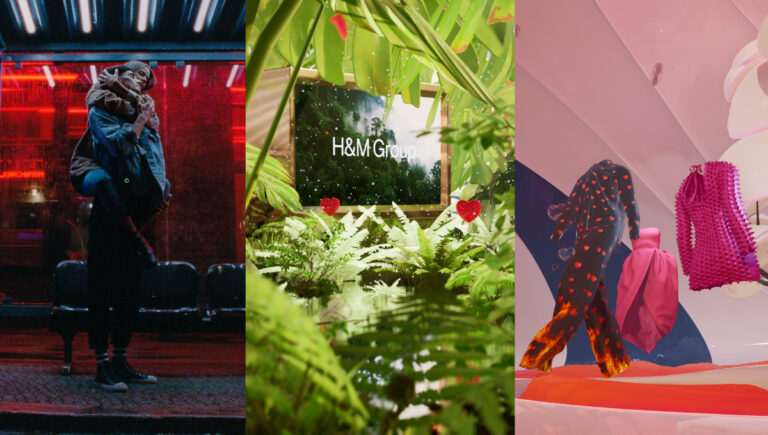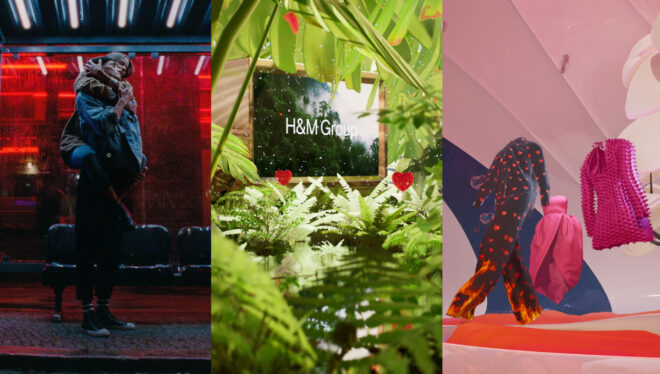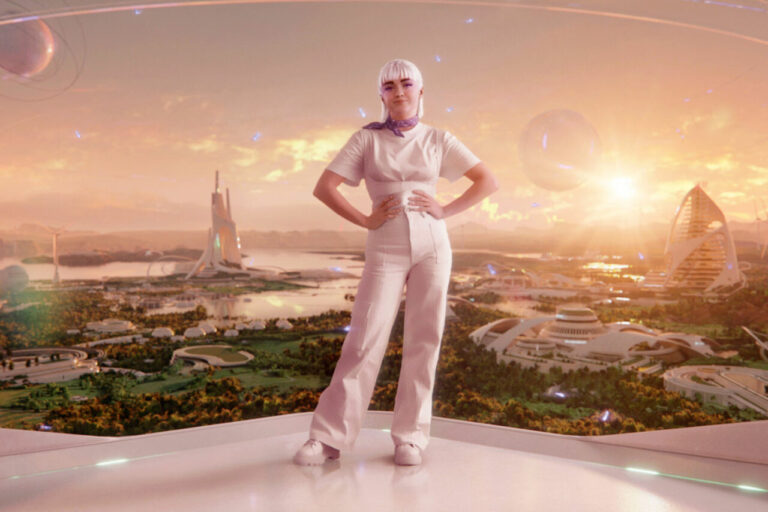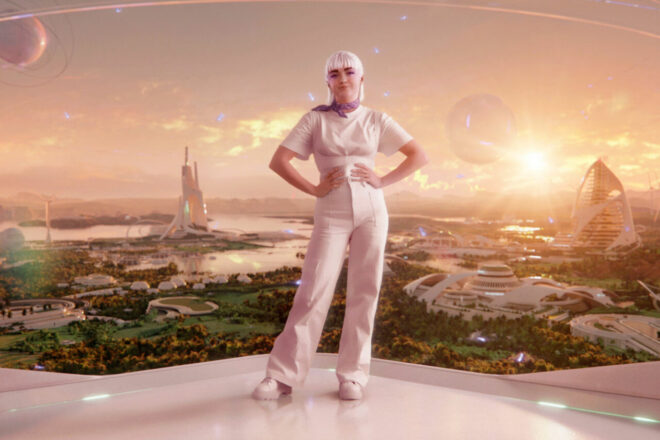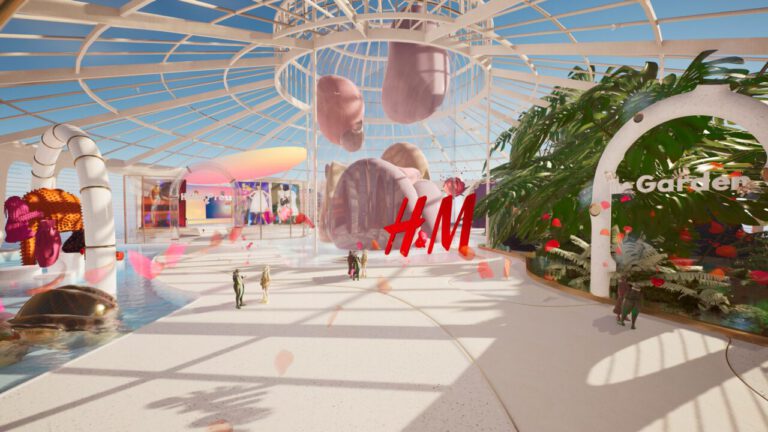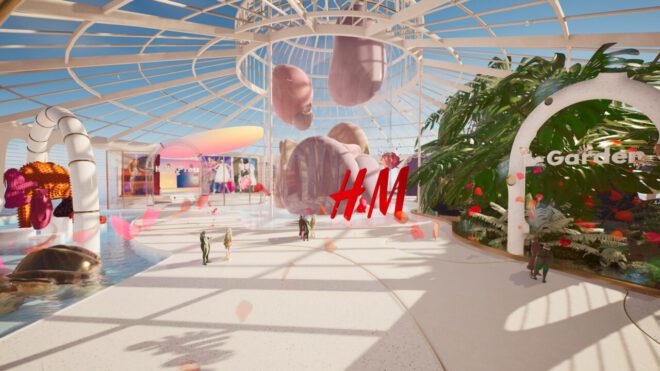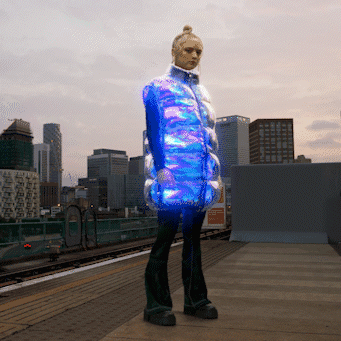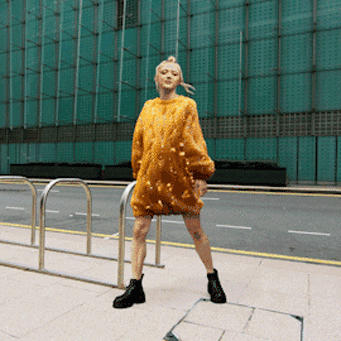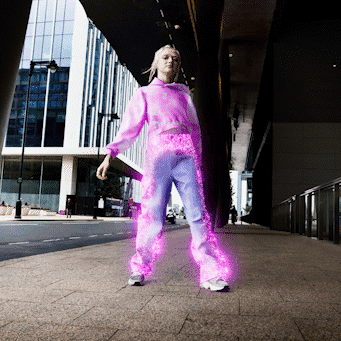 Images: The Above images show you H&M's new Metaverse experience. You can now log into the Metaverse to immerse yourself in a 3-dimensional virtual shopping experience, where catalogue website browsing is no longer the case! Now, you can be an avatar, try fashion on virtually and purchase your new collection with home delivery via DHL. Aha! This is what Web3 is!
Above images courtesy: H&M
The Metaverse is merely a term that reflects a future iteration of the internet. 
Let me explain.
The internet is a massive collection of interconnected computers that can be easily explored through a centralised set of navigation tools and standardised address schemas. Web3 is the next generation of the internet.
We are in the early stages of transforming the back and front end of the internet into something much more powerful and meaningful. The ultimate goal is to mirror our offline experience in an online format.
The Metaverse consists of two elements: the immersive experience and the internet of value.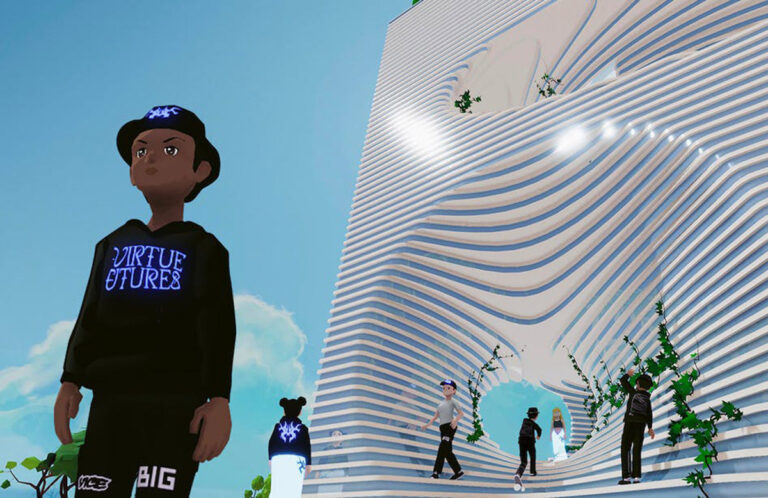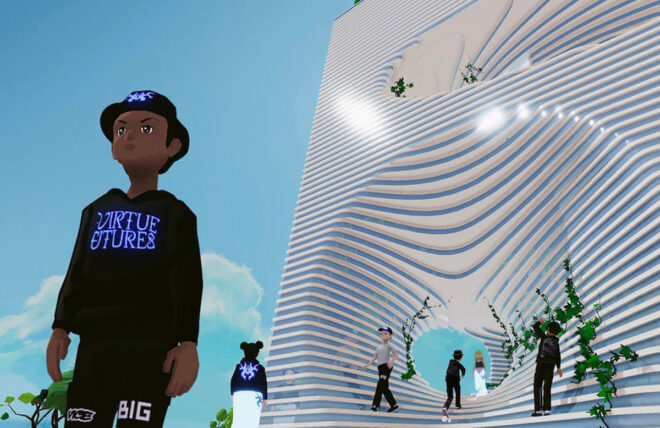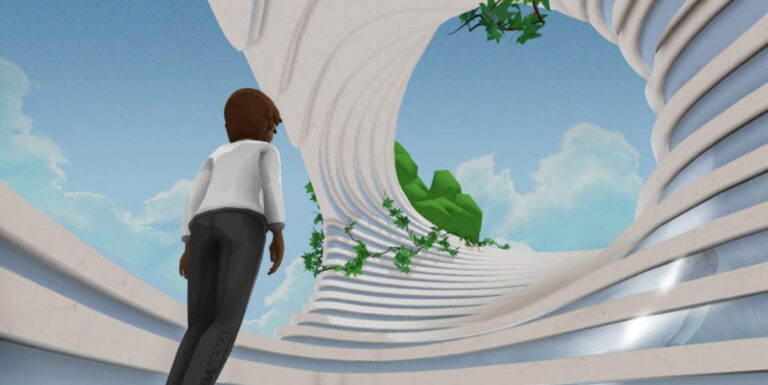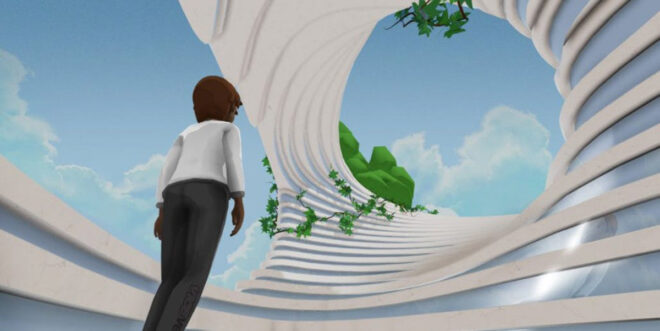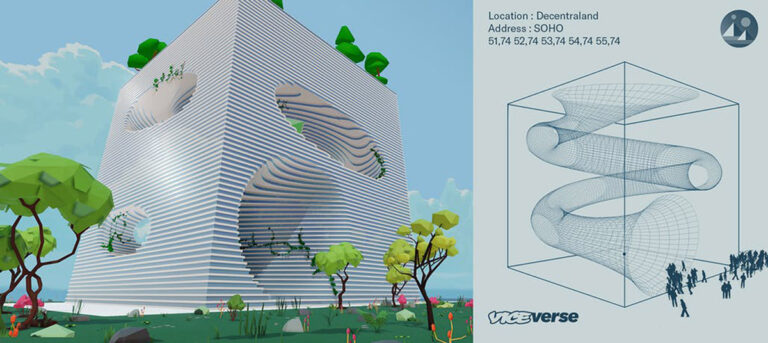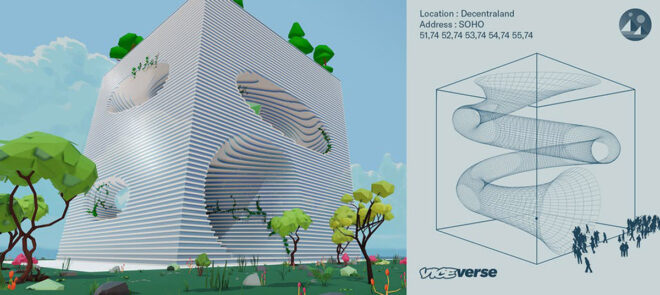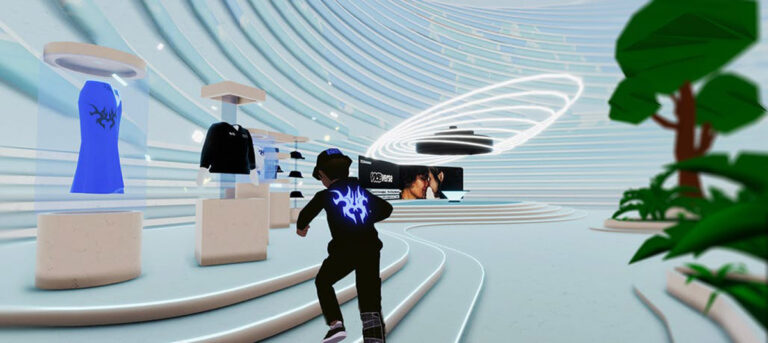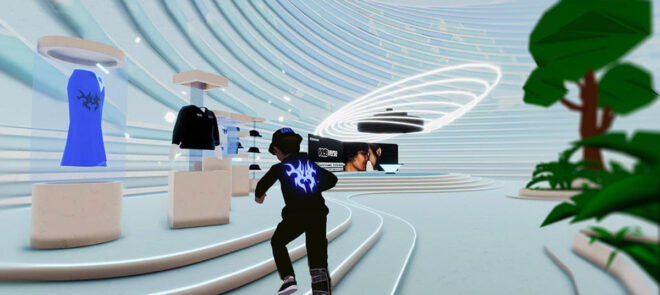 Images: The Above images show you BIG Group's new design of Headquarters for VICE Magazine. Yes, the global team at VICE is now using this Metaverse experience to meet and collaborate. It's nothing more than a coworking space, a place where hundreds of virtual writers and journalists working for VICE come together to collaborate and share their working hours! The project was designed and created by a team of Architects at BIG NYC and yes, they get paid the same for these projects as actually building in physical spaces! Keep reading on that.
Courtesy of images: BIG
In the Metaverse, the internet of value just comes up naturally because it's not only an individual and isolated virtual environment, but the immersive experiences and congregations can take place in specific locations, for example, a virtual city.
Within these immersive experiences, there is multidimensionality beyond what is happening.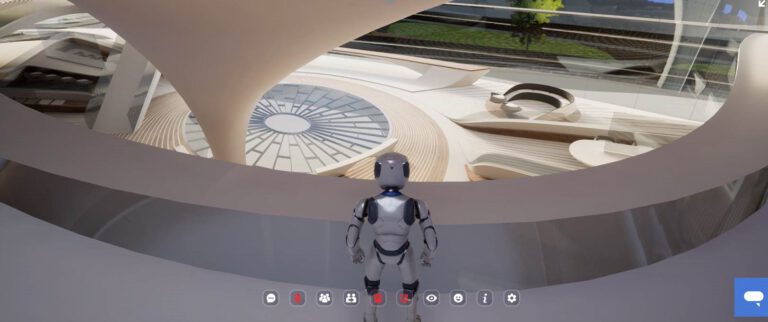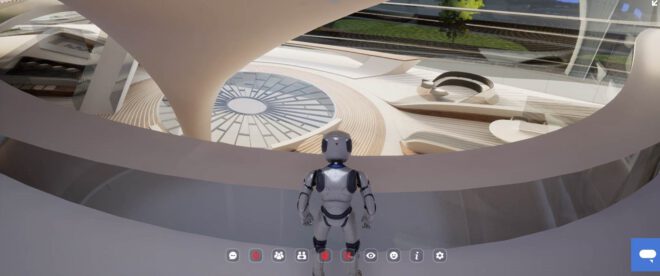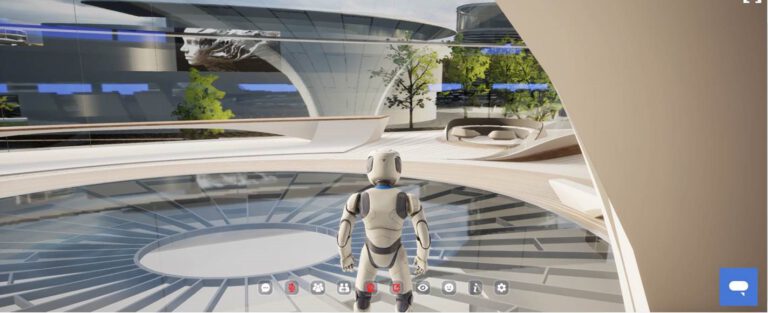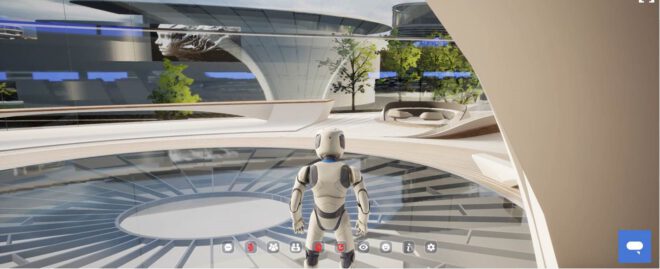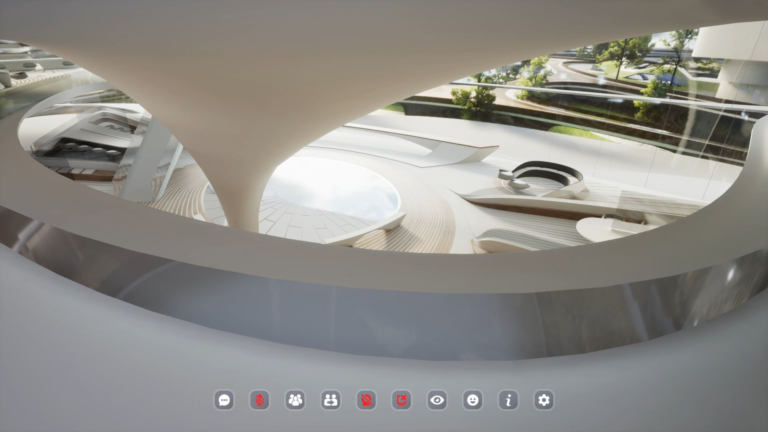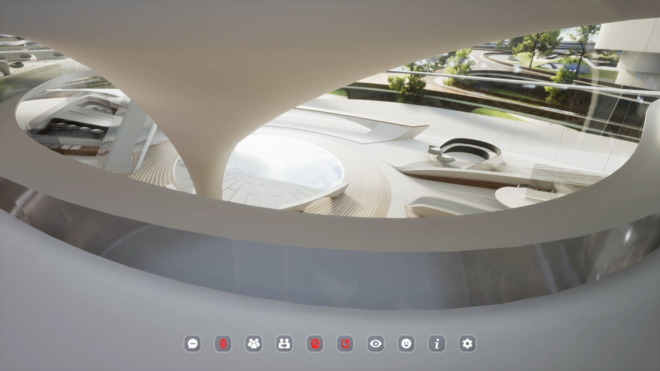 Images: These are screenshots and photos extracted from virtual cameras positioned in the virtual reality space at Liberland Metaverse designed by Zaha Hadid Architects. The photos represent an inaugural event organised earlier this year, that launched Liberland to the public. Over 100 participants logged in to listen to presentations, network, and even dance. The event gathered under one virtual roof project founders, creators, architects, investors and a pioneering group of users curious about being part of this historically significant event. 
Courtesy of images: ZHA
Say there is an event created in the Metaverse, designed to bring people together to discuss matters of architecture. Within this event, everyone has a given opportunity to express themselves individually- by selecting their avatar. These avatars then are free to explore the space and create their own experience. There is freedom of choice and exploration incorporated into this experience. Within this element of freedom, many things are offered including networking and social interaction, lecture and education, and exposure to products, services, and entertainment. 
Given the environment being constructed as a digital twin of our world there are assets creating it, and each asset, similarly to real life, holds an economic value.
The value is in property, real estate, events, and ways of self-creation and expression within these spaces like fashion, art, experiences etc. 
What does that imply?
First and foremost: land sales.
A cluster or city can come in and choose who they want to be close to and in order to purchase the land the system of NFTs has been developed which is inherently an in-world economic exchange of crypto-currency.
As an example of that: Liberland announced 7 years ago that its national currency will be Bitcoin, therefore, creating a natural overlap between the crypto-community and the experience of the virtual city that is Liberland.
Image: This is the Liberland Metaverse designed by Zaha Hadid Architects. It's a bird-eye view of the urban fabric of a virtual city.
Courtesy of images: ZHA
So, let's see what are the business opportunities in that space for Architects.
Let me begin by stating that the Metaverse is a Giant Market.
In his last presentation at the Disrupt Symposium 1-5th May 2022, a virtual event dedicated solely to the business of Architecture Patrik Schumacher, the Principal of Zaha Hadid Architects said:
"The Metaverse will deliver vivid tele-presence and co-location synergies, explorative browsing, immersiveness, collective experiences and more. The uptake of this opportunity will be universal. All websites will spatialise, all organiSations will move into the Metaverse, all physical venues will be augmented or substituted by functionality equivalent virtual venues".

– Patrik Schumacher at Disrupt Symposium, May 2022. 
We can expect an opportunity which will add quality of experience to all web browsing, marketplaces and more. Every physical event will develop a digital twin in the Metaverse providing a digital, augmented version of an experience with a global outreach. The physical places will become interphases for virtual expansions and connections.
What that means is that it's not necessary that the only way you can experience those Metaverse projects is from your home, from your personal computer and VR set but also you can experience that within external locations such as museums, shops, restaurants and more. Urban spaces will become enriched with screens and AR technologies to allow human beings to step into augmented reality on the spot. These overlays and projections will be there to create synergy and to join the two worlds simultaneously magnifying the human experience in space.
Patrik says that with these opportunities the whole real estate market will be doubled up and more simply because lots of organisations as the lower part of entry will have virtual premises and estates.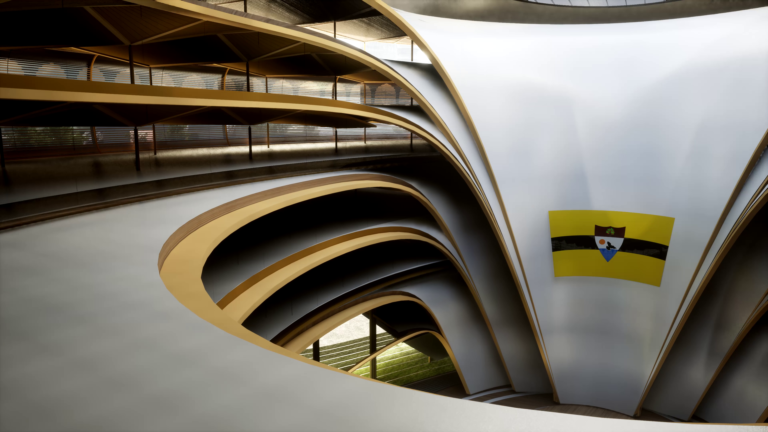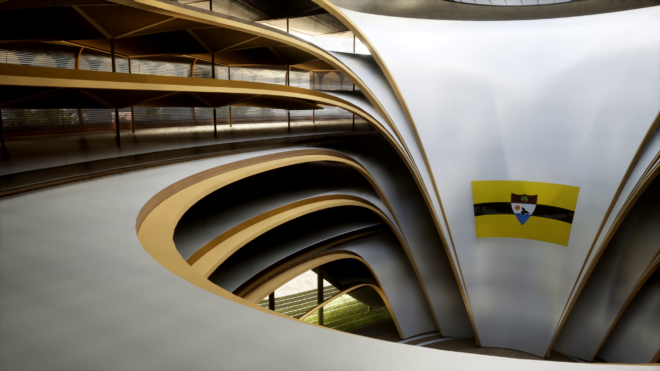 Image: City Hall building in Liberland Metaverse designed by Zaha Hadid Architects. This is where all democratic decisions take place amongst the inhabitants of the virtual nation. 
Courtesy of images: ZHA
Architects are the exact discipline and group of creatives that will benefit from this tremendously.
Even though the AR/VR industry is now dominated by the creations of video game artists and graphic designers, the skills and imaginations of architects will be valued and preferred in that space.
So what are the earning opportunities for architects you ask?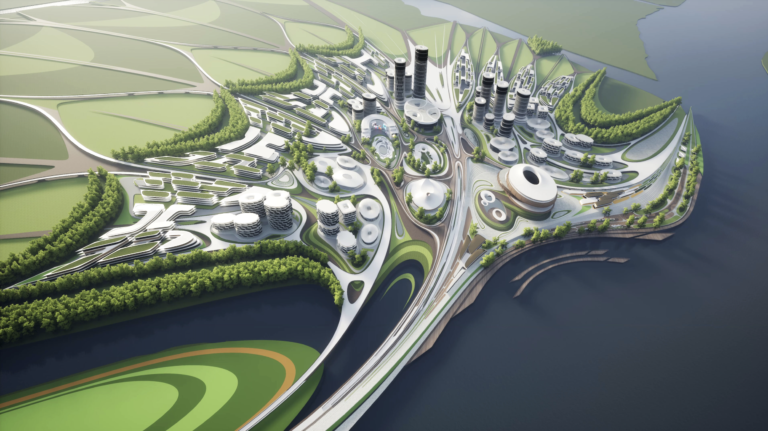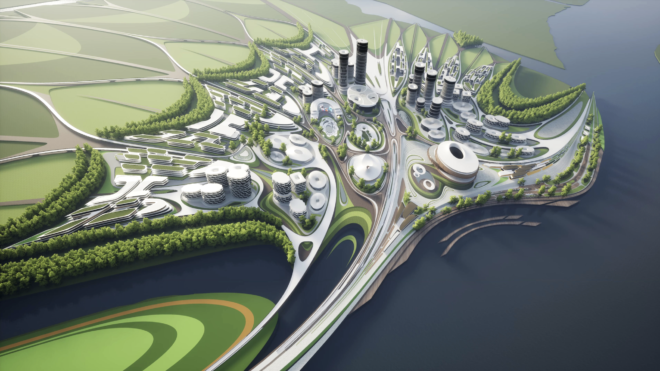 Image: Another bird-eye view of  Liberland Metaverse designed by Zaha Hadid Architects. 
Image courtesy: ZHA
Using as an example and a perfect case study of Zaha Hadid Architects investing in the creation of Liberland here is how the company profits from these opportunities already:
They have established fees for design services for developers and clients that in no way compete with their regular project fees.
Regular clients are individuals who purchased a Metaverse site and want to develop virtual environments for a multitude of intentions.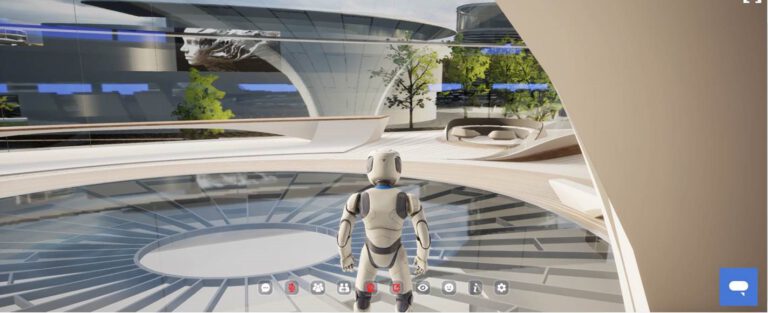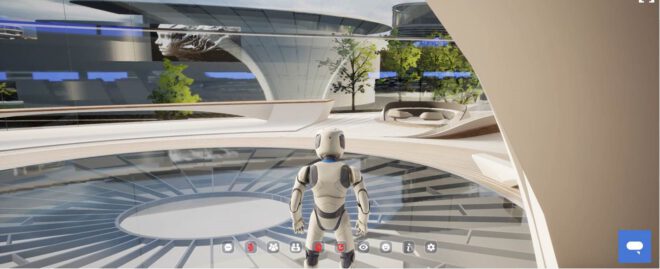 Image: Avatar experience in Liberland Metaverse designed by Zaha Hadid Architects. 
Image courtesy: ZHA
The projects might be stand-alone, have unique designs, or might be a digital twin of a building. These projects might in time shift to places in various Metaverses, and the lifespan of those projects is heavily dependent on the technology used. You need to focus on high-fidelity tools.
Patrik says that the design work is more or less the same with one exemption, upon design completion and insertion into the Metaverse you're good to move on to another project. Profits, you ask? ZHA charges the exact same for designing a physical location project as the Metaverse project.
Quite incredible right? Less work, less engineering responsibility, more volume and faster project turn-around. This alone bypasses a whole pile of issues we have been facing in our industry, as architects: like project length, permits, and the tremendous responsibility we take for human life in our buildings. 
With respect to deliverability, some of the standard procedures that we usually incorporated into our design journey get substituted by others. Specifically structural engineering. The design concept remains the same but design criteria change around structuring social communication. The role of the architecture shifts to framing, ordering and linking these communications spaces in order to make them legerable and to maximise collaborative exchange. The criteria of design success and purposes are the same as the concept design remains to be a strong analogy to social and intellectual transference. 
The difference lies within engineering optimisation evolving around polygon count, rates of frame refreshment, etc. replacing structural approaches into architecture. 
From the design side with respect to the purpose, the process is seamless, with the added value of allowing the creator absolute freedom in the form giving and geometric. 
The second earning opportunity for Architects is the ability to take equity (tokenize) your design services for the Metaverse platform. 
The whole premise of the Metaverse is based on the ability to create a traceable ledger and NFT (non-tangible token) of each and every design creation. 
What that means is that the unit of data that is the NFT represents a unique code and is assigned to each digital or physical asset. It then is stored on a type of digital ledger called blockchain, which can be sold or traded. The NFT can confer licensing rights to use the asset for a specified purpose. However, and this is important it does not confer the copyright to the buyer. Some arrangements grant a license for personal, non-commercial use, while other licenses also allow commercial use of the underlying digital asset. 
NFTs are created when blockchains concatenate records containing cryptographic hashes that are sets of characters that identify a set of data- onto previous records, creating a chain of identifiable data blocks. This cryptographic transaction process ensures the authentication of each digit by providing a digital signature that tracks NFT ownership. Data links that are part of NFT records, for example, may point to details about where the associated art is stored, who is the original creator and who hold the copyright. 
The direct economic implication of that might be that when the original NFT is protected by copyright the creator can take a % of a passive income upon every future sale of the asset. 
This implies ongoing profit from each creation when it gets traded in the market. 
The loyalties can be as high as upon first agreement, letting you as the architect always remain the copyright owner and earn royalties from your work.
This system has existed for years in the music industry and now is available to everyone. 
The principle of blockchain technology is based on smart contracts which when copyrighted hold the transactional transparency and honesty often missing in real-life dealings.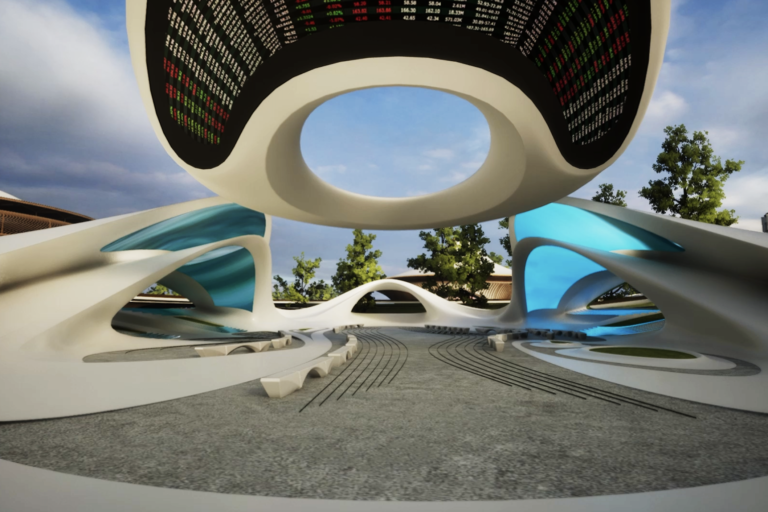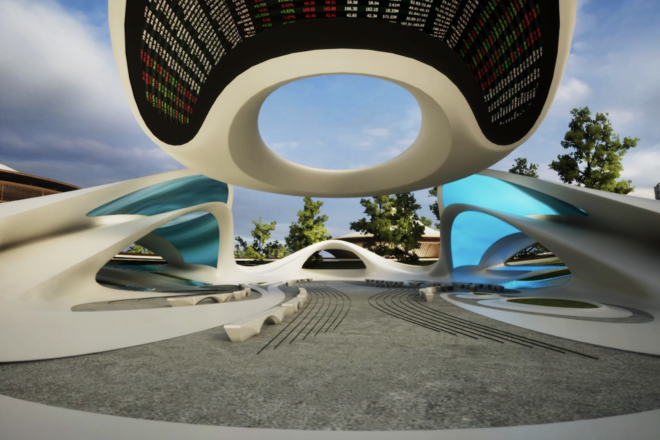 Image: DeFi Plaza in Liberland Metaverse designed by Zaha Hadid Architects. This is a place where all cryptomarket and finance data is projected for investors and inhabitants engaged in the economy of the Nation. 
Image courtesy: ZHA
The last, at this stage extremely profitable business opportunity for architects is to create a Metaverse as an entrepreneur/ start-up company and fund a VC or ICO (initial coin offering) /IDO (initial deck offering)
As an example, Zaha Hadid Architects have established a partnership such as this one with a technology company and Liberland itself.
Patrik explored this opportunity for this practice because as he says it himself: "the underlying economics of the Metaverse is very interesting for those of us that mostly work on a fee basis."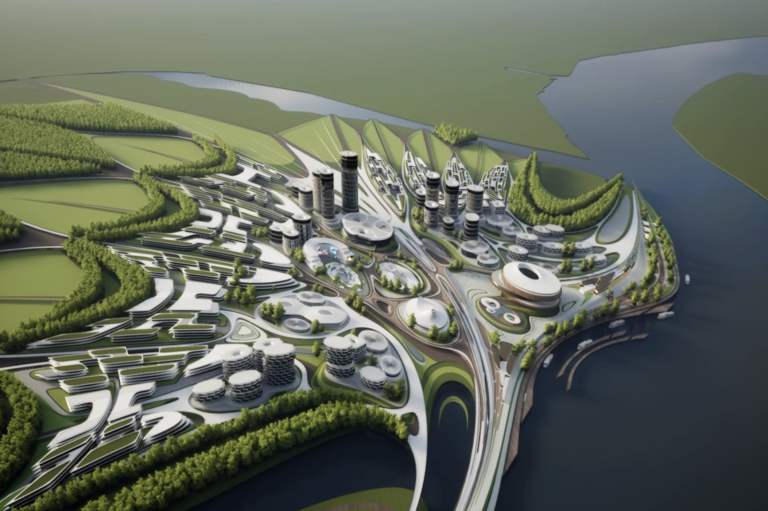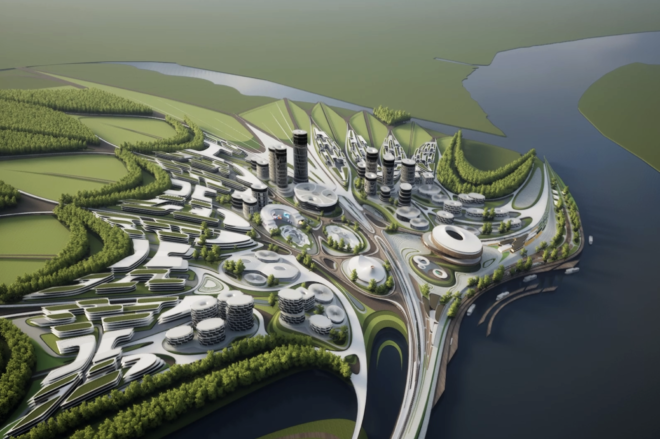 Image: Liberland Metaverse designed by Zaha Hadid Architects. 
Image courtesy: ZHA
Blockchain
Blockchain is an open-source, open platform where contributors can own and govern the DAO collectively. It's more like a city, it has more social legitimacy, and is more appropriate rather than proprietary corporate, single-owner central provision.
In terms of the city function, you rely more on slower processes and social regulations rather than a corporate agenda switching the switch under pressure from the government.
A great example of that is how since Facebook purchased Meta, it's not easy for them to exist and take significant action in the crypto space. If they would try something aggressive they would just get shut down. In the meantime, many other individuals are creating something that Facebook is trying to do and succeeding in it. That is why the organisation of blockchain is more robust, global and governed by more democratic, freer sales thAn our actual political, corporate and economic systems. 
What is also great about crypto is that it's a low-barrier founding route. You are in an unregulated space therefore you can just throw your product into the market, create a white paper and visuals and proof of concept and with team support you can get off the ground quite quickly.
It's fascinating to see so many young people, teenagers and 20-year-olds stepping into this market and being able to very quickly become really sophisticated entrepreneurs innovating radically and successfully. Whilst in the rest of the world you are asked to slave through a legacy to achieve any measure of success. 
So let's break down the business element of the Metaverse by looking a little closer into the economic actors playing a role in this new reality.
Those are frankly very similar to what exists in real estate and urban development.
You have the Metaverse founders (entrepreneurs) of the platform which in the Metaverse is something that could be equivalent to Municipality, and later on, it becomes a DAO.
Then you have investors who are the VCs or token holders of the ICO.
There are land owners who just like in the real world have the freedom to create self-build structures on their lands. However, in the high fidelity metaverse full of opportunities for collaboration that we are focusing on here in this article, the land owners are also the investors in the pieces of art they will position not their lands, therefore clients for us, architects. 
The next actor group in line are the real estate developers and owners. Who gets approached by land owners with a request to develop programs to maximize the site and to draw in designers. Essentially looking for collaboration with architects to develop beautiful, high functionality environments for specific purposes set by the developer. The developer in this case acts a little bit in the role of the entrepreneur for each and individual site they take care of.
Then the big next actor is the designer and the creator. In the high fidelity case of metaverse development, we certainly are looking for this person to be the architect, in all cases. The biggest reason for this is experienced in creating social spaces and environments and designing cohesion by adding experiential value to the design layer. 
In the Metaverse the experience is what gives value to the form, therefore, the specialist with an ability to animate spaces will be the one sought not just a skilled 3D modeller. 
The next actor after the designer and visual creator is the owner occupier therefore the person who designs and hosts events that animate spaces. Those can be gatherings, conferences, events, parties, festivals, art exhibitions, film premiers, market and economic meetings, municipality gatherings, music events and more. The owner-occupier, therefore, rents the space for their events from the developer or land/ building owner. 
A lot of people might not want to buy for the purpose of organising an event. Especially when it comes to land ownership due to fast advances in technology there might not be any purpose to owning land which can soon be replaced by higher fidelity infrastructure. But the assets and the buildings can always be transferable between Metaverses- therefore there might be a higher demand for renting, especially for events purposes. 
All those properties, cities and real estates will be privately owned by tenants buying into individual Metaverse infrastructure, therefore you can expect that each and every virtual environment will have its local tenets that own, invest, use, and inject life and value into these spaces, to then provide an unforgettable experience to the last category of actors who are the end users.
An end user is simply a person logging into the particular Metaverse with the purpose of experiencing it whether through an event, a happening or with an intent of exploration which for the purposes of this article we can call virtual travel.
This end user is the most important actor in the network, as this is ultimately where all the value flows to. In order to create an experience with the end user's time, attention and money the full ecosystem needs to be based on extremely high fidelity economic, creative and social engagements. Which is self-explanatory when looking at the magnitude of opportunity that needs to be created and generated in order to fulfil this equation. 
The end users do not stay limited to an individual, it might be universities and organisations looking to spread their visibility or outreach onto new markets, and therefore seeking for creation of opportunities in the Metaverse that by all means are global and undefined by geo-location.
Now, all of the above-mentioned economic participants with all their benefits and intentions will in one way or another become stakeholders of the DAO Democratic hypothesis to various extent.
Investors hold tokens, land owners use land NFT which hold a certain proportionate voice as well as the real estate developers to the extent that they also hold a token or land. But the economic capital is not limited to just that. In this equation, everyone can participate by holding cash reserves of the native token as returning end users. And therefore by this alone, they will hold a smaller but still valid voice in the DAO structure. The more cash holdings held in an ecosystem such as this one the more voice power individual gains.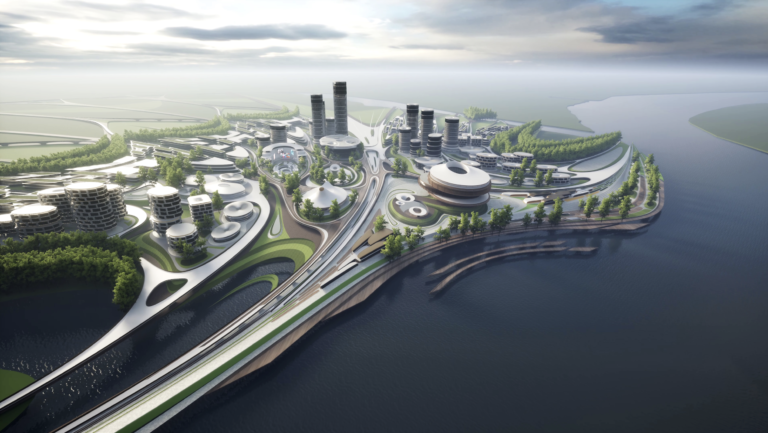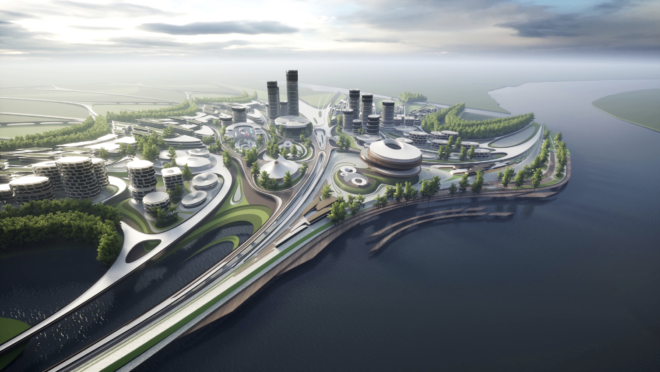 Image courtesy: ZHA
This can be referred to as the democracy of the investor.
So, when focusing on this end user, what specifically are the activities that can be implemented in the Metaverse?
Some activities were already mentioned above but they also extend to information and intelligence sharing through co-working, conferences, networking, education, cultural events, shopping, socialising and residential activities. 
There already exist projects where Universities are looking to develop their digital twin existence in the Metaverse and hold virtual campuses. 
Cultural events can be music events, concerts, theatre, festivals, art exhibitions, film premiers, and trade shows.
When the place becomes really attractive to end users people begin to be more and more interested in belonging to a certain community and that's when end users turn into residents by purchasing a small real estate and gaining DAO voice strength.
You can have your own apartment, house, villa or even a yacht in the Metaverse and invite friends to show off your location, community or even a personal NFT art collection.
Sounds crazy maybe today, but pretty much anything that already has its place in the normal urban fabric can find its digital twin and expression in virtual reality.
How does that make sense?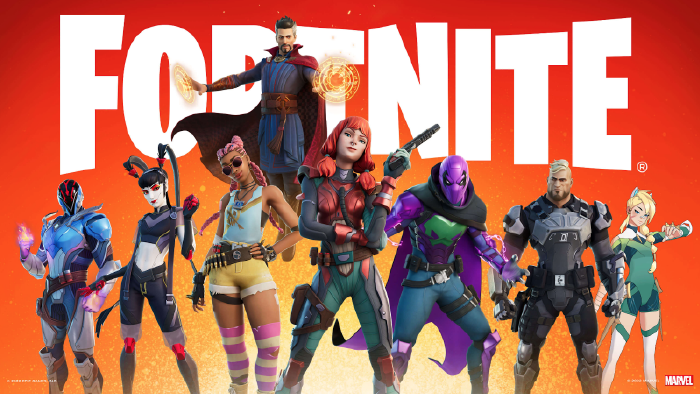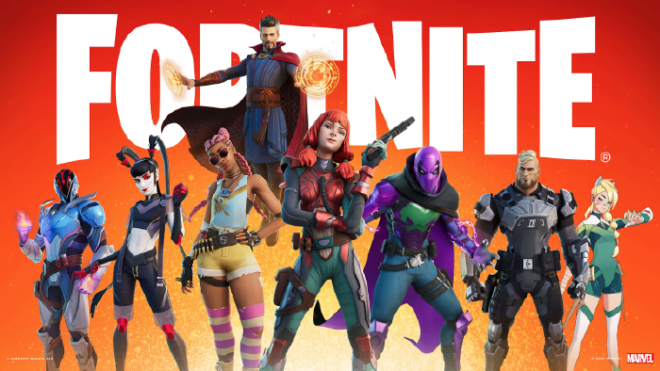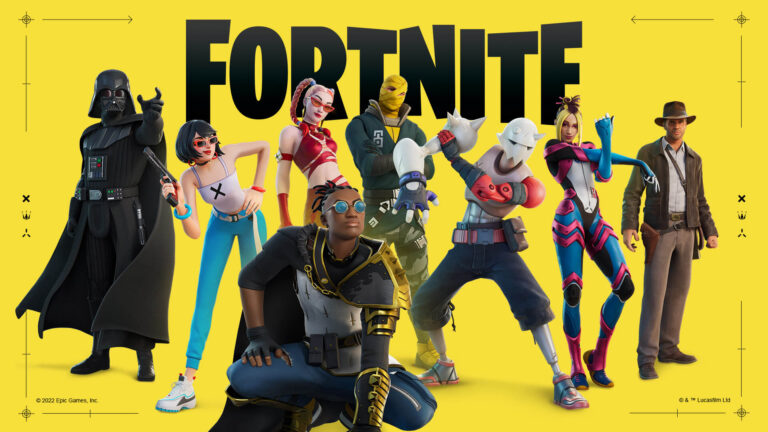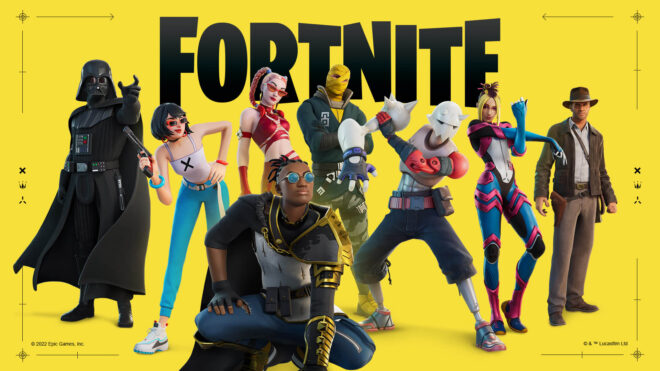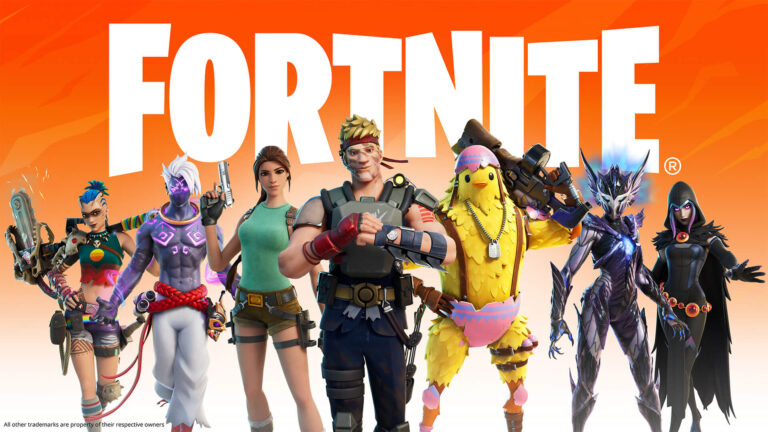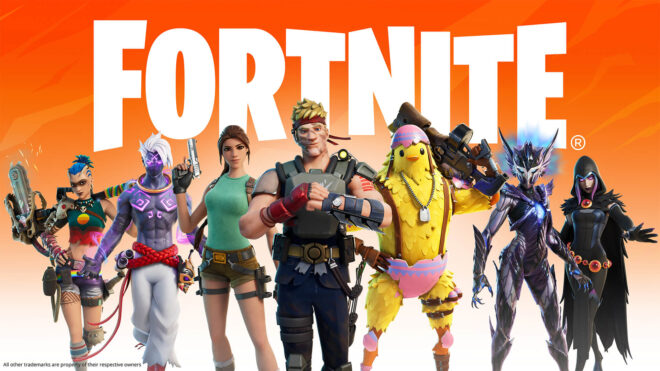 Fortnite– a game created in Epic Games owned high fidelity visualization and a rendering software called Twinmotion is financially successful for the creators not because of the licensing and annual unit sales but because of a simple strategy implemented allowing each placer to fully customize their avatar and choose how they want to look in the game. 
People have an intrinsic need for self-expression both in real life and in the Metaverse, therefore we have to understand that as architects stepping into the Metaverse our role remains that who allows for the best expression of client individuality to come forth and play a part in this unregulated, new dimension we are all collectively co-creating. 
Now, let's speak of revenue streams for the Metaverse itself. 
Each Metaverse platform needs capital to upgrade and feed into the service to maintain the technology and server capacity at the highest standard. 
The first vertical playing a role here is the land parcels sold and bought as NFTs. Those assets are traded in native cryptocurrency, therefore there is a continuous demand for the cryptocurrency calling for a treasury that grows and appreciates in time establishing a basis for the native economy.
There are initial land releases via online auctions, the revenue from which goes directly to the DAOcity treasury and/ or is burnt. In the case of some Metaverses, this money gets pushed through currency appreciation. If you draw down cash reserves and burn them it's much more strategic to feed them back into the DAO. DAO can then spend these reserves to upgrade the cities, as well as their technology because advancements in technology are booming and therefore serious Metaverse projects need to keep on top of their game with that aspect not to fall unattractive within the ever-emerging ecosystem of new projects. The strong organisations within the Metaverse are set up within a highly sustainable income stream, also to remain high within the global pricing competition.
There are a lot of secondary markets in terms of land parcels and digital assets such as skins, digital fashion, art and other assets that can be produced and owned. A great trading platform for those assets is the Open Sea. When the assets are created by well-known and established individuals we are really seeing a value appreciation on that front so high, that it matches the real-life value.
Each and every trade within the Metaverse marketplace whether it's buying or leasing land, trading or renting property for corporate or private purposes, fashion, skin or any other digital asset generate a transaction fee which in turn begins to be a main revenue stream for the Metaverse platform.
Another transaction-based revenue stream originates purely from land and assets leased in-world secondary markets. What could we consider to be in-world market assets? 
It could be native space modules for small businesses (user-generated assets, or other self-built projects) the revenue of these sales goes directly to DAO-City treasury. The % of transactions is earned when those assets get resold as a secondary market for native space modules.
Another opportunity of revenue drives from % of transaction traded space modules from external suppliers, native furniture, vehicles, art, wearables, and secondary market for furniture, vehicles, etc- also available, created and sold in OpenSea.
This is the key reason why transaction-based revenue is extremely important and acts as a strong booster for a sustainable economy. That fee can be raised with time, as the demand for goods in a successful Metaverse grows. All these fees go to the treasury.
What is interesting in all these transactions for the end user is that buildings can be sold with or without land- especially allowing you to keep your asset and shift it into another plot of land. So say you build a house and with time get a chance to purchase a plot in the centre or a more attractive Metaverse location, you can move that house to your newly purchased land. 
And in terms of higher standard Metaverse design, as new technology steps in and expands, you can shift your asset into another Metaverse. This highly appreciates the value of asset holding and investments in high-fidelity designs of such assets, as they have the potential to outlive the platform itself.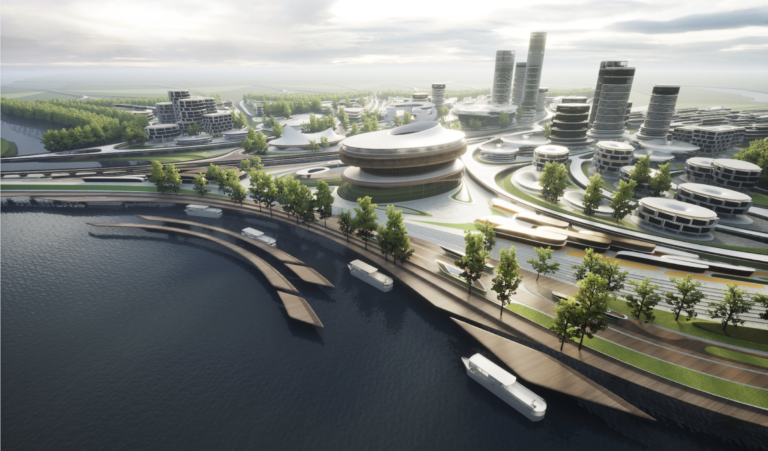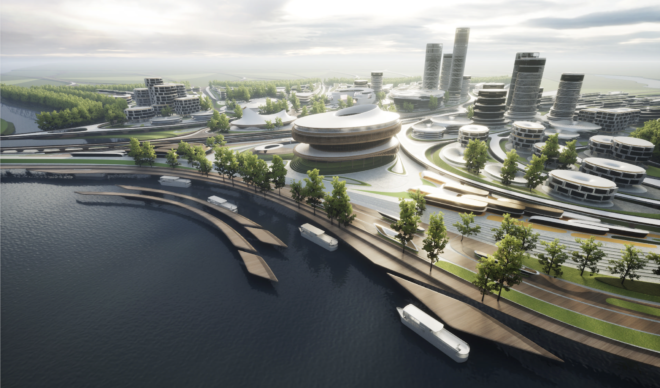 Image: Bird-eye views onto the City Hall in Liberland Metaverse designed by Zaha Hadid Architects. 
Image courtesy: ZHA
Now, let's talk a little bit about the Rental Market:
The rental market transaction fees (that can be compared to taxes) are in the variety of 2-5% of the sales or letting value. 
There are two assets that are being rented in the Metaverse: city-owned projects and privately held venues. Out of both the letting fee for the city assets goes to DAO treasury and for the private assets, again there is a transaction fee of letting value that goes to the treasury.
And one last important transaction that should not be overlooked is the revenue generated by ticket sales. There can be city-hosted events, where revenue goes to the city and events hosted by private promoters where to the revenue a transaction fee is applied. The lending on events can vary from $25.000- even $500.000 per venue!
What is interpreted is that both for design as well for the developer business the revenue and prices are similar to real-life real estate prices!
Just like in the real world every event or happening needs advertising so there is a tremendous opportunity for marketing and advertising potential there, both in-market (billboards, sophisticated technological devices etc) and out-market.  
So, dear readers. The race is on!
There are about 10 privately funded Metaverse projects coming into the ecosystem weekly! You simply can't keep up with that and there will be a huge shake-out.
The current leaders will simply disappear in the next few years and there will be a huge advancement on the tech side of things that will push out the current competition. 
As much as the market is fiercely competitive you have a network effect, bringing out the winner. 
The way Etherium is winning in the DeFi space as a platform, the way Google and Facebook came out of the .com boom and bust- this is the crypto wave, and despite the fact that we see already existing booms and busts within this space there is much fantastic, long term opportunity to still emerge. 
I hope that by breaking out the economic ecosystem in this article I could instil some hope and vision into you to understand the enormous potential in this and to believe that you have a place in this- certainly. As always in technology, early adopters win, so if interested you want to get on this as soon as possible.
The outstanding benefit is that we are not in the land market, we are in the assets market and as I presented to you in this article assets are transferable, therefore they have the power to bypass Metaverses and their own collapses!
There will be a tremendous avalanche of opportunity emerging in the next 5 years when all these entrepreneurs compete to win that race. As architects will be the real winner!
Despite the competition, stepping into this market means that almost anything you put your hands on has the potential to grow exponentially and you can thrive in this market!
Patrik Schumacher alone said that if you are cyber-savvy, especially coming out of courses such as AADRL you are directly competing with big brands like ZHA in this marketplace. 
If you lasted until the end of the article, and are still reading it means that this topic is specifically interesting to you. Therefore you can not miss the next Disrupt Symposium which is packed with business advice and innovative outlooks on the AEC industry, such as these ones. 
Get your ticket now, and we will see you at the event!
READ ALSO:
The Paper Edition | Η Αρχιτεκτονική & η αυτοδιάθεση του σώματος