text in

EN, GR
Research thesis by Myrto Filippidi studies Peter Zumthor's architecture in order to understand the architect's choices and synthetic manipulations causing the sense that the space emits, i.e. the feeling of atmosphere.
-text by the author
Specifically, in the first part, the way Zumthor works is analyzed and it becomes clear that the place of the building and the phase of materialization are important to him. Then, the notion of atmosphere is examined based on the theory of phenomenology, as expressed by Merleau-Ponty and Bachelard, as well as the ambulatory vision, as defined by the ecological psychology of J.J. Gibson, in combination with the architect's theoretical work.
Through this process it turns out that living experience is the most appropriate way to approach an architecture of atmosphere, like Zumthor's.
Also, the materiality of his buildings is explored as a feature of atmosphere and thus it is proved that photography is not an appropriate mean to make it comprehensible. Finally, the contribution of the relationship between light and shadow to this process is examined.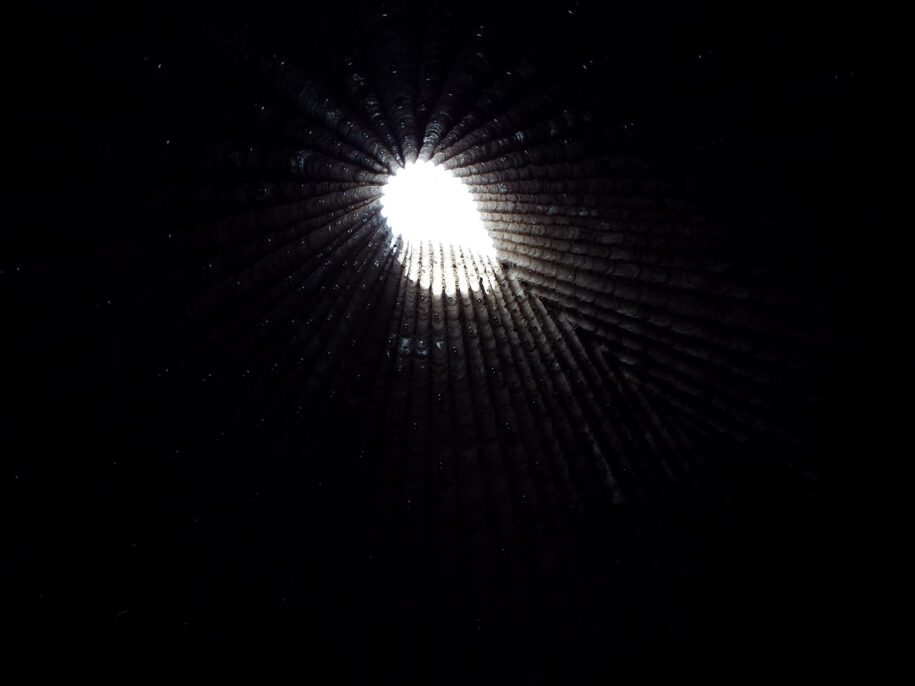 In the second part, the research is focused on the visit and study of two of his buildings, the Kolumba museum and the Bruder Klaus field chapel. Then, there is a description of the experience of the visit during which the differences between experience and photography are perceived in practice. In addition, some other elements that contribute to the atmosphere of these buildings are noticed. Finally, it is attempted to answer some questions in order to understand how phenomenological and ambulatory perception are activated by space syntax. By extension, with which tools is it possible to produce similar qualities and experiences. Τhe main manipulations have to do with the configuration of space, which defines movement, the relationship between interior and exterior and the transitions.
Thus, it is concluded that atmosphere is a combination of things and is not exclusively defined by geometry.
Facts & Credits
Project title  The notion of atmosphere in Peter Zumthor's architecture: experiencing Kolumba museum and Bruder Klaus chapel
Student  Myrto Filippidi
Supervisor  Evelyn Gavrilou
Date  September 2017
Course  Research thesis
Institution  Department of Architecture, University of Thessaly
Photography  Myrto Filippidi


---

Η ερευνητική εργασία της Μυρτώς Φιλιππίδη μελετά την αρχιτεκτονική του Peter Zumthor με σκοπό την κατανόηση των επιλογών και των συνθετικών χειρισμών του αρχιτέκτονα που προκαλούν την αίσθηση που αποπνέει ο χώρος στο χρήστη, δηλαδή την αίσθηση ατμόσφαιρας.
-κείμενο από την δημιουργό
Πιο συγκεκριμένα, στο πρώτο μέρος, αναλύεται ο τρόπος με τον οποίο δουλεύει ο Zumthor και γίνεται φανερό ότι ο τόπος του κτιρίου και το στάδιο της υλοποίησης είναι σημαντικά για εκείνον. Στη συνέχεια, εξετάζεται η έννοια της ατμόσφαιρας με βάση τη θεωρία της φαινομενολογίας, όπως διατυπώνεται από τον Merleau-Ponty και τον Bachelard, αλλά και της περιπατητικής όρασης, όπως ορίζεται από την οικολογική ψυχολογία του J.J. Gibson, σε συνδυασμό με το θεωρητικό έργο του αρχιτέκτονα.
Μέσα από αυτή τη διαδικασία αποδεικνύεται ότι η βιωματική εμπειρία είναι ο πιο κατάλληλος τρόπος για να προσεγγιστεί μια αρχιτεκτονική της ατμόσφαιρας, όπως αυτή του Zumthor.
Παρακάτω, αναλύεται η υλικότητα των κτιρίων του ως στοιχείο της ατμόσφαιρας και αποδεικνύεται έτσι ότι η φωτογραφία δεν είναι κατάλληλο μέσο για να την καταστήσει κατανοητή. Τέλος, εξετάζεται η συμβολή της σχέση του φωτός με τη σκιά σε αυτή τη διαδικασία.
Στο δεύτερο μέρος, η έρευνα εξειδικεύεται στην επίσκεψη και μελέτη δύο κτιρίων του, του Kolumba museum και του Bruder Klaus field chapel. Στη συνέχεια, περιγράφεται η εμπειρία της επίσκεψης κατά την οποία γίνονται αντιληπτές πρακτικά οι διαφορές μεταξύ εμπειρίας και φωτογραφίας. Επιπλέον, παρατηρούνται κάποια ακόμα στοιχεία τα οποία συμβάλλουν στην ατμόσφαιρα των κτιρίων αυτών. Τέλος, επιχειρείται η απάντηση σε κάποια ερωτήματα προκειμένου να γίνει κατανοητό το πως η φαινομενολογική και η περιπατητική αντίληψη ενεργοποιούνται από το συντακτικό του χώρου. Κατ' επέκταση με ποια εργαλεία είναι δυνατόν να παραχθούν αντίστοιχες ποιότητες και εμπειρίες. Οι κυριότεροι χειρισμοί έχουν να κάνουν με τη διάταξη του χώρου, η οποία ορίζει την κίνηση, τη σχέση του μέσα με το έξω και τις μεταβάσεις.
Συμπεραίνεται, έτσι, ότι η ατμόσφαιρα αποτελεί ένα σύνολο στοιχείων και δεν ορίζεται αποκλειστικά από τη γεωμετρία.
Σημείωση: Τα διαγράμματα έχουν ως υπόβαθρο τα σχέδια από την παρακάτω εργογραφία του Peter Zumthor: P. Zumthor, 1985-2013: buildings and projects, Scheidegger & Spiess, Zurich, 2014, τόμος 2 & 3.
Στοιχεία έργου
Τίτλος έργου  Η έννοια της ατμόσφαιρας στην αρχιτεκτονική του Peter Zumthor: βιώνοντας το Kolumba museum και το Bruder Klaus chapel
Φοιτήτρια  Μυρτώ Φιλιππίδη
Επιβλέπουσα καθηγήτρια  Έβελυν Γαβρήλου
Εξεταστική περίοδος  Σεπτέμβριος 2017
Μάθημα  Ερευνητική εργασία
Σχολή  Τμήμα Αρχιτεκτόνων Μηχανικών, Πανεπιστήμιο Θεσσαλίας
Φωτογραφία  Μυρτώ Φιλιππίδη


---

Check out the entire paper, here!
Δείτε ολόκληρη την εργασία, εδώ!
READ ALSO:
Islands of Urbanities: the case of Varosha | Diploma thesis by Georgia Maria Drakou