text in

EN, GR
Student work by George Tsiorolis deals with the design of a Seaside House located on Keros beach of Lemnos' island having simplicity, flexibility and the design of the absolutely necessary space as the main synthetic factors of the project.
-text by the author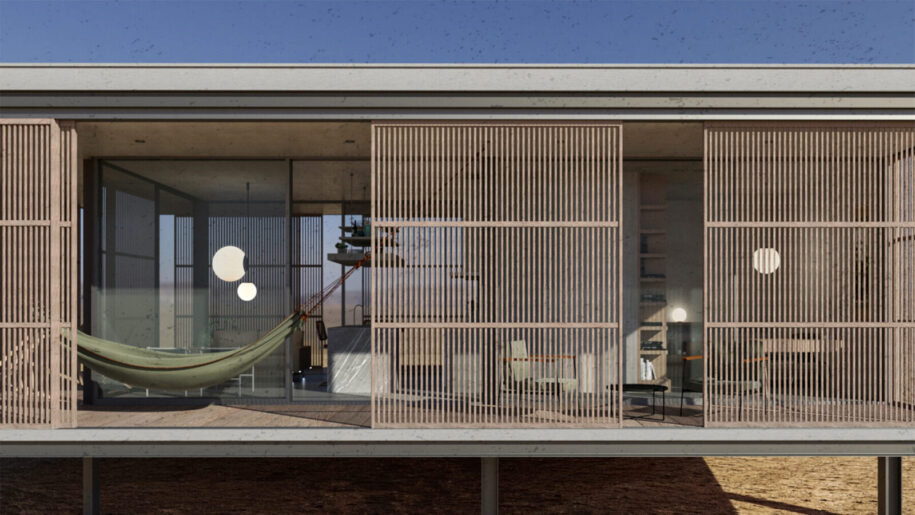 The house is a 40 m2 composite construction made of metal frame and lightweight concrete slabs (interior floor and roof), and is able to accommodate two people. Additionally, the elevation of the construction from the ground emphasises the landscape and at the same time is protecting it from any floods. Also, the climatic conditions of the area have been taken into consideration, since the long southeast length, the roof slab that covers the perimeter of the balcony in combination with the sliding wooden doors ensuring the necessary shading and ventilation of the house.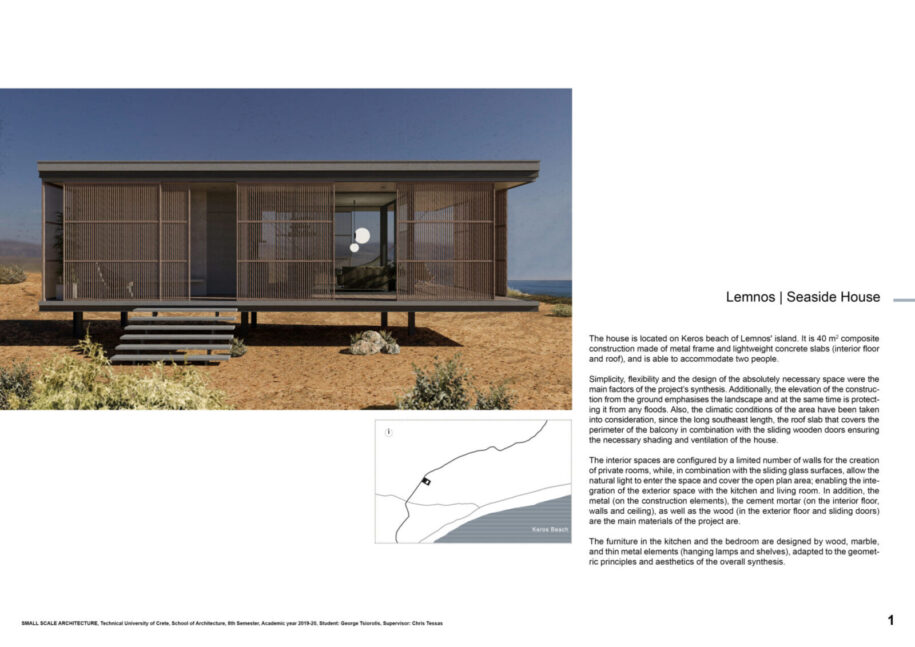 The interior spaces are configured by a limited number of walls for the creation of private rooms, while, in combination with the sliding glass surfaces, allow the natural light to enter the space and cover the open plan area; enabling the integration of the exterior space with the kitchen and living room. In addition, the metal (on the construction elements), the cement mortar (on the interior floor, walls and ceiling), as well as the wood (in the exterior floor and sliding doors) are the main materials of the project.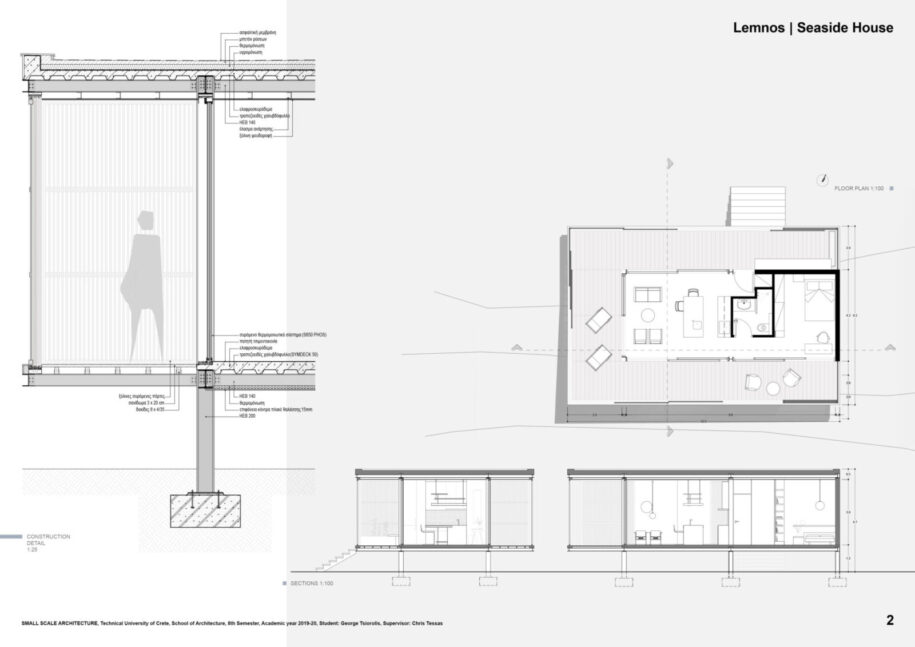 The furniture in the kitchen and the bedroom are designed by wood, marble, and thin metal elements (hanging lamps and shelves), adapted to the geometric principles and aesthetics of the overall synthesis.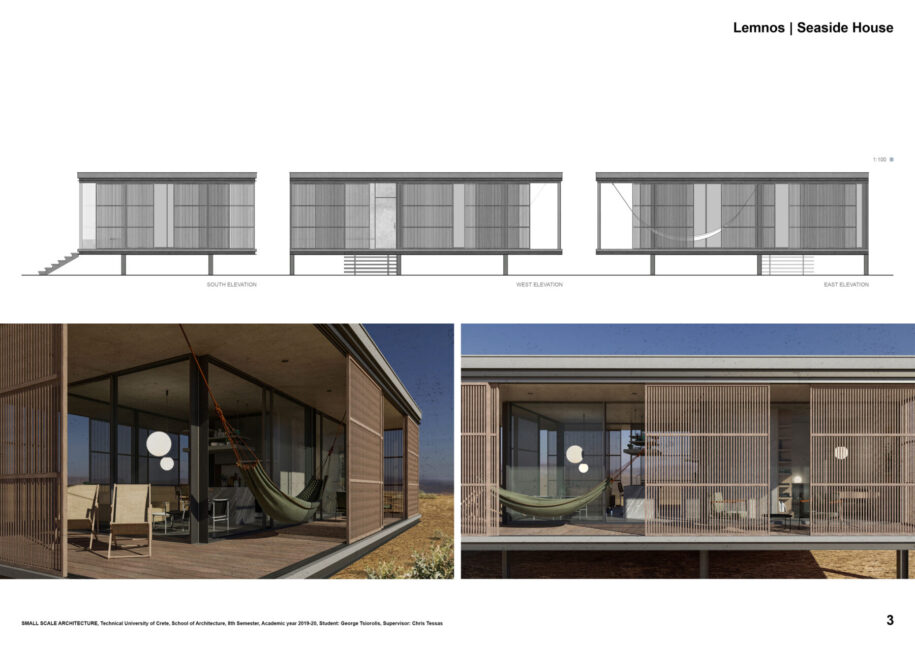 Facts & Credits
Project title  Lemnos _ Seaside House
Student  George Tsiorolis
Supervisor  Chris Tessas
Academic year  2019-2020
Course  SMALL SCALE ARCHITECTURE, 8th Semester
Institution  School of Architecture, Technical University of Crete


---

Η φοιτητική εργασία του Γιώργου Τσιορολή αφορά το σχεδιασμό ενός θερινού καταλύματος στην παραλία Kέρος της Λήμνου έχοντας έννοιες όπως η απλότητα, η ευελιξία και ο σχεδιασμός του απολύτως απαραίτητου χώρου ως κεντρικούς παράγοντες της αρχιτεκτονικής σύνθεσης. 
-κείμενο από τον δημιουργό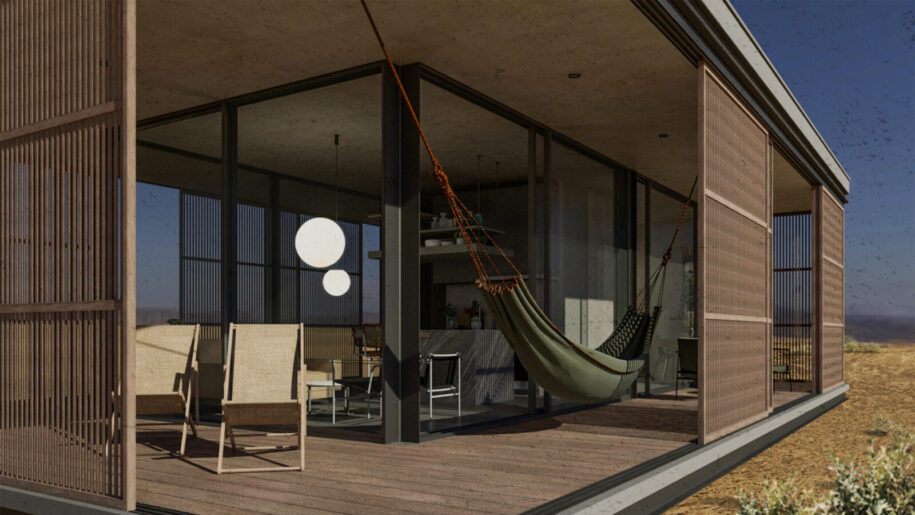 Το θερινό κατάλυμα βρίσκεται στην παραλία Kέρος της Λήμνου, είναι 40 τ.μ. και ικανό να φιλοξενήσει δύο άτομα. Πρόκειται για μια σύμμικτη κατασκευή, από μεταλλικό σκελετό και ελαφροσκυρόδεμα στις πλάκες του εσωτερικού δαπέδου και της οροφής. Σημαντικοί παράγοντες της σύνθεσης αποτέλεσαν η απλότητα, η ευελιξία και ο σχεδιασμός του απολύτως απαραίτητου χώρου, αλλά και η ανίψωση της κατασκευής από το έδαφος, δίνοντας έμφαση στην ιδιαιτερότητα του τοπίου και προστατεύοντάς το παράλληλα από τυχόν πλημμύρες. Επίσης, έχουν ληφθεί υπ' όψιν οι κλιματικές συνθήκες της περιοχής, καθώς η τοποθέτηση κατά το μεγάλο της μήκος νοτιοανατολικά και η πλάκα της οροφής που καλύπτει περιμετρικά τον εξώστη, σε συνδυασμό με τις συρόμενες ξύλινες περσίδες, εξασφαλίζουν ιδανικά τον απαραίτητο σκιασμό και αερισμό της κατοικίας.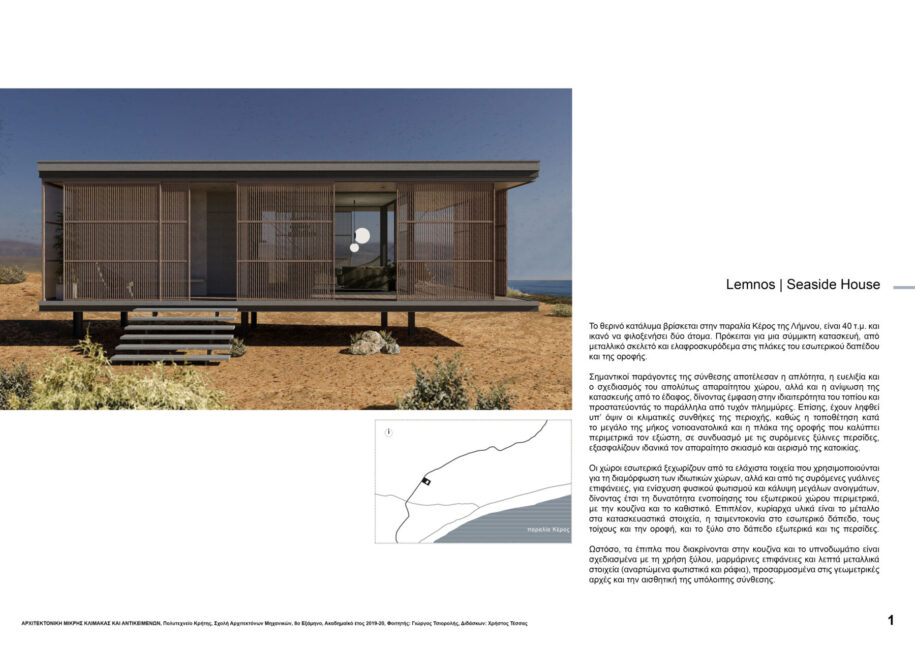 Οι χώροι εσωτερικά ξεχωρίζουν από τα ελάχιστα τοιχεία που χρησιμοποιούνται για τη διαμόρφωση των ιδιωτικών χώρων, αλλά και από τις συρόμενες γυάλινες επιφάνειες, για ενίσχυση φυσικού φωτισμού και κάλυψη μεγάλων ανοιγμάτων, δίνοντας έτσι τη δυνατότητα ενοποίησης του εξωτερικού χώρου περιμετρικά, με την κουζίνα και το καθιστικό. Επιπλέον, κυρίαρχα υλικά είναι το μέταλλο στα κατασκευαστικά στοιχεία, η τσιμεντοκονία στο εσωτερικό δάπεδο, τους τοίχους και την οροφή, και το ξύλο στο δάπεδο εξωτερικά και τις περσίδες.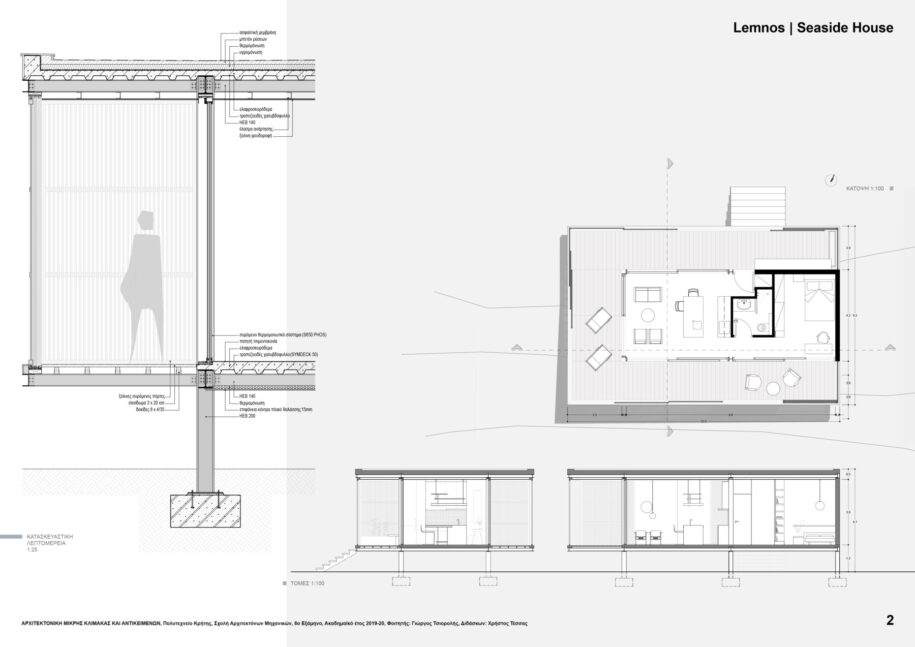 Ωστόσο, τα έπιπλα που διακρίνονται στην κουζίνα και το υπνοδωμάτιο είναι σχεδιασμένα με τη χρήση ξύλου, μαρμάρινες επιφάνειες και λεπτά μεταλλικά στοιχεία (αναρτώμενα φωτιστικά και ράφια), προσαρμοσμένα στις γεωμετρικές αρχές και την αισθητική της υπόλοιπης σύνθεσης.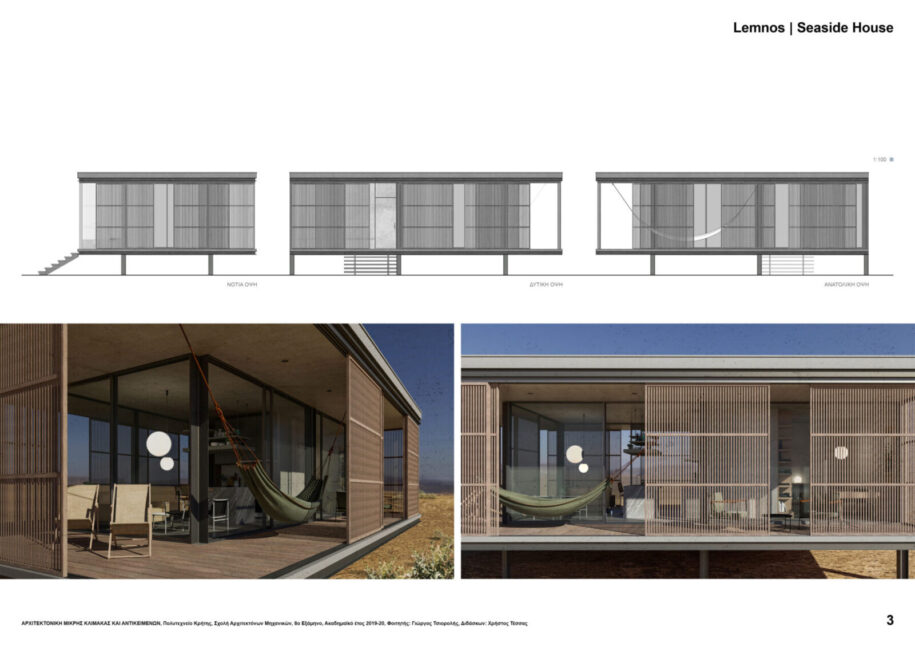 Στοιχεία έργου
Τίτλος εργασίας  Lemnos _ Seaside House
Φοιτητής  Γιώργος Τσιορολής
Επιβλέπων καθηγητής  Χρήστος Τέσσας
Ακαδημαϊκό έτος  2019-2020
Μάθημα  ΑΡΧΙΤΕΚΤΟΝΙΚΗ ΜΙΚΡΗΣ ΚΛΙΜΑΚΑΣ ΚΑΙ ΑΝΤΙΚΕΙΜΕΝΩΝ, 8ο Εξάμηνο
Σχολή  Τμήμα Αρχιτεκτόνων Μηχανικών, Πολυτεχνείο Κρήτης
READ ALSO:
Centre for Creative activities in the city of Serres | Diploma thesis by Evgenia-Winifred Dickins