text in

EN, GR
Research thesis by Vicky Bali & Petrina Chronopoulou envisions the future city like a universal "City as a Hospital", a modern Gerotopia where Homo-Medicus lives dealing with everyday concepts such as health, illness, caring, and relation with his/hers therapist/doctor.
-text by the author

Man was always inclined to make predictions about the future and prepare itself for it. Thus, we began been concerned about the world of tomorrow, the changes that might take place, and our role in it. As young architects, our attention is centered on the built environment around us, which the main object of this concern, that is the city.
Consequently, we proceeded to our main question; how could the city of tomorrow be?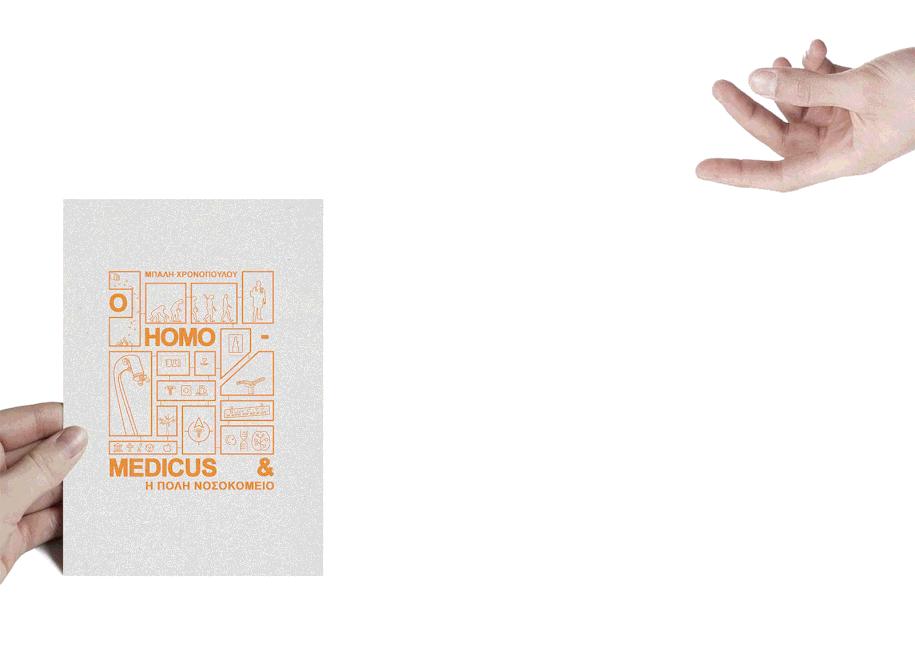 The prevailing belief is that if you want to see the changes that might come in the future, you have to search for similar changes that took place in the past. Religiousness seems to be the basic factor.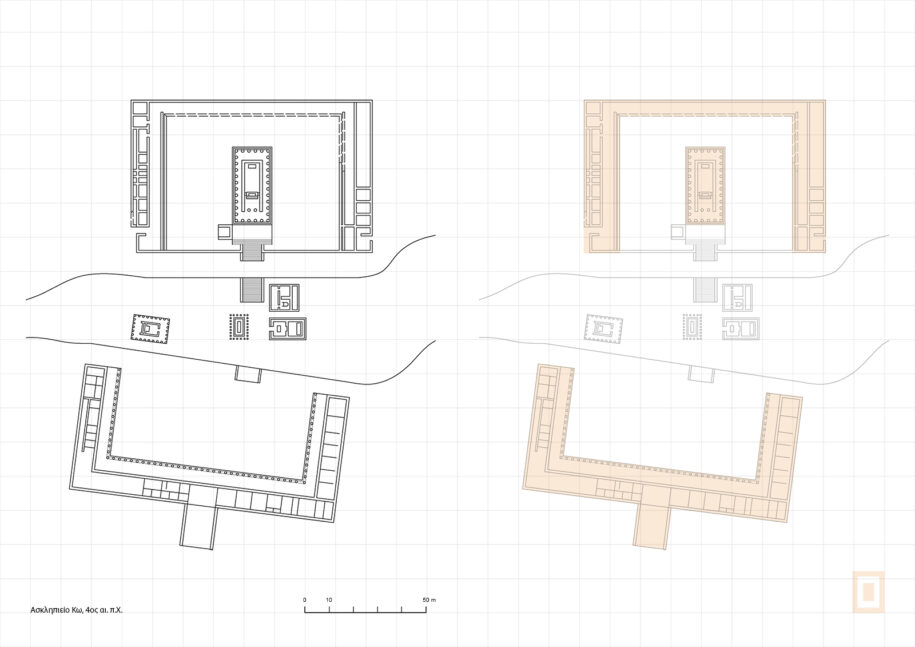 A society, a city, even the typology of important buildings may alter according to the religious belief changes, which were held throughout the ages.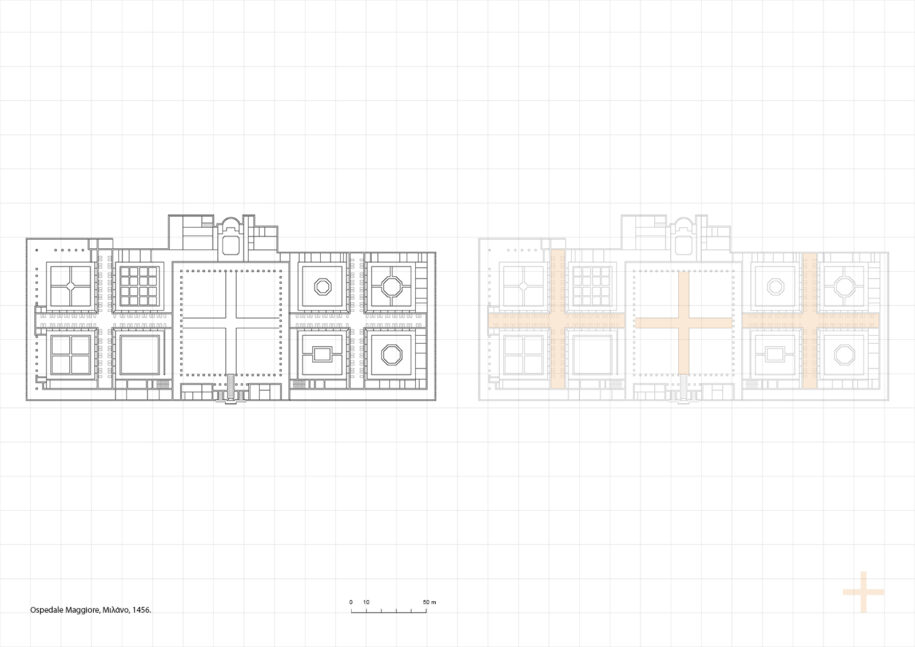 In recent years, it seems that health has taken more of a religious form, thus we decided to examine if the future city could be designed based on the rules that this new religiousness can set.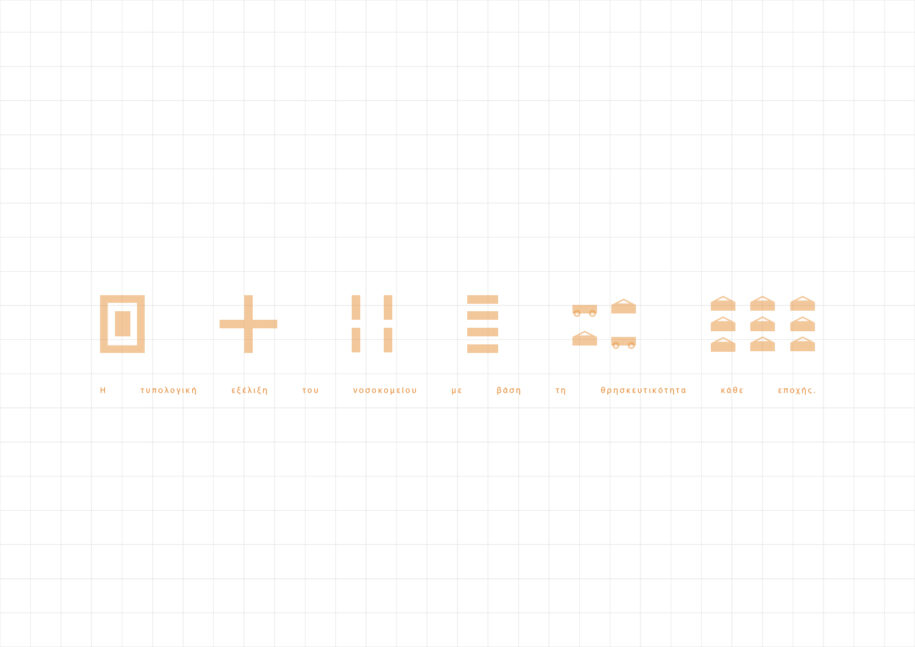 To examine if our claim about the future city, having as the main principle health accomplishment, leads to true or false we followed the subsequent procedure.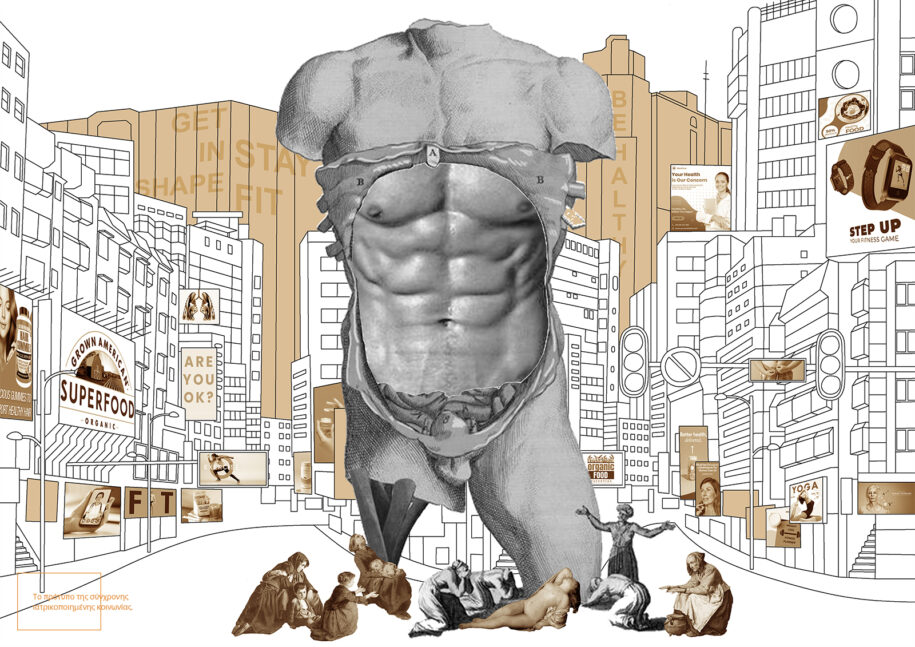 Firstly, we searched for the subject of this new city, that is Homo-Medicus, and the concepts which have contributed to his evolution. These concepts are Homo-Medicus's health, illness, caring, and relation with his therapist/doctor.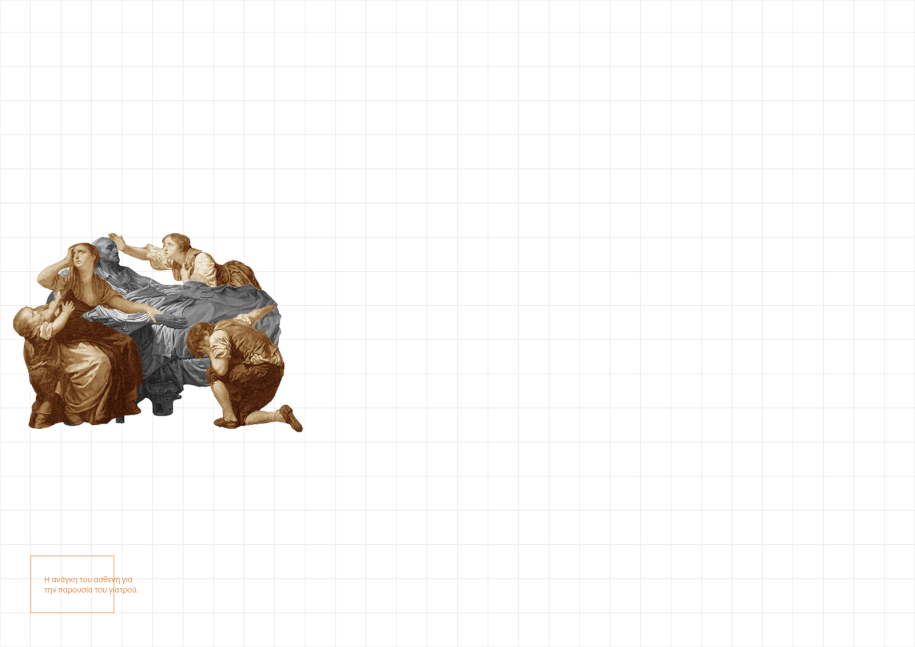 Consequently, we proceeded to examine how religiousness of every era determines the design and the form of the hospital as a building. Eventually, it occurred that in the modern era building boundaries starts to become one with those of the urban landscape, giving prominence to a new city type, the city as a hospital.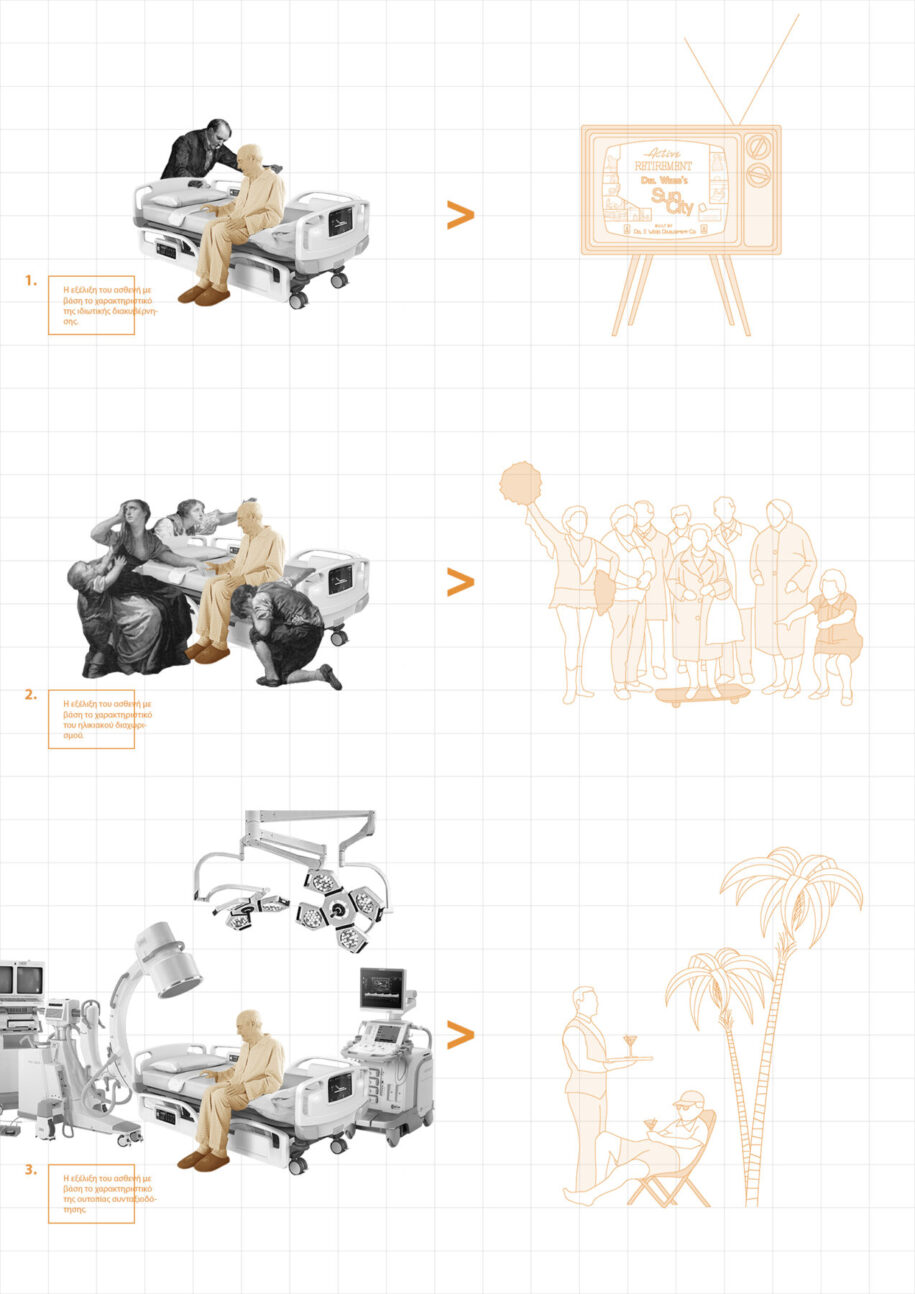 Finally, we searched for designed examples, possibly sharing common characteristics with those of the new city model. Utopian societies for elders, Gerotopias, seem to fulfill the basic criteria that we are looking for. Thoughts about a universal City as a Hospital come to get examined in the light of healing within the frame of Gerotopias, which take the form of a first typology that future city should have.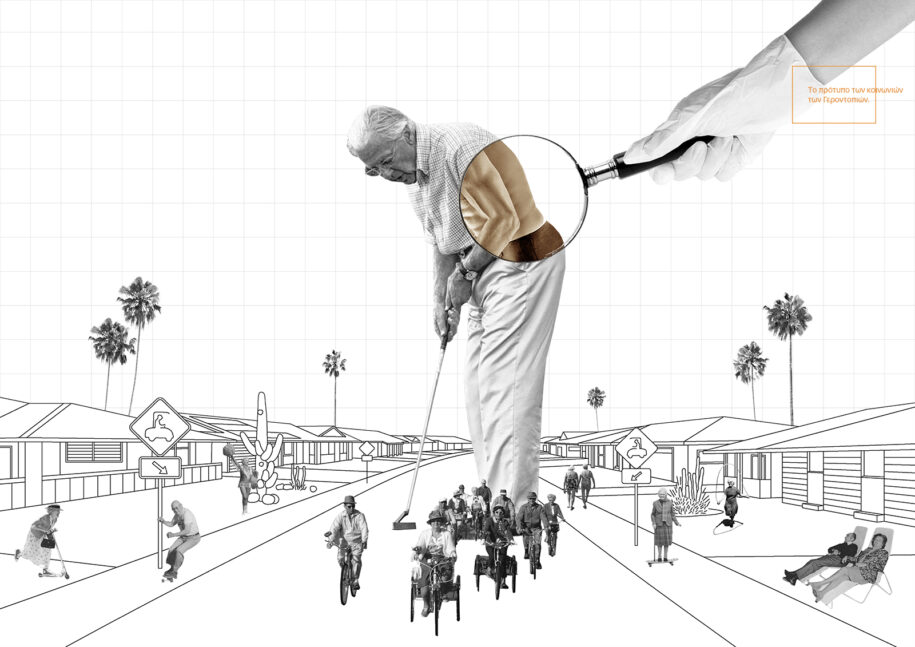 Facts & Credits
Project title  Homo-Medicus & the City as a Hospital
Students  Vicky Bali, Petrina Chronopoulou 
Date  October 2020
Supervisor  Leonidas Papalampropoulos 
Course  Research thesis
Institution  School of Architecture, University of Patras


---

Η ερευνητική εργασία της Βίκυς Μπαλή και της Πετρίνας Χρονοπούλου οραματίζεται την πόλη του μέλλοντος ως την "Πόλη Νοσοκομείο", μια Γεροντοπία εντός της οποίας κατοικεί ο Homo-Medicus ασχολούμενος καθημερινά με έννοιες όπως η υγεία, η ασθένεια, η ίαση και η σχέση του με το θεραπευτή/γιατρό του.
-κείμενο από τις δημιουργούς
Ο άνθρωπος πάντα είχε την τάση να κάνει προβλέψεις για το μέλλον και να προετοιμάζεται για αυτό. Έτσι κι εμείς αρχίσαμε να προβληματιζόμαστε για το πως θα είναι ο κόσμος αύριο, τι αλλαγές θα μπορούσαν να υπάρξουν και ποια η δική μας θέση σε αυτές. Σαν νέοι αρχιτέκτονες, η προσοχή μας επικεντρώθηκε στο χτισμένο περιβάλλον γύρω μας σαν αντικείμενο αυτού του προβληματισμού, δηλαδή την πόλη.
Έτσι καταλήξαμε στο βασικό μας ερώτημα, ποια θα μπορούσε να είναι η πόλη του μέλλοντος;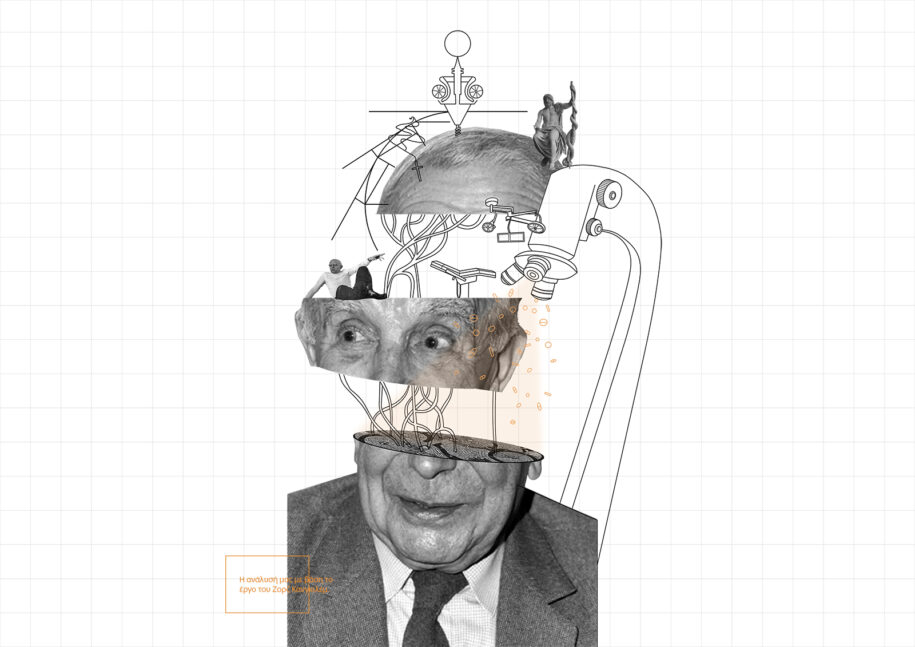 Επικρατεί η πεποίθηση πως για να μπορέσεις να δεις αλλαγές που μπορεί να υπάρξουν στο μέλλον, αναζητάς το πως έγιναν αντίστοιχες αλλαγές στο παρελθόν. Βασικός παράγοντας φαίνεται να είναι η θρησκευτικότητα μιας κοινωνίας.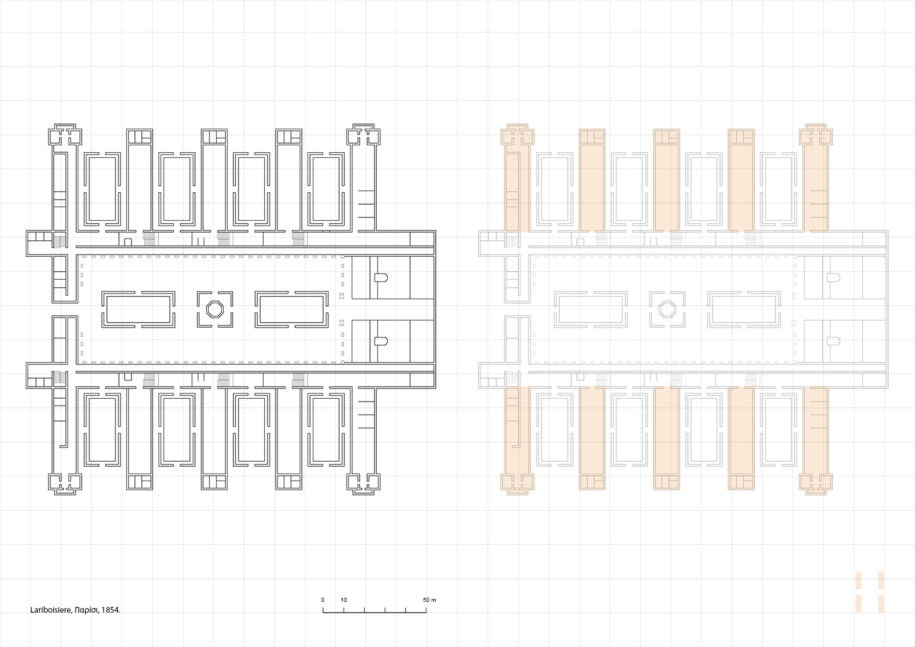 Η κοινωνία, η πόλη, ακόμα και η τυπολογία σημαντικών κτιρίων φαίνεται να αλλάζει σύμφωνα με την αλλαγή της πίστης ανά περίοδο.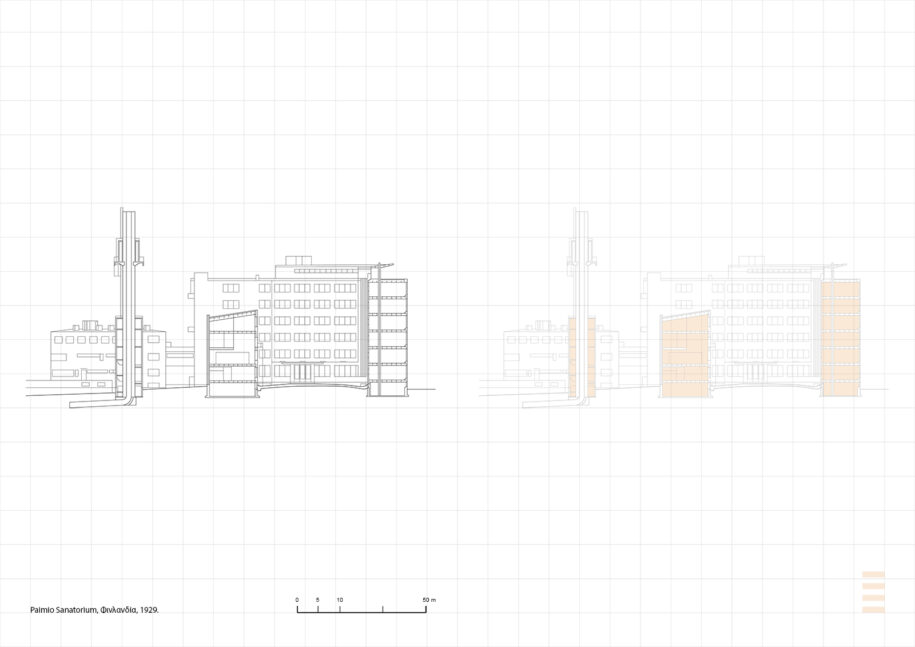 Τη θέση της πίστης στη σύγχρονη κοινωνία φαίνεται να έχει πάρει η υγεία, έτσι αποφασίσαμε να δούμε αν μια πόλη του μέλλοντος θα μπορούσε να σχεδιαστεί με τους κανόνες που αυτή η νέα θρησκευτικότητα μπορεί να θέσει.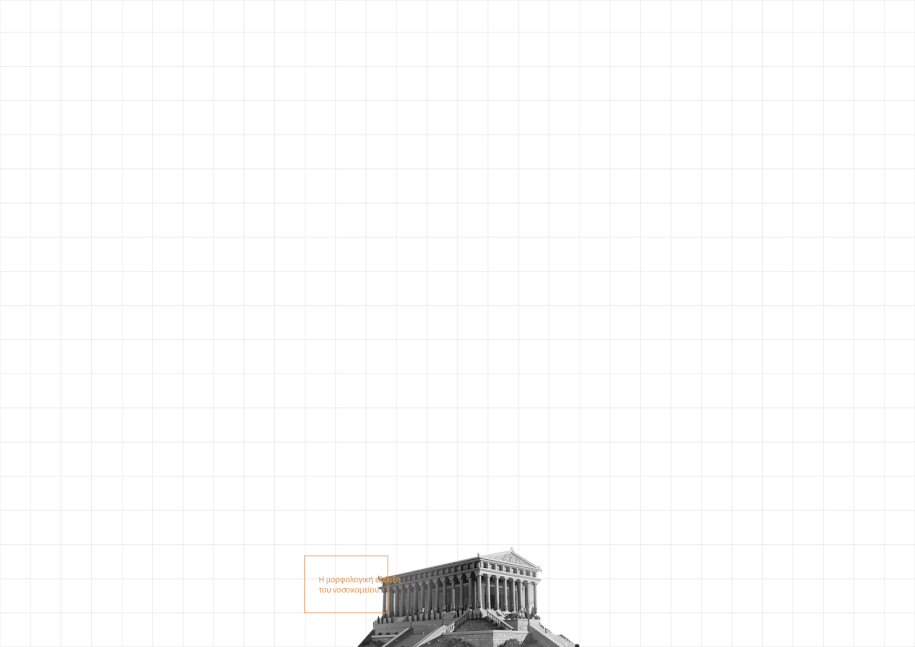 Για να μπορέσουμε να δούμε αν ο ισχυρισμός μας για τη μελλοντική πόλη, με βασική αρχή την επίτευξη της υγείας, οδηγεί σε άτοπο ή αληθές, ακολουθήσαμε την εξής πορεία.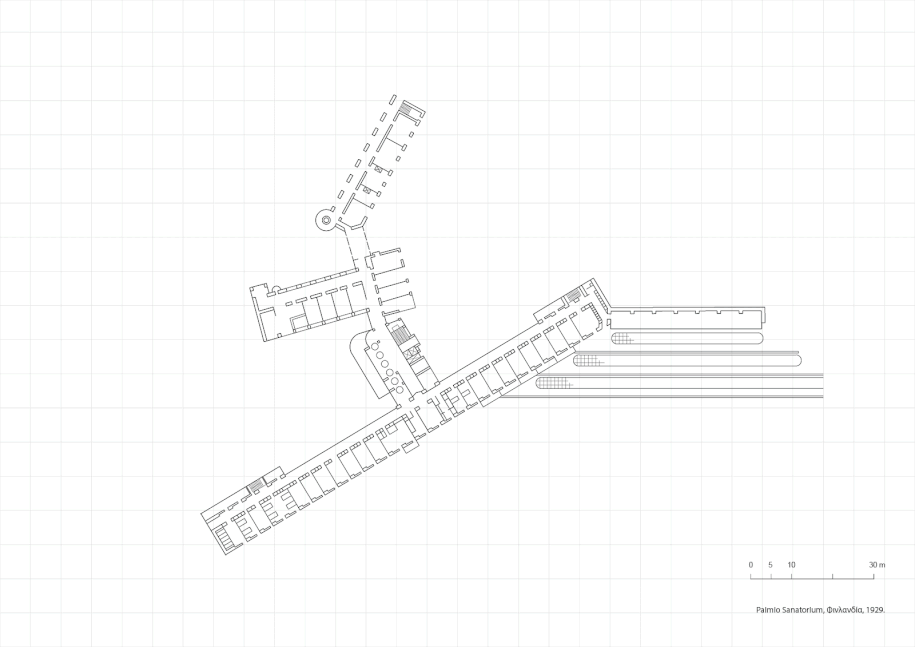 Αρχικά αναζητήσαμε το υποκείμενο αυτής της νέας πόλης, τον Ηomo-Μedicus και έννοιες που έχουν συμβάλλει στην εξέλιξη αυτού μέχρι τη τελική του μορφή. Οι έννοιες αυτές είναι η υγεία, η ασθένεια, η ίαση και η σχέση του Homo-Medicus με το θεραπευτή/γιατρό του.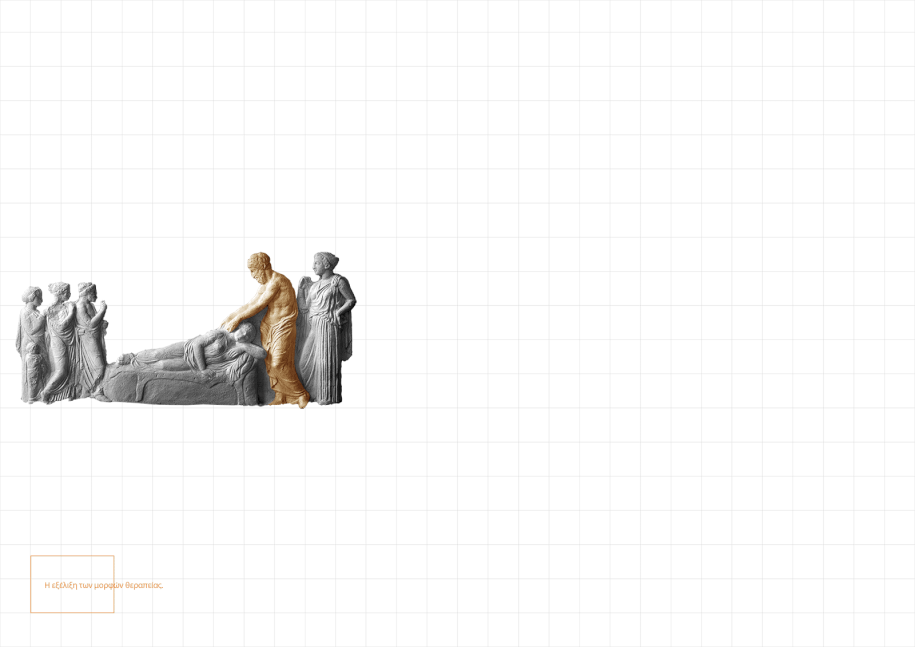 Στη συνέχεια εξετάσαμε πως η θρησκευτικότητα της κάθε εποχής καθορίζει το σχεδιασμό και τη μορφή του κτιρίου του νοσοκομείου. Προέκυψε πως στη σύγχρονη εποχή τα κτιριακά του όρια αρχίζουν να γίνονται ένα με αυτά του αστικού τοπίου, αναδεικνύοντας ένα νέο τύπο πόλης, αυτόν της Πόλης Νοσοκομείου.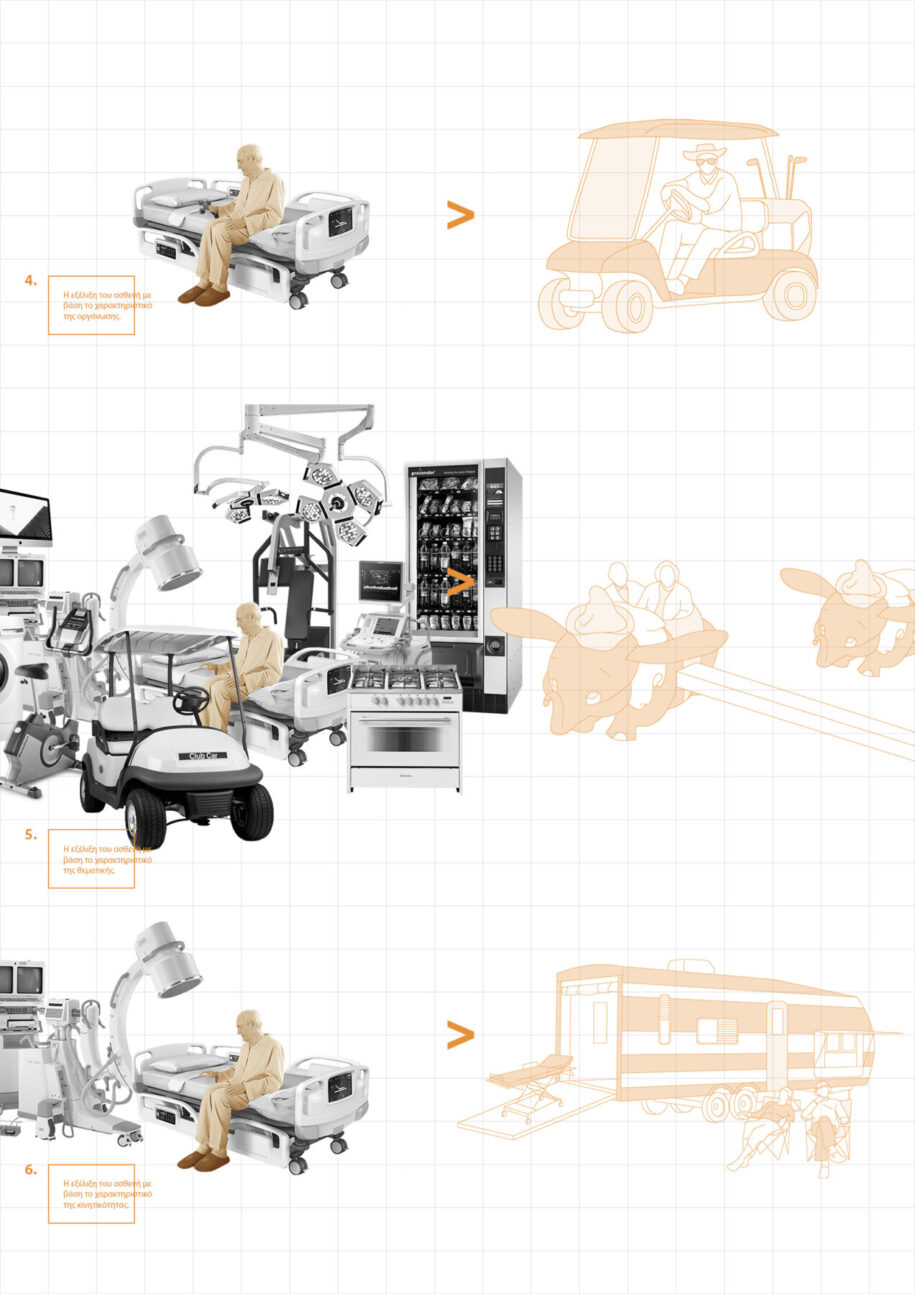 Τέλος, αναζητήσαμε σχεδιασμένα παραδείγματα με πιθανά κοινά χαρακτηριστικά με αυτά του νέου μοντέλου πόλης. Ουτοπικές κοινωνίες ηλικιωμένων, οι Γεροντοπίες, φαίνεται να πληρούν τα βασικά κριτήρια τα οποία αναζητούμε. Σκέψεις για μια καθολική Πόλη Νοσοκομείο έρχονται να αναλυθούν υπό το πρίσμα της ίασης στα πλαίσια των Γεροντοπιών, οι οποίες παίρνουν τη μορφή μιας πρώτης τυπολογίας της Πόλης Νοσοκομείου του μέλλοντος.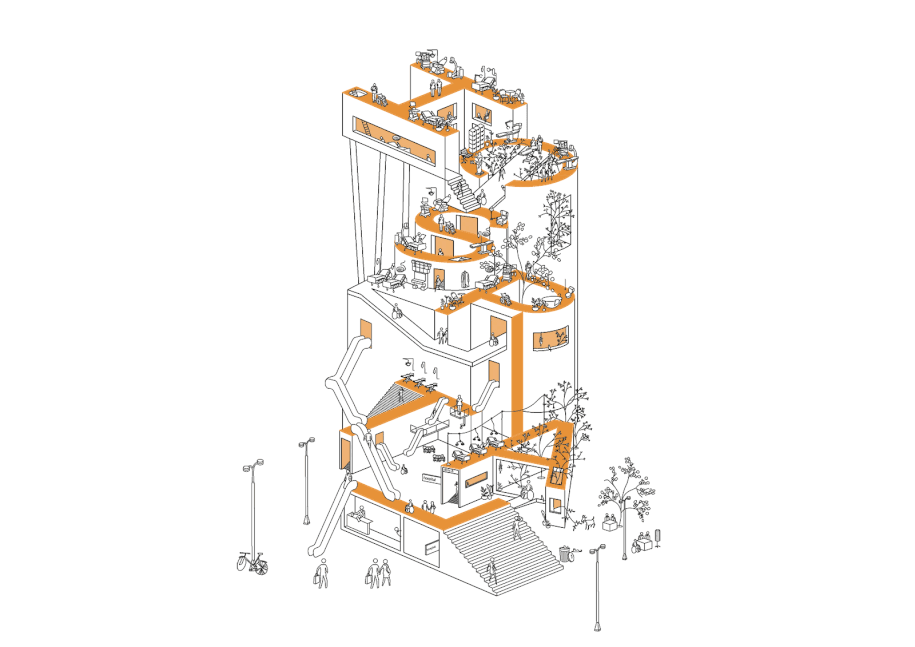 Στοιχεία Έργου
Τίτλος εργασίας  Ο Homo-Medicus & η Πόλη Νοσοκομείο
Φοιτήτριες  Βίκυ Μπαλή, Πετρίνα Χρονοπούλου 
Εξεταστική περίοδος  Οκτώβριος 2020
Μάθημα  Ερευνητική εργασία
Επιβλέπων καθηγητής  Λεωνίδας Παπαλαμπρόπουλος 
Σχολή  Τμήμα Αρχιτεκτόνων Μηχανικών, Πανεπιστήμιο Πατρών
READ ALSO:
Endless linearity: stitching monuments and landscape in Cape Sounio | Diploma thesis by Konstantina Kousari