text in

EN, GR
Research thesis by Evangelia Gioti and Athina Toutziari examines whether Biomimicry is a realistic or ultimately utopian reality.
-text by the authors
Mankind from ancient times tended to turn to nature and copy its mechanisms. A fact that was noticed from the ancient Greeks, who inspired their works from the natural world, to Da Vinci, who designed flight mechanisms observing the way birds fly, but also Frank Lloyd Right, who introduced the idea of ​​organic architecture. However, Biomimicry as a movement was officially established in 1997 by the American biologist Janine Benyus. It is a philosophy that does not aim to copy the form of an element of nature, but to gather information on how it works in the face of environmental challenges in order to solve sustainability problems.
It was soon spread and adopted by many sciences with the dominant ones being architecture and biology. As a result, an inseparable relationship was created between these two branches, in order to achieve the correct study of living beings for the production of constructive ideas. Thus, materials and design techniques gradually change and acquire a regenerative character, using recovery systems and renewable energy sources, which will produce more energy than they consume.
Consequently, biomimetic architecture expands its cognitive range and creates sustainable buildings, able to cope with problems that plague the modern world, such as climate change and overpopulation.
Although Biomimicry seems to be the solution for the future of the planet, there are many scientists who have doubts about how it is used and the extent to which it has been studied. In this research work, the ways in which the harmonious relationship between architecture and nature can be achieved, as well as the effect that the biomimetic process can bring to the design and construction, will be examined.
Through the analysis of some modern examples of biomimetic buildings and future self-sustaining ecosystems, conclusions will be drawn as to whether Biomimicry is a realistic or ultimately utopian reality.
Facts & Credits
Project title  Biomimicry In Architecture – Examples Of Sustainable Design
Students  Evangelia Gioti, Athina Toutziari
Supervisor  Panagiotis Kozokos
Date  June 2020
Course  Research thesis
Institution  Department of Architecture, Democritus University of Thrace


---

Η ερευνητική εργασία της Ευαγγελίας Γιώτη και της Αθηνάς Τουτζιάρη, με τίτλο "Ο Βιομιμητισμός στην Αρχιτεκτονική – Παραδείγματα Βιώσιμου Σχεδιασμού", εξετάζει το κατά πόσο ο Βιομιμητισμός αποτελεί μία ρεαλιστική ή εν τέλει ουτοπική αρχιτεκτονική πραγματικότητα.
-κείμενο από τις δημιουργούς
Οι άνθρωποι από την αρχαιότητα είχαν την τάση να στρέφονται στη φύση και να αντιγράφουν τους μηχανισμούς της. Γεγονός που εντοπίζεται από τους αρχαίους Έλληνες, οι οποίοι εμπνεύστηκαν τα έργα τους από το φυσικό κόσμο, μέχρι τον Da Vinci, ο οποίος σχεδίασε πτητικούς μηχανισμούς παρατηρώντας τον τρόπο πτήσης των πουλιών, αλλά και τον Frank Lloyd Right, που εισήγαγε τον ιδέα της οργανικής αρχιτεκτονικής. Ωστόσο, ο Βιομιμητισμός ως κίνημα καθιερώθηκε επίσημα το 1997 από την Αμερικανίδα βιολόγο Janine Benyus. Πρόκειται για μια φιλοσοφία η οποία δεν έχει ως στόχο να αντιγράψει τη μορφή ενός στοιχείου της φύσης, αλλά να συλλέξει πληροφορίες από τον τρόπο λειτουργίας του απέναντι στις προκλήσεις του περιβάλλοντος με σκοπό την επίλυση των προβλημάτων βιωσιμότητας.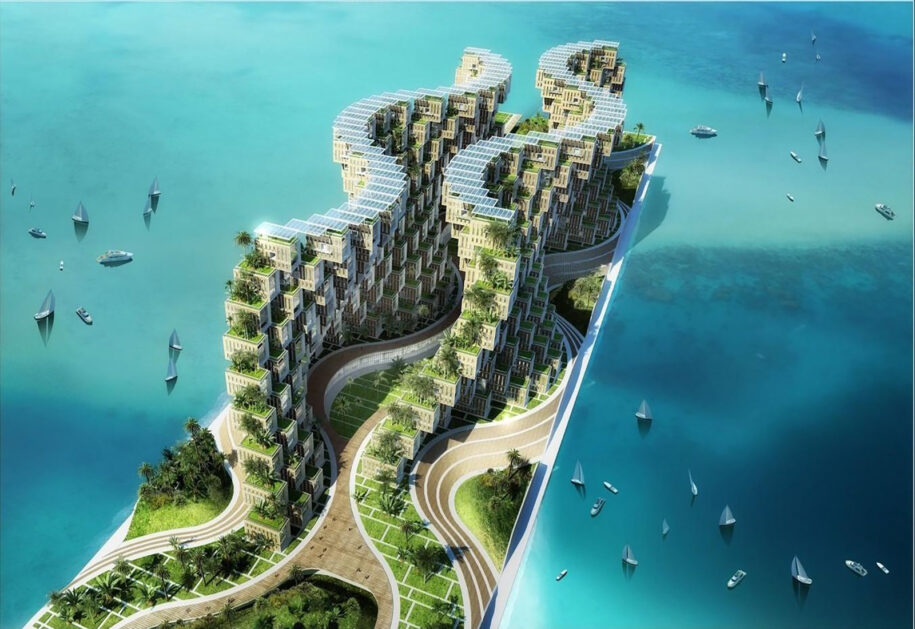 Σύντομα διαδόθηκε και υιοθετήθηκε από πολλές επιστήμες με κυρίαρχες αυτές της αρχιτεκτονικής και της βιολογίας. Ως αποτέλεσμα δημιουργήθηκε μία άρρηκτη σχέση μεταξύ των δυο αυτών κλάδων, προκειμένου να επιτευχθεί η ορθή μελέτη των έμβιων όντων για την παραγωγή εποικοδομητικών ιδεών. Έτσι, τα υλικά και οι τεχνικές σχεδιασμού σταδιακά αλλάζουν και αποκτούν αναγεννητικό χαρακτήρα, κάνοντας χρήση συστημάτων αποκατάστασης και ανανεώσιμων πηγών ενέργειας, τα οποία θα παράγουν περισσότερη ενέργεια από αυτήν που καταναλώνουν.
Συνεπώς, η βιομιμητική αρχιτεκτονική διευρύνει το γνωστικό της φάσμα και δημιουργεί βιώσιμα κτίρια, ικανά να ανταπεξέλθουν σε προβλήματα που μαστίζουν τον σύγχρονο κόσμο, όπως είναι η κλιματική αλλαγή και ο υπερπληθυσμός.
Αν και ο Βιομιμητισμός μοιάζει να είναι η λύση για το μέλλον του πλανήτη, αρκετοί είναι οι επιστήμονες που εκφράζουν αμφιβολίες για τον τρόπο χρήσης του και το εύρος στο οποίο έχει μελετηθεί. Σε αυτή την ερευνητική εργασία, θα εξετασθούν οι τρόποι με τους οποίους μπορεί να επιτευχθεί η αρμονική σχέση αρχιτεκτονικής – φύσης, καθώς και η επίδραση που είναι ικανή να επιφέρει η βιομιμητική διαδικασία στο σχεδιασμό και την κατασκευή.
Μέσω της ανάλυσης ορισμένων σύγχρονων παραδειγμάτων βιομιμητικών κτιρίων και μελλοντικών αυτό-τροφοδοτούμενων οικοσυστημάτων, θα προκύψουν συμπεράσματα για το αν ο Βιομιμητισμός αποτελεί μία ρεαλιστική ή εν τέλει ουτοπική πραγματικότητα.
Στοιχεία έργου
Τίτλος εργασίας  Ο Βιομιμητισμός Στην Αρχιτεκτονική – Παραδείγματα Βιώσιμου Σχεδιασμού
Φοιτήτριες  Ευαγγελία Γιώτη, Αθηνά Τουτζιάρη
Επιβλέπων καθηγητής  Παναγιώτης Κοζόκος
Εξεταστική περίοδος  Ιούνιος 2020
Μάθημα  Ερευνητική εργασία
Σχολή  Τμήμα Αρχιτεκτόνων Μηχανικών, Δημοκρίτειο Πολυτεχνείο Θράκης


---

Read the whole paper, here!
Διαβάστε ολόκληρη την εργασία, εδώ!
READ ALSO:
Municipal Center of Hospitality for Minors | Diploma thesis by Theodora Lialia & Georgia Vasiliou