text in

EN, GR
R.C.TECH renovated the fourth floor of a Haussmannian corner building located at Champs-Élysées Boulevard in Paris designing the expansion of the international law firm Three Crowns head office in town seeking to preserve and highlight the Parisian interior ambiance.
-text by the authors
The space comprises a reception area, sizeable working spaces, meeting rooms and support spaces such as a large copying room and a dining area. The intervention required minor modifications on the original layout of the floor plan. Two basic spaces of the floor's function are situated along the main axis which connects the imposing 19th century staircase with the circular corner of the building.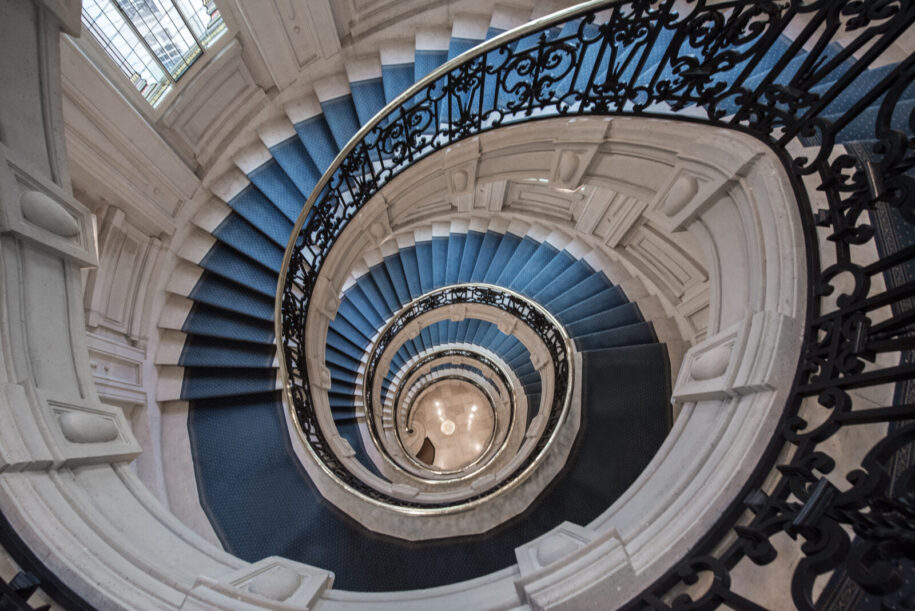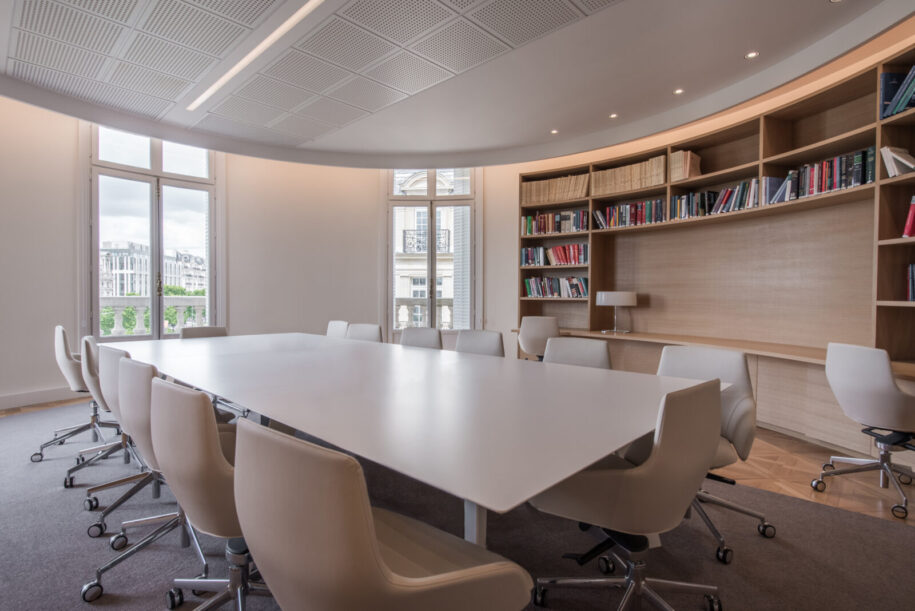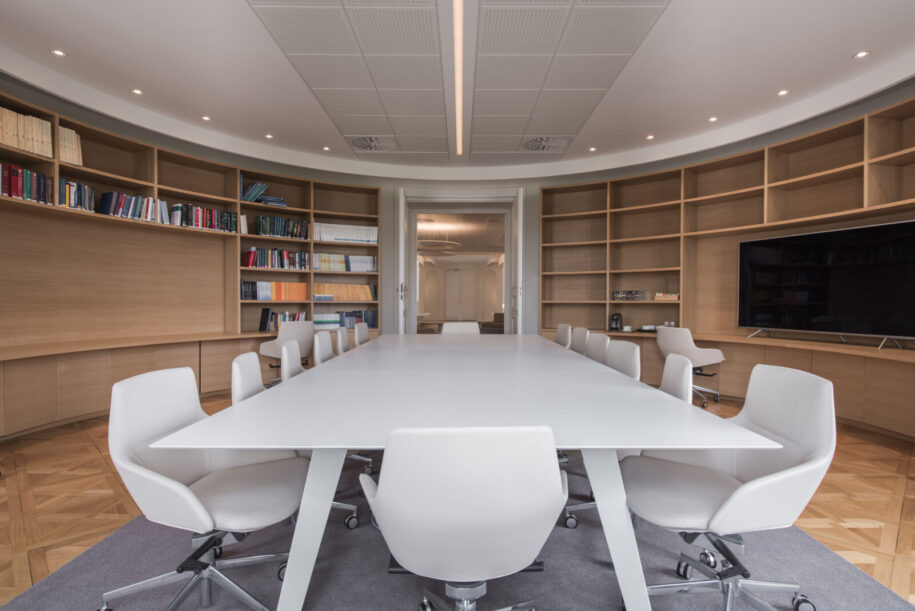 The first space, the plan of which resembles a quadrant, acts as a reception, meeting and resting area positioned after the corridor of the main entrance. The circularly designed sofa has been inspired by the curves of the floor plan. The former encourages relaxation and communication between client and employees, whilst the indirect lighting of the circular sound-absorbing surfaces is in harmony with the dim day light filtered by the off-white curtains.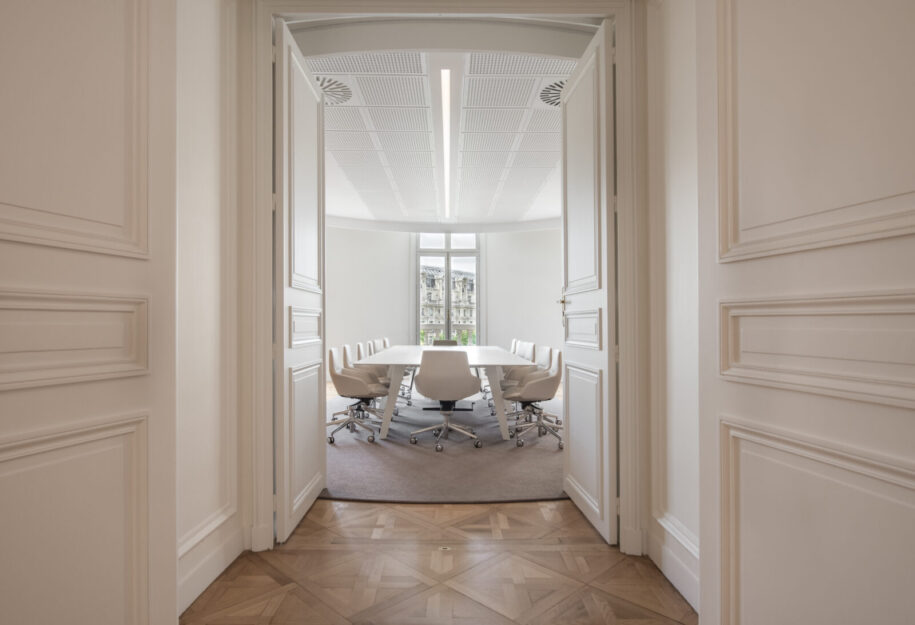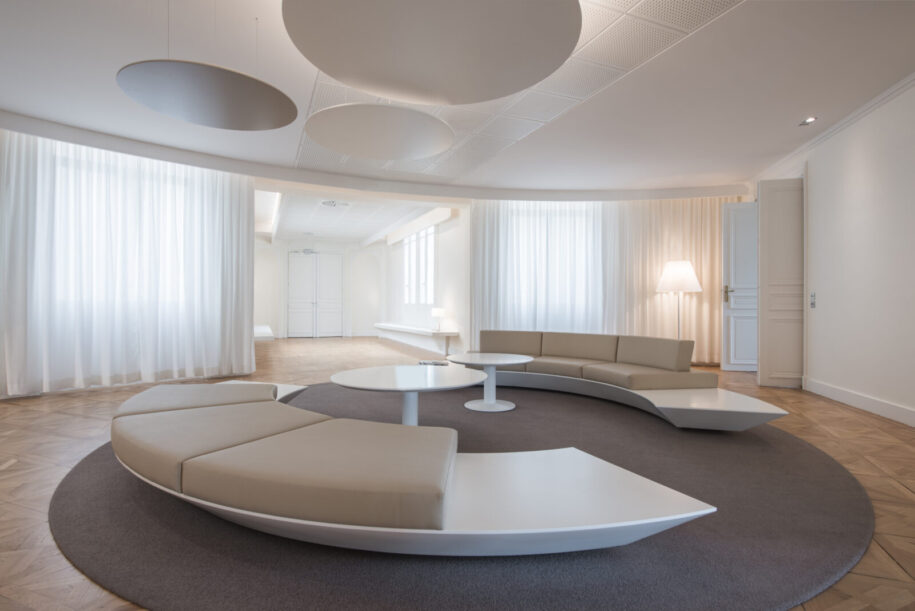 The reception area, in turn, provides access to the next space, the main room of the floor found on the floor's corner, right above the conjunction of Washington Street and Champs-Élysées Avenue. This minimalist circular room with the rigid rectangular table, the comfortable seats and the bookcases offers unobscured views to the city of Paris.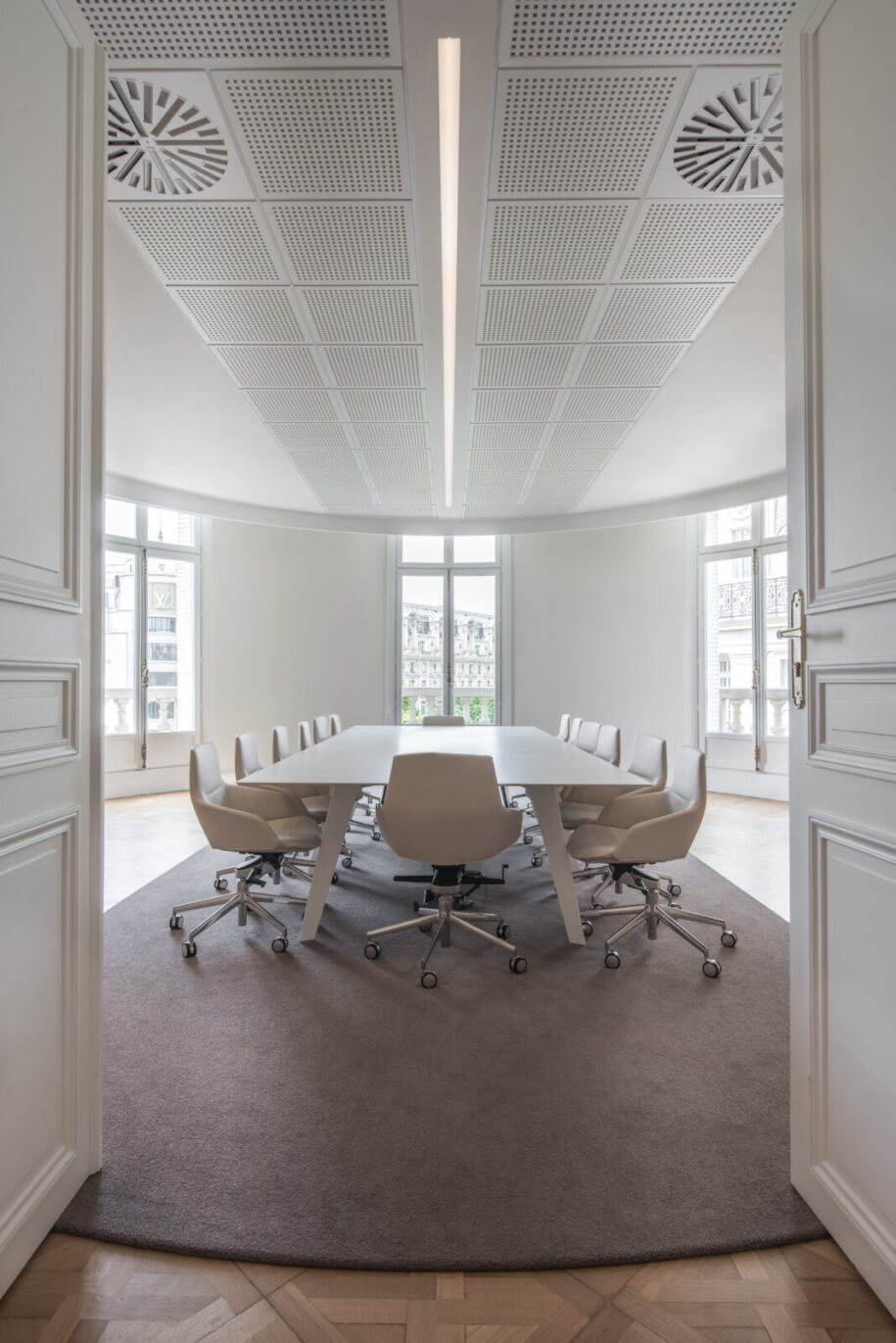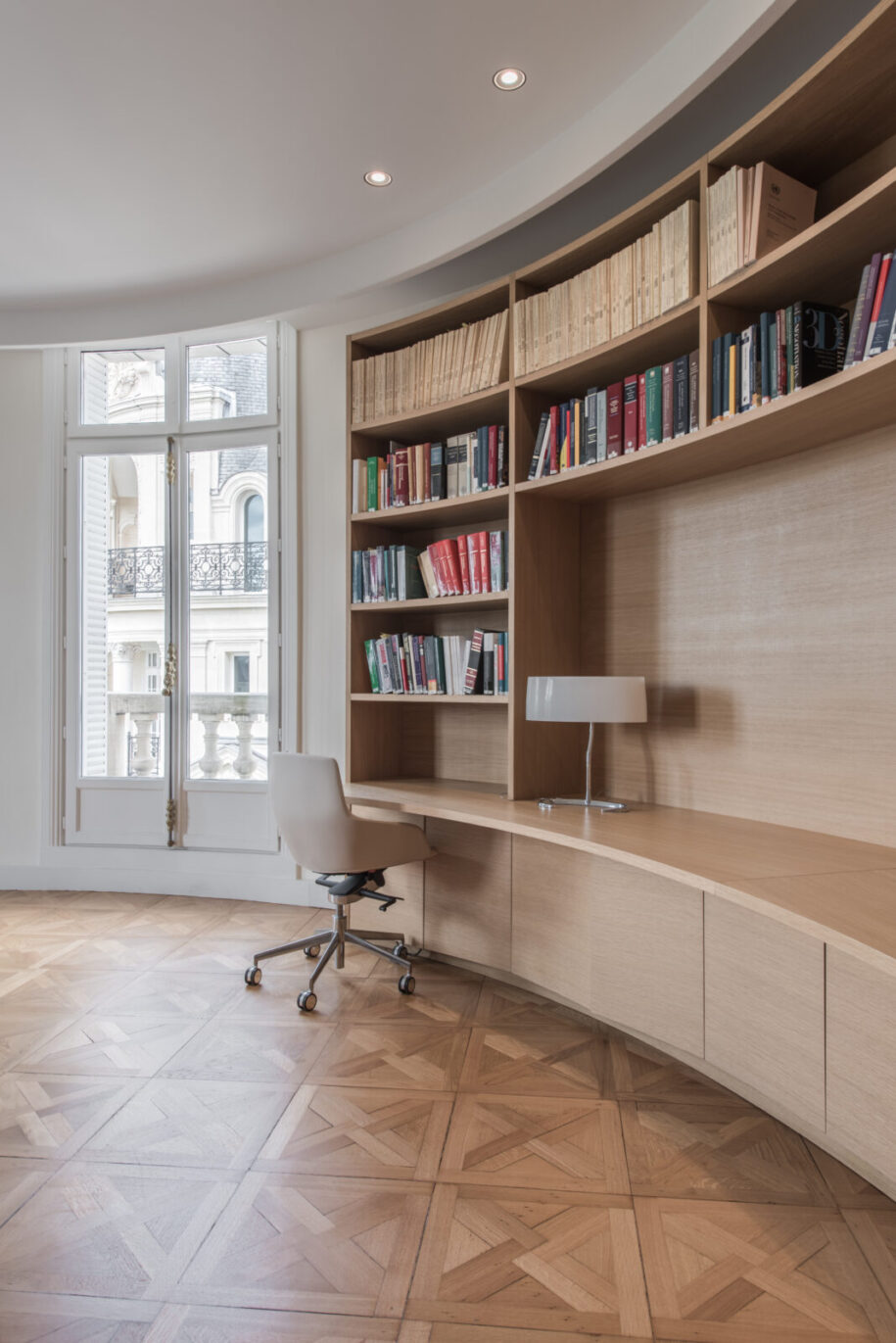 The overall goal was to preserve and highlight the Parisian interior ambiance. Besides, the original oak flooring and ceiling cornices, along with the indirect western lighting flooding the space proved consistent with the addition of new forms and materials.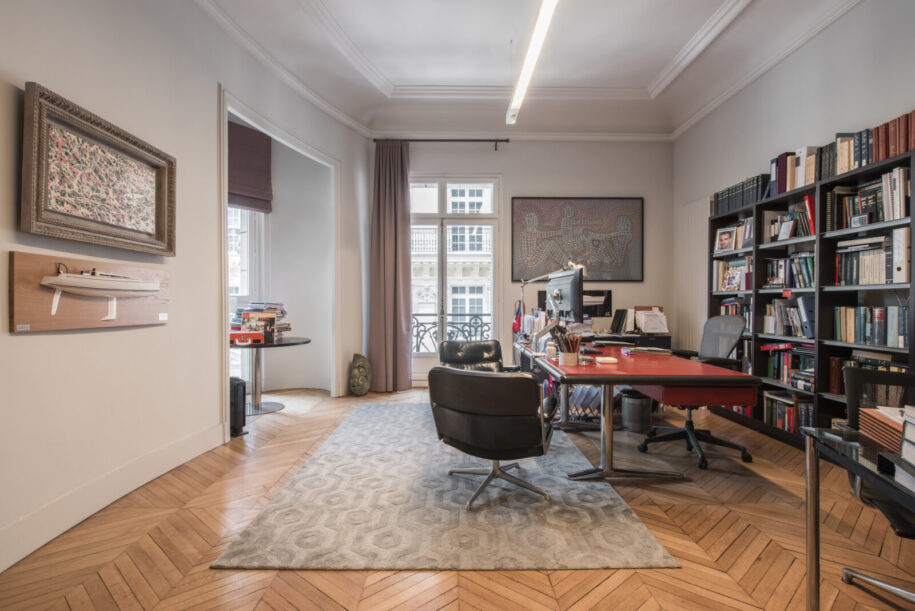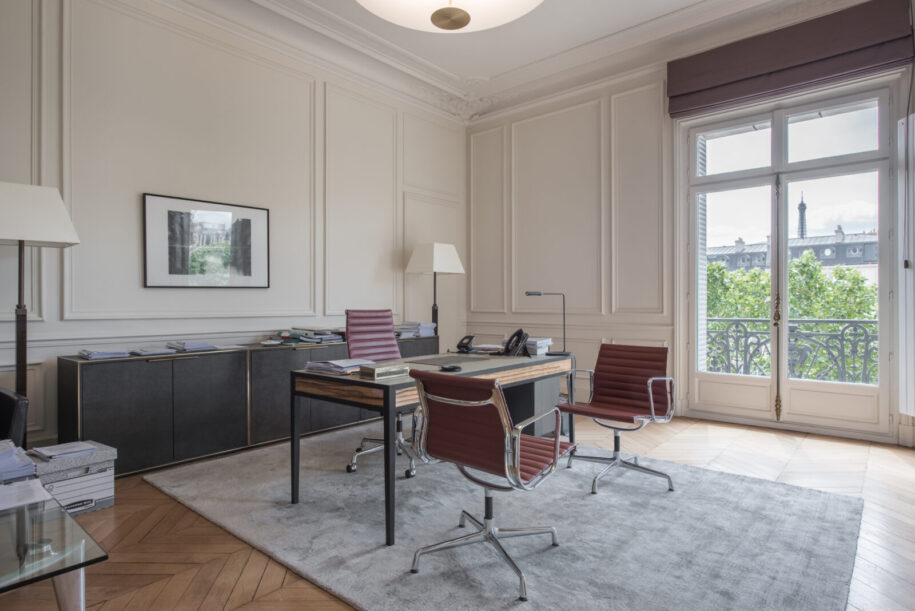 Facts & Credits
Project title  Three Crowns Paris _ Office space renovation in Champs-Élysées, Paris
Location  Paris, France
Architecture  R.C.TECH | Nassos Chamilothoris, Giannis Douridas, Christina Kontou, Dimitra Stathopoulou
Photography  Athina Souli


---

Το γραφείο R.C.TECH ανακαίνισε τον τέταρτο όροφο ενός γωνιακού κτηρίου της περιόδου του Haussmann επί της λεωφόρου Champs-Élysées στο Παρίσι σχεδιάζοντας την επέκταση των γραφείων της διεθνούς δικηγορικής εταιρίας Three Crowns θέτοντας ως στόχο τη διατήρηση και ανάδειξη της χαρακτηριστικής ατμόσφαιρας του παρισινού εσωτερικού.
-κείμενο από τους δημιουργούς
Το νέο πρόγραμμα περιλαμβάνει χώρους υποδοχής και ξεκούρασης, άνετους χώρους εργασίας, αίθουσες συναντήσεων και υποστηρικτικές εγκαταστάσεις μηχανοργάνωσης. Η επέμβαση υλοποιήθηκε με ελάχιστες μετατροπές στο οργάνωση της κάτοψης του ορόφου. Ο βασικός άξονας από το επιβλητικό κλιμακοστάσιο του 19ου αιώνα προς τη κυκλοτερή γωνιακή απόληξη του κτηρίου συγκεντρώνει δύο βασικούς χώρους του ορόφου.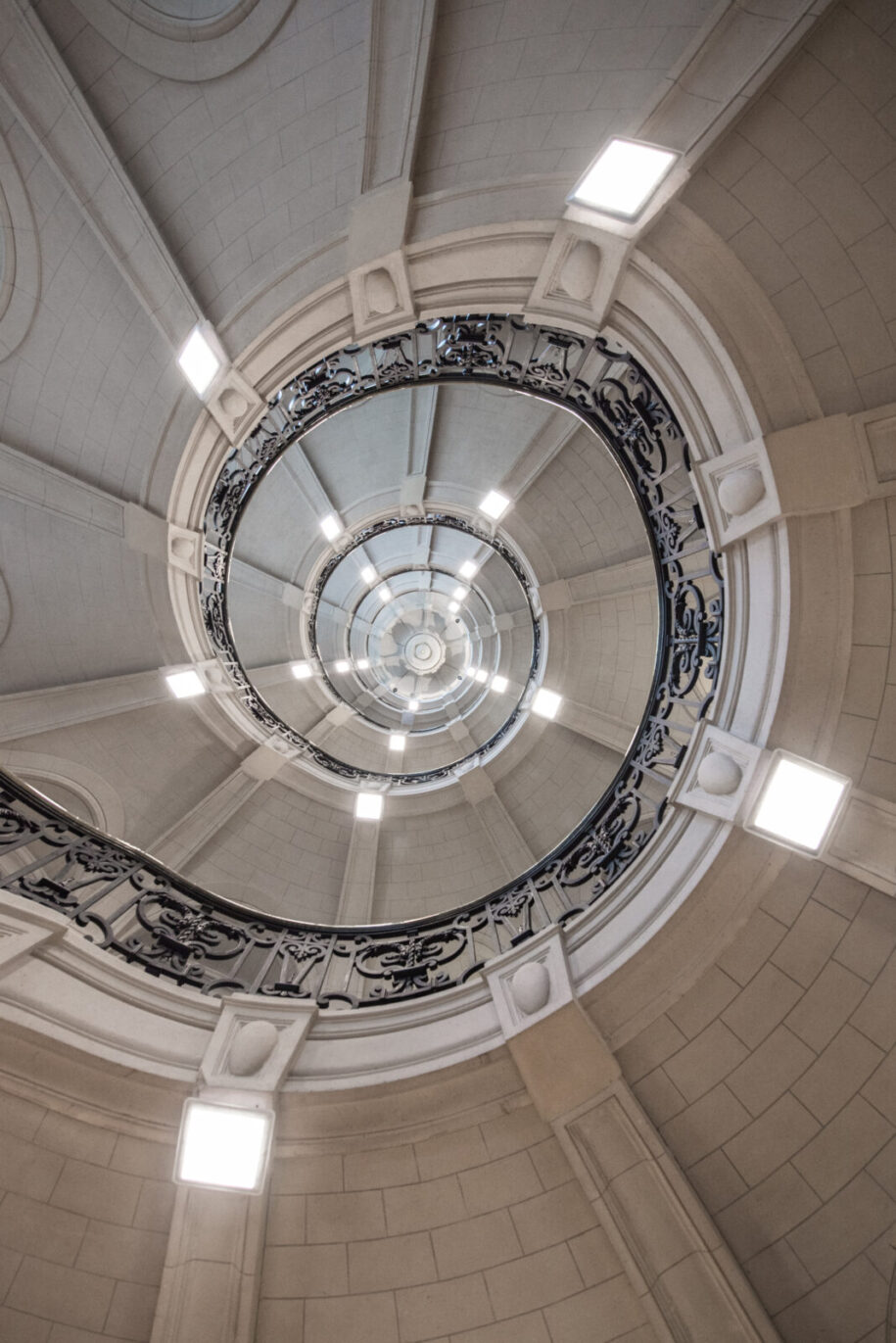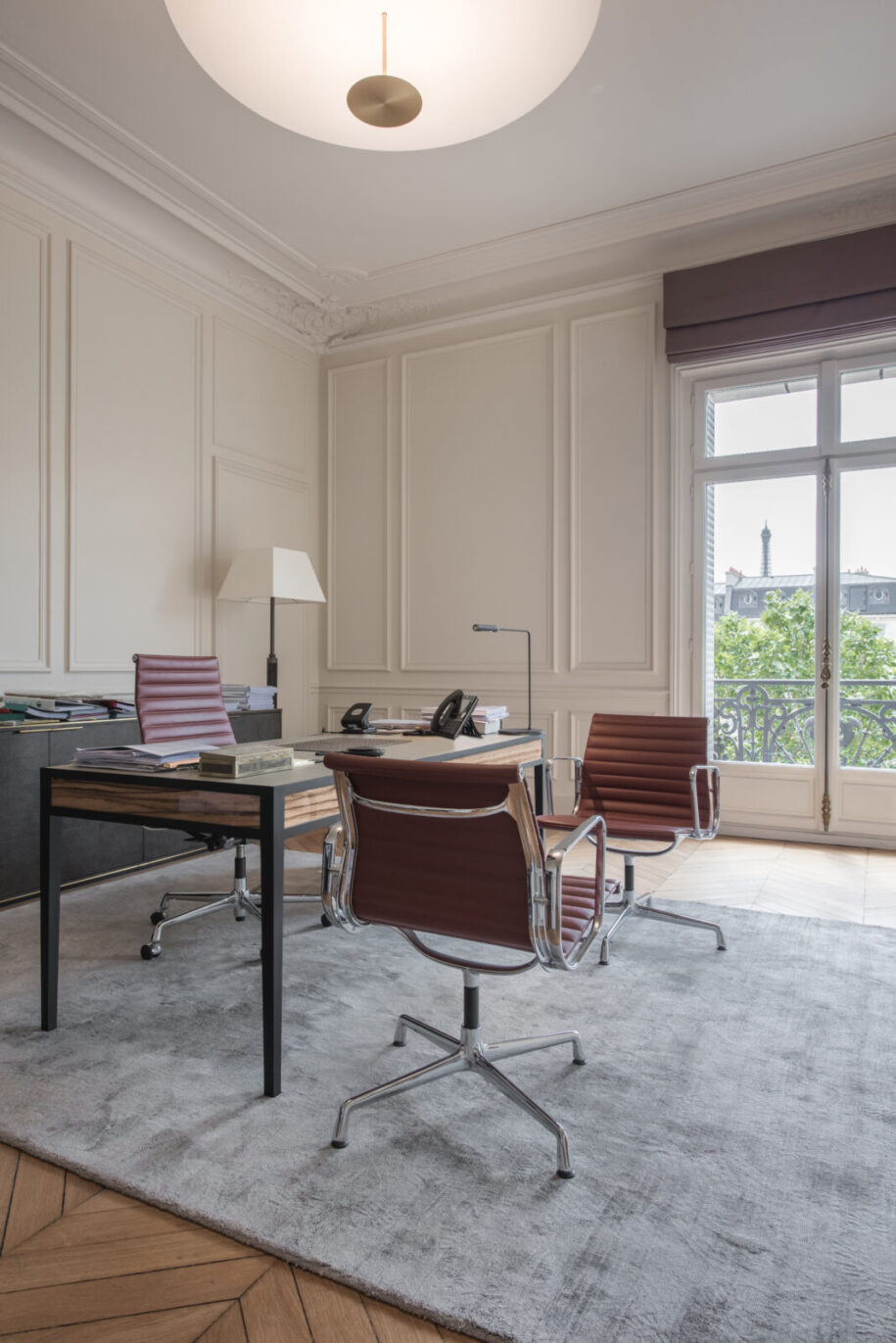 Ο πρώτος – ο χώρος υποδοχής, συνάντησης και ανάπαυσης – βρίσκεται στη συνέχεια του διαδρόμου της εισόδου, σε γεωμετρία τεταρτοκύκλιου. Με έμπνευση από τις καμπύλες της κάτοψης, τα εγγεγραμμένα σε κύκλο καθίσματα ευνοούν την ανάπαυλα και επικοινωνία πελατών και εργαζομένων, ενώ ο έμμεσος φωτισμός από τις αναρτημένες κυκλικές ηχοαπορροφητικές επιφάνειες, συμπληρώνει το αχνό από τις υπόλευκες κουρτίνες φυσικό φως.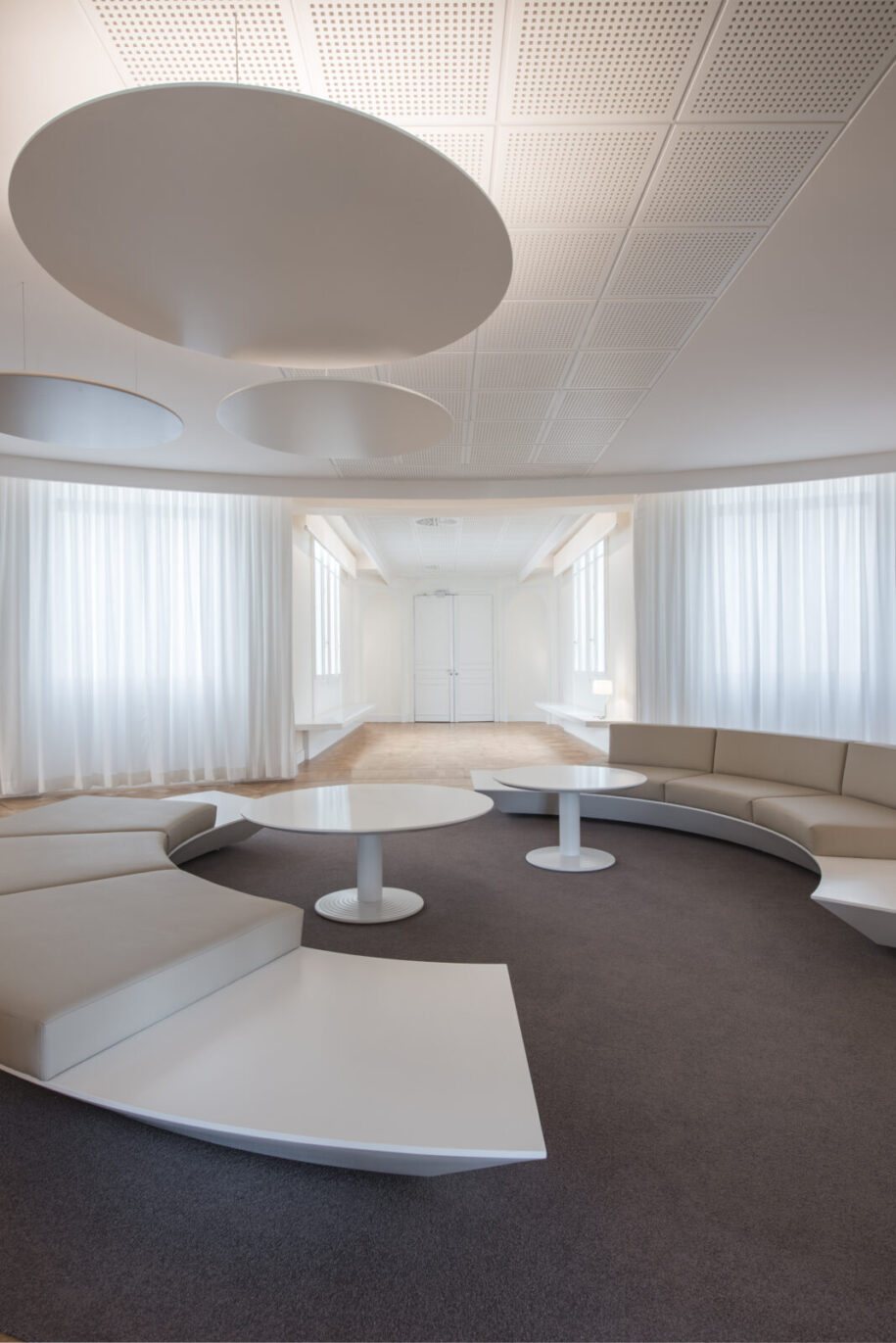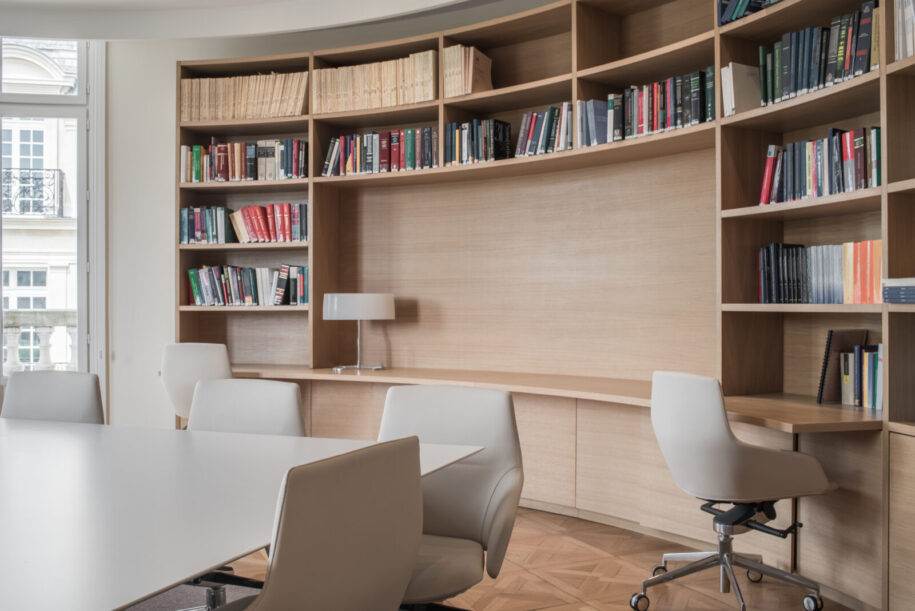 Ο χώρος υποδοχής, με τη σειρά του, δίνει πρόσβαση στον κύριο χώρο συναντήσεων, στο άλλο άκρο του κεντρικού άξονα της εισόδου, στη συμβολή των οδών Washington και Champs-Élysées. Εδώ, η κυκλική αίθουσα με το λιτό σχεδιασμό, το στιβαρό ορθογώνιο τραπέζι, τα άνετα καθίσματα και τις βιβλιοθήκες, συνιστά ένα συγκεντρωτικό, εσωστρεφή χώρο με απρόσκοπτη θέα στο Παρίσι.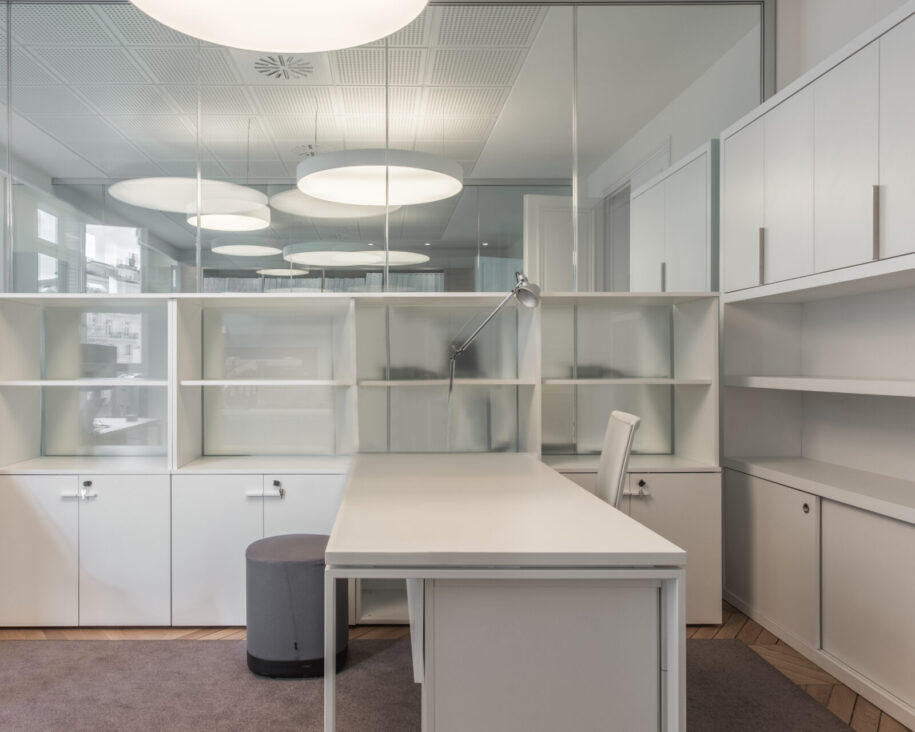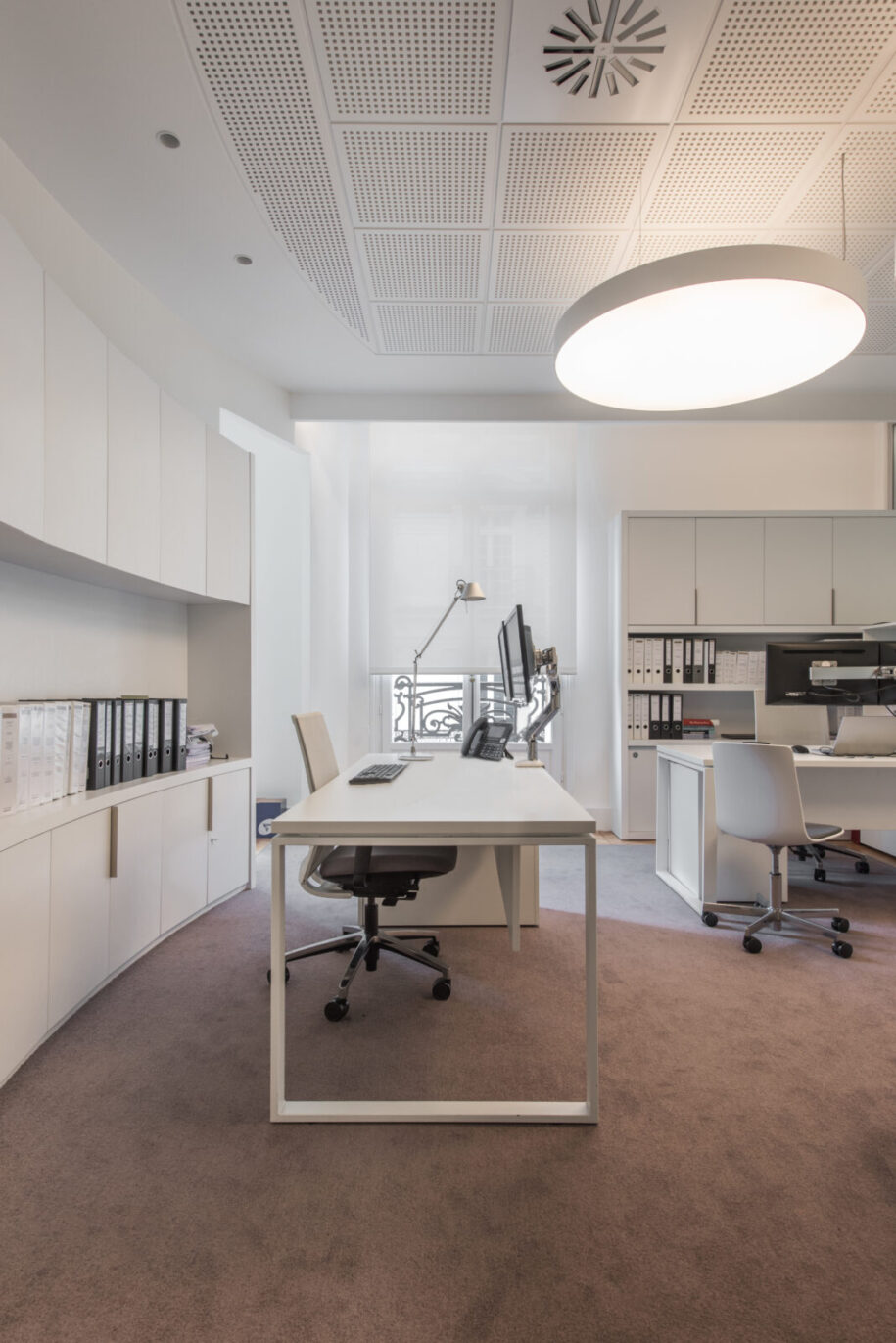 Ο στόχος υπήρξε μεταξύ άλλων η διατήρηση και ανάδειξη της ατμόσφαιρας του παρισινού Haussmannian εσωτερικού. Εξάλλου τα δρύινα παλιά δάπεδα, οι υπόλευκες κορνίζες και "εργαλεία" των οροφών και των θυρών, καθώς και ο ήπιος, δυτικός φωτισμός που κατακλύζει το χώρο, μάλλον επέτρεψαν την ανώδυνη προσθήκη νέων φορμών και υλικών.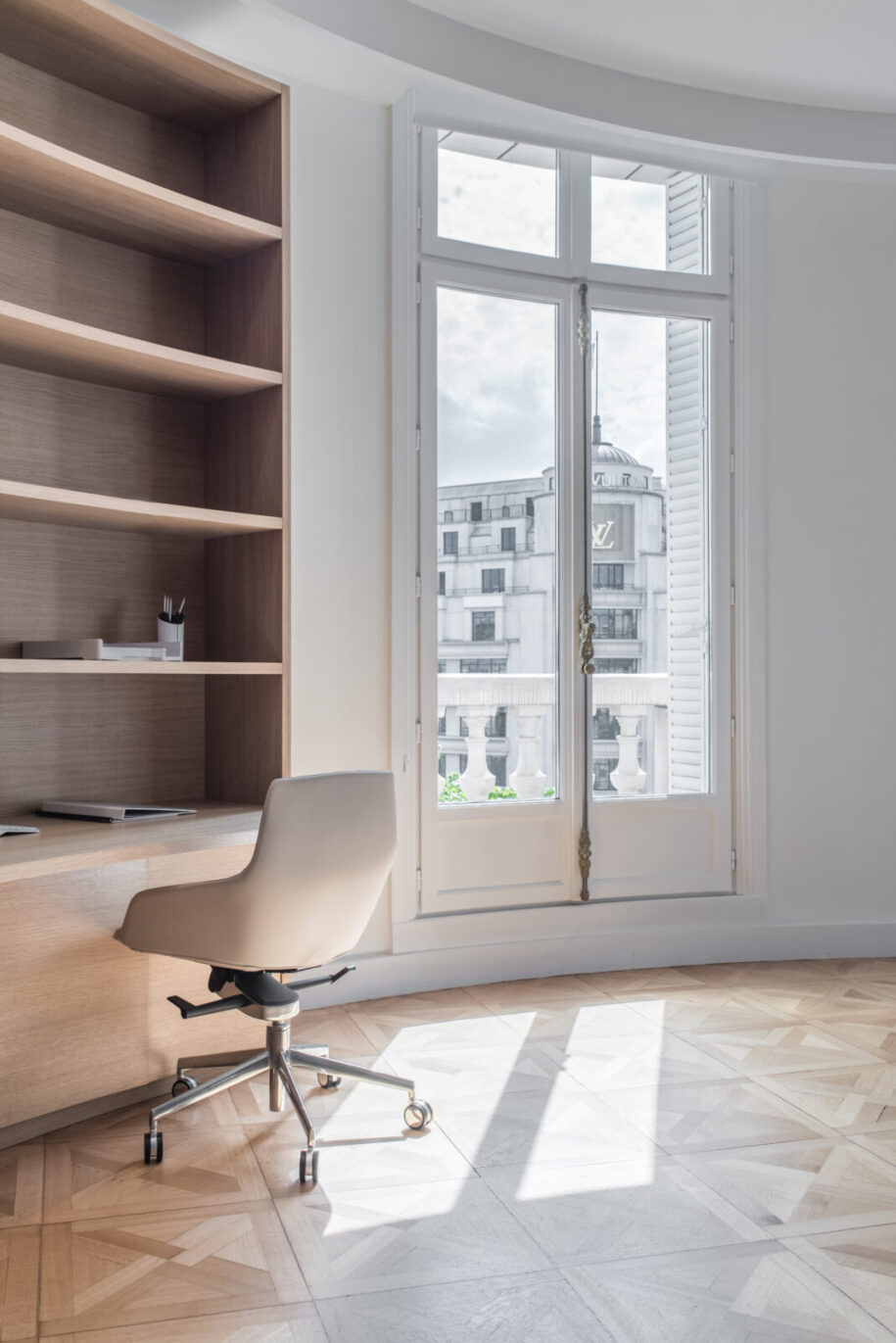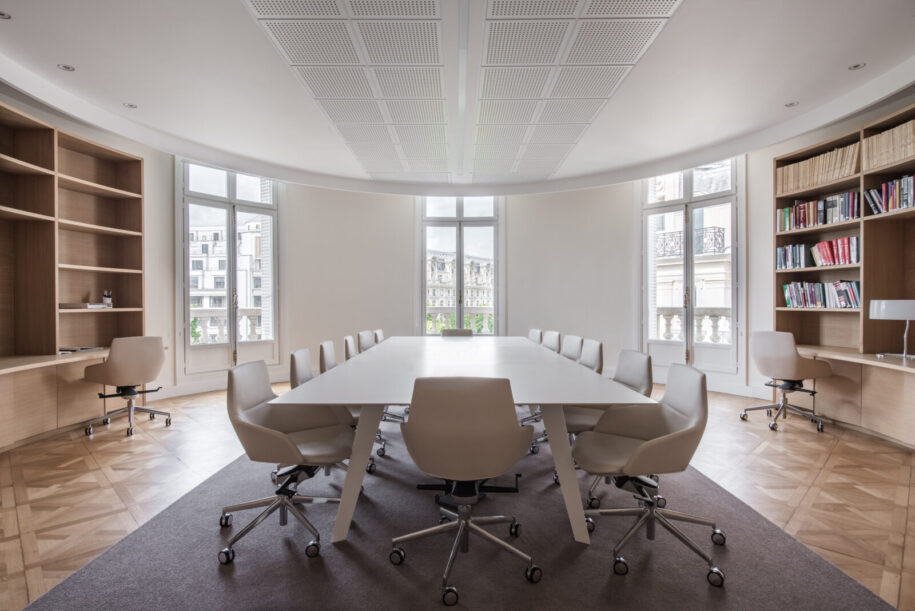 Στοιχεία έργου
Τίτλος έργου  Three Crowns Paris: χώρος γραφείων στη λεωφόρο Champs-Élysées στο Παρίσι
Τοποθεσία  Παρίσι, Γαλλία
Αρχιτεκτονική Μελέτη  R.C.TECH
Αρχιτέκτονες  Νάσος Χαμηλοθώρης, Γιάννης Δουρίδας, Χριστίνα Κόντου, Δήμητρα Σταθοπούλου
Μηχανολογική Μελέτη  Σταμάτης Καραγιάννης, Μηχανολόγος Μηχανικός
Μελέτη φωτισμού  FOSS
Κατασκευή  R.C.TECH | Μάρκος Δουρίδας, Πολιτικός Μηχανικός
Φωτογραφία  Αθηνά Σούλη
READ ALSO:
ANDROS TESSERA: 4 residences in Andros island by CITICON building spaces