Inspired by the Greek earth, sun and tradition, architecture studio Office 4 has designed a bright summer house in the island of Rhodes. White tones, grey limewash paint and sunburnt wood set the scene for this beautiful interior.
–text by the authors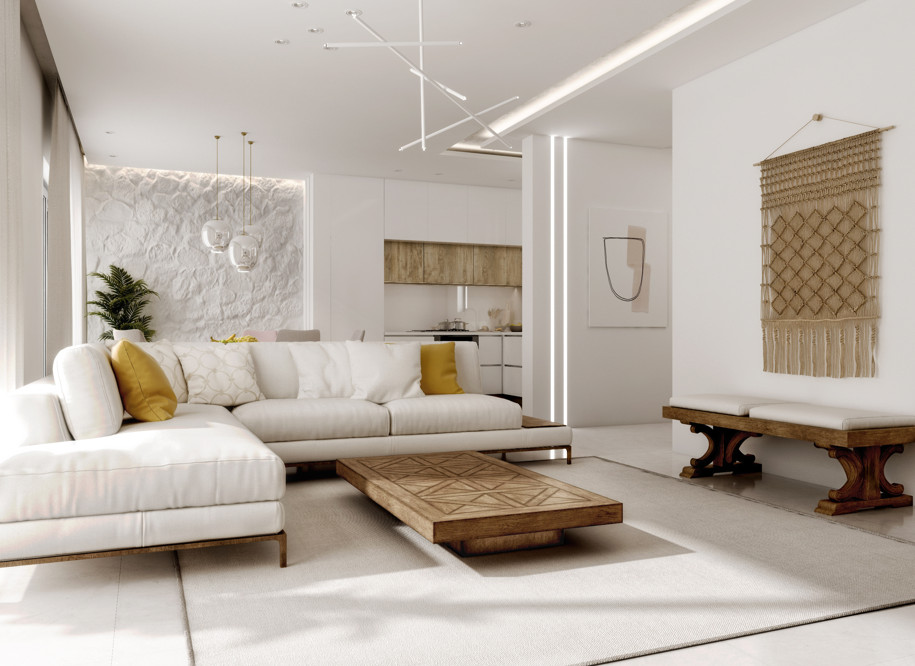 In their design Office 4 achieved elegant harmonization between architecture, design, functionality, aesthetics and meaning.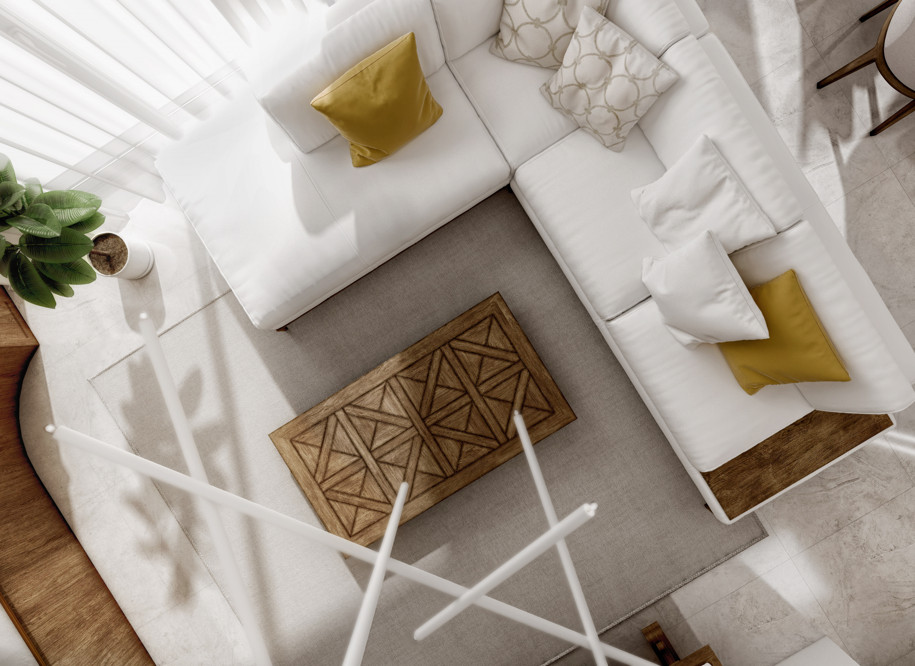 White color tones make the space feel more spacious and brighter. The clean, strong lines of the space are softened by the more traditional lines of the furniture. Dynamic ambient lighting on the roof and walls creates contrast and intensity to the otherwise smooth and calm harmony of the living room. Wicker carpets and rustic styling details give the Greek island feel. The yellow color on the pillows in contrast to the white sofa creates a bold statement and works as a reminder of the brightness of the Greek sun.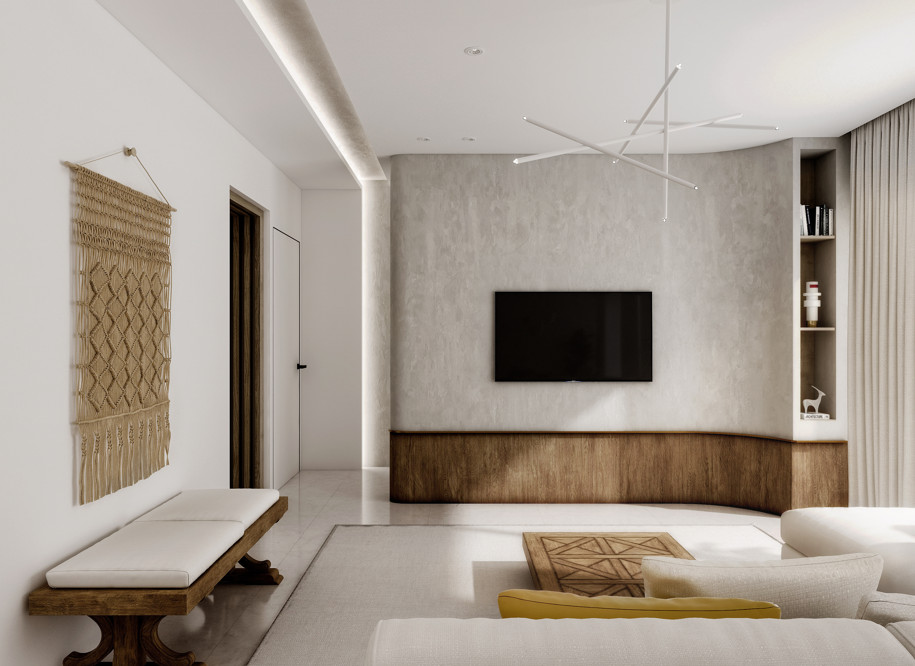 Opposite the white sofa, a curvy wall flows gently like a wave into the living room becoming the central piece of the bright space, while the combined textures of grey limewash paint and wood give a dramatic effect.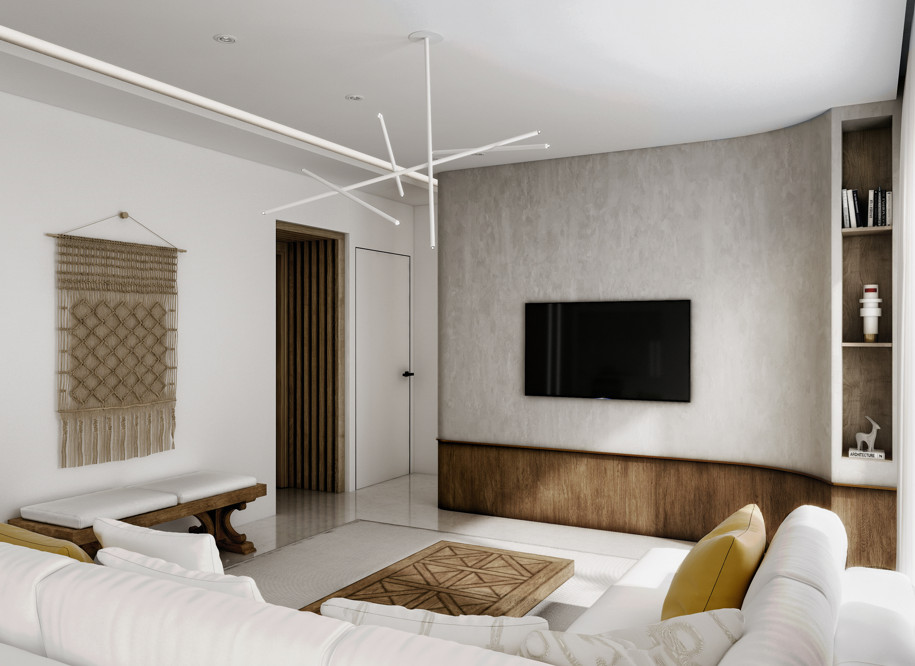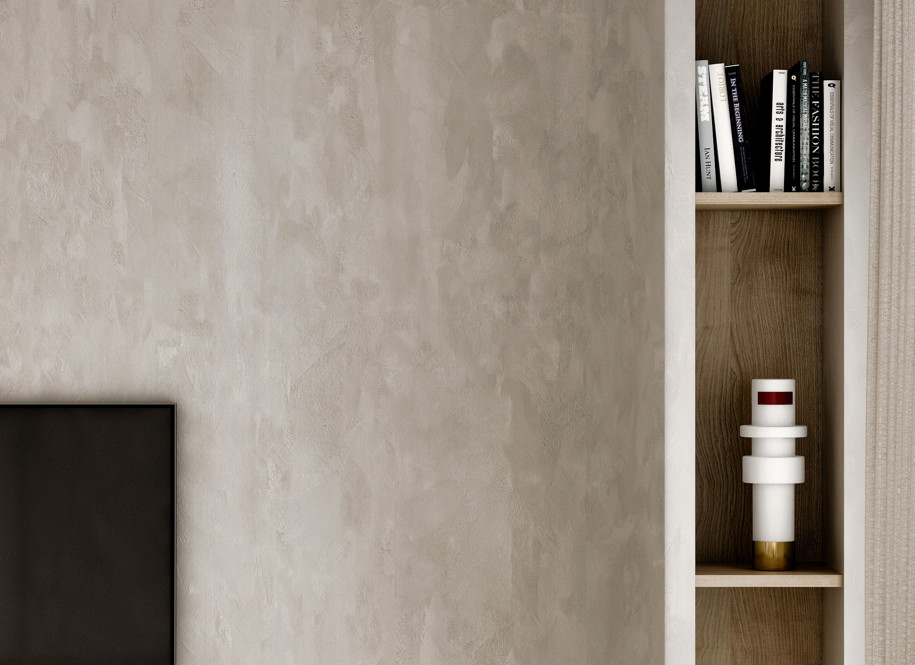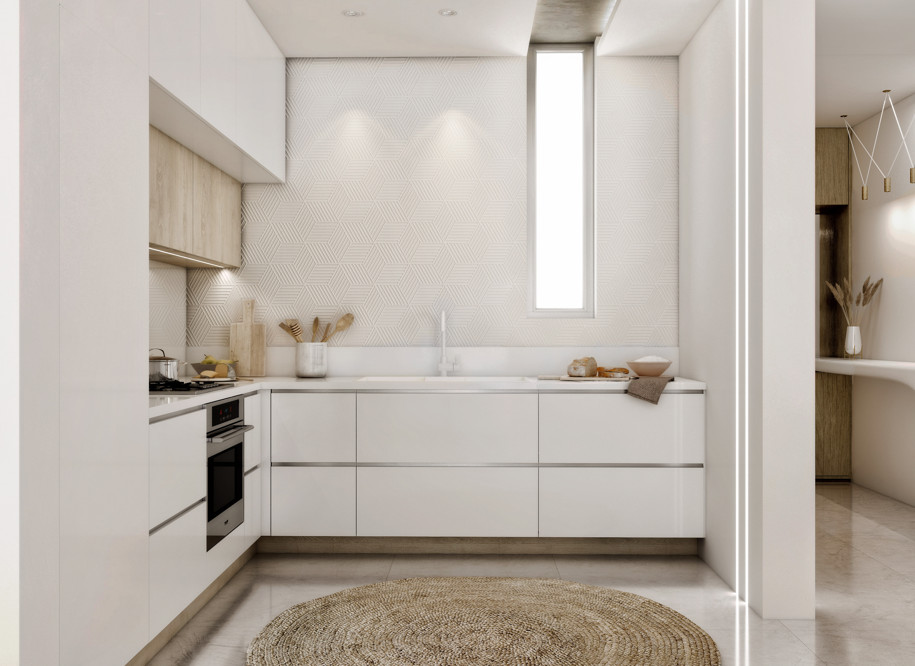 Just a touch of wood and a subtle metallic finish bring out the satin white lacquer kitchen cabinets. Hexagonal pattern white tiles create texture and decorate nicely the kitchen wall.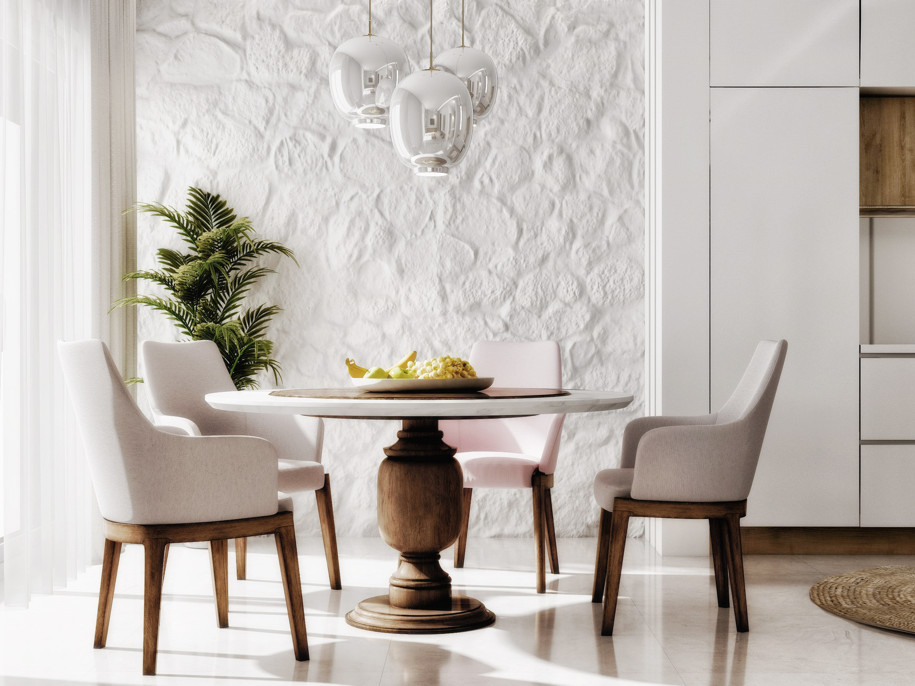 The big wood and marble rotunda is accompanied by three off – white armchairs, while a single light pink armchair makes all the difference. The stone wall "hiding" in white paint, in reference to the Greek architectural building material, poses as the background for the dining table.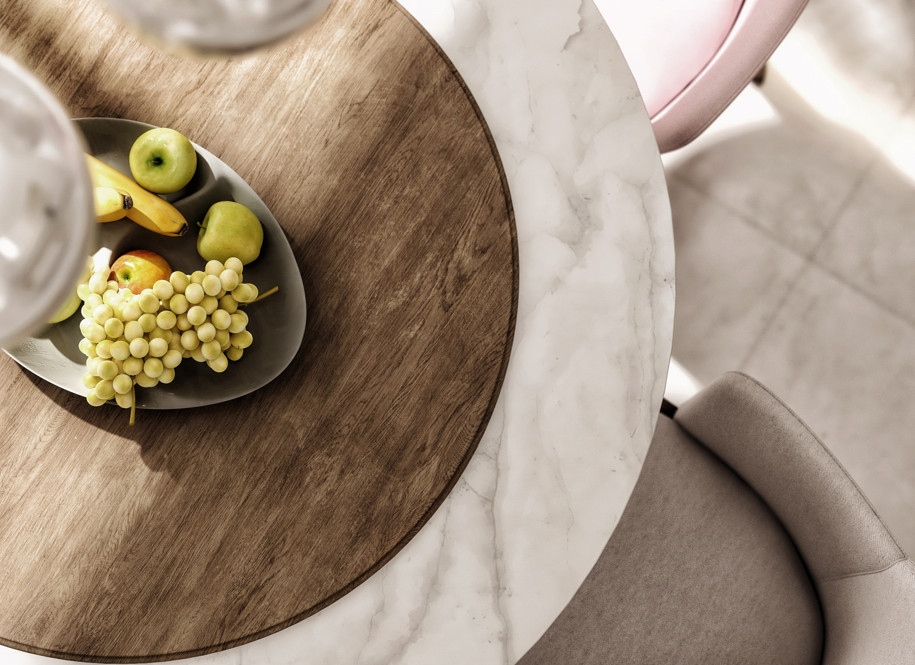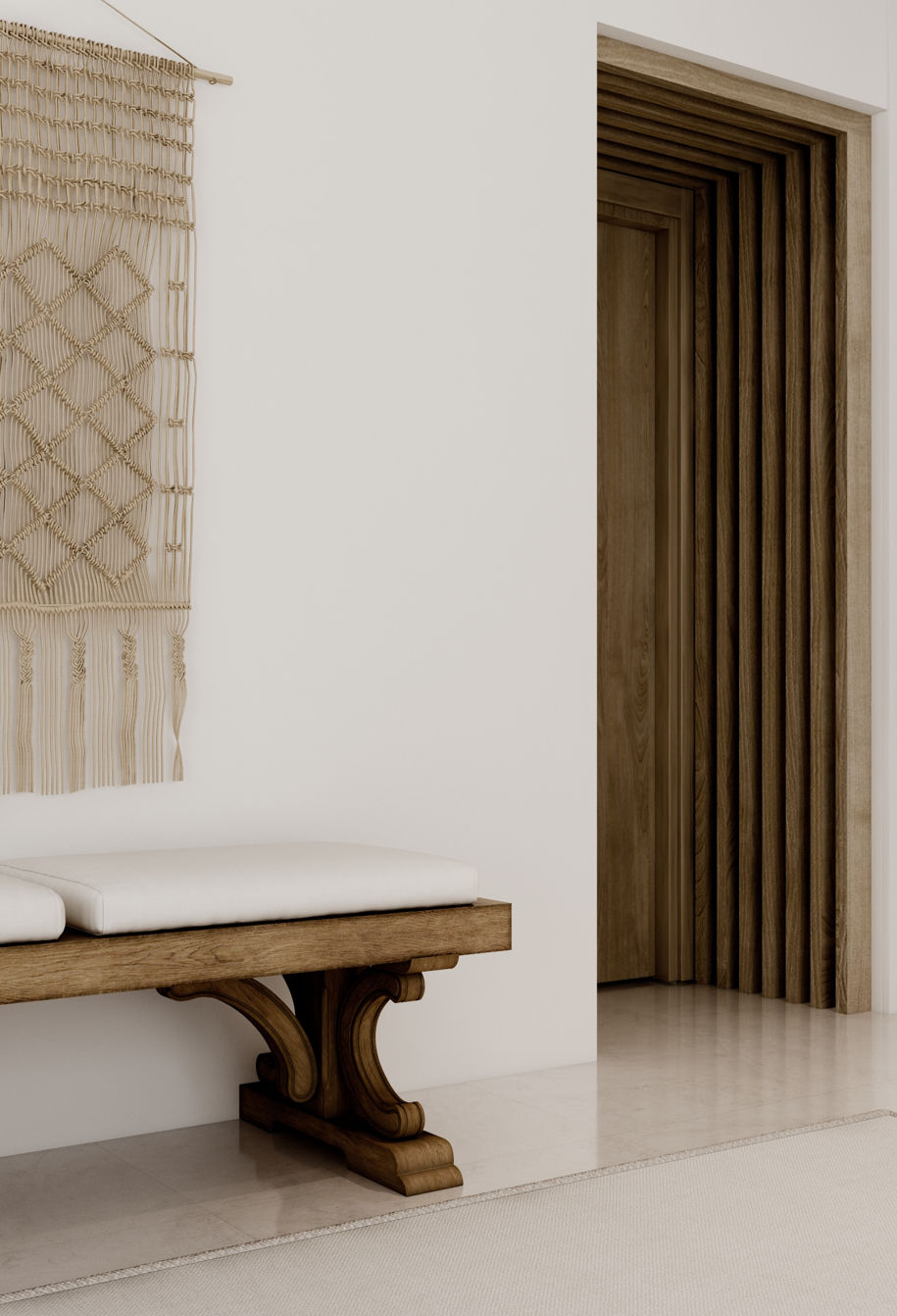 Wooden planks create a cave – like feel giving emphasis to the entrance of the bedroom. In the master bedroom, Office 4 aimed to rise above the functionality of the space itself and, thus, designed a natural retreat, using softer and curvier lines.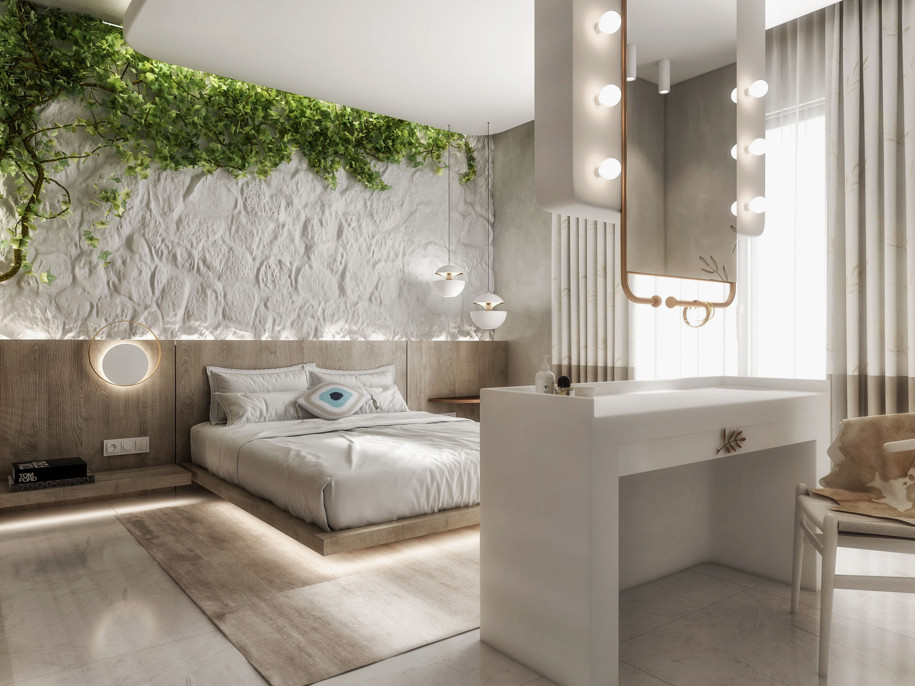 White stone wall, wood and a climbing plant form the perfect background for the bed. Hidden ambient light on the ceiling and under the bed creates a warm atmosphere and accentuates pleasantly the plant leaves and the minimal lines of the bed.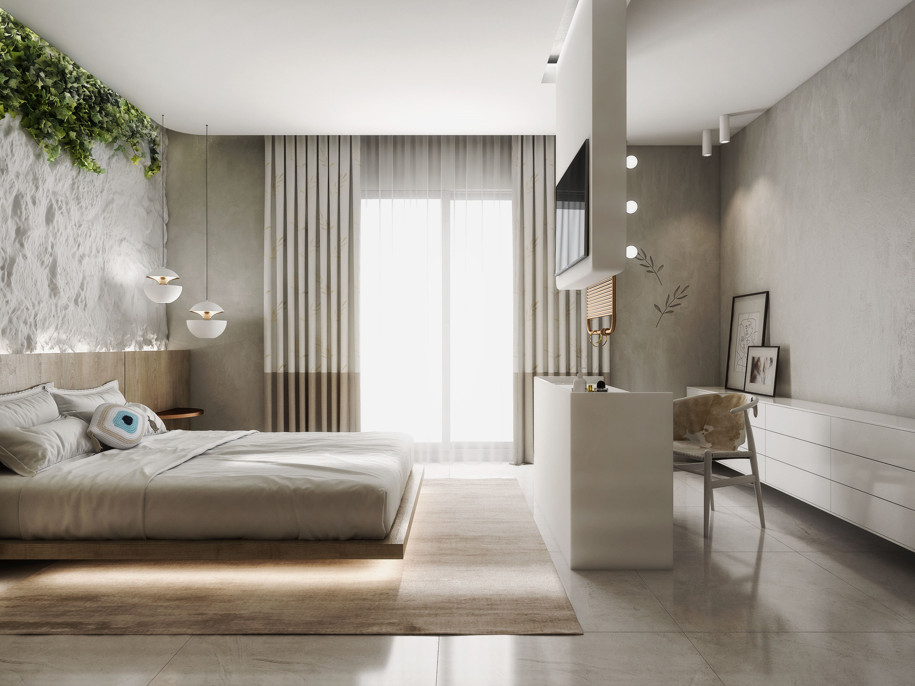 In the centre of the room, in front of the bed a hanging wall over a Greek style boudoir offers function and aesthetics.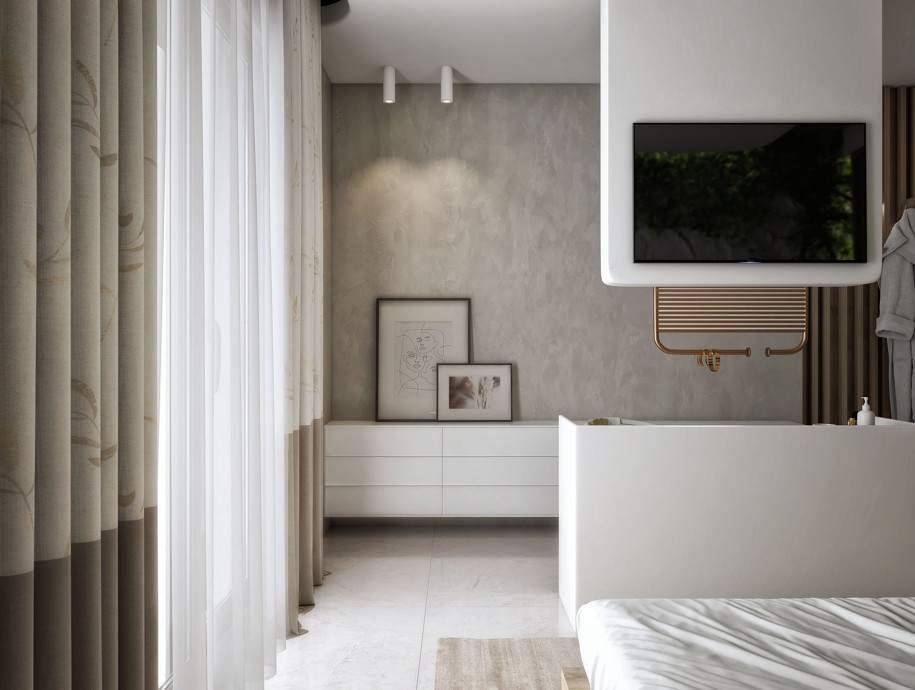 Special attention was paid to details and styling items borrowed from the Greek tradition. The eye – shaped pillow as well as the olive branch – shaped handle decorate the room elegantly.
The olive pattern was recreated on the limewash paint wall and on the curtain textile as well.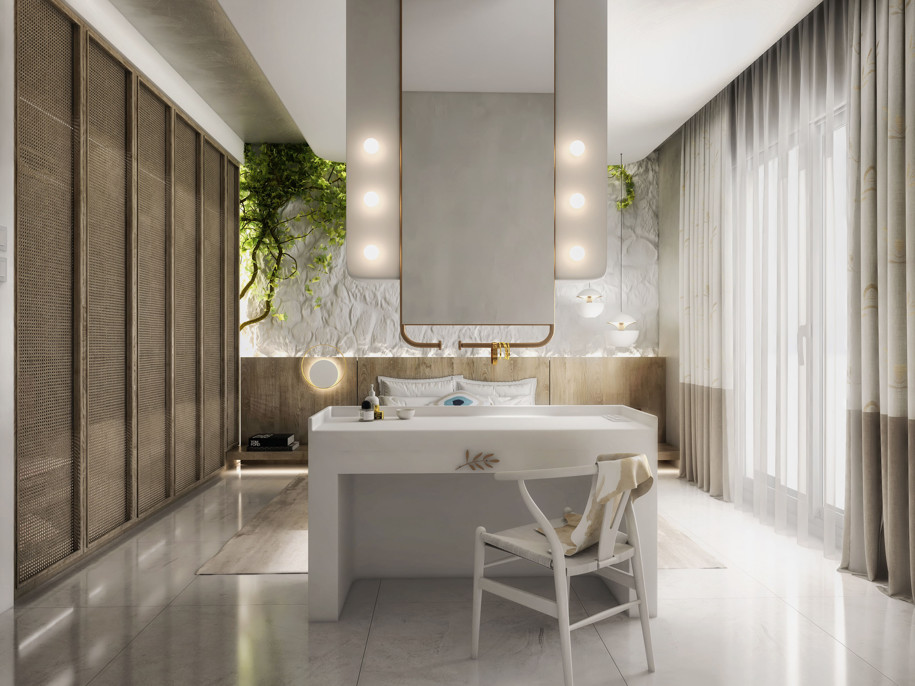 The small imperfection of the metallic mirror frame becomes the perfect jewelry holder, while the wicker wardrobe brings out the transparency and lightness of the Greek summer.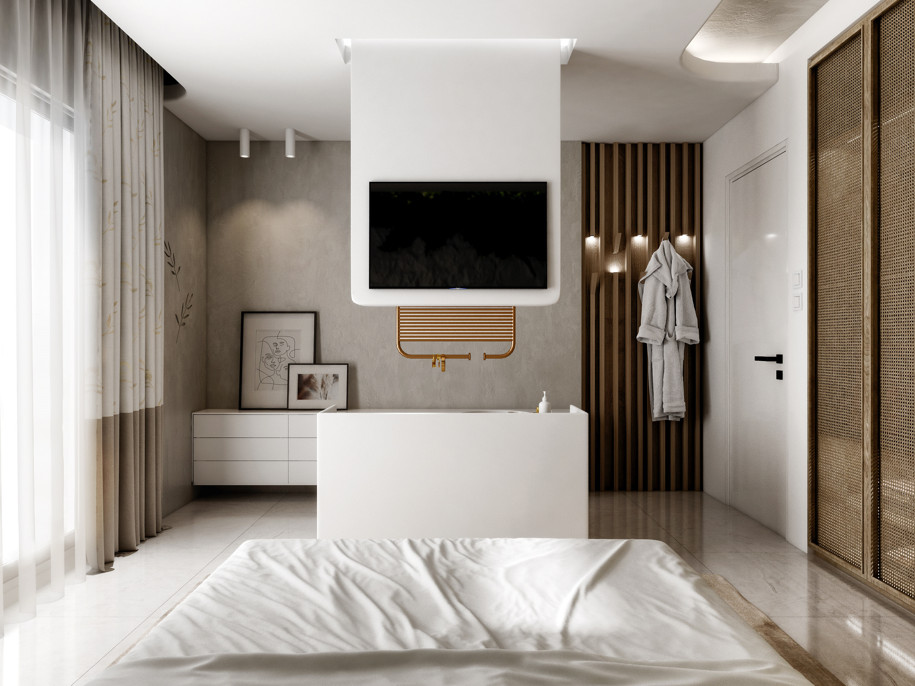 Behind the room entrance, wooden planks "playing" with light form a waterfall hanger.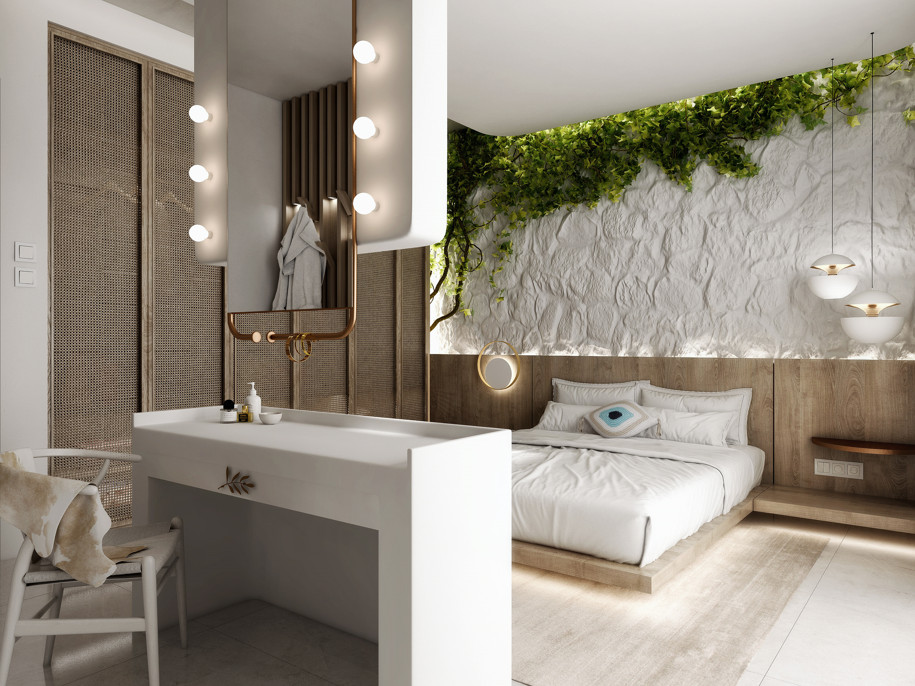 Facts & Credits
Project Title  Summer house in Rhodes, Greece
Architecture Design – Interior Design – Styling  Office4
Location  Rhodes, Greece
Year  2019
Status  in progress
READ ALSO:
Cafè Modular | Sara Simoska Arhitektura