On the hillside of Kastella, overlooking the bay, a rundown building was turned into a restaurant.
There were three objectives for the design:
Respond to the breathtaking view through its two glazed sides,
Address the harshness of the existing cell and
Unify the abrupt splitting of the levels.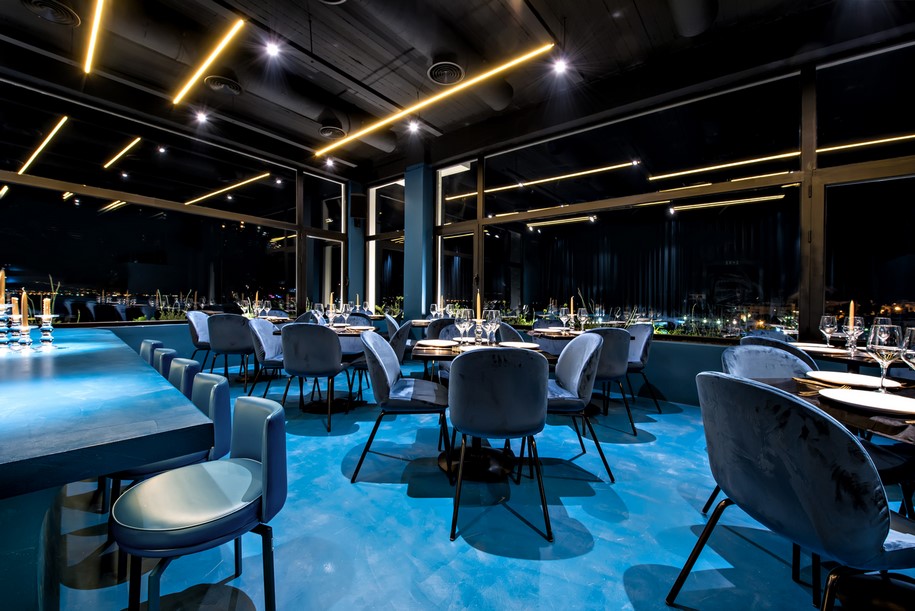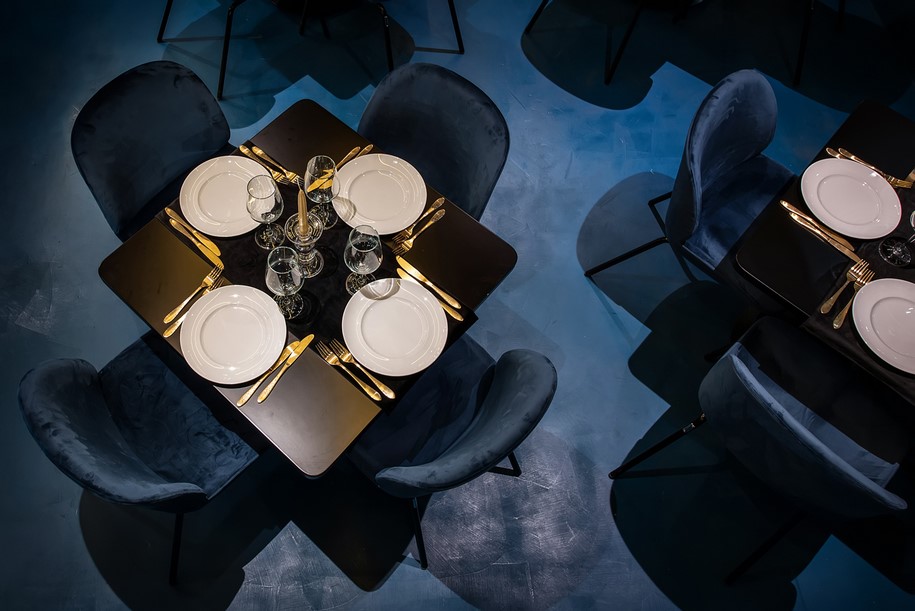 The focus is concentrated on the windows wrapping the space, providing a panorama of the sea, the harbor and the hill district of Kastella. Therefore the interior was toned down to enhance the focus. Dark shades of blue and black were applied on all hard and soft surfaces. The artificial lighting levels were adjusted accordingly.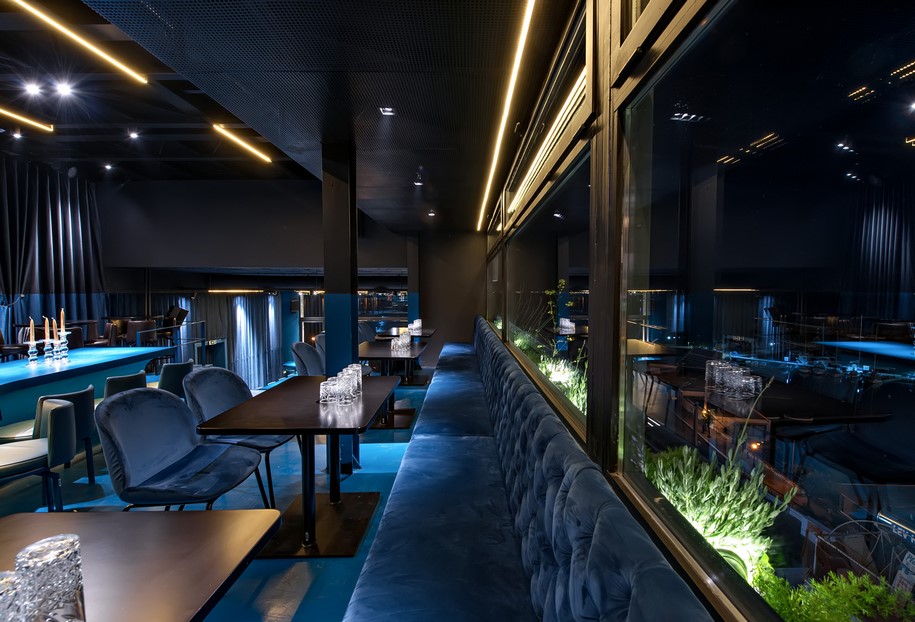 Heavy velvet curtains covered the uneasy outline of the existing walls. The new geometry created a soft embracement for the room. The curtains, accentuated by the use of narrow angle spotlights, suggested a theatrical stage with dramatic qualities.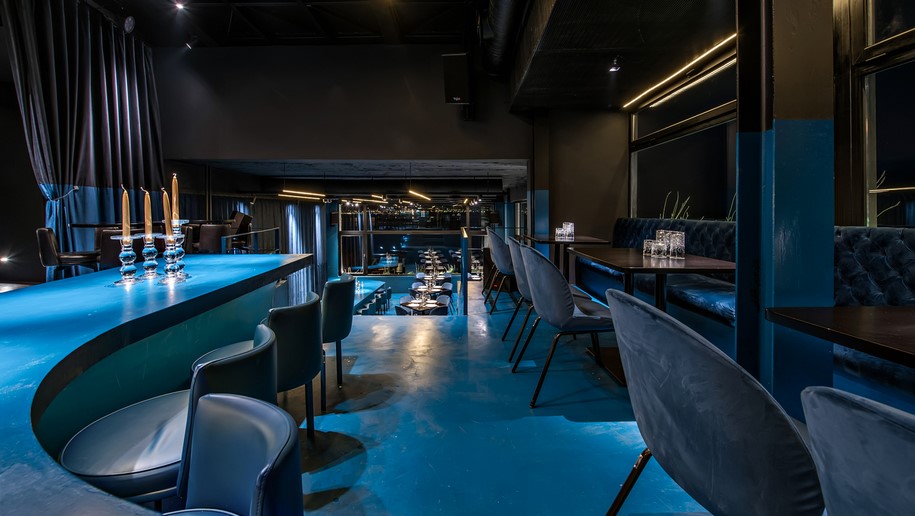 The splitting levels were unified by the use of a compositional spine that runs through the entire space. The spine, generated from the floor, is transformed into a bar, a staircase and two tables. As a second level of unification, a line was drawn on the level of the lower ceiling. Everything below this line is washed in blue and everything above is black. The strict color rule was applied on the structural elements, the velvet curtains and the secondary constructions. Additionally, linear lights connected the ceilings offering a uniformed ambient glow.
Facts & Credits
Project title Mira Bar Restaurant
Architecture Plaini and Karahalios Architects
Location Piraeus, Greece
Size 300m2
Year  2017

Architects John Karahalios, Elisavet Plaini
Construction  Epikyklos Technical Construction
Lighting Design L4A
Photography  Nikos Papageorgiou
—
 Το γραφείο Plaini and Karahalios Architects και η εταιρεία Επίκυκλος ολοκλήρωσαν πρόσφατα την κατασκευή του εστιατορίου Mira στην Καστέλλα.
Στο πιο περίοπτο σημείο της Καστέλας, κρεμασμένο απ' τον βράχο, ένα εγκαταλελειμμένο κέλυφος μετατράπηκε σε εστιατόριο.
Τρία υπήρξαν τα βασικά δεδομένα στα οποία έπρεπε να απαντήσει η πρόταση:
α. Η απρόσκοπτη πανοραμική θέα μέσα από τα υαλοστάσια των δύο πλευρών,
β. Η αδρότητα του υπαρκτού κελύφους και
γ. Η ανάγκη ενοποίησης των διασπασμένων επιπέδων του χώρου.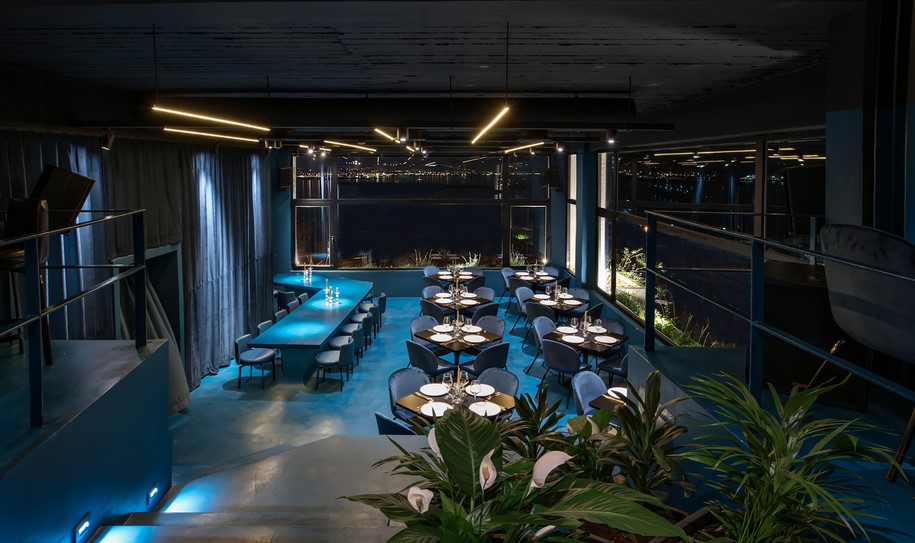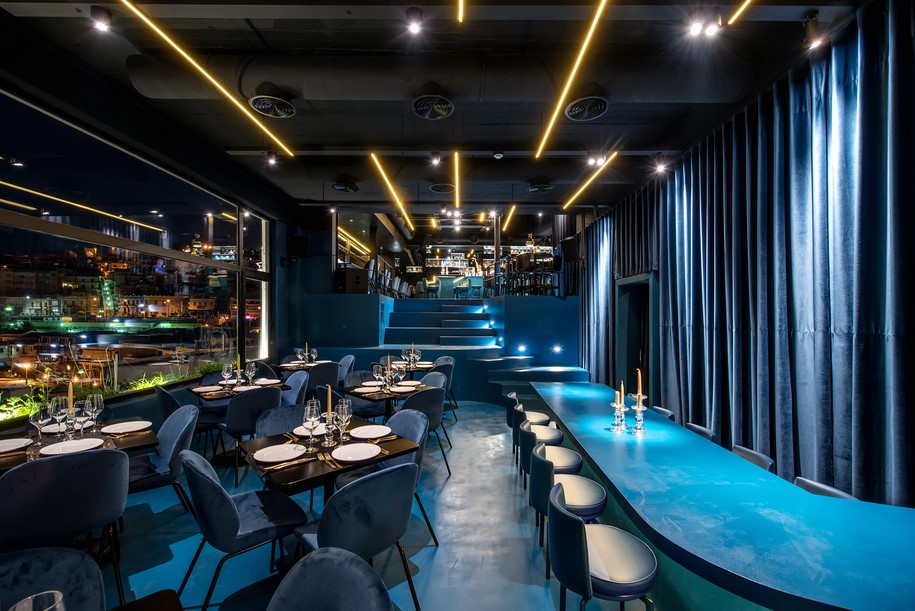 Η θάλασσα, το λιμάνι και ο λόφος της Καστέλλας δημιουργούν ένα εντυπωσιακό πανόραμα που κατακλύζει τις δύο βασικές πλευρές του χώρου. Για το λόγο αυτό κάθε πολύπλοκη πληροφορία στο εσωτερικό του εστιατορίου αφαιρέθηκε και οι εντάσεις αμβλύνθηκαν. Τόσο οι σκληρές όσο και οι μαλακές επιφάνειες ακολούθησαν μια παλέτα σκούρων χρωμάτων, όπως το βαθύ μπλε και το μαύρο, ενώ και ο τεχνητός φωτισμός ακολούθησε ανάλογη λογική.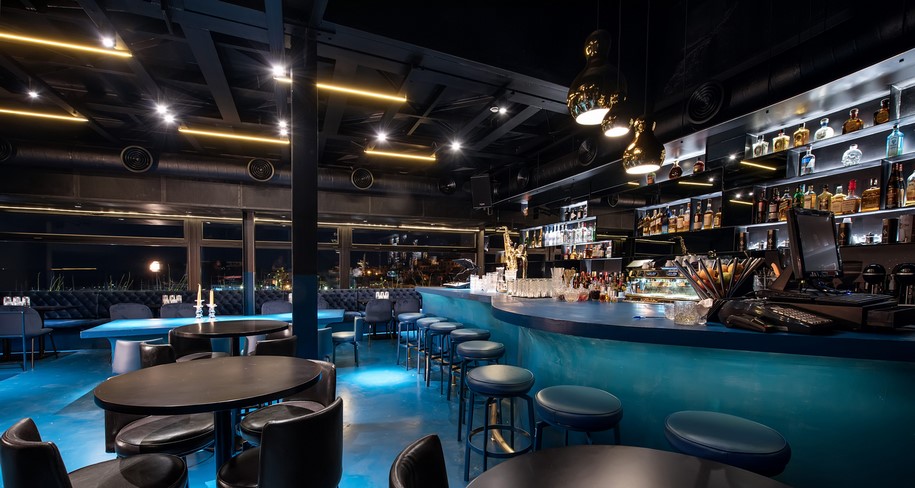 Το ανήσυχο περίγραμμα των υπάρχοντων τοίχων καλύφθηκε με βαριές βελούδινες κουρτίνες. Η νέα γεωμετρία δημιούργησε μια μαλακή αγκαλιά για το δωμάτιο. Οι κουρτίνες, τονισμένες με τη χρήση στενής δέσμης προβολέα, λειτούργησαν ως θεατρική σκηνή αποδίδοντας μια δραματική ποιότητα.
Τα διασπασμένα επίπεδα ενοποιήθηκαν μέσα από μια ραχοκοκκαλιά που διαπερνάει όλο το χώρο. Η ραχοκοκκαλιά γεννιέται από το δάπεδο και μετασχηματίζεται σε μπαρ, σκάλα και δύο μεγάλα τραπέζια. Η γραμμή που ορίζει το ταβάνι του κάτω επιπέδου λειτούργησε σαν δεύτερος βαθμός ενοποίησης. Οτιδήποτε κάτω από αυτή τη γραμμή χρωματίστηκε μπλε και οτιδήποτε από πάνω μαύρο. Τα δομικά στοιχεία, οι βελούδινες κουρτίνες και οι δευτερεύουσες κατασκευές ακολούθησαν τον ίδιο αυστηρό χρωματικό κανόνα. Επιπρόσθετα, τα γραμμικά φώτα συνέδεσαν εννοιολογικά τις δύο οροφές προσφέροντας έναν ομοιογενή ατμοσφαιρικό φωτισμό.
Σχέδια/ Plans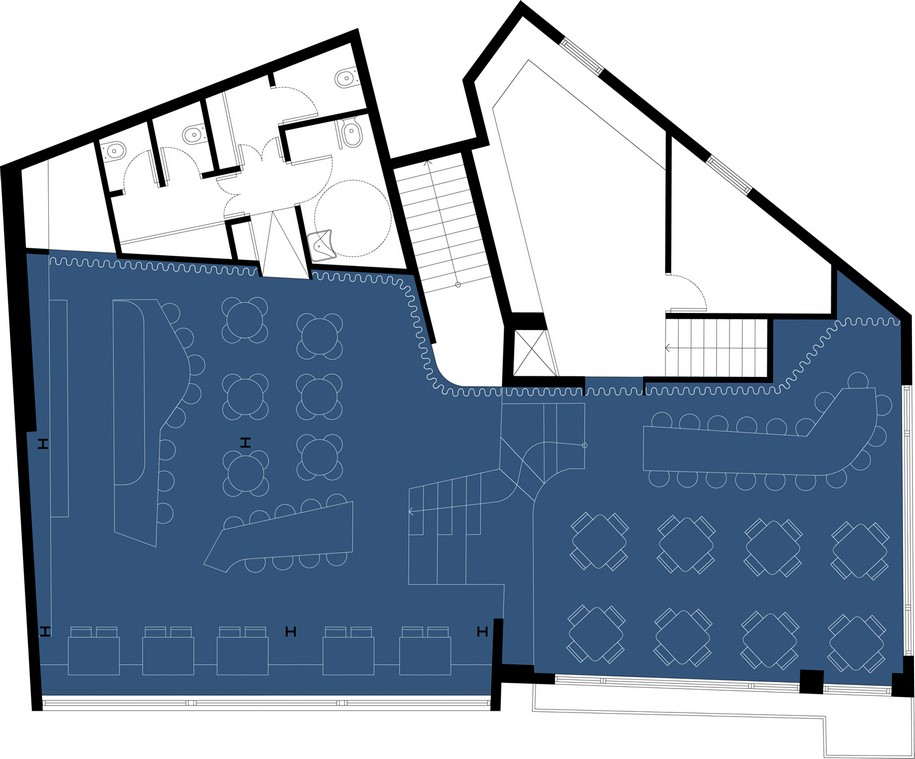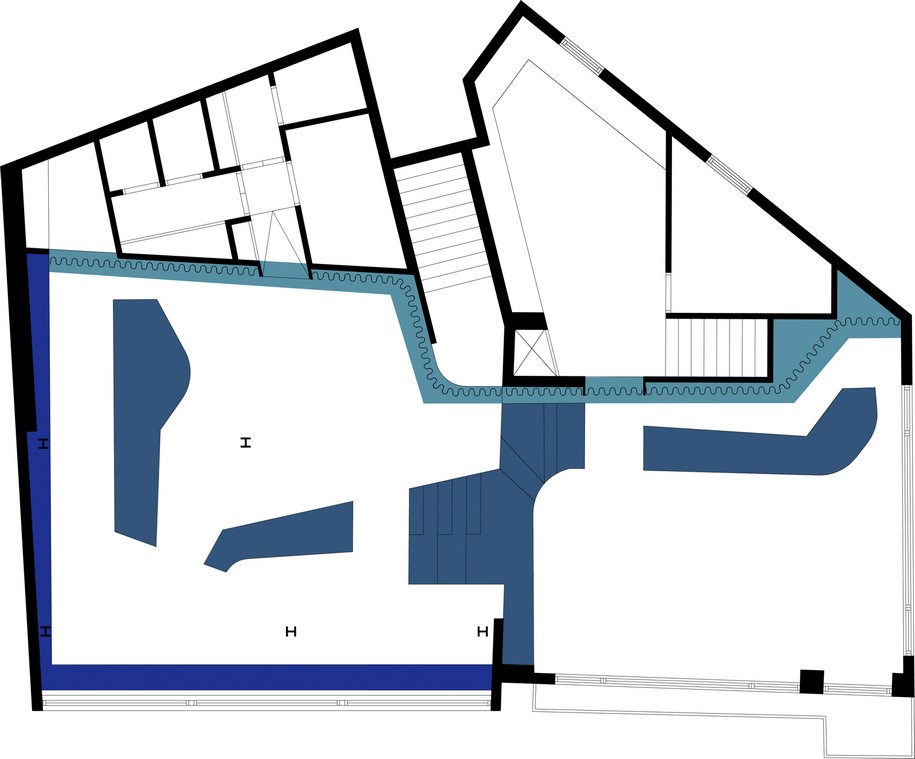 Στοιχεία έργου 
Τίτλος  Mira Bar Restaurant
Γραφείο  Plaini and Karahalios Architects
 Τοποθεσία Πειραιάς
Μέγεθος  300μ2
Έτος 2017
Αρχιτέκτονες Γιάννης Καραχάλιος, Ελισάβετ Πλαΐνη
Κατασκευή Επίκυκλος Τεχνική Κατασκευαστική
Μελέτη Φωτισμού L4A
Φωτογραφίες Νίκος Παπαγεωργίου
READ ALSO:
Κοσμηματοπωλείο στην Αλεξανδρούπολη | Reizi Architecture