text provided by the architects – The design challenge was the ground floor of the building situated on Omirou and Vissarionos Streets. It is a building constructed by the architect Kostas Kitsikis during the Interwar period and is characterised by its strong eclectic elements. Its listed façade and its monumental Art Deco entrance had been the source of inspiration for the design of the interior space. Modern and classic are combined in its 145 m2 with a view to compose a single "optical assembly" determining the identity of the space.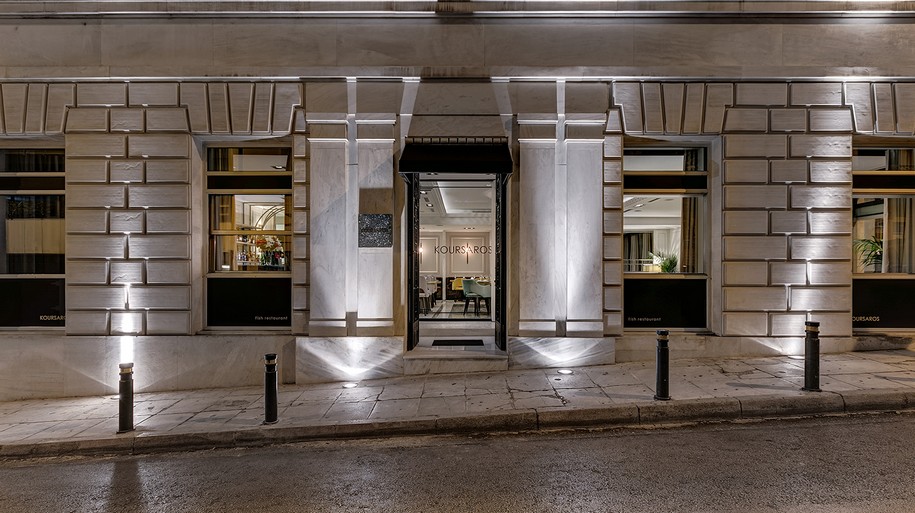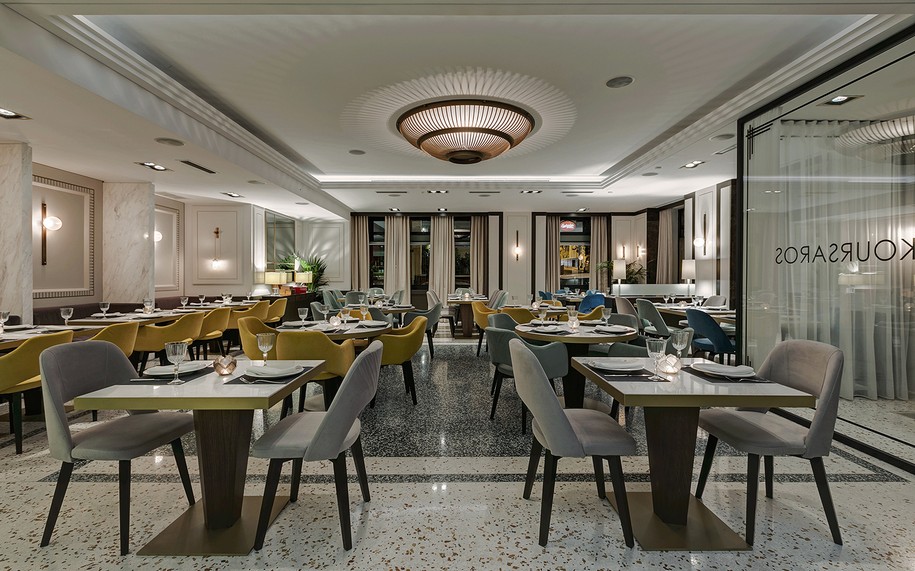 The two-coloured terrazzo at the main space of the restaurant sets the limits of the cocktail bar, the sushi bar, and the dining-room. The bar is immediately distinguishable and its original composition is impressive. The bronze elaborate details on the right and the left remind of flowers, the stems of which are united and create supporting surfaces. The "flowers'" petals embrace the roof with the imposing skylight.
The heavy velvet curtains to the sides of the bar remind of a theatre's foyer. The coatings are of marble from Chios and Volakas. The sculptured panels with their bronze details and luminaires (exclusively designed for the restaurant) complete the whole construction and directly refer to Art Deco style.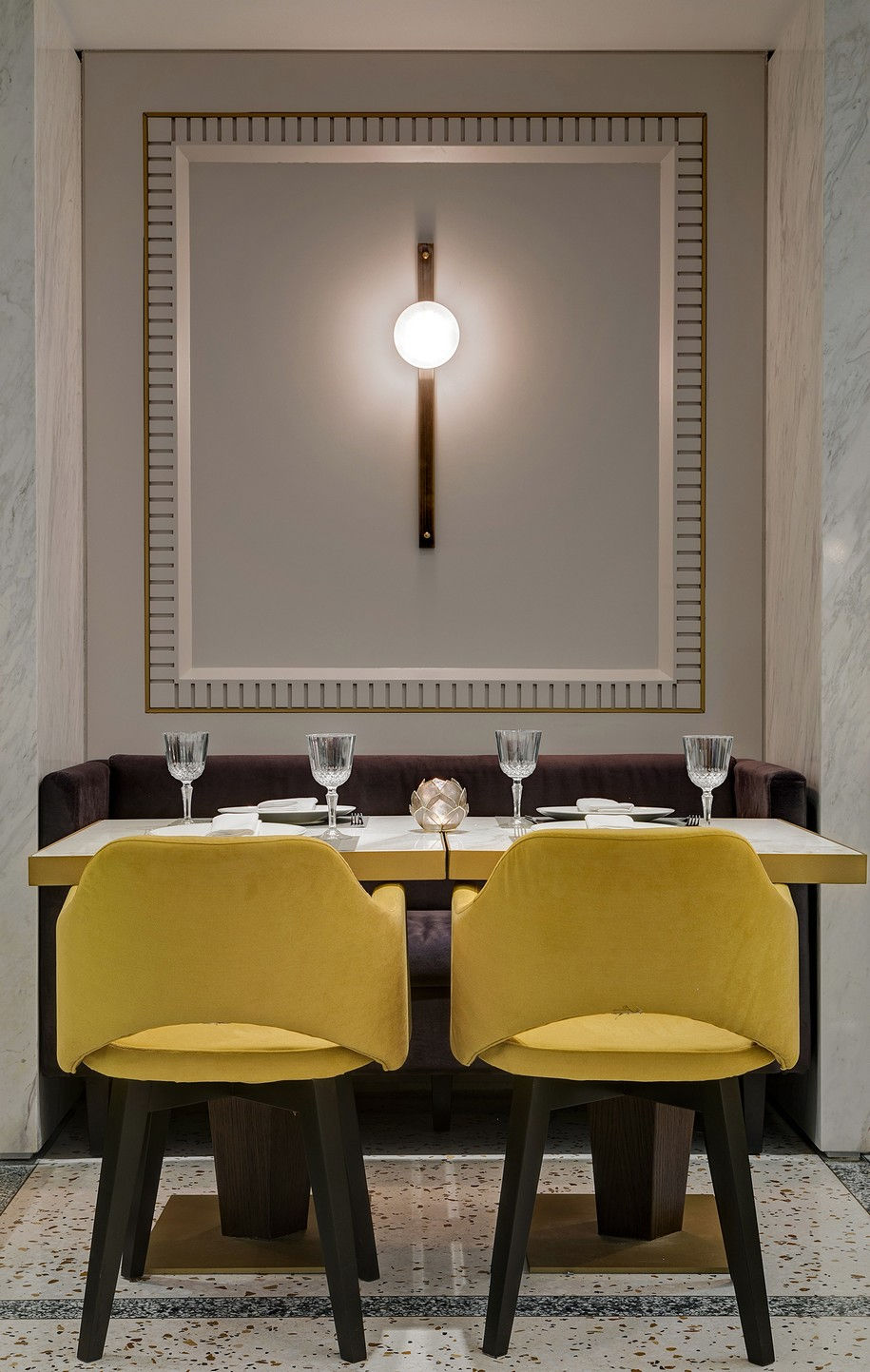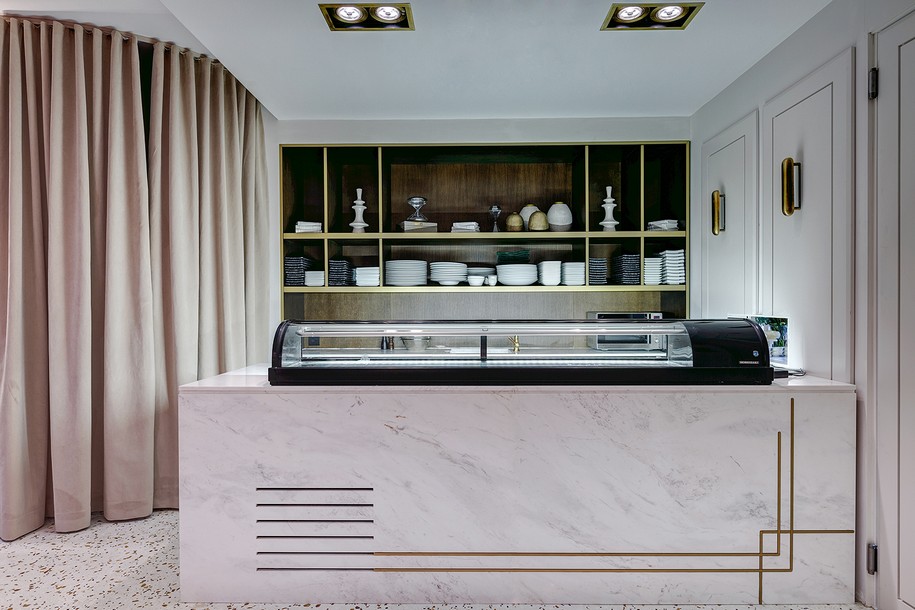 ---

Η σχεδιαστική πρόκληση αφορούσε τον ισόγειο χώρο του κτιρίου επί των οδών Ομήρου και Βησσαρίωνος. Ένα κτίριο από την περίοδο του Μεσοπολέμου, με έντονα εκλεκτικιστικά στοιχεία, έργο του αρχιτέκτονα Κώστα Κιτσίκη. Η διατηρητέα του πρόσοψη και η μνημειακή Art Deco είσοδος αποτέλεσαν πηγή έμπνευσης  για τον σχεδιασμό του εσωτερικού χώρου. Στα 145,00 τμ, συντίθεται το κλασικό με το μοντέρνο με στόχο την συγκρότηση ενός ενιαίου «οπτικού συνόλου». Ενός συνόλου που καθορίζει την ταυτότητα του χώρου.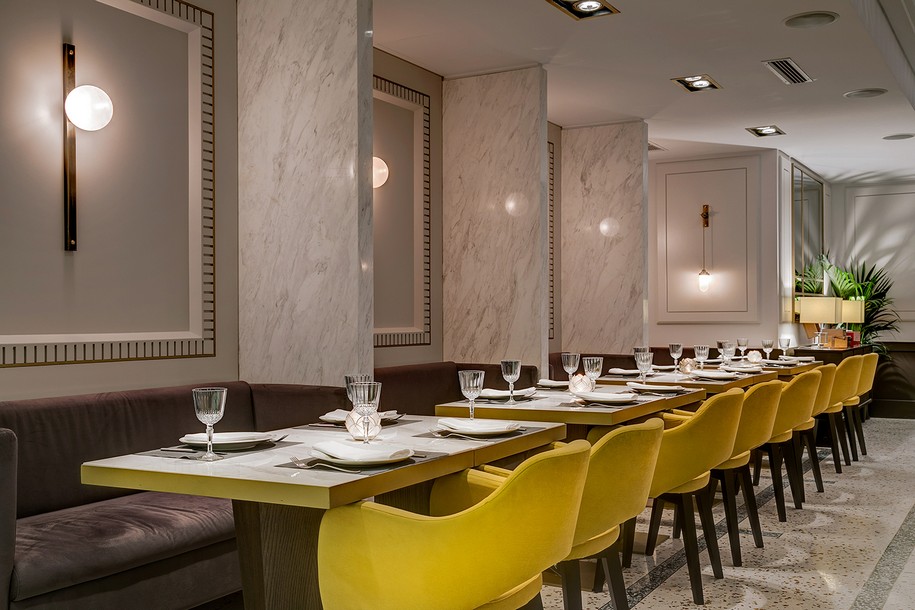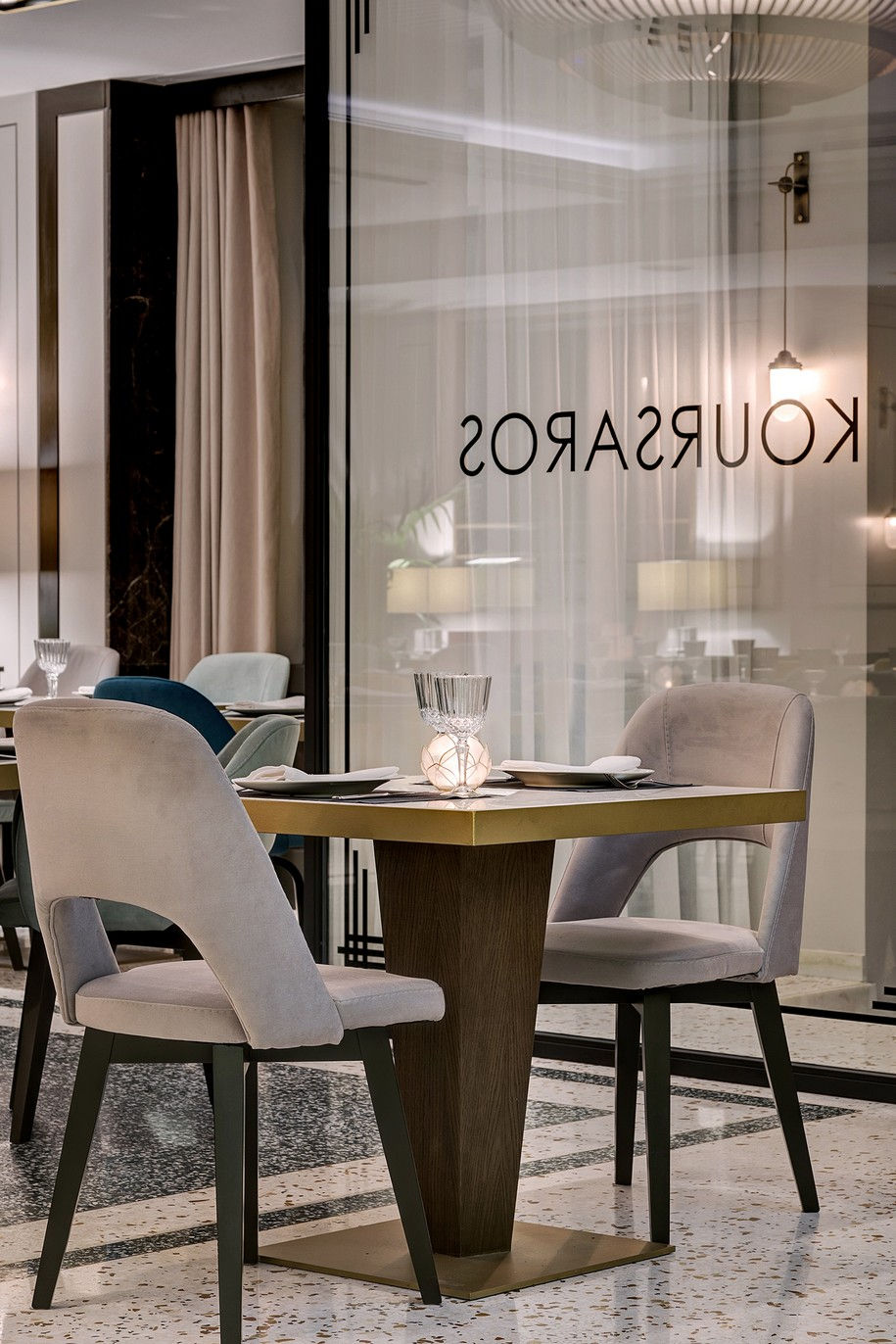 Στο κύριο χώρο του εστιατορίου ένα μωσαϊκό δάπεδο, δύο αποχρώσεων,  οριοθετεί ένα cocktail bar, ένα sushi bar και τον χώρο φαγητού. Ο χώρος του μπαρ, άμεσα διακριτός, εντυπωσιάζει με την ευρηματική σύνθεση του. Οι μπρούτζινες περίτεχνες λεπτομέρειες, δεξιά και αριστερά, θυμίζουν λουλούδια, που οι βλαστοί τους ενώνονται και σχηματίζουν επιφάνειες στήριξης. Τα πέταλα  των "λουλουδιώ" αγκαλιάζουν την οροφή με τον επιβλητικό φεγγίτη.
Οι βαριές βελούδινες κουρτίνες, πλευρικά του μπαρ παραπέμπουν σε φουαγιέ θεάτρου. Οι επενδύσεις έγιναν με μάρμαρο Χίου και Βόλακα. Σκαλιστοί ταμπλάδες με τις μπρούτζινες λεπτομέρειες τους  και φωτιστικά (που σχεδιάστηκαν αποκλειστικά για το εστιατόριο) συμπληρώνουν το σύνολο και παραπέμπουν άμεσα στο στυλ Art Deco.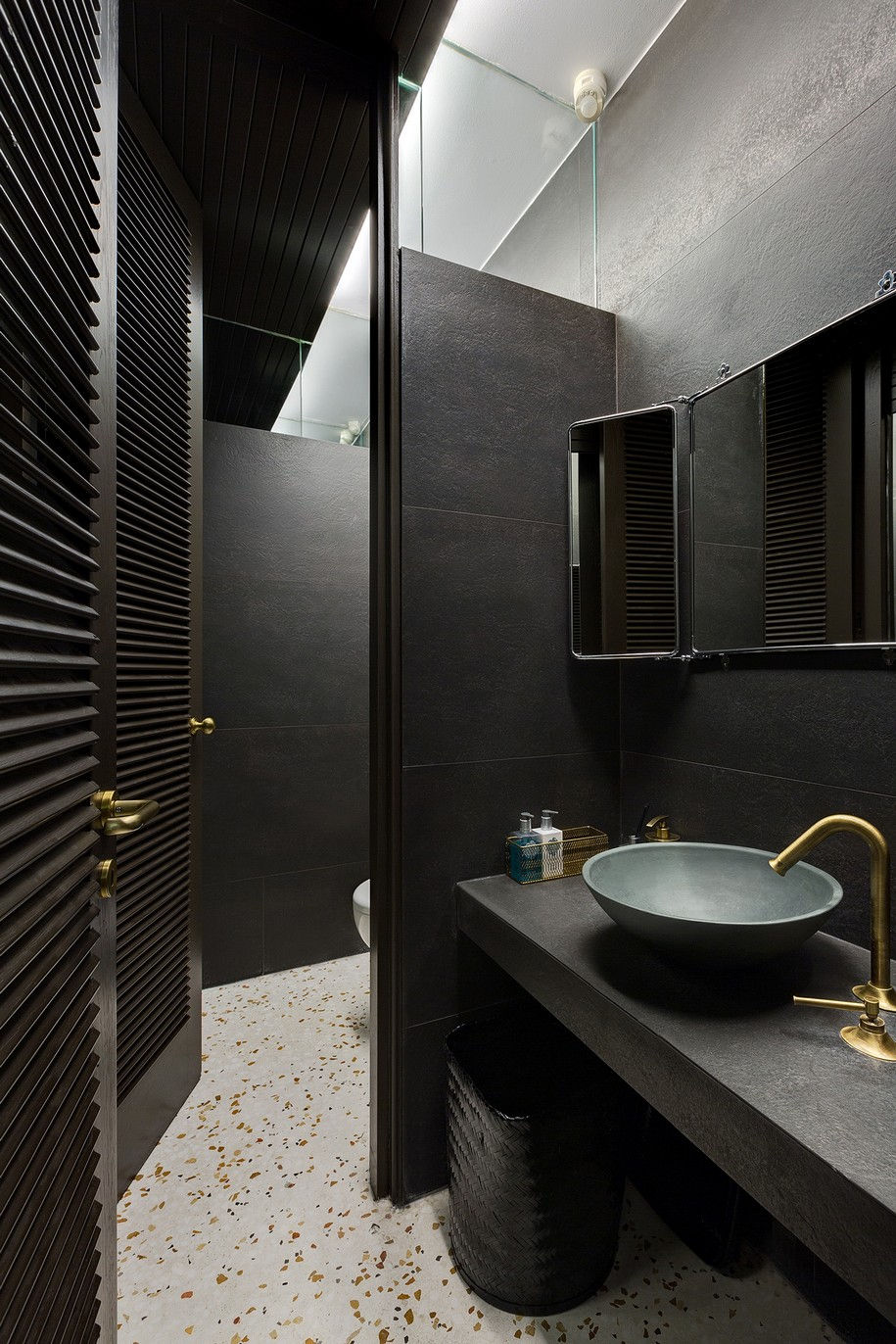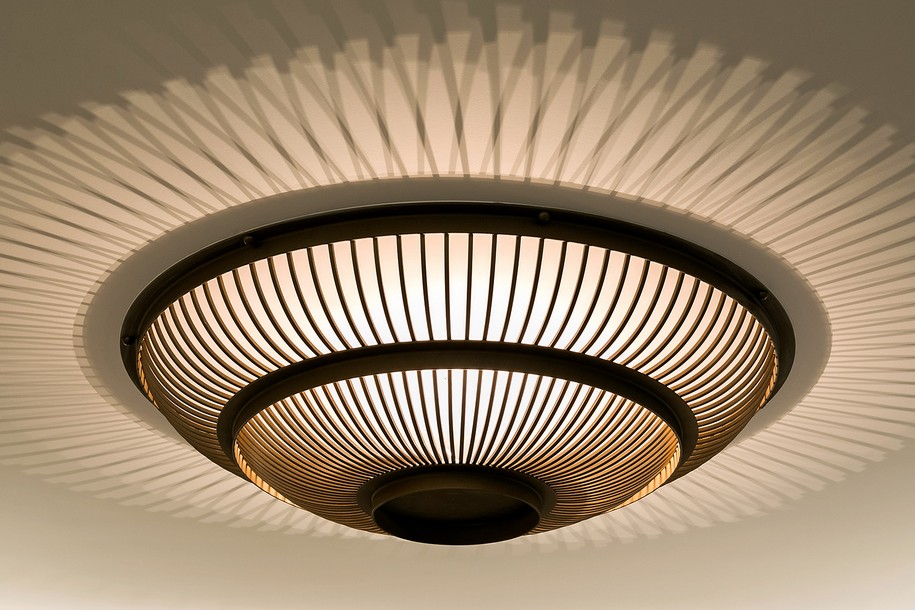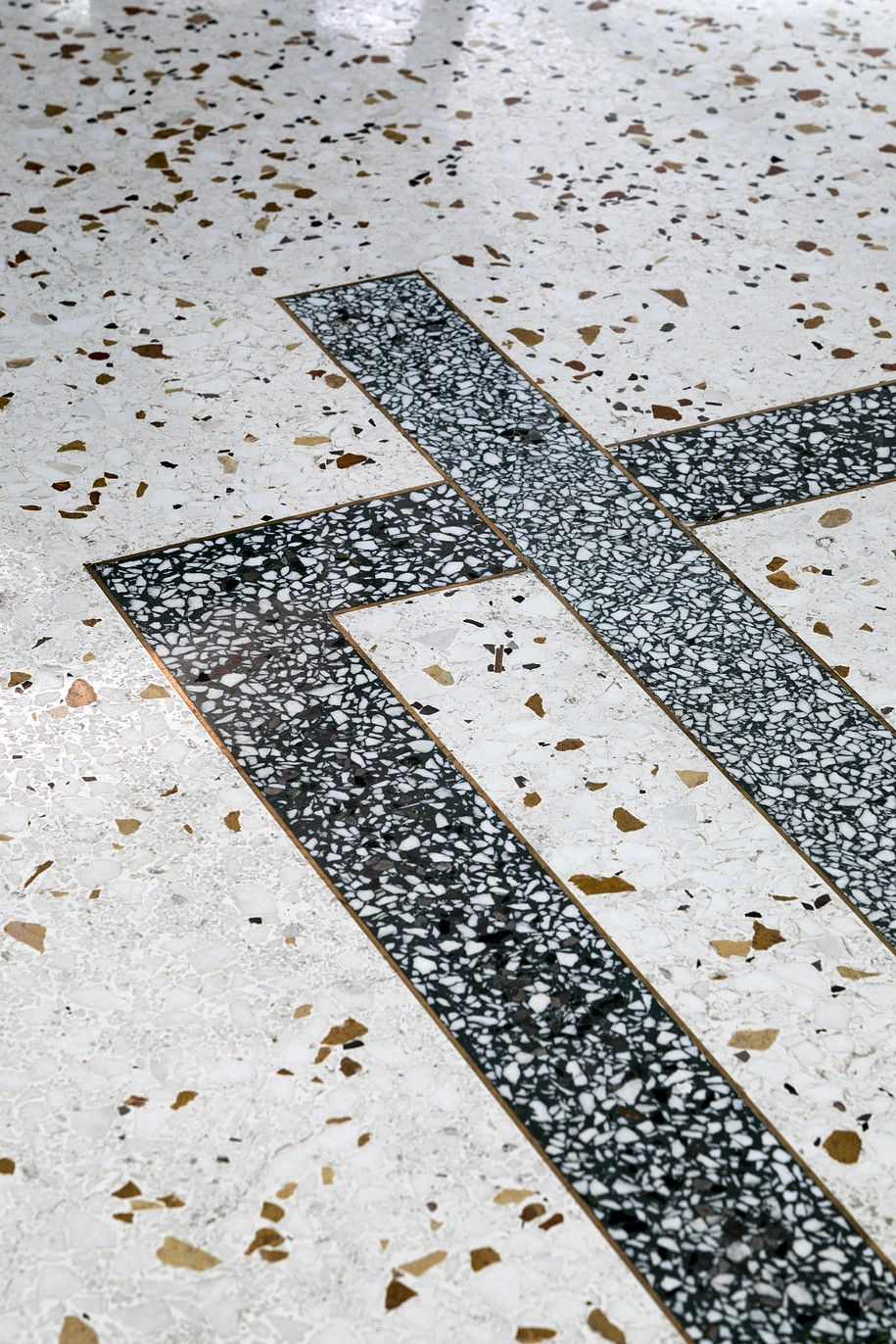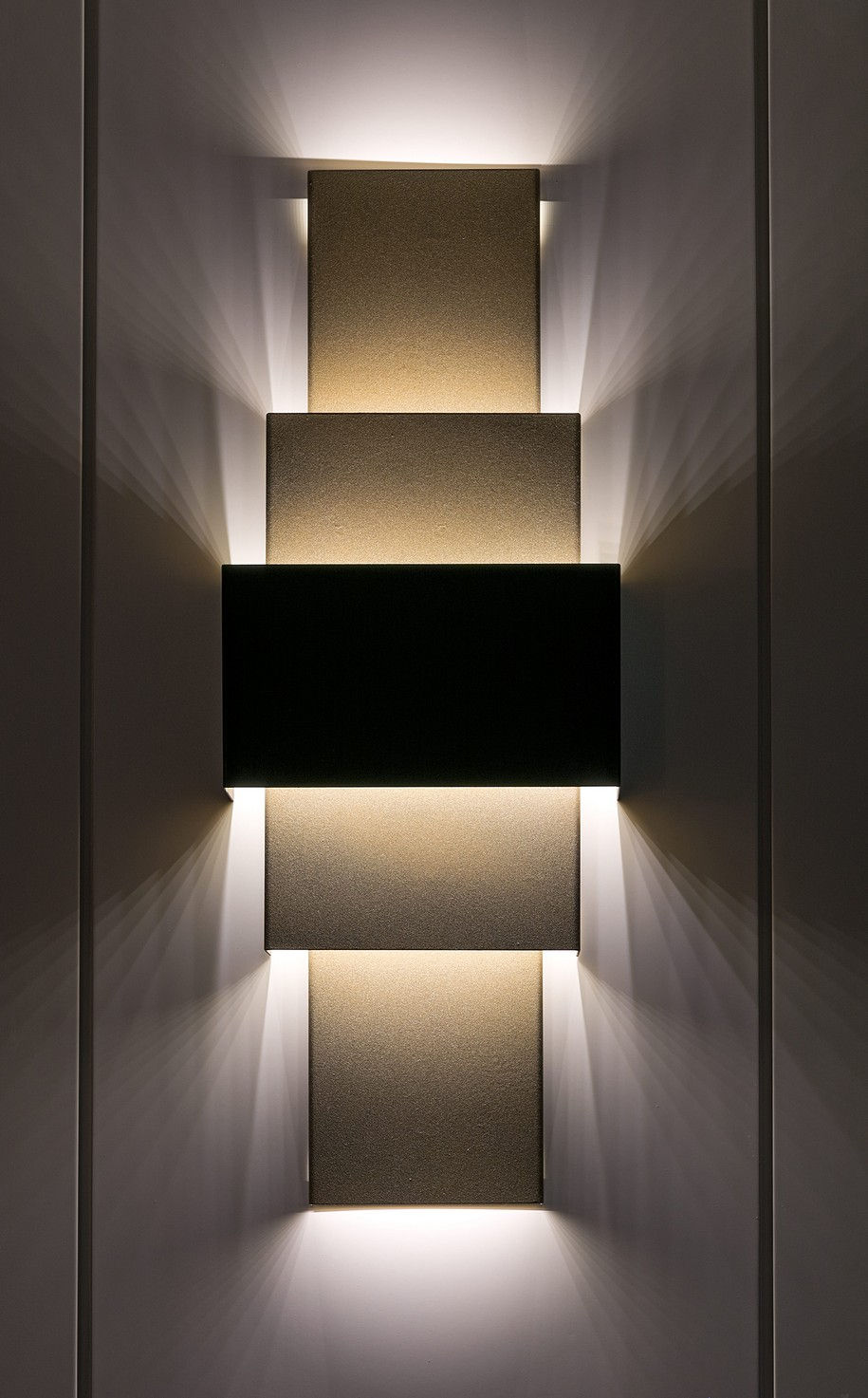 suppliers – προμηθευτές
marble – μάρμαρο: Psofakis Marble
furniture – έπιπλα: Armeniakos
lighting, wiring – ηλεκτρολογικό υλικό, φώτα: Meidanis
mosaic – μωσαϊκό δάπεδο: Νίκος Πολίτης
furniture – έπιπλα: Almeco
sanitary products – είδη υγιεινής: Patiris
The Looney Bean Bar/Restaurant, designed by Urban Soul Project in Thessaloniki is a similar project worth taking a look at. Find it here!
–
To Looney Bean Bar/Restaurant, σχεδιασμένο από το γραφείο Urban Soul Project στη Θεσσαλονίκη είναι ένα παρόμοιο έργο που αξίζει να ρίξετε μια ματιά. Βρείτε το εδώ!
READ ALSO:
Fala Atelier converts a windowless garage into a house in Lisbon