text in

EN, GR
Following Google's footsteps, this project concerns the design and materialization of a break room right in the heart of one of the biggest engineering software companies in the world. The building complex of Beta CAE Systems is located on a hillside surrounded by nature and overlooking the sea. Inspiration for this project came from the surrounding elements of nature that dominate the building site. Trees, vegetation, sun, wind, hills, water. Nature invades the built environment, creating an oasis in everyday life, filling it with color, light, liveliness, carefreeness and relaxation.
The relax room is placed in a strategic position of the complex, connecting two blocks of offices simultaneously being a passage and a stop/meeting point – a concept that was incorporated in the design process. The axis connecting the two building blocks is accentuated by the use of different materials and lightweight partitions, simultaneously creating  a path between the thematic areas of 'the sea' and 'the mountain'.  Even the passage itself has a playfull character with the grass-like flooring and the hopscotch. The floors used are vinyl with sound absorbing properties.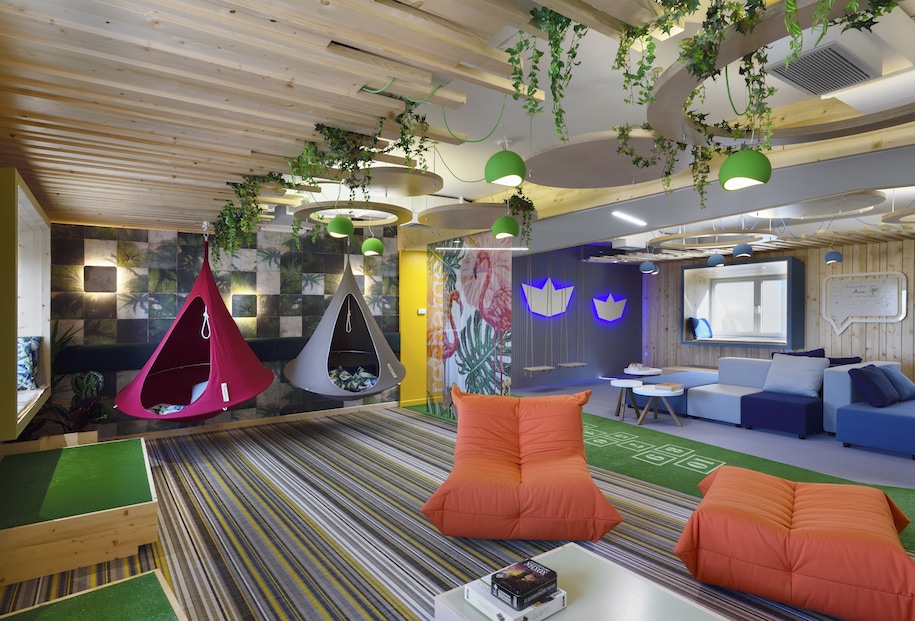 The design was based on an open floorplan, minimizing fixed structures. The room has an absolute balance between "hiding spots" / relaxation corners and meeting / communication areas. This results in the creation of a polymorphic break room that addresses different people and caters for a variety of needs. There are special "corners" everywhere. On one side, the cocoons combined with the vegetation on the roof, the fruit-like light fixtures and the "tropical" wallpaper with the special hidden lighting carry you to the woods. On the other side, the swings and the wooden illuminated boats calm and relax the visitor. In another spot, the sun/lightbulb graphic with the 3d wooden umbrella brings to mind a warm beach giving vitality and inspiration. Even the window openings where put to good use. They host seating and rest areas that give the visitor a feeling of levitation.
---

Το έργο αυτό αφορά τον σχεδιασμό ενός break room στους χώρους των γραφείων μιας από τις μεγαλύτερες εταιρίες στον κόσμο, της Beta CAE Systems στη Θεσσαλονίκη. Το κτιριακό συγκρότημα της Beta CAE Systems βρίσκεται σε ύψωμα με έντονη βλάστηση γύρω του, αλλά και σε κοντινή απόσταση από τη θάλασσα. Έτσι έμπνευση για την γέννηση του χώρου αυτού μας έδωσαν τα στοιχεία αυτά της φύσης που κυριαρχούν στην περιοχή, η βλάστηση, το βουνό, η θάλασσα. Η φύση «εισβάλλει» στο κτιστό περιβάλλον δημιουργώντας μια όαση στην καθημερινότητα, γεμίζοντας την με χρώμα, φως, ζωντάνια, ξεγνοιασιά και χαλάρωση.
Το playroom τοποθετείται στην καρδιά των γραφείων της Beta, στο σημείο που συναντώνται οι κτιριακοί όγκοι των γραφείων. Συνεπώς αποτελεί ταυτόχρονα πέρασμα αλλά και σημείο στάσης/συνάντησης. Η έννοια του περάσματος ενσωματώθηκε στον σχεδιασμό, "τέμνοντας" τον χώρο με εναλλαγές υλικών, χρωμάτων και ελαφρών διαχωριστικών. Ακόμη και το πέρασμα δίνει αφορμή για παιχνίδι με το δάπεδο που θυμίζει γρασίδι, το κουτσό και τα σπασίματα στη χάραξη που παιχνιδιάρικα καλύπτουν την ασυμμετρία στην ευθεία των εισόδων. Τα δάπεδα που χρησιμοποιήθηκαν είναι βινυλικά με ηχοαπορροφητικές ιδιότητες.
Οι χώροι εκατέρωθεν του κεντρικού άξονα διαμορφώθηκαν με τρόπο που παραπέμπει στο δίπολο βουνό/θάλασσα. Στην προσπάθεια να καλυφθούν οι πολύπλευρες ανάγκες χρήσης αυτού του χώρου από διαφορετικούς ανθρώπους, δημιουργήθηκαν σημεία κοινωνικοποίησης αλλά και απομόνωσης. Παντού υπάρχουν ιδιαίτερες "γωνιές". Σε μια πλευρά, τα cocoon σε συνδυασμό με τη βλάστηση στην οροφή, τα φωτιστικά που θυμίζουν καρπούς και την "τροπική" ταπετσαρία με τον ιδιαίτερο κρυφό φωτισμό σε μεταφέρουν στο δάσος. Στην άλλη, οι κούνιες με τα ξύλινα φωτιζόμενα καράβια ηρεμούν και χαλαρώνουν τον επισκέπτη. Πιο δίπλα το γραφιστικό της λάμπας- ήλιου με την ομπρέλα θυμίζει παραλία, δίνει ζωντάνια και έμπνευση. Ούτε τα ανοίγματα έμειναν ανεκμετάλλευτα καθώς φιλοξενούν χώρους καθιστικού και ανάπαυσης που δίνουν την αίσθηση της αιώρησης.
 photos credits: STUDIO VD / N.Vavdinoudis- C.Dimitriou
More interior design right here
– περισσότερα έργα εσωτερικών χώρων, εδώ.
READ ALSO:
Hotel Design Awards 2017 - Cavo Tagoo Santorini | GJP και Liakos & Associates architects