text in

EN, GR
AKA – APOSTOLOU COLAKIS ARCHITECTS designed a modern grocery store/vegetable stand that would host small-batch products and specialized produce from all over Greece in Voulis Street downtown Athens aiming to create an instantly recognizable object with a simple form that could be easily produced, transported and adapted to different spaces.
-text by the authors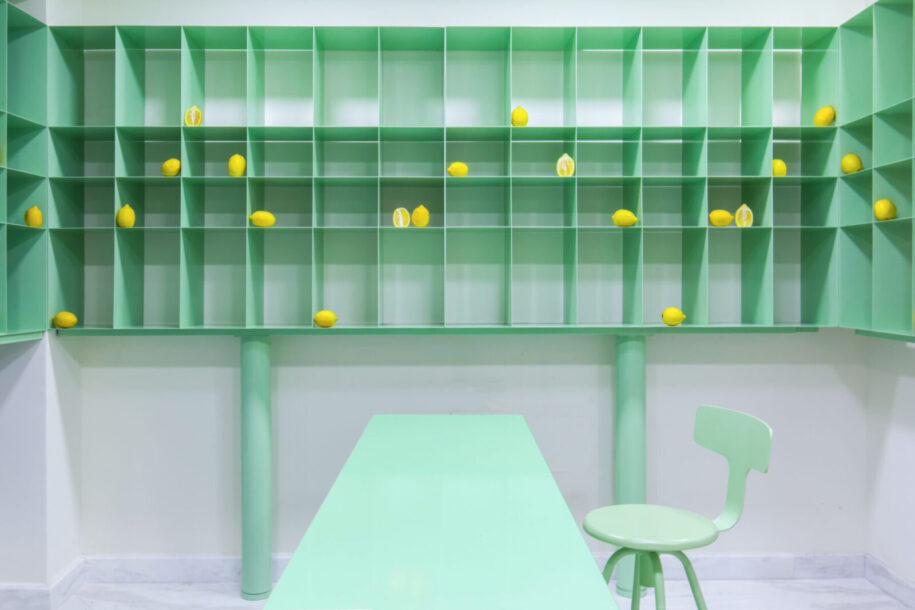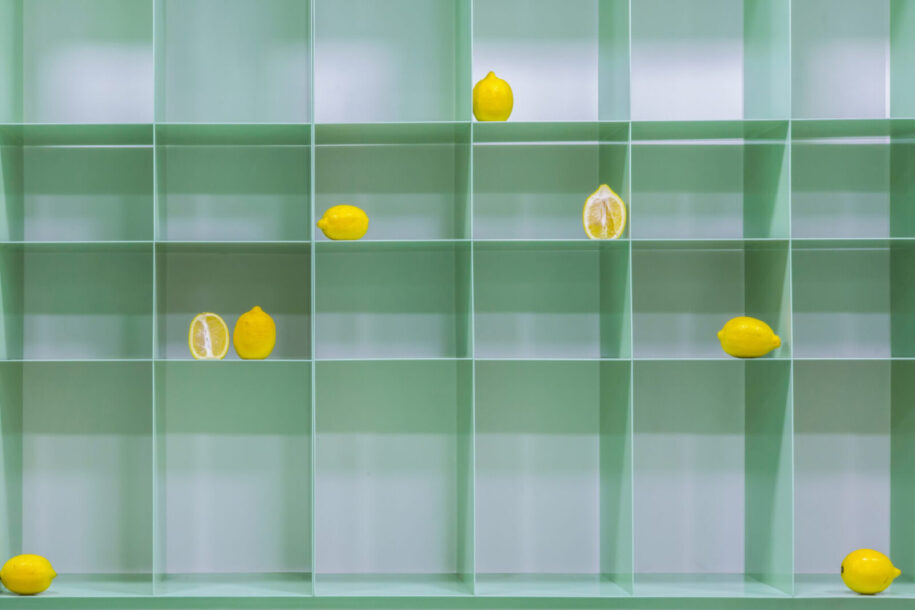 Relying on the logic of the honeycomb, we created a neutral, repetitive canvas for product placement: a metal piece of furniture that envelopes the space, consisting of open rectangular compartments and raised on thin metal legs, creating a feeling of lightness.  The multiple alternatives for placing and arranging the products results in the absence of a feeling of emptiness if a box is not 'inhabited'.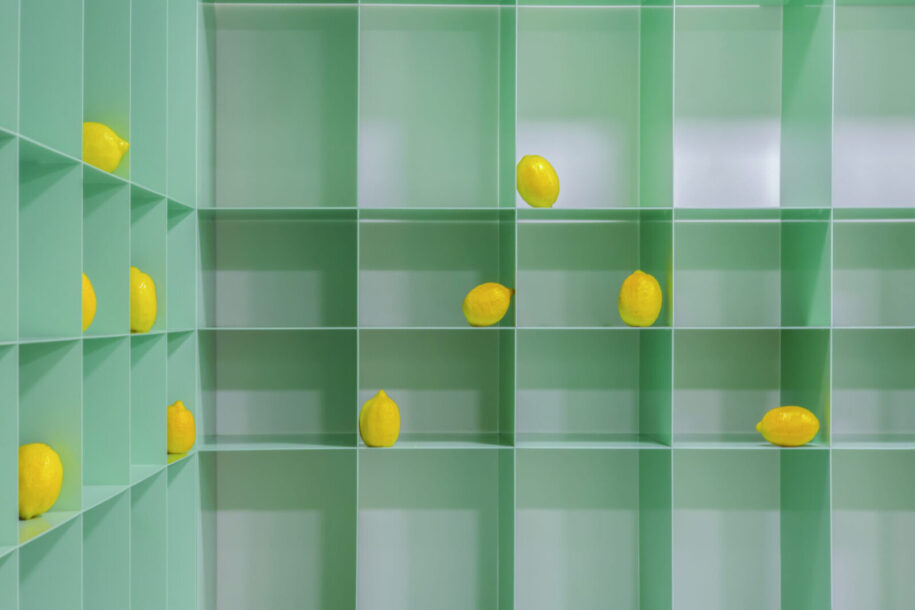 Inspired by the color palette of kitchens from the 1950s, the unit can be colored in soft tones of glossy blue, green, yellow and off-white.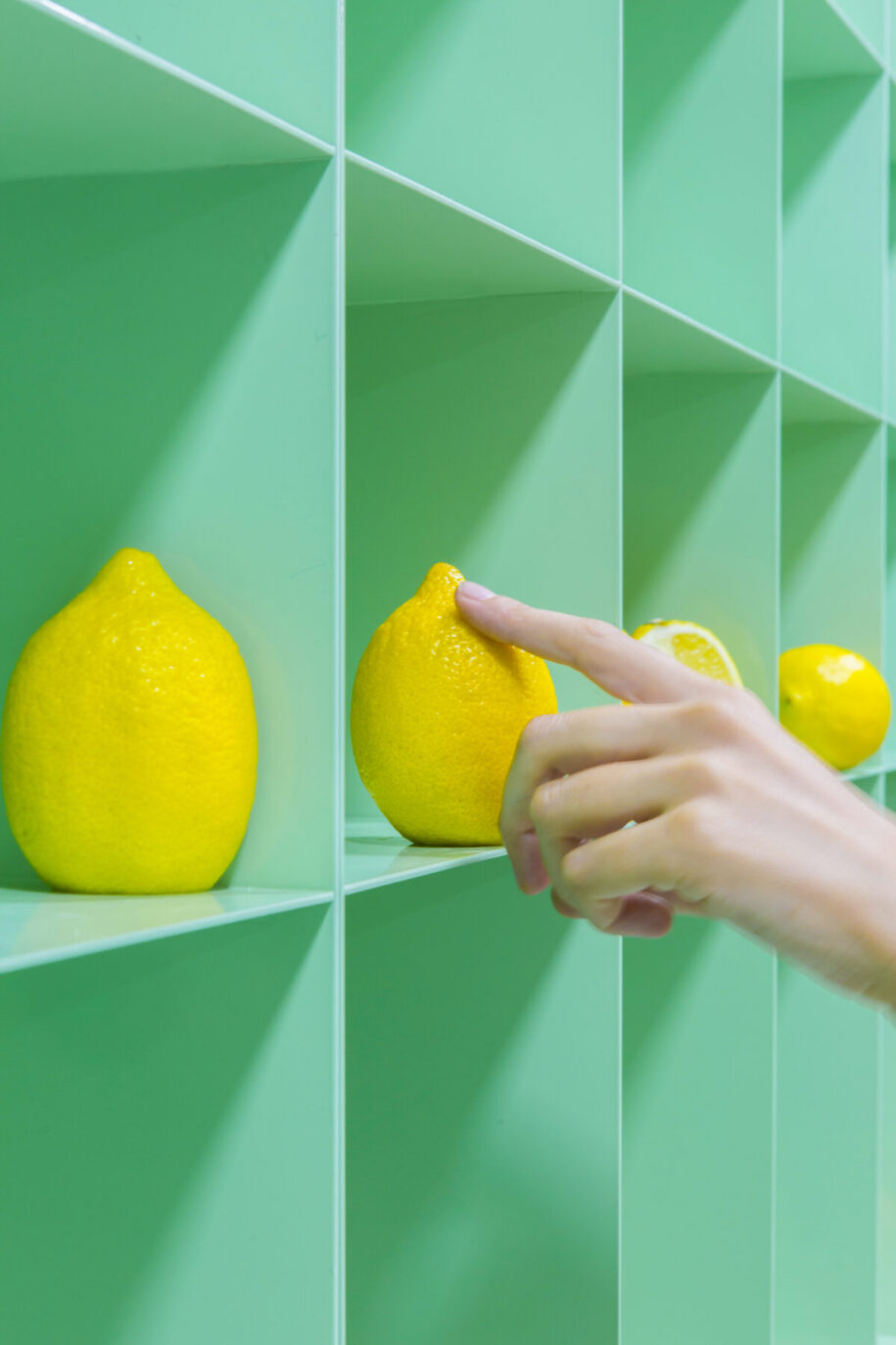 Facts & Credits
Project title  Voulis
Typology  Retail, Grocery store
Location  Voulis Str., Athens, Greece
Area  12sq.m.
Date of completion  2019
Design  AKA – APOSTOLOU COLAKIS ARCHITECTS
Project team  Katerina Apostolou, Minna Colakis, Virna Koutla
Photography  Alina Lefa


---

Το γραφείο AKA – APOSTOLOU COLAKIS ARCHITECTS σχεδίασε ένα σύγχρονο μπακάλικο-μανάβικο, που θα φιλοξενεί επιλεγμένα προϊόντα, στην οδό Βουλής στο κέντρο της Αθήνας θέτοντας ως σχεδιαστικό πυρήνα του καταστήματος τη δημιουργία ενός αντικειμένου με απλή, αναγνωρίσιμη φόρμα, που βασίζεται στη γεωμετρία της κηρήθρας, καθώς και ευκολία στην παραγωγή, μεταφορά και προσαρμογή σε διαφορετικούς χώρους.
-κείμενο από τους δημιουργούς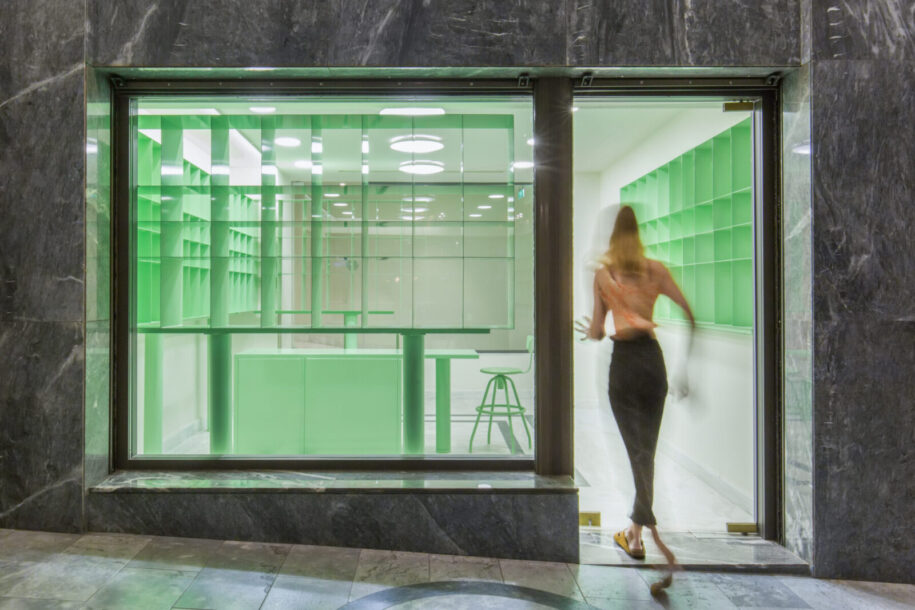 Βασιστήκαμε στην απλή αλλά δυνατή γεωμετρία της κηρήθρας (honeycomb) -σε εκδοχή ορθογωνικής διάταξης- για να σχεδιάσουμε ένα μεταλλικό έπιπλο από διαμπερείς θυρίδες που να αναπαράγεται περιβάλλοντας τον χώρο στον οποίο τοποθετείται και δημιουργώντας τον καμβά για την τοποθέτηση των προϊόντων. Ανυψωμένο από το έδαφος επάνω σε λεπτά μεταλλικά πόδια, δημιουργεί μια αίσθηση ελαφρότητας.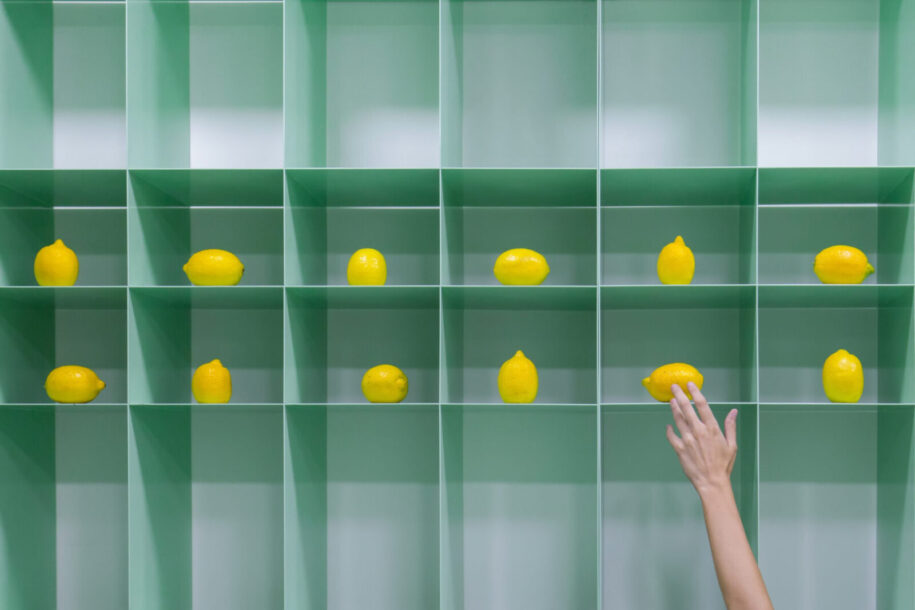 Οι εναλλακτικές τοποθέτησης και διάταξης των προϊόντων είναι πολλαπλές, χωρίς να δίνεται η αίσθηση άδειων ραφιών αν δεν 'κατοικείται' η κάθε θυρίδα.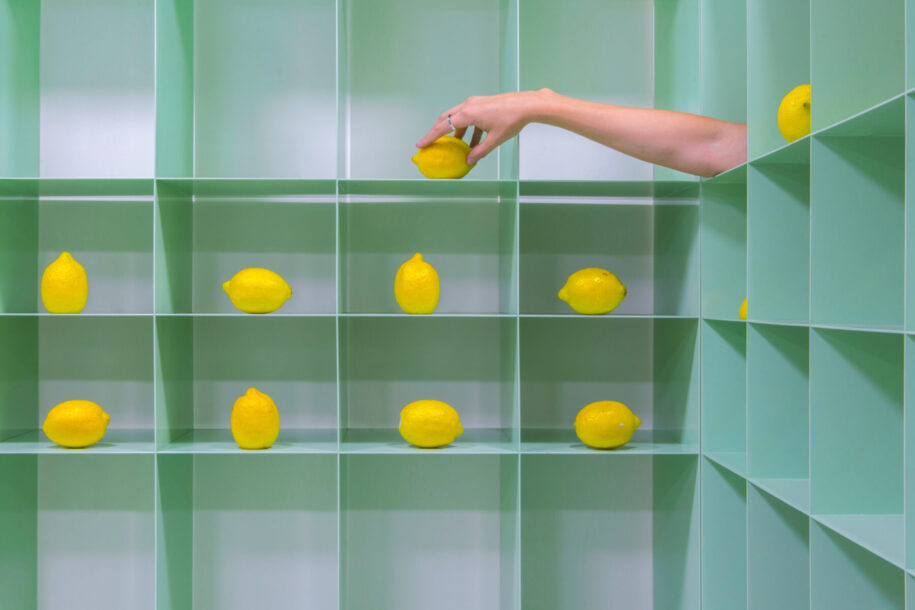 Με αφετηρία την χρωματική παλέτα των οικιακών κουζινών της δεκαετίας του '50, μπορεί να χωματιστεί σε παστέλ τόνους του γαλάζιου, του πράσινου –όπως έγινε για το συγκεκριμένο κατάστημα-, του κίτρινου και του υπόλευκου σε γυαλιστερό φινίρισμα που παραπέμπει στην γυαλάδα της λαδομπογιάς των κουζινών της εποχής.

Στοιχεία έργου
Τίτλος έργου  Voulis
Τυπολογία  Κατάστημα λιανικής, μπακάλικο, μανάβικο
Τοποθεσία  Οδός Βουλής, Αθήνα
Εμβαδόν  12τ.μ.
Χρονολογία ολοκλήρωσης  2019
Αρχιτεκτονικός σχεδιασμός  AKA – APOSTOLOU COLAKIS ARCHITECTS
Ομάδα έργου  Κατερίνα Αποστόλου, Μίννα Κολάκη, Βίρνα Κούτλα
Φωτογράφηση  Αλίνα Λέφα


---

See, also, the design of Lollo's Atene restaurant in a typical modernist 1950s residence in Chalandri by ΑΚ-Α Architects, here!
Δείτε, επίσης, τον σχεδιασμό του εστιατορίου Lollo's Atene σε ένα τυπικό μοντερνιστικό κτήριο της δεκαετίας του 1950 στο Χαλάνδρι από το γραφείο ΑΚ-Α Architects, εδώ!
READ ALSO:
Monoliths in Mani | Desypri & Misiaris Architecture