Contemporary Japanese artist Yayoi Kusama is one of the most popular artists in the world, drawing millions to experience her immersive installations. Yayoi Kusama's exhibition at NYBG "Cosmic Nature" reveals her lifelong fascination with the natural world , beginning with her childhood spent in the greenhouses and fields of her family's seed nursery. Her artistic concepts of obliteration, infinity, and eternity are inspired by her intimate engagement with the colors, patterns, and life cycles of plants and flowers.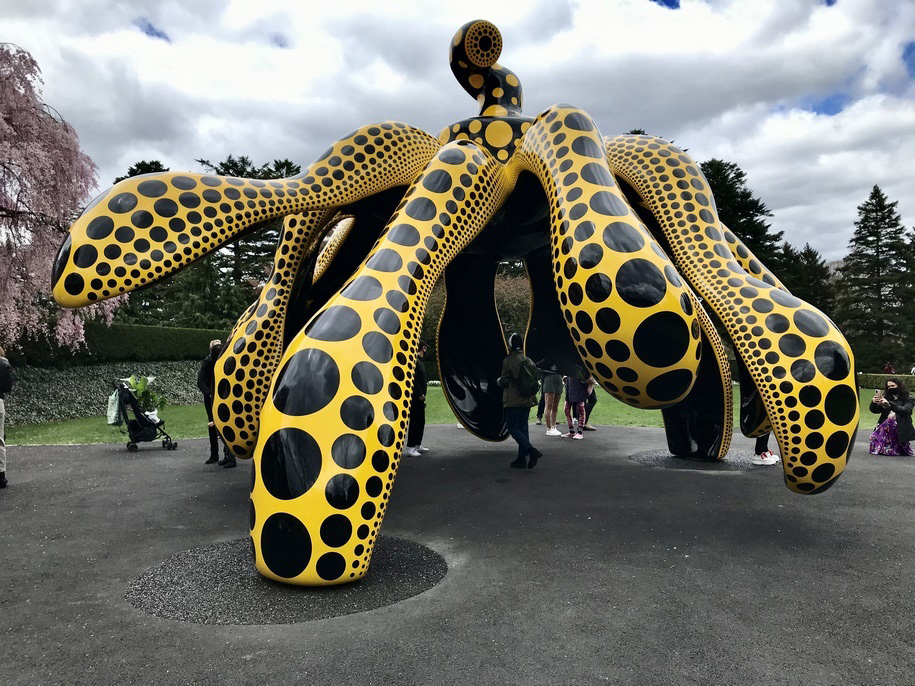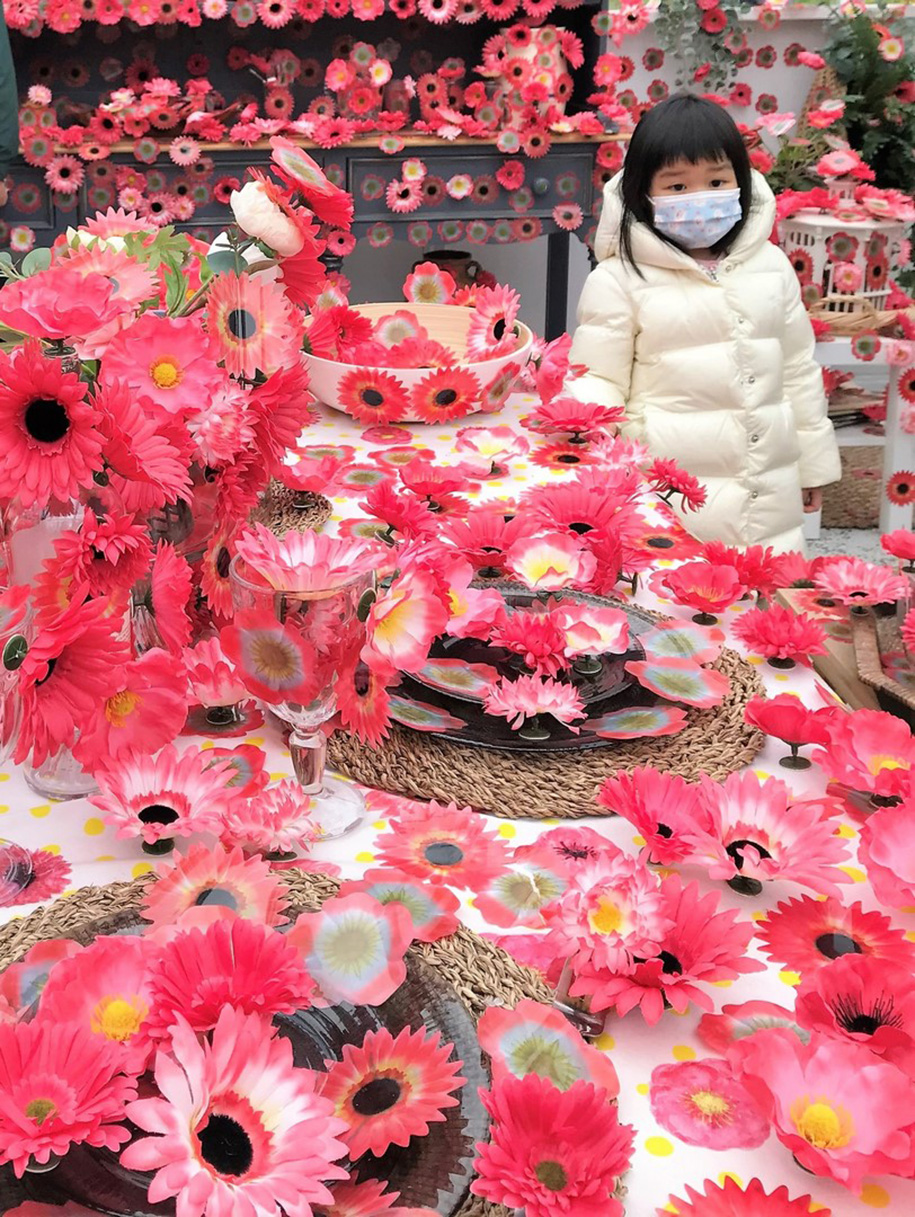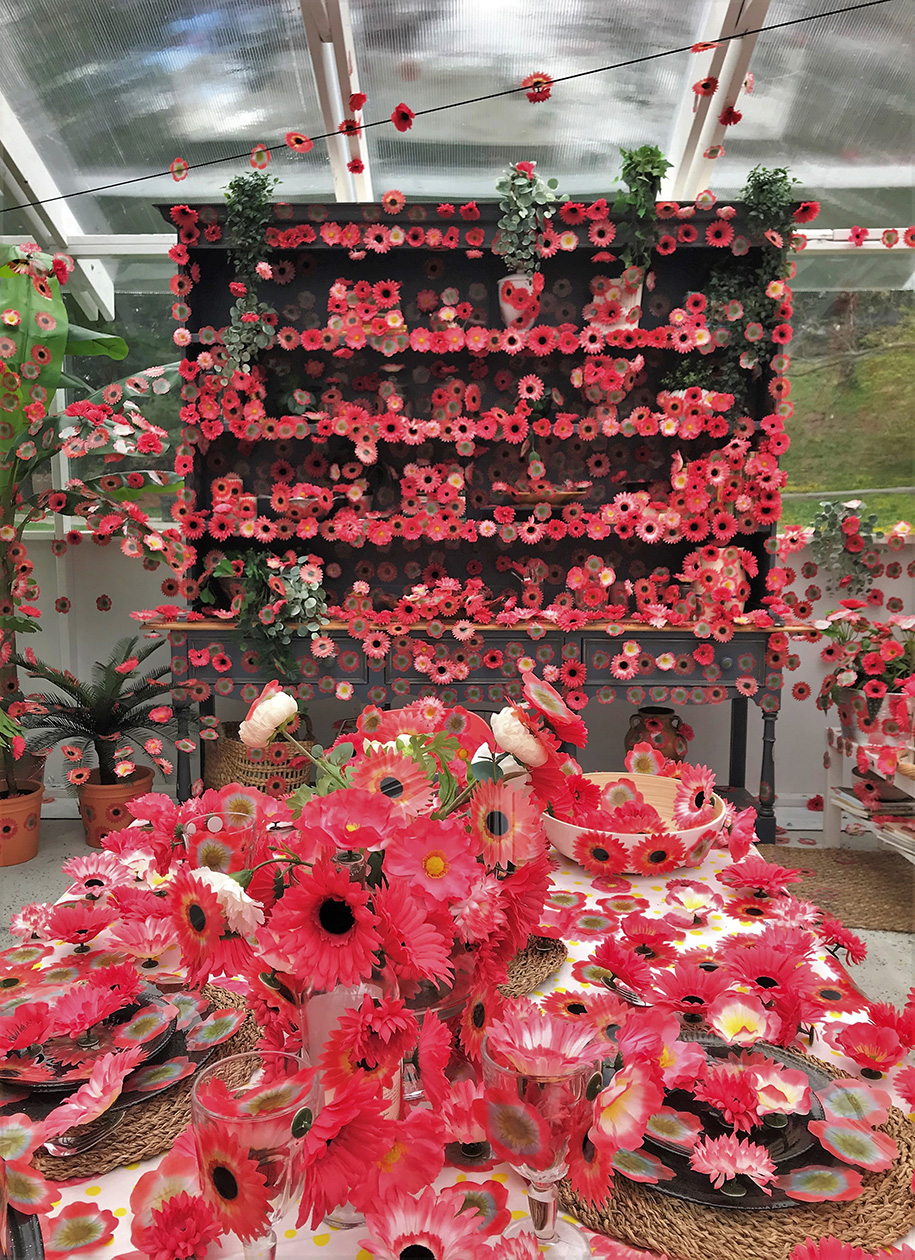 Kusama's work was first appeared in 1965, in an exhibition in New York which was a room full of mirrors with phallic stuffed pillows covering the floor, making it appear as though there was a continuous "sea of multiplied phalli expanding to its infinity". Narcissus Garden, from 1966, was the most famous of her exhibits, consisting 1,500 mass-produced plastic silver globes on the lawn outside of the Italian Pavilion of the 33rd Venice Biennale.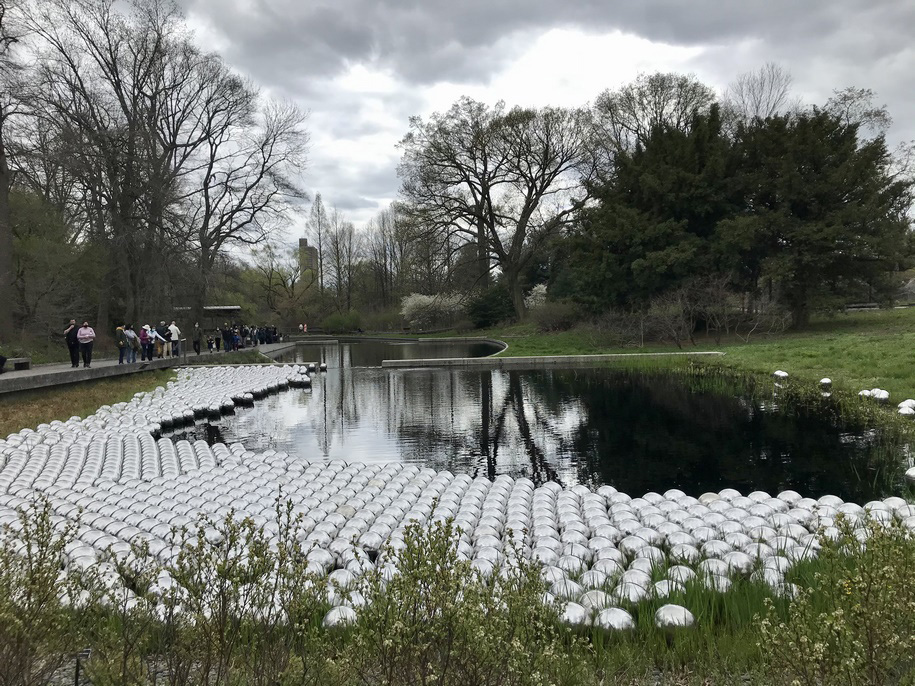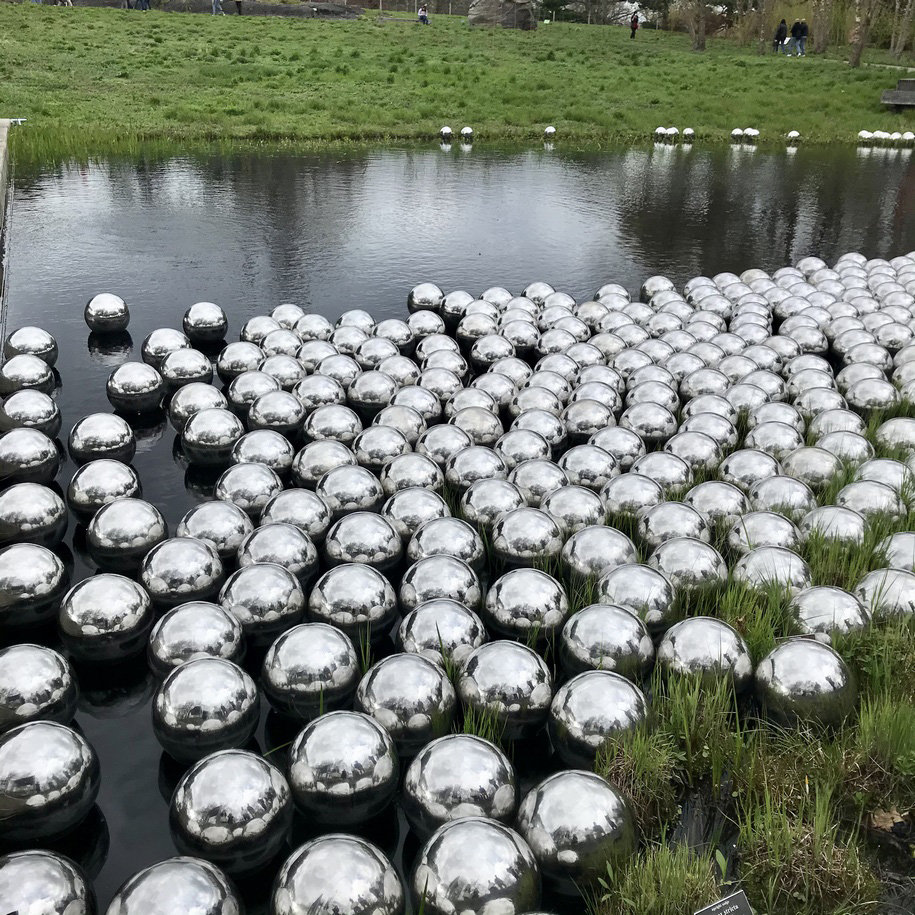 The balls were tightly arranged and reflective in order to "repeat, distort, and project". The exhibition has frequently been interpreted as Kusama's own self-promotion (making "Narcissus" an appropriate and self-conscious title) and as her protest against the commercialization of art. The exhibition was intended to be the media of an interactive performance between the artist and the viewer. 
Kusama's Narcissus garden has repeatedly been re-commissioned and installed in various settings, including Central Park in New York City. NYBG will host a variety of installations coming from Kusama's investigation on nature, infinity and eternity, as a follow up of the Narcissus garden.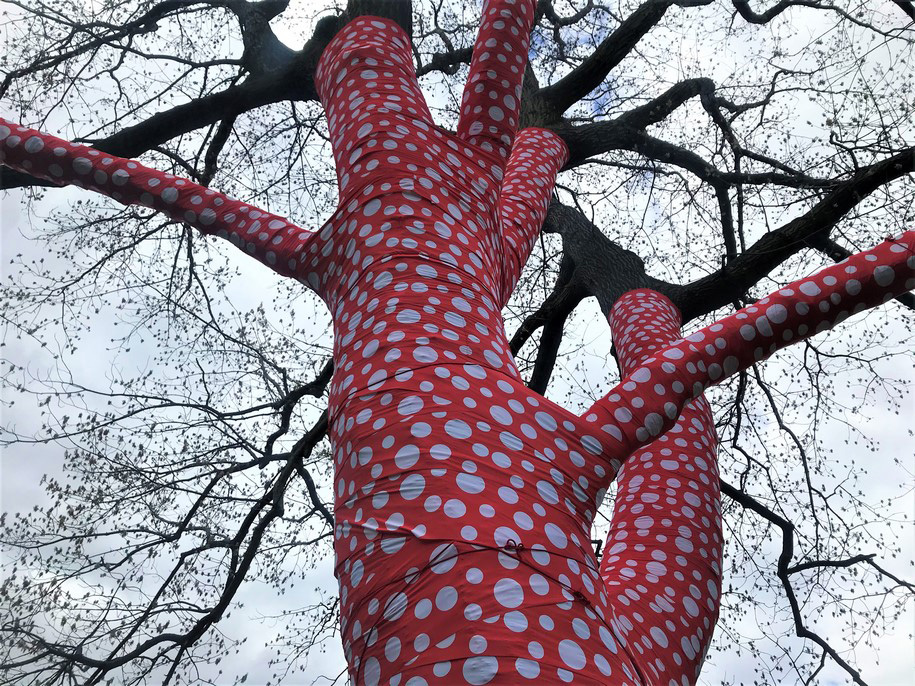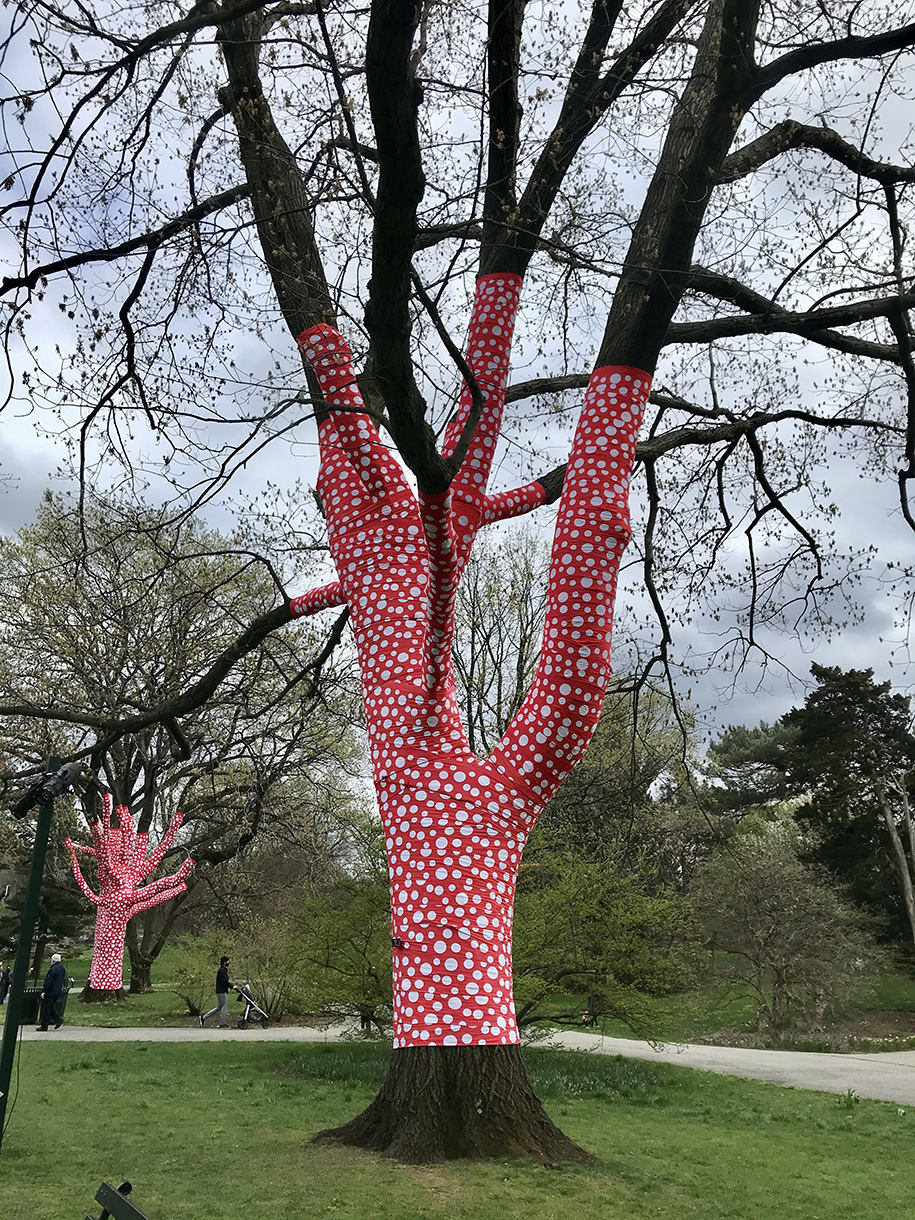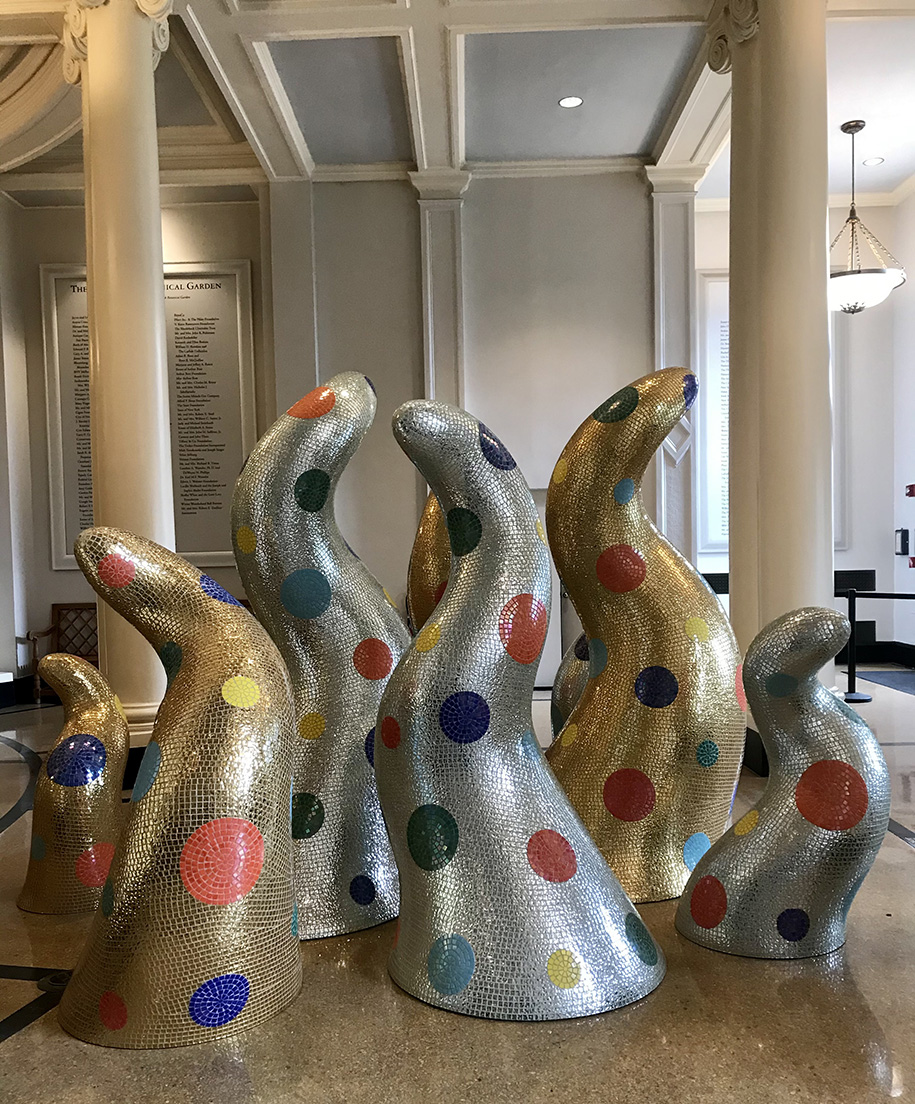 Spectacular installations feature Kusama's multifaceted art, including monumental floral sculptures that transform NYBG's 250-acre landmark landscape. Across the grounds, the visitors have the ability to discover installations that include the artist's legendary Narcissus Garden (1966/2021) in the Native Plant Garden. Nearby, marvel at Ascension of Polka Dots on the Trees (2002/2021), where soaring trees are adorned in vibrant red with white polka dots. The horticultural spectacle across the landscape changes throughout the seasons, with tulips and irises in spring, dahlias in summer, and pumpkins and chrysanthemums in fall.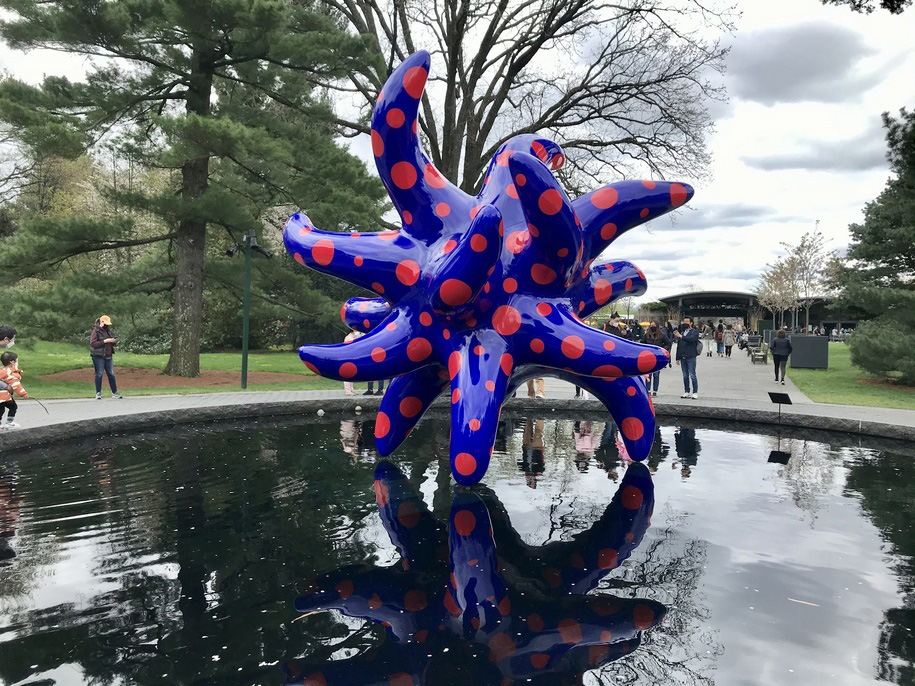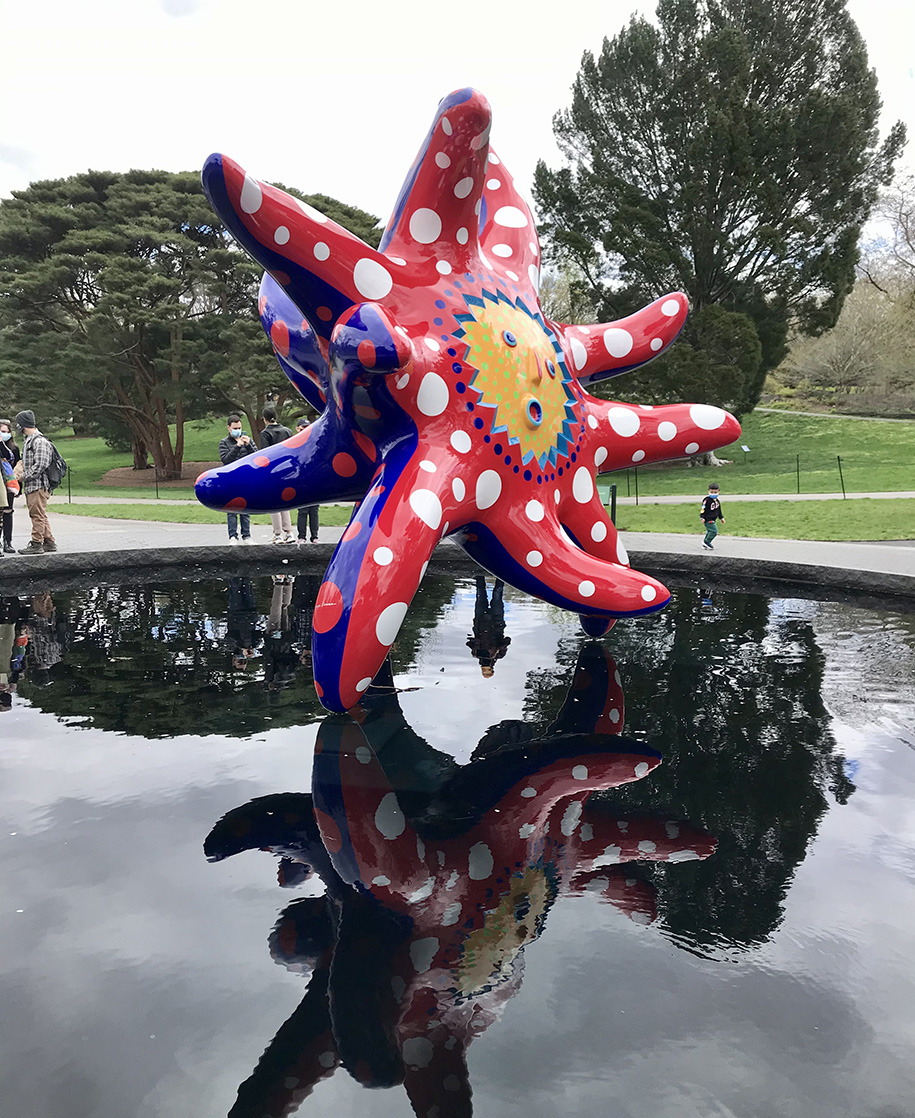 In and around the Enid A. Haupt Conservatory, Kusama's work comes to life through a seasonal progression of violas, salvias, zinnias, chrysanthemums, and other colorful annuals, while her plant-inspired, polka-dotted sculptures are nestled among meadow grasses, bellflowers, and water lilies, including Hymn of Life—Tulips (2007) in the Conservatory Courtyard Hardy Pool.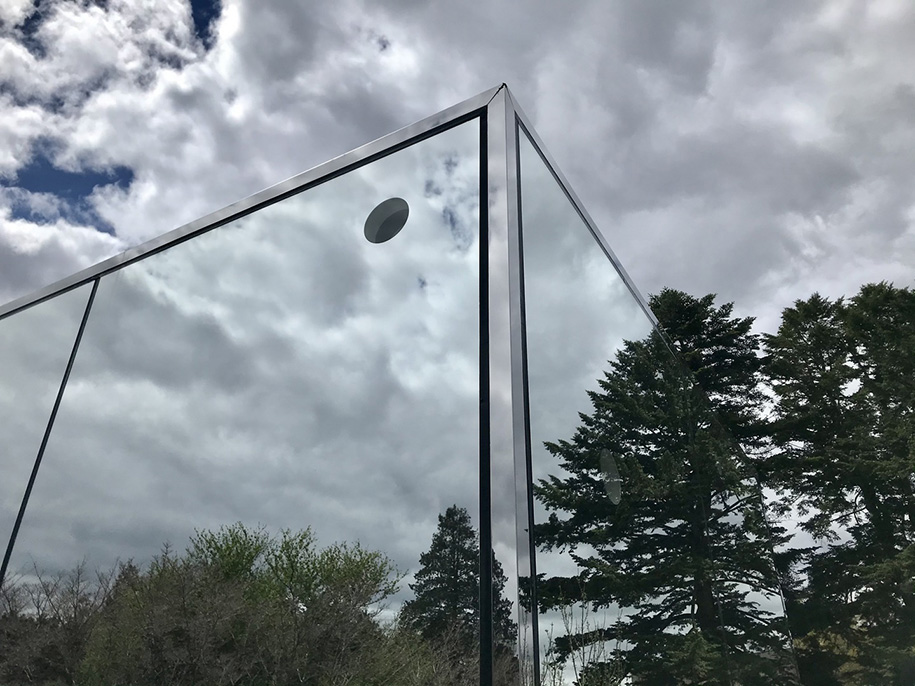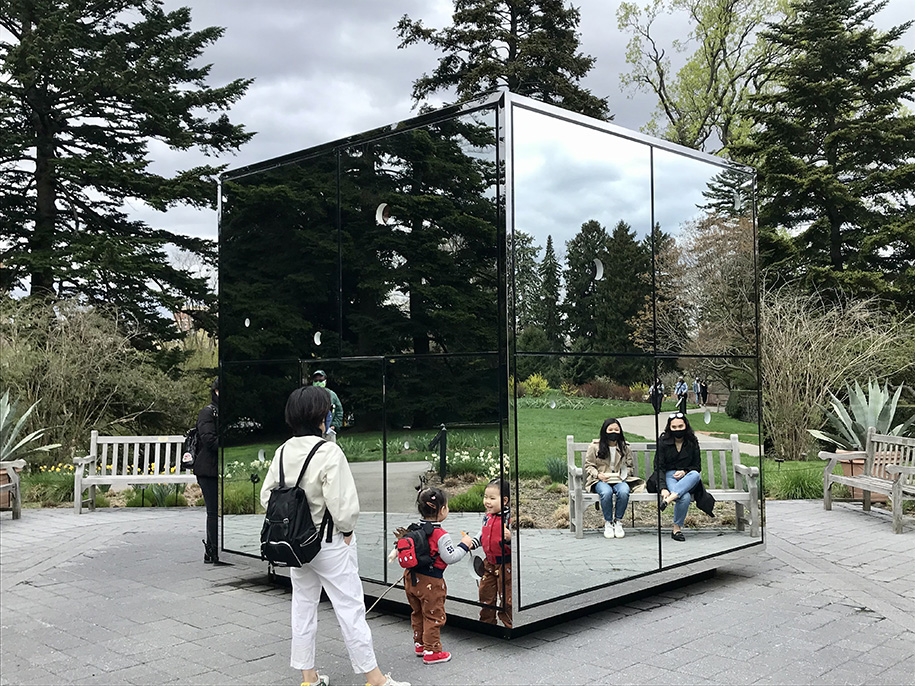 With interior access planned to begin this summer, Kusama's new Infinity Mirrored Room.  The installation, Infinity Mirrored Room—Illusion Inside the Heart (2020), responds to natural light through colored glass throughout the day and seasons.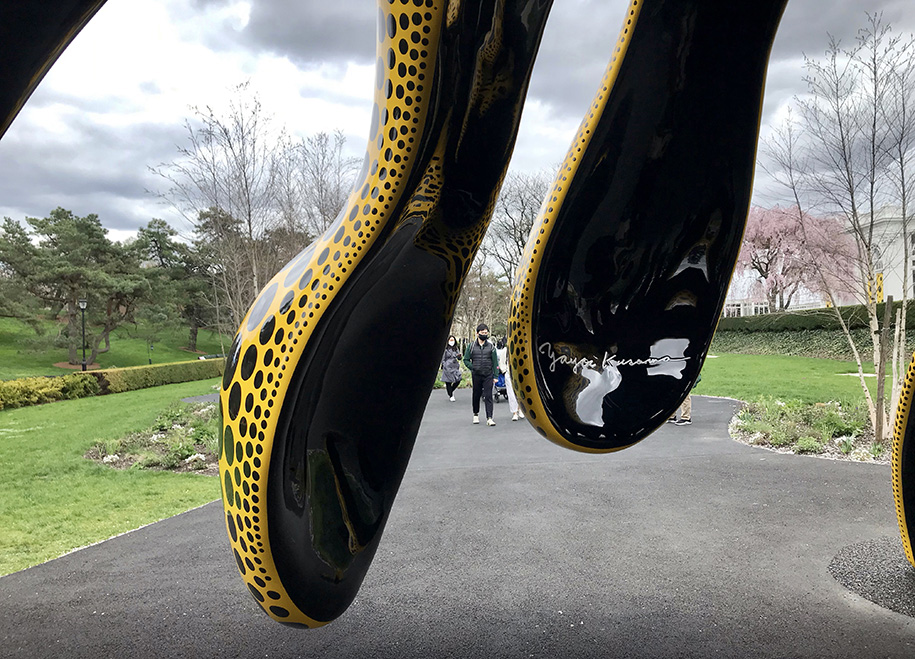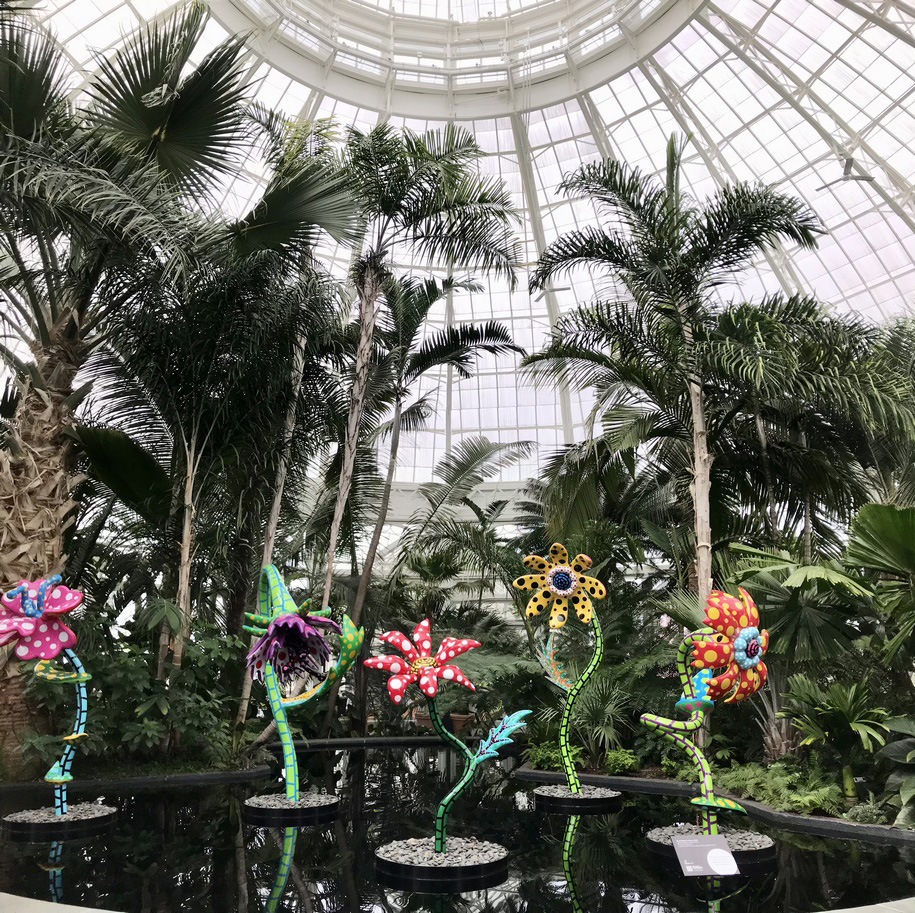 In the LuEsther T. Mertz Library Building there are placed paintings, biomorphic collages, sculpture, and works on paper inspired by Kusama's deep knowledge of nature, and in the adjacent Ross Gallery, enjoy Walking Piece (ca. 1966), a multiscreen digital projection of a performance work from the artist's collection.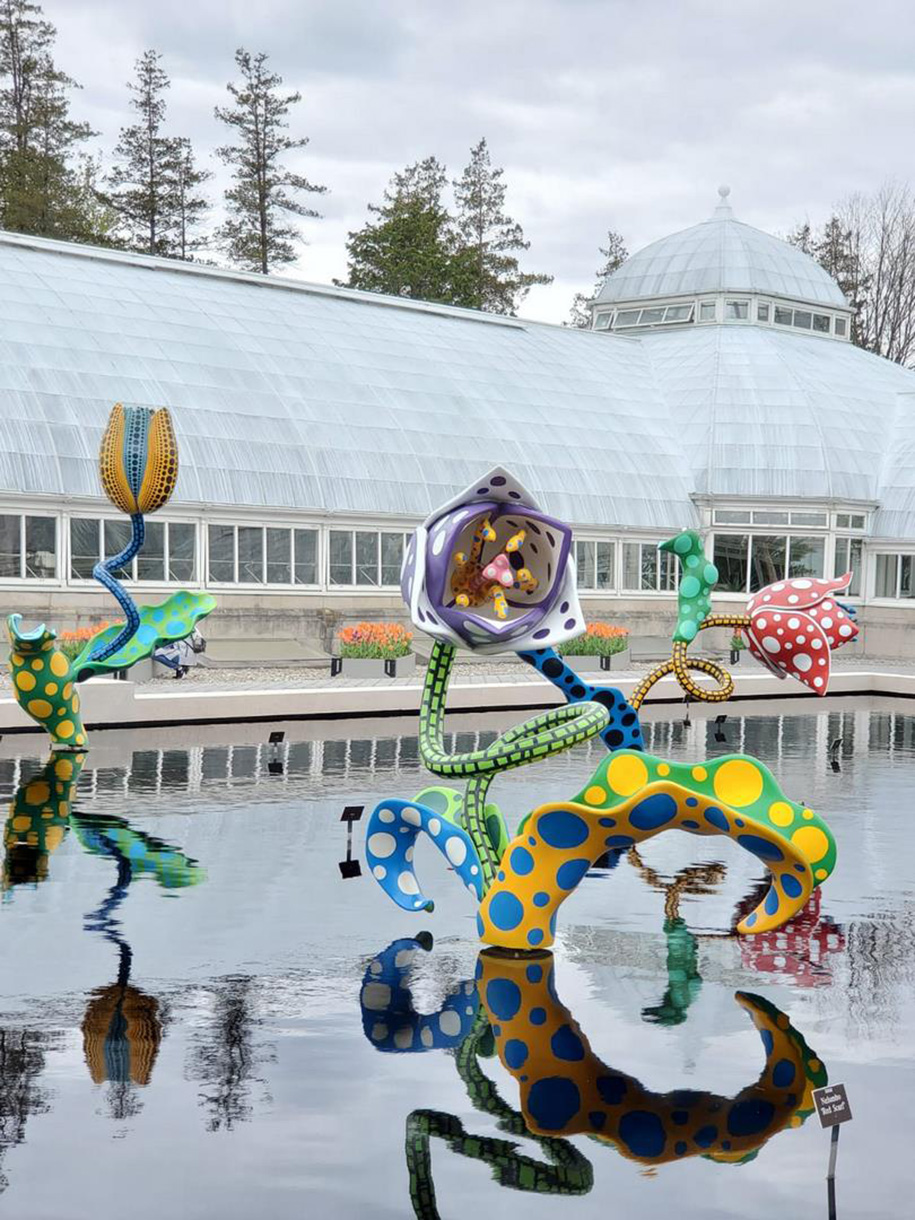 Visiting the New York Botanic Garden you could find Kusama's work into the lush 250-acre landscape, among fresh flowers and towering trees, which enhances the dialogue with nature.
Facts & Credits

Project title   Cosmic Nature
Typology  Exhibition, NYBG
Location  New York Botanic Graden
Curators Mika Yoshitake
Photographer  Tina Marinaki
Exhibitors  Yayoi Kusama
Text sources  NYBG, Narcissus garden
Exhibition Duration  April 10 to October 31.
READ ALSO:
"L A N D S C A P E" - Struttura G051 | Giulio Vesprini