Invited by curators Yvonne Farrell and Shelley McNamara, in response to the FREESPACE theme, Ricardo Flores and Eva Prats (Flores & Prats Architects) managed to transport a fragment of their much applauded renovation work of Sala Beckett from Barcelona to Venice and to adapt it to the specific light conditions in the Arsenale. 
Flores & Prats in the main FREESPACE exhibition at the Arsenale
"Liquid Light", the replica of Sala Beckett (the 1920s workers' club converted into a theatre), was unveiled during the preview days of the Biennale di Venezia. The huge 1:1 scale scenic model and the backstage workshop take advantage of a south-facing window in the Corderie to simulate the way light falls into the building.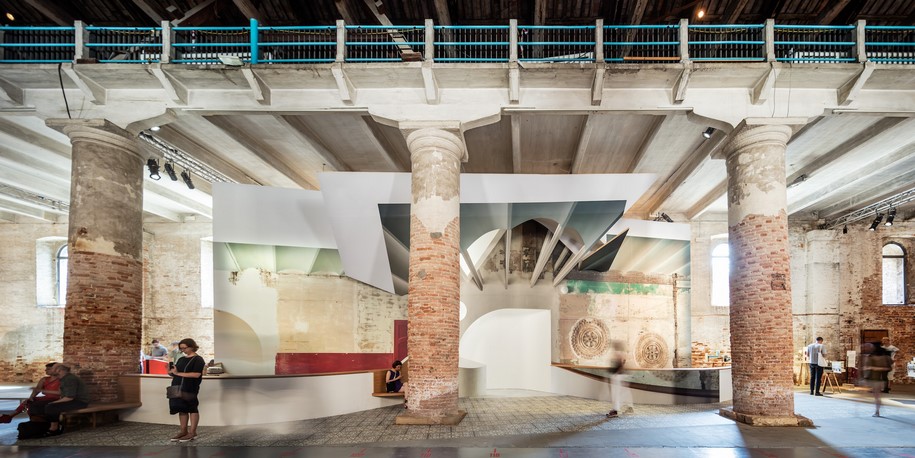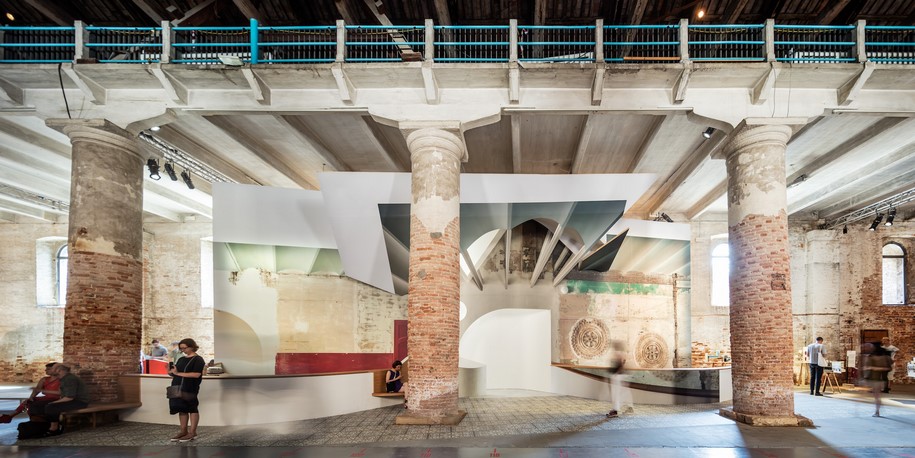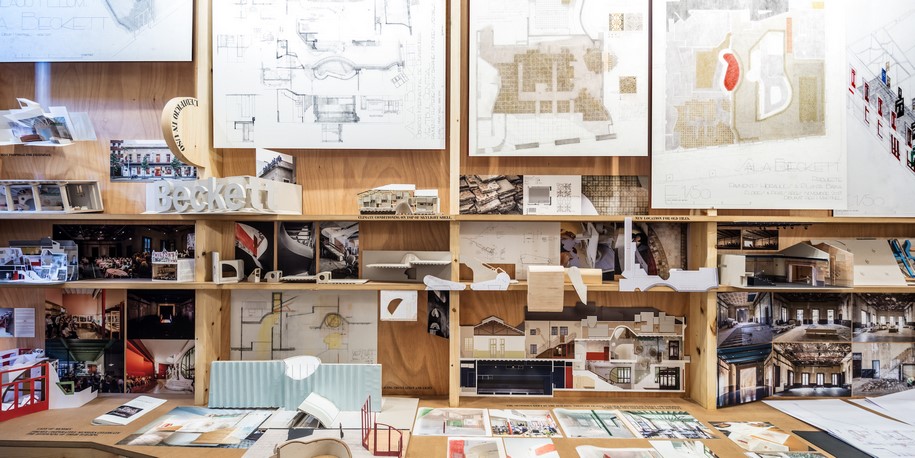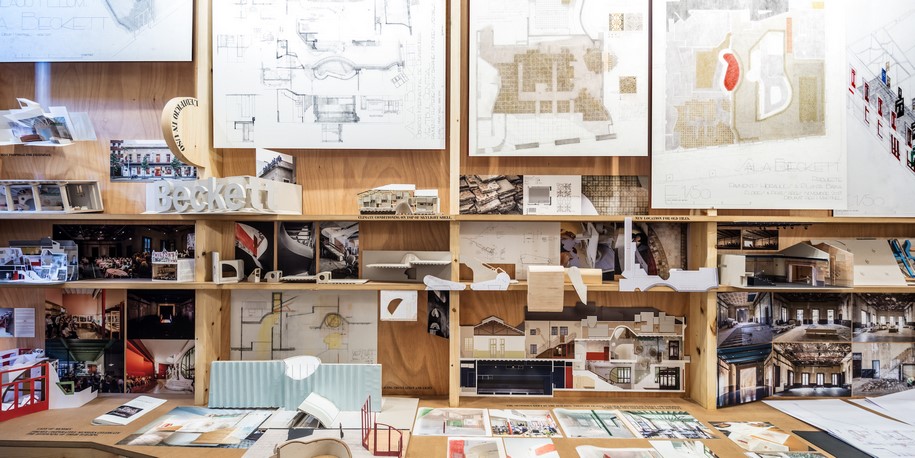 Sala Beckett is a former workers' cooperative, built in Barcelona in 1924 and abandoned for about 30 years. Rain, wind and pigeons were getting in, gradually destroying the building. The roof had a hole and the sunlight penetrated, a ray of light right at the centre of the old scenery.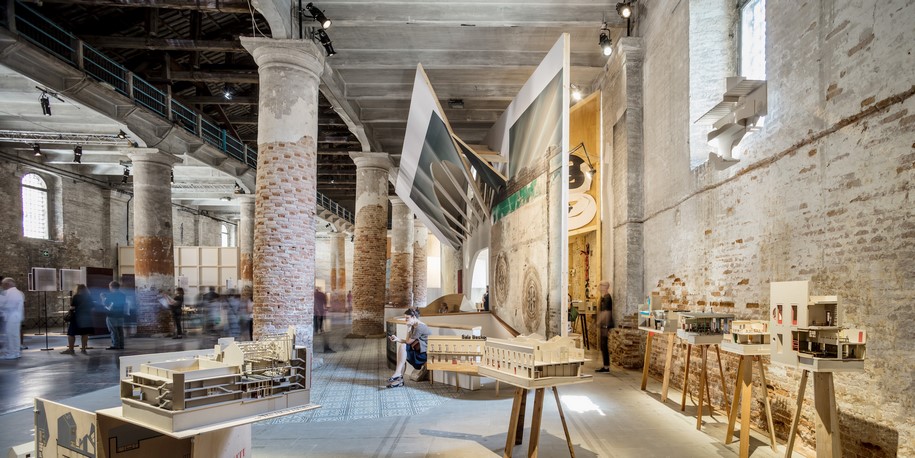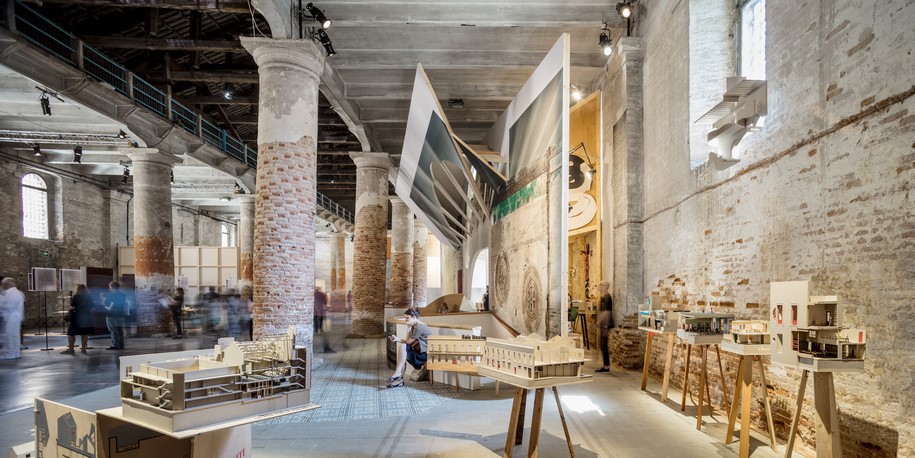 A fragment of Sala Beckett is built in the Arsenale at real scale, offering the spatial experience of something far away.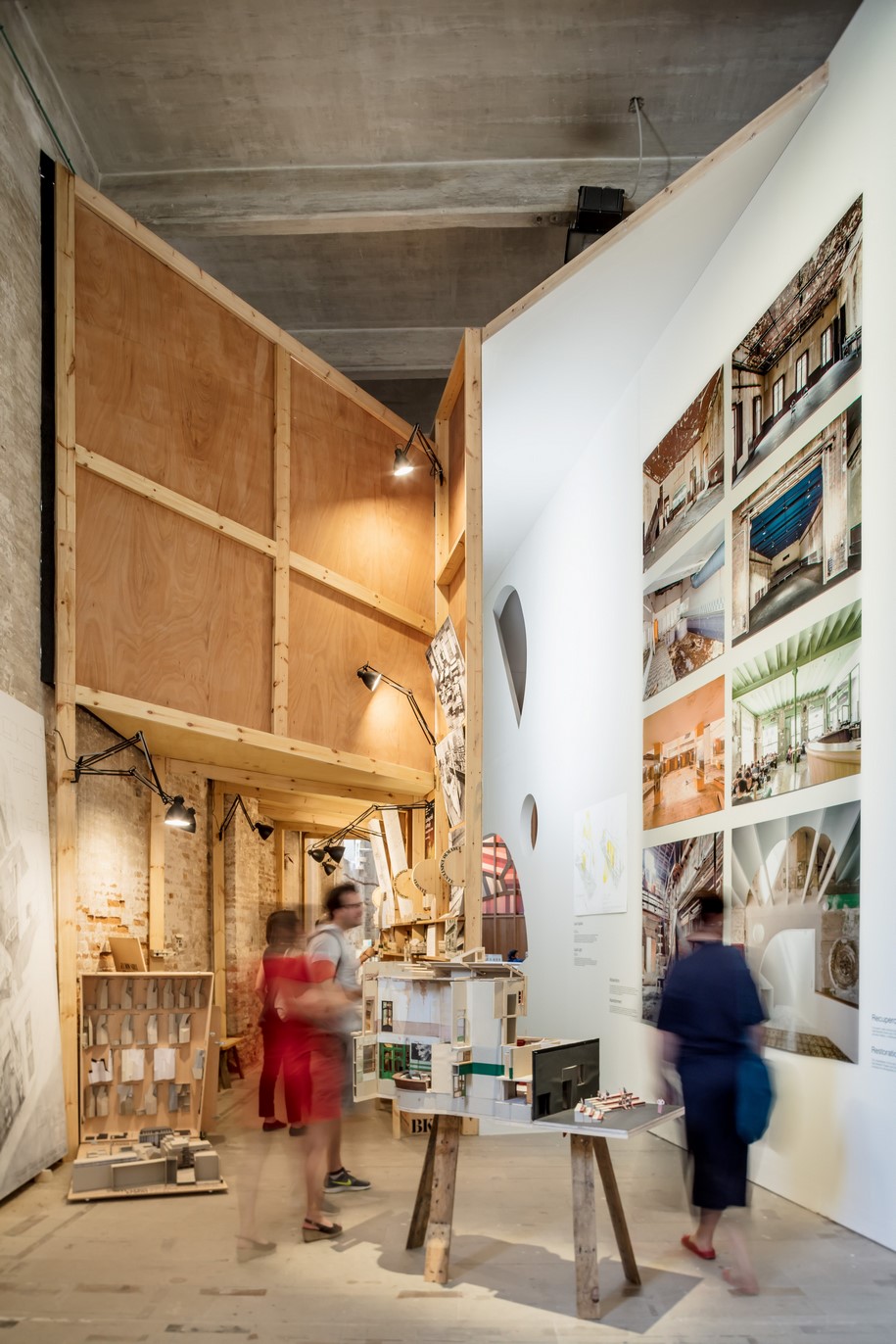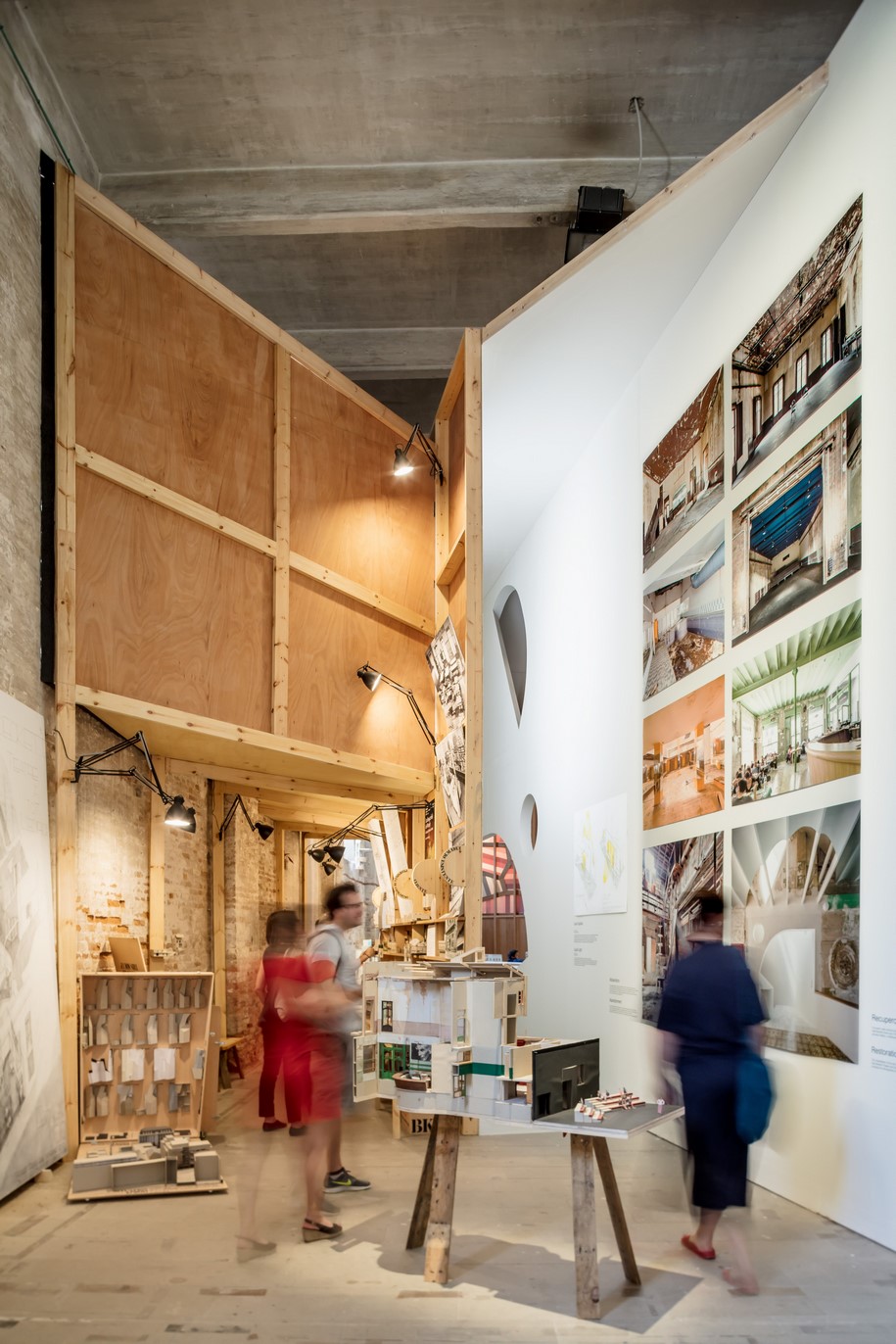 Flores & Prats faced this not as a menace of destruction, but as an optimistic sign of a new possible future and they turned the old workers' cooperative into the new Sala Beckett Theatre and Drama Centre: a place dedicated to promote new drama stories and to put them on stage for the first time.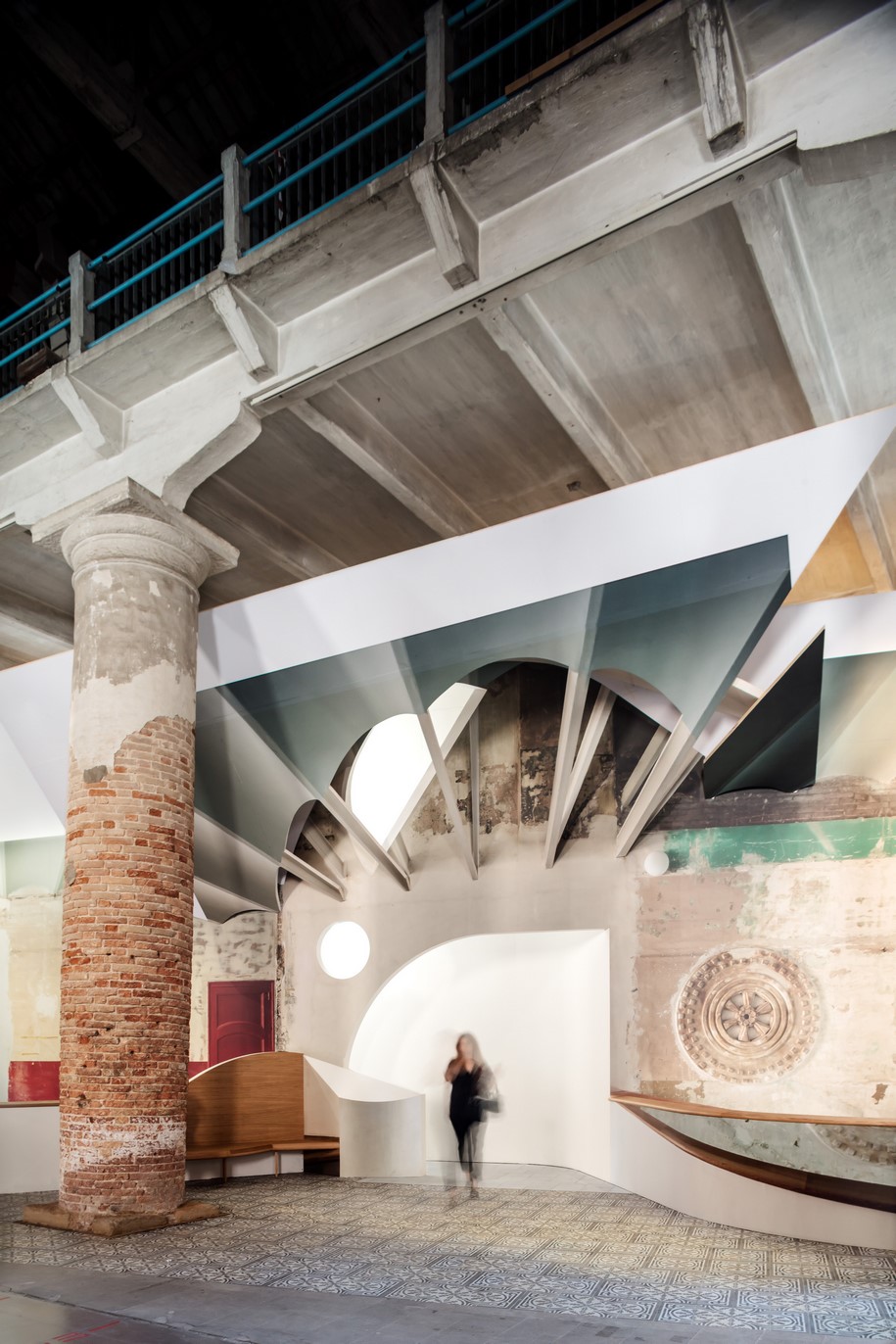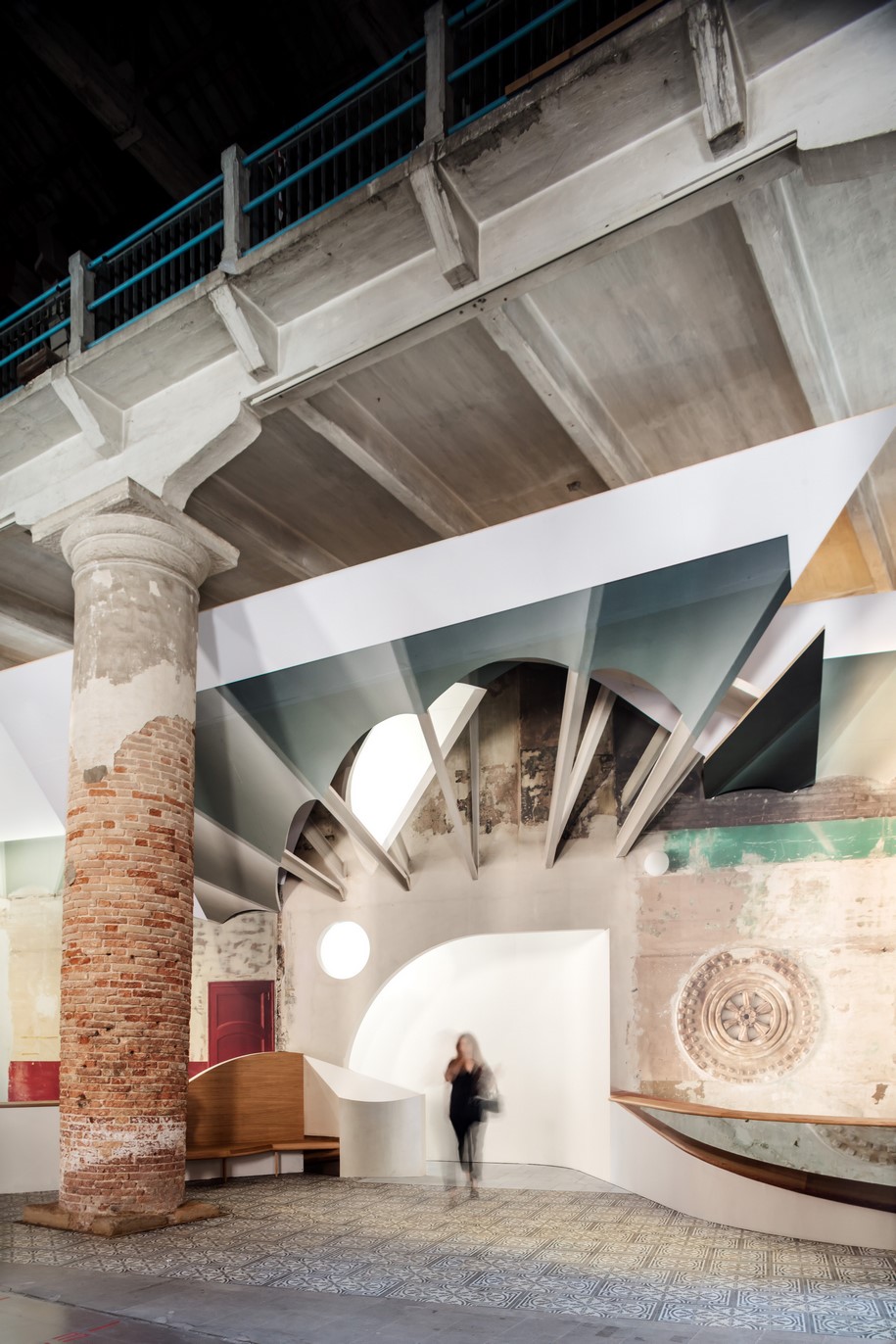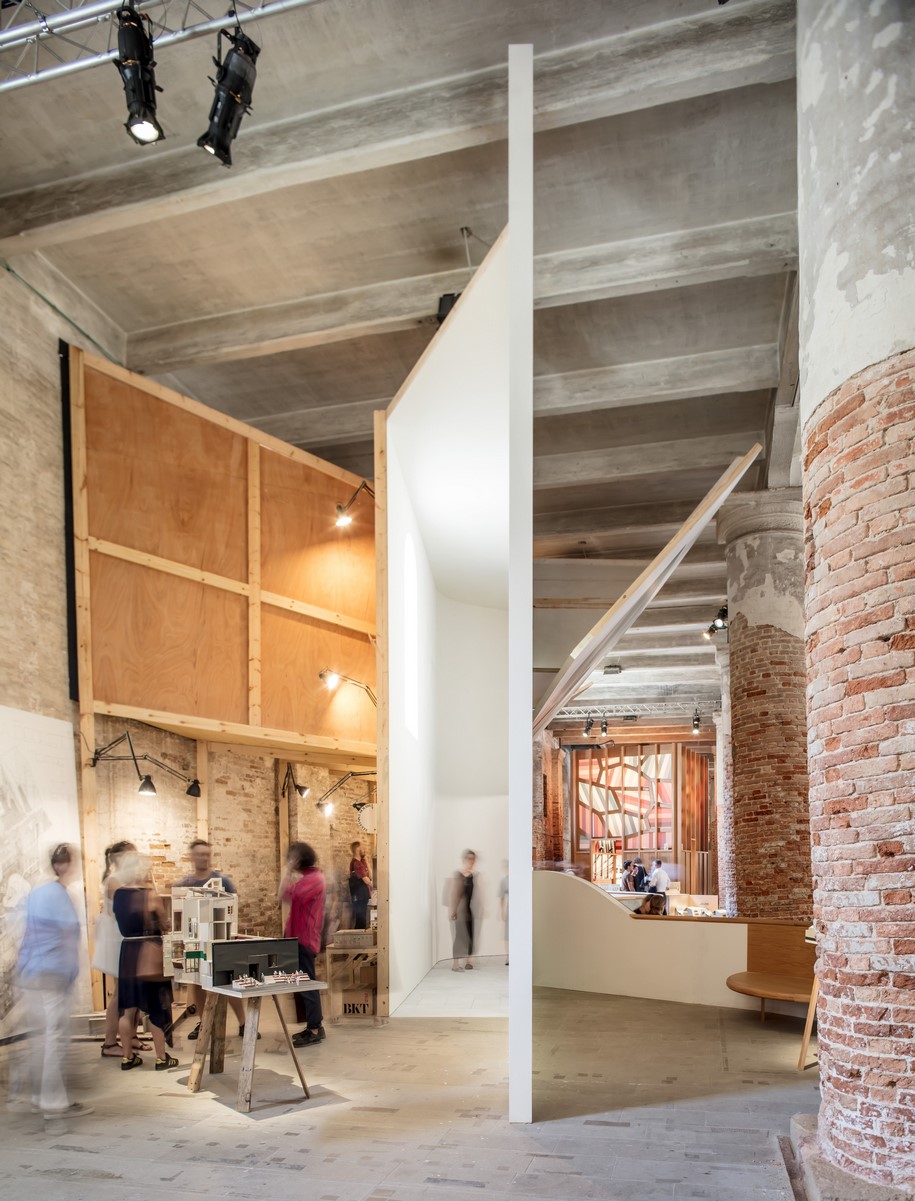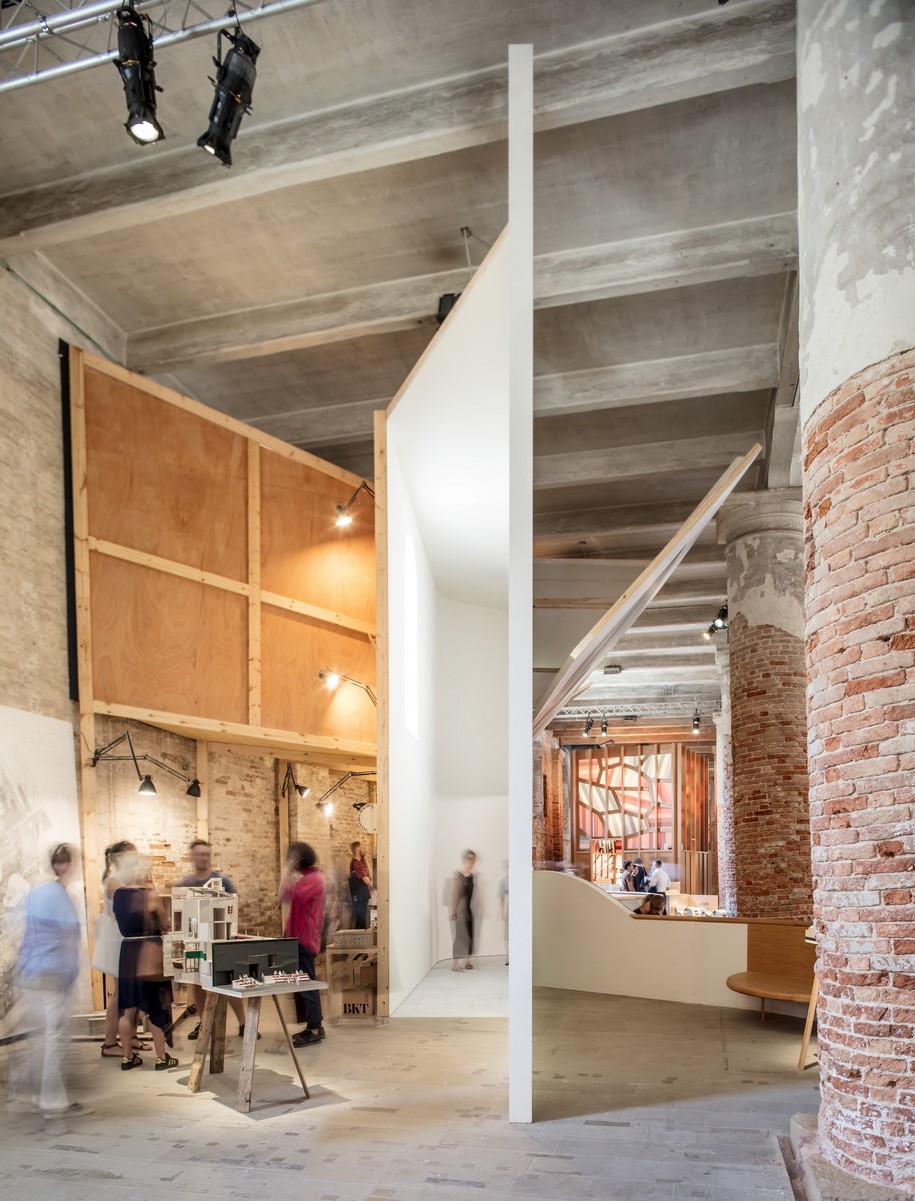 Now, a ray of natural light is kept inside the building, changing the atmosphere of its central circulation space throughout the year. Flores & Prats' proposal for Freespace is to bring this ray of natural light inside the show.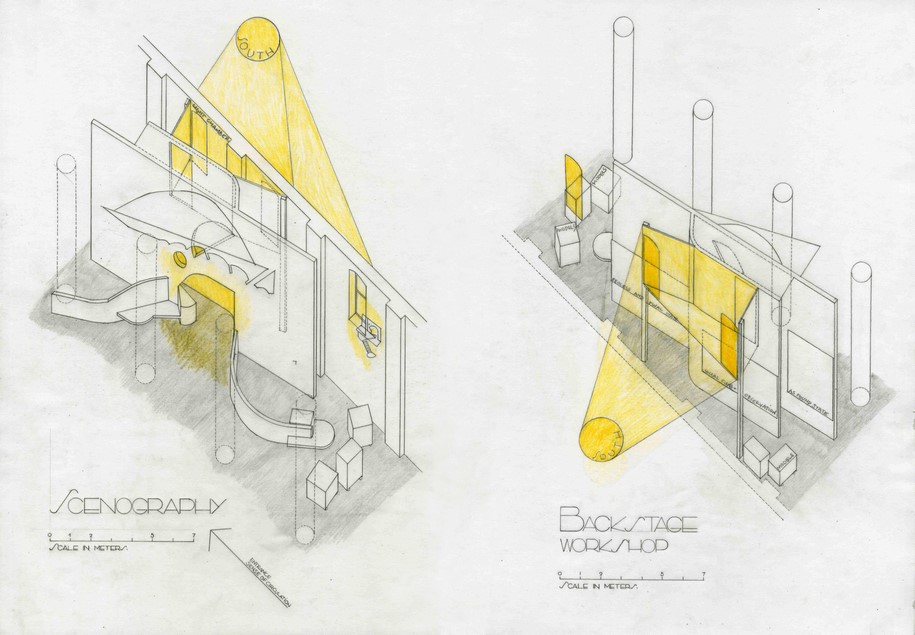 A fragment of Sala Beckett is built in the Arsenale at real scale, a piece that can be inhabited, offering the spatial experience of something far away. The fragment is a replica of the Sala Beckett's skylight in Barcelona, but the light which makes it work is original, it is Venice's light.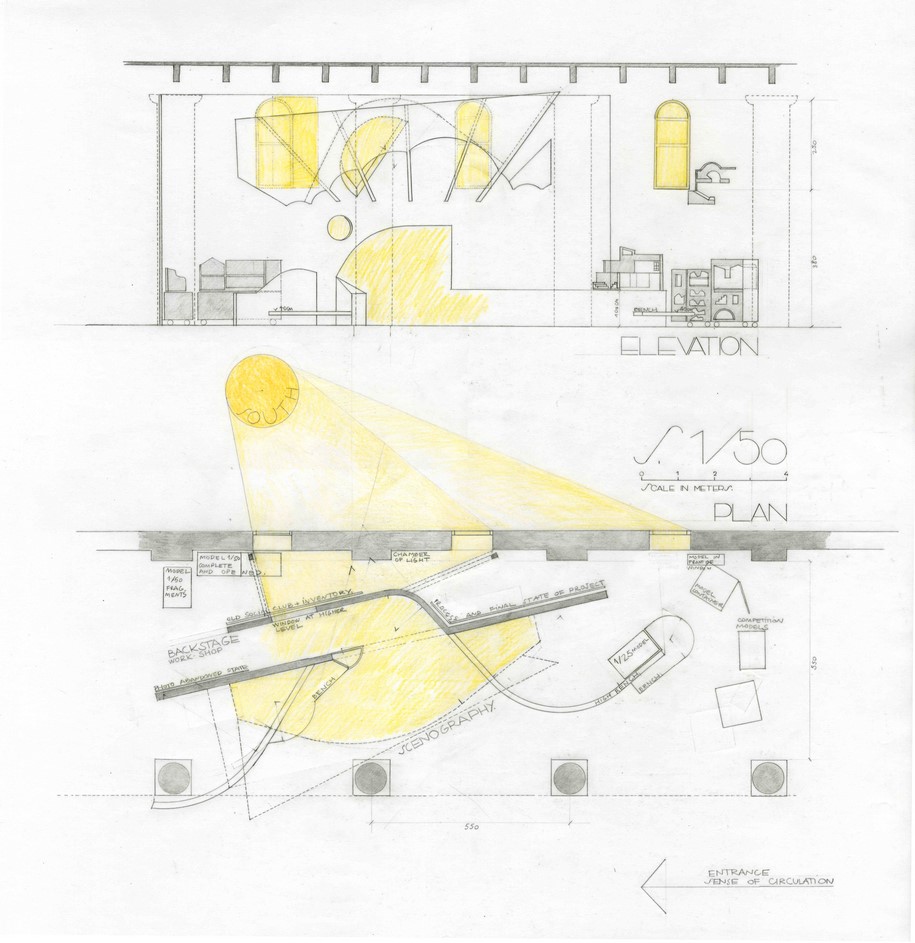 About Sala Beckett 
Sala Beckett – Obrador Internacional de Dramaturgia (Poblenou, Barcelona), a project Flores & Prats started in 2011 and completed in 2016, was awarded with the City of Barcelona Architecture Prize and the Living – Spaces Simon Architecture Prize and shortlisted for the FAD Architecture Prize, ENOR Architecture Prize and Beazley Designs of the Year at the Design Museum in London. Sala Beckett's renovation project was also portrayed by a docu-series by 15-L. Films, titled "Escala 1:5" and released in 2018.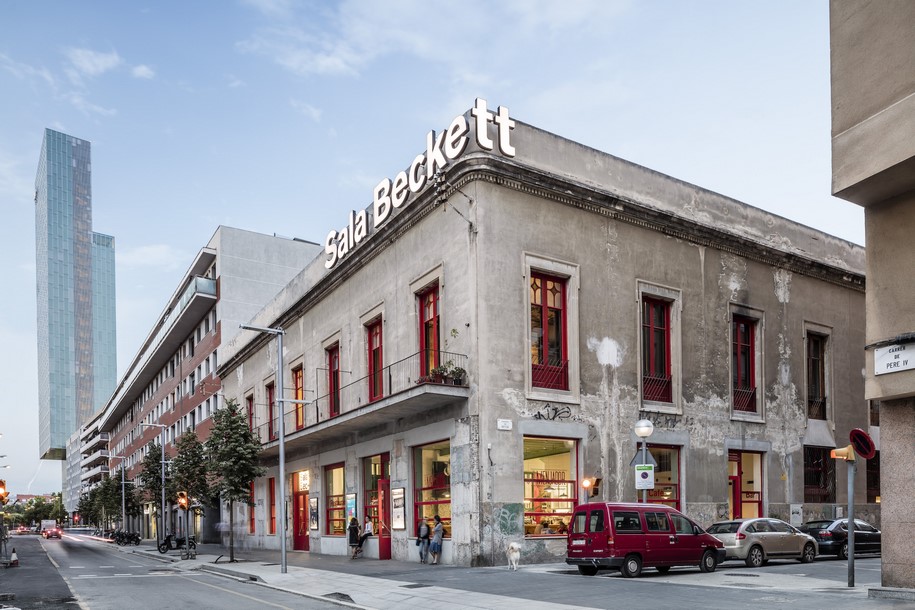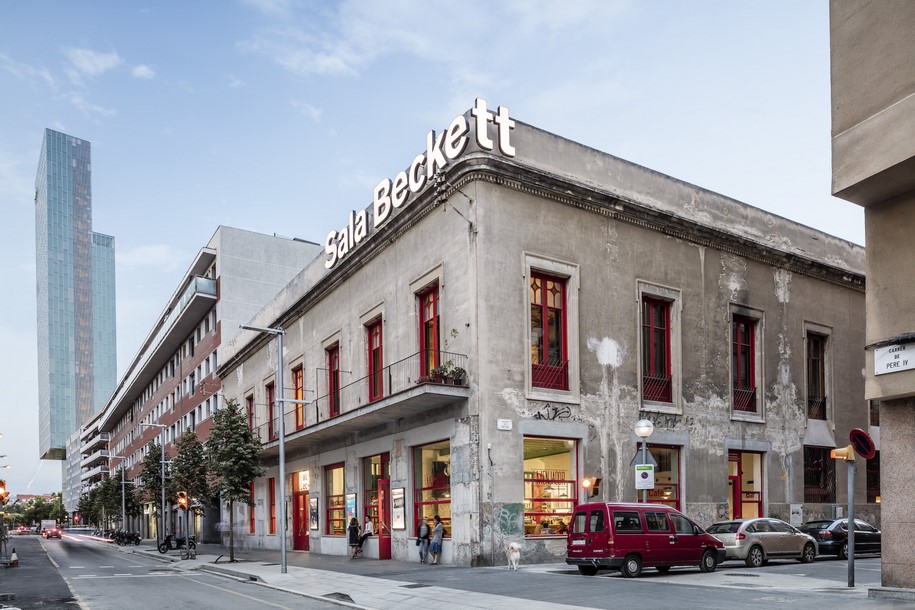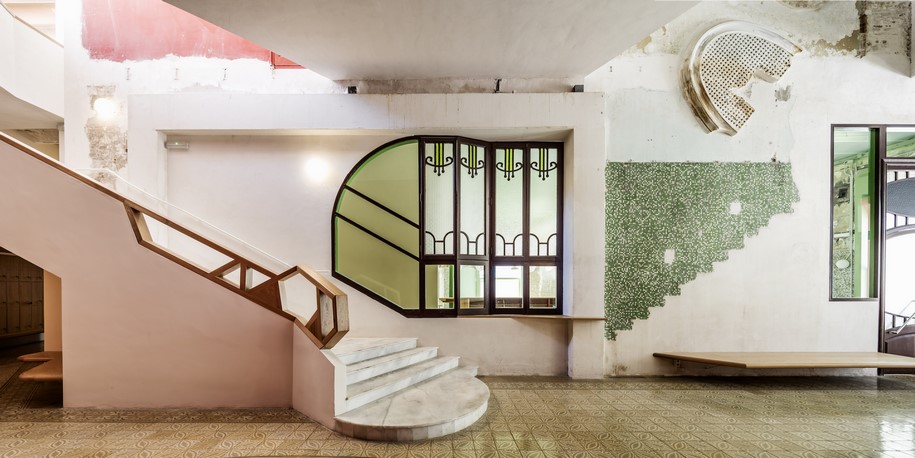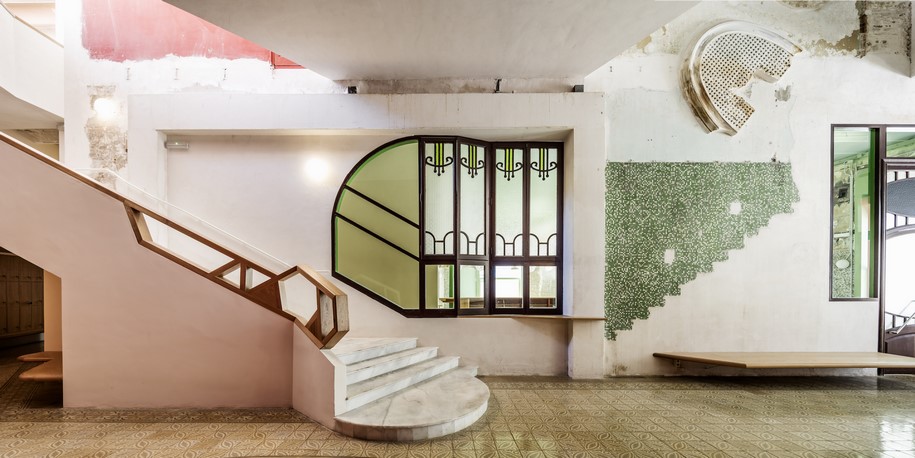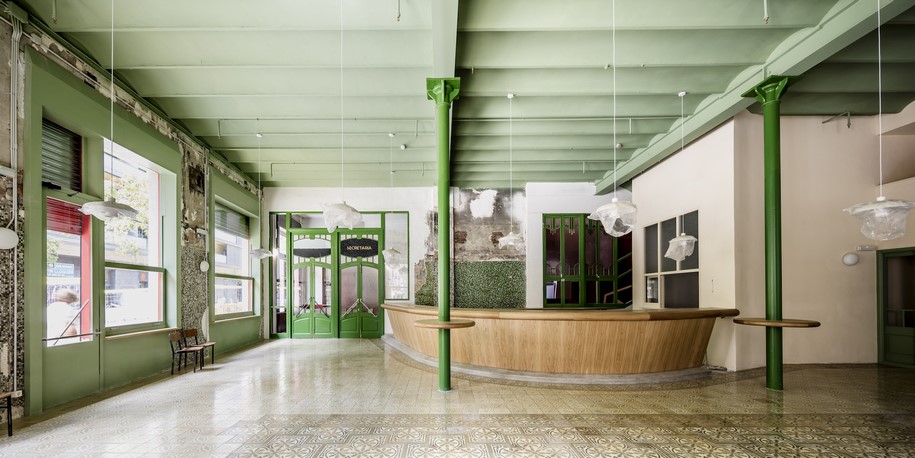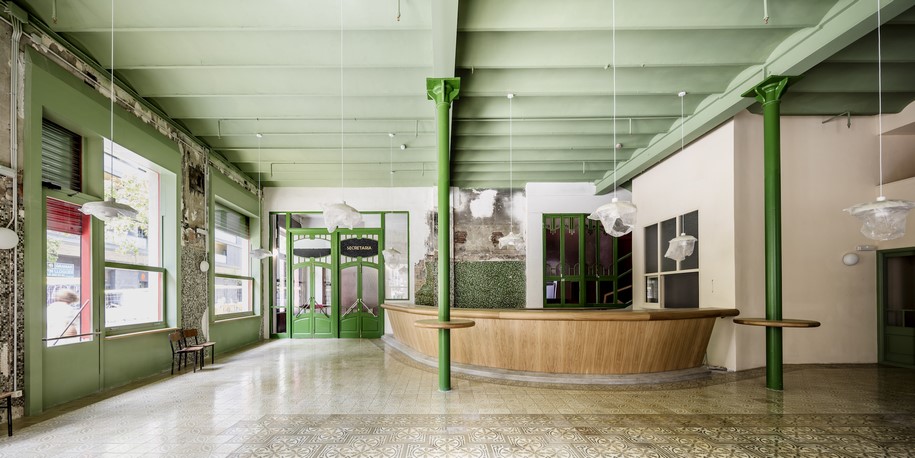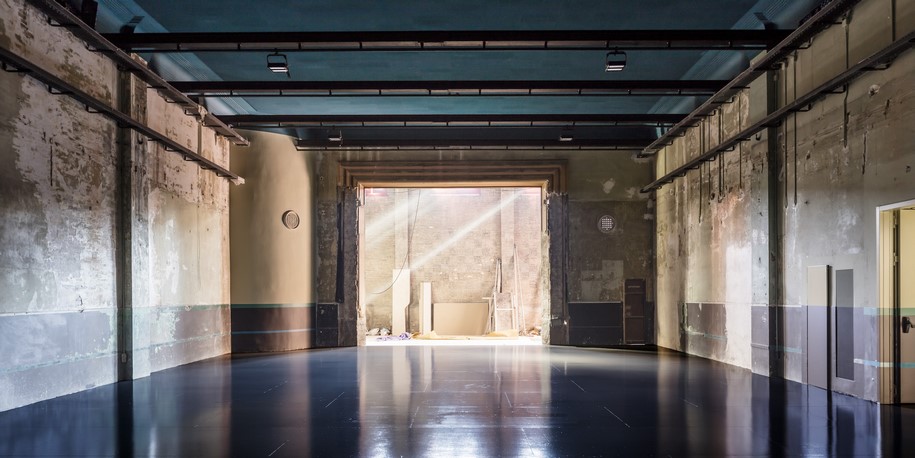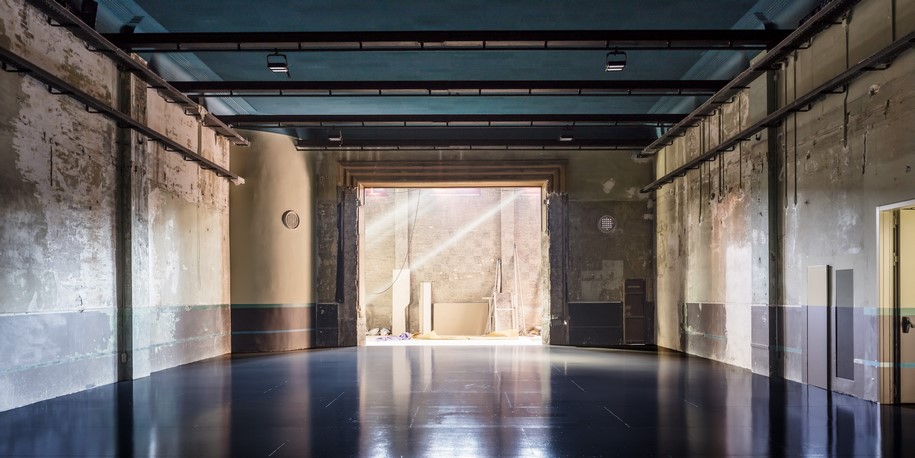 About Flores & Prats
Flores & Prats is an architecture office from Barcelona, dedicated to confront theory and academic practice with design and construction activity.
After their experience at Enric Miralles' office, Ricardo Flores and Eva Prats have developed a career where research has been always linked to the responsibility to make and to build. The office has worked on rehabilitation of old structures for new occupations, as well as on neighbors' participation in the design process of urban public spaces, and on social housing and its capacity to create community. But they have also experienced using film to document architecture, or with menus of edible architecture for their exhibitions in Barcelona and Copenhagen as a way to bring their work closer to a broader public.
The work of Flores & Prats is widely awarded, published and exhibited. They have been part of the Wallpaper Directory of Emerging Offices in 2007, obtained the Grand Award for the Best Work in Architecture at the Royal Academy of Arts in London 2009 for the rehabilitation project Mills Museum in Palma de Mallorca and the International Award Dedalo Minosse of Vicenza 2011 for the New Campus for Microsoft in Milan. Their work on the rehabilitation of the Cultural Centre Casal Balaguer, exhibited at the International Architecture Exhibition of La Biennale di Venezia in 2014 and in 2016, was nominated for the Mies van der Rohe Award, shortlisted for the FAD Award of Architecture, and has recently received the City of Palma Architecture Award.
Ricardo and Eva are both professors at the School of Architecture of Barcelona, and have been invited professors to several universities around the world.

Facts & Credits
Title Liquid Light
Architecture  Flores & Prats Architects
Location Barcelona, Spain
Collaborators  Nina Andreatta, Jorge Casajús, Judith Casas, Eline Cooman, Inès Martinel and Rebeca Lopez
Structural adviser  Juan Ignacio Eskubi
Lightning adviser  Maria Güell / La Invissible
Coordination and construction  Art% + Tempo
Special thanks to  Adrià Goula Photo, 15-L Films and Curro Claret.
With the additional support of   Institut Ramon Llull, Ajuntament de Barcelona, Figueras International Seating, EGM Laboratoris Color and Cooperativa Jordi Capell.
Flores & Prats Architects  were also among theten architects selected by architecture critic and historian Francesco Dal Co for the Holy See Pavilion, located on one end of the island of San Giorgio Maggiore. Read more here!
READ ALSO:
Fjordenhus, first building by Olafur Eliasson and Sebastian Behmann with Studio Olafur Eliasson, open in Vejle, Denmark.