text in

EN, GR
Alias architects designed a summer house in Antiparos of 200 sq. m. with focus in the summer living in Greece. The use of transitional platforms- courtyards allows the effortless passage of light in all the areas of the house. Architects' main design goal was to integrate into the mountain landscape and to achieve the reduction of the environmental footprint of the building in the topography.
-text by the authors
The design process aims at the harmonious coexistence of the building with the local natural environment, but also at the integration of the quality characteristics of the landscape in the architectural body of the building. The basic volume of the house is divided into smaller ones, which vary in size and height, depending on their use, are arranged facing south, in a way that intermediate courtyards are created, while allowing the light to pass through all areas of the house. We were led to this particular design choice as we consider that life in Greece, especially during the summer months is eminently intertwined with the countryside and the courtyard, one of the main elements of the anonymous Cycladic traditional architecture.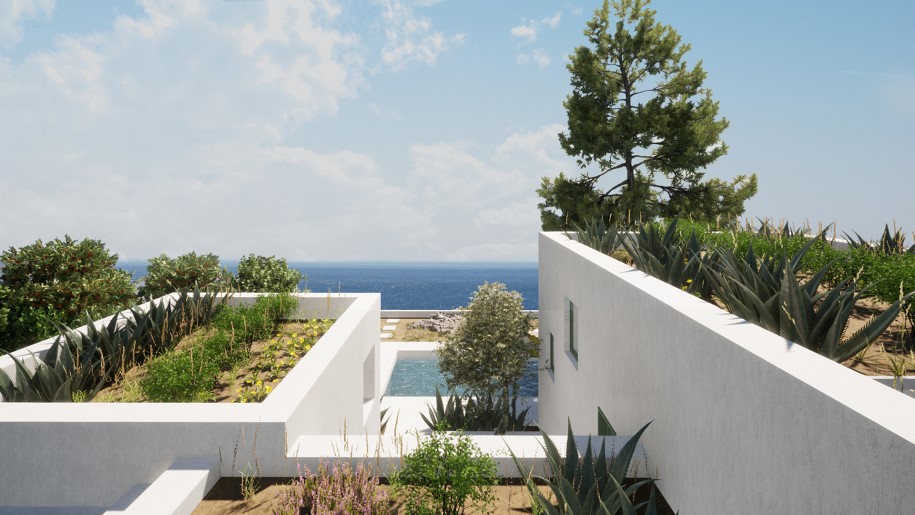 The entrance to the house is from the street level through a vertical staircase which follows the topography of the site, while all living areas are on the same level with small height changes, thus creating either surveillance platforms or degraded more protected areas.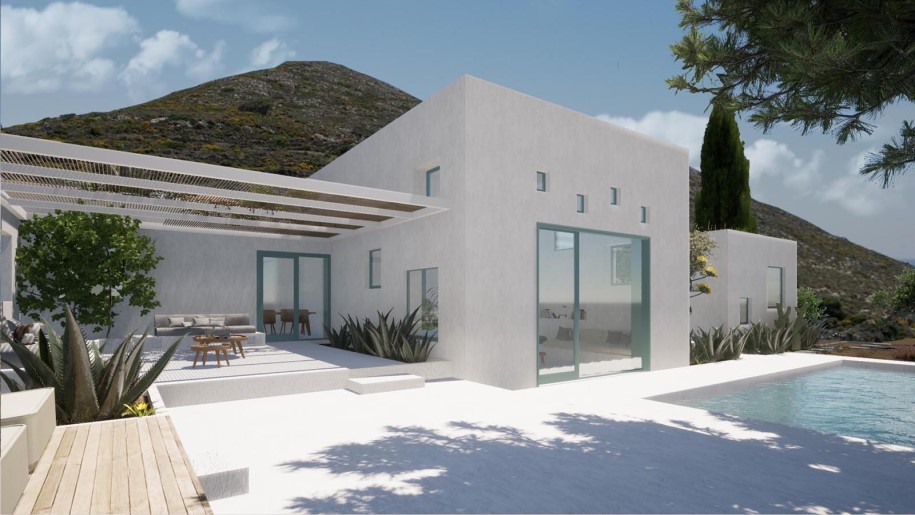 The living room area is degraded to join in height with the level of the pool while at the same time two raised courtyards are formed on both sides. One yard is covered with a pergola, thus creating conditions for permanent shading, while in the second an olive tree is planted, thus forming different lighting atmospheres during the day. The outdoor bathroom space is placed lower to achieve greater privacy, while the intermediate plantings act as a protective visual filter.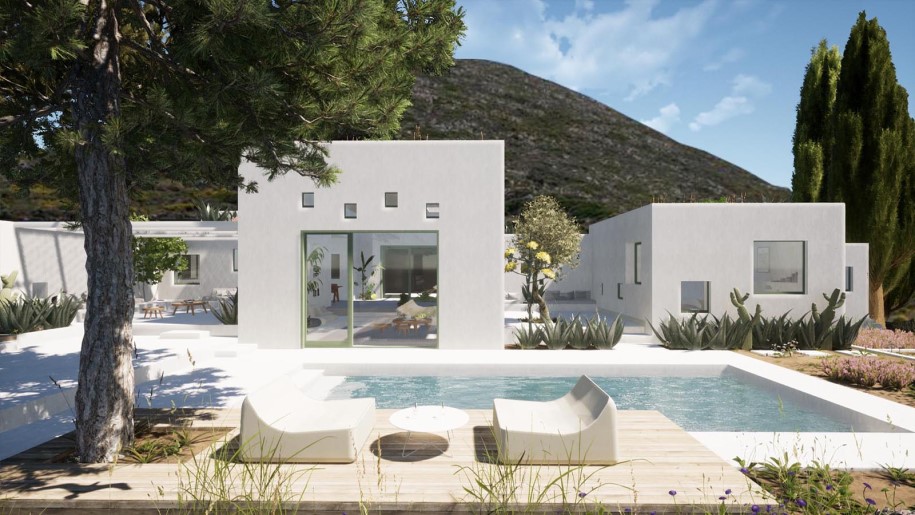 The openings in the facades are placed in such a way as to frame different views of the view and to allow adequate ventilation and lighting of the building as well as the constant alternation of light and shadow, depending on the time of day.
The roofs of the building are planted not only for reasons of integration into the landscape, but also to achieve the reduction of the environmental footprint of the building.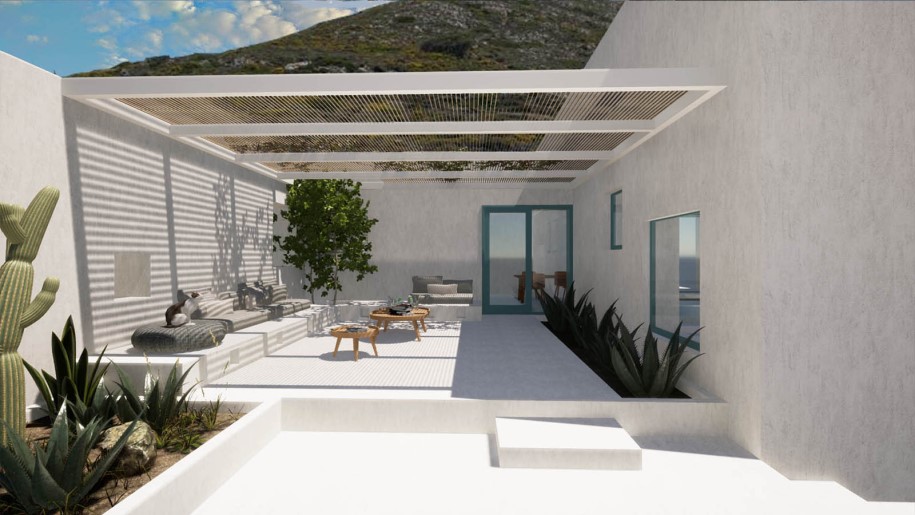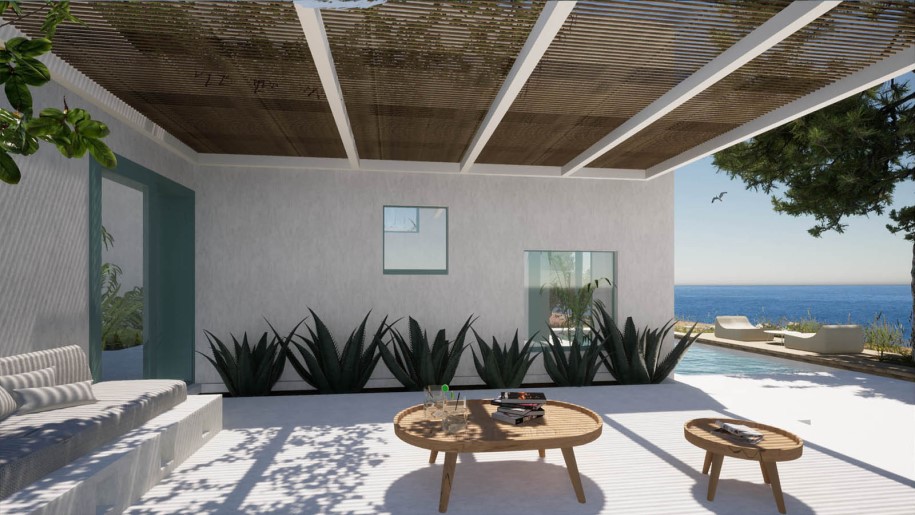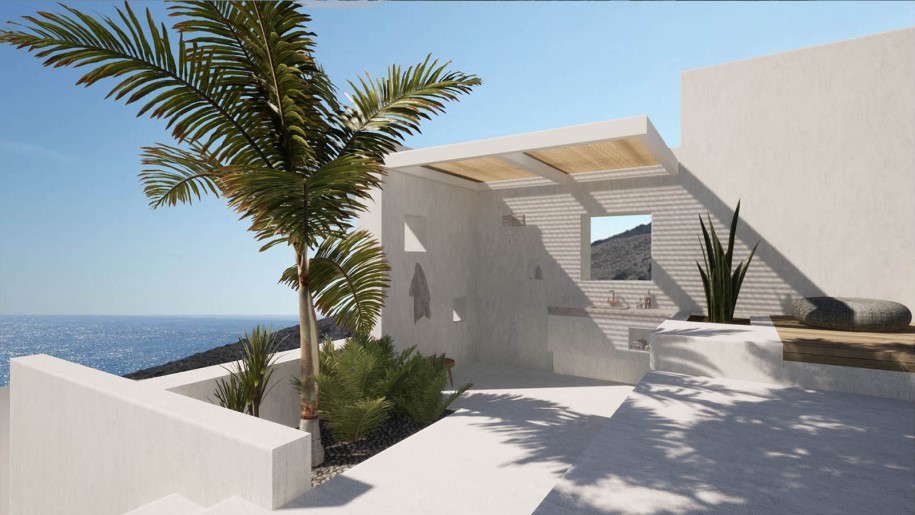 Facts & Credits
Project title Hill Cubes
Location Antiparos, Cyclades
Date 2020
Architecture alias architects, E. M. Buchholz – A. P. Liakopoulos
Project Team Edith Buchholz- Architect, Aris Liakopoulos-Architect, Natalie Bourleka-Architect
Το αρχιτεκτονικό γραφείο alias Architects σχεδίασε μια εξοχική κατοικία στην Αντίπαρο 200 τ.μ. με έμφαση στο Ελληνικό καλοκαίρι.
Ο στόχος των αρχιτεκτόνων ήταν η ενσωμάτωση του κτηρίου στο ορεινό τοπίο του νησιού και η ελαχιστοποίηση του περιβαλλοντικού αποτυπώματος του κτηρίου στην τοπογραφία.
-κείμενο από τους δημιουργούς
Η σχεδιαστική διαδικασία αποσκοπεί στην αρμονική συνύπαρξη του κτιρίου με το τοπικό φυσικό περιβάλλον, αλλά και στην ενσωμάτωση των ποιοτικών χαρακτηριστικών του τοπίου στο αρχιτεκτονικό σώμα του κτιρίου. Ο βασικός κτιριακός όγκος διαιρείται σε μικρότερους, οι οποίοι ποικίλουν σε μέγεθος και ύψος ανάλογα με την χρήση τους και διατάσσονται με κατεύθυνση προς το νότο και με τρόπο που να επιτρέπει την δημιουργία ενδιάμεσων αυλών, επιτρέποντας ταυτόχρονα την αβίαστη διέλευση φωτός σε όλους τους χώρους της κατοικίας. Οδηγηθήκαμε στην συγκεκριμένη σχεδιαστική επιλογή καθώς θεωρούμε ότι η ζωή στην Ελλάδα, ιδιαίτερα τους καλοκαιρινούς μήνες είναι κατεξοχήν συνυφασμένη με την ύπαιθρο και τον χώρο της αυλής, ένα από τα βασικότερα στοιχεία της ανώνυμης κυκλαδίτικης παραδοσιακής αρχιτεκτονικής.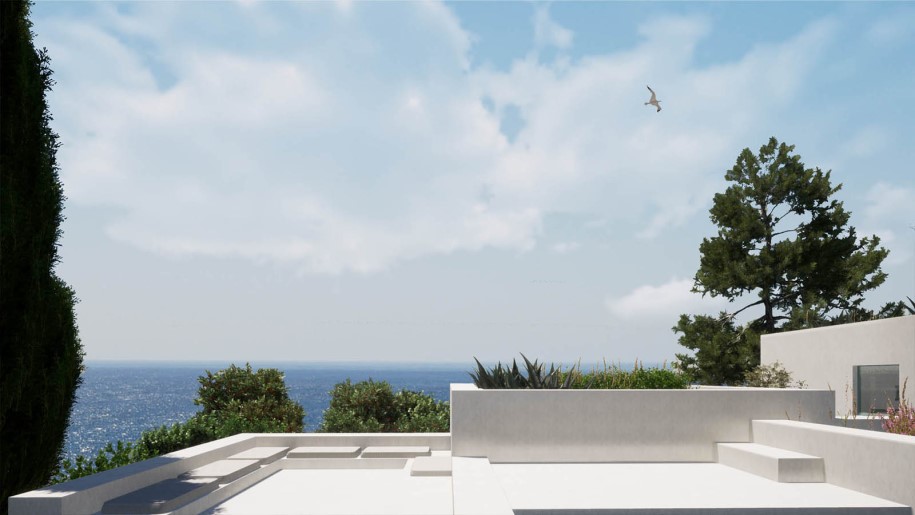 Η είσοδος στην κατοικία γίνεται από το επίπεδο του δρόμου μέσω μίας κάθετης σκάλας η οποία ακολουθεί την τοπογραφία του οικοπέδου, ενώ όλοι οι χώροι διημέρευσης βρίσκονται στο ίδιο επίπεδο με μικρές εναλλαγές ύψους, δημιουργώντας έτσι είτε πλατφόρμες επισκόπησης, είτε υποβαθμισμένους πιο προστατευμένους χώρους.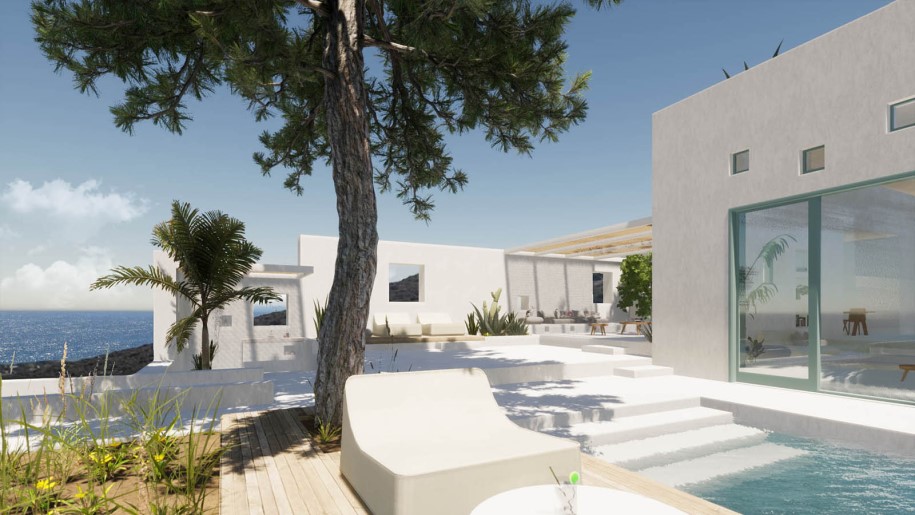 Ο χώρος του σαλονιού υποβαθμίζεται για να ενωθεί υψομετρικά με το επίπεδο της πισίνας ενώ ταυτόχρονα διαμορφώνονται δύο υπερυψωμένες αυλές εκατέρωθεν. Η μία αυλή στεγάζεται με πέργκολα, δημιουργώντας έτσι συνθήκες μόνιμης σκίασης, ενώ στην δεύτερη φυτεύεται μια ελιά διαμορφώνοντας έτσι διαφορετικές καταστάσεις φωτισμού μέσα στη μέρα. Ο χώρος του εξωτερικού μπάνιου τοποθετείται χαμηλότερα για την επίτευξη μεγαλύτερης ιδιωτικότητας, ενώ οι ενδιάμεσες φυτεύσεις λειτουργούν ως προστατευτικό οπτικό φίλτρο.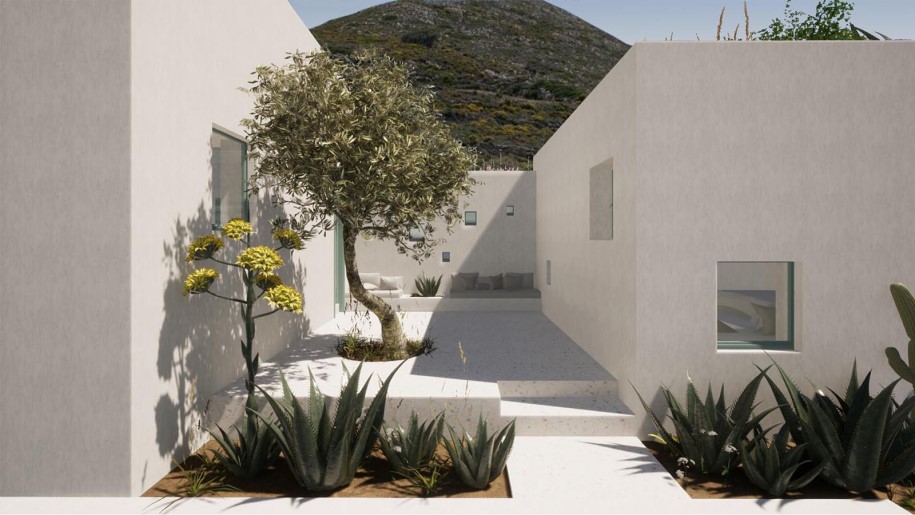 Τα ανοίγματα στις όψεις τοποθετούνται με τέτοιο τρόπο ώστε να καδράρουν διαφορετικές οπτικές της θέας και να επιτρέπουν τον επαρκή αερισμό και φωτισμό του κτιρίου αλλά και την συνεχή εναλλαγή φωτός και σκιάς, ανάλογα με την ώρα της ημέρας.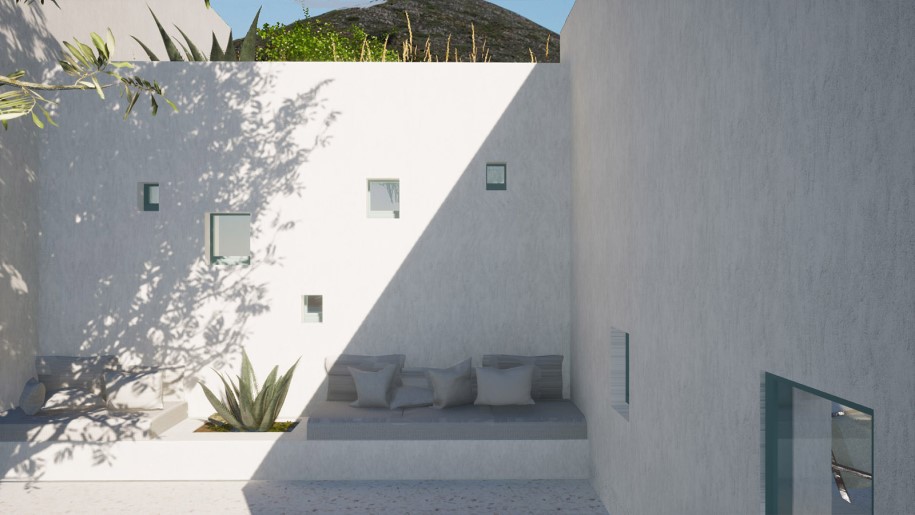 Τα δώματα του κτιρίου φυτεύονται όχι μόνο για λόγους ένταξης στο τοπίο, αλλά και για την επίτευξη της μείωσης του περιβαλλοντικού αποτυπώματος του κτιρίου.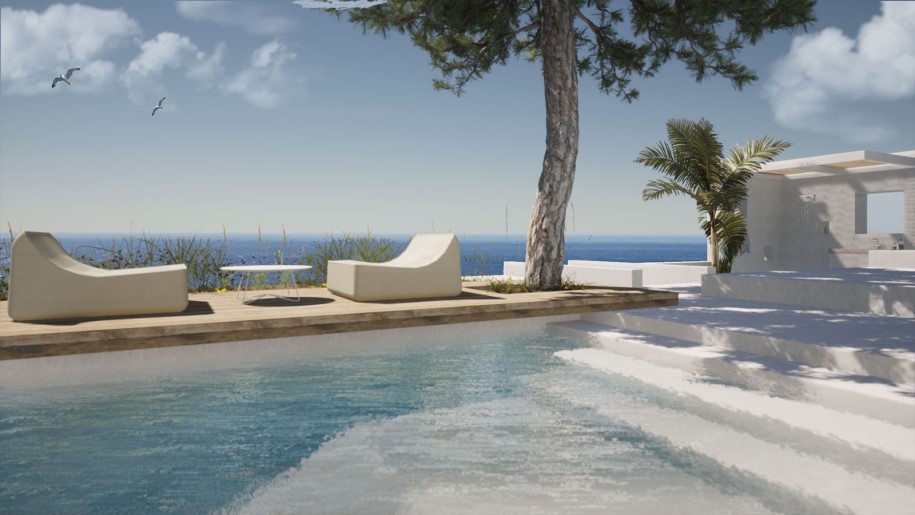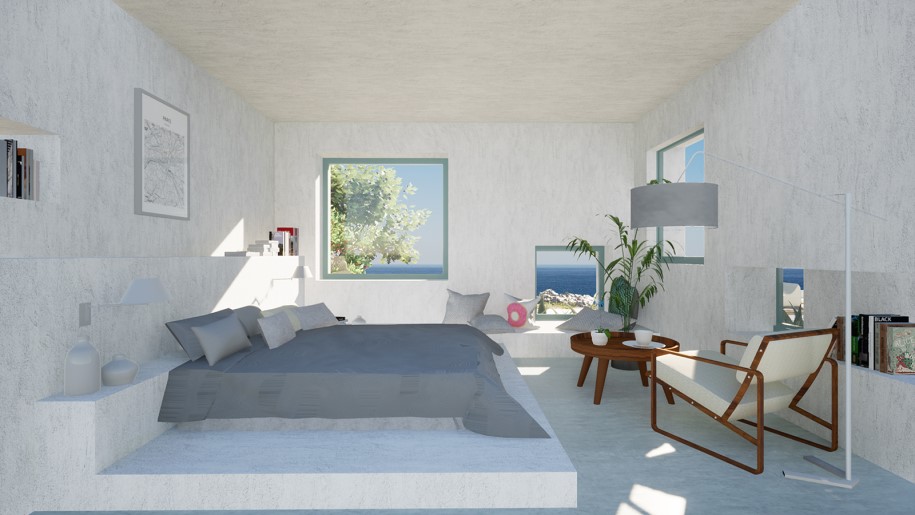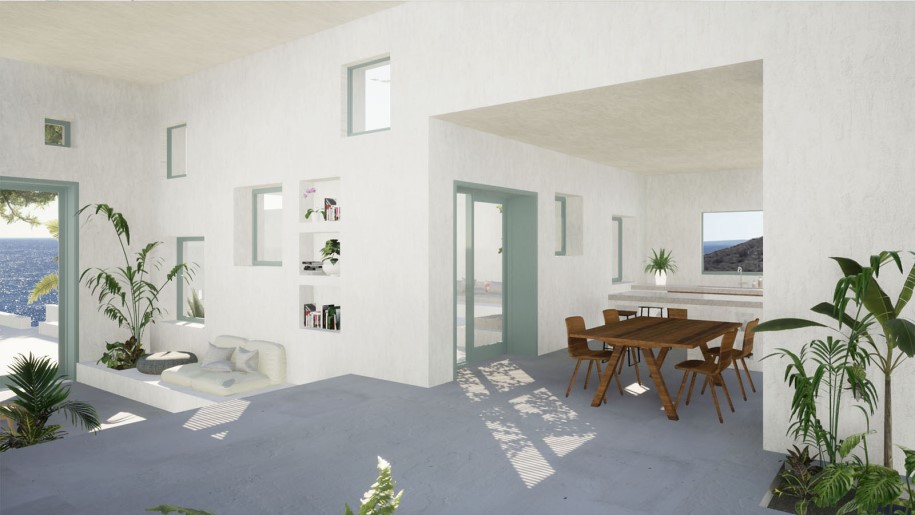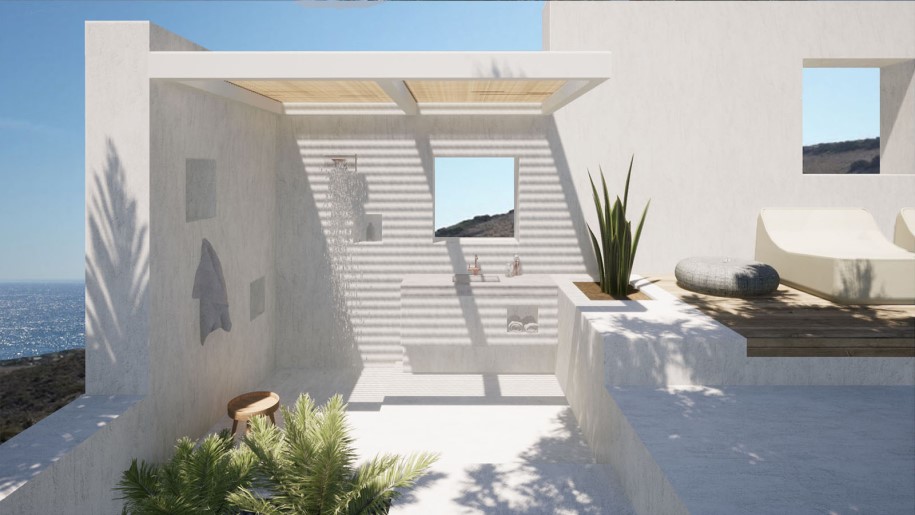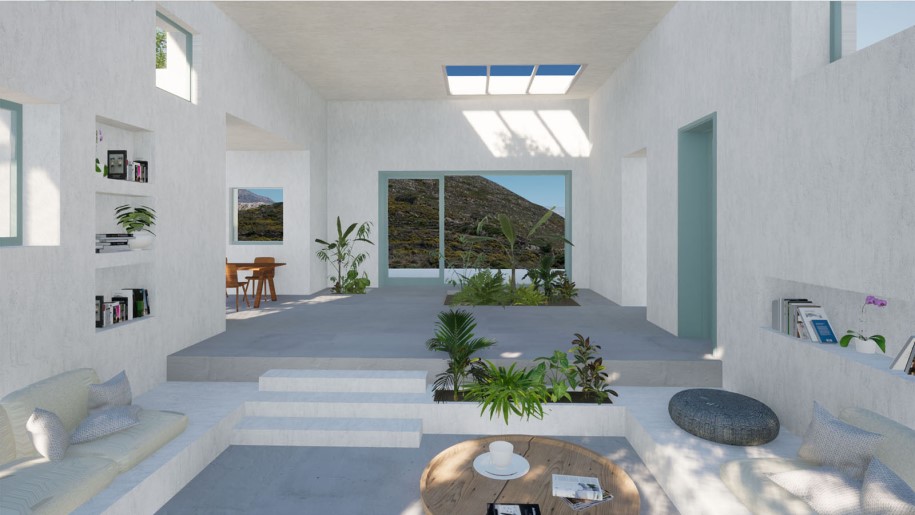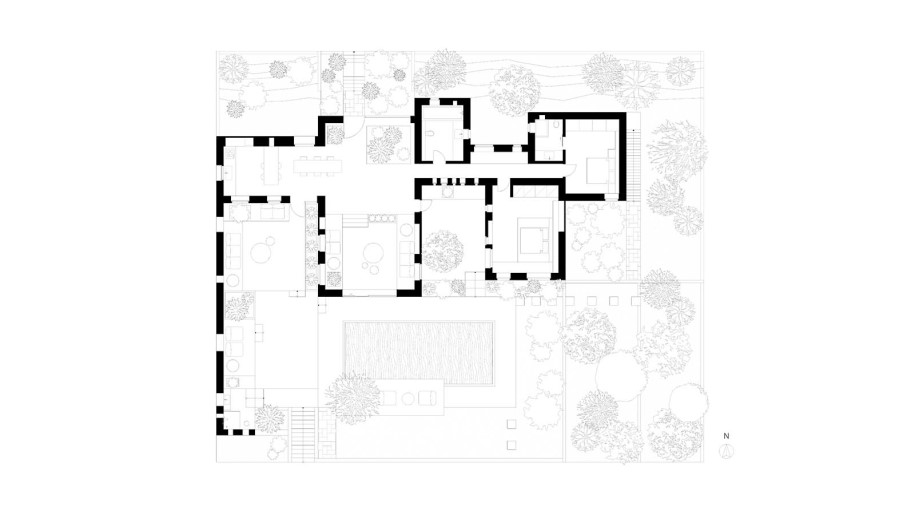 Στοιχεία έργου
Τίτλος έργου Hill Cubes
Τοποθεσία Αντίπαρος, Κυκλάδες
Έτος 2020
Αρχιτεκτονική Alias Architects E. M. Buchholz – A. P. Liakopoulos
Ομάδα μελέτης: Edith Buchholz-Διπλ. Αρχιτέκτων Μηχανικός, Άρης Λιακόπουλος-Διπλ. Αρχιτέκτων Μηχανικός, Ναταλία Μπουρλέκα-Διπλ. Αρχιτέκτων Μηχανικός
READ ALSO:
Presidential Villa - Daios Cove, Βαθύ Κρήτης | Deloudis Furniture