text in

EN, GR
This is a two-story building of the early 20th century, a typical village house of the Peloponnese with the main living areas on the upper level and the lower level used separately for agricultural functions.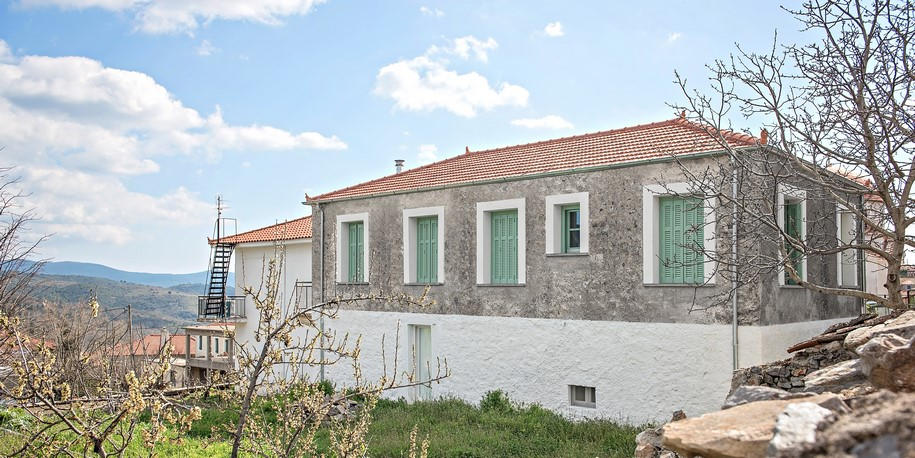 The adaptation of the building into a contemporary vacation house was based on two main principles. On the one hand the spaces were arranged in a fluid and continuous way, without setting firm boundaries. On the other hand it was important to underline the differentiation of the two levels.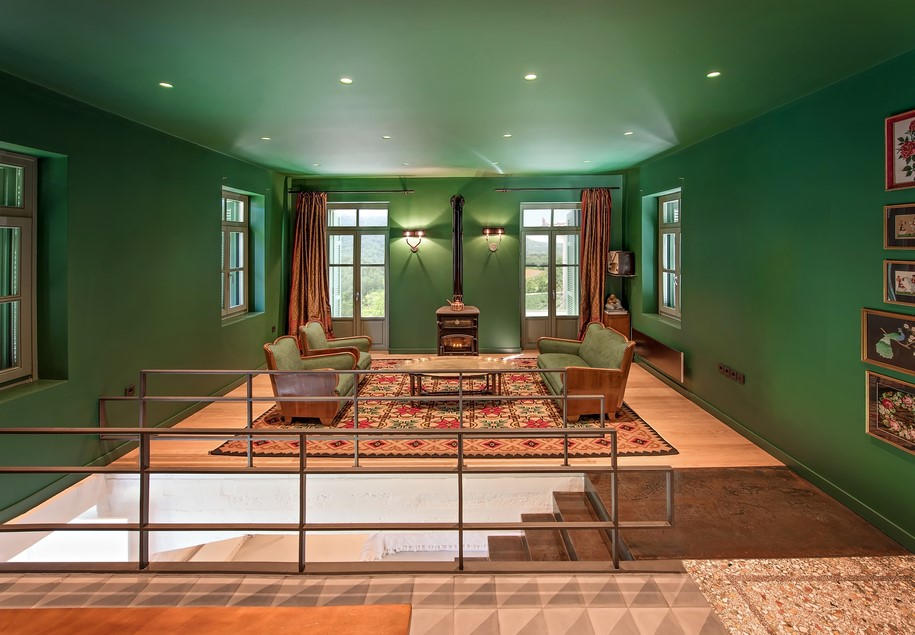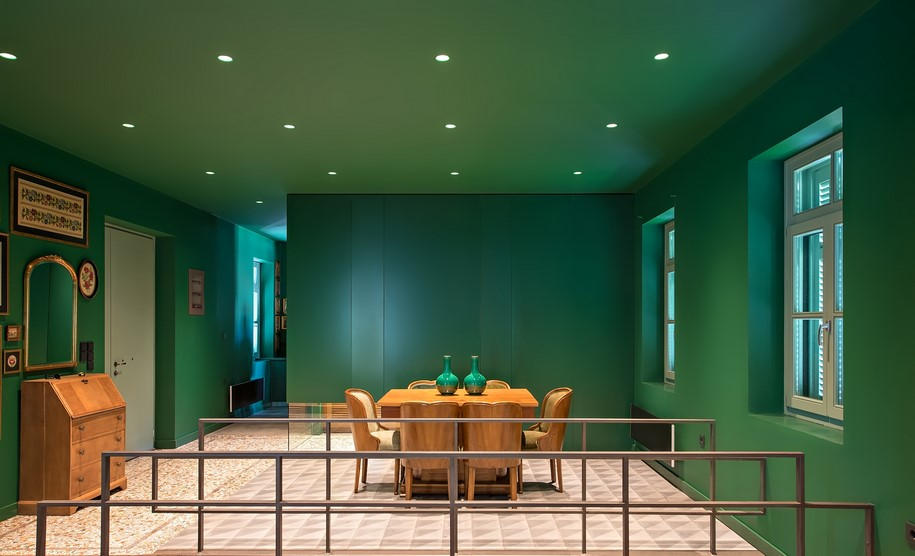 The upper and the lower level create a distinct dipole, the former as an area of winter living and the latter as the summer counterpart. The upper level is the reminder of the old main house and preserves the formal elements and the hierarchical arrangement.
The ceiling and the walls are painted green, forming a dialogue with the surrounding mountains.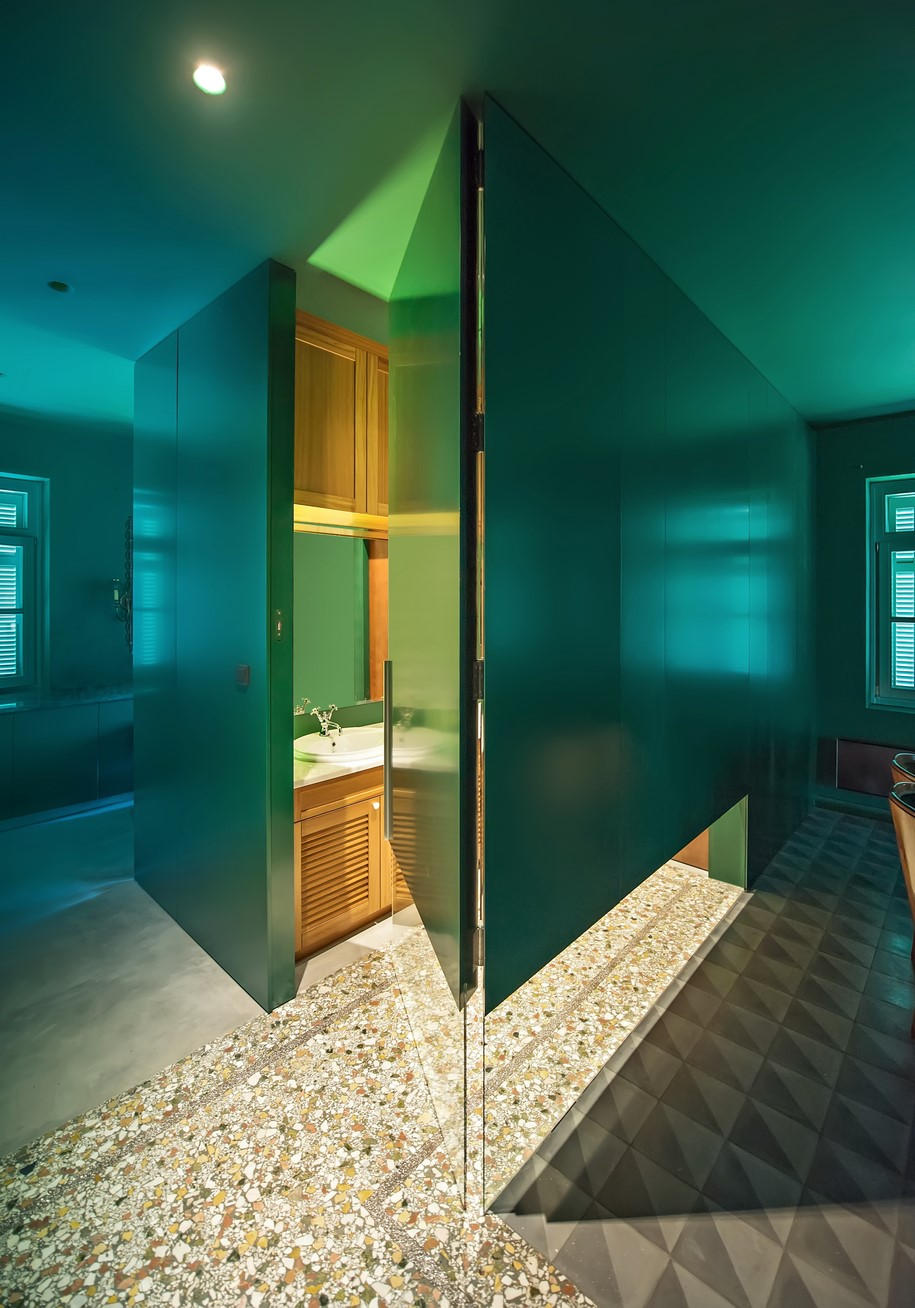 The green box organizes the living area. The old terrazzo is fully preserved as a reminiscent of the old plan. All the new floors that define the new functions are structured around it.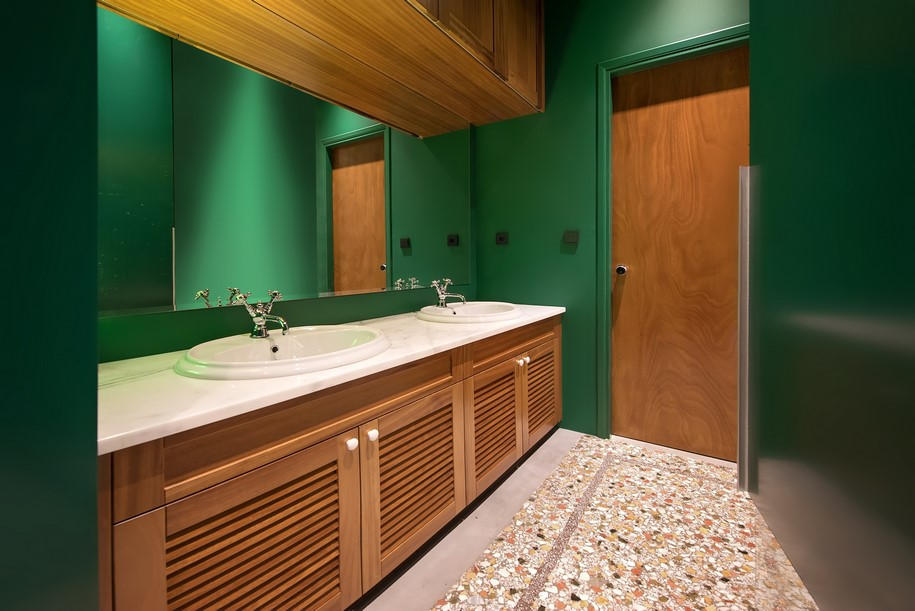 The lower level vividly illustrates the initial stonewalls and all the subsequent structural interventions of the building. The various and diverse elements are whitewashed and unified. The space is divided into three cascading sub-areas aiming at different levels of privacy.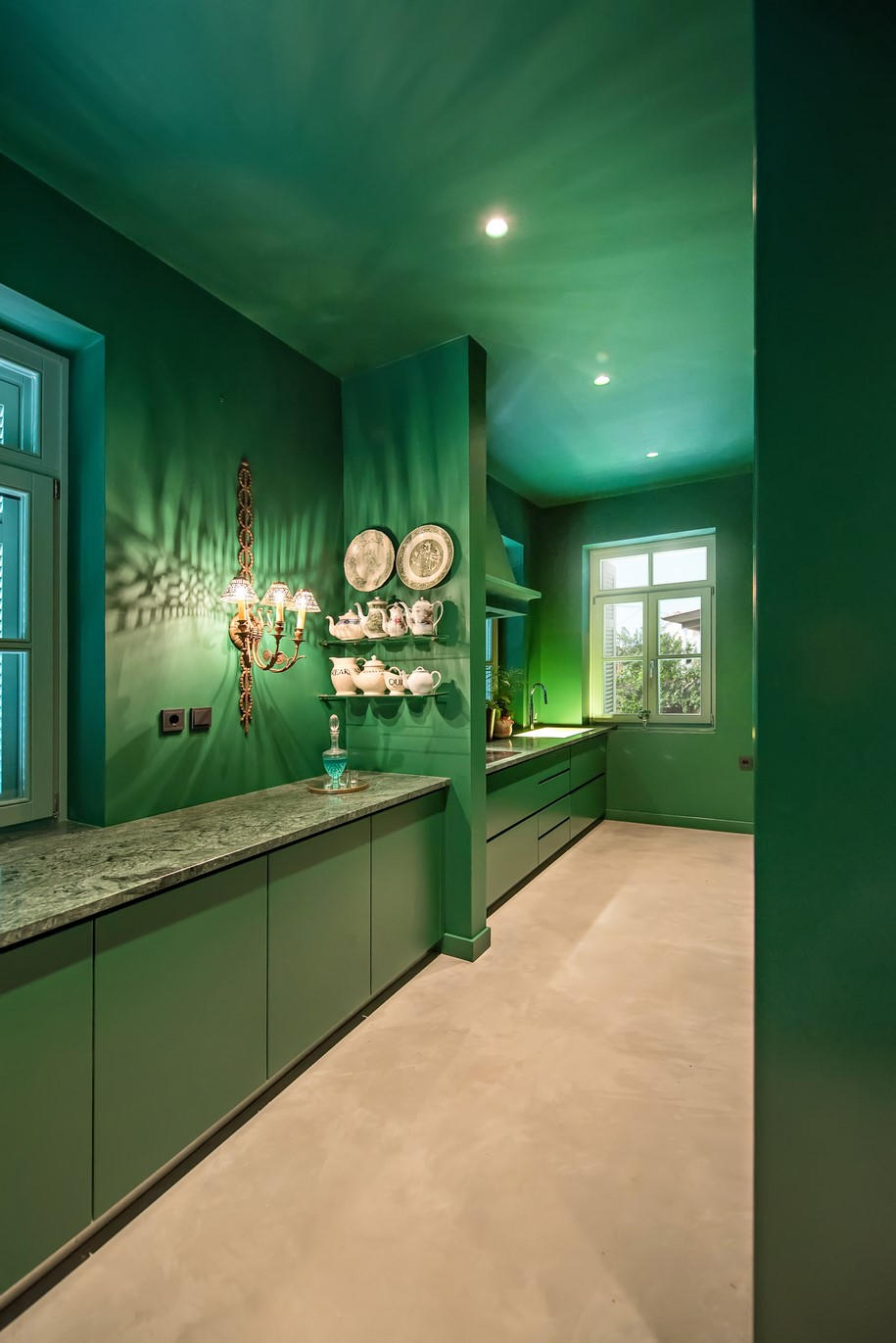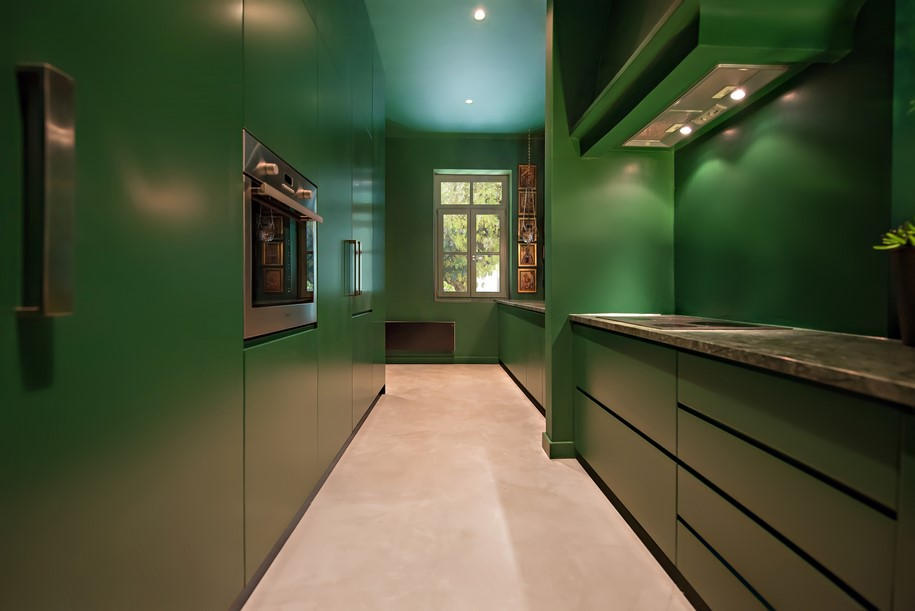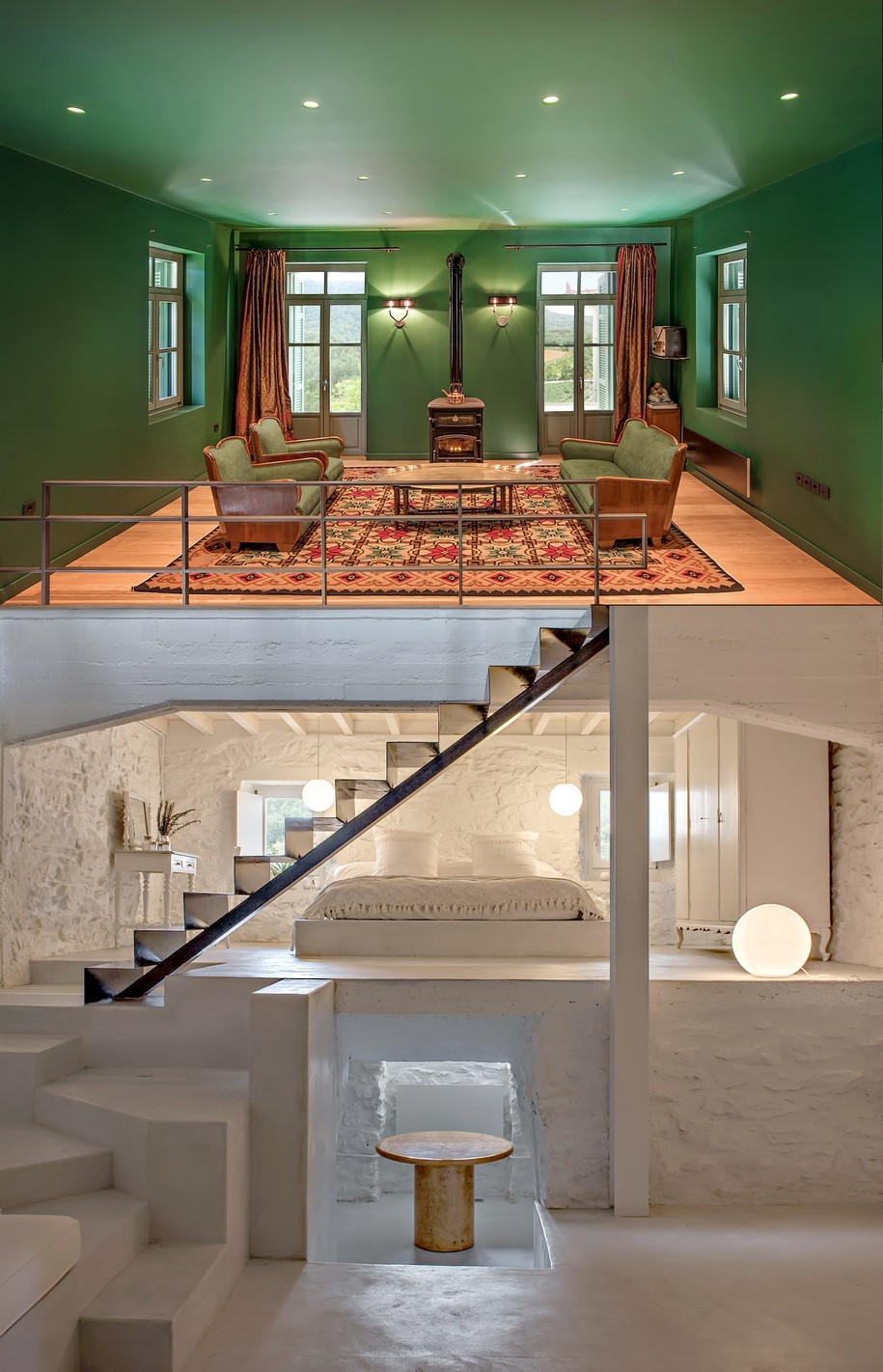 The dipole is also present at the facades. The lower level is whitewashed unlike the upper part where the render remains intact, revealing the footprint of time.
The main quality of the old building lies in its cross section, a non-visible condition. The contemporary intervention reveals that quality and turns it into an everyday experience.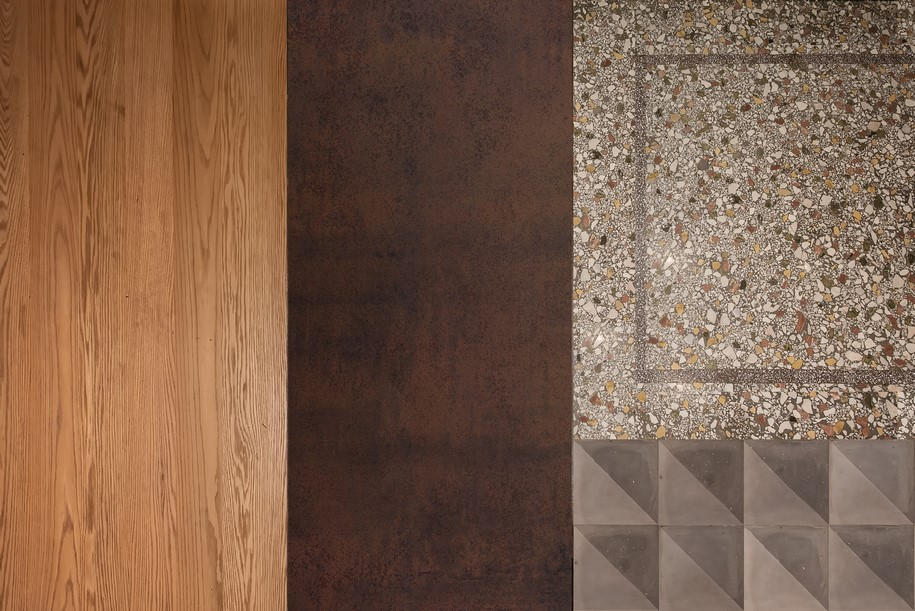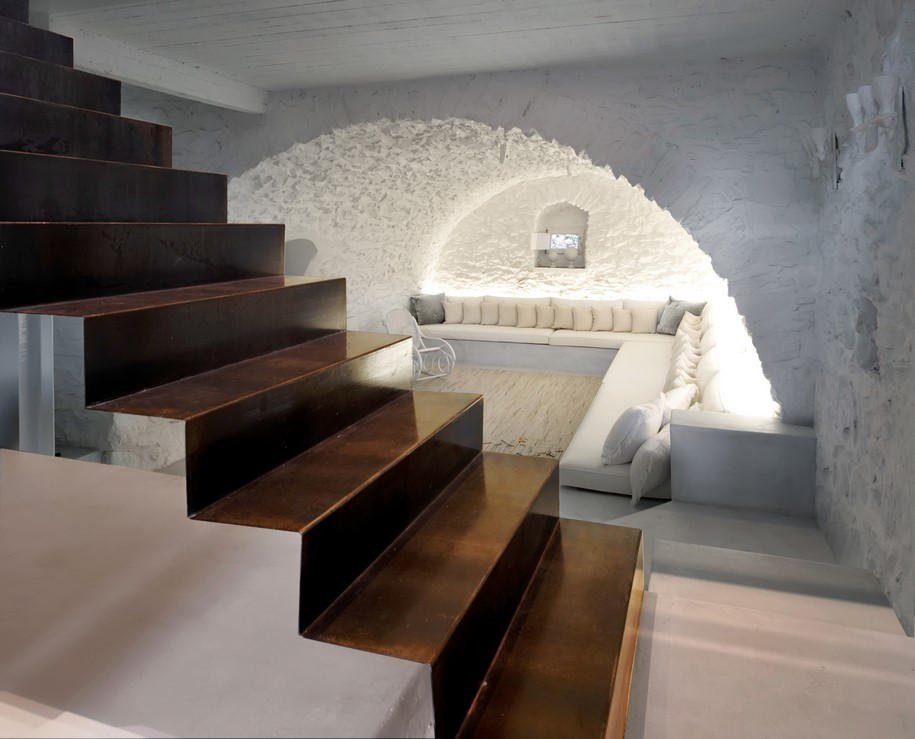 Title: Vacation House in Karyes
Firm: Plaini and Karahalios Architects
Location: Sparta, Greece
Year: 2015
Size: 150m2
Architects: John Karahalios, Elisavet Plaini
Landscape Architect: Eleni Tsirintani
Special Structures: Giorgos Mathioudakis
Photos: Nikos Papageorgiou
---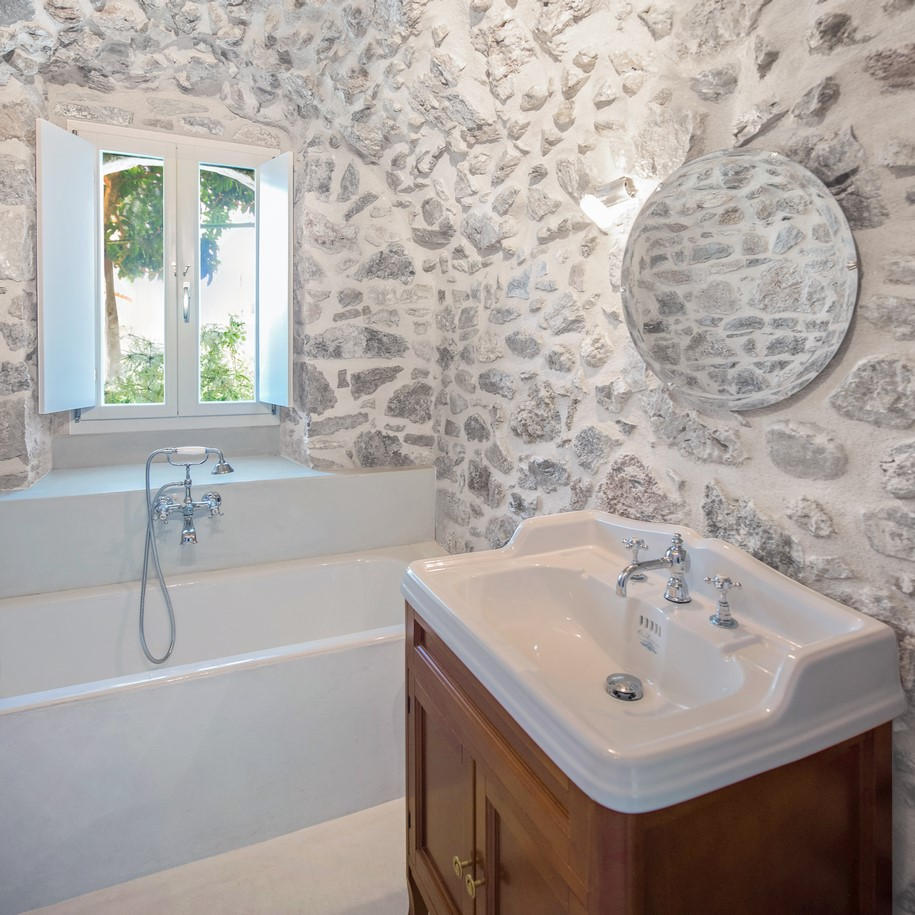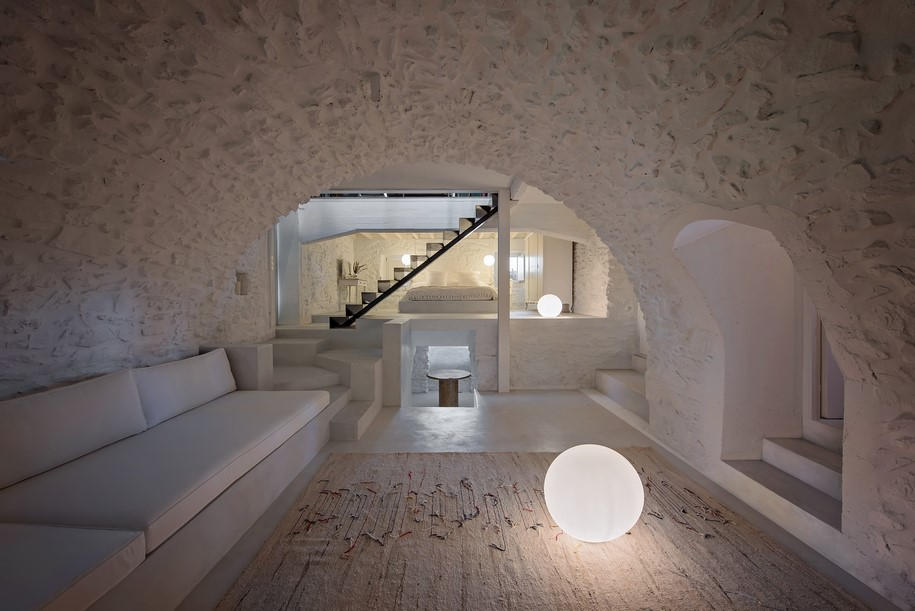 Πρόκειται για διώροφο κτίσμα των αρχών του 20ου αιώνα. Αποτελεί τυπικό δείγμα κατοικίας αγροτικού οικισμού, στην οποία οι κύριοι χώροι βρίσκονται στον όροφο, ενώ το ισόγειο στεγάζει βοηθητικές χρήσεις.
Η διασκευή του σε σύγχρονη εξοχική κατοικία κινήθηκε πάνω σε δύο άξονες. Ο πρώτος έχει να κάνει με τη λειτουργική οργάνωση των χώρων, η οποία έγινε με τρόπο ροϊκό και συνεχή, χωρίς απόλυτες οριοθετήσεις. Ο δεύτερος σκοπό έχει να αναδείξει εκφραστικά και μορφολογικά την εμφανή διαφοροποίηση των ορόφων.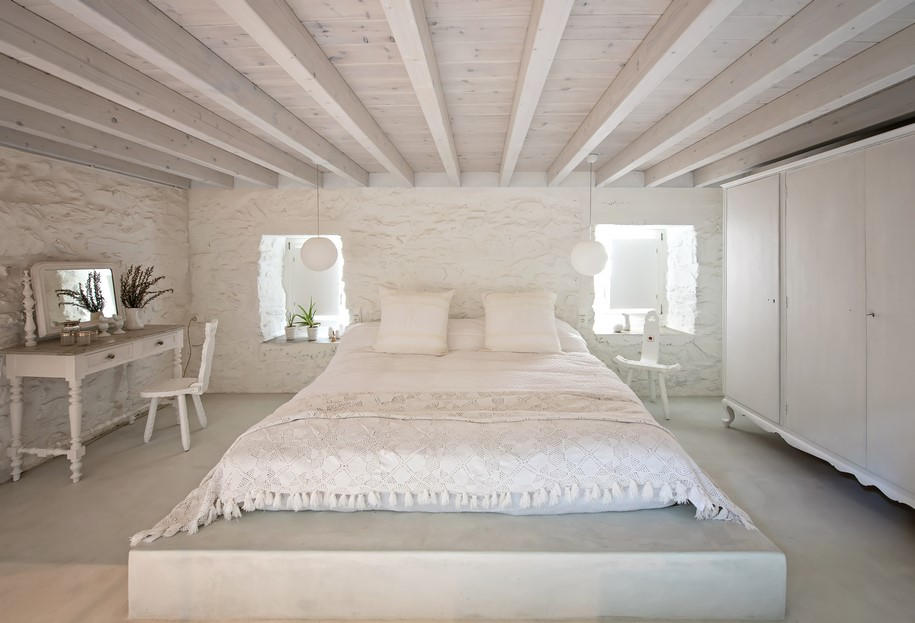 Μέσα από την επέμβαση, το ισόγειο και ο όροφος δημιουργούν ένα άμεσα αναγνώσιμο δίπολο, το μεν ως χώρος θερινής προσέγγισης το δε ως χώρος χειμερινής.
Ο όροφος που σηματοδοτεί την παλαιά κύρια κατοικία διατηρεί στοιχεία πιο επίσημα και ιεραρχική διάταξη. Η οροφή και οι τοίχοι χρωματίζονται πράσινα, σε διάλογο με την έντονη βλάστηση του τοπίου. Ένα πράσινο κουτί, μέσα στο οποίο τοποθετούνται οι υγροί χώροι, οργανώνει λειτουργικά το χώρο διημέρευσης. Το παλιό μωσαϊκό διατηρείται αυτούσιο ως ενθύμηση της αρχικής διαρρύθμισης. Πάνω του διαρθρώνονται τα νέα δάπεδα που ορίζουν τις νέες λειτουργίες –ξύλο για το σαλόνι, τσιμεντοπλακάκι για την τραπεζαρία και τσιμεντοκονία για την κουζίνα.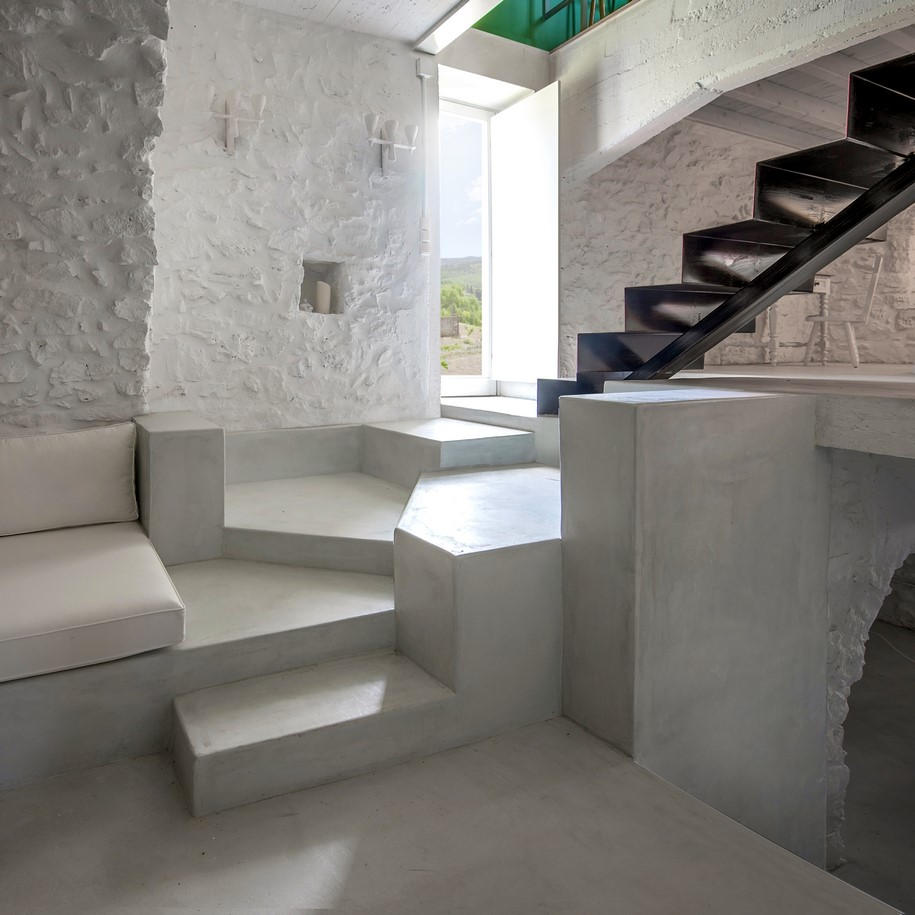 Ο χώρος του ισογείου αποτυπώνει με εκφραστικό τρόπο την αρχική πέτρινη κατασκευή και τις στατικές επεμβάσεις στις διάφορες φάσεις του κτιρίου. Όλα τα ετερόκλητα στοιχεία ασβεστώνονται και ενοποιούνται χρωματικά. Ο χώρος επιμερίζεται σε τρεις αλληλοκαλυπτόμενους υποχώρους επιδιώκοντας διαφορετικά επίπεδα ιδιωτικότητας –χώρος συγκέντρωσης, χώρος ύπνου και ξενώνας.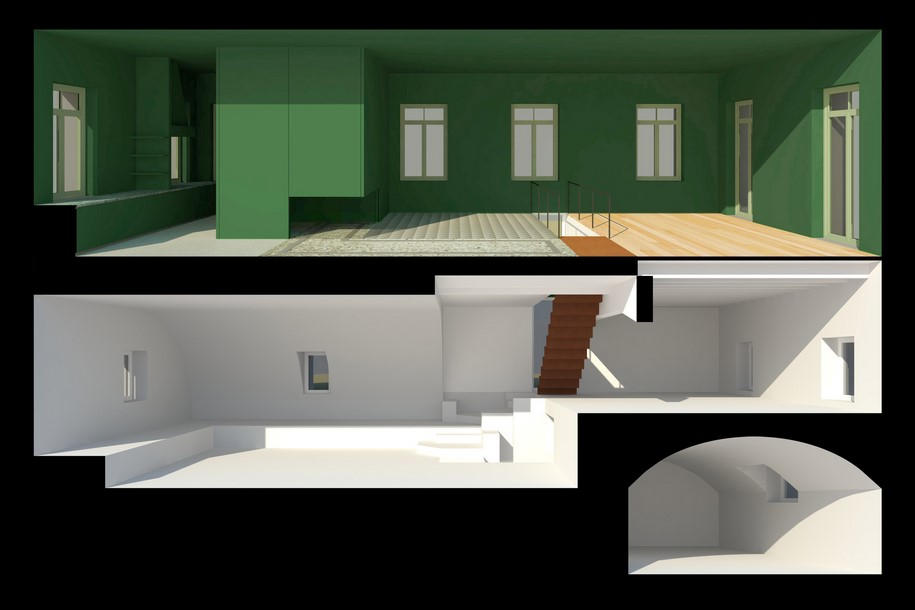 Το δίπολο των ορόφων εκφράζεται και στις όψεις. Το ισόγειο αβεστώνεται, ενώ στον όροφο η εξωτερική επιδερμίδα του κτιρίου μένει ανέπαφη αποτυπώνοντας το πέρασμα του χρόνου.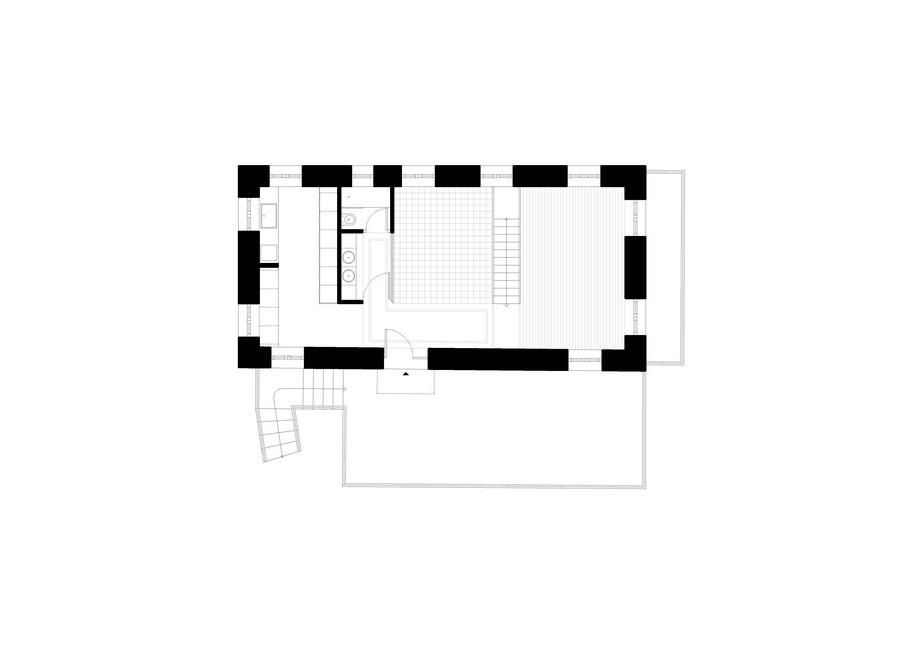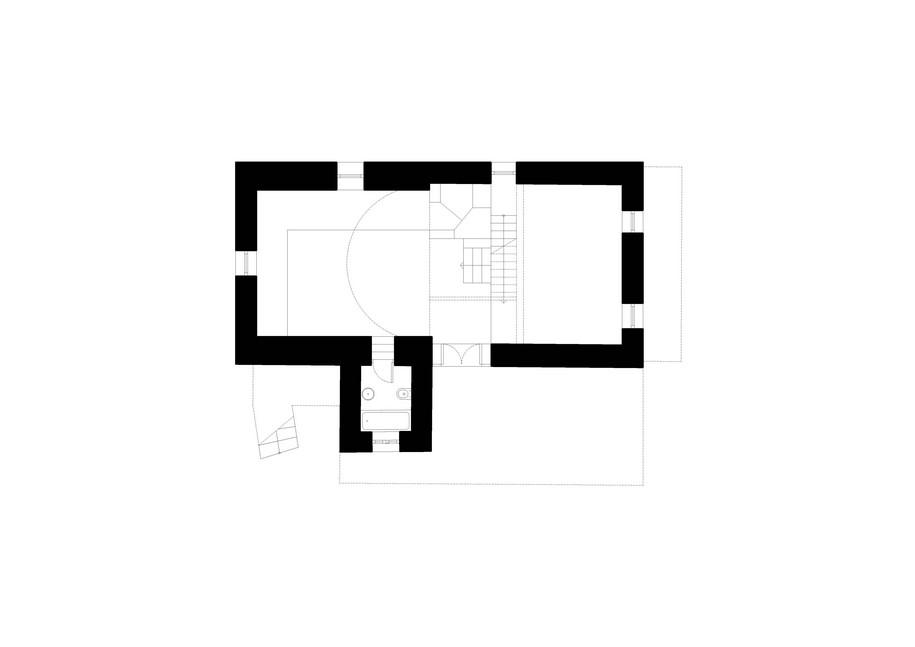 Η εγκάρσια τομή της κατοικίας είναι μια συνθήκη μη ορατή, αλλά είναι αυτή που εμπεριέχει την ειδική ποιότητα του αρχικού κτίσματος. Μέσα από τη σύνδεση των δύο ορόφων και την δραματική εναλλαγή στη προσέγγιση τους, η ποιότητα της εγκάρσιας τομής αποκαλύπτεται και μετατρέπεται σε καθημερινή εμπειρία.
Τίτλος: Εξοχική Κατοικία στις Καρυές
Γραφείο: Plaini and Karahalios Architects
Τοποθεσία: Σπάρτη
Έτος: 2015
Μέγεθος: 150μ2
Αρχιτέκτονες: Γιάννης Καραχάλιος, Ελισάβετ Πλαΐνη
Αρχιτέκτονας Τοπίου: Ελένη Τσιριντάνη
Ειδικές Κατασκευές: Γιώργος Μαθιουδάκης
Φωτογραφίες: Νίκος Παπαγεωργίου
READ ALSO:
The Award Winning Summer House in Halkidiki, Greece by Eva Sopeoglou