text in

EN, GR
Η αρχιτέκτονας Αννίτα Κουτσονάνου αναδιαμόρφωσε ένα αστικό διαμέρισμα διακοπών στην πόλη της Κοζάνης, με βασικό στοιχείο την ευελιξία των χώρων διημέρευσης.
Εκτός από την ευελιξία στη χρήση του χώρου βασική ανάγκη ήταν να διαμορφωθούν και επαρκείς αποθηκευτικοί χώροι ώστε όλα τα μέλη της οικογένειας να διαθέτουν τον προσωπικό τους χώρο αποθήκευσης.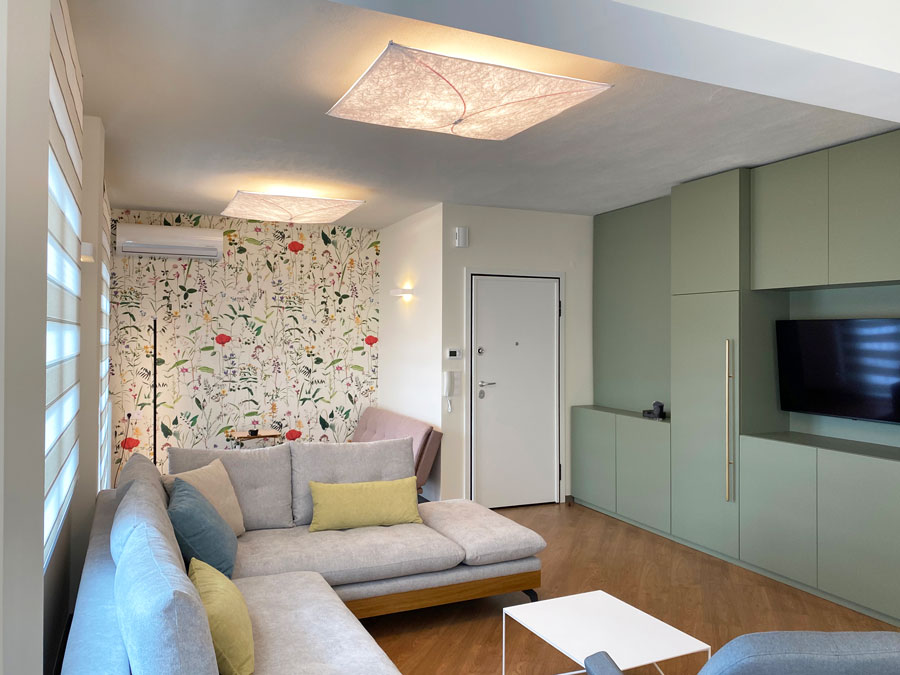 Η είσοδος στο διαμέρισμα οδηγεί σε έναν ευρύχωρο ενοποιημένο χώρο σαλονιού-κουζίνας, ενώ ταυτόχρονα ο βασικός χώρος κοινωνικότητας των δυο σαλονιών μετατρέπεται εύκολα σε δυο επιπλέον χώρους διημέρευσης. Ο χώρος αυτός οργανώνεται σε τρεις ζώνες: ένα μικρό καθιστικό  που μπορεί να διαχωριστεί, το μεγάλο καθιστικό με τον καναπέ και την κυρίαρχη ντουλάπα που περιλαμβάνει την γκαρνταρόμπα, καθώς και άλλους αποθηκευτικούς χώρους, και την ζώνη της κουζίνας.
Η τελευταία τελείως διαφοροποιημένη χρωματικά λειτουργεί ως χώρος παρασκευής και κατανάλωσης ταυτόχρονα προκειμένου να συμπληρώσει τον ευρύτερο κοινωνικό χώρο. Παράλληλα, επιλέγονται ανακλινόμενα έπιπλα που μπορούν να μεταβάλουν τη χρήση του χώρου ανάλογα με τις ανάγκες των χρηστών.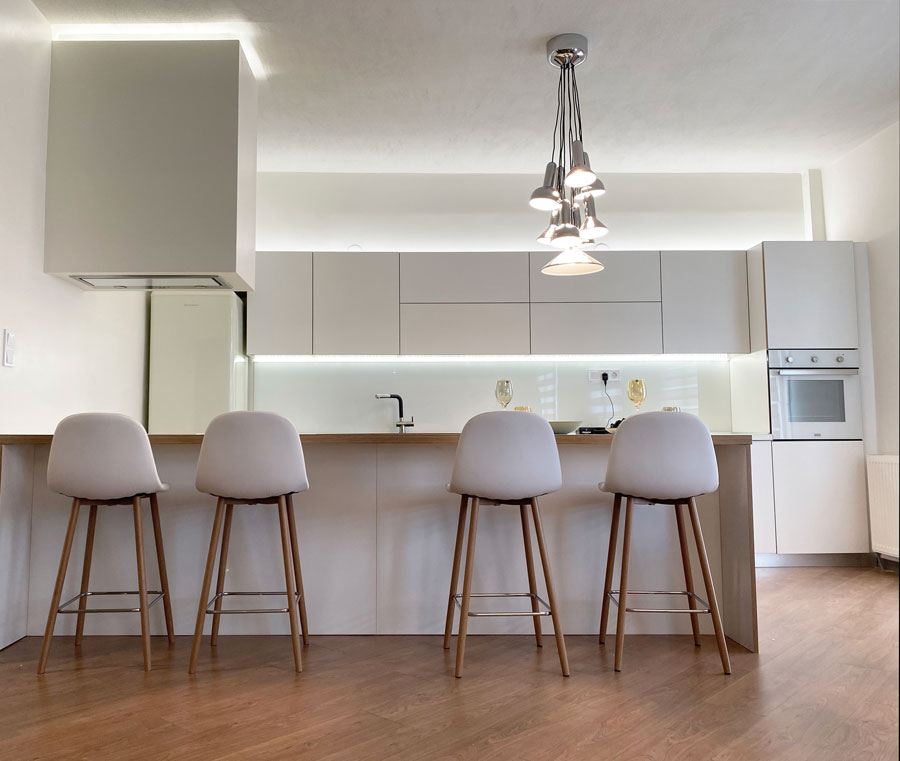 Ο διάδρομος οδηγεί στο λουτρό και το χώρο του πλυντηρίου, μια αποθήκη και το κυρίως υπνοδωμάτιο. 
Στο υπνοδωμάτιο οι αποχρώσεις και οι φωτισμοί αλλάζουν, το δάπεδο ενοποιείται με το κρεββάτι και γίνεται ταυτόχρονα το κεφαλάρι του κρεβατιού. Όλα τα έπιπλα και οι ντουλάπες σχεδιάστηκαν από την αρχιτέκτονα Αννίτα Κουτσονάνου.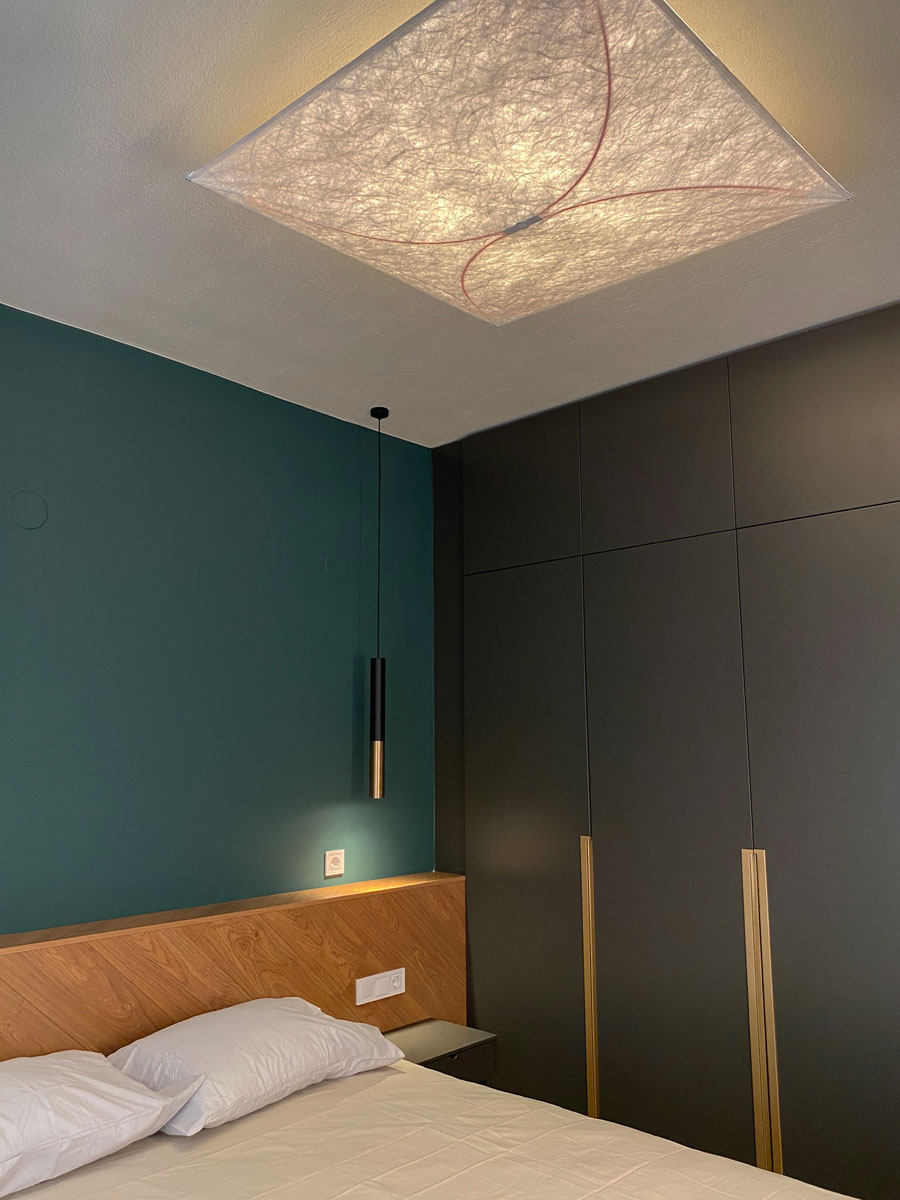 Ο φωτισμός ήταν πολύ σημαντικός στην εξέλιξη του σχεδιασμού καθώς διαμορφώνονται σε όλους τους χώρους δυο κύριες ζώνες, μια έντονου φωτισμού και μια πιο ήπια σε όλους τους χώρους. 
Στοιχεία έργου
Τίτλος  Από το πυκνό στο ευρύχωρο, μια ιστορία αναδιαμόρφωσης χώρου από την Αννίτα Κουτσονάνου
Τυπολογία Επανασχεδιασμός διαμερίσματος
Τοποθεσία  Κοζάνη
Επιφάνεια  80 τμ.
Ολοκλήρωση έργου  Ιούνιος 2020
Αρχιτέκτων  Αννίτα Κουτσονάνου
Φωτογραφίες  Αννίτα Κουτσονάνου
Architect Annita Koutsonanou remodeled an urban holiday apartment in the city of Kozani, Greece. The key element in the design process was the flexibility of the living spaces depending on which members of the family are staying in the apartment.
In addition to flexibility, another need was to create enough storage spaces so that all members of the family have their own personal storage space.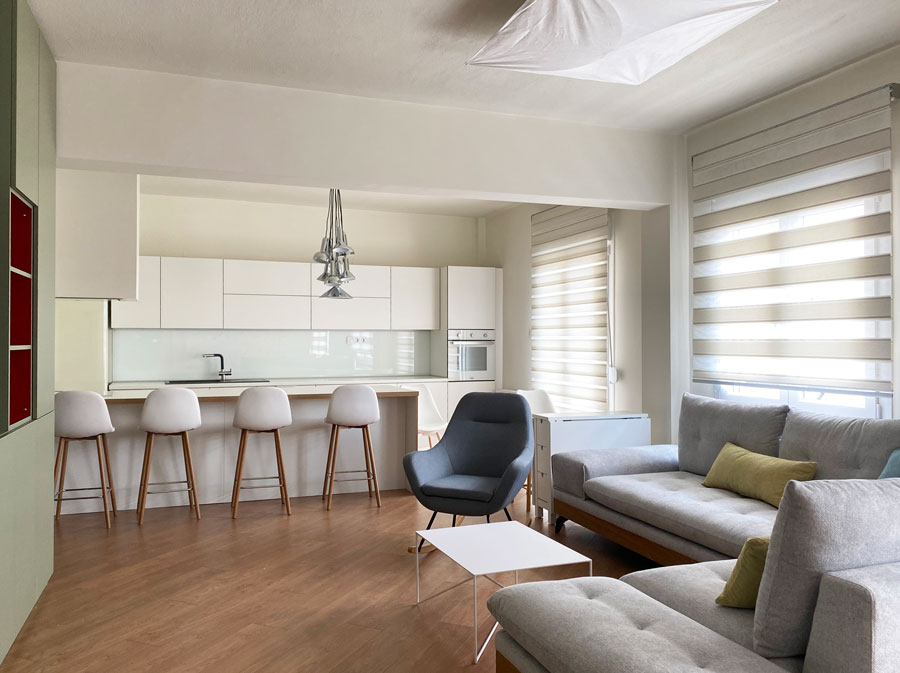 Entering the apartment, the visitor finds himself in a spacious living room with a kitchen, while at the same time this space can be easily converted into two additional sleeping quarters. This main area can be divided in three zones, the small corner with the floral wallpaper that can be separated, the large living room with sofa and the dominant closet and the kitchen area.
The latter, completely differentiated in color, is all white and functions as a place for cooking and consumption at the same time in order to complement the wider social area. All at once on the same room there are various reclining furniture that can change the use depending on the needs of the owners.  
The corridor leads to the bathroom and the laundry room, the storage and the master bedroom. 
Concerning the master bedroom, colors and lighting are different, the floor integrates with the headboard of the bed and the main aim is to offer a stylish tranquility.
All furniture and wardrobes were designed by the architect Annita Koutsonanou. The lighting was a significant element of the design as it is subdivided into multiple zones from intense to mild in all rooms.  
Facts & Credits
Project title  Dense to commodious, a remodeling story by Annita Koutsonanou
Project type  Vacation apartment remodelling
Project location  Kozani, Greece
Area  80 m²
Date of completion  June 2020
Architect  Annita Koutsonanou
Photography  Annita Koutsonanou
READ ALSO:
Επιστρέφοντας στο γραφείο: Τα νέα προϊόντα Steelcase μπορούν να βοηθήσουν τις ομάδες και τα άτομα να επιστρέψουν ομαλά στο γραφείο.