text in

EN, GR
Domitech completed the reconstruction of a residence back from the 1950's in Gavrio, Andros, trying to give an extroversion to the home's interior design by Maria Koutsouridou, thus creating a dialogue with the new volumes that host new uses.
-text by the authors
The outer stairway became circular following the curve of the upper ceiling holding references to the plasticity of the island's volumes and natural use of the local stone. The sloping slabs the slate, tied with modern materials.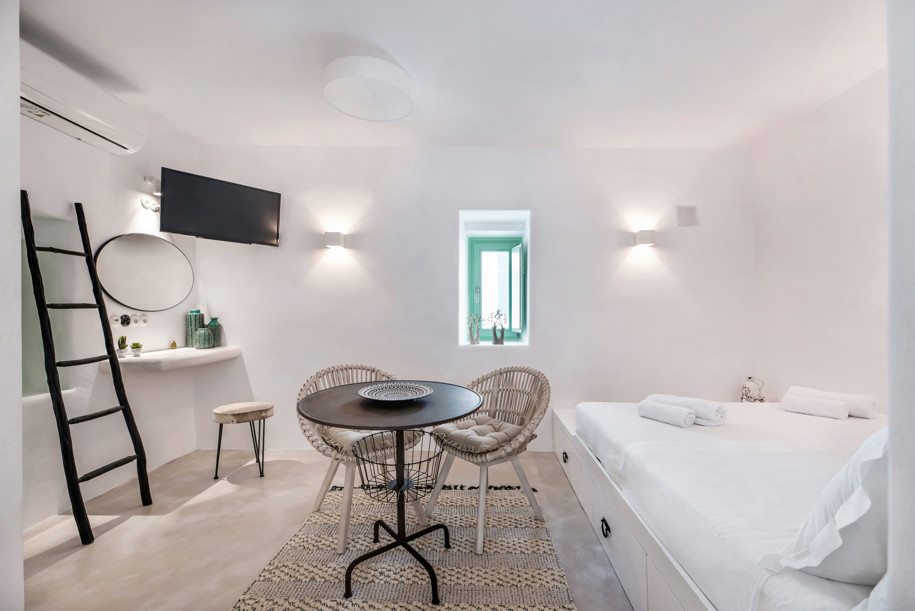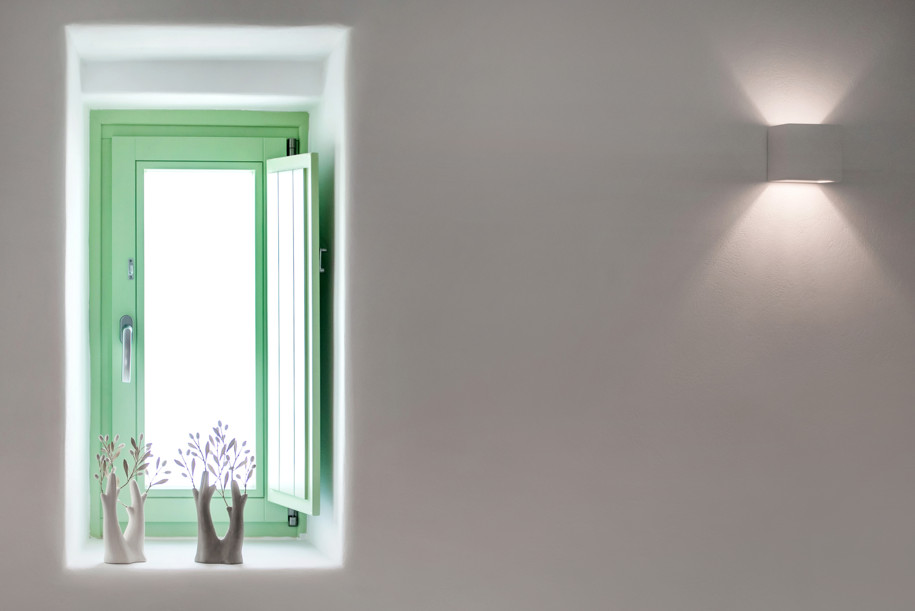 The house is a two-storey ground floor, which communicates with the yard that extends and creates a circular bathroom with a built-in shower and bench covered with cement mortar. The old stone was held on the wall of the sink. Equipped kitchen is provided with built-in bench that communicates with the yard. The interior, although low ceiling, exudes calmness and cleanliness of the materials.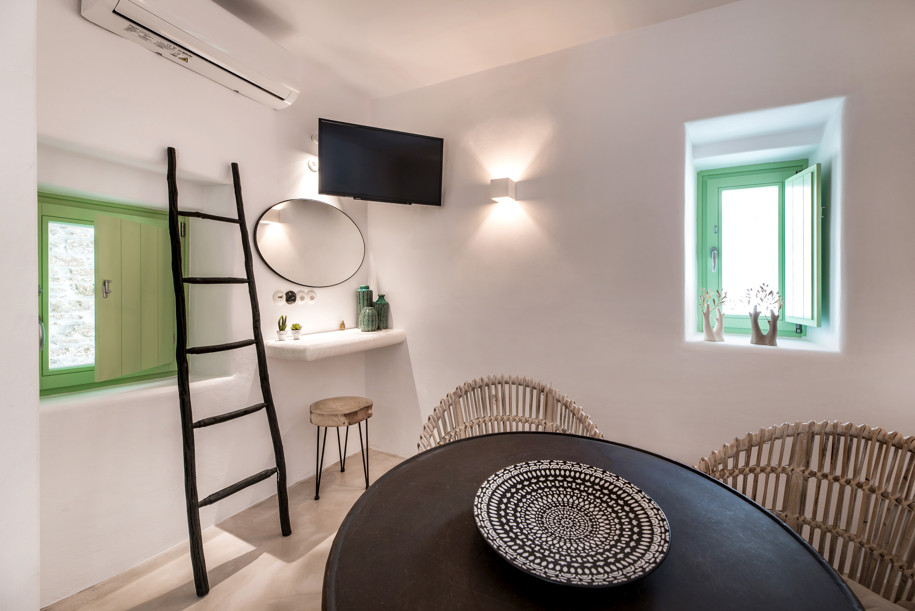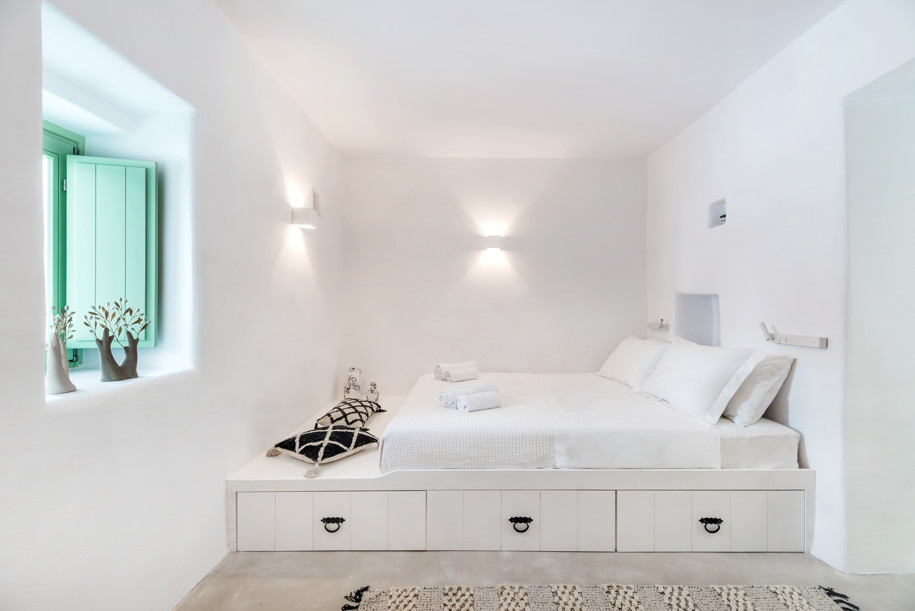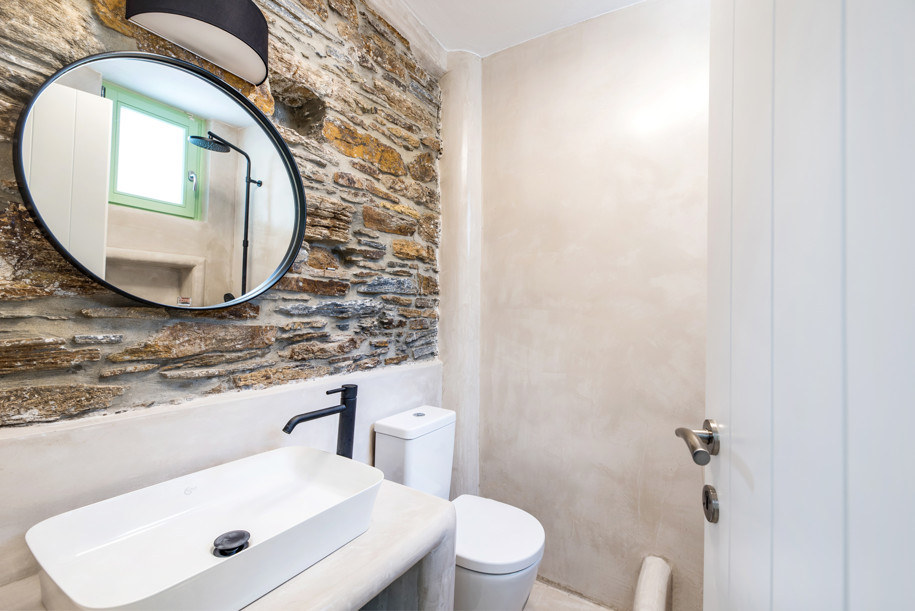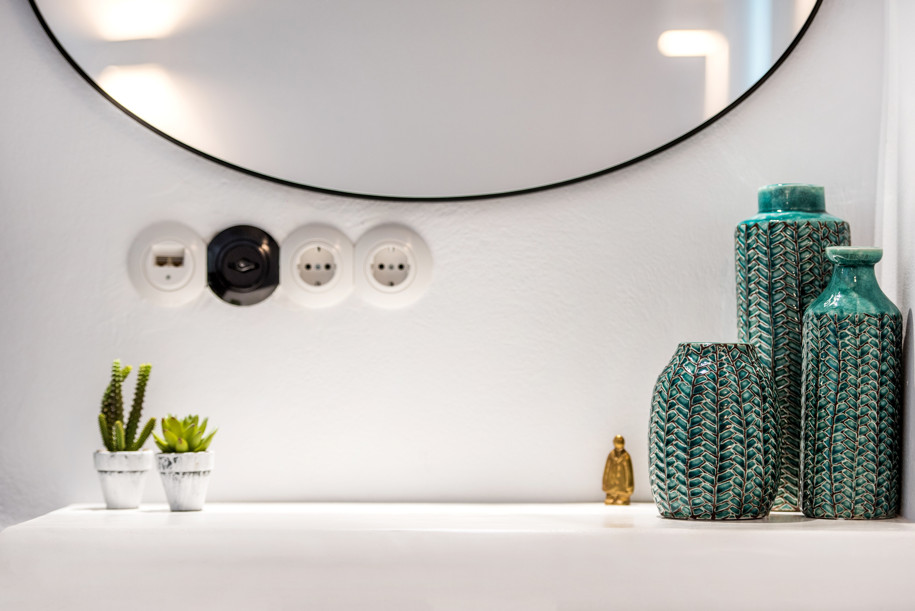 At the entrance the ceiling with the kiparissoxila  and the stone support was restored and preserved. Below the stone wall, a water element with a skimmer was created.
The two levels create the seating almost with the water completely covered with a cement mortar that turns and on the circular ladder cast material with curves. On the first floor, the old roof was demolished and new was built, as well as the dirt mesh floor was replaced with a cement slab.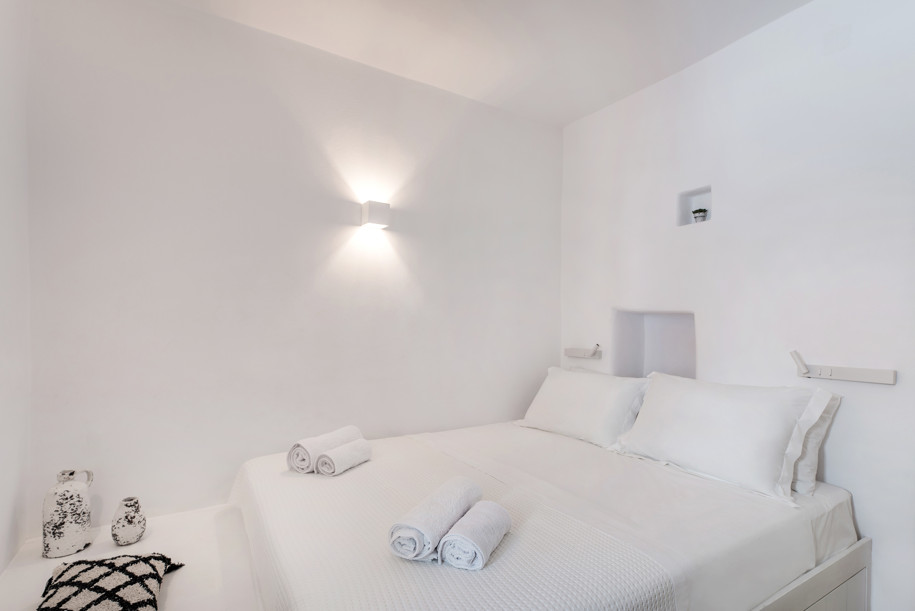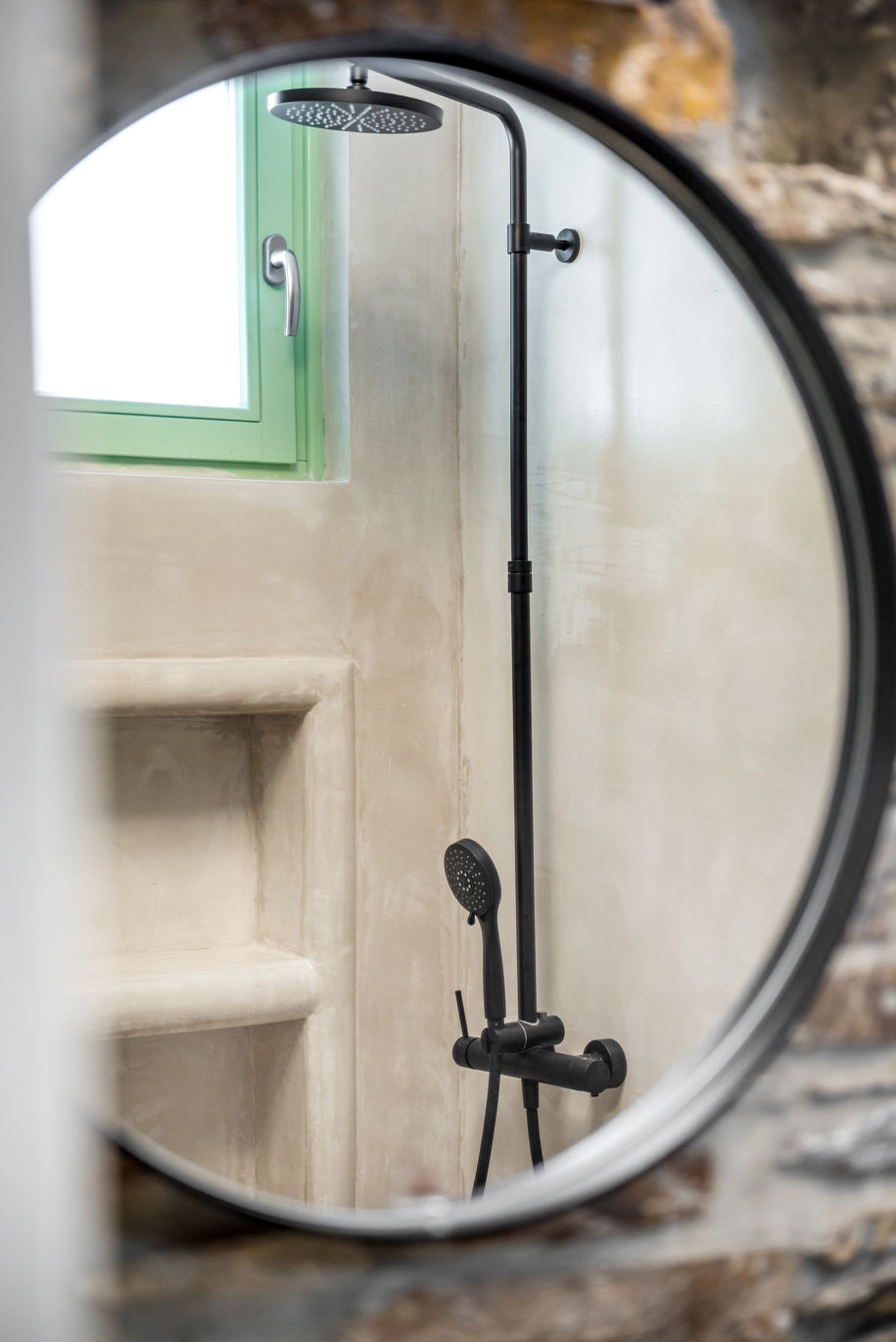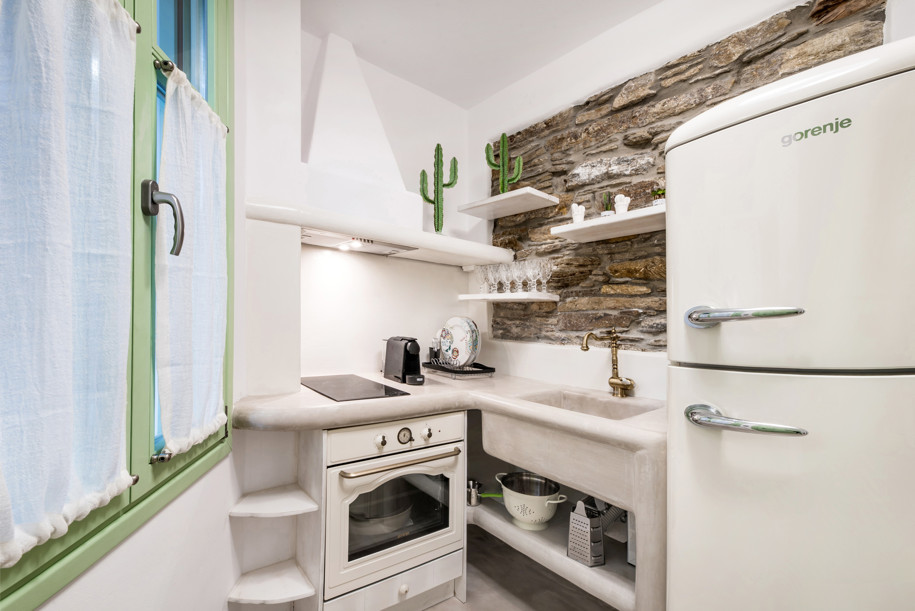 In the metal loft the window gives you the image of the harbor of Gavrio. The choice of top lighting creates an atmosphere with emphasis on plasticity. Emphasis was also placed on architectural direct lighting and luxury in furnishings and fabrics.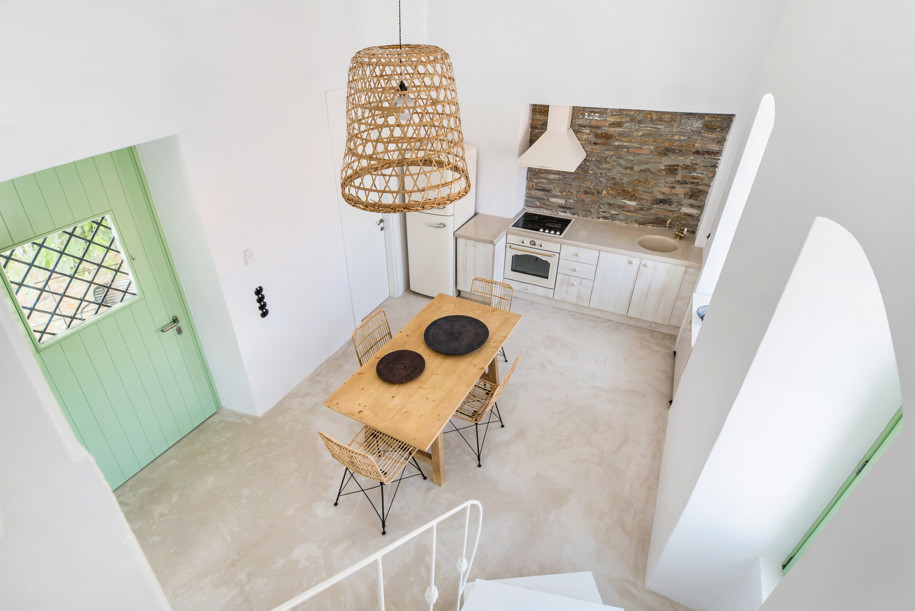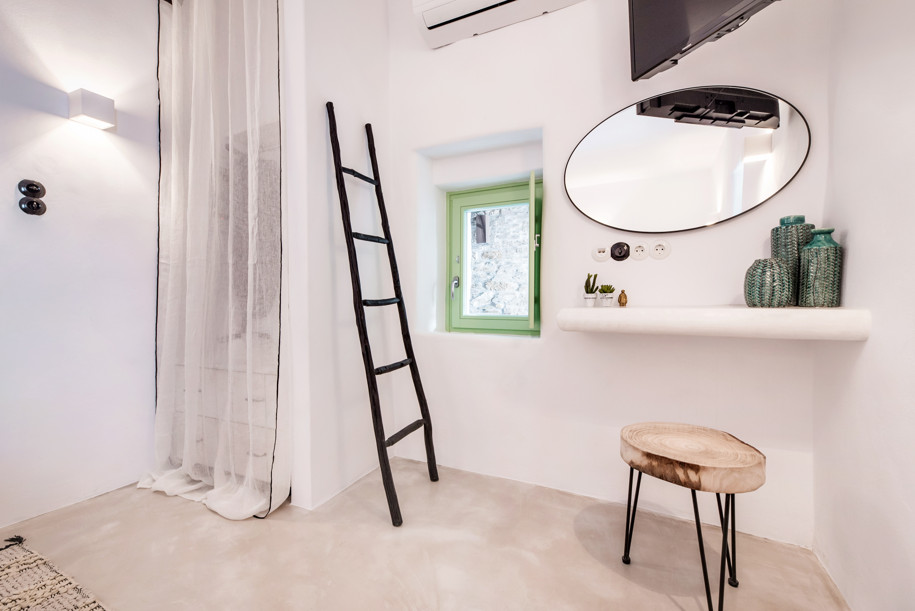 Facts & Credits
Project Title  An internal courtyard with extroversion in Andros
Location  Gavrio, Andros
Interior design  Maria Koutsouridou
Construction  Domitech
Civil engineer  Gregory Zoumis
Aerial Photography-Cinematography  John Kouskoutis  
Suppliers
Wooden frames  Dr.DOM
Lighting  VK Leading Light
Switching material Meidanis
Mattresses – couch  Coco mat
Sanitary Kypriotis


---

Η κατασκευαστική Domitech ολοκλήρωσε την ανακατασκευή διώροφης κατοικίας του 1950 στο Γαύριο της Άνδρου προσπαθώντας να δώσει μια εξωστρέφεια στο εσωτερικό του σπιτιού, το οποίο σχεδίασε η Μαρία Κουτσουρίδου, δημιουργώντας διάλογο με τους νέους όγκους  που φιλοξενούν νέες χρήσεις.
-κείμενο από τους δημιουργούς
Η εξωτερική σκάλα έγινε κυκλική και ακολουθεί την καμπύλη της ανώτερης οροφής ενώ σαφείς είναι οι αναφορές στην πλαστικότητα των όγκων του νησιού και στη φυσική χρήση της τοπικής πέτρας. Οι κεκλιμένες πλάκες του σχιστόλιθου δένουν αρμονικά με τα σύγχρονα υλικά.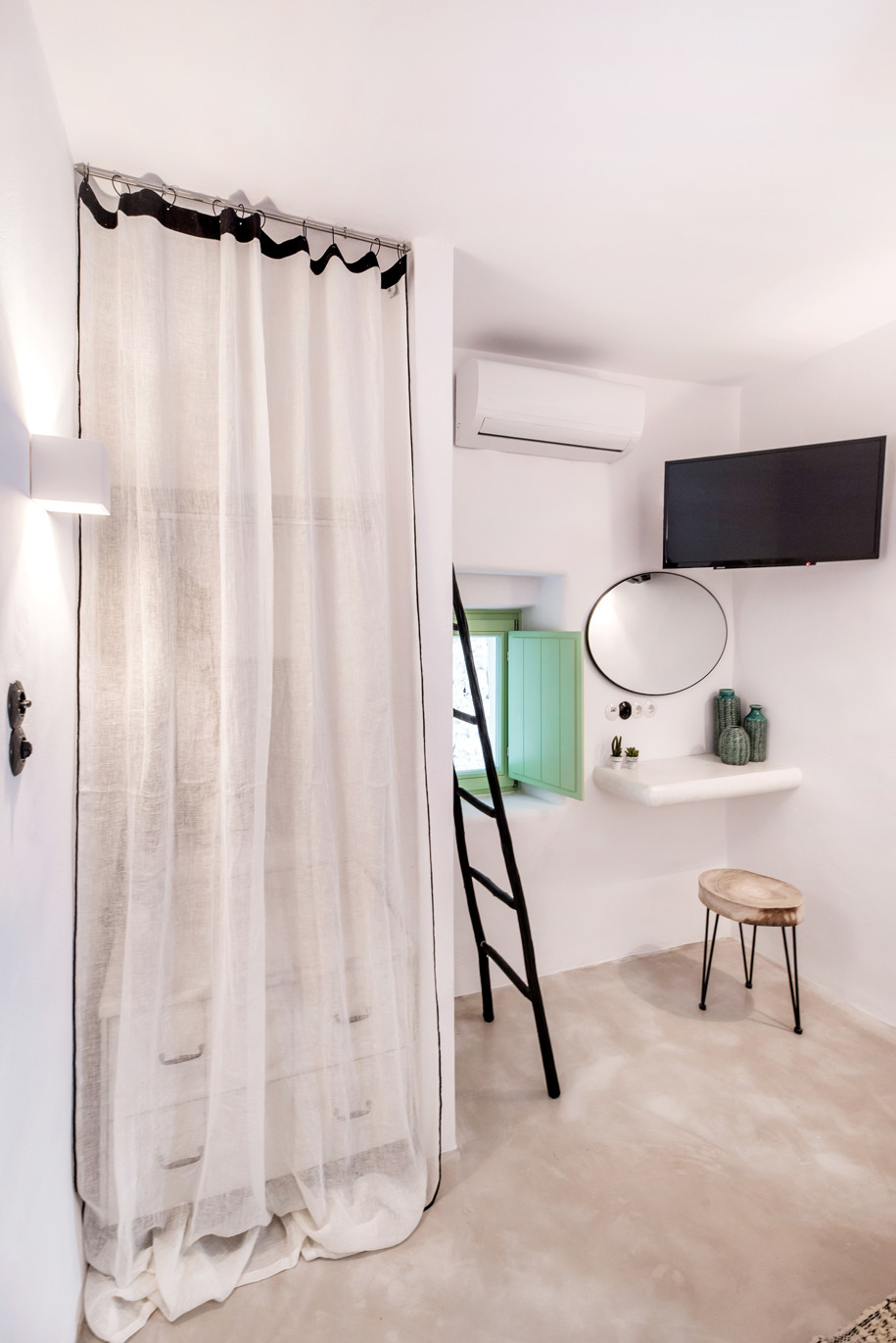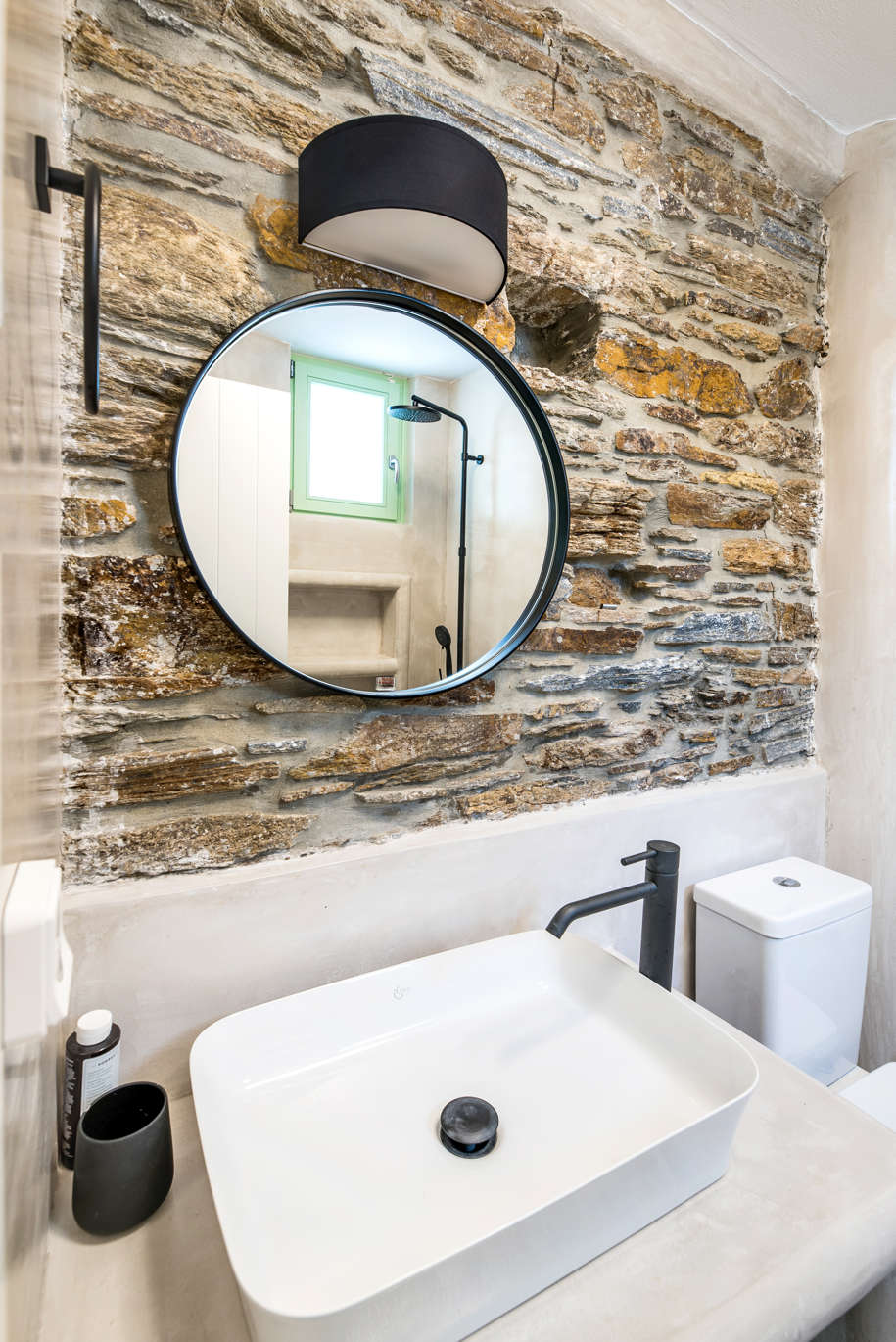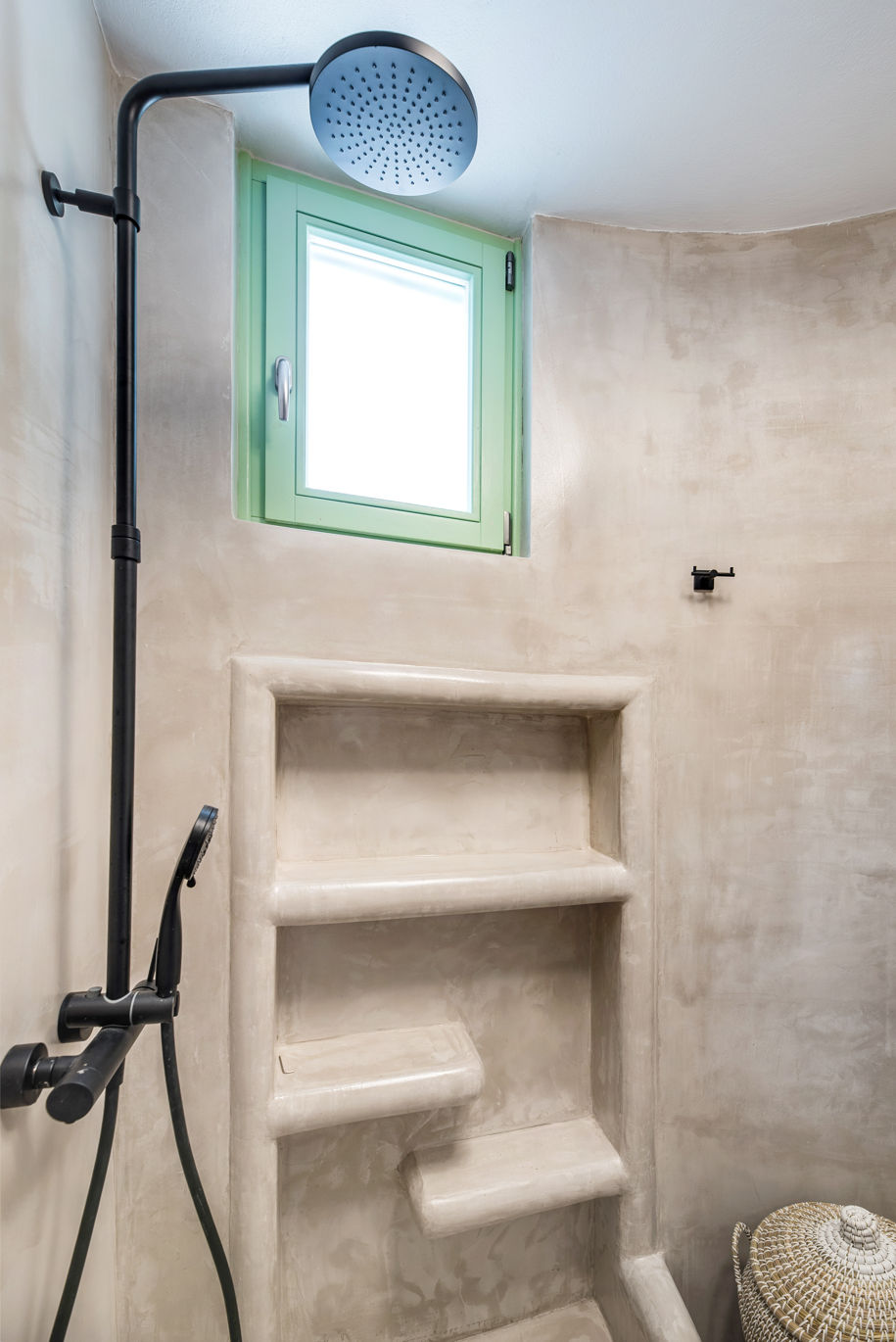 Η κατοικία είναι διώροφη και στο ισόγειο το οποίο επικοινωνεί με την αυλή έγινε μια επέκταση και δημιουργήθηκε ένα κυκλικό μπάνιο με χτιστό ντουζ και πάγκο επενδεδυμένο με τσιμεντοκονία. Στον τοίχο του νιπτήρα κρατήθηκε η παλιά πετρά. Η κουζίνα διαθέτει χτιστό πάγκο και επικοινωνεί με την αυλή. Το εσωτερικό του ισογείου αν και χαμηλοτάβανο εκπνέει μια ηρεμία και καθαρότητα υλικών.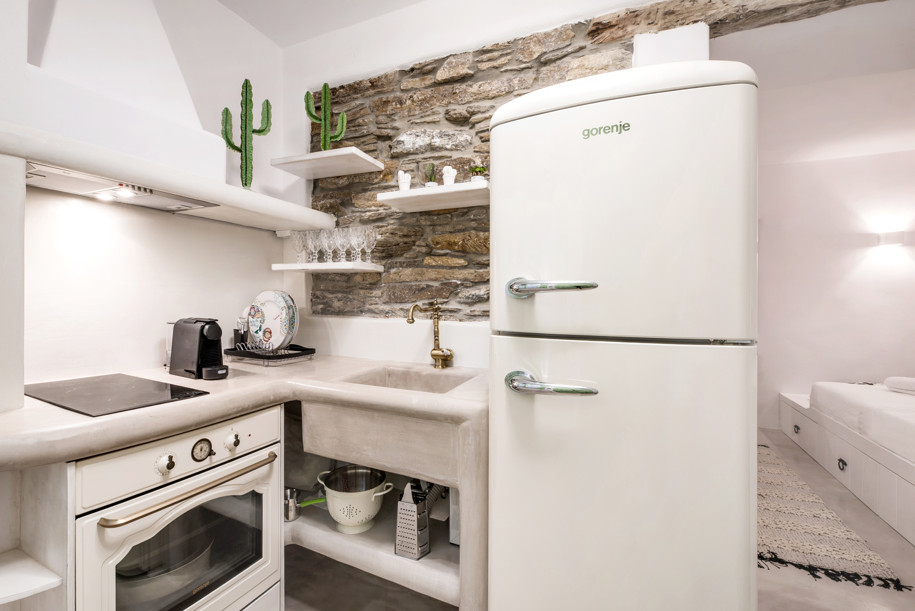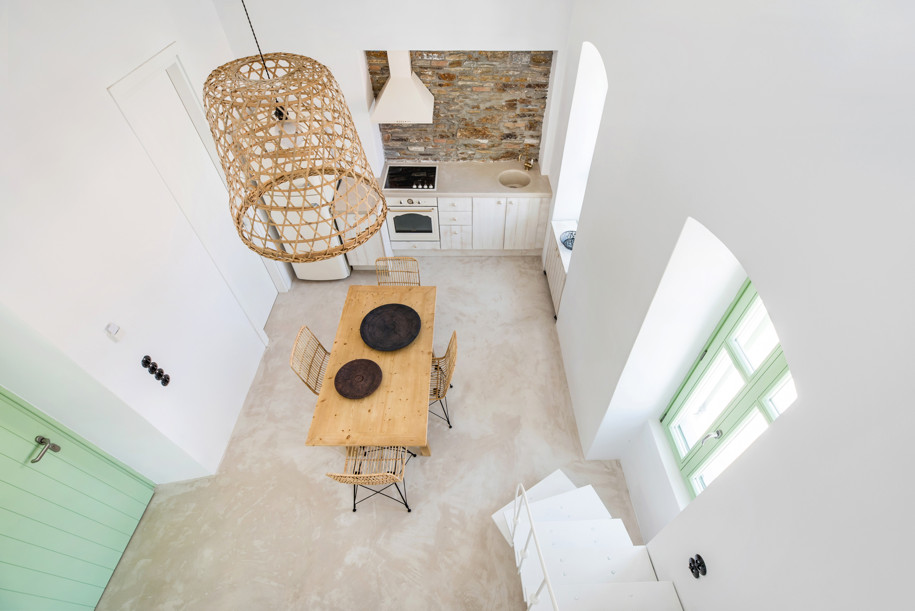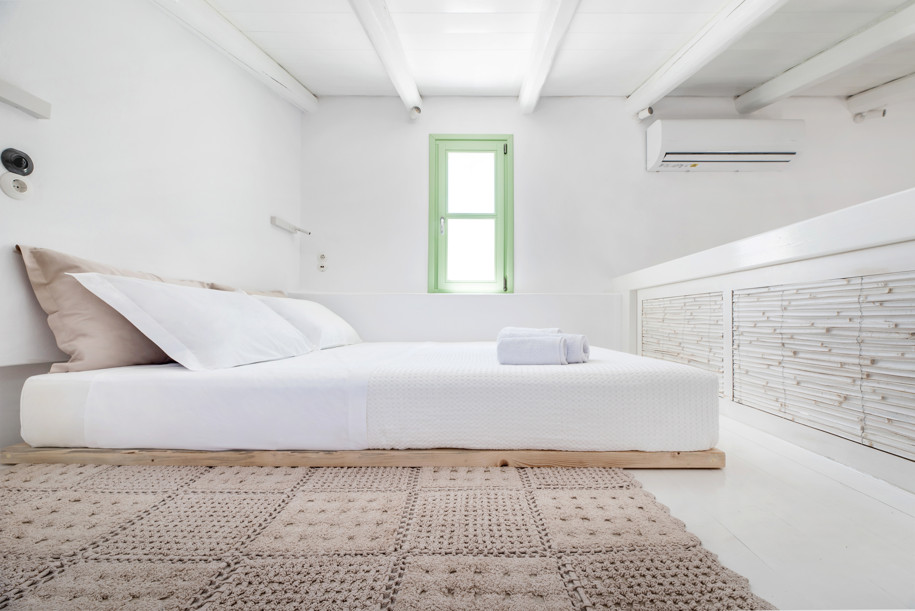 Οι απλίκες δημιουργούν ατμόσφαιρα στον χώρο τονίζοντας την πλαστικότητα του ενώ στην είσοδο το ταβάνι με τα κυπαρισσόξυλα και την πέτρινη στήριξη αναπαλαιώθηκε και διατηρήθηκε. Κάτω από τον πέτρινο τοίχο δημιουργήθηκε ένα υδάτινο στοιχείο με skimmer.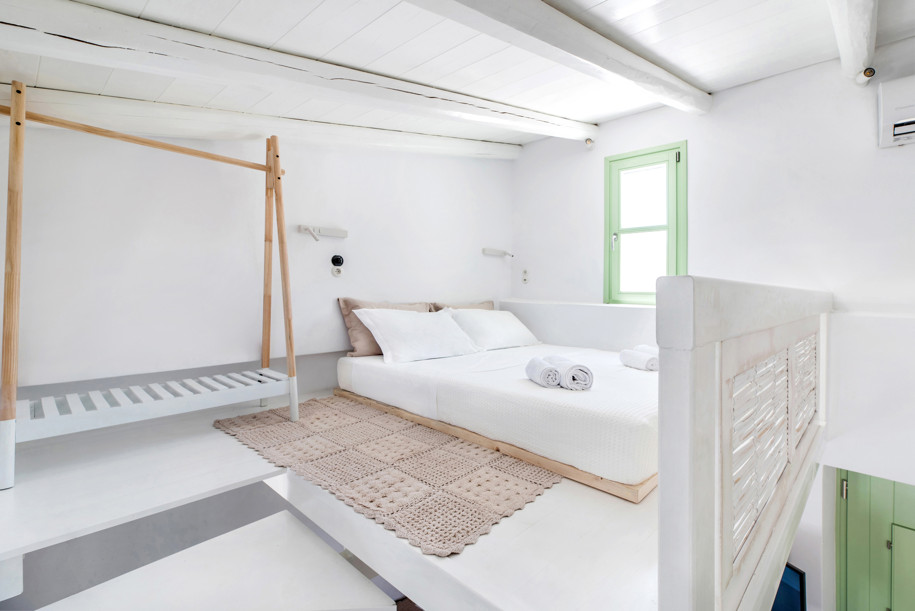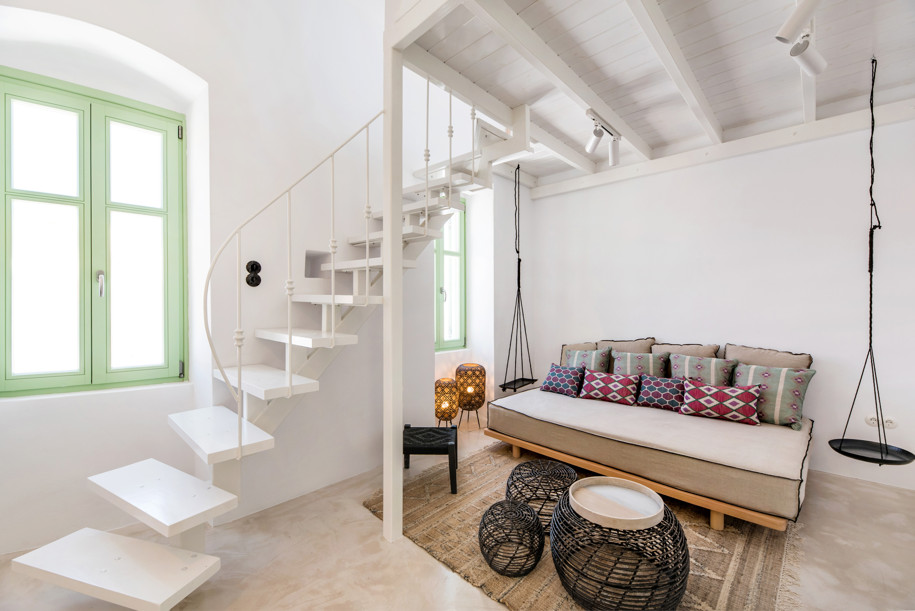 Τα δυο επίπεδα δημιουργούν το καθιστικό περασιά σχεδόν με το νερό όλο επενδυμένο με τσιμεντοκονία ενώ στον όροφο η παλιά στέγη αποξηλώθηκε και φτιάχτηκε νέα καθώς και το χωμάτινο μεσοπάτωμα αντικαταστάθηκε με τσιμεντένια πλάκα.
Στον όροφο έγιναν δυο νέες προσθήκες που φέρουν το μπάνιο ενώ από το μεταλλικό πατάρι το παράθυρο σου δίνει την εικόνα του λιμανιού του Γαυρίου. Έμφαση δόθηκε στον αρχιτεκτονικό άμεσο φωτισμό και την πολυτέλεια σε έπιπλα και υφάσματα.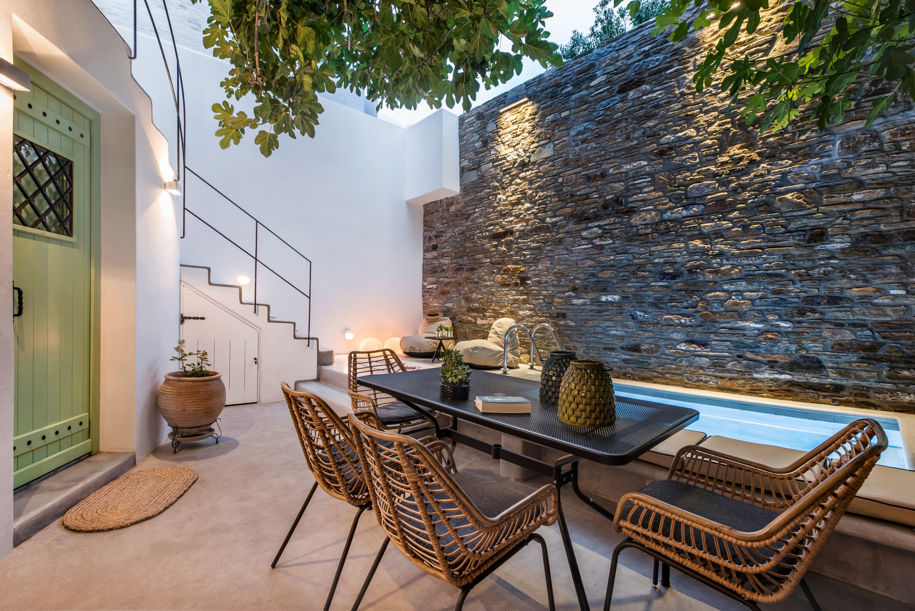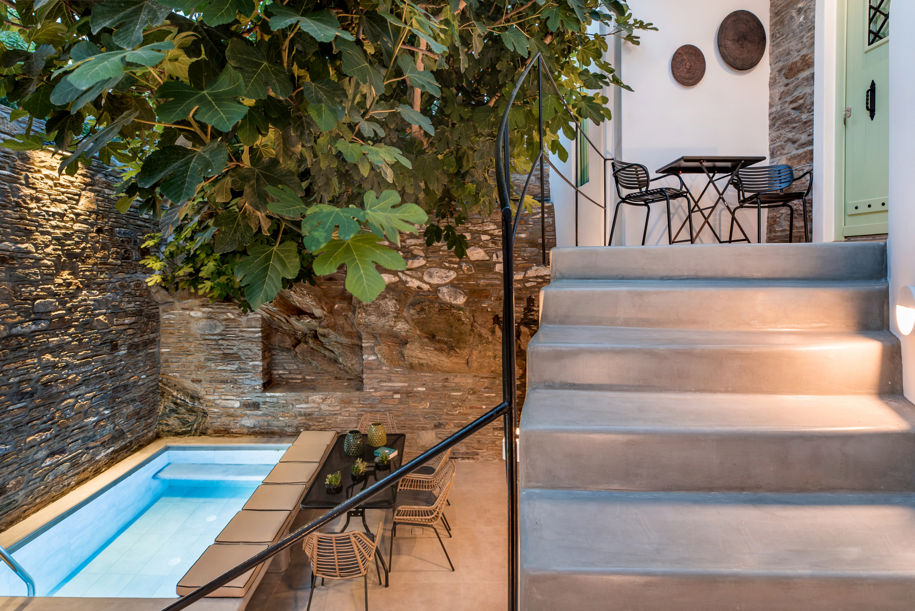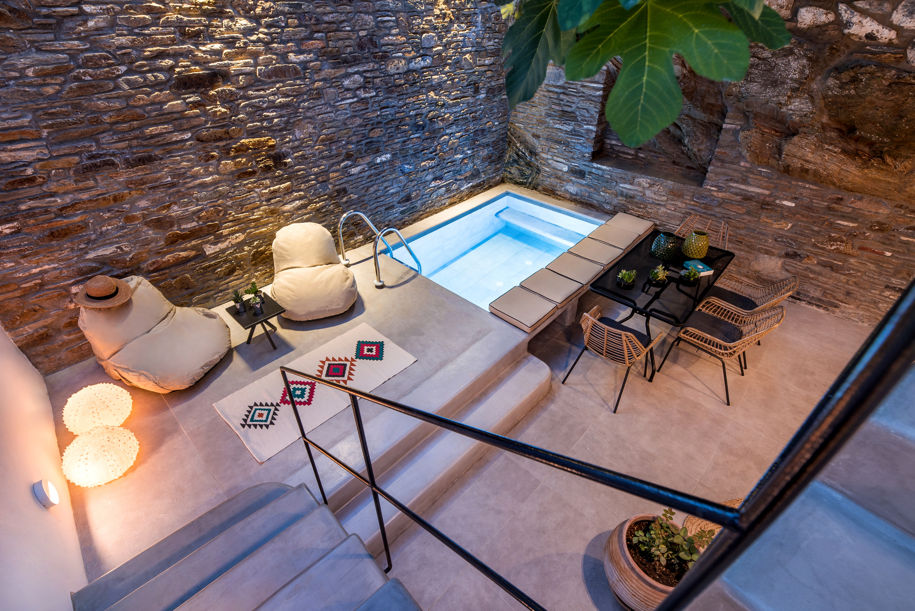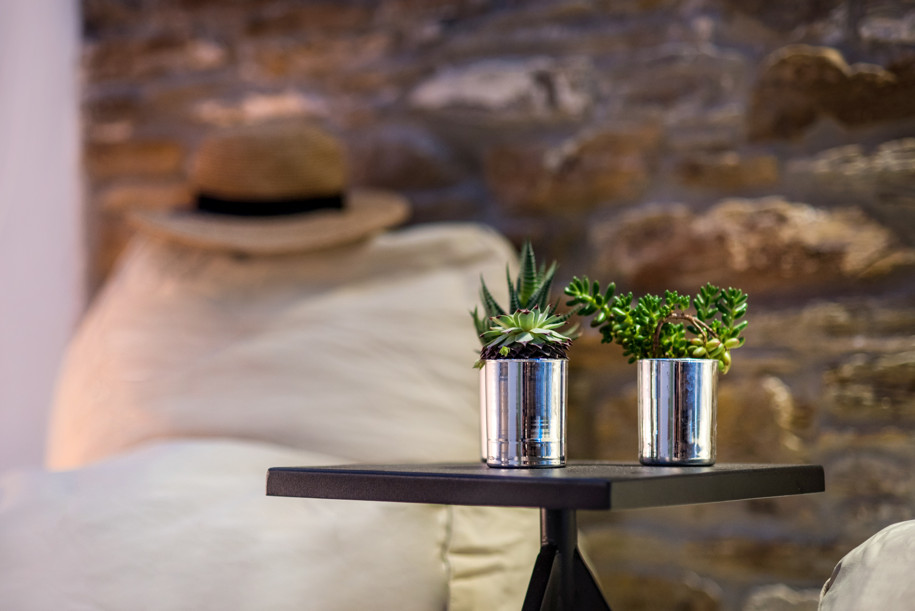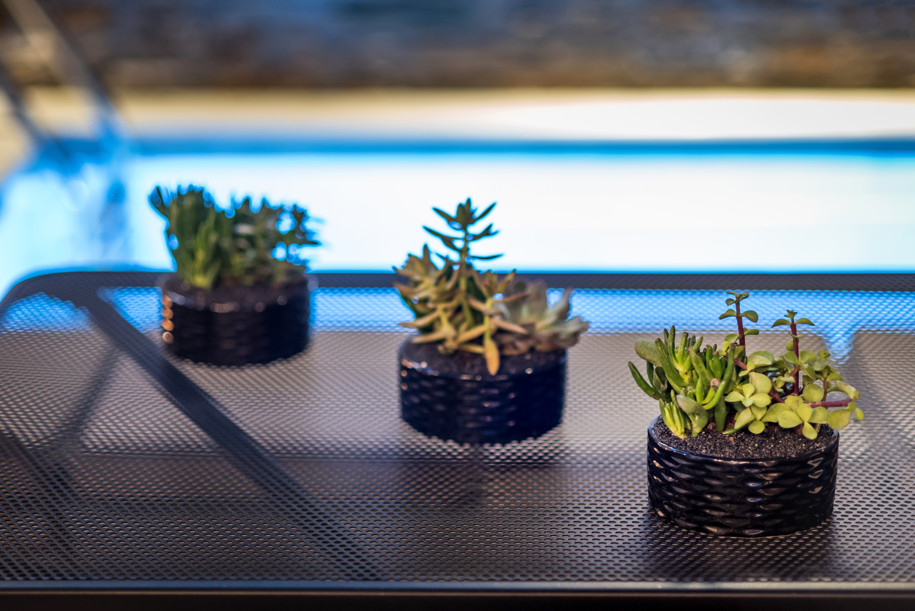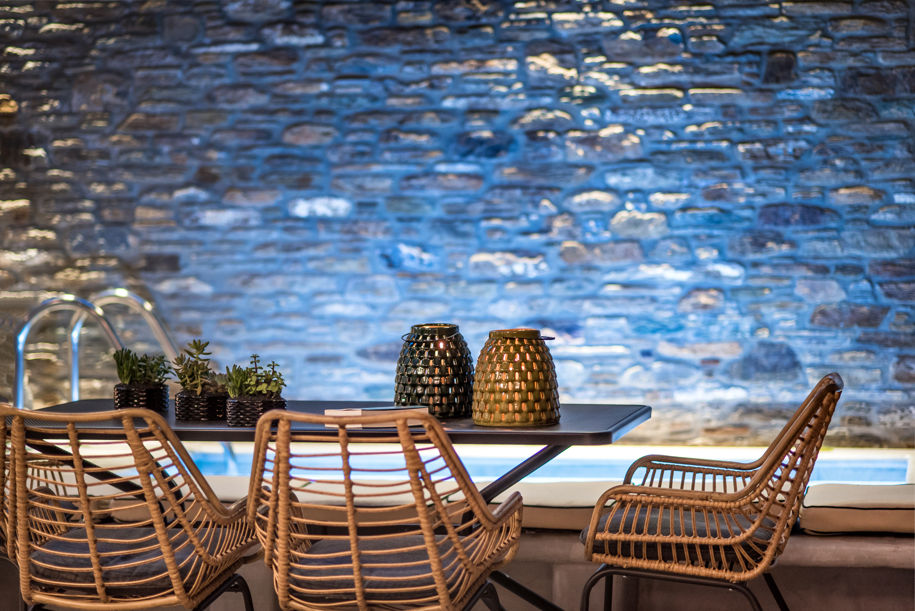 Στοιχεία έργου
Τίτλος έργου  Μια εσωτερική αυλή με εξωστρέφεια  στην Άνδρο
Τοποθεσία  Γαύριο, Άνδρος
Εσωτερική διακόσμηση  Μαρία Κουτσουρίδου
Κατασκευή  Domitech
Πολιτικός Μηχανικός  Γρηγόρης Ζούμης
Φωτογραφία  Γιάννης Κουσκουτής    
Προμηθευτές
Ξύλινα πλαίσια  Dr.DOM
Φωτισμός  VK Leading Light
Ηλεκτρολογικό υλικό  ΜΕΪΔΑΝΗΣ
Στρώματα – καναπές  Coco mat
Είδη υγιεινής  Κυπριώτης Α.Ε.
READ ALSO:
Η Β' πρόταση των KIZIS ARCHITECTS στο διαγωνισμό για το "ΝΕΟ ΑΡΧΑΙΟΛΟΓΙΚΟ ΜΟΥΣΕΙΟ ΣΠΑΡΤΗΣ"