"Doha, the capital of Qatar, keeps positioning and re-inventing itself on the map of international architecture and urbanism with different expressions of its unique qualities in terms of economy, environment, culture, and global outlook. In many respects, it is pictured as an important emerging global capital in the Gulf region with intensive urban development processes." Prof. Ashraf Salama, "Narrating Doha's contemporary architecture: the then, the now – the drama, the theater, and the performance", Middle East 2, Issue 8, 4.7.2012 (1)
 – text by Pygmalion Karantzas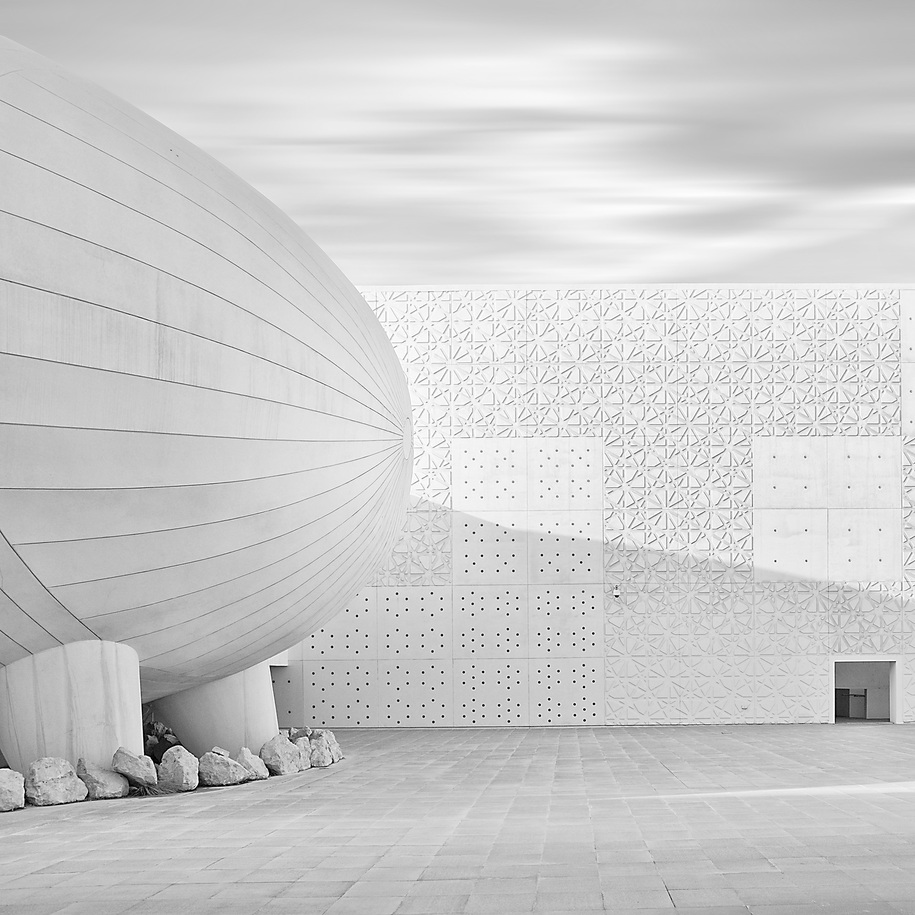 "I would like to take Qatar as a prototype perhaps of what is possible in this new world and how each of these worlds is radically different. What is truely amazing in Qatar is that on 2 million people only 300.000 are Qataris and therefore where we are strugling with immigrants and countries like France are in a state of crisis through immigration, we have to admire other countries that are living with immigration on a colossal scale, where they are absolutely themselves a minority. Therefore it's impossible – apart from all the other things you can say about conditions etc. – to not also look at this as a part of tolerance."
– Rem Koolhaas 'Agenda: 4 ambitions' lecture at the 2012 Jencks Award, RIBA. (2)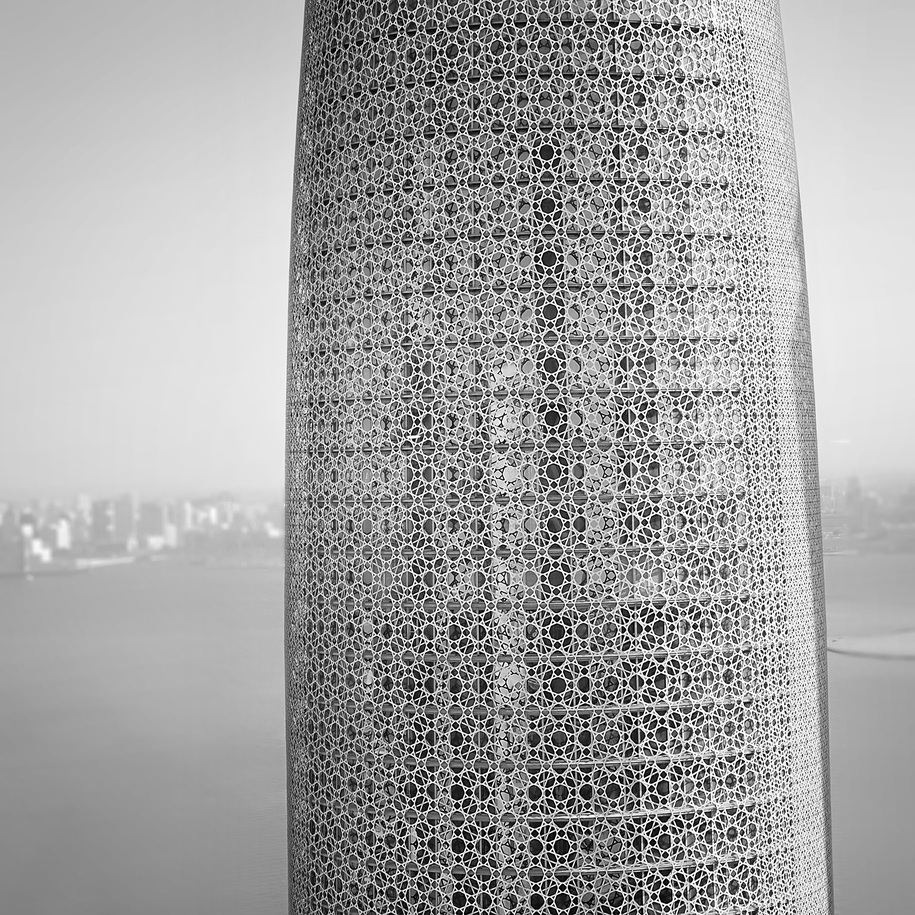 Doha, the capital of Qatar, is the home to more than 90% of the country's 1.7 million people, with over 80% professional expatriates. Historically it was a fishing and pearl diving town and up to the mid-1960s, the majority of the buildings were individual traditional houses. The modernization of the city occurred during the 1970s but during the 80s and early 90s the process was slowed down.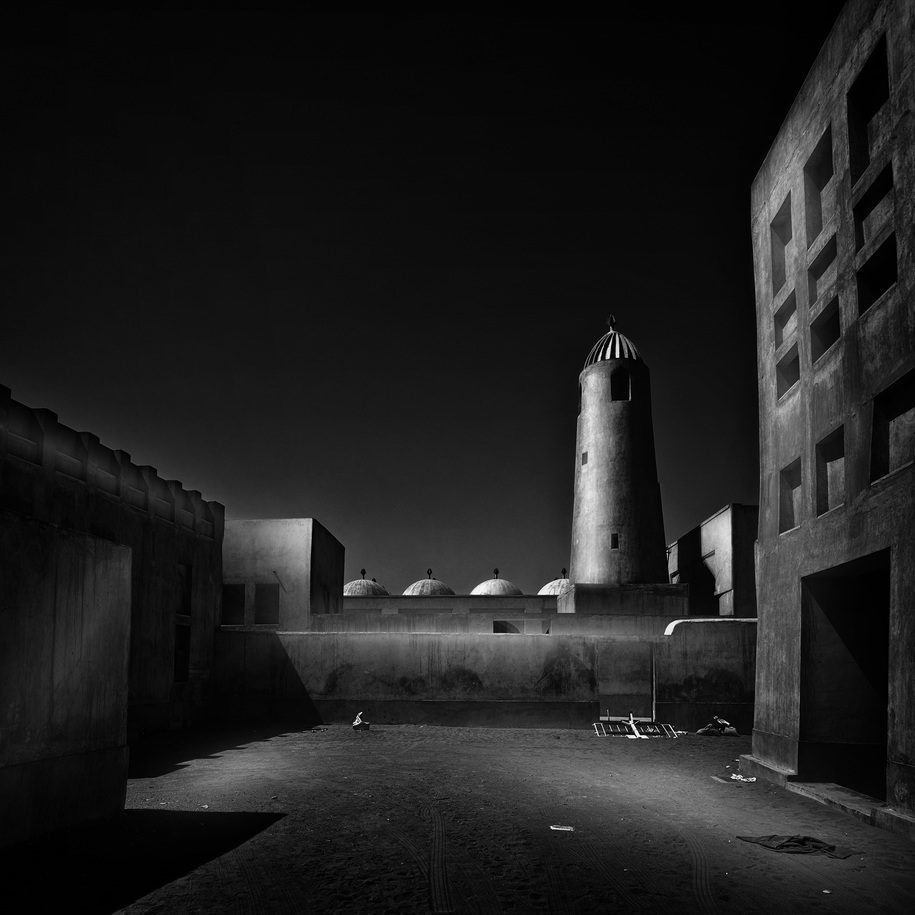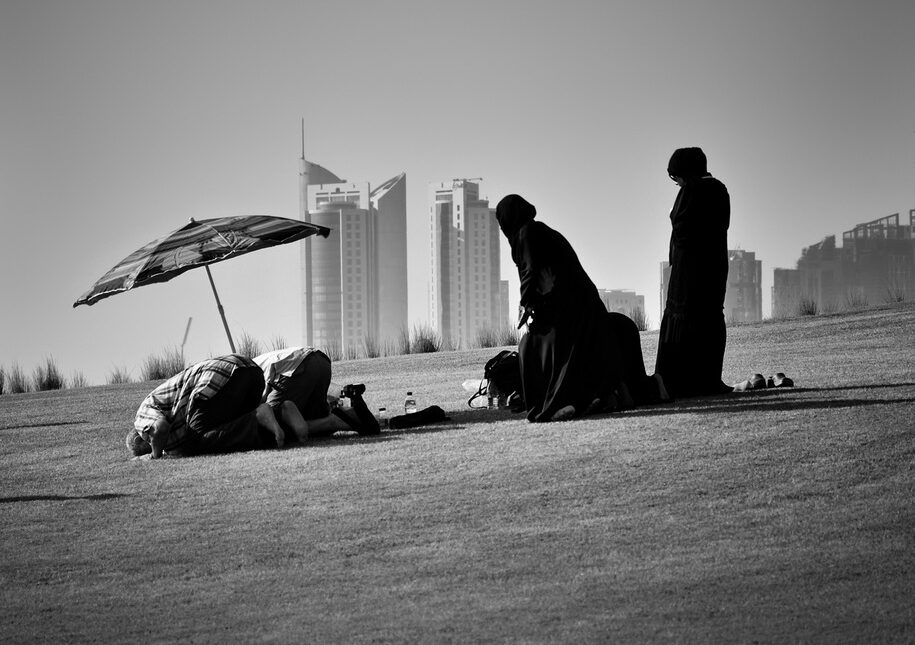 In recent years Qatar has become one of the fastest-growing economies in the world and as such, the city is acquiring geo-strategic importance. At the heart of the vision for the country's development is a decreased dependence on natural resources and an increased reliance on a knowledge economy such as international universities and businesses, high tech and IT, and generally advanced producer services. The city inhabits approx. 18 km in the north-south axis along the seaside and 18 km in the east-west axis. The corniche and most of its coastline is man-made.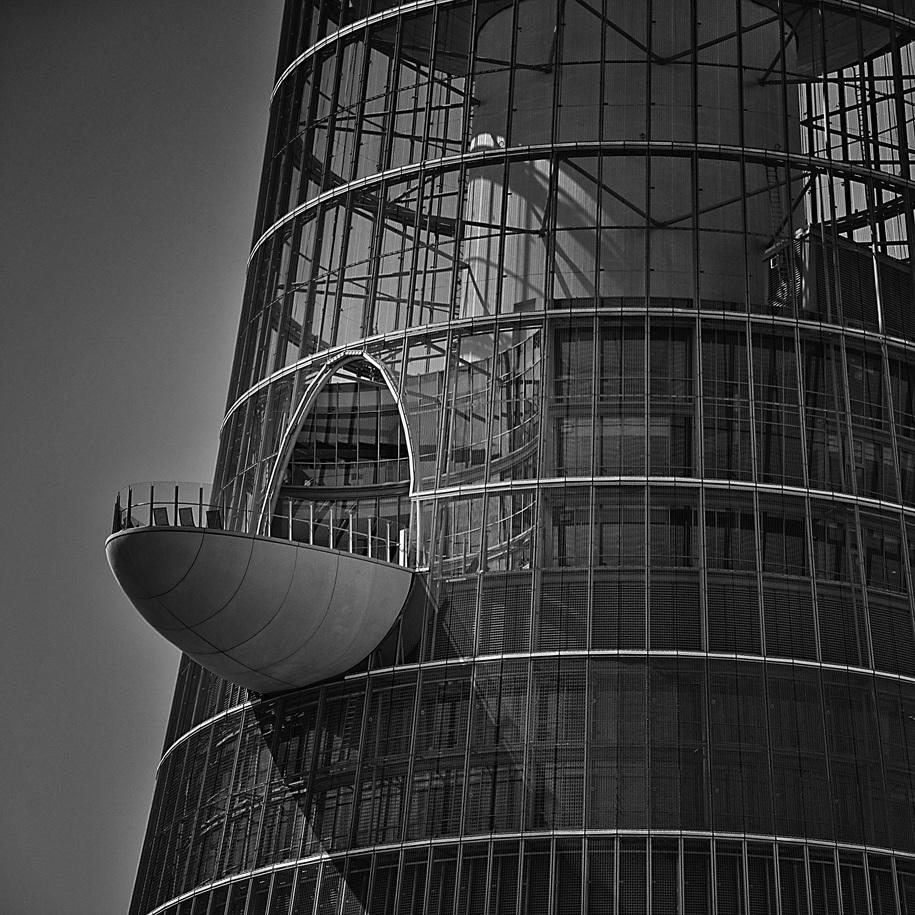 The areas that stand out and contribute the most to the city's emerging character are:
– Souq Waqif is the historic center and traditional marketplace. Adjacent we find the Museum of Islamic Art by architect I.M. Pei, on the south side of the corniche and the National Museum of Qatar by architect Jean Nouvel.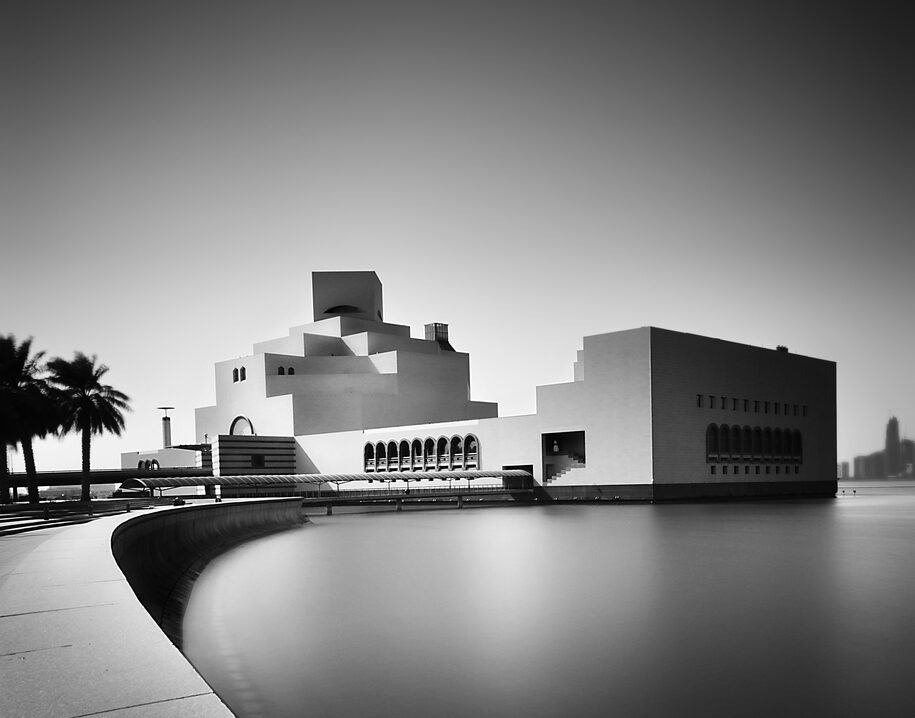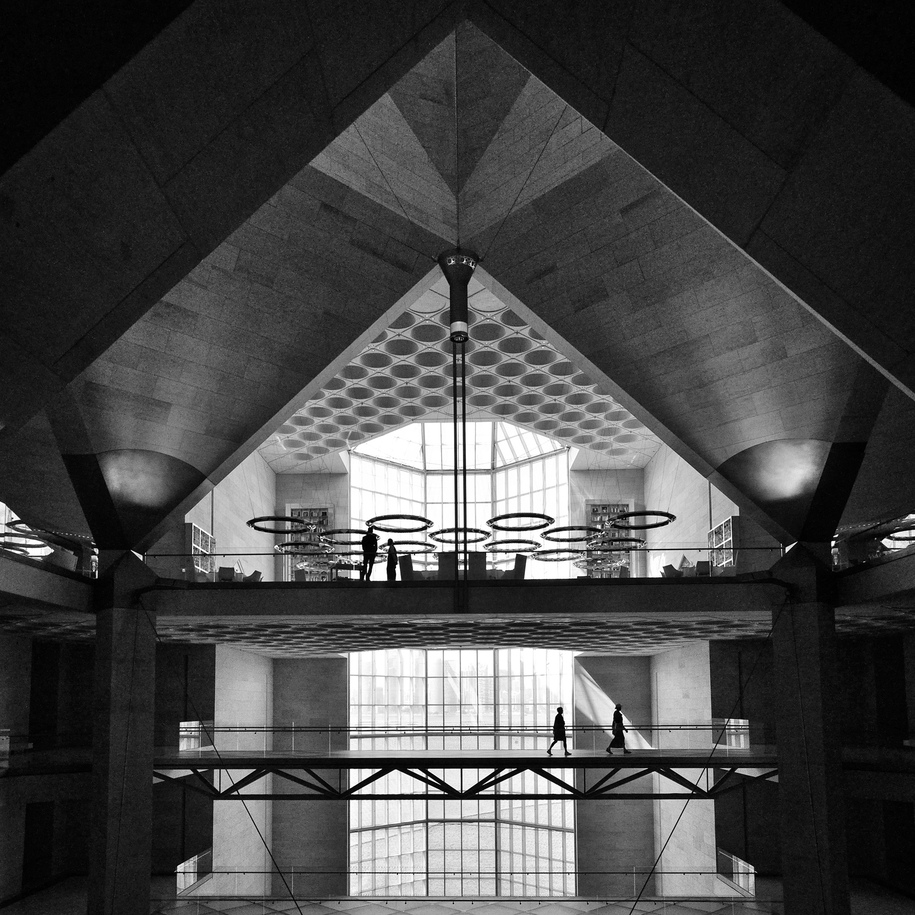 – West Bay is the business and diplomatic district on the north side of the corniche concentrating most of the city's skyscrapers dominating the city's skyline. It houses many of international companies' headquarters, governmental ministries, high-rise hotels, apartment buildings, and shopping centers.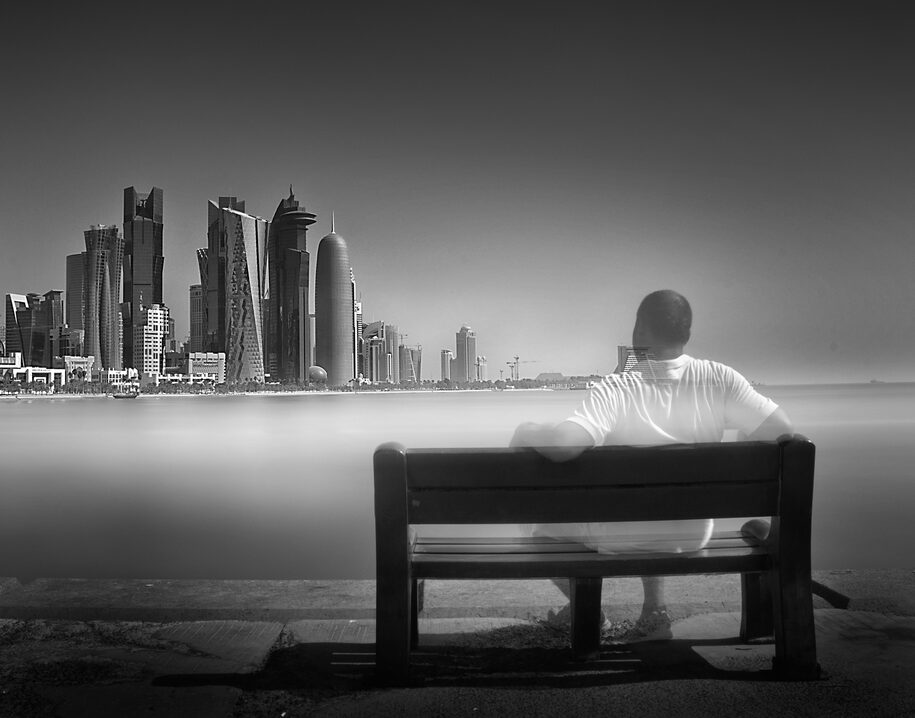 – The Pearl is the new sea-side high-rise residential development planned by architecture firm Callison on an artificial island expected to dwell 45.000 people. In close proximity, the Katara Cultural and Heritage village houses various cultural institutions and recreational activities. The area also includes high-end hotels, shopping centers, the West Bay Lagoon, Doha's golf club, Qatar University's campus, and a number of embassies.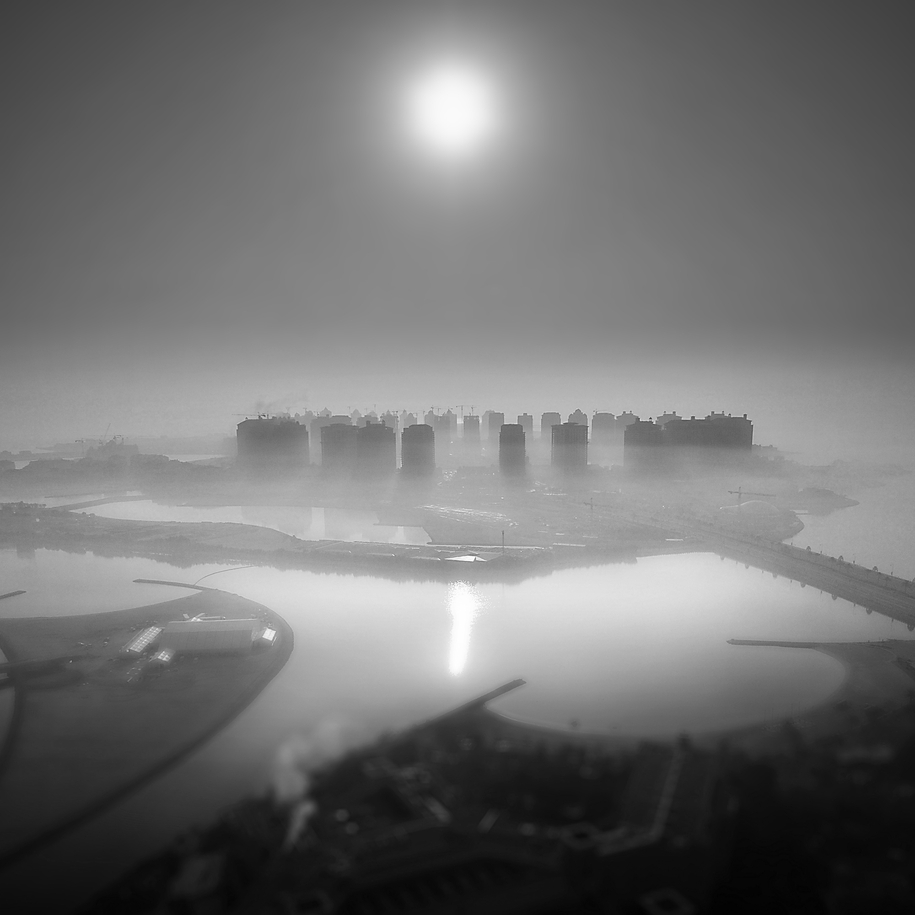 – Education City is Qatar Foundation's 2.500-acre campus master planned by architect Arata Isozaki. Located on the north-west of the city it hosts faculties from world-renowned universities to home-grown research centers. Qatar National Convention Centre by Arata Isozaki, Science and Technology Park by Woods Bagot, Sidra Medical and Research Centre by Cesar Pelli, Mathaf Arab Museum of Modert Art by Jean-Francois Bodin, Qatar Foundation headquarters by OMA, RAND Qatar Policy Institute by OMA, Qatar National Library by OMA, Qatar Faculty of Islamic Studies by Mangera Yvars, Liberal Arts & Science by Coelacanth K&H, Weill Cornell Medical College by ADH, Ceremonial Court by Arata Isozaki, Texas A&M Engineering College by Legorreta+Legorreta, Carnegie Mellon University by Legorreta+Legorreta, Hamad Bin Khalifa University by Legorreta+Legorreta, HBKU student housing complex by Treanor and Burns & McDonnell, Northwestern University by Antoine Predock, Al Shaqab Equestrian Centre by Leigh & Orange, Georgetown University by Legorreta+Legorreta.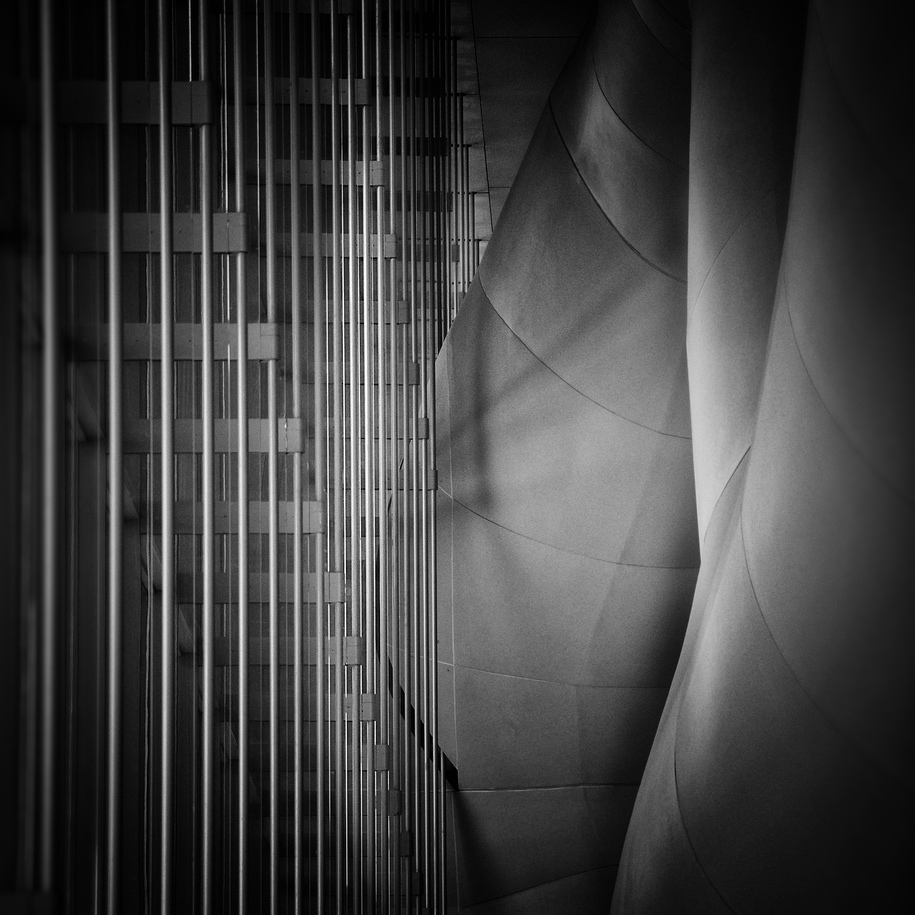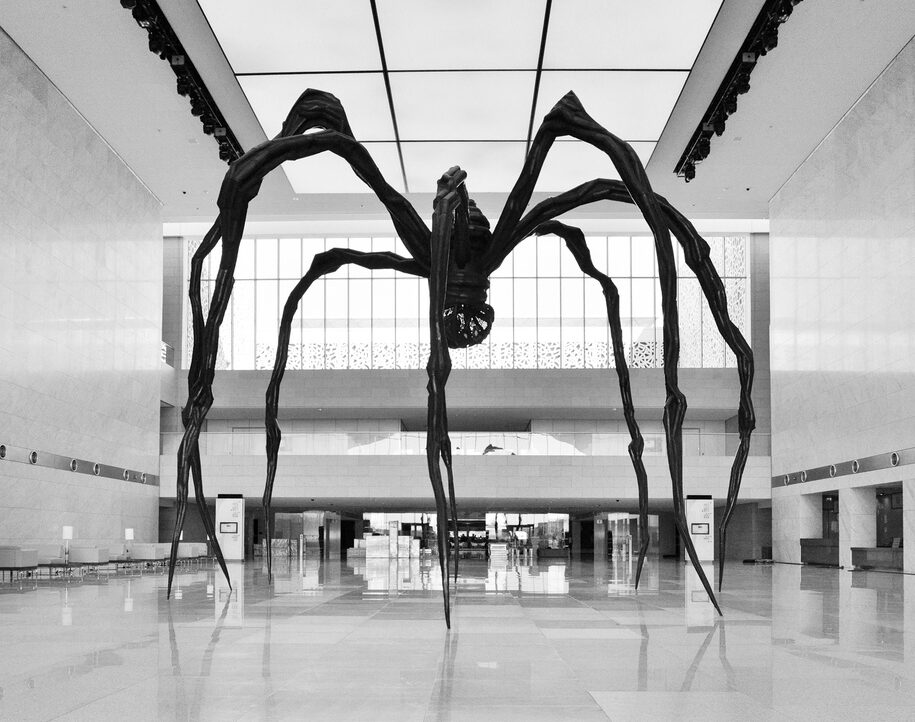 – Aspire Zone is a 250-hectare sporting complex located in Al Waab district on the west part of the city. It houses sport stadia and venues offering sport, sports medicine, research and education, training and rehabilitation facilities. Buildings include: Khalifa International Stadium, Hamad Aquatic Center, Aspire Dome & Academy by Roger Tailibert, Anti-doping Lab Qatar by Olague & Solera, Aspire Logistics, The Torch hotel by Hadi Simaan, Aspetar Sports Medicine Hospital, Villagio Mall, Aspire park.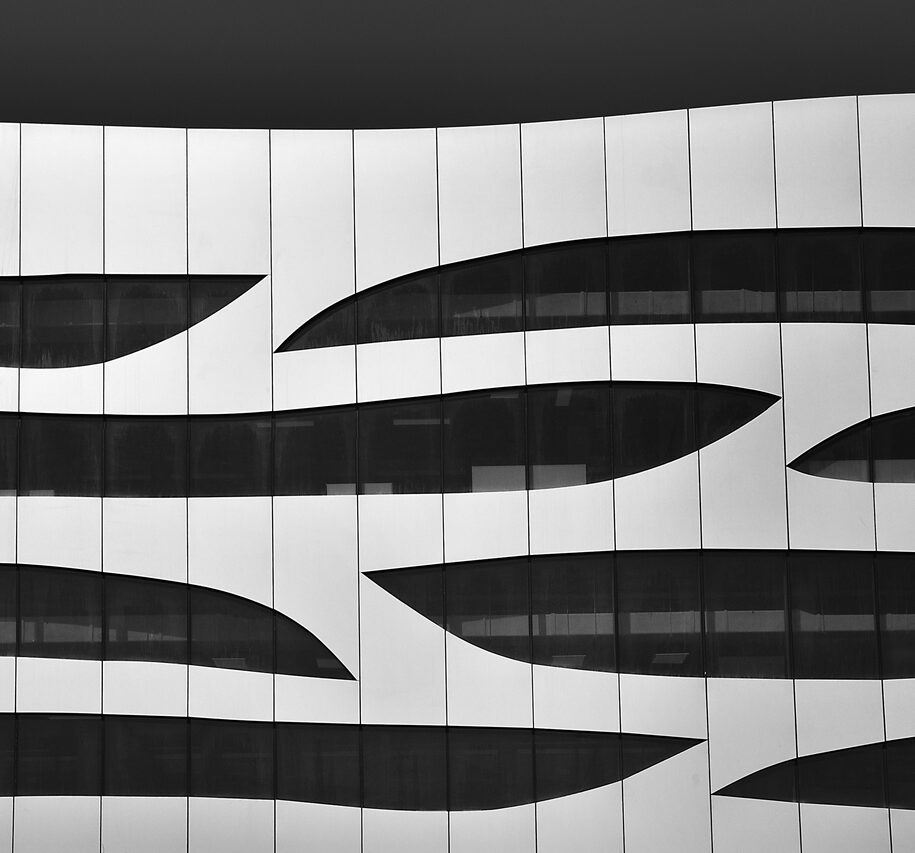 – Msheireb Downtown: a mixed-use regeneration project at the heart of the city master planned by Allies and Morrison and developed by the Qatar Foundation. Hailed as the world's first sustainable downtown regeneration project, it's a 31 hectare site in the city center to house premier office, retail, leisure, apartments, hotels, museums, civic services, cultural and entertainment venues.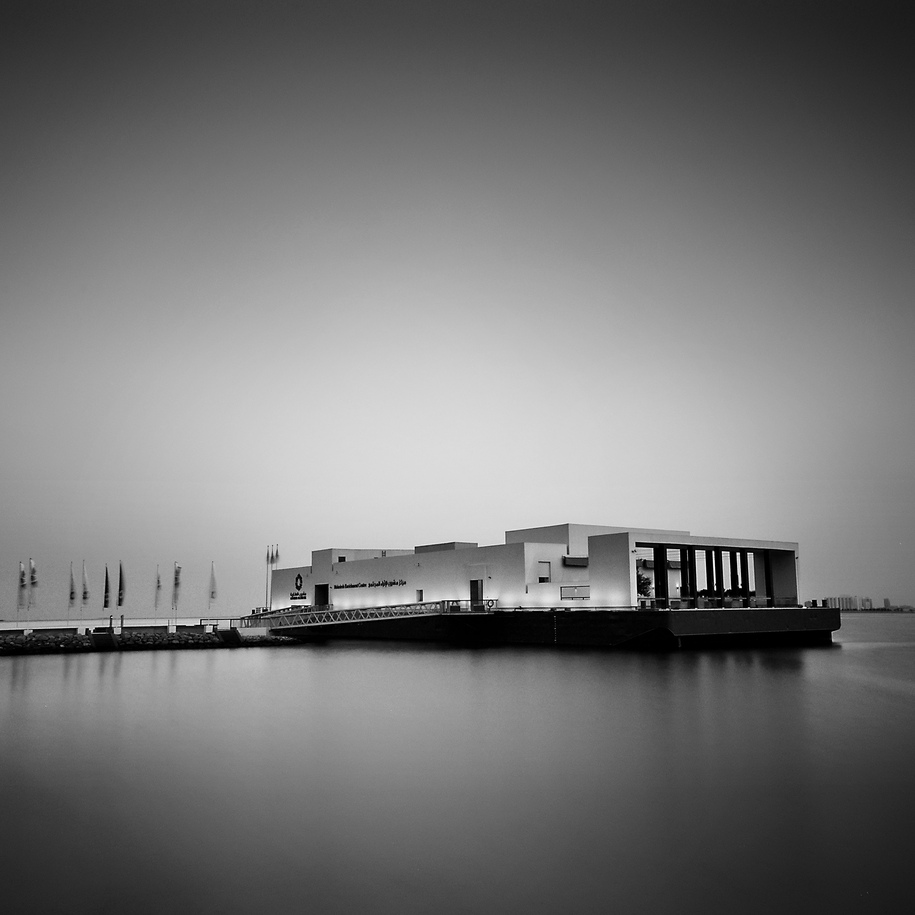 – Lusail City and Light Rail Transit: on the north of the city is set to become a grand satellite city on over 35 sq.km. and accommodating up to 250.000 people. A master plan by the Lusail Real Estate Development Company with consulting firms Hyder, Halcrow, Cowi, Parsons, Bechtel. It is also planned to host some of the 2022 FIFA World Cup stadiums and related facilities for the event.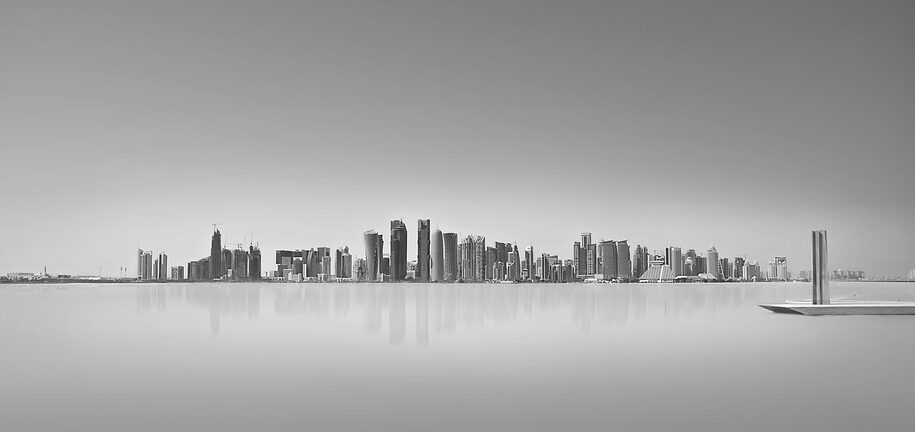 – HIA Airport City: is a new 10 sq.km. mixed-use development master planned by Rem Koolhaas and his OMA office to link the Hamad International Airport with the existing south part of the city. Phase one is a 30-year plan estimated to be mostly complete for the 2022 World Cup hosted by Qatar. Projected to host 200.000 people to live and work for business, logistics, retail, hotels and residences.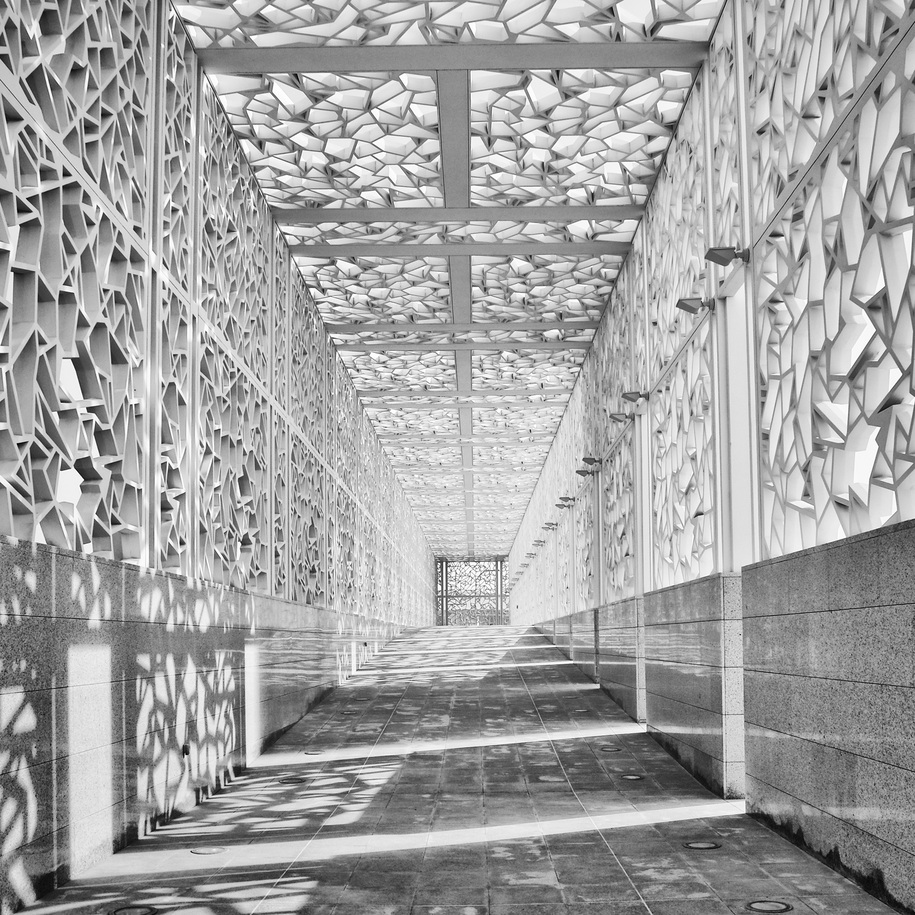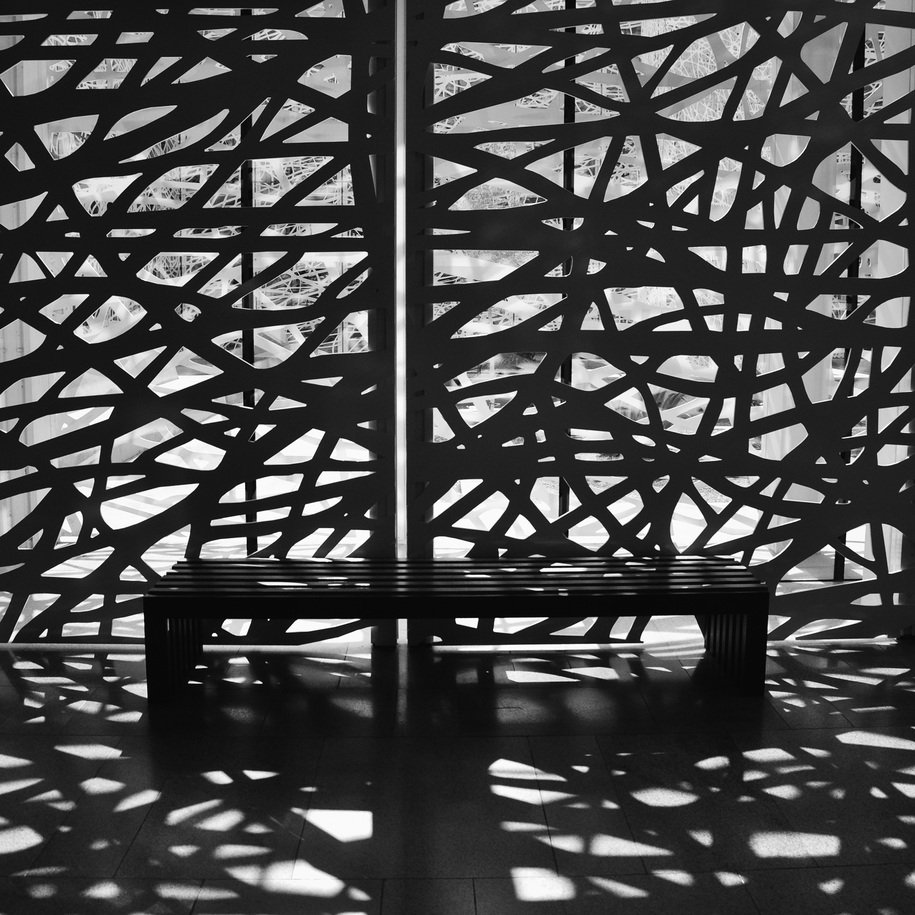 You can find a comprehensive photo guide to Doha's contemporary architecture here
Facts & Credits
References: (1) Architectural Papers
                      (2) Youtube 
Resources: 1. A research project by Qatar National Research Fund on the city's architecture and urbanism: Q-Urbarch
                     2. Professors Kelly Hutzell and Rami el Samahy research and documentation for Doha's architecture and urbanism by Carnegie Mellon University and Qatar Foundation: 4d Doha
                     3. Qatar National Vision 2030:
Cover Photo: Inland Sea dunes © Pygmalion Karatzas

Acknowledgements:
I would like to thank the Qatar Foundation for granting me permission to photograph Education City, QDVC and Parsons for giving me access to the Lusail LRT project, SEG Qatar for the Asperat Hospital construction site tour, Al Hamad Engineering for the Al Najma hotel construction site tour, Amara Photos, Anas Akkawi photography and Petros Zouzoulas for their guidance, and e-architect.co.uk, greekarchitects.gr and arcspace.com for their support on this assignment. 
Architectural & Fine Art Photographer
M.Sc. Urban Design
B.Sc. Architecture
READ ALSO:
Cooperative Construction Centre in Metaxourgeio, Athens | Diploma thesis project by Athina Maria Georgiadi, Thalassini Karali & Ourania Agoranou