text in

EN, GR
The "Blue House", or in other words "Casa Azul" in Coyoacán Mexico City was for years the colorful house and source of inspiration for Frida Kahlo. Inspired by her, a woman of contradictions and vibrant colors both in her life and work, Revergo architects created a small cafe named "Casa Azul", a space filled with Mexican cultural elements, with the warmth and intimacy of a real house.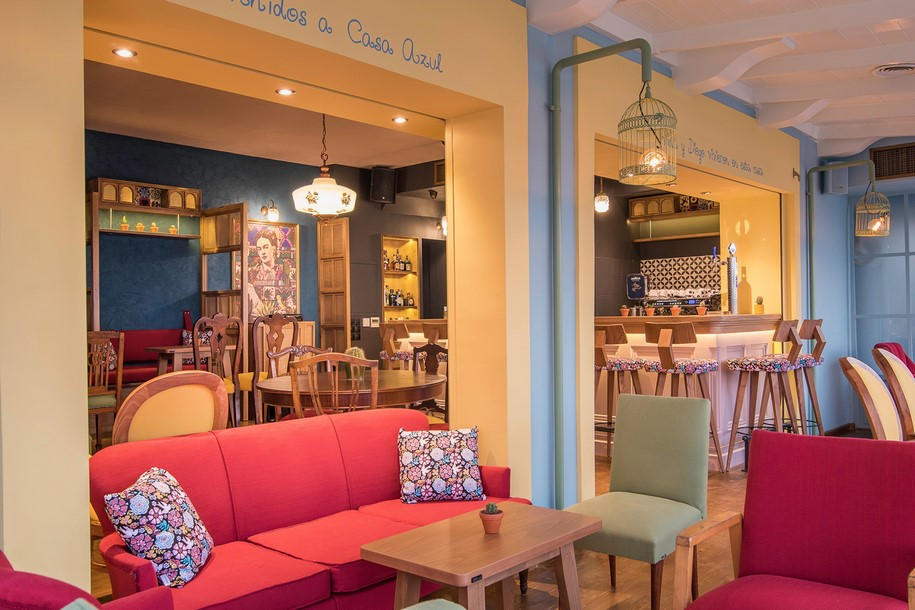 This project is the renovation of a 70 square meter ground floor space in a two-storey house located on the main waterfront street of Lefkas city in Greece. The existing building of Casa Azul is a typical example of the Ionian architecture, with a bright blue facade, which provided the inspiration to utilize Frida Kahlo's particular style in order to achieve a seamless fusion between old and new.
The buildings' preexisting color carries on to the cafe's facade in order to frame the interior and allow for an aesthetic contradiction. The primary intention was the creation of a space in the city center where the boundaries between public and private quietly fade away and the warmth of a home welcomes the guest.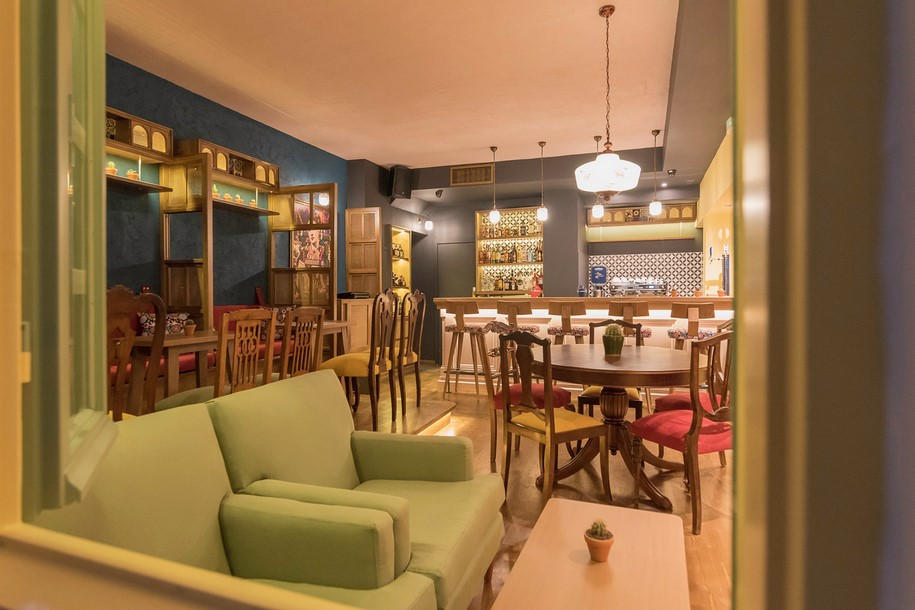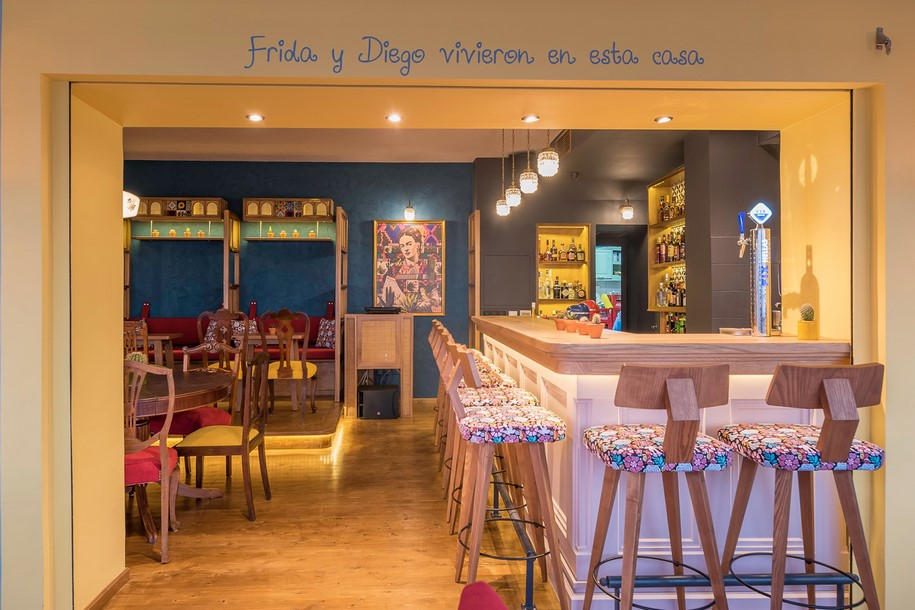 Casa Azul welcomes the client with an impressively intricate facade of blue sliding doors and guides him into the colorful interior world of a house with details taken from Fridas' plethoric personality. The bright basic colors of the furniture, like blue, red and yellow are flawlessly combined with the Mexican style patterns on the fabrics, the rough textures of the walls and the vintage light fixtures.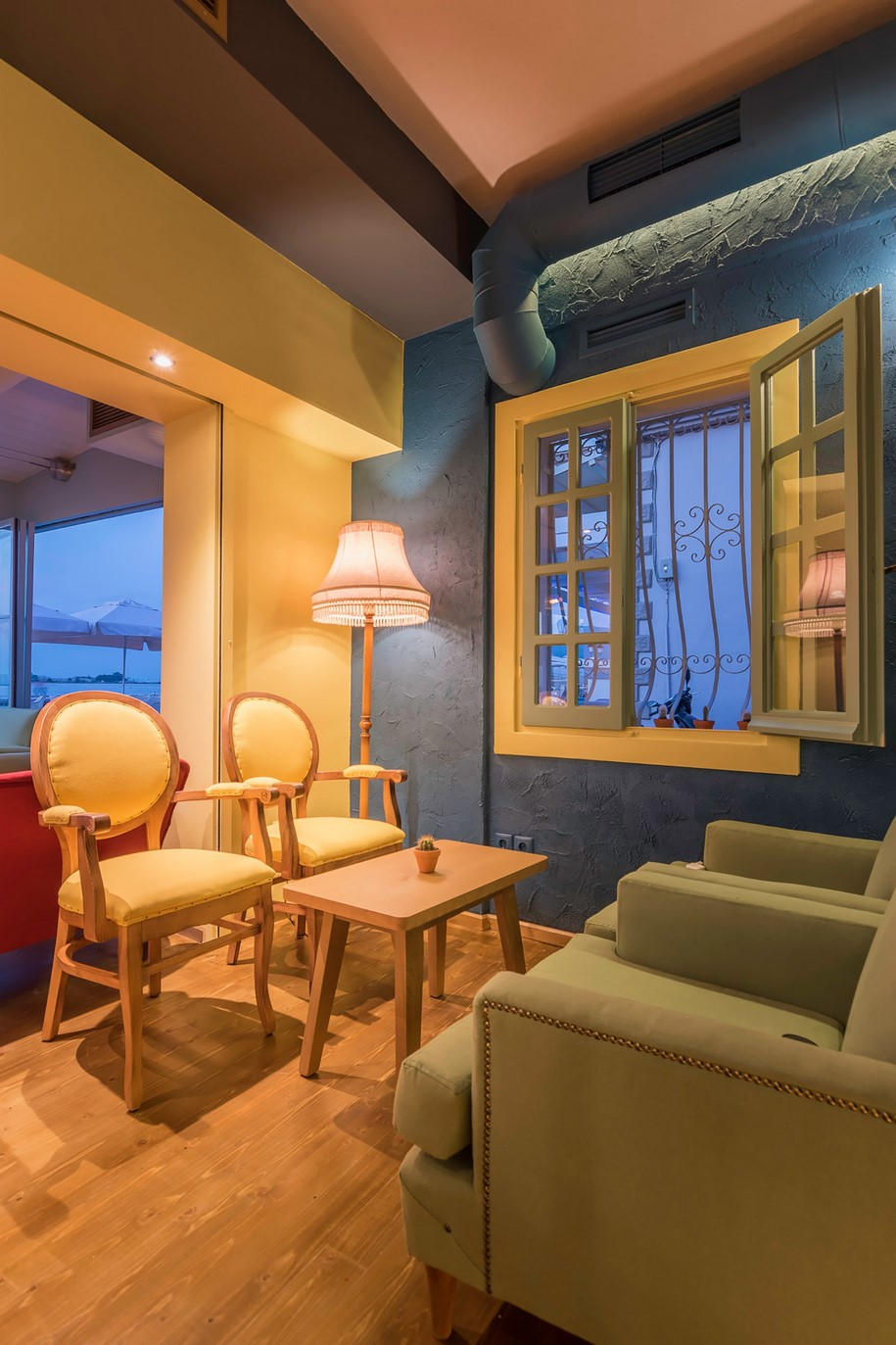 The careful selection of furniture in conjunction with the straw separators and the warm, homey textures come together to create small private corners within the cafe. The vast majority of the furniture is handpicked from second-hand stores and refurbished with new fabrics to amplify the impression of a home. To finish off, small cactus pots and hand painted Mexican tiles on the surrounding decor create an exotic scenery for the "Blue House", which intends to mentally travel the visitor from Lefkas waterfront directly into the heart of Mexico.   
---
Το "Μπλε Σπίτι" ή αλλιώς "Casa Azul" στην περιοχή Coyoacán του Μεξικό υπήρξε για χρόνια το πολύχρωμο ησυχαστήριο, η αδυναμία αλλά και η πηγή έμπνευσης της ζωγράφου Frida Kahlo. Με αφετηρία την ιδιαίτερη αυτή επαναστάτρια, μια γυναίκα των αντιθέσεων και των έντονων χρωμάτων στη ζωή και το έργο της, δημιουργήθηκε στην παραλία της Λευκάδας το cafe-bar "Casa Azul", ένας χώρος μεξικάνικης κουλτούρας, το ίδιο ζεστός και οικείος σαν ένα αληθινό σπίτι.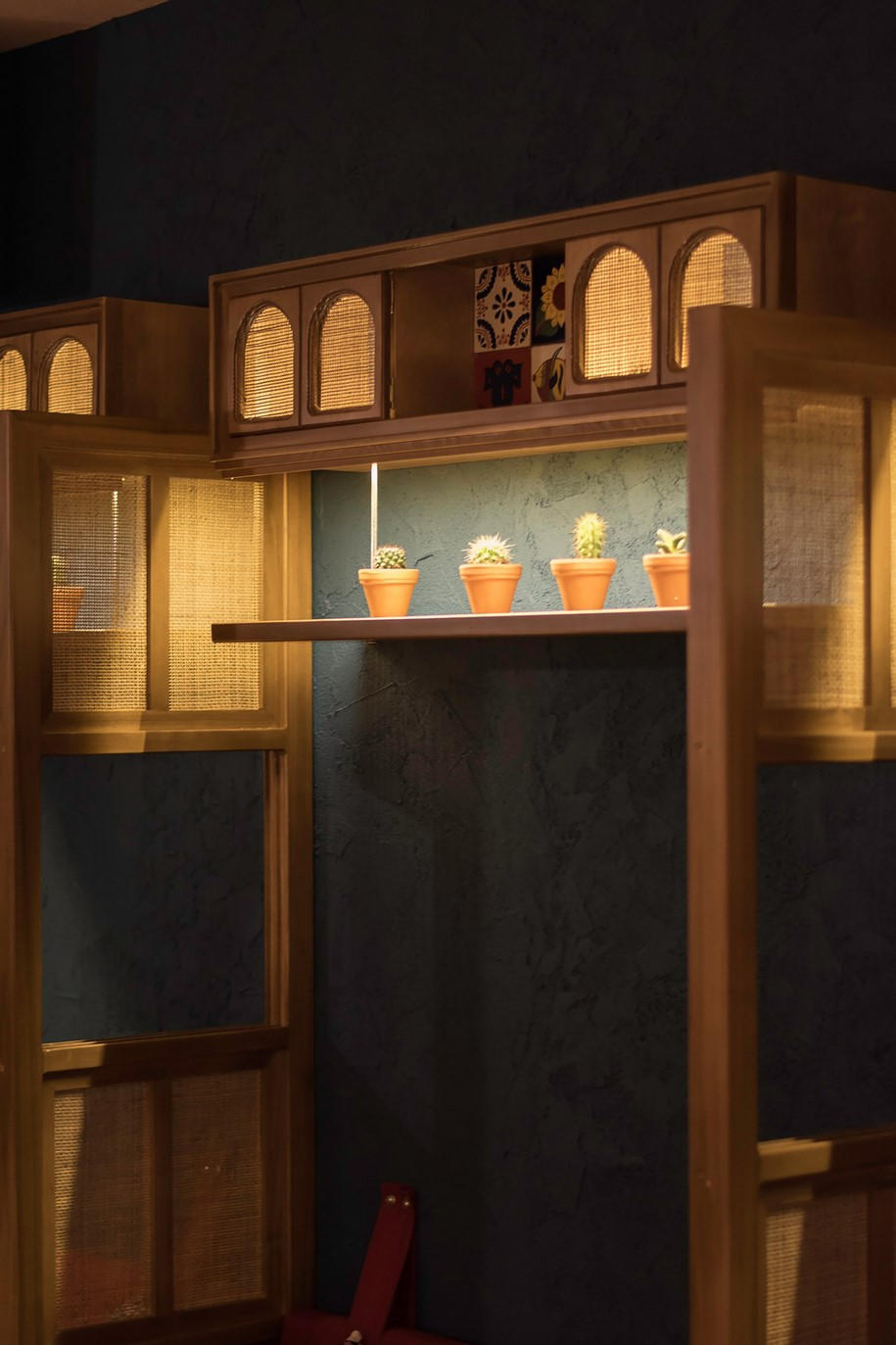 Πρόκειται για την ανακαίνιση του ισόγειου χώρου -70 τετραγωνικών μέτρων- μιας διώροφης κατοικίας στην παραλία της Λευκάδας. Το υπάρχον κτίσμα, χαρακτηριστικό δείγμα Λευκαδίτικης αρχιτεκτονικής με το έντονο μπλε χρώμα στις όψεις του αποτέλεσε την αφορμή για μια χρωματική σύζευξη του παλιού με το νέο. Το ίδιο το χρώμα του ορόφου επαναλαμβάνεται εδώ και συμπληρώνει τις όψεις του ισογείου, ενώ ο εσωτερικός χώρος του cafe είναι αυτός που διαφοροποιείται λειτουργικά αισθητικά και χρωματικά. Ο στόχος: ο δημόσιος χαρακτήρας μια καφετέριας στο κέντρο μιας πόλης να παντρευτεί με τον ιδιωτικό-εσωτερικό κόσμο ενός σπιτιού που καλωσορίζει ένα φίλο.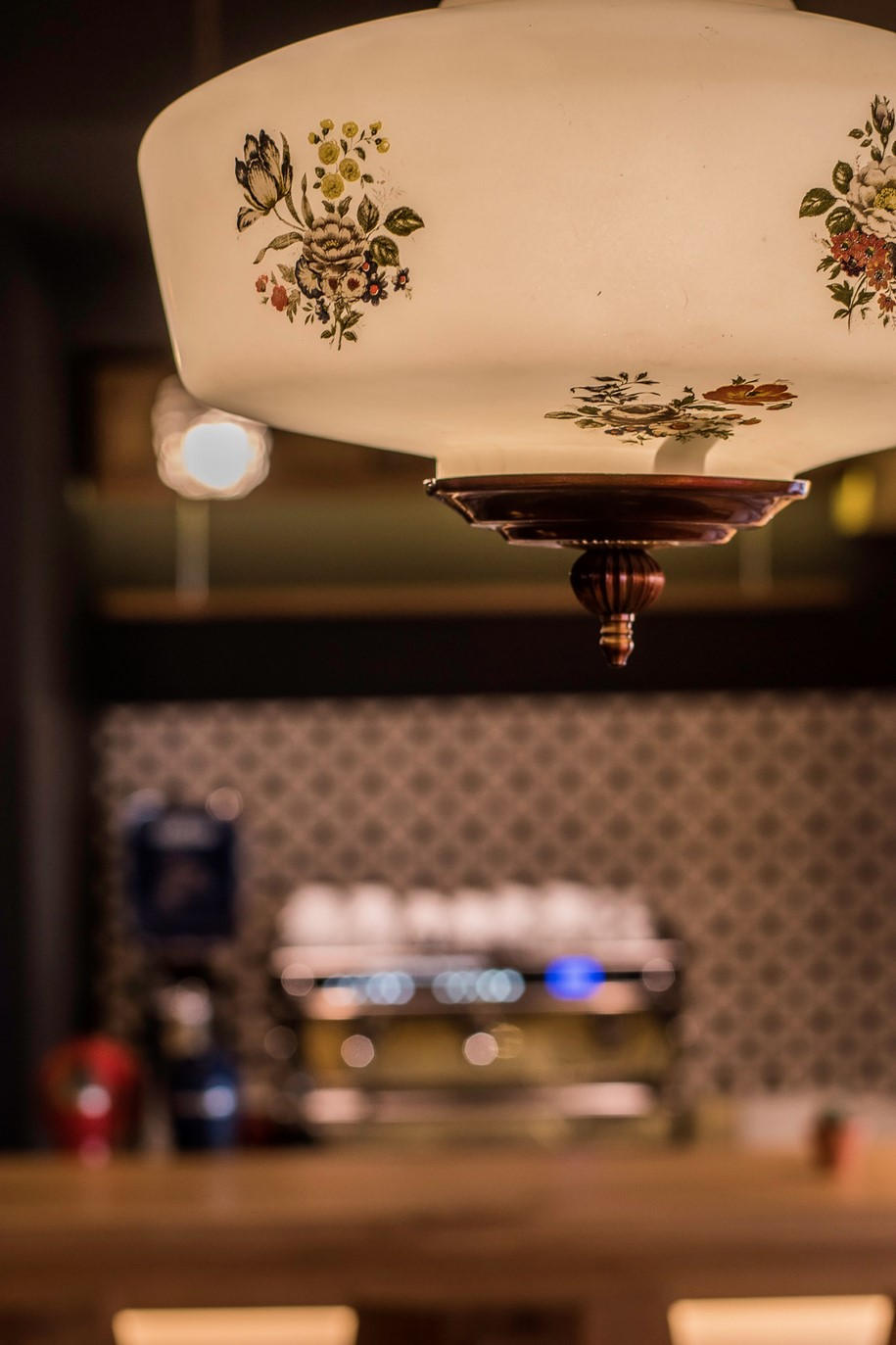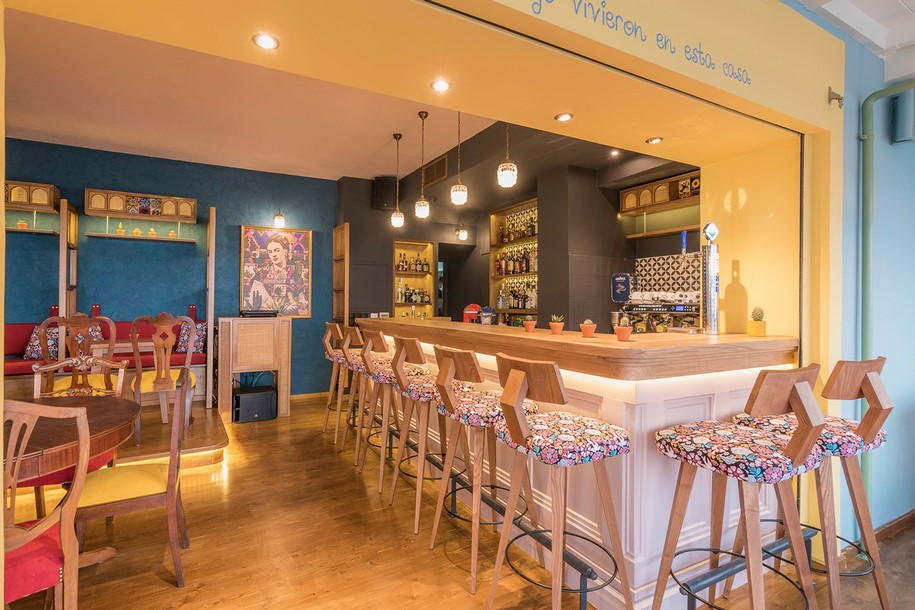 Το Casa Azul υποδέχεται τον επισκέπτη μέσα από μια όψη από εντυπωσιακά μπλε συρόμενα υαλοπετάσματα, και τον οδηγεί στον πολύχρωμο εσωτερικό κόσμο ενός σπιτιού που αποπνέει την πληθωρική προσωπικότητα της Frida Kahlo. Τα έντονα βασικά χρώματα στα έπιπλα, όπως το μπλε, το κόκκινο και το κίτρινο συνδυάζονται με μεξικάνικα σχέδια στα υφάσματα, ακατέργαστες αδρές υφές στους τοίχους και vintage αισθητικής φωτιστικά σώματα.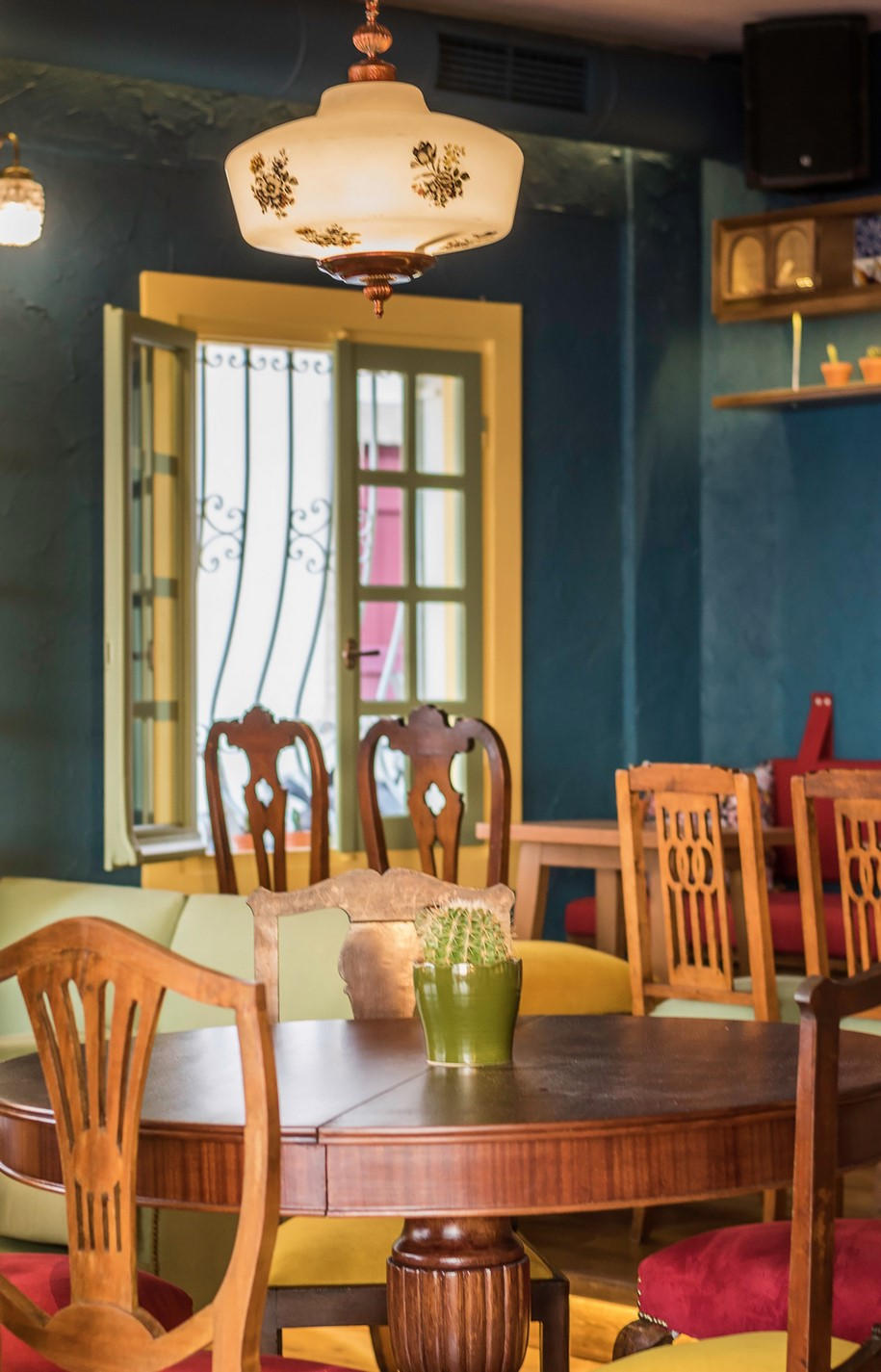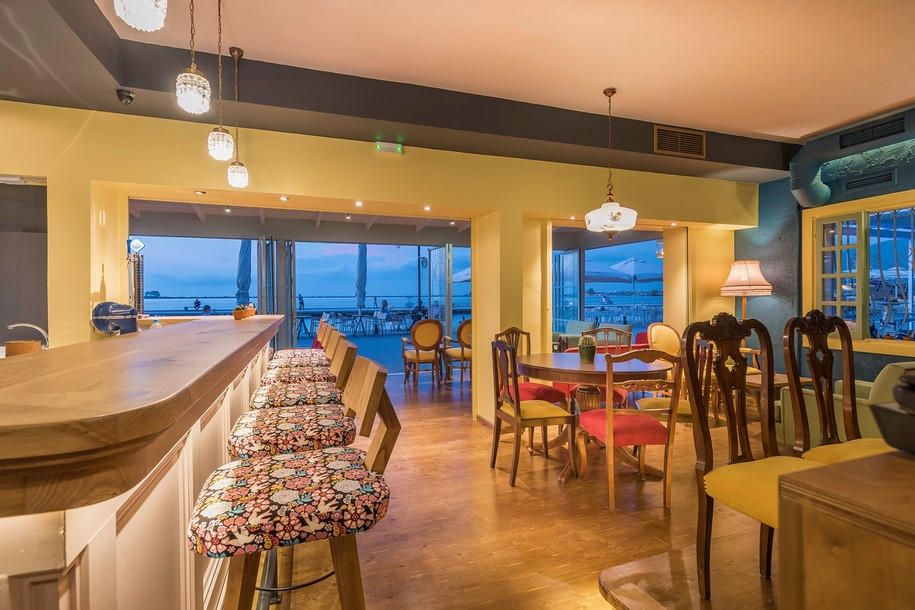 Η επιλογή και η διάταξη των επίπλων με τα ψάθινα διαχωριστικά και τα ζεστά υλικά δημιουργούν μικρές γωνιές ιδιωτικότητας για τους χρήστες. Τα έπιπλα, στην πλειοψηφία τους επιλεγμένα από παλαιοπωλεία, ενισχύουν την αίσθηση του οικείου, ενώ οι κάκτοι και τα χειροποίητα πλακίδια στα έπιπλα και τους τοίχους συνθέτουν ένα εξωτικό σκηνικό στο "Μπλε Σπίτι", που επιχειρεί να "ταξιδέψει"τον επισκέπτη μέσα σε λίγα λεπτά από την παραλία της Λευκάδας στο κέντρο του Μεξικό.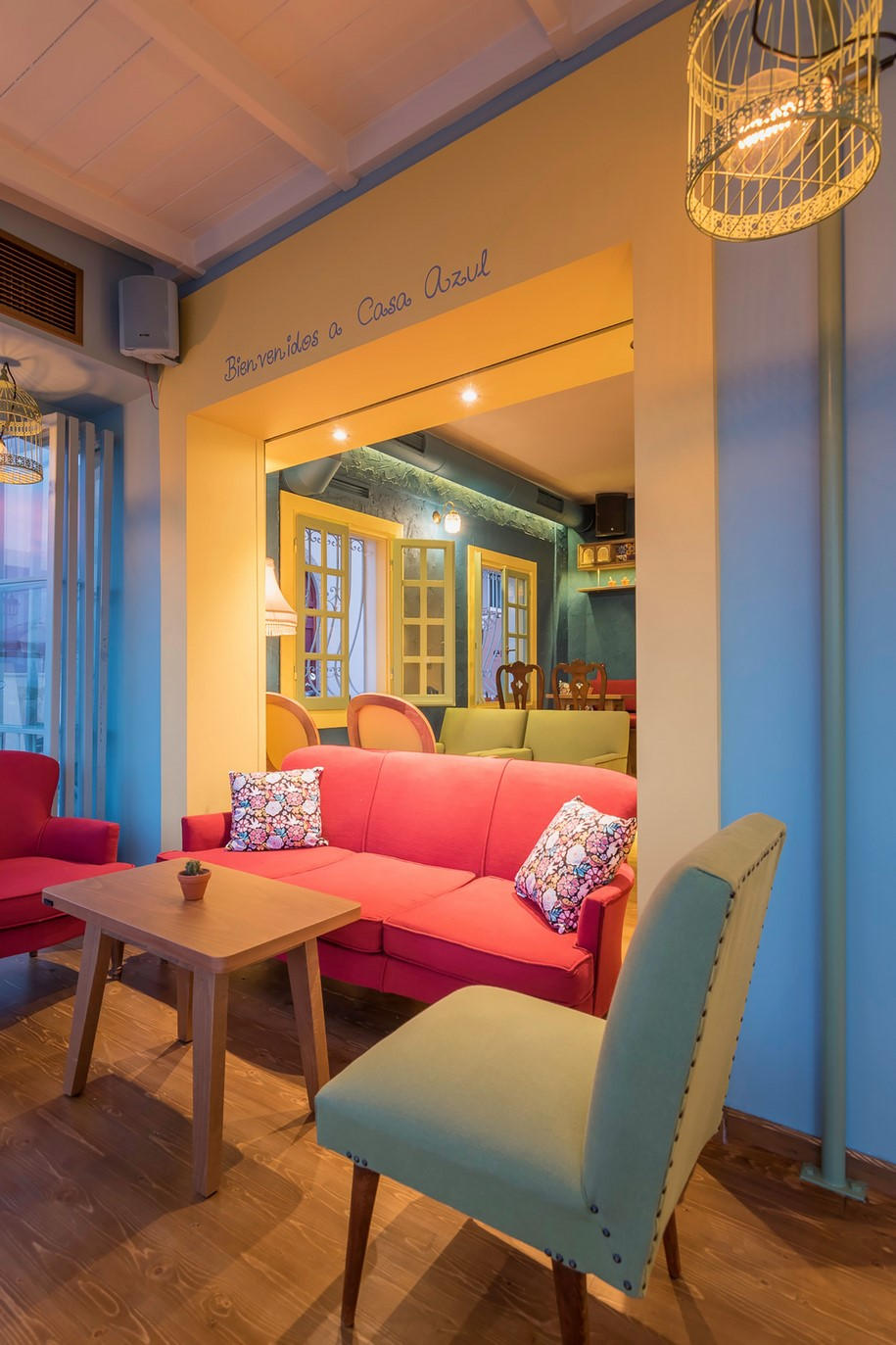 Facts & Credits:
Architects: Revergo Architecture & Design Studio (Vassiliki Asprogeraka – Julie Fradelou)
Project type: Recreation | Cafe
Location: Lefkas, Greece
Project Status: Complete, 2017
Photography: Svoronos Thomas – DreamworxGraphic Design: Svoronos Thomas – Dreamworx
Αρχιτέκτονες: Revergo Architecture & Design Studio (Βασιλική Ασπρογέρακα – Γιούλη Φραδέλου)
Είδος κτιρίου: Χώρος αναψυχής | Καφέ
Τοποθεσία: Λευκάδα, Ελλάδα
Κατάσταση μελέτης: Ολοκληρωμένο, 2017
Φωτογραφία: Σβορώνος Θωμάς – Dreamworx
Γραφιστική: Σβορώνος Θωμάς – Dreamworx

Upholstery services: Gousdovas Furniture Workshop – Under Construction at Athens
Furniture: Granny's House, ENKA Moisiadis, Gyllos, Παλιοσυνήθειες
READ ALSO:
Giorgos Aggelis & Katerina Daskalaki Renovated Element Shipping Company in Piraeus, Greece