text in

EN, GR
BESSA+S architecture studio redesigned an apartment in Cholargos, Athens aiming at lifting the fragmented character of the apartment and providing continuity without compromising the existing levels of privacy. Space flow is achieved through the breakdown of boundaries, the dual function (stop-transition) and the use of uniform materials.
-text by the authors
Within the private zone, the bathroom, the dressing room and the bedroom also act as transitional areas. Their boundaries are broken down and the user is allowed to move along them while maintaining her privacy. The entrance to the bathroom from two different openings serves its dual purpose: a space accessible from the master bedroom through the private wardrobe space, and at the same time, a space directly accessible from the common areas.
The bathroom holds an original design: the shower area is located at the center of the room, thus separating the sink from the toilet. At the same time, the flat floor and the uniform material allow the three parts to be unified. Within the shared spaces, the large open door between the living room and the office is maintained in order to take advantage of the openness towards the exterior landscape. The kitchen is redesigned for functionality and given the limited space availability, the workbench is expanded in order to create a functional and lightweight dining table.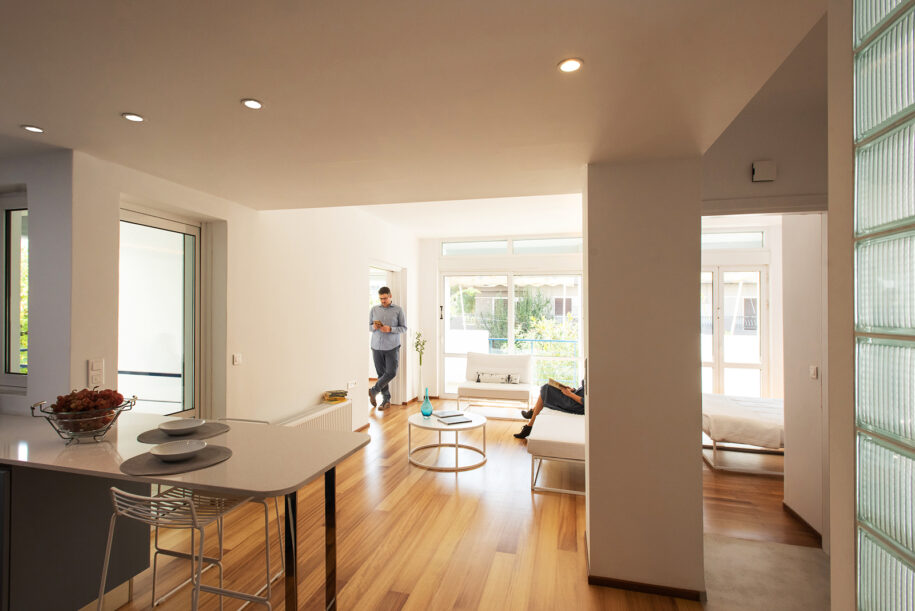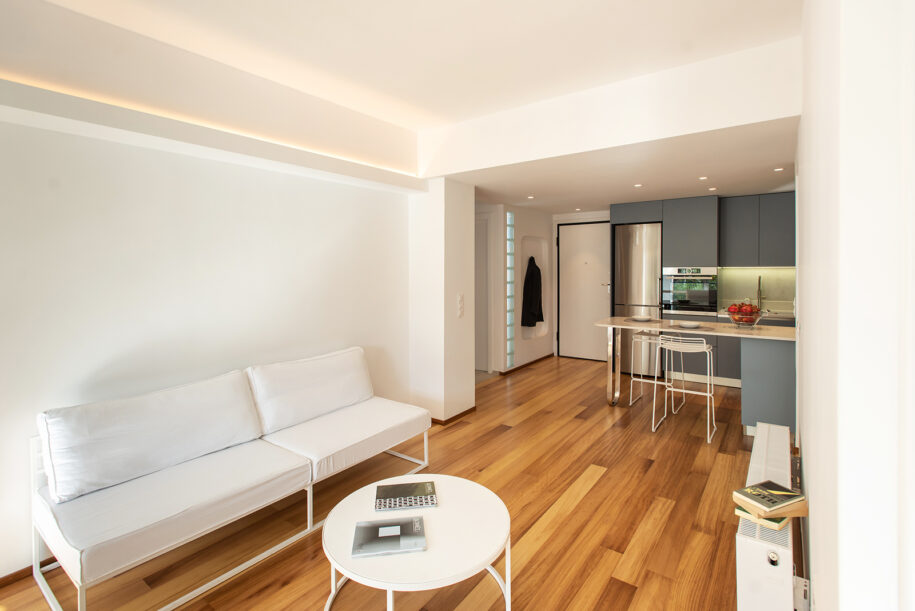 Lighting was a challenge due to the low height and deep depth of the apartment.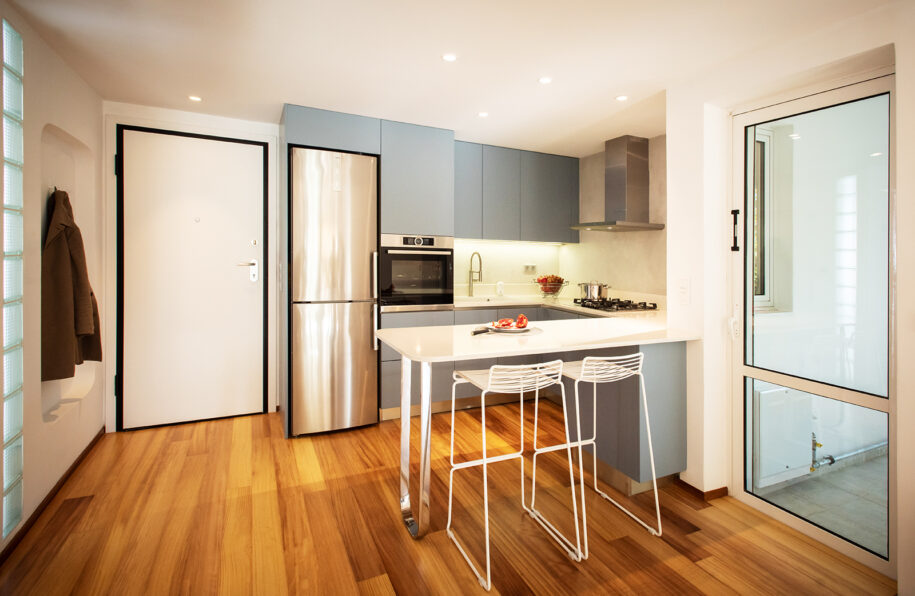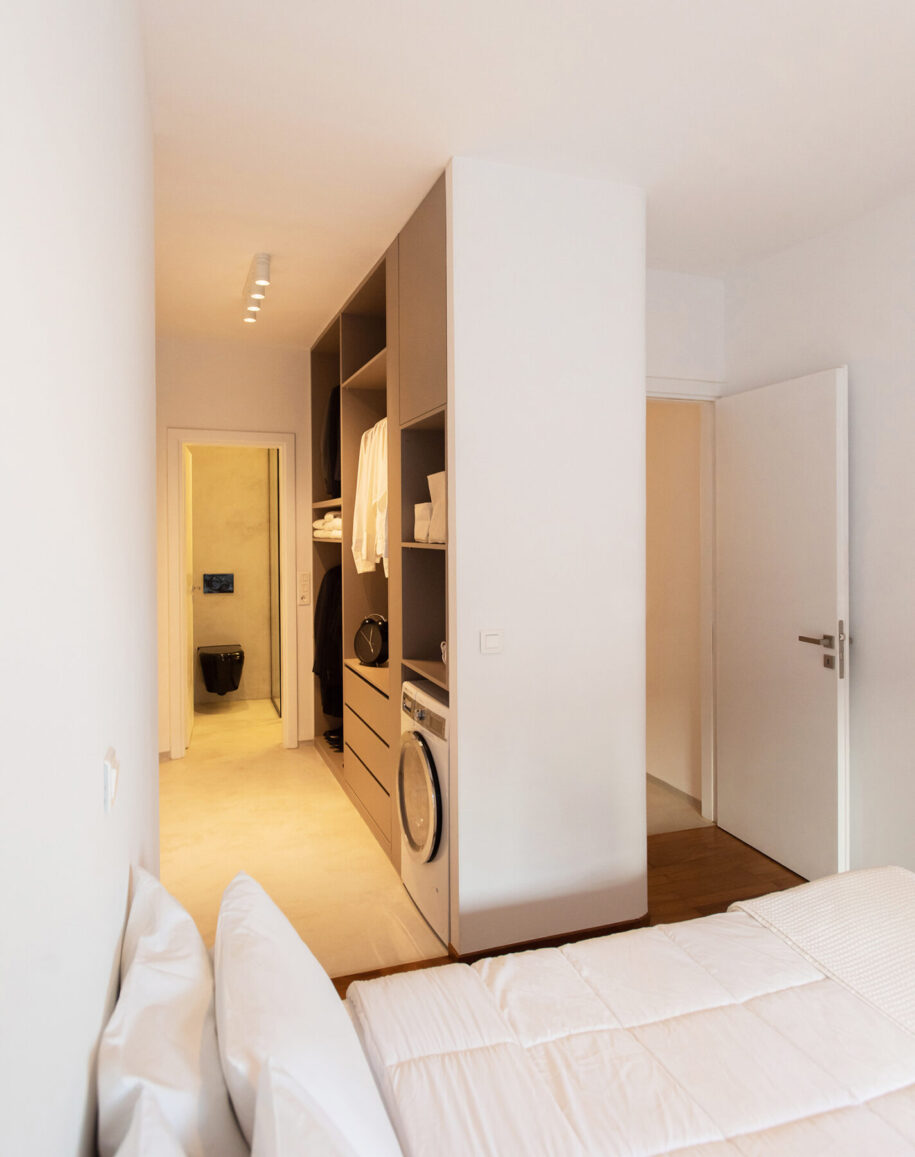 The use of high intensity, linear lighting, placed in cavities, provided the necessary illumination levels and at the same time reduced glare to a minimum and created an intimate and relaxing atmosphere.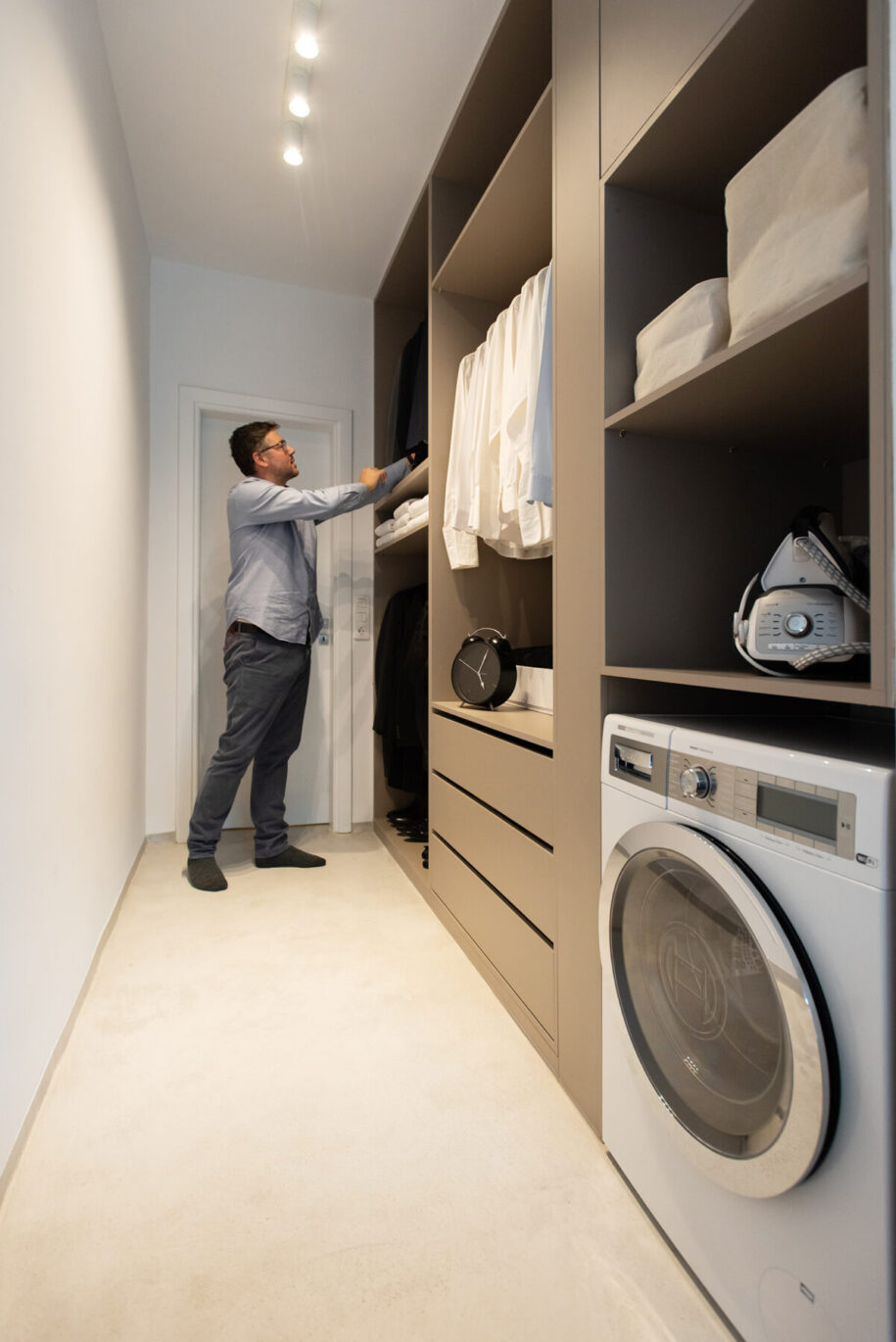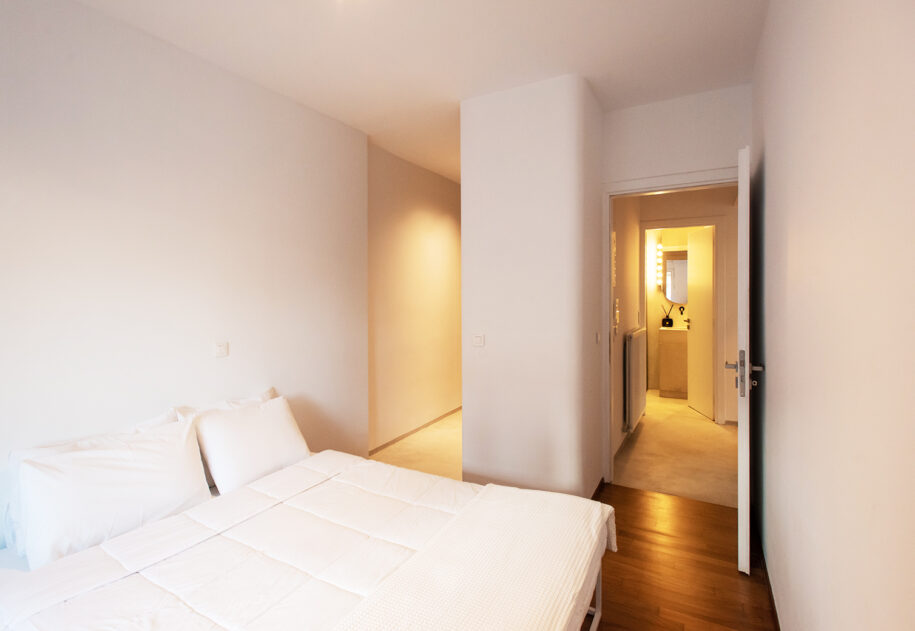 Facts & Credits
Project title  Apartment Redesign & Renovation in Cholargos
Location  Cholargos, Attiki
Year  2019
Architecture – Construction  BESSA+S
Lighting Design  Stelios Zerefos
Photography  Marili Papadopoulou


---

Το αρχιτεκτονικό γραφείο BESSA+S επανασχεδίασε ένα διαμέρισμα στο Χολαργό στοχεύοντας στην άρση της αποσπασματικότητας του διαμερίσματος, την απόδοση της συνέχειας και τη διατήρηση των διαφορετικών επιπέδων ιδιωτικότητας. Η ροϊκότητα του χώρου επιτυγχάνεται μέσα από τη διάλυση των ορίων, τη διττή λειτουργία (στάση-μετάβαση) και τα ενιαία υλικά.
-κείμενο από τους δημιουργούς
Στην ιδιωτική ζώνη, το λουτρό, το βεστιάριο και το υπνοδωμάτιο, λειτουργούν και ως χώροι κίνησης καθώς τα όριά τους διαλύονται και επιτρέπουν έτσι στον χρήστη την μετάβαση μεταξύ αυτών, ενώ παράλληλα διατηρεί την ιδιωτικότητά του. Οι δύο είσοδοι στο λουτρό εξυπηρετούν την διπλή προσβασιμότητα: ιδιωτικά από το υπνοδωμάτιο μέσω του του βεστιαρίου, και κοινόχρηστα από την κουζίνα. Με στόχο την ροϊκότητα, το λουτρό υλοποιείται με τρόπο πρωτότυπο: το ντους τοποθετείται κεντρικά στο χώρο και διαχωρίζει το νιπτήρα από το αποχωρητήριο. Ταυτόχρονα, το συνεπίπεδο δάπεδο και το ενιαίο υλικό επιτρέπουν την ενοποίηση των τριών τμημάτων.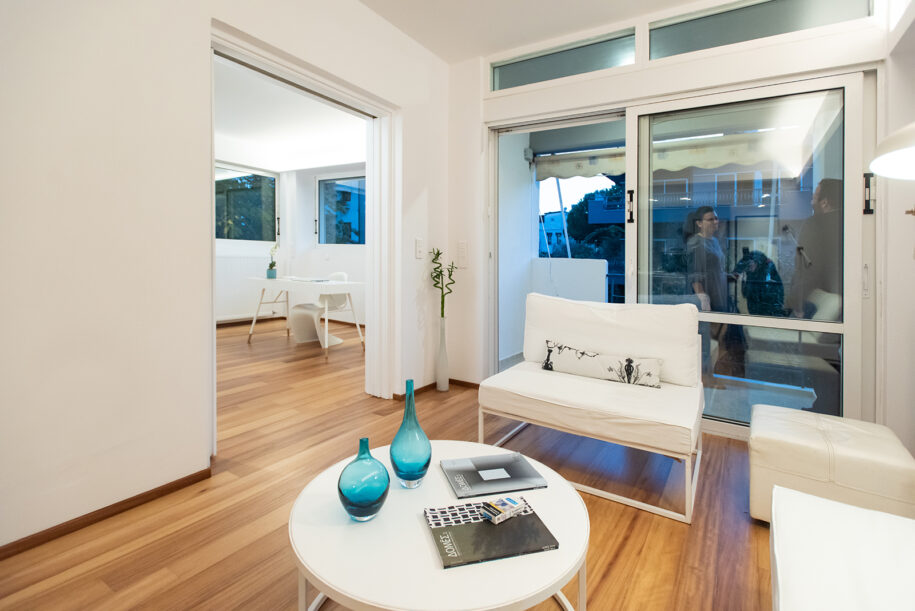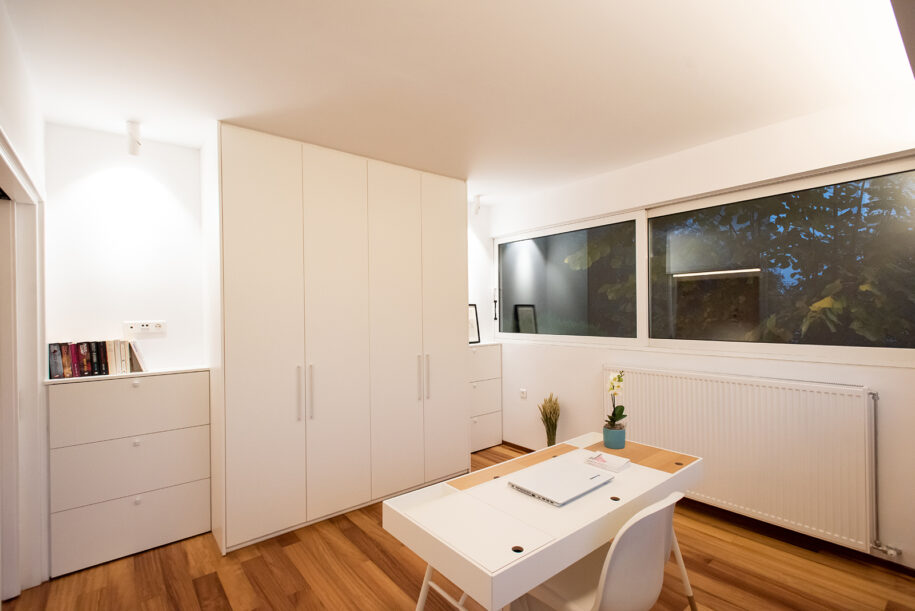 Στην ζώνη κοινής χρήσης, το μεγάλο άνοιγμα μεταξύ καθιστικού και γραφείου διατηρείται ώστε να αξιοποιηθεί το αίσθημα της ανοιχτότητας που προσδίδει ο χώρος του γραφείου με τα μεγάλα ανοίγματα προς το γειτονικό τοπίο. Η κουζίνα επανασχεδιάζεται με γνώμονα τη λειτουργικότητα και ο πάγκος εργασίας επεκτείνεται για να δημιουργήσει έναν άνετο πάγκο φαγητού ως ένα στοιχείο διακριτικό και ανάλαφρο δεδομένου του περιορισμένου χώρου.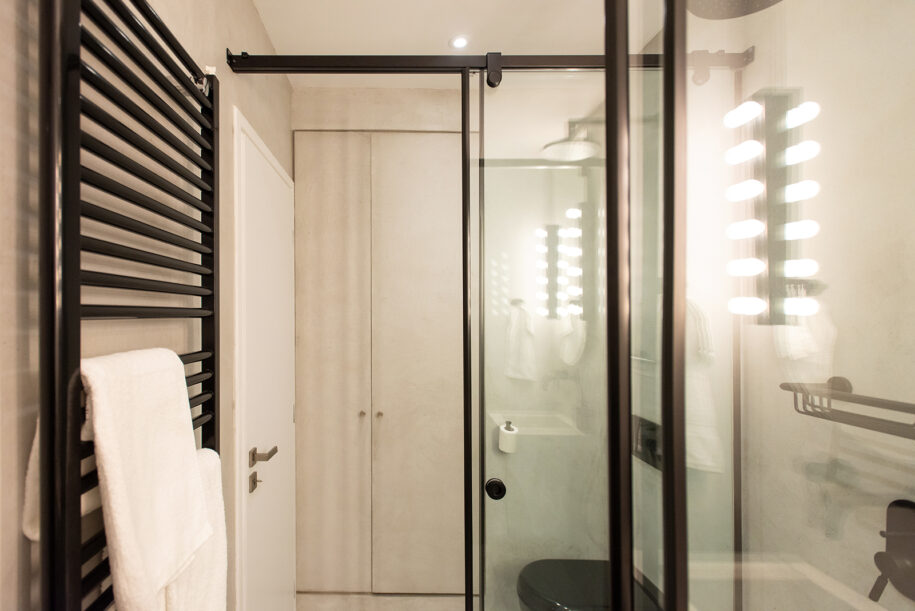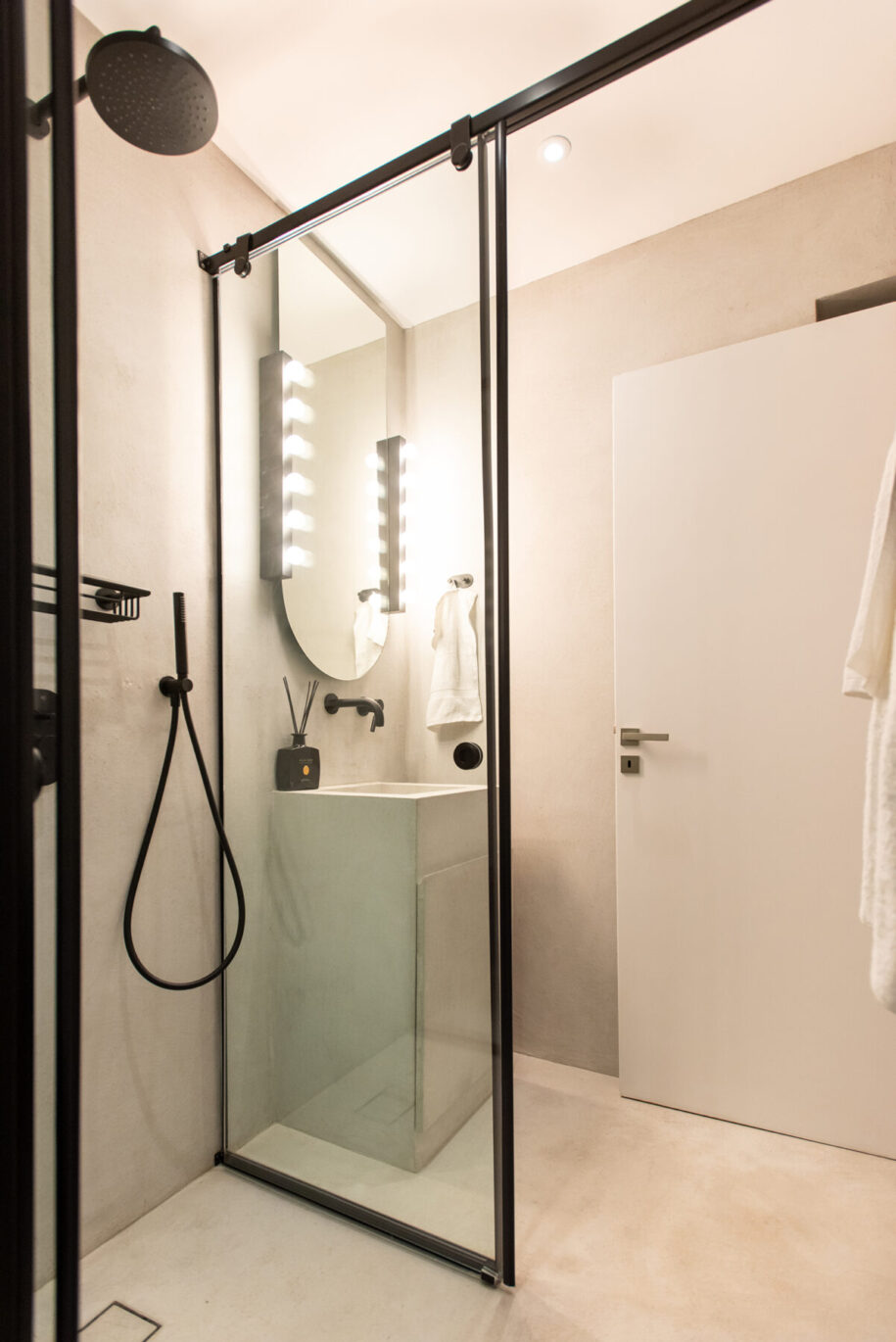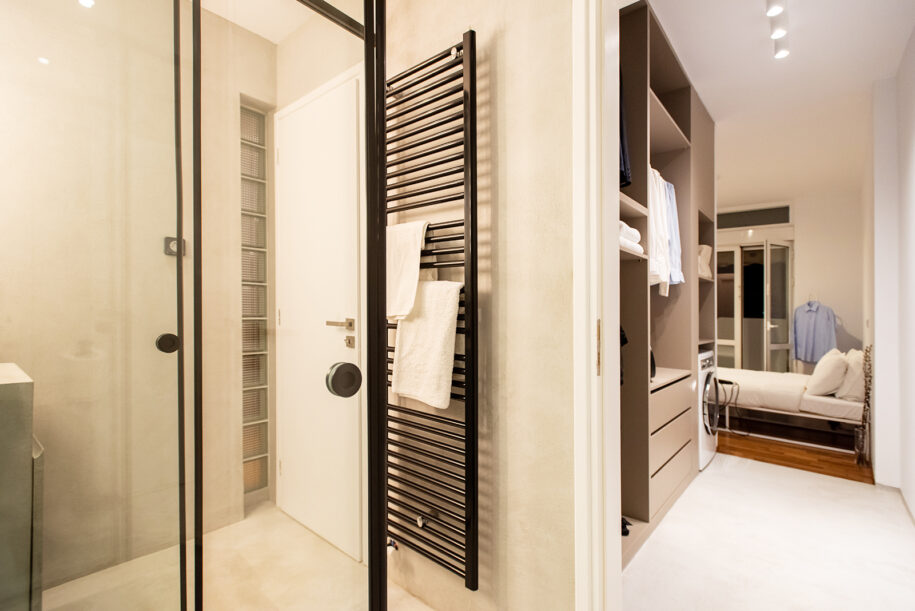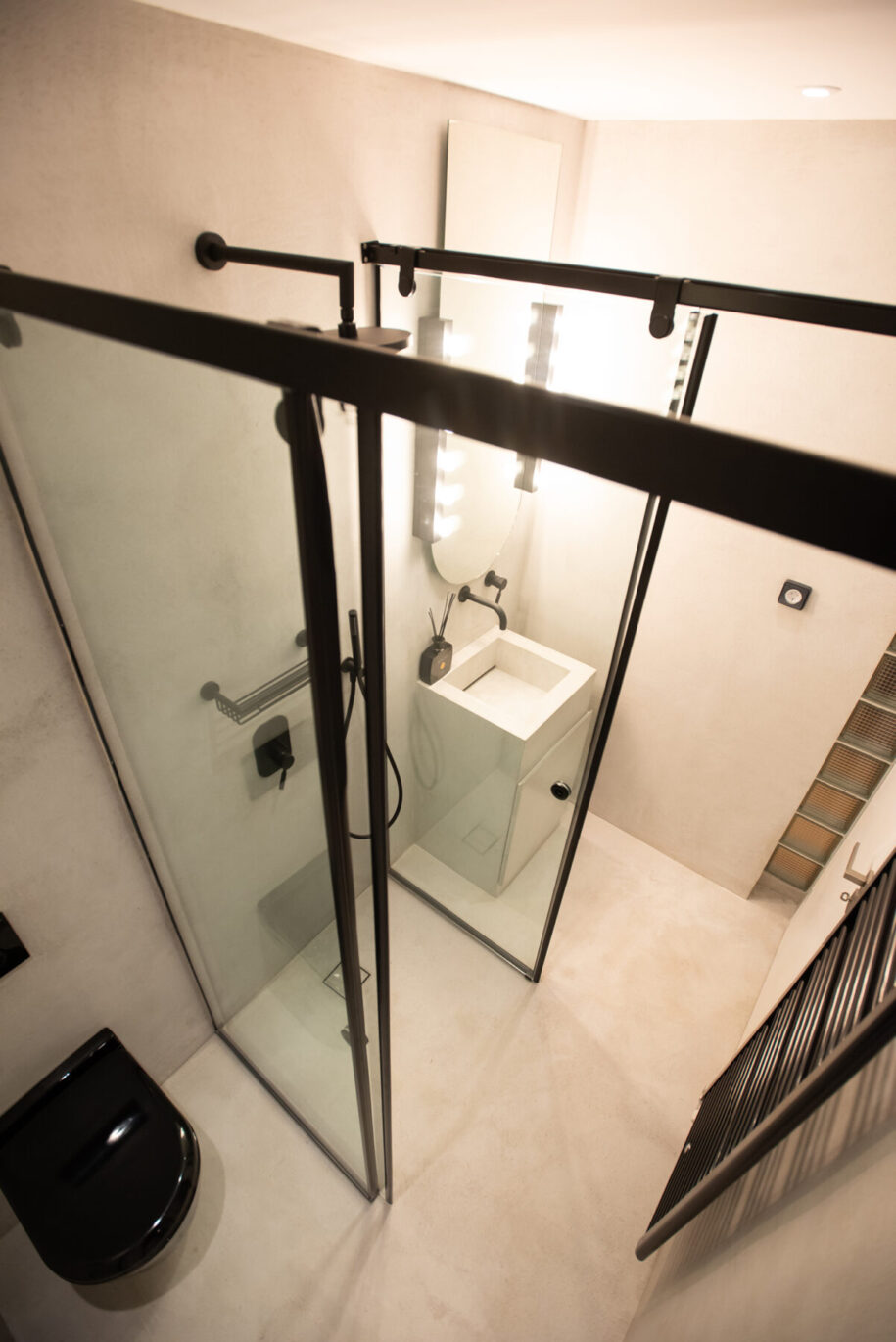 Η πρόκληση για το σχεδιασμό φωτισμού λόγω του χαμηλού ύψους και του μεγάλου βάθους, ήταν η ταυτόχρονη επάρκεια και αποφυγή θάμβωσης. Επιλέχθηκαν ισχυρές γραμμικές πηγές θερμού φωτός, που τοποθετήθηκαν ως κρυφός φωτισμός, αλλά αποτελούν και το γενικό φωτισμό.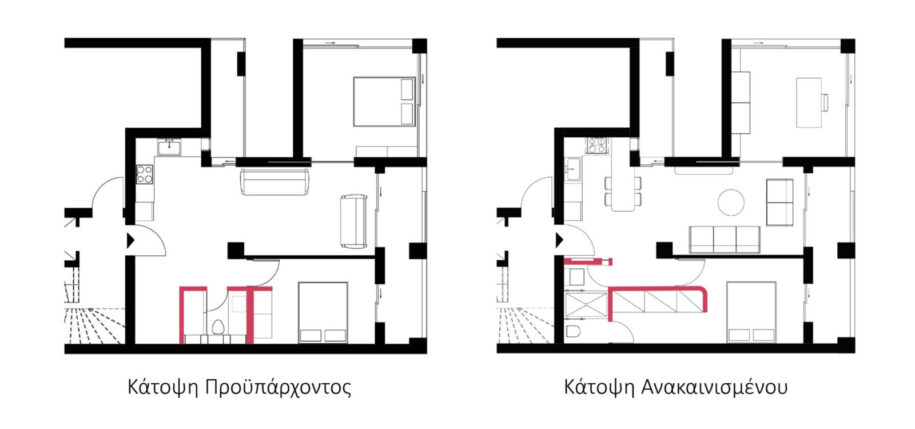 Στοιχεία έργου
Τίτλος Έργου  Σχεδιασμός και Ανακαίνιση Διαμερίσματος στον Χολαργό
Τοποθεσία  Χολαργός, Αττική
Χρονολογία  2019
Αρχιτεκτονική Μελέτη – Επίβλεψη – Κατασκευή  BESSA+S
Μελέτη φωτισμού  Στυλιανός Ζερεφός
Φωτογραφία  Μαρίλη Παπαδοπούλου
READ ALSO:
Architects Paulo Martins & Bruno Alvarinhas converted a small house in Aveiro, Portugal into an inhabited work of art