Harquitectes were awarded with 1st Prize at the competition about a social housing project in Catalonia, Spain. The project, under the title "Social Housing 1737", focuses on creating a cohesive connection between the Serra de les Ferreres zone and the Llobregat Agricultural Park by incorporating new pathways and utilizing the natural slope of the land. It features a central atrium that provides ample natural light and ventilation to all living spaces, with each apartment consisting of modular, outward-facing rooms and a continuous balcony. The use of screens, concrete slabs, and slim pillars in the hybrid structure defines the individual rooms while promoting a sense of unity within the complex.
-text by the authors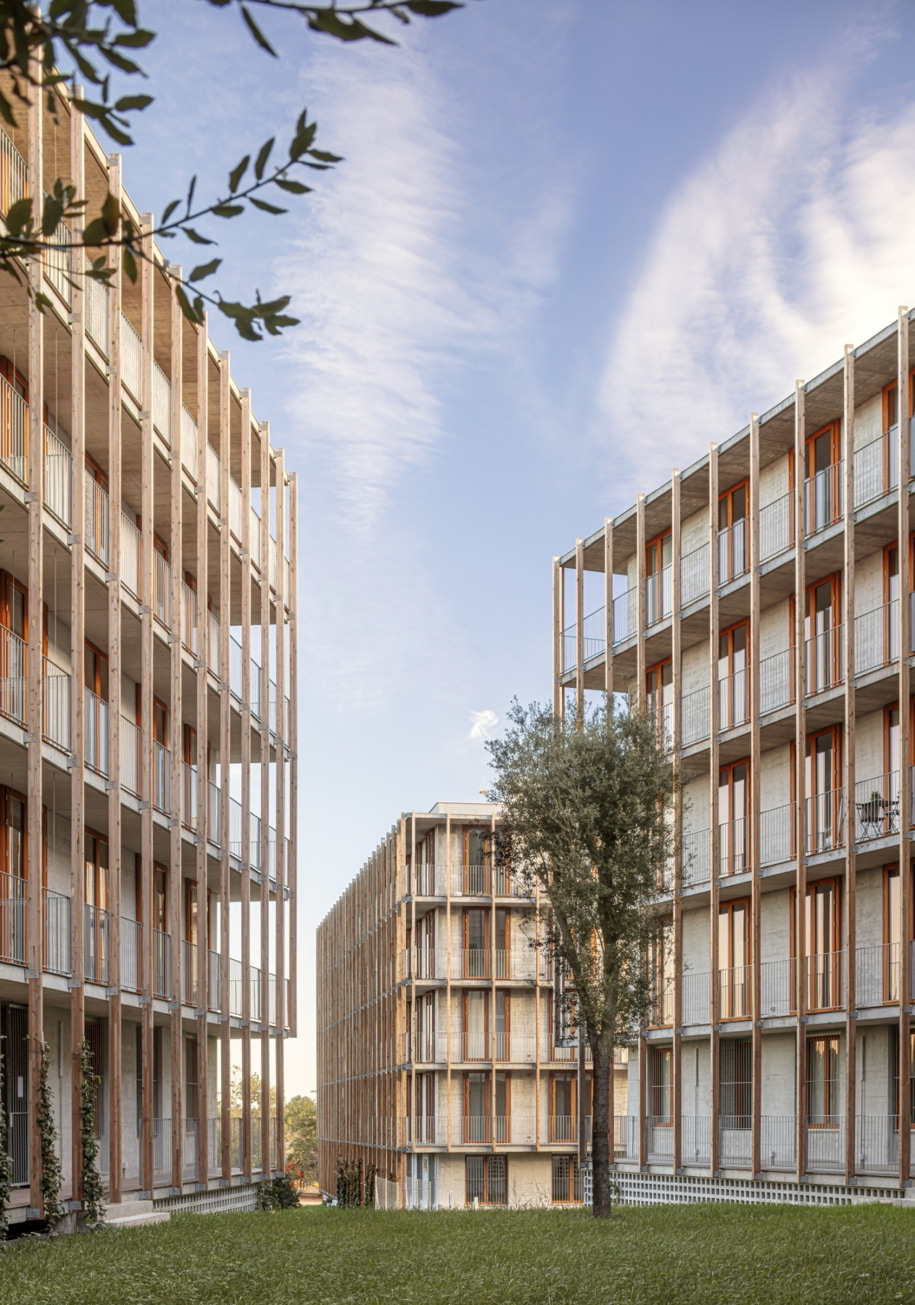 The volumetric organization of this project encourages the biological and recreational continuity between the Serra de les Ferreres zone and the Llobregat Agricultural Park in Gavà, Catalonia, complementing the longitudinal circulation with new transversal links that facilitate access to the block. Opening the interior corners of the complex prevents potentially insecure dead zones, while the staggered buildings adapt to the natural slope of the plot.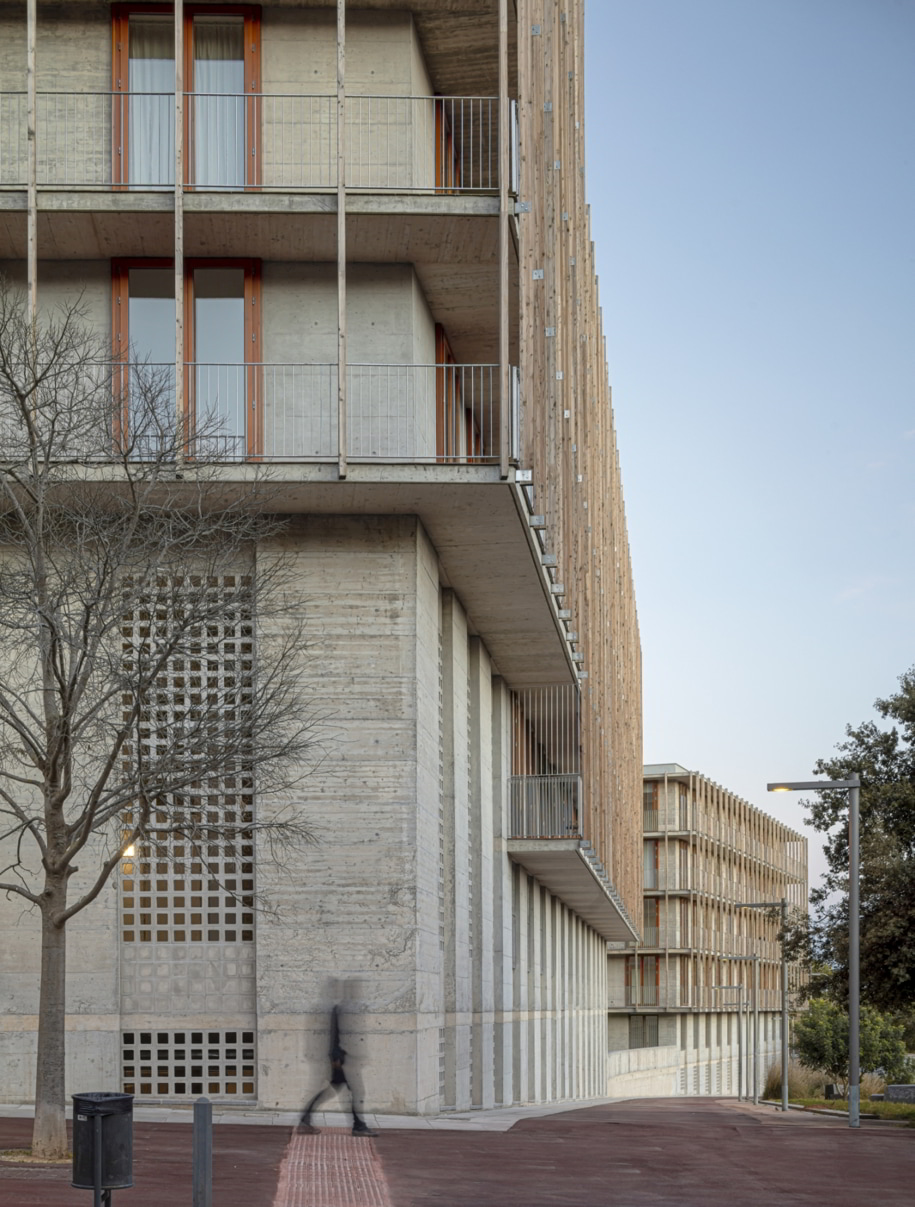 The entire parking zone is placed in the projection of the building to foster a landscaped garden with leafy trees. Only the paths leading to the stairs receive minimal paving; the rest of the land is used as a drainage area to manage the water cycle and consolidate the growth of native shrubs and almond, carob and olive trees. Wood and vegetation complement the materiality of the concrete outer walls.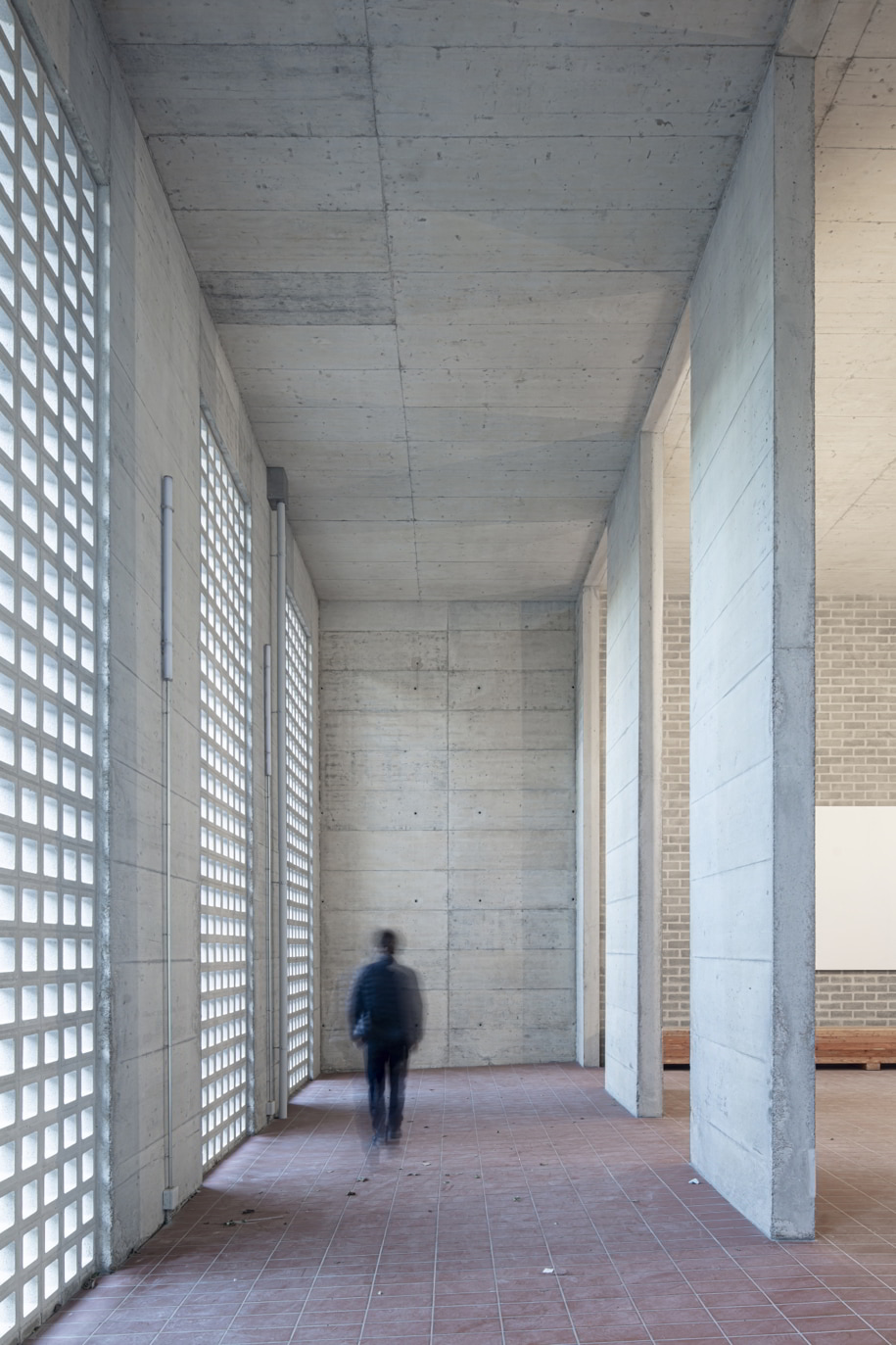 As the plot provides good views and pleasant surroundings, an additive system generates the building and intensifies relations between the inhabited spaces and their environs. All rooms face outward, toward the landscape. At the same time, however, these rooms enclose a cloister-like central atrium where the services and circulations are concentrated, giving generous natural light and cross ventilation to all the spaces.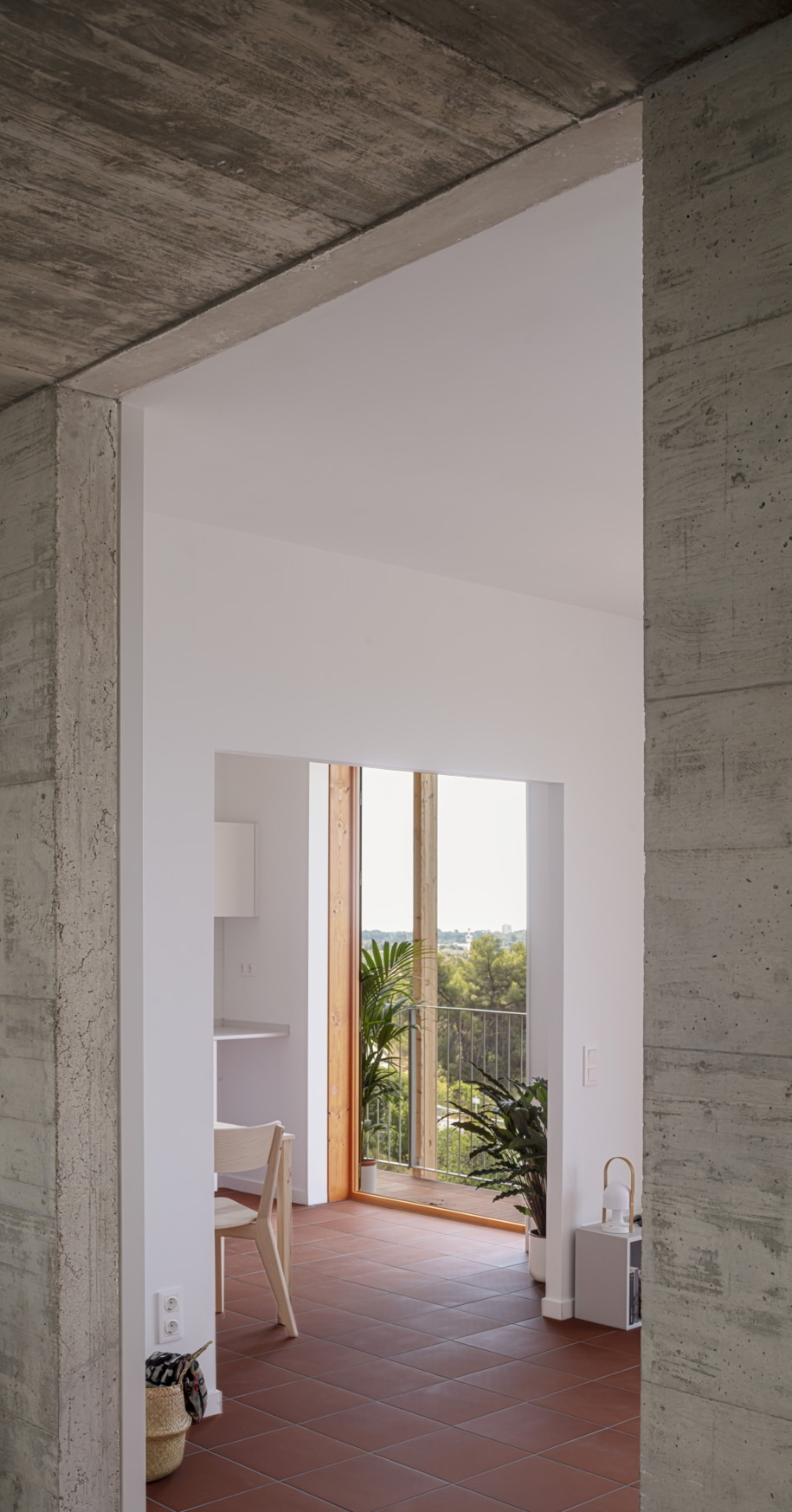 The project shapes 3 continuous rings – terrace, program, and circulation – with the compact vertical communication cores placed inside the atrium to serve 4 dwellings per level. This layout yields 136 apartments. The central atrium, a sheltered and slightly tempered space, ventilates the stairwell, nuances the dwellings, and makes the residences more comfortable.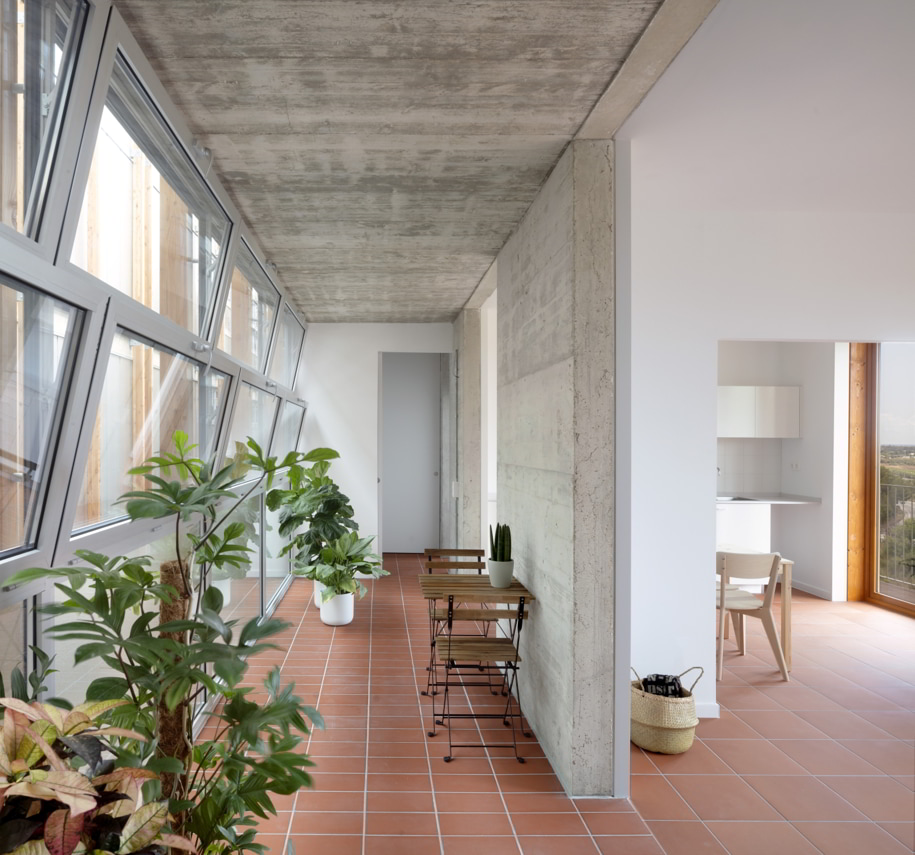 Each apartment is shaped by a series of identical non-hierarchical modules, each 10.6 m2, which can be used as living room, kitchen, or bedroom, with outward-facing transition spaces surrounding each room.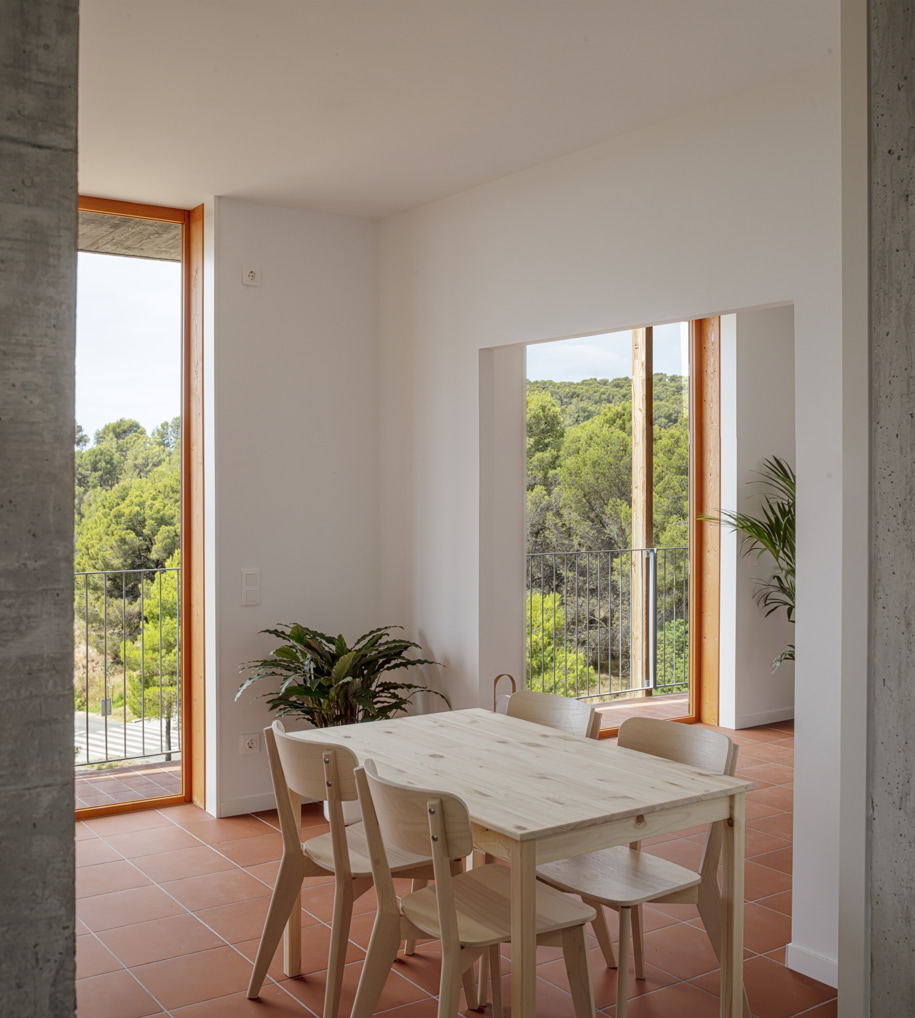 Along the outer wall, a continuous 1.5-meter-wide balcony runs toward the atrium while an almost symmetric corridor space acts like a glazed porch and converts bathrooms, storage space, or lounge room annexes. Designed as a denser plinth, the ground floor does not use the atrium directly. More conventional, compact typologies are employed to resolve the vestibules, following the same spatial matrix.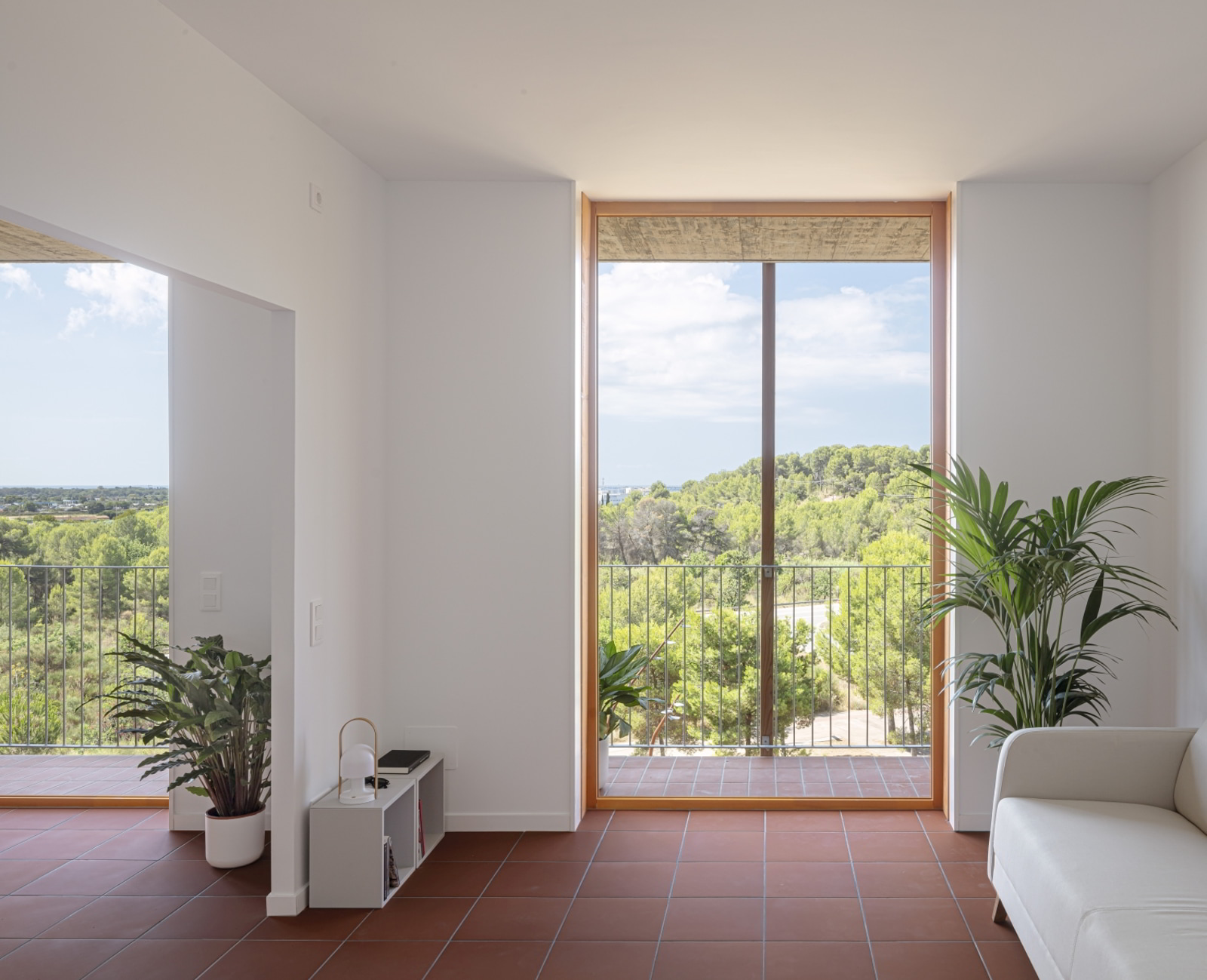 A hybrid structure with screens and concrete slabs separates the dwellings, combined with structural concrete slim pillars that permit short, efficient spans and characterize the space in each room.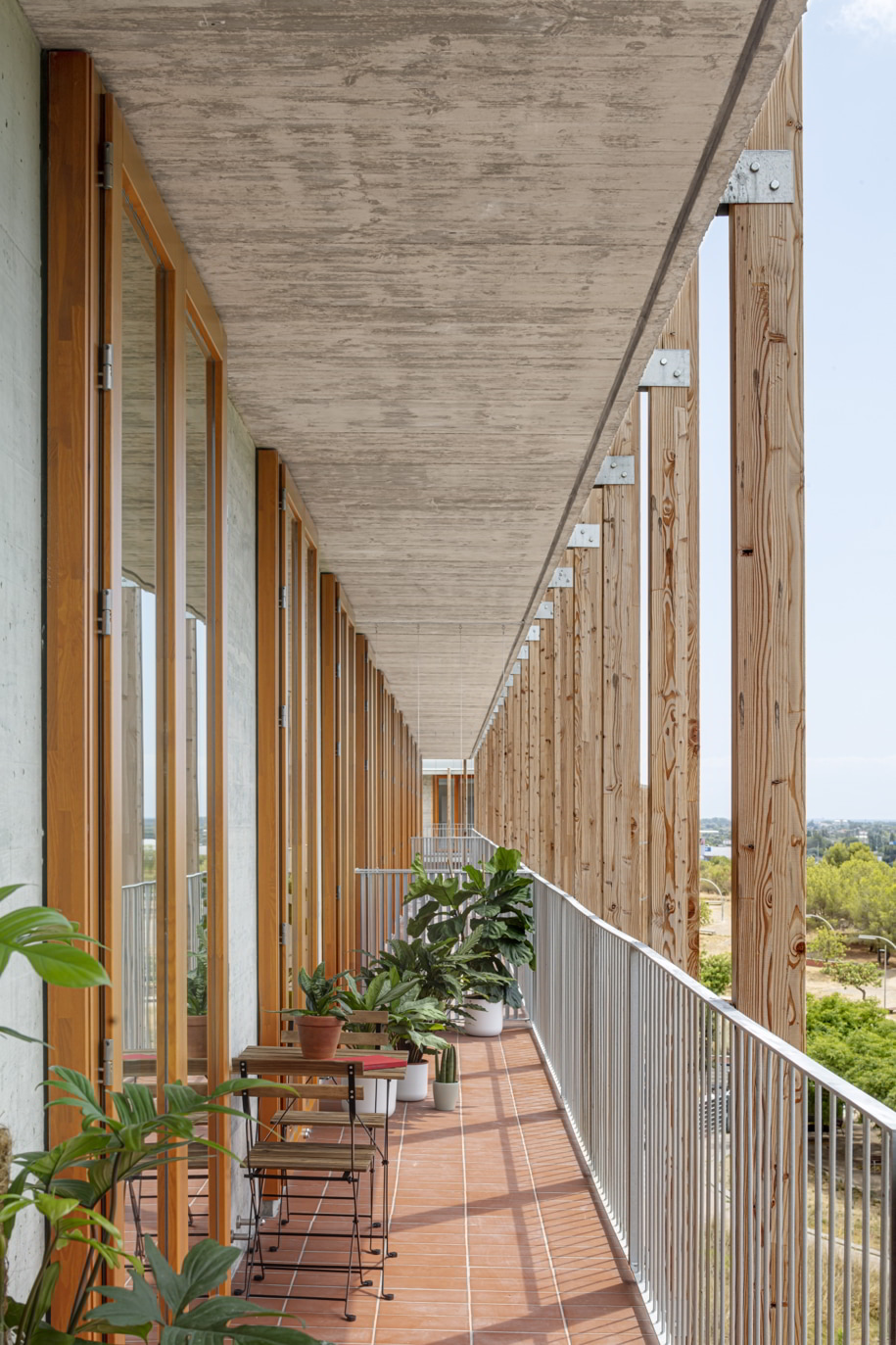 Facts & Credits
Project type: Architecture competition
Architecture: H arquitectes
Award: First Prize
Project years: 2017-2019
Construction years: 2020-2022
Built area: 16.509 m2
Photography: Adrià Goula
READ ALSO:
Coating Connect_Talks on the Intersection of Architecture and Coatings | Coating forum 2023 στις 3 Νοεμβρίου στο Μέγαρο Μουσικής Αθηνών