Geometry of Light is an intervention that generates a global experience envisioned as a contemporary lens for the Mies van der Rohe Pavilion, highlighting and expanding upon the architectural and material features of this structure.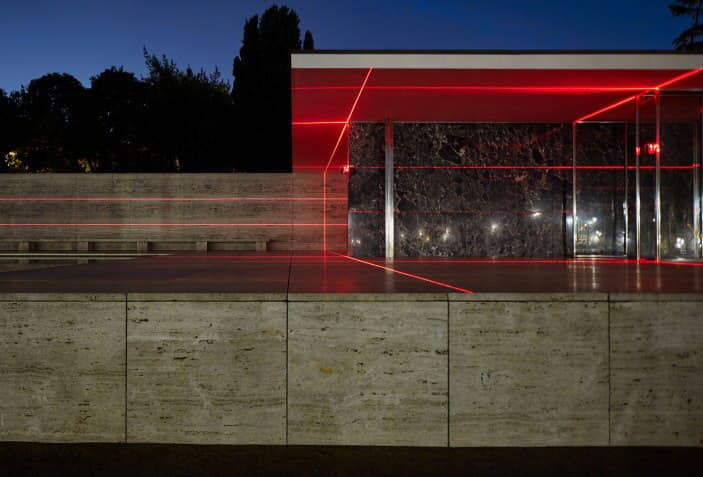 Focused on the gridded plan of the pavilion, a projected grid of light animates the travertine floor that extends beyond the steel-framed glass walls to accentuate the flowing space as it permeates through the interior and exterior.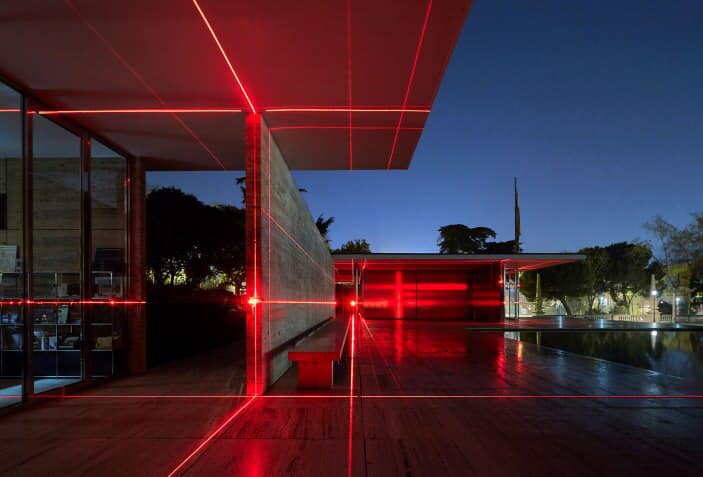 Using light and sound, Geometry of Light creates a new interpretive layer extending from the primary elements of architecture, including the gridded plan, vertical planes, and materiality.
The way in which light is projected and the spatial situation of sounds enlivens and alters our perception of the essential elements of the Pavilion and its open plan and magnifies the illusion of its physical and material limits.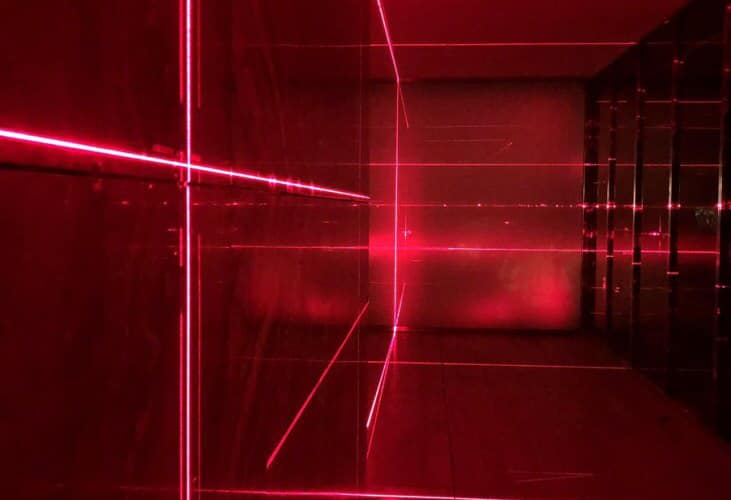 The animated projections are choreographed to trace, highlight and alter the composition of the Pavilion to the sound of the custom-designed piece that Oriol Tarragó has created as a direct response to the pitch of the Pavilion to create a comprehensive immersive tonal reading. In this way, together, these elements of light and sound coalesce—both unifying and disjointing the physical and perceptual space—in a new, altered perception and interpretation of the Mies van der Rohe Pavilion.
Agenda
Date 10-02-2019 > 17-02-2019 | 18:00h (aprox) to 20:00h – opening 09-02-19, 17:00h
Organised with  MAS Context
In the frame of: LLUM BCN, Festes de Santa Eulàlia
Location   Mies van der Rohe Pavilion
Please note: Since it is made of light this intervention requires darkness, so is only visible after dusk.
READ ALSO:
Urban Vegan Factory | Design Project by Vivi Malea, Marianna Mpagordaki, George Pakalidis