The "Playground" project is part of "Rigenerazione Urbana", a project for the redevelopment of Carlo Carrà park, in collaboration with the Municipality of Alessandria, Italy.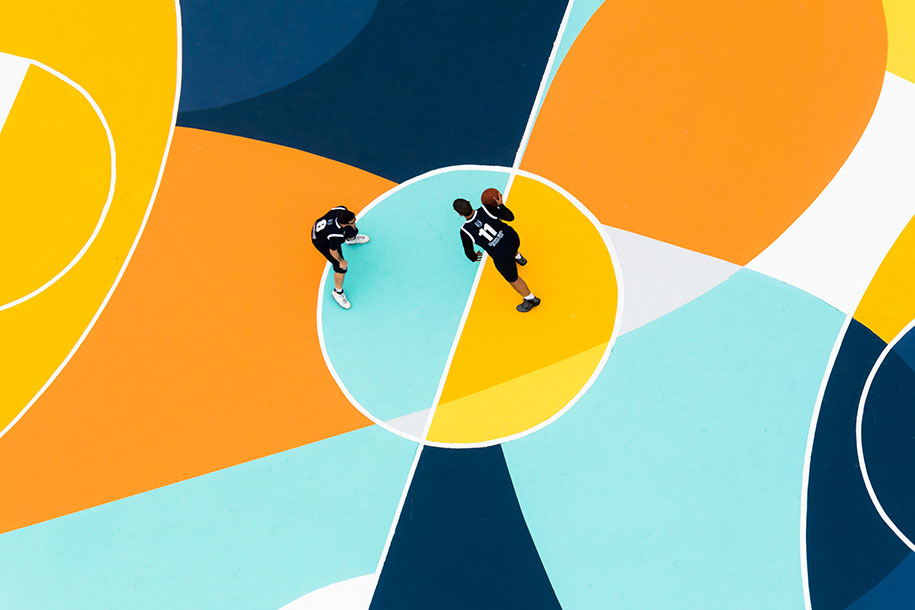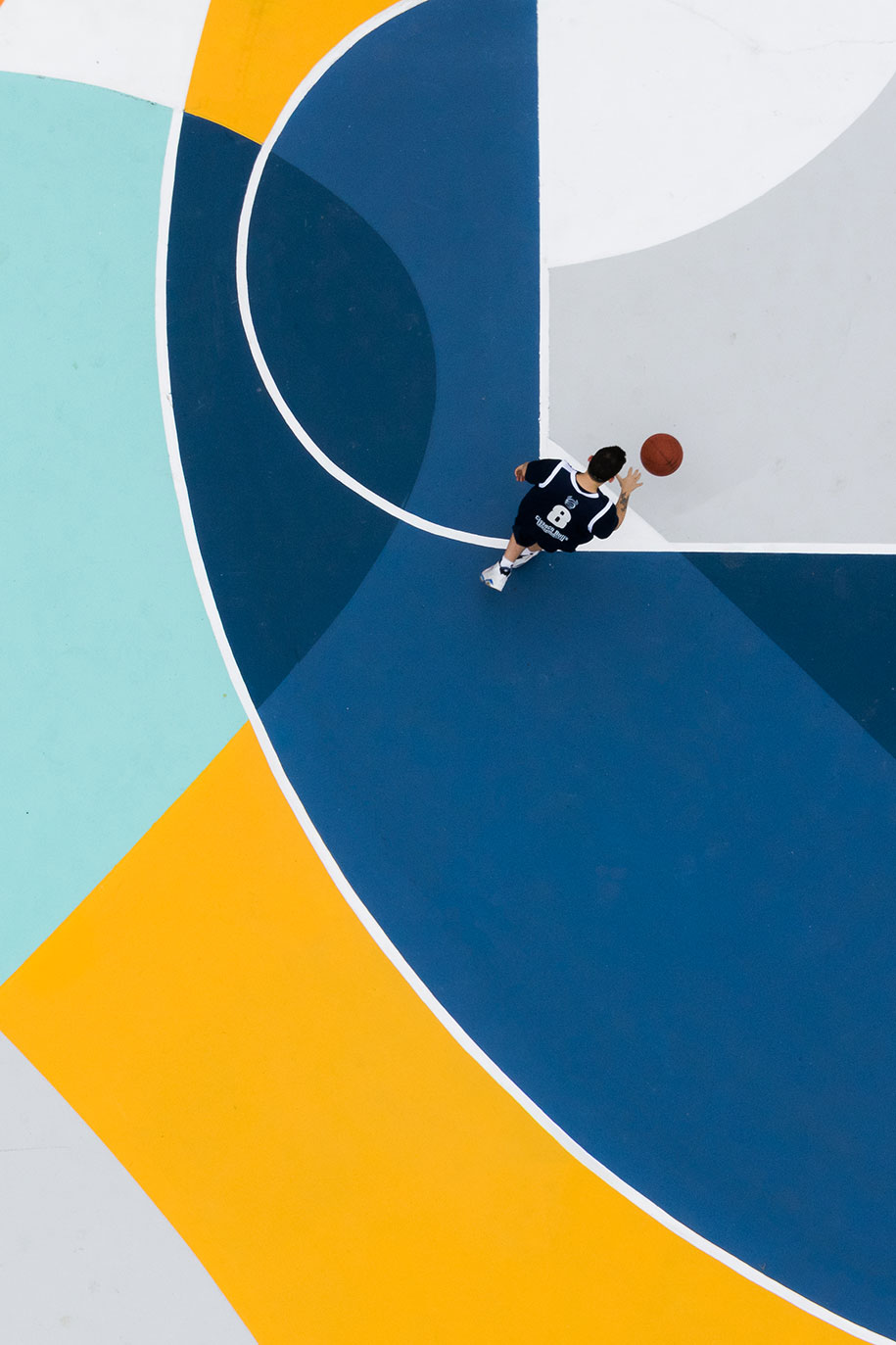 The idea was born from the possibility of being able to cross the field's space, to stay inside the composition and change the perception of shapes through the game's movement.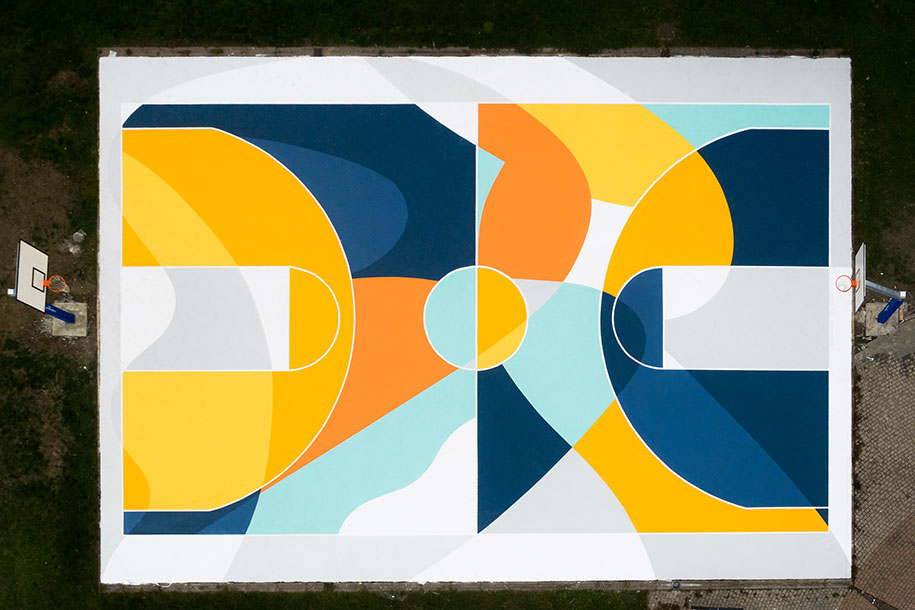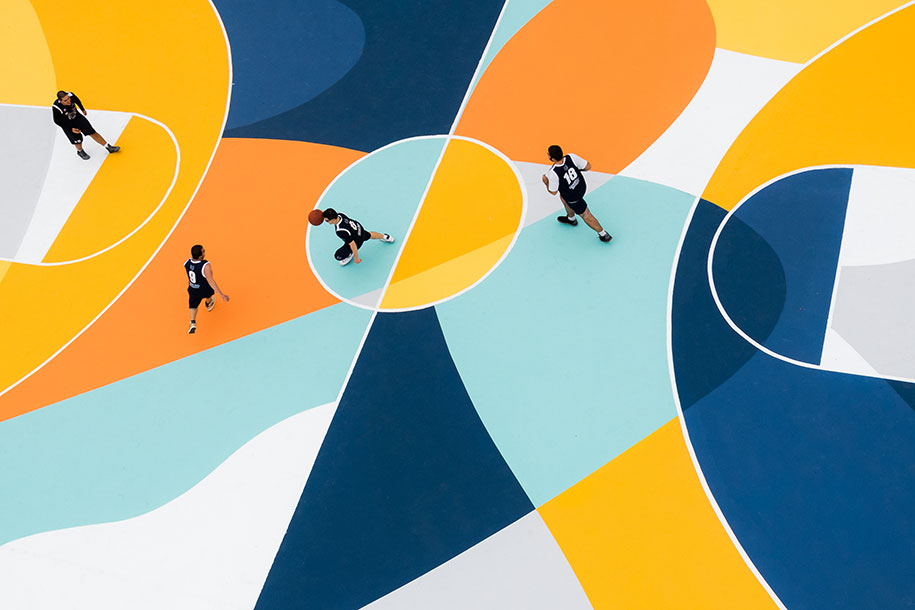 It was important to consider the schemes of the designated areas, necessary for the game, but at the same time it was necessary to feel free to interact with shapes and colors.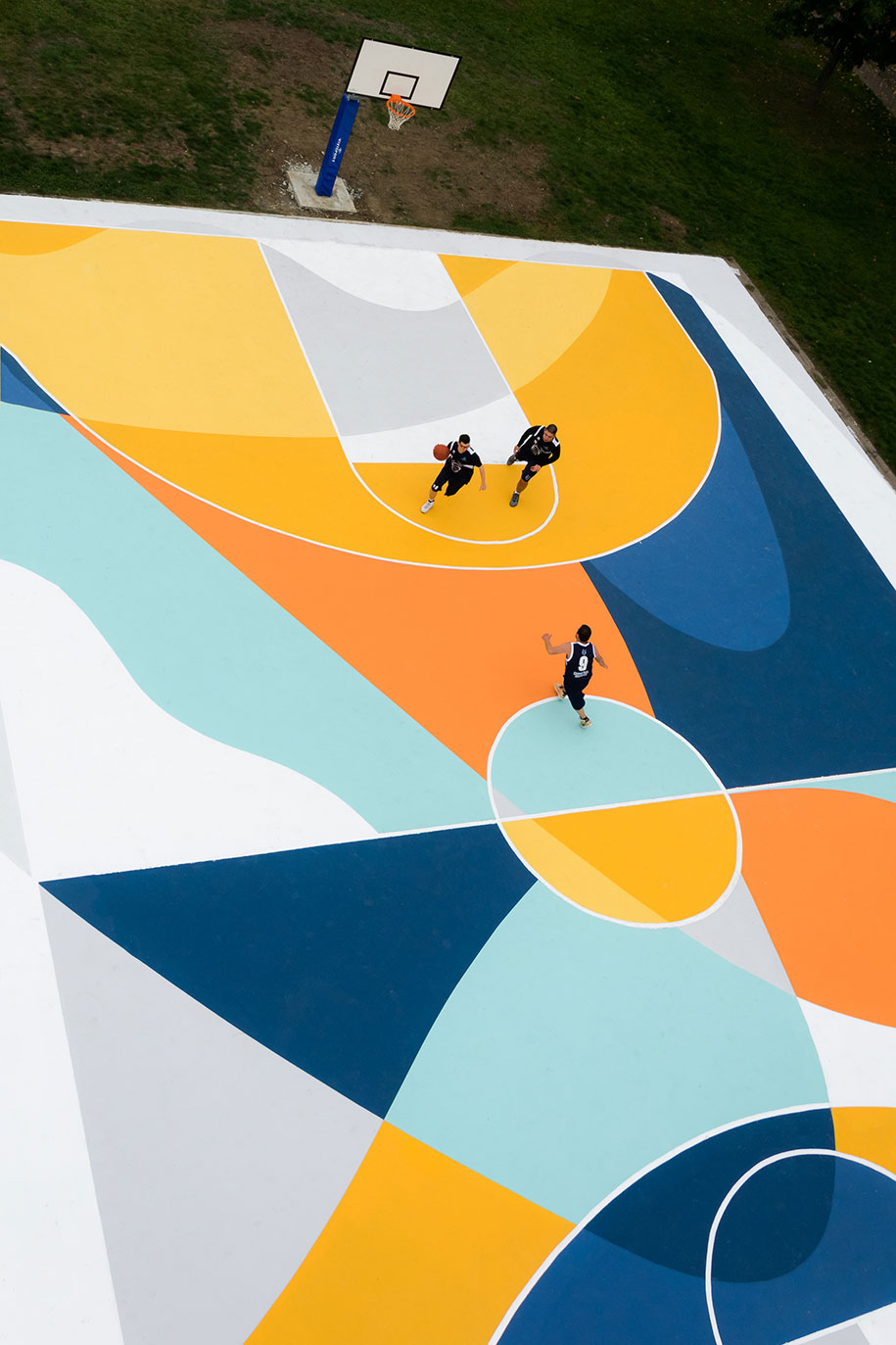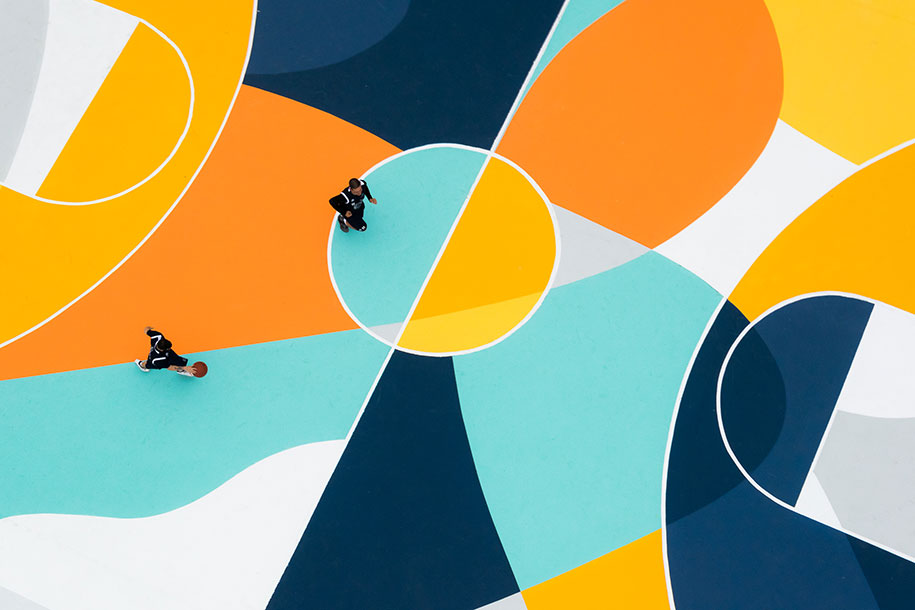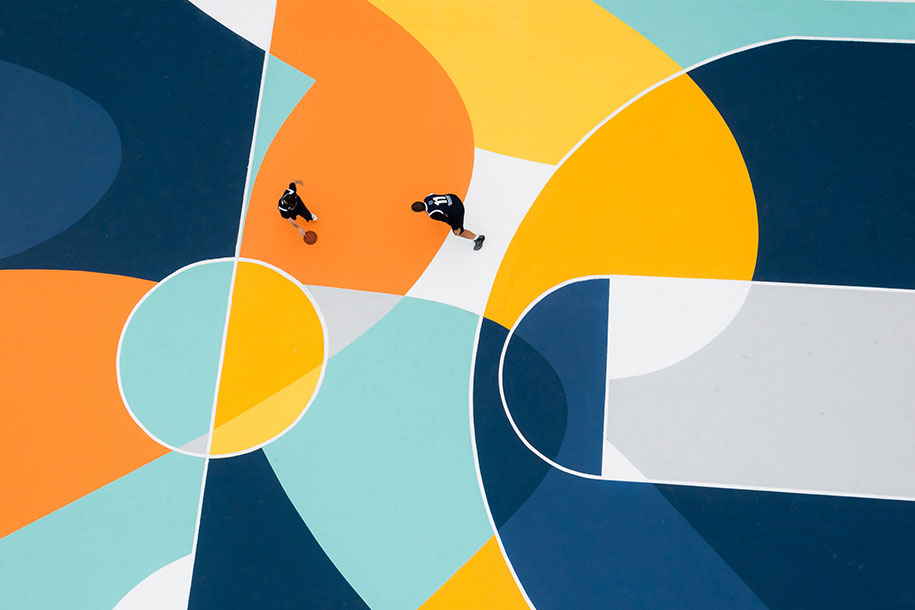 The choice of colors was motivated by a direct reference to the world of sport, so I chose the color samples used in basketball courts, combining them and adding personal variants.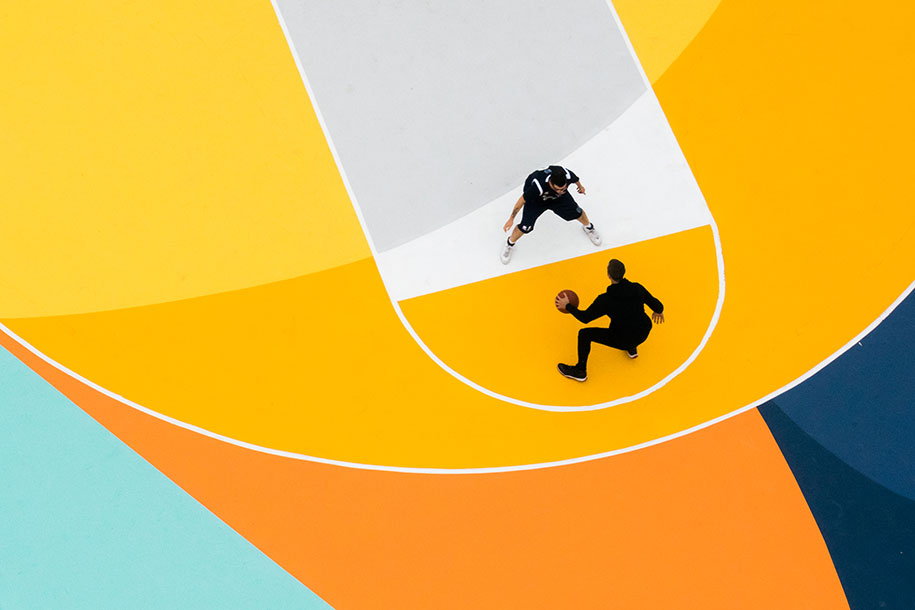 The trend of curves generates a compositional rhythm, that marks and exalts the movement, to amplifying the action and leaving a visual echo of the matches played on the playground.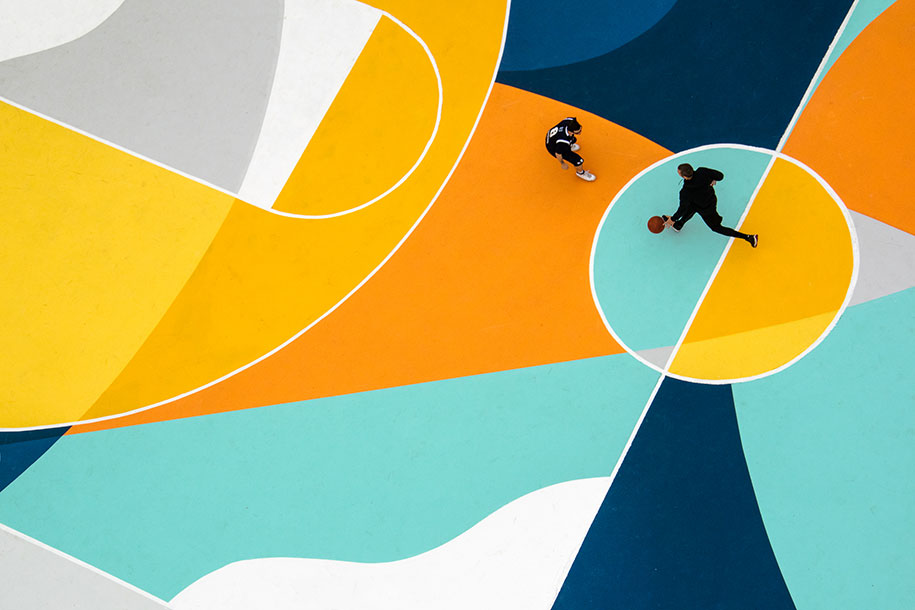 Text by the artist.
Facts & Credits: 
Project Title: Playground
Artist: Gue
Collaborators: Andrea Mangione, Luca Zanon, Andrea Musso, Guido Bisagni, Giuseppe Liguori
Photography: © Ugo Galassi
Location: Alessandria, Italy
Year completed: 2016
Program: Rigenerazione Urbana
Client: Municipally of Alessandria
About Gue / The artist behing "Playground"
Born in Catania, Sicily, in 1986, Gue (Marco Mangione) is a visual artist who work mostly in a public space. He became acquainted with graffiti writing environment in the early 2000s, investigating and experimenting on the expressive possibilities who come near to urban contemporary art. His research focused on a system of formal codes that followed a certain logic, a language of signs that has his rules and reference channels.
A personal grammar that expresses itself in a suspended vision, to suggest possible universes through figuration which borders the abstract, starting from iconic characters that have accompanied the artist from the beginning of your path.
The breakdown of the elements is the result of a search to the synthesis that tends to exhibit positive and vibrant vibes to the representation of a "flexible space", an open dialogue with the architecture and the environment. In the 2006, together with his brother Andrea, a figurative painter, founded the project "brevidistanze", an artistic evolution determined by their style of life, a reflection on the associative possibilities of different languages offered by the two artists.
In the 2013 he founded, along with other collaborators, Ritmo project, an exhibition space located in Catania, note the disclosure of new contemporary trends, where he works as artistic director function.
You can see more of Gue's work here, here or here.
READ ALSO:
Upcycle: Lapides et Lateres - 3rd Prize at the "Reuse of the old stables in the Port of Thessaloniki" Competition / TTDZ Architects & Partners