text in

EN, GR
Revergo Architects designed a three storey house of 200 sq. m. at the highest point of Nikiana, in the east side of Lefkada island that is overlooking all nearby islands.

Architects' designed it as a vacation rental, aiming in creating a warm, open and clear space that reveals the nearby view.
-text by the authors

The house is built at the highest point of Nikiana, in the east side of Lefkada on top of a green hill enjoying panoramic views over the nearby islands. The project involved the design of the indoor and outdoor spaces of a 200m² vacation home with a ready-built frame, outside walls and swimming pool.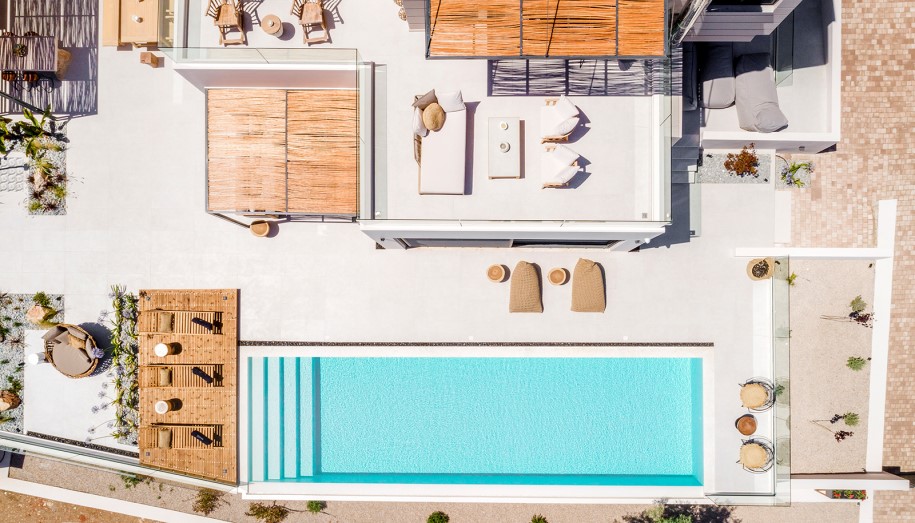 The building is laid out in three levels and functions as a holiday rental during the summer months. The ground floor accommodates the living areas, including the kitchen and lounge, as well as one bedroom. The other two bedrooms are placed on the first floor, while the basement houses a small gym with wellness area, equipped with a steam bath.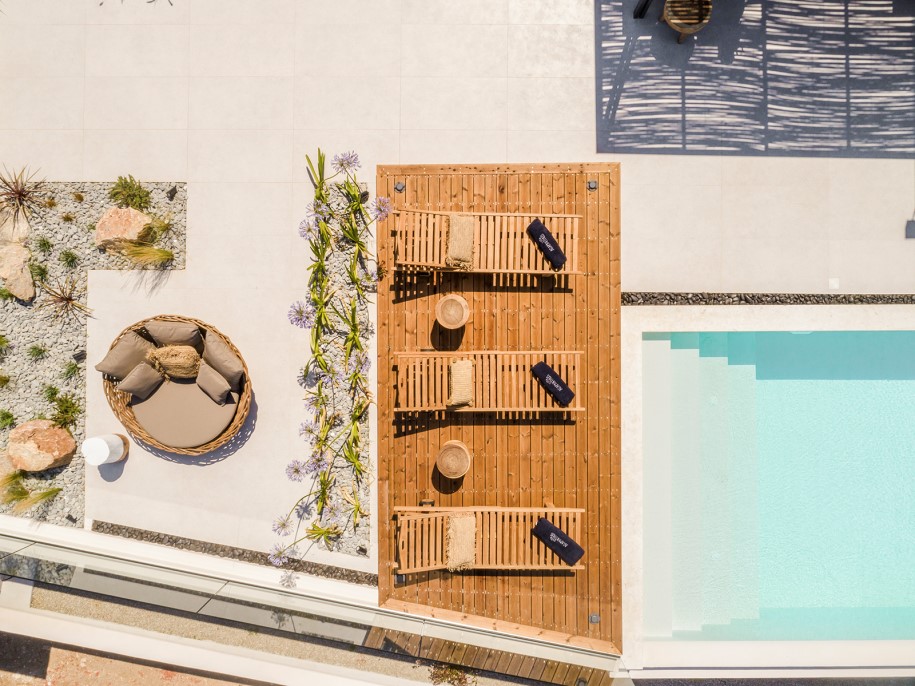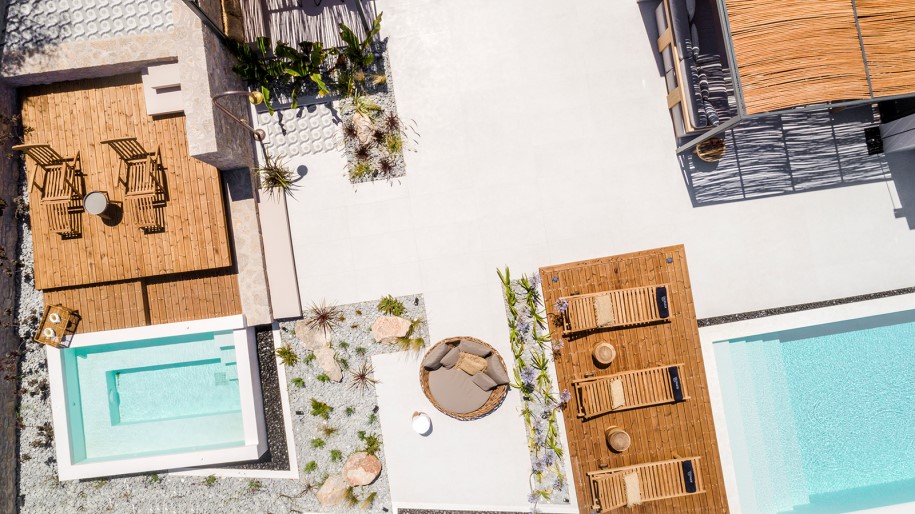 The interior design was informed by the future use of the building as vacation rental, creating a warm, open, and clear space.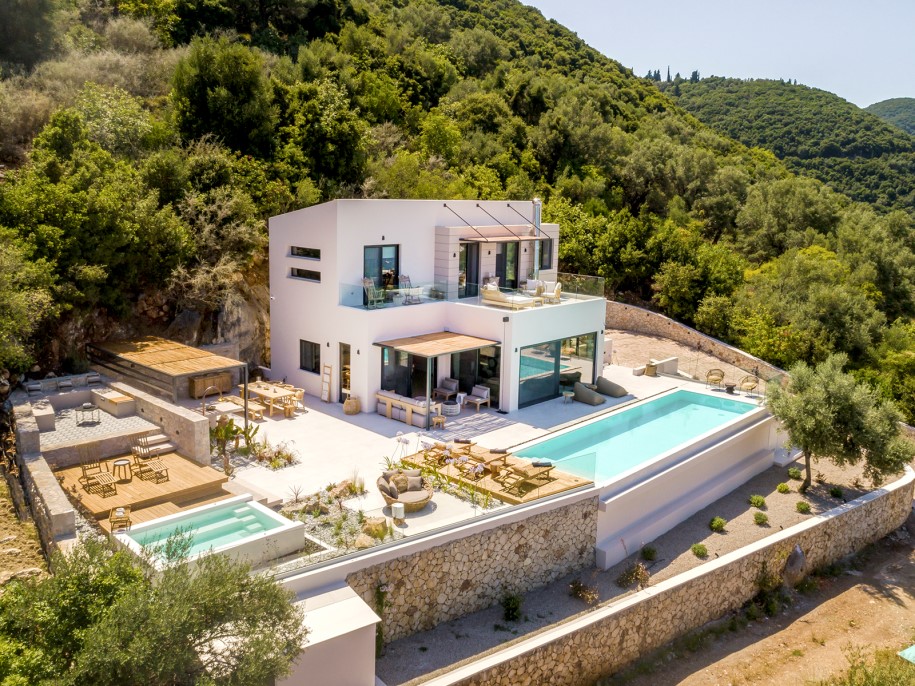 The white color of the walls is combined with natural materials, like wood, bamboo, cane, and woven straw in all furniture and decorative elements.
The outdoor areas are modeled in the same fashion; here, space is organized in distinctive zones with outdoor lounges on many levels, following the terrain and keeping contact with the water features and the landscape.  Landscaped strips are inserted in-between.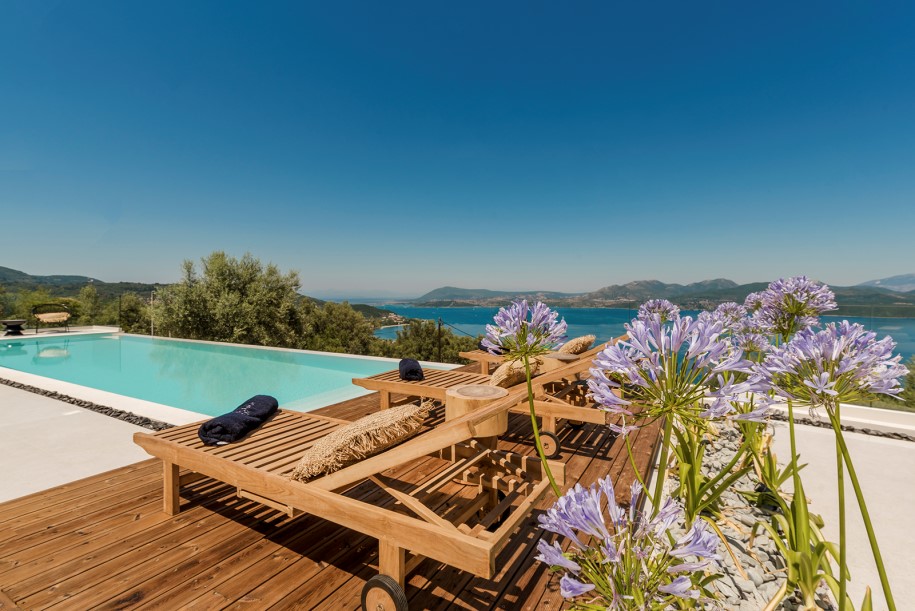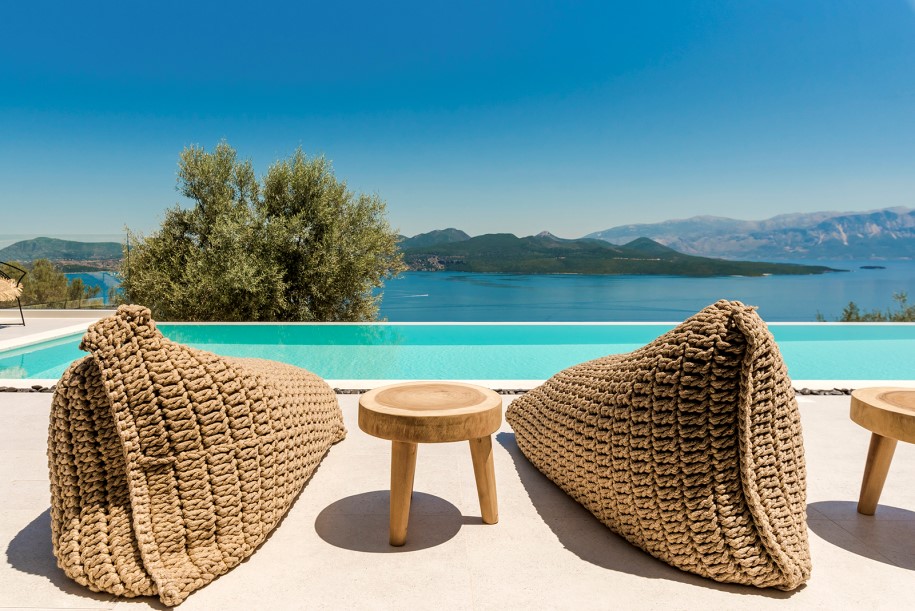 Facts & Credits
Project title Villa Agapanthus project
Location Nikiana, Lefkada, Ionian Islands
Date 2020
Architecture Revergo Architects
Photo Credits Stelios Kyriakis
–

Η Revergo Architecture σχεδίασε μια κατοικία 200 τ.μ. που οργανώνεται σε τρία επίπεδα, στο ψηλότερο σημείο της Νικιάνας, στην ανατολική πλευρά της Λευκάδας, έχοντας ως επιδίωξη τη δημιουργία ενός ζεστού, ανοιχτού και καθαρού χώρου που αποκαλύπτει τη θέα.
-κείμενο από τους δημιουργούς

Η κατοικία Agapanthus βρίσκεται στο ψηλότερο σημείο της Νικιάνας, στην ανατολική πλευρά της Λευκάδας μέσα σε ένα καταπράσινο λόφο με πανοραμική θέα προς τα πριγκηπονήσια. Η μελέτη αφορά στο σχεδιασμό του εσωτερικού και εξωτερικού χώρου μιας εξοχικής κατοικίας 200 τ.μ. στην οποία είχαν ήδη κατασκευαστεί ο φέρον οργανισμός, οι εξωτερικές τοιχοποιίες και ο σκελετός της πισίνας.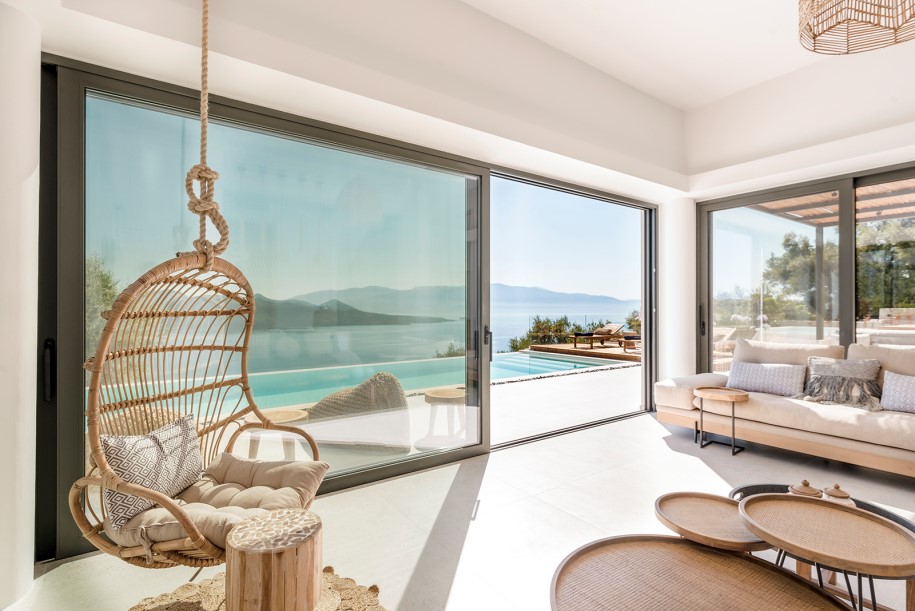 Το κτίριο οργανώνεται σε 3 επίπεδα και λειτουργεί ως τουριστικό κατάλυμα για τους θερινούς μήνες. Στο ισόγειο βρίσκονται οι χώροι διημέρευσης με την κουζίνα και το καθιστικό καθώς και ένα υπνοδωμάτιο. Τα υπόλοιπα 2 υπνοδωμάτια τοποθετούνται στον όροφο, ενώ στο υπόγειο της κατοικίας βρίσκεται ένας μικρός χώρος γυμναστηρίου και ευεξίας με χαμάμ και όργανα γυμναστικής.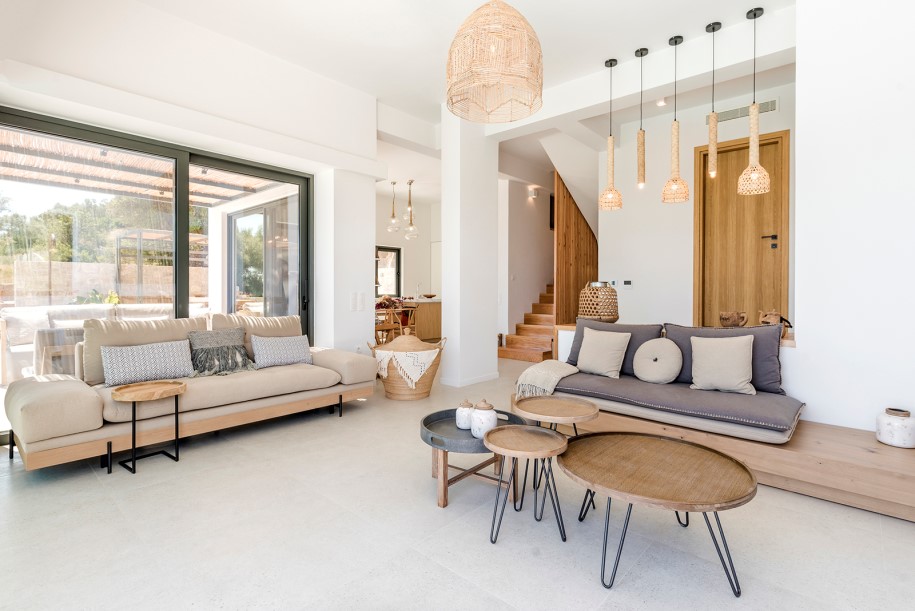 Ο σχεδιασμός του εσωτερικού χώρου βασίστηκε στην ίδια τη μελλοντική χρήση της κατοικίας ως χώρου φιλοξενίας και την πρόθεση δημιουργίας ενός χώρου ζεστού, ανοιχτού και καθαρού όπως το ελληνικό καλοκαίρι.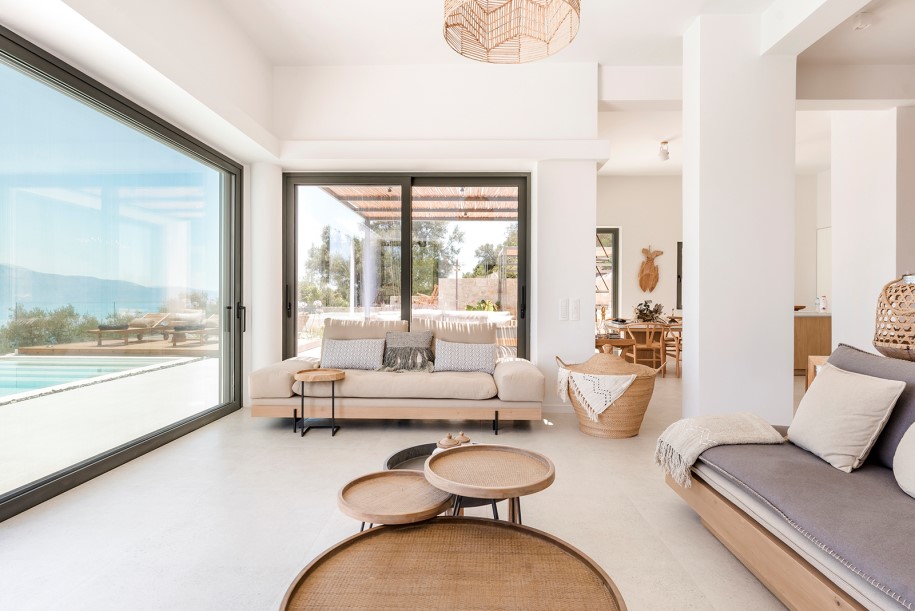 Το λευκό χρώμα των τοίχων συνδυάζεται με φυσικά υλικά, όπως το ξύλο, το μπαμπού, το καλάμι και την ψάθα, στα έπιπλα και τη διακόσμηση των χώρων.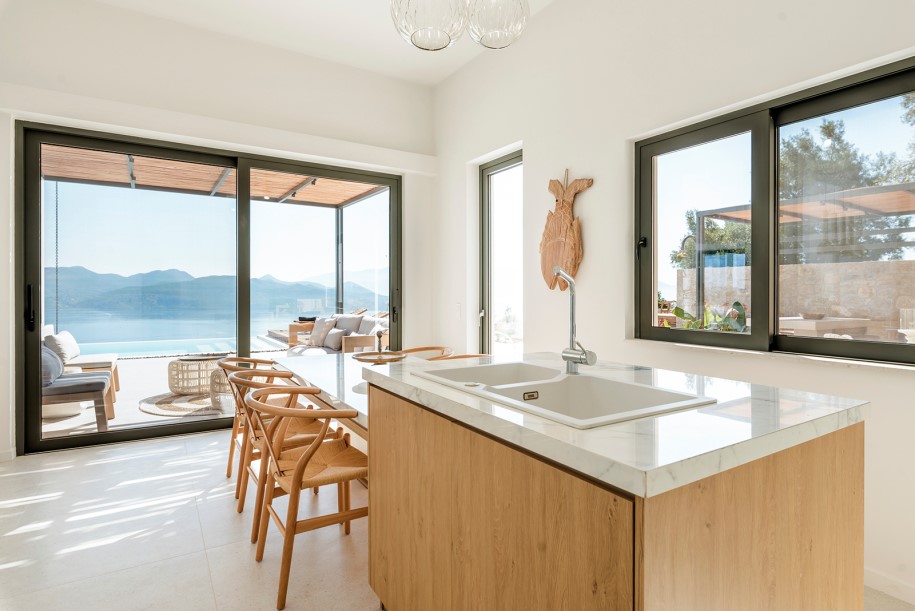 Αντίστοιχη αντιμετώπιση ακολουθείται και στους εξωτερικούς χώρους της κατοικίας. Εδώ ο ωφέλιμος χώρος οργανώνεται σε επιμέρους ζώνες με υπαίθρια καθιστικά σε διαφορετικά επίπεδα, που ακολουθούν το ανάγλυφο του εδάφους, διατηρώντας ταυτόχρονα άμεση σχέση με τα στοιχεία νερού και το φυσικό τοπίο. Ανάμεσά τους οργανώνονται ζώνες φύτευσης.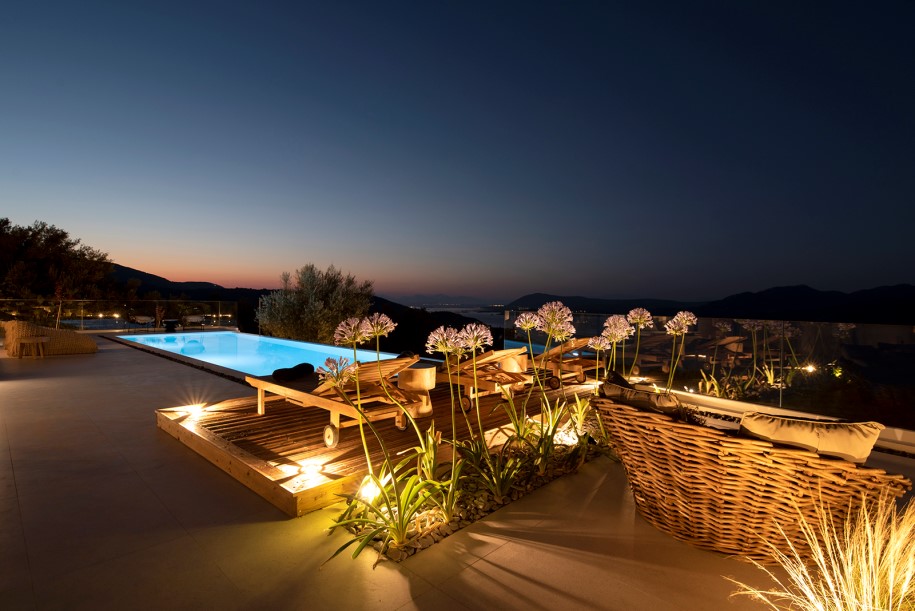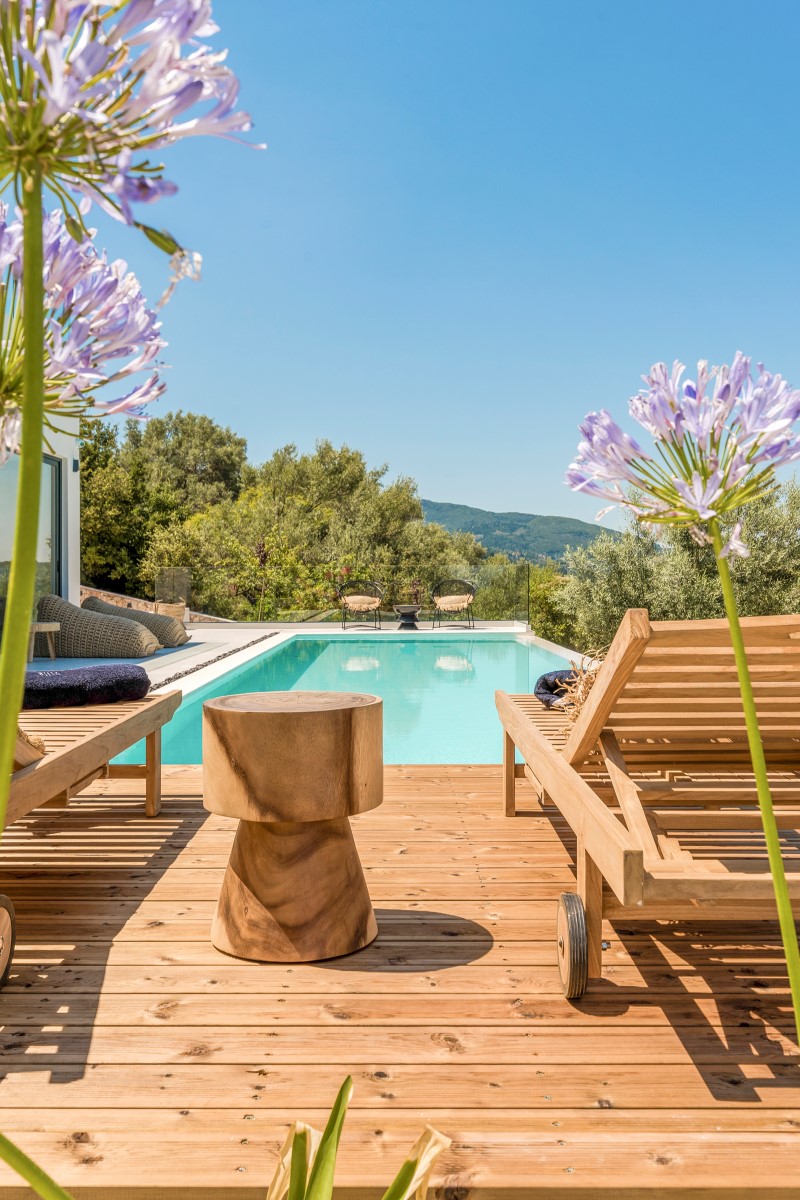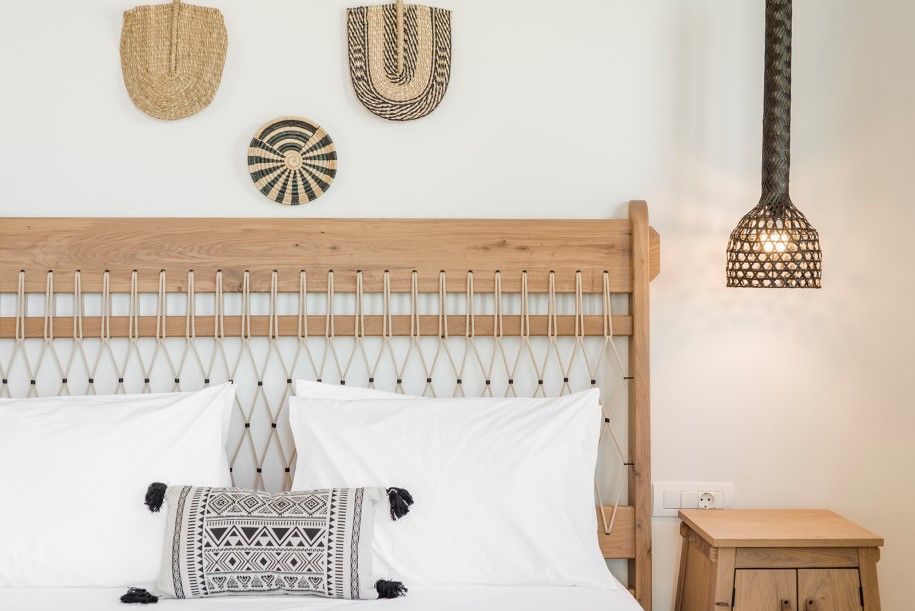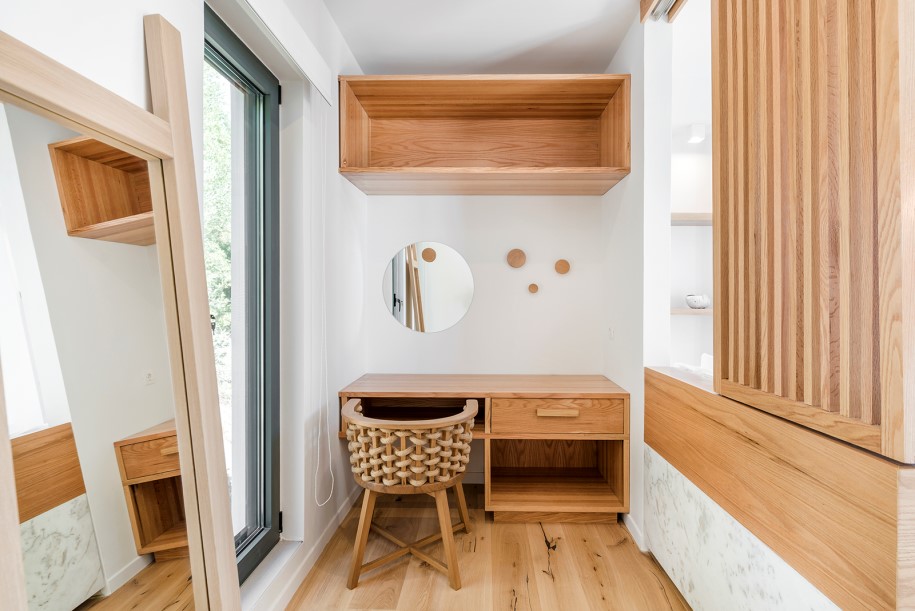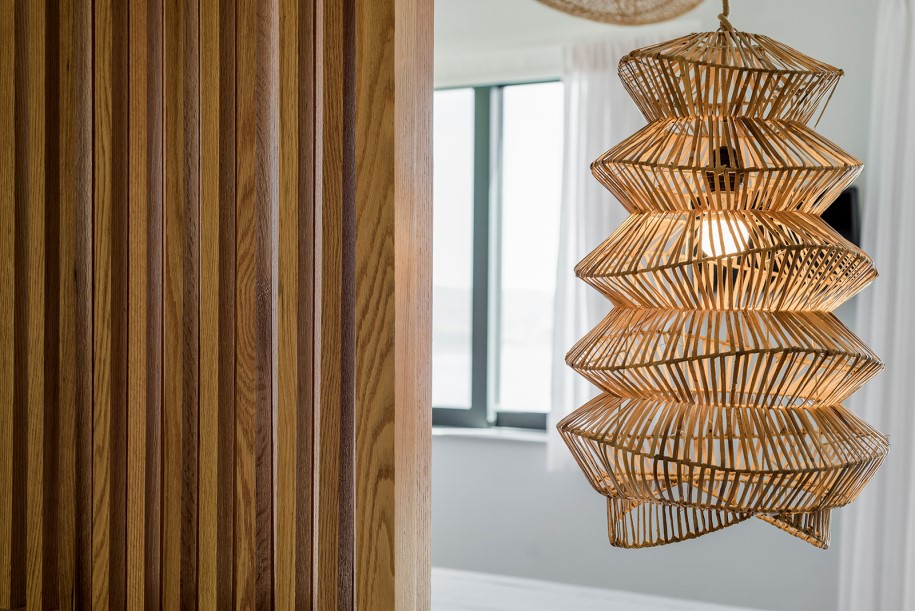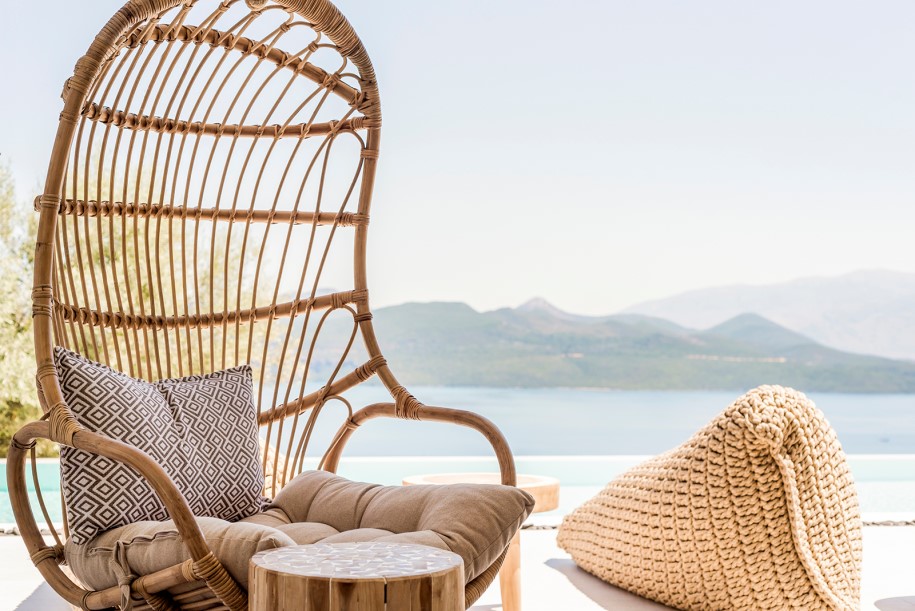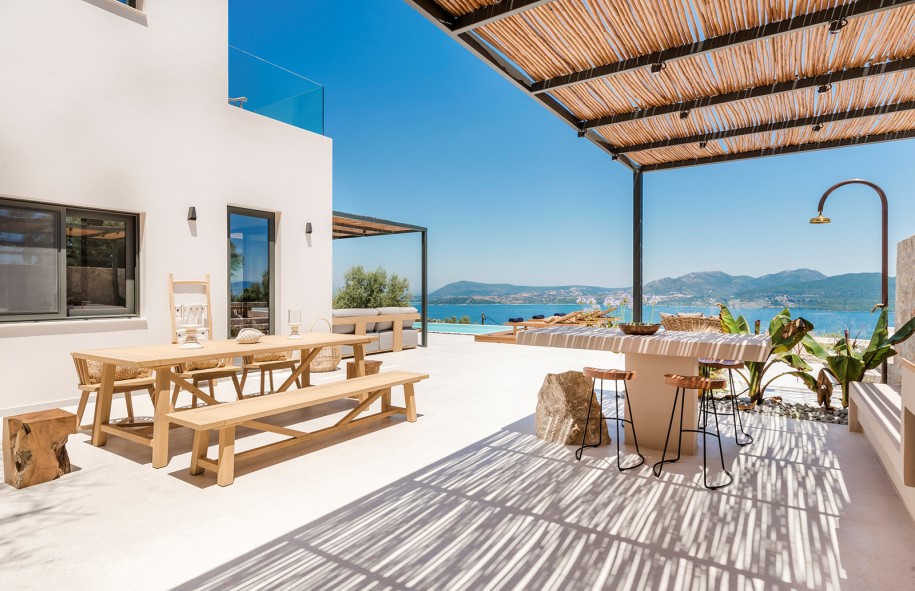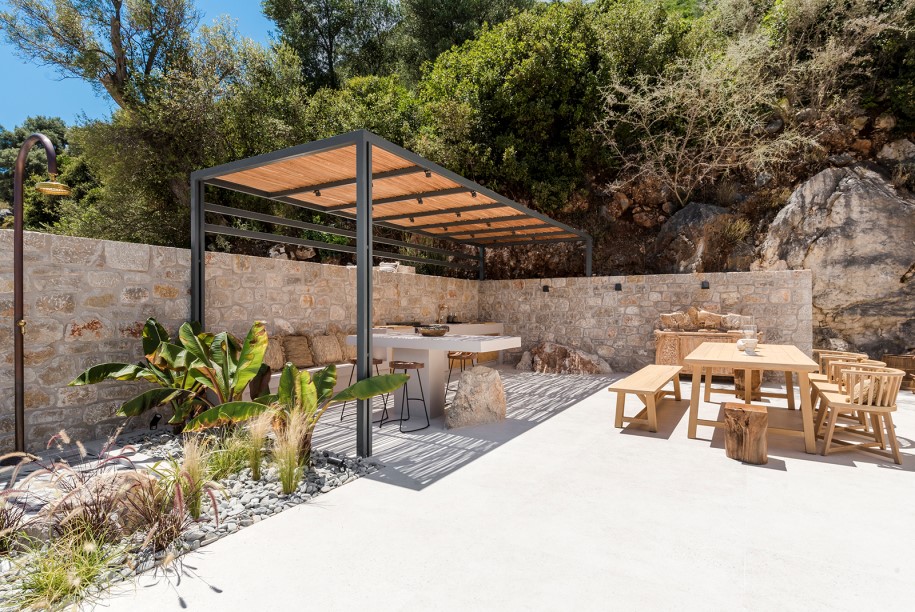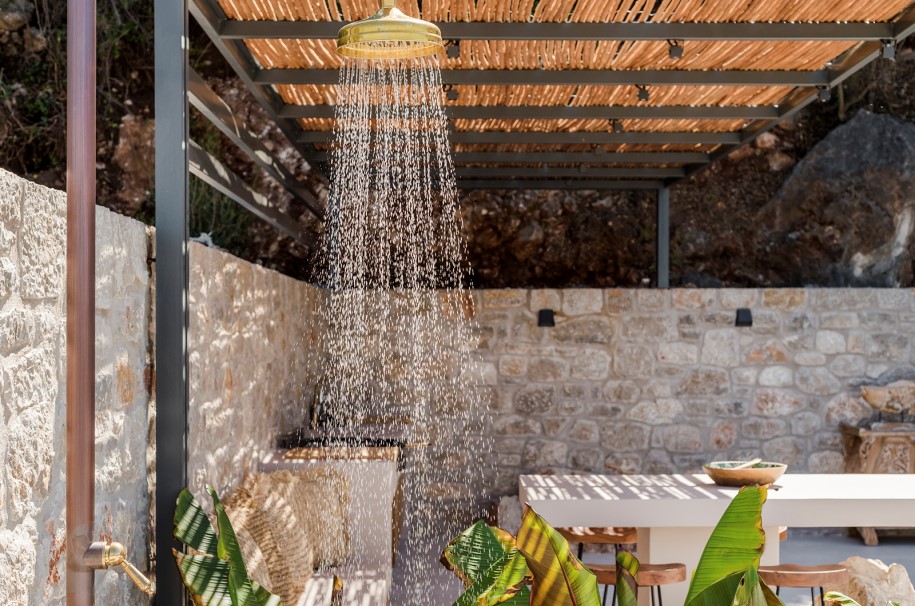 Στοιχεία έργου
Τίτλος έργου Villa Agapanthus project
Τοποθεσία Δρυοπίδα, Γαλατάς, Κύθνος
Έτος 2020
Αρχιτεκτονική Revergo Architecture
Φωτογραφία Στέλιος Κυριάκης
READ ALSO:
Casa dos Oleiros in Castelo Branco, Portugal | Paulo Martins Architecture & Design