text in

EN, GR
Thisseio apartment is a vacation refuge for rest and writing for a swiss couple.
The most important features were the three south windows and the cross ventilation.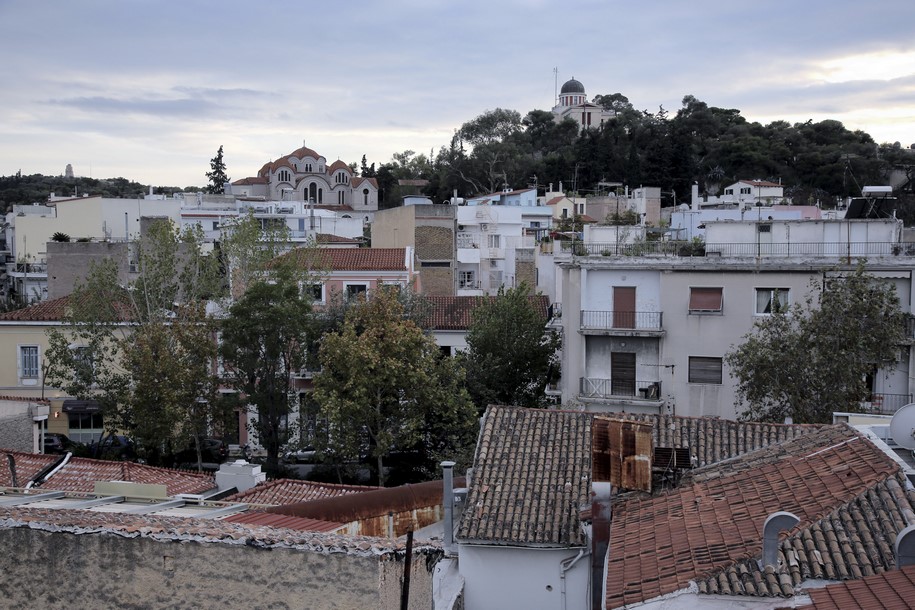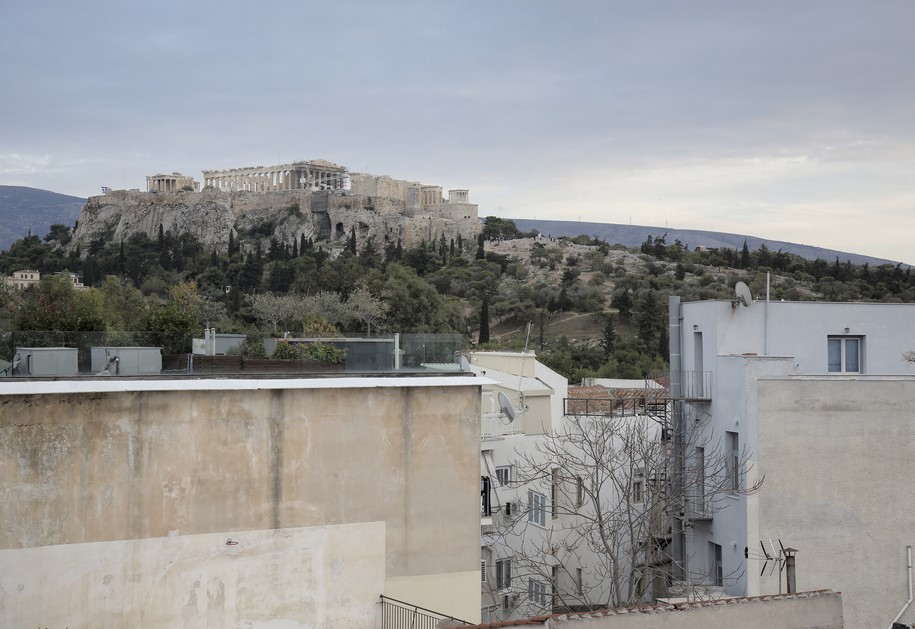 By demolishing internal walls a new layout was organized based on an inside view towards the tripartite scenic space of the façade windows. There is a flip of the typical block of flats façade with windows and sliding shutters, to an internal one.
The inside sliding frames with revolving blinds regulate the shadow and light game as well as they filter the view towards the Observatory hill.
© HIBOUX ARCHITECTURE
The only closed room is the bathroom where the bathtub volume is projecting by hiding behind the kitchen cupboards.
The demolition revealed a bare concrete column that was kept as found. In accordance,the materials are all rough, cement plaster, wood, unpainted metal, concrete.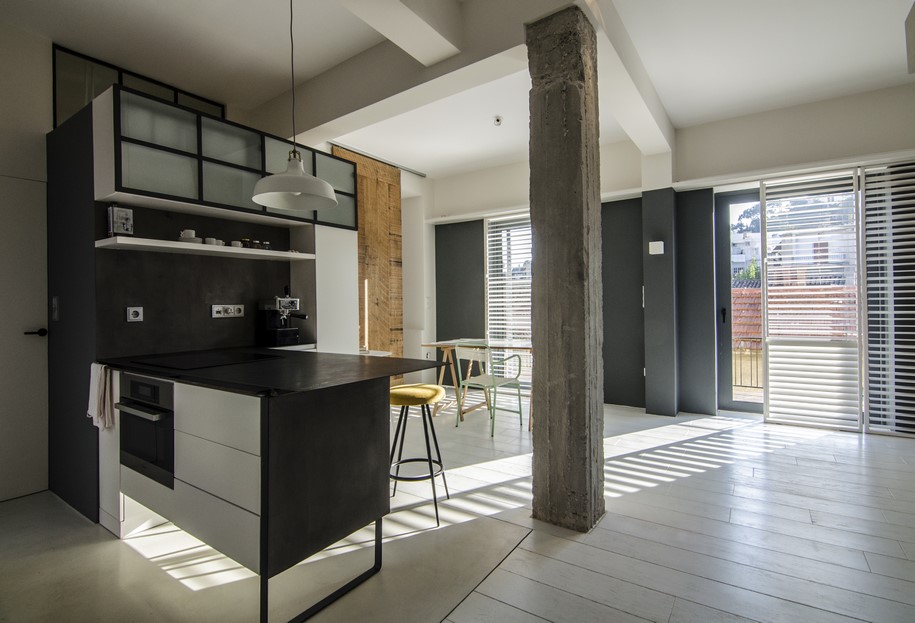 Important part of the whole project was the participation of the clients who were actively involved in creating a small space of their dreams.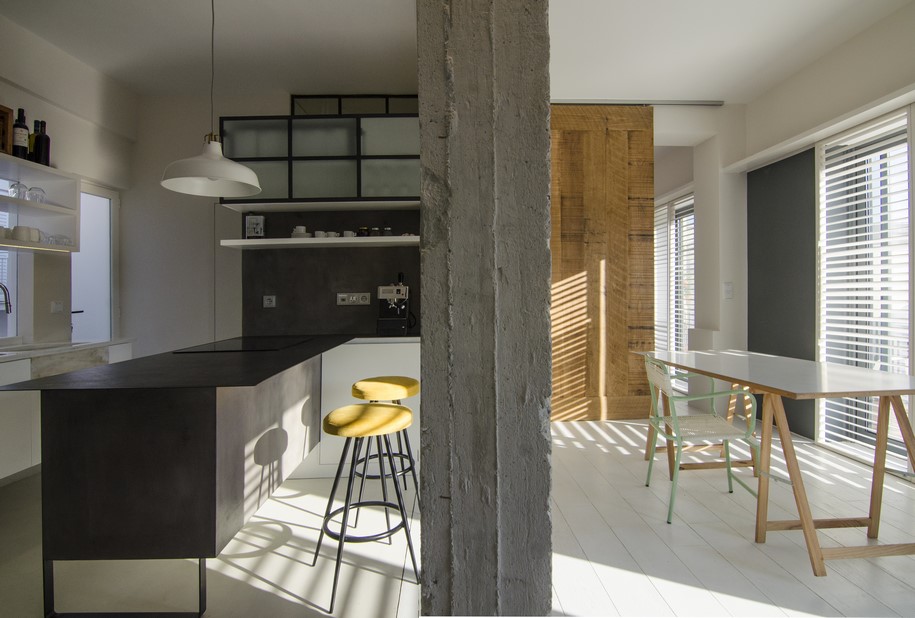 ---
Το διαμέρισμα στο Θησείο είναι ένα καταφύγιο διακοπών για ένα ζευγάρι Ελβετών, χώρος ξεκούρασης, περισυλλογής και γραφής.
Τα βασικότερα κριτήρια επιλογής του διαμερίσματος ήταν η θέα, ο προσανατολισμός με τρία παράθυρα στον νότο, και η διαμπερότητα ​για τον αερισμό.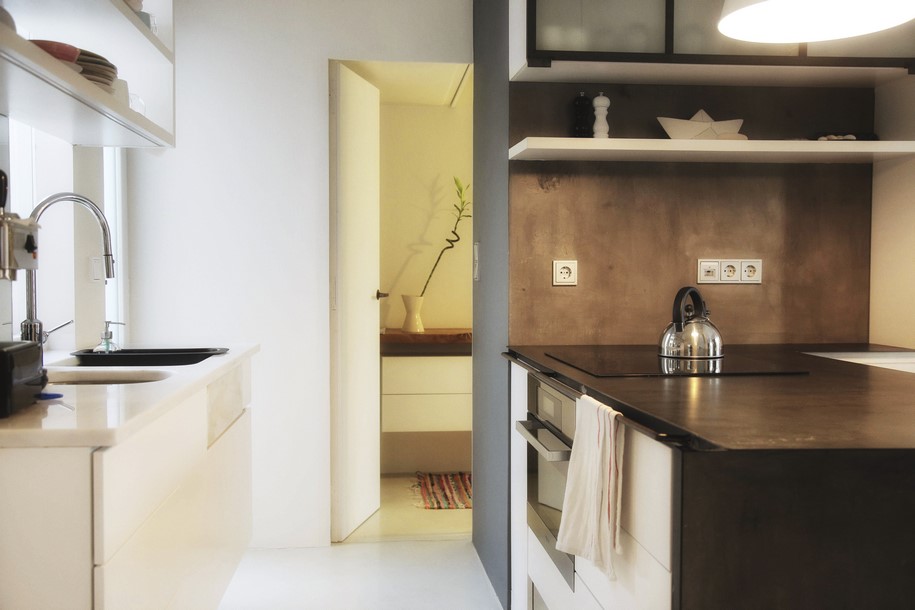 Η κλασσική πολύπλοκη διαμερισματοποίηση των αθηναϊκών εσωτερικών του ΄60 καταργήθηκε γκρεμίζοντας τους εσωτερικούς τοίχους και οργανώθηκε η εσωτερική θέα με βάση τα τρία όμοια ανοίγματα σαν μια τριμερής σκηνή.
Τα τρία ανοίγματα ενοποιούνται με το ράφι που βρίσκεται πάνω τους σ' όλο το μήκος του τοίχου. 
Όλοι οι χώροι κοιτούν προς την θέα αυτή.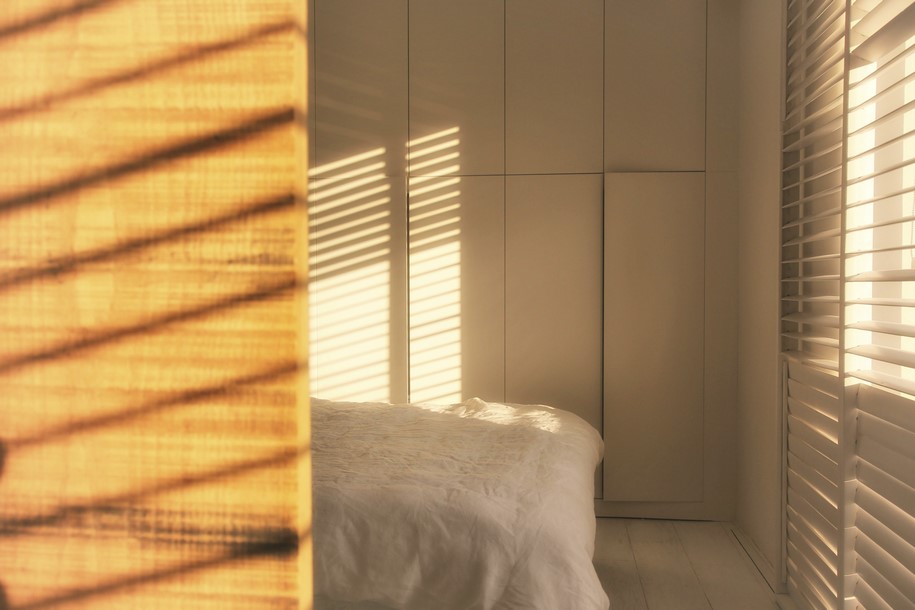 Η εσωτερική όψη αντιστρέφει την κλασσική όψη του ορόφου πολυκατοικίας με μπαλκονόπορτα και εξωτερικά παντζούρια, φέρνοντας συρόμενες περσίδες στη μέσα πλευρά.

Τα εσωτερικά συρόμενα πλαίσια με το παλιό σύστημα περιστρεφόμενων ξύλινων περσίδων καθορίζουν τη σκίαση του χώρου, αλλά και το παιχνίδισμα του νότιου φωτός. Ταυτόχρονα οργανώνει τις θέες και ρυθμίζει τη σχέση του σπιτιού με το έξω και τη θέα προς το Αστεροσκοπείο.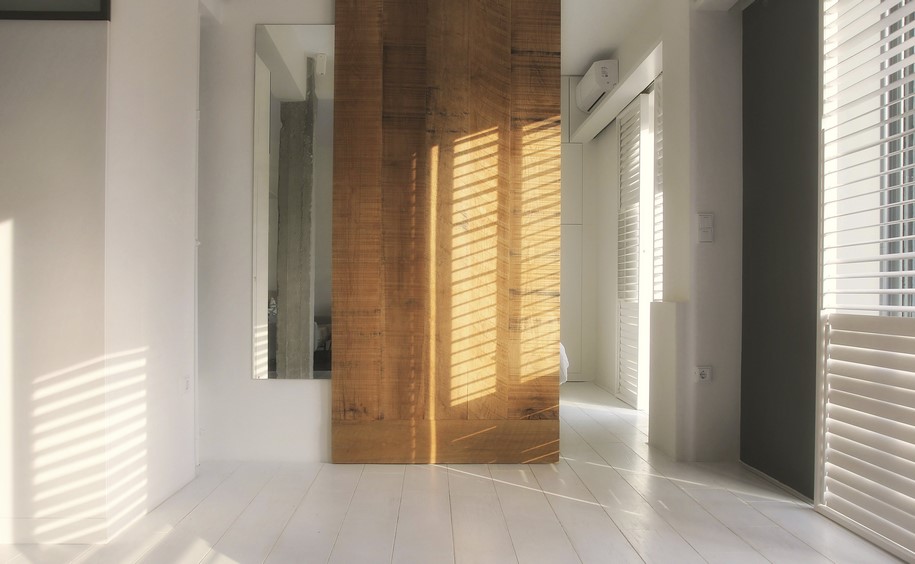 Μια ακατέργαστη δρύινη πόρτα μοιράζει τον χώρο σε υπνοδωμάτιο και καθημερινό κάνοντας μια αναφορά στους αχυρώνες των Άλπεων, πατρίδας των ιδιοκτητών.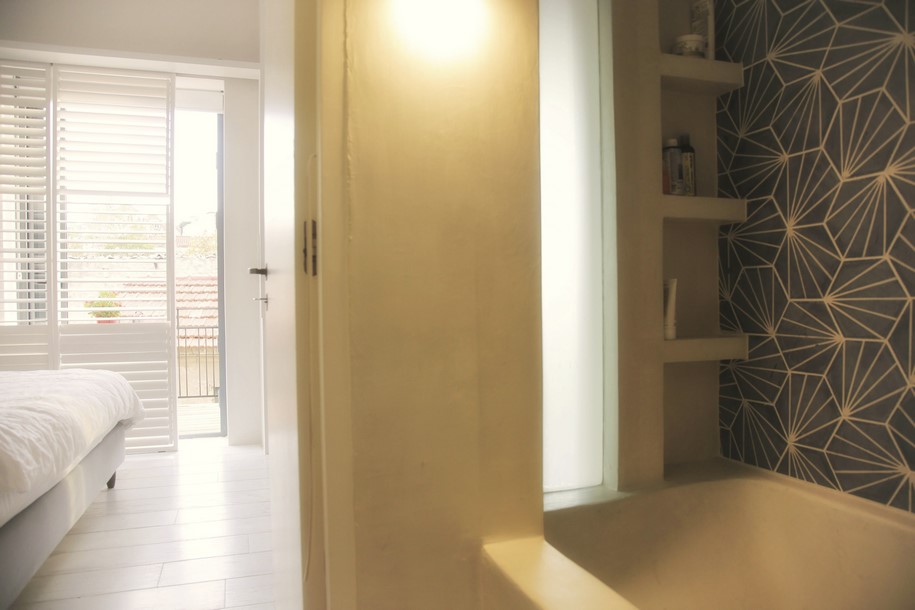 Στο μπάνιο δόθηκε ιδιαίτερη έμφαση, ως χώρος χαλάρωσης και ηρεμίας, και χρειάστηκε να μεγαλώσει αρκετά συνδυάζοντας μια στενόμακρη κάτοψη με ένα χαμηλότερο όγκο για τη μπανιέρα.

Η κουζίνα αναδιοργανώθηκε στην ίδια θέση, διατηρώντας και τον μαρμάρινο νεροχύτη. Η εστία τοποθετήθηκε απέναντι από τη θέα, ο μεταλλικός πάγκος έδεσε με τον όγκο της μπανιέρας που προβάλει ενώ κρύβεται πίσω από το έπιπλο/ντουλάπια της κουζίνας.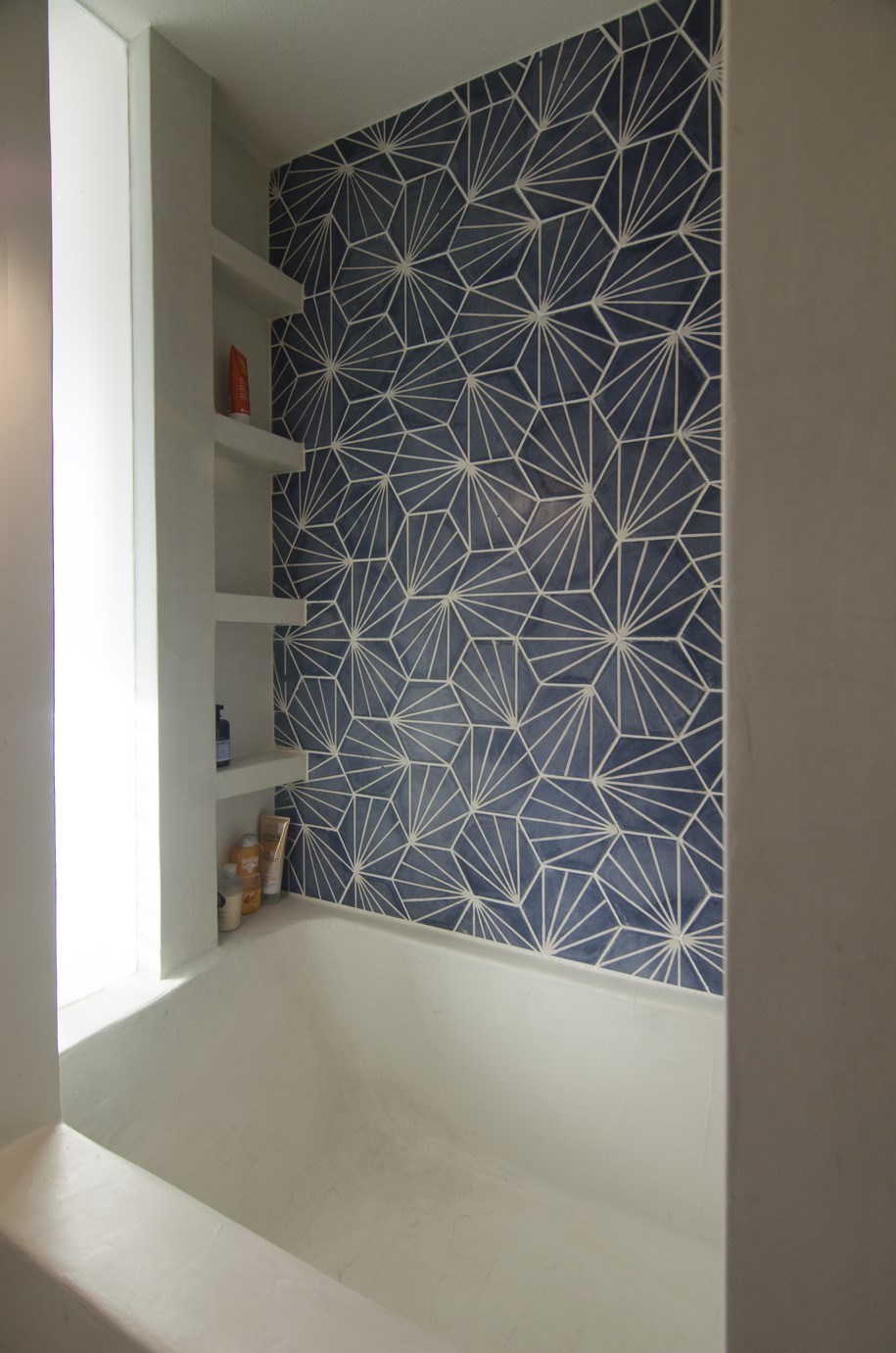 Η καθαίρεση των εσωτερικών τοίχων αποκάλυψε μια γυμνή κολόνα η οποία αποφασίστηκε να παραμείνει στη μορφή αυτή.

Τα υλικά επιλέχτηκαν αδρά σε συνάφεια με τη γενικότερη χειροποίητη κατεύθυνση του σχεδιασμού: λευκό, τσιμεντοκονία, αδρό ξύλο, μαύρο μέταλλο, μπετόν. Επιλέχθηκαν ελάχιστα έπιπλα κυρίως του '60 επιτείνοντας την αδρότητα του χώρου.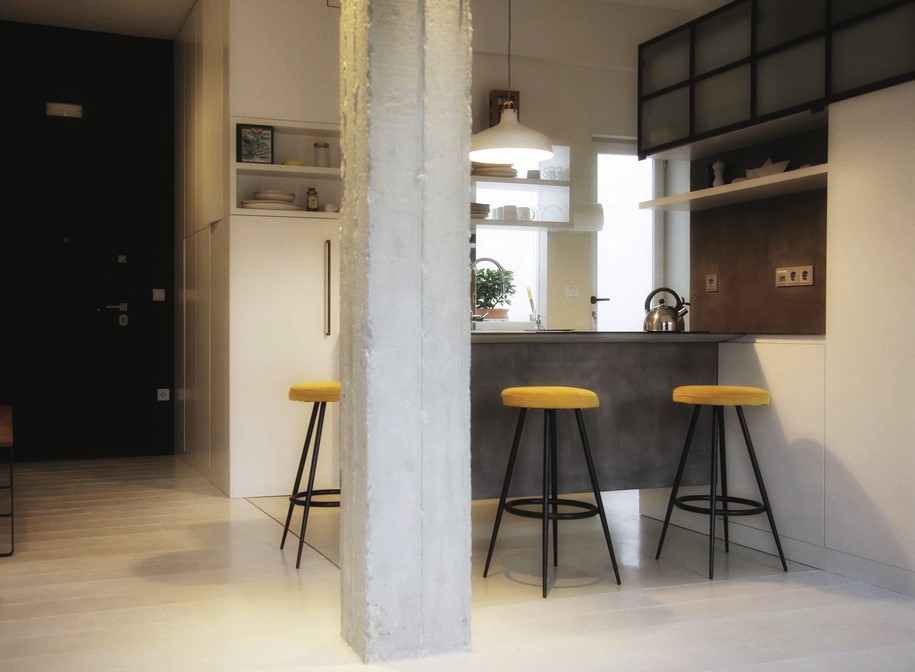 Σημαντικό στοιχείο της μελέτης είναι η συμμετοχικότητα των πελατών σε αυτή, οι οποίοι ήθελαν να υλοποιήσουν σε ένα μικρό διαμέρισμα, με λογικό κόστος, το χώρο των ονείρων τους.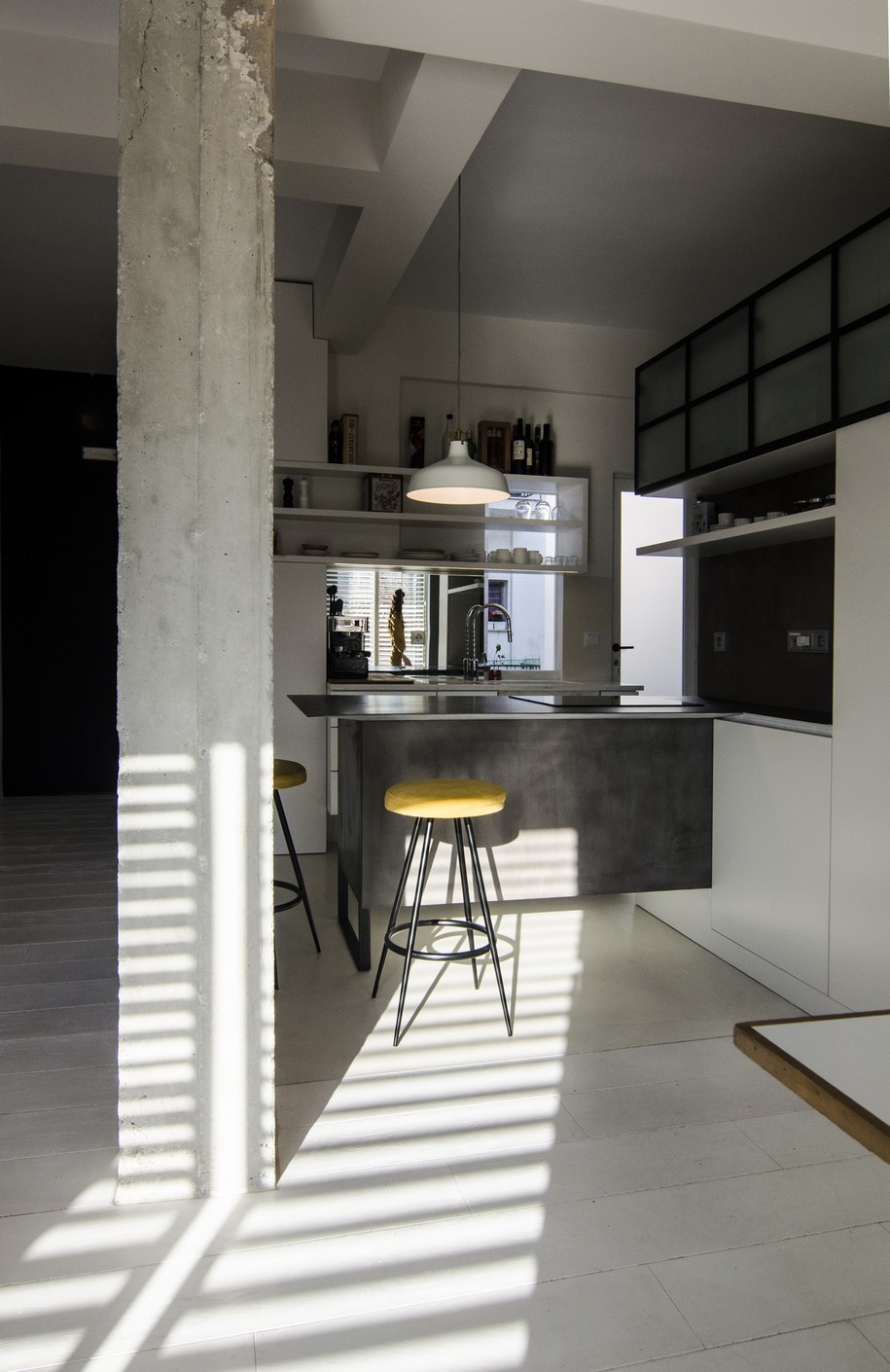 Facts & Credits:
Architects: hiboux architecture/ Dimitris Theodoropoulos & ECUALaboratory / Maria Peteinaki
Type: Renovation, residential
Year: 2016
Location: Thiseio, Athens
Photo credits: Stratis Vogiatzis, hiboux architecture
Did you enjoy this apartment renovation by hiboux & ECUALabarotary?  Have a look at this renovation of a Cinema Production Company designed by hiboux architecture!
READ ALSO:
Practical House in Maroussi, Athens by Kokosalaki Architecture