text in

EN, GR
Snowfall house, is a country house that smoothly integrates into the landscape, designed by dotn architects. Located in Helmos mountain in high altitude, the residence consists of three volumes. Two made of stone that use as a base for the third one. This white box, vertically overlies the two ground volumes creating a protected courtyard.
Proposal's main goals was to provide great view to the mountain, offer protection from the weather conditions and captivate sunlight's warmth. 

-text by the architects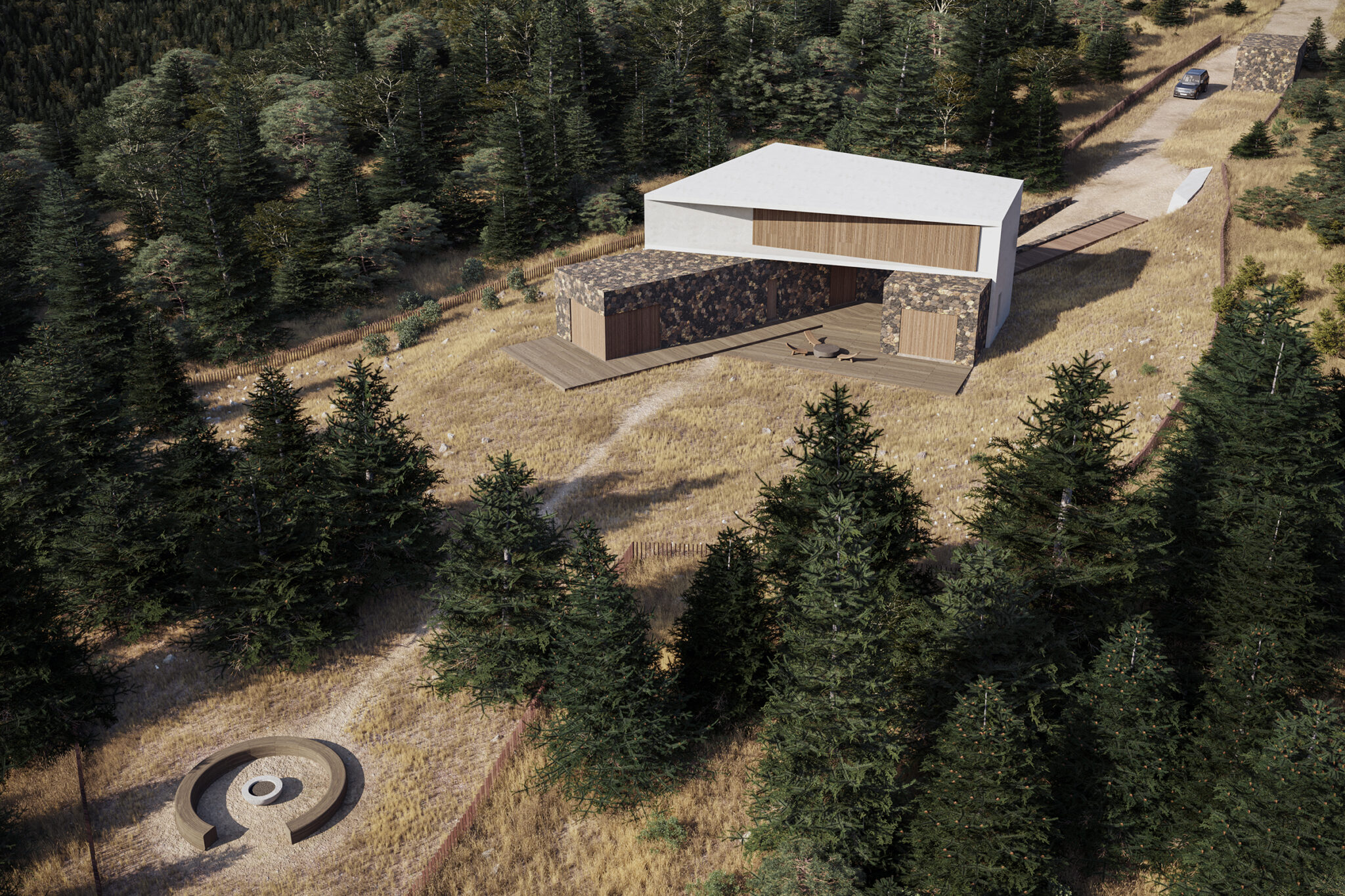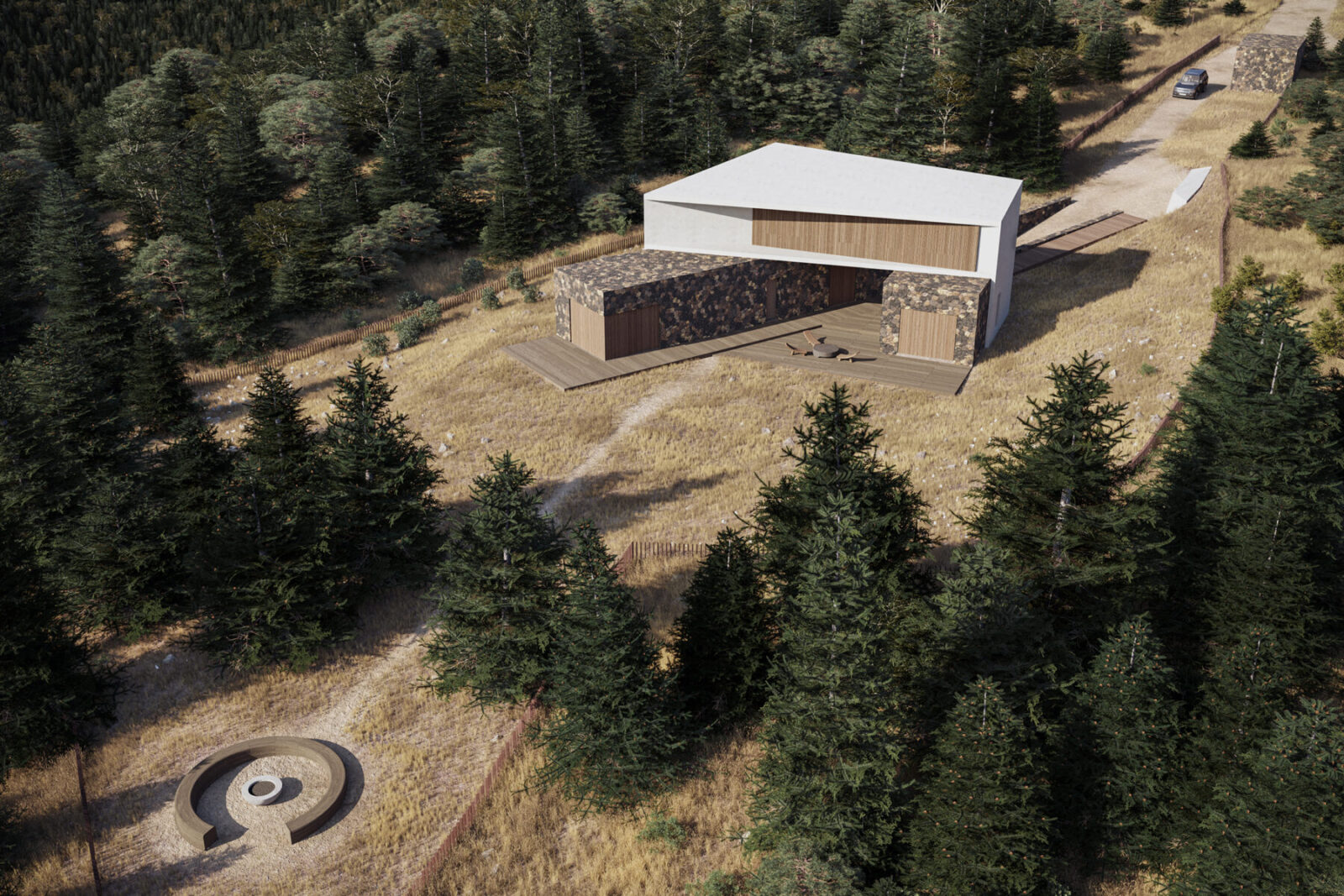 Snowfall house is located on a 4000 m2 plot that stands into the wilderness of Helmos mountain area, close to Kalavryta ski center. In 1200 m altitude and a south oriented plot, the house is looking for the sunlight's warmth.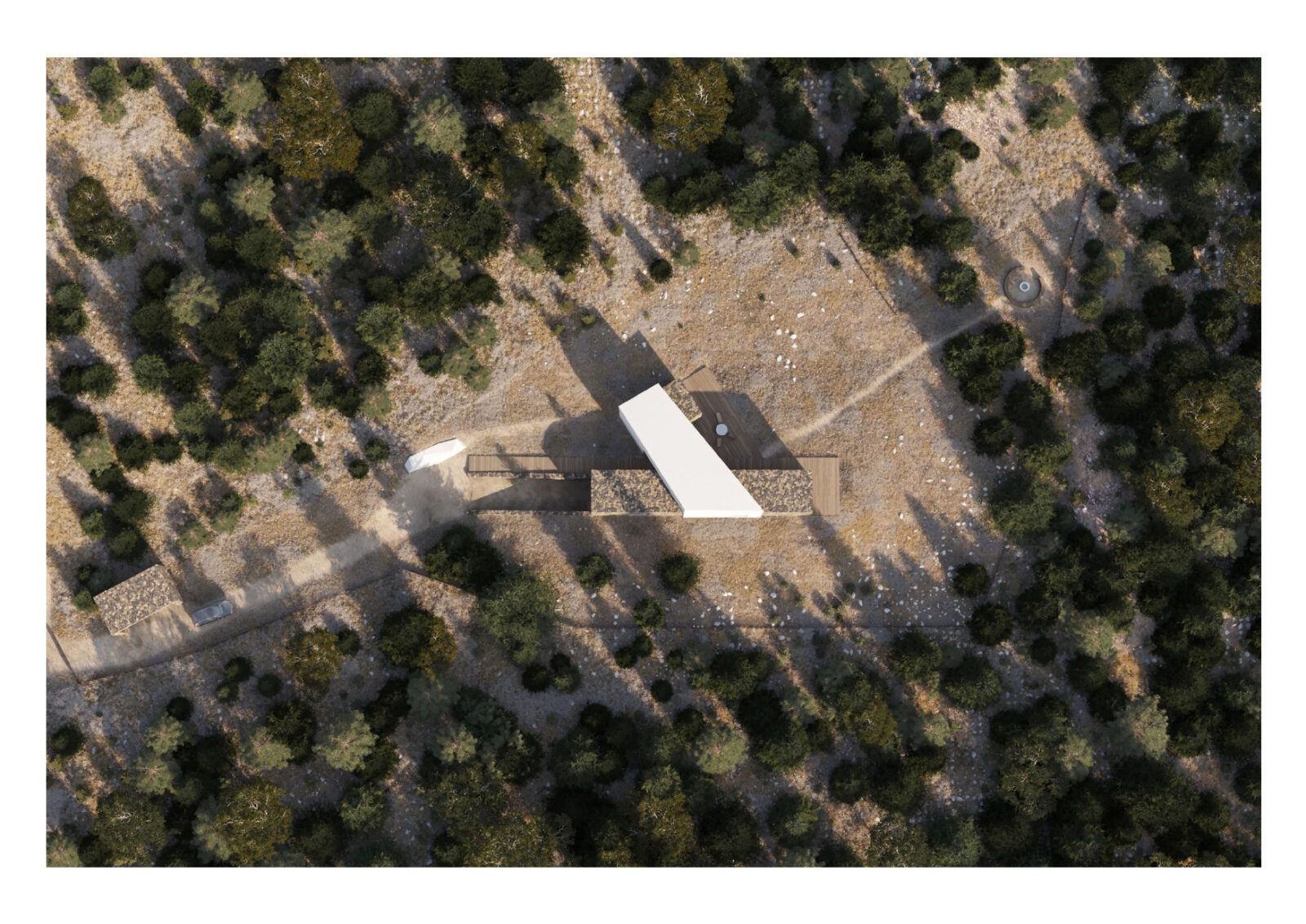 The main house, consisting of a linear volume, hosts the family's common spaces (four persons) and the master bedroom. The south facade, expanded towards the unspoiled forests, provides us with great views and direct sunlight. The guest suite, adjusted as a second volume on the north, offers flexibility for two more people. This part of the complex creates a protection by shrinking and narrowing the north wind's path.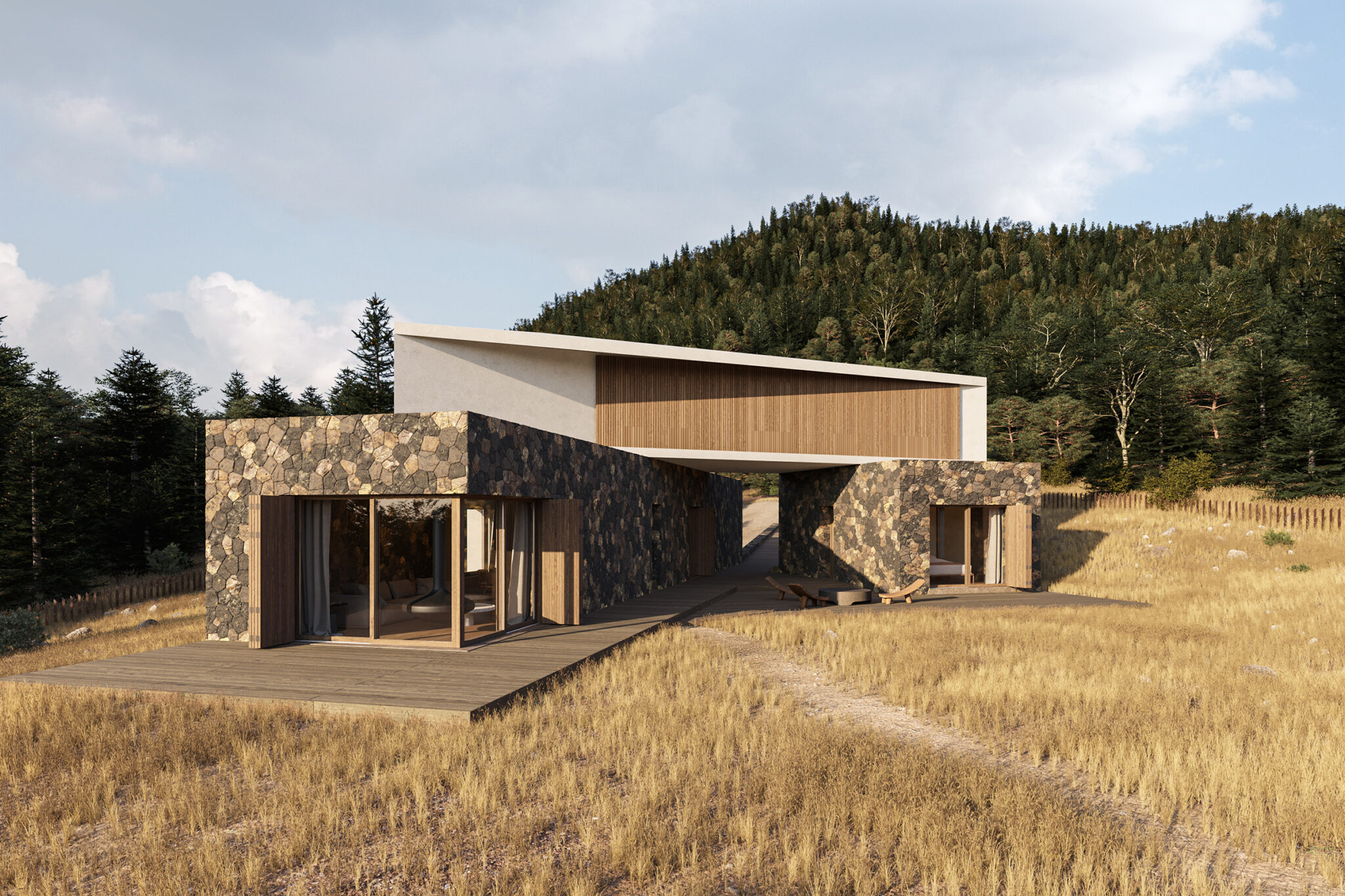 The volume of the upper floor vertically overlies the two ground volumes creating an outdoor space between them. The covered courtyard functions all year long, shaded during summer noons and protected during windy days and nights.
The idea of a rocky house covered by a heavy snowfall was leading the design process. The house during the winter is wearing a white cloak which remains "white" during the rest of the year due to the cold north winds resembling the icy parts that refuse to melt on the north slopes of the mountains.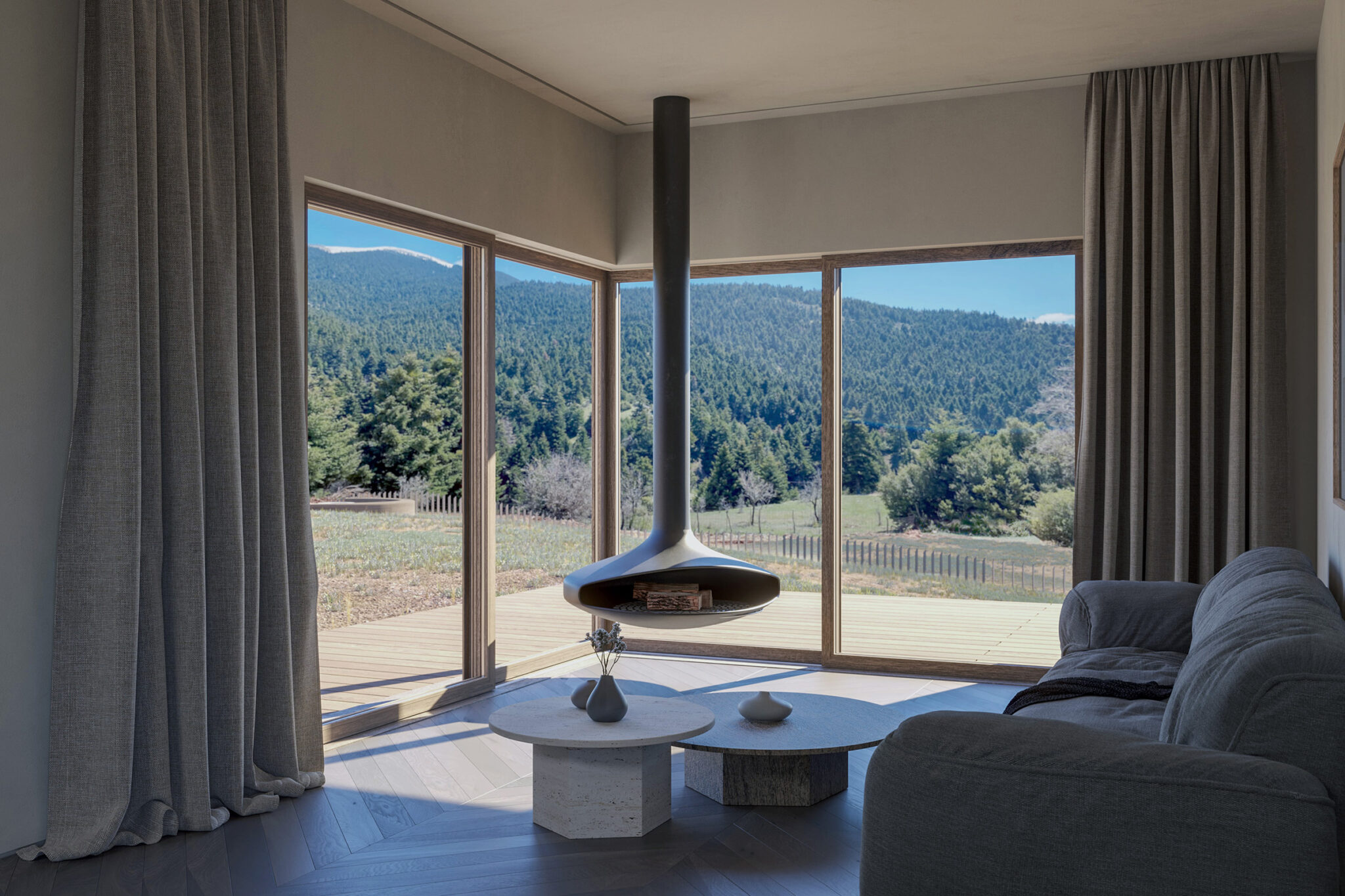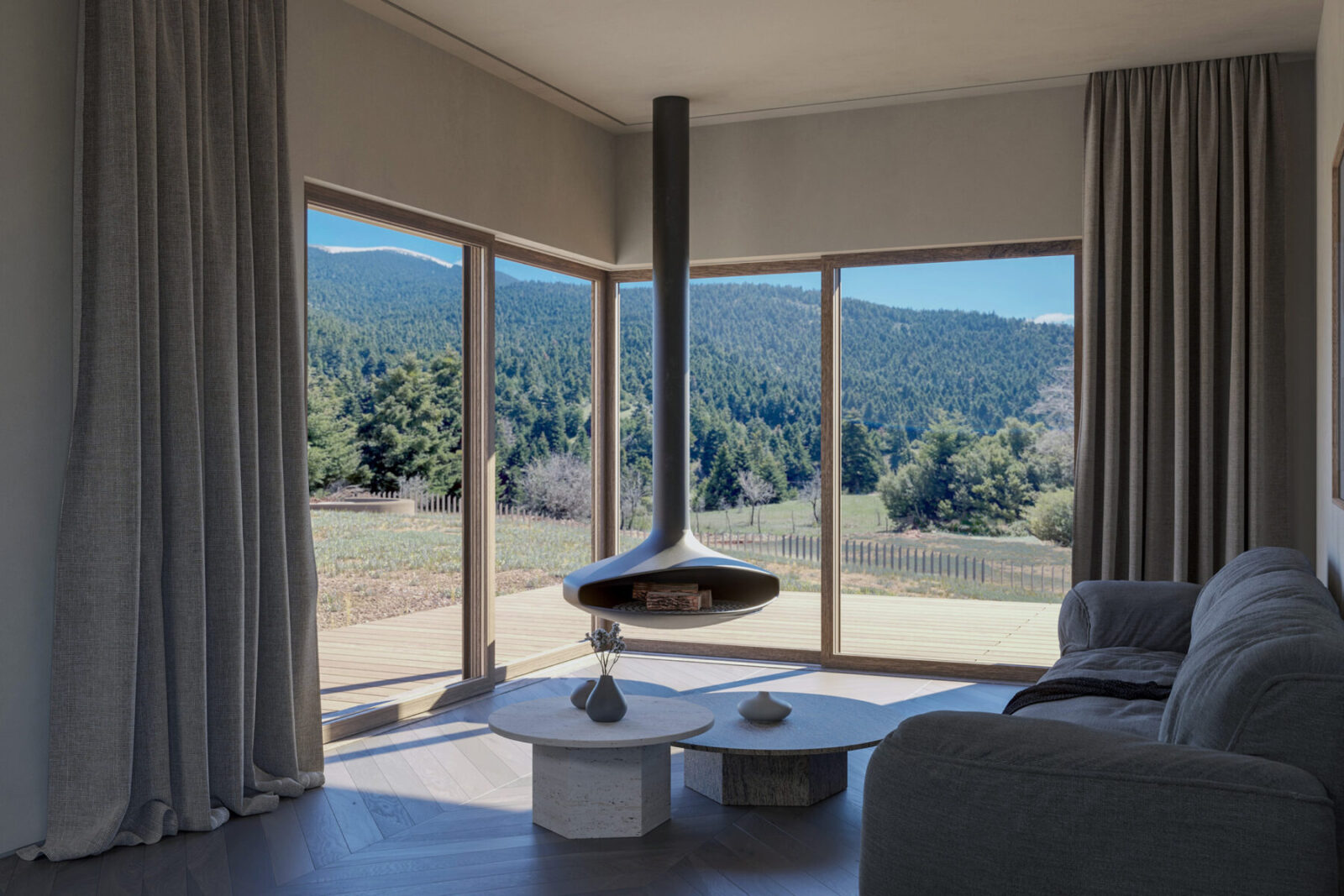 Our environmental ethos advised us to design a smoothly integrated into the landscape structure. Both, the building and its users co-exist peacefully with the physical environment as we try to avoid interfering with nature. The use of natural textures like wood and stone, the direct access to the soil without artificial transition and the hiding of the vehicles at the basement of the house demonstrate our ecofriendly approach.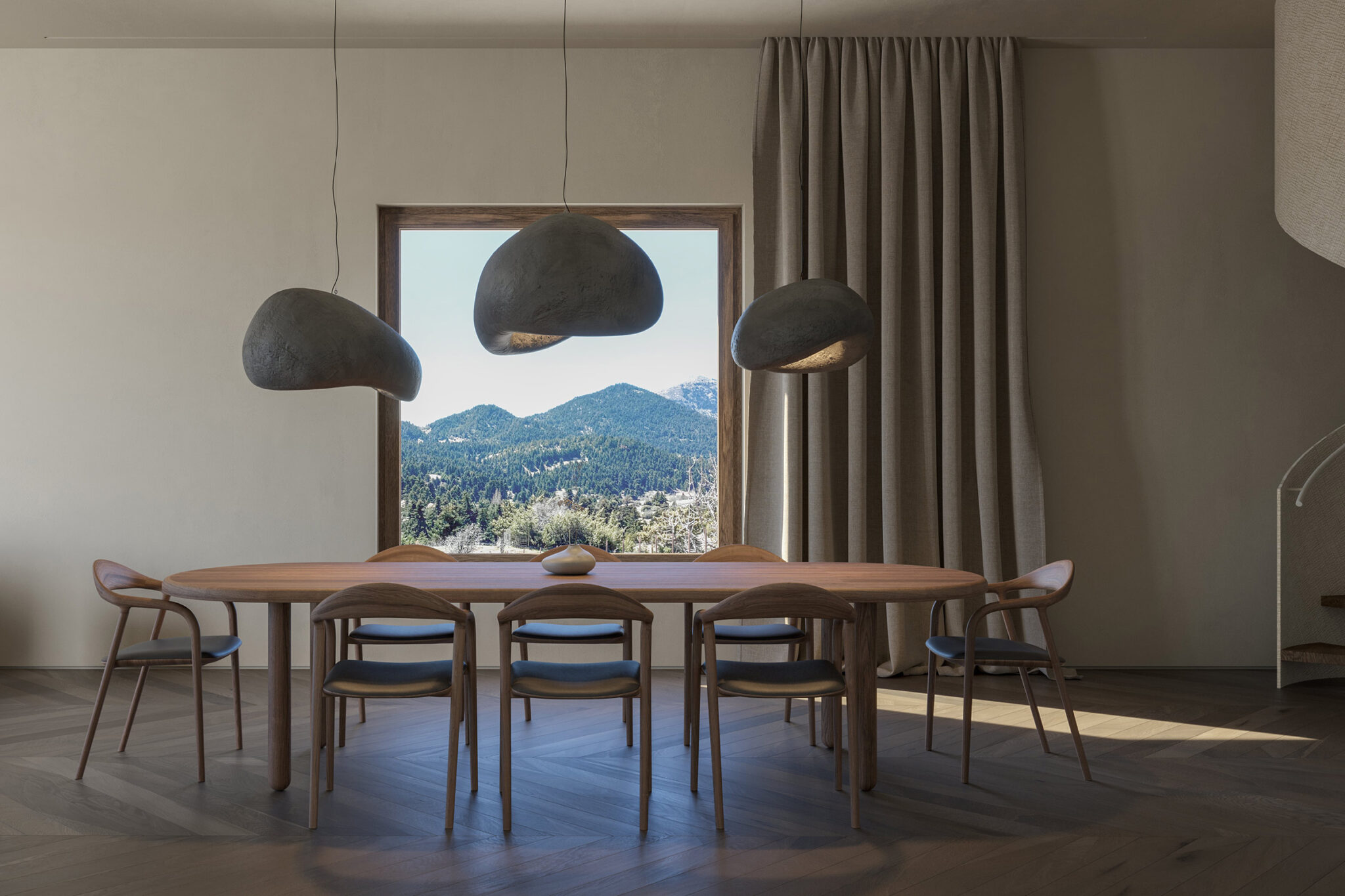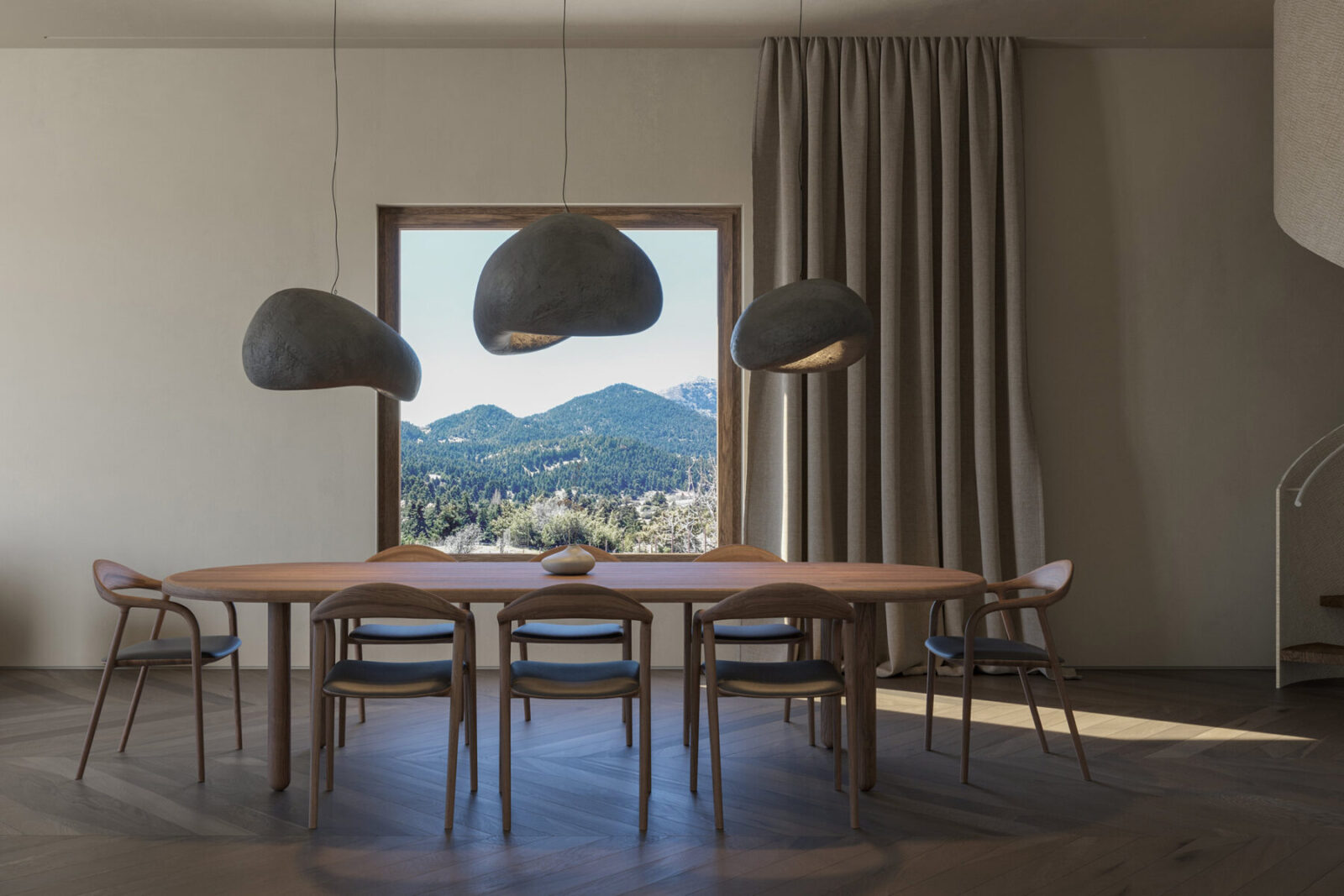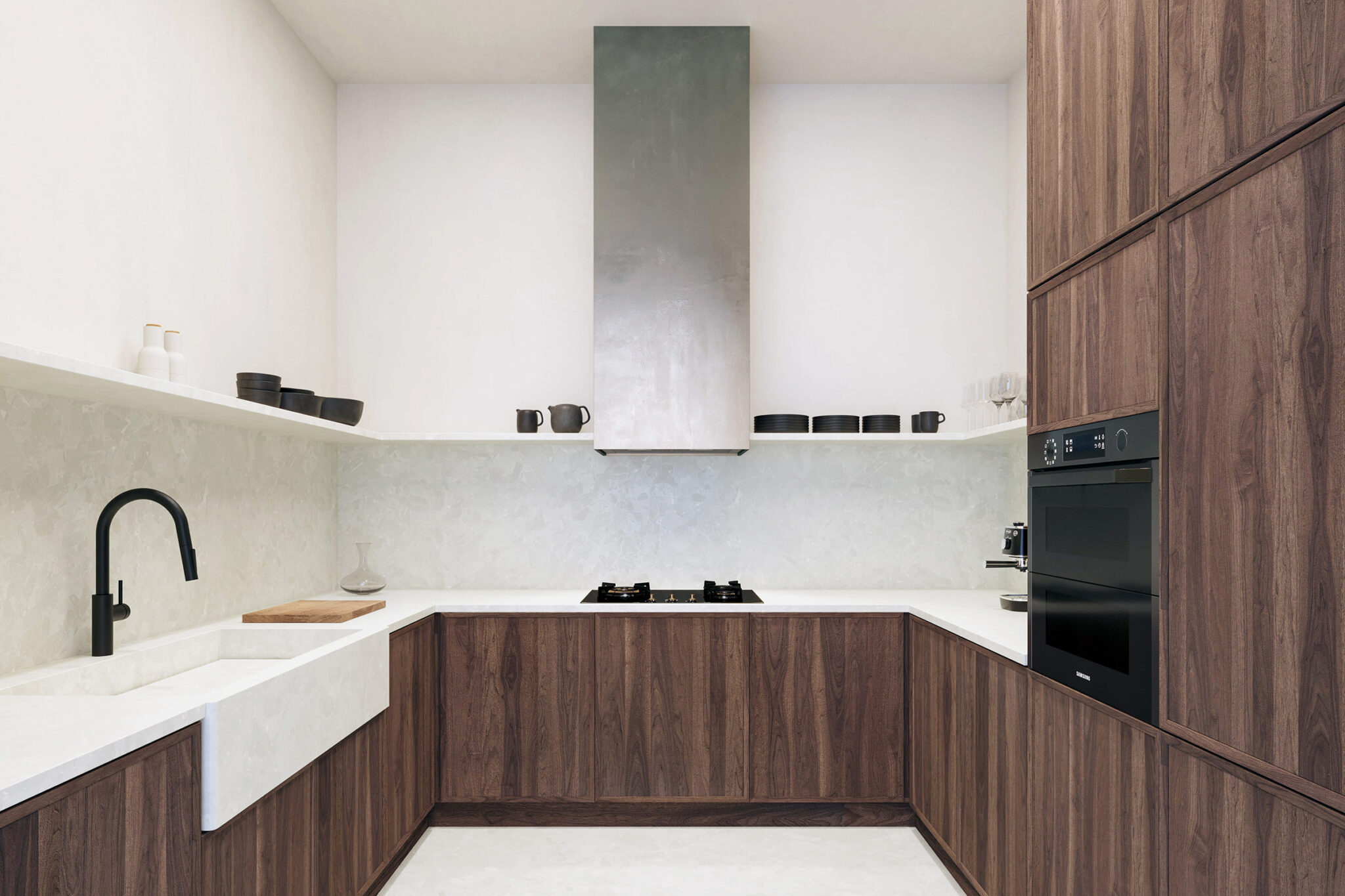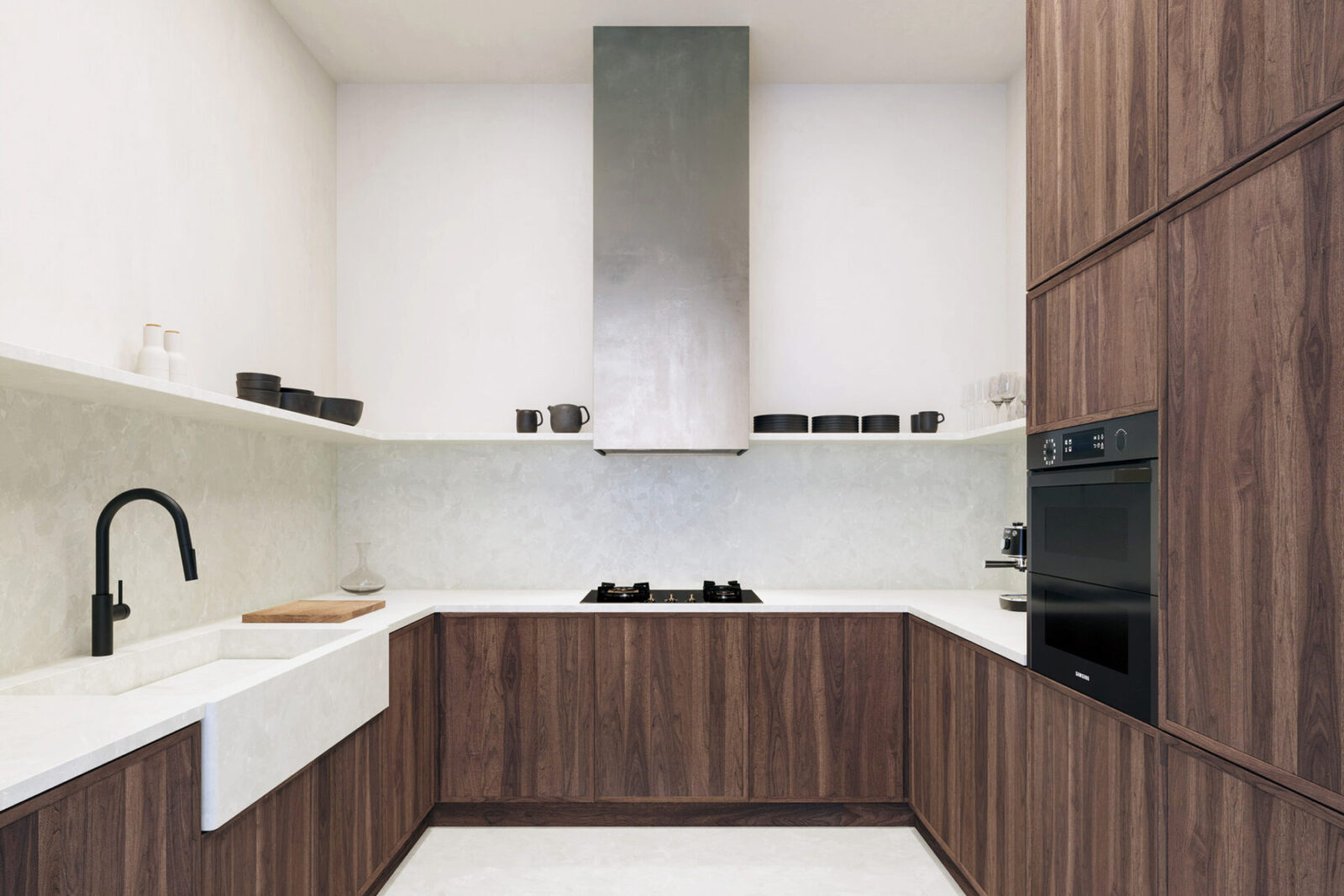 In the interior of the house, the subtle and timeless design, the earthy tones, the wooden floors and furniture and the big openings allow the light, colors and materials from the outside to enter, while at the same time creating warm and cozy living spaces.
Credits & Details
Project: Snowfall House
Architecture: dotn (Design Over The Norms)
Interior design: dotn (Design Over The Norms)
3d Rendering: Studiotaf
---
Το Snowfall house, είναι μια εξοχική κατοικία που εντάσσεται ομαλά στο περιβάλλον σχεδιασμένη από τους dotn architects. Τοποθετημένη στο βουνό σε μεγάλο υψόμετρο, η κατοικία αποτελείται από τρεις όγκους, δύο πέτρινους που λειτουργούν σαν βάση πάνω στους οποίους προσγειώνεται ένας τρίτος λευκός δημιουργώντας έναν προστατευμένο ημιυπαίθριο χώρο. Σκοπός του σχεδιασμού ήταν η εξασφάλιση απρόσκοπτης θέας προς το βουνό, η προστασία από τις καιρικές συνθήκες αλλά και η εκμετάλλευση του φυσικού φωτός.
-text by the architects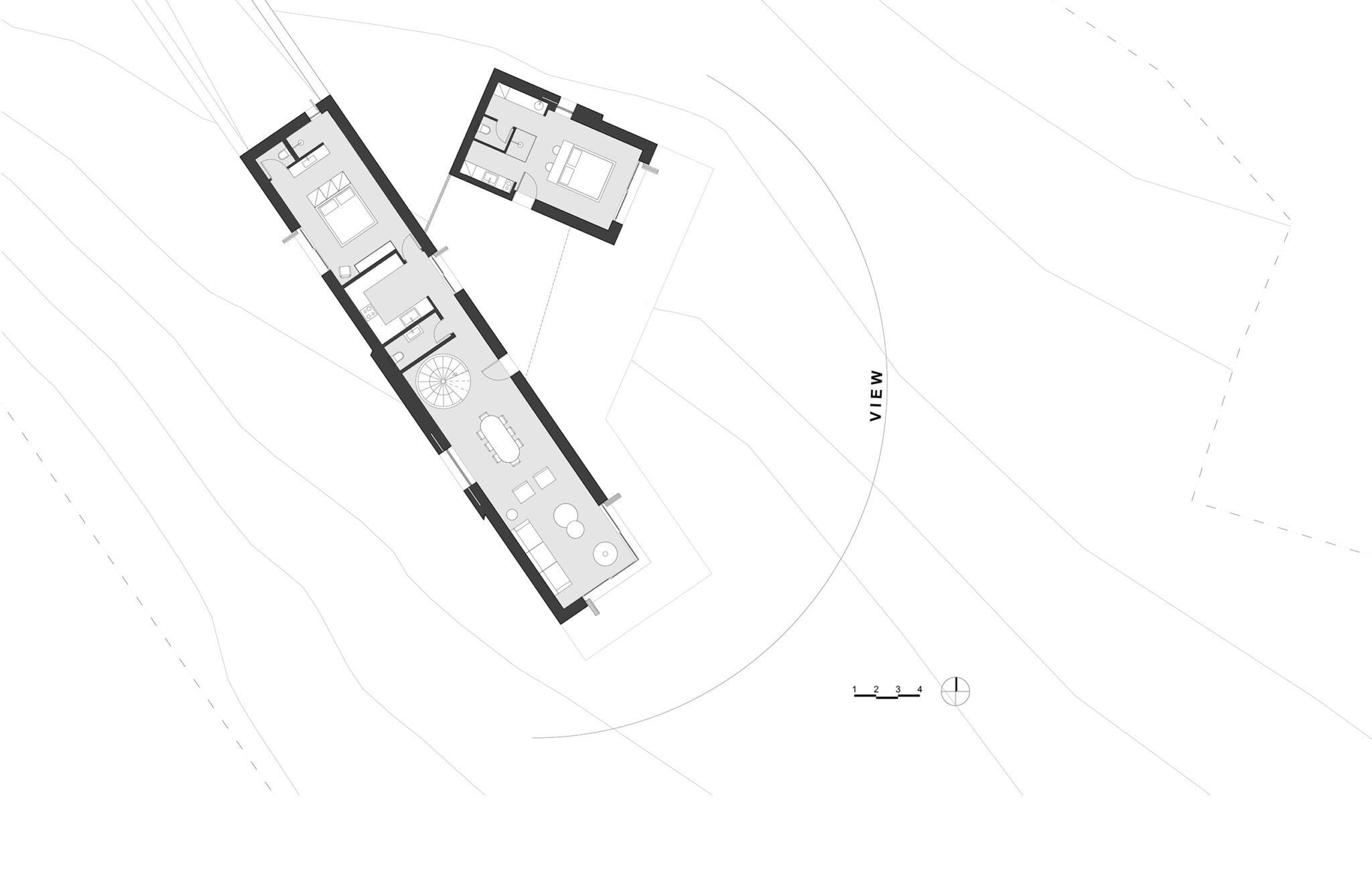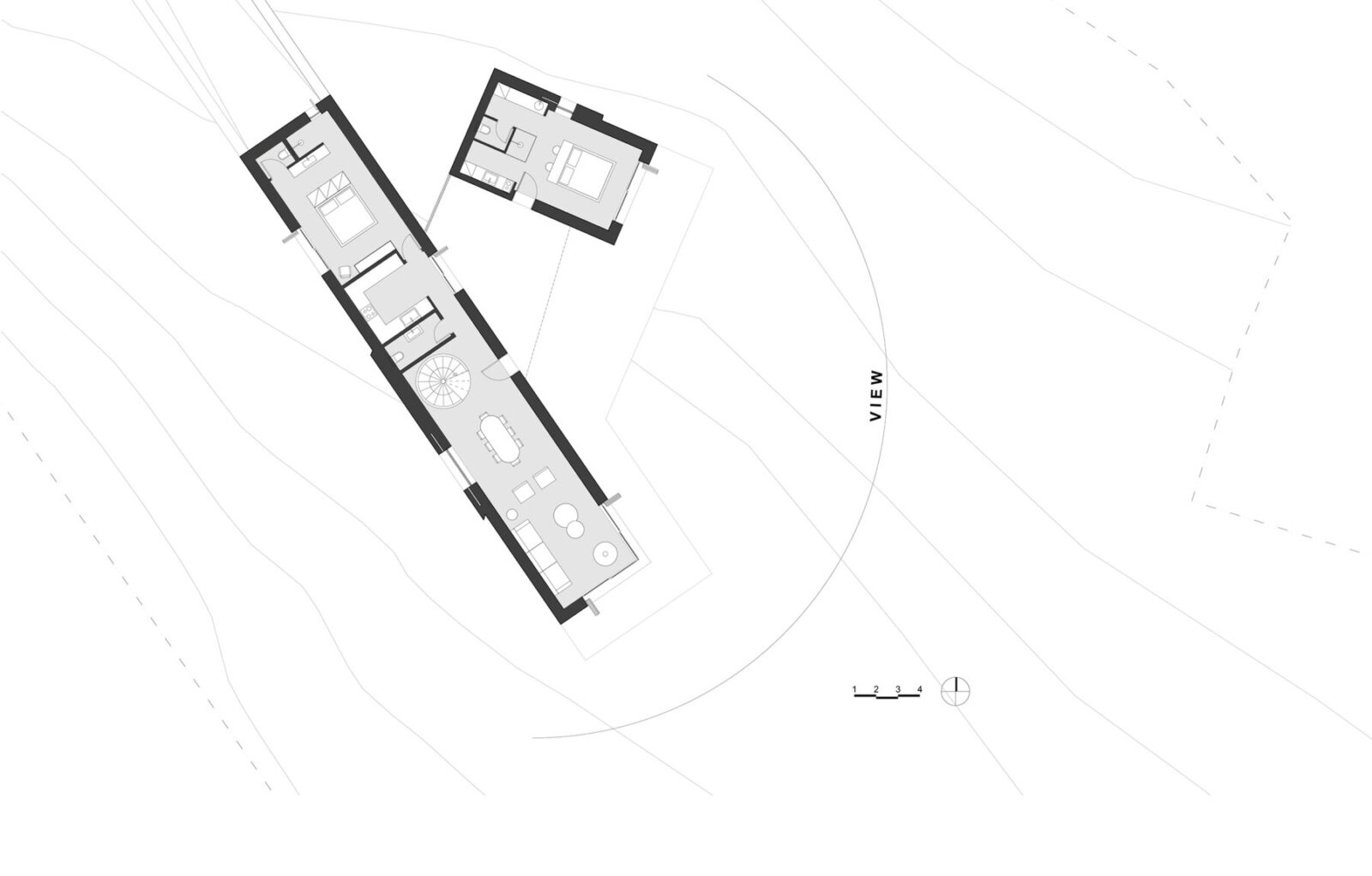 Το Snowfall House βρίσκεται σε οικόπεδο 4.000 τ.μ. στο ορεινό τοπίο της περιοχής του Χελμού, κοντά στο χιονοδρομικό κέντρο Καλαβρύτων. Σε υψόμετρο 1.200 μέτρων, με νότιο προσανατολισμό, αναζητά τη ζεστασιά του ήλιου.
Ο γραμμικός όγκος της κύριας κατοικίας, φιλοξενεί τους κοινόχρηστους χώρους της τετραμελούς οικογένειας και την κύρια κρεβατοκάμαρα.
Η σουίτα του ξενώνα, προσαρμοσμένη ως δεύτερος όγκος στα βόρεια, μπορεί να φιλοξενήσει δύο ακόμη επισκέπτες. Αυτό το τμήμα του συγκροτήματος δημιουργεί προστασία από το βόρειο άνεμο ανακόπτοντας την πορεία του και περιορίζοντας την έκθεση της κύριας κατοικίας σε αυτόν.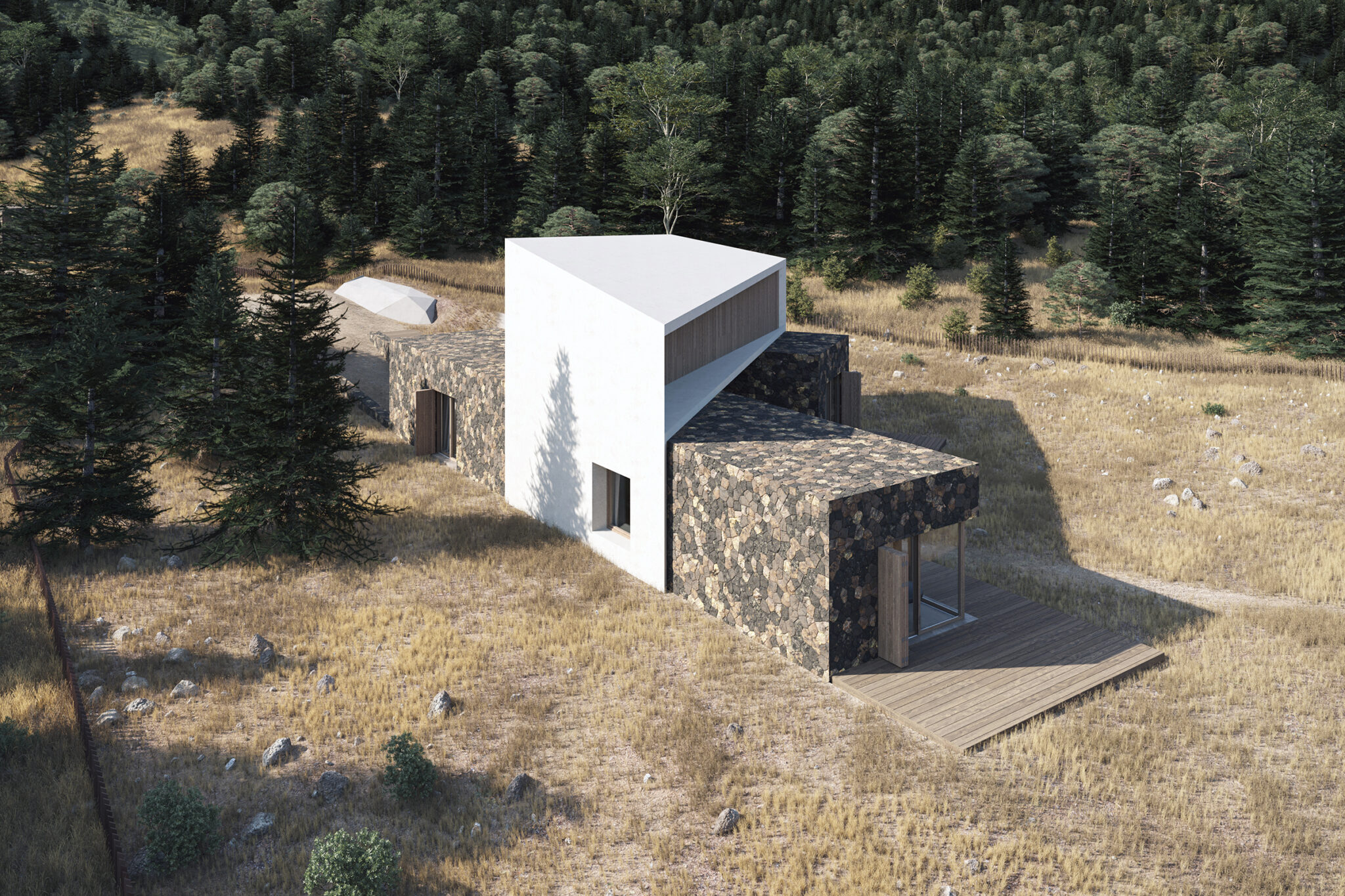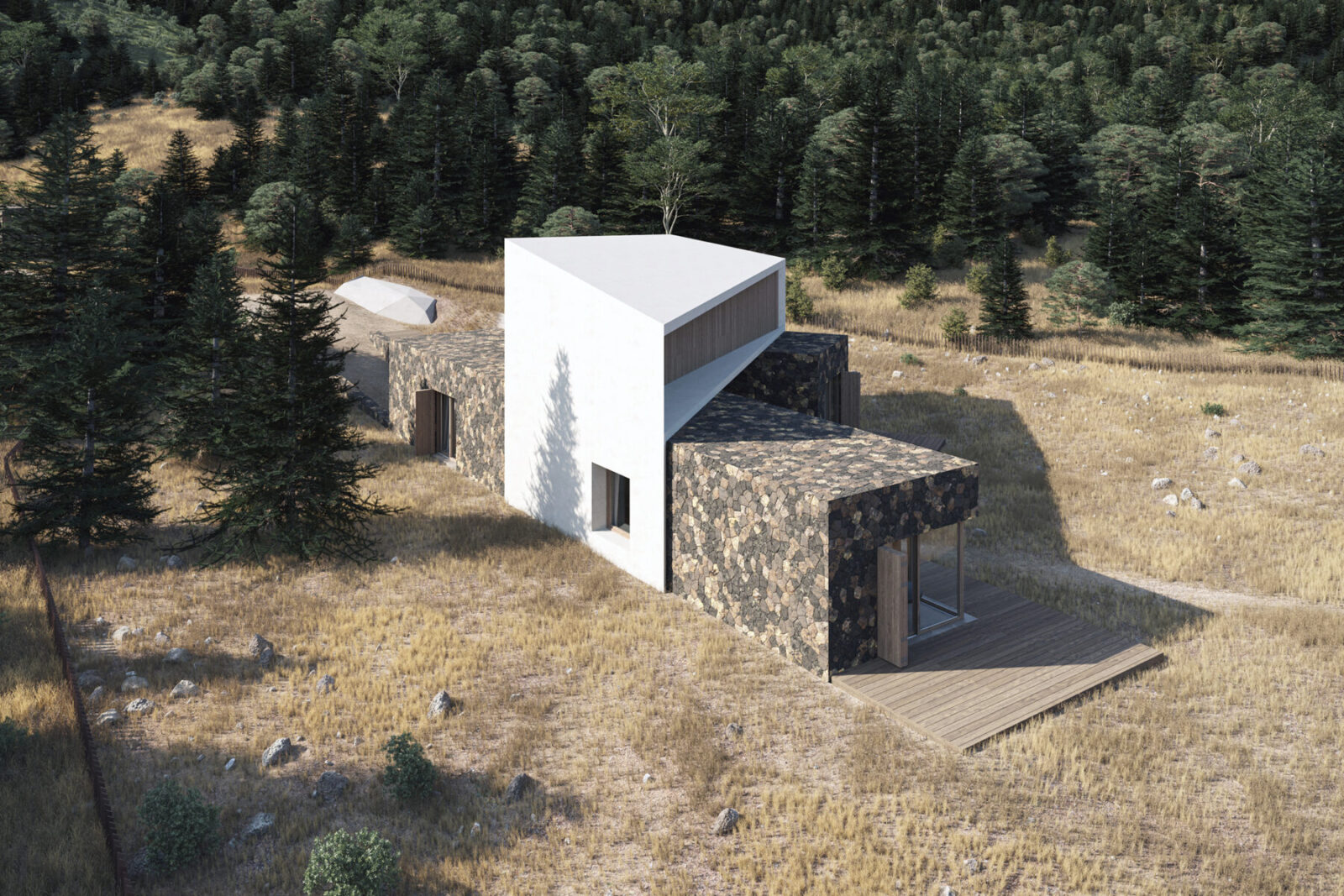 Ο όροφος έρχεται ως ένας τρίτος όγκος που συνάπτεται κάθετα στους δύο προηγούμενους, δημιουργώντας έναν ημιυπαίθριο χώρο μεταξύ τους. Η στεγασμένη αυτή αυλή λειτουργεί όλο το χρόνο, σκιασμένη τα καλοκαιρινά μεσημέρια και προστατευμένη τις παγωμένες μέρες και νύχτες του χειμώνα.
Η νοτιοανατολικές προσόψεις των όγκων, επεκτείνονται προς τα παρθένα δάση, προσφέροvτας απρόσκοπτη θέα και άμεσο ηλιακό φως. Στο εσωτερικό της κατοικίας, το λεπτό και διαχρονικό design, οι γήινες αποχρώσεις, τα ξύλινα πατώματα και έπιπλα και τα μεγάλα ανοίγματα επιτρέπουν στο φως, τα χρώματα και τα υλικά από το φυσικό τοπίο να εισέλθουν, ενώ ταυτόχρονα δημιουργούν ζεστούς και φιλόξενους χώρους.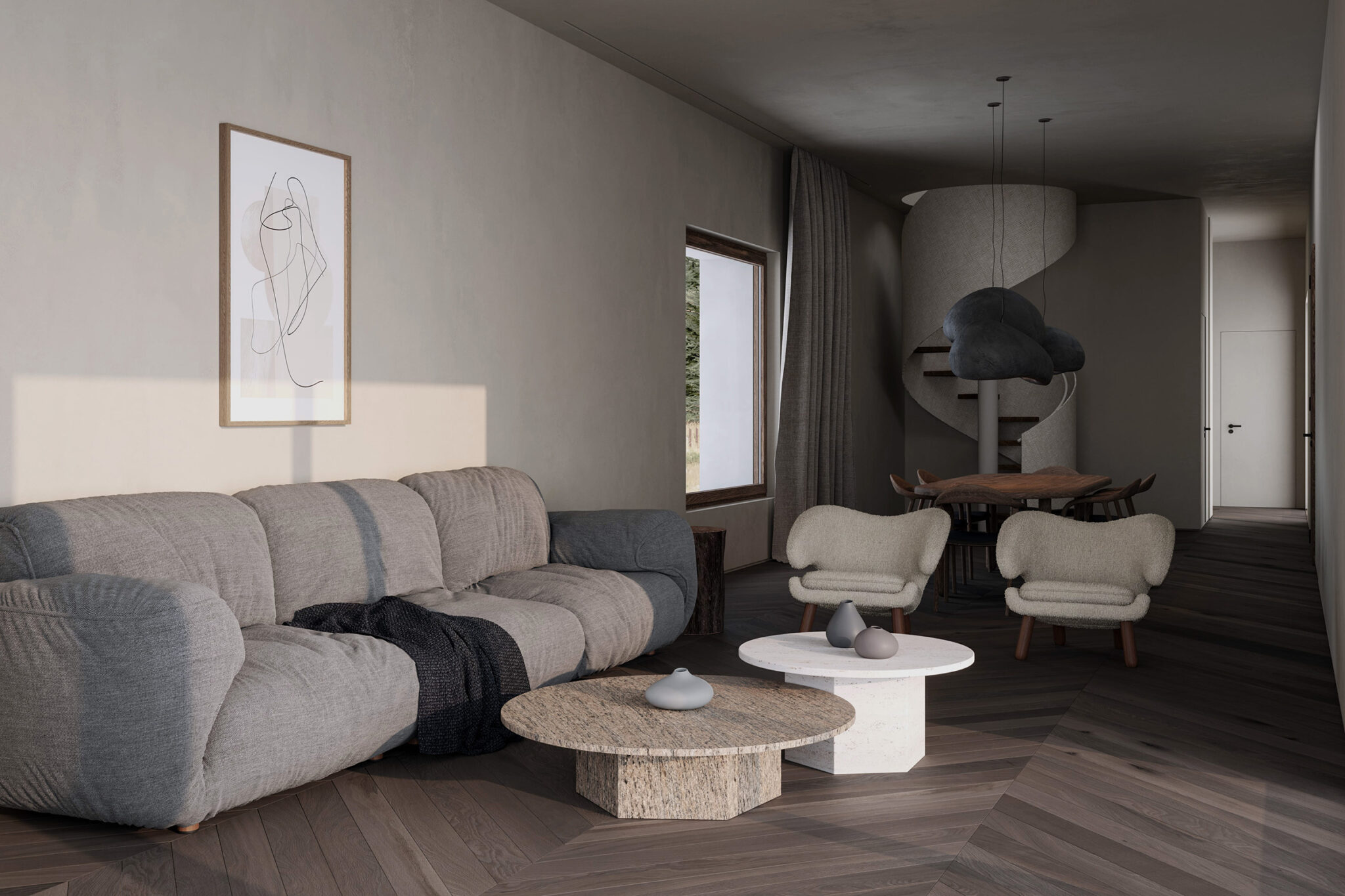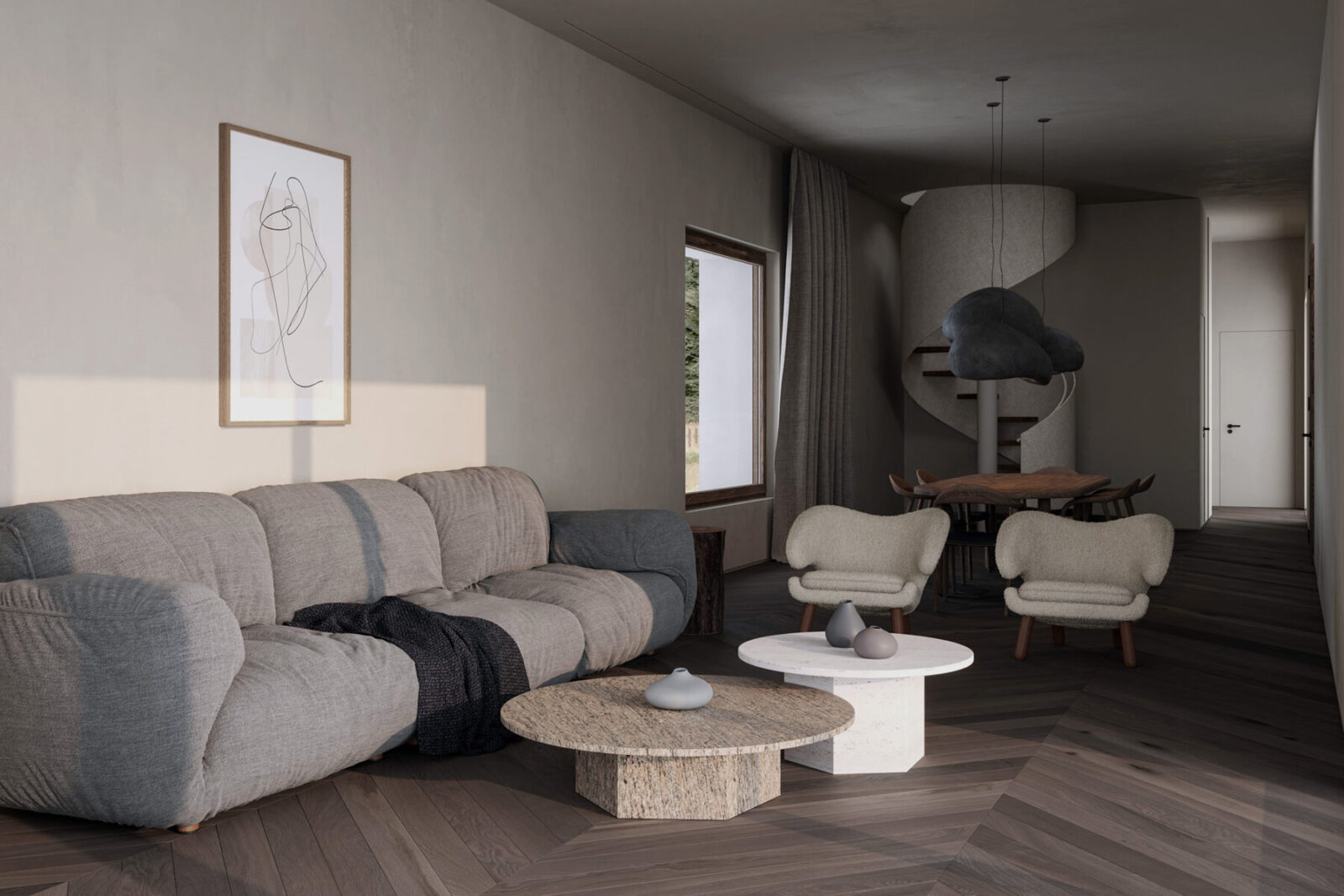 Η διαδικασία σχεδιασμού καθοδηγήθηκε από την ιδέα μιας πέτρινης κατοικίας που καλύπτεται από έντονη χιονόπτωση. Το χειμώνα το έργο φοράει «λευκό μανδύα». Ο άνω όγκος όμως, διατηρείται λευκός όλο το χρόνο, όπως τα παγωμένα χιόνια στις βόρειες πλαγιές των βουνών που, λόγω των ψυχρών βόρειων ανέμων, αρνούνται να λιώσουν.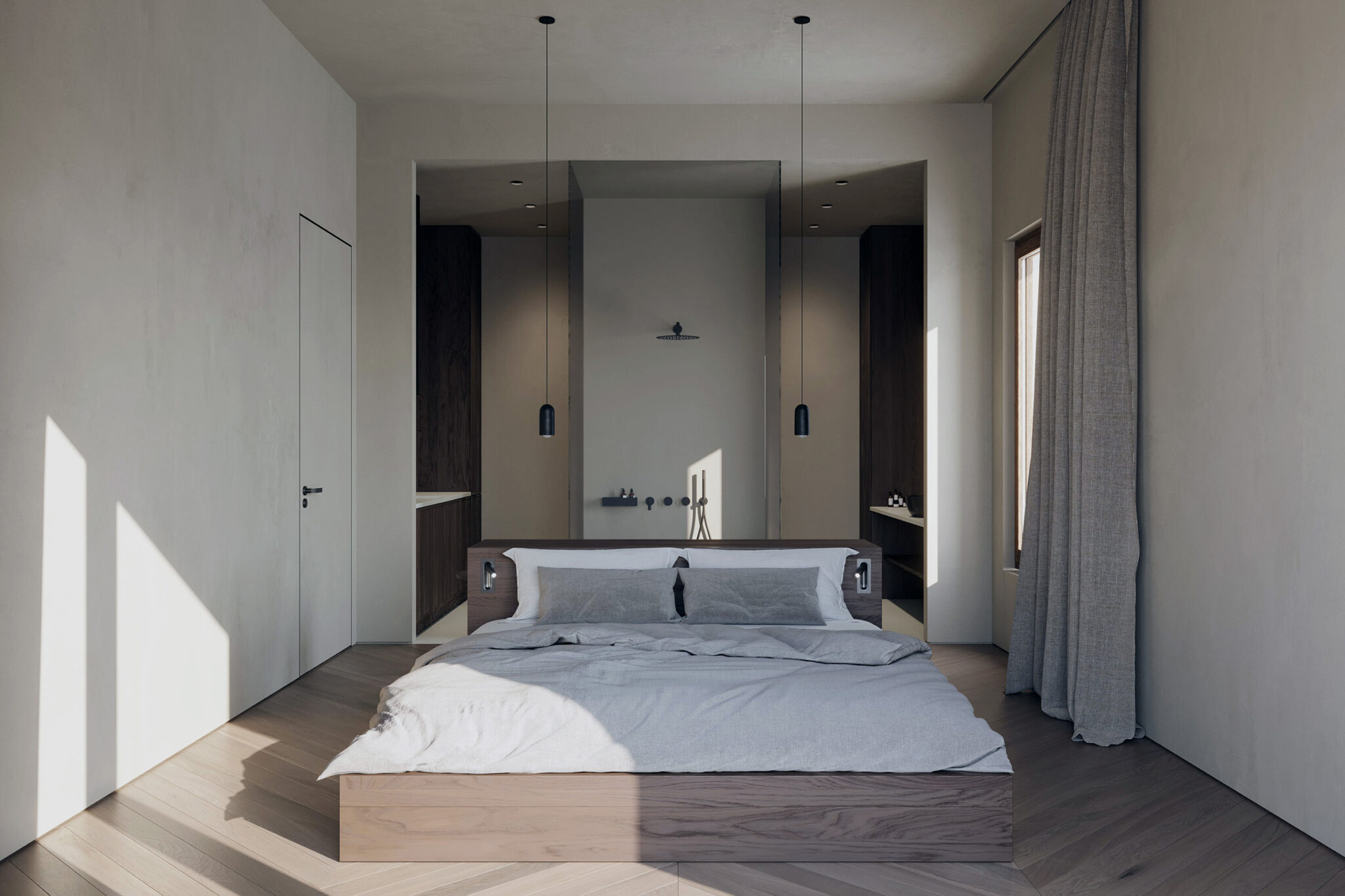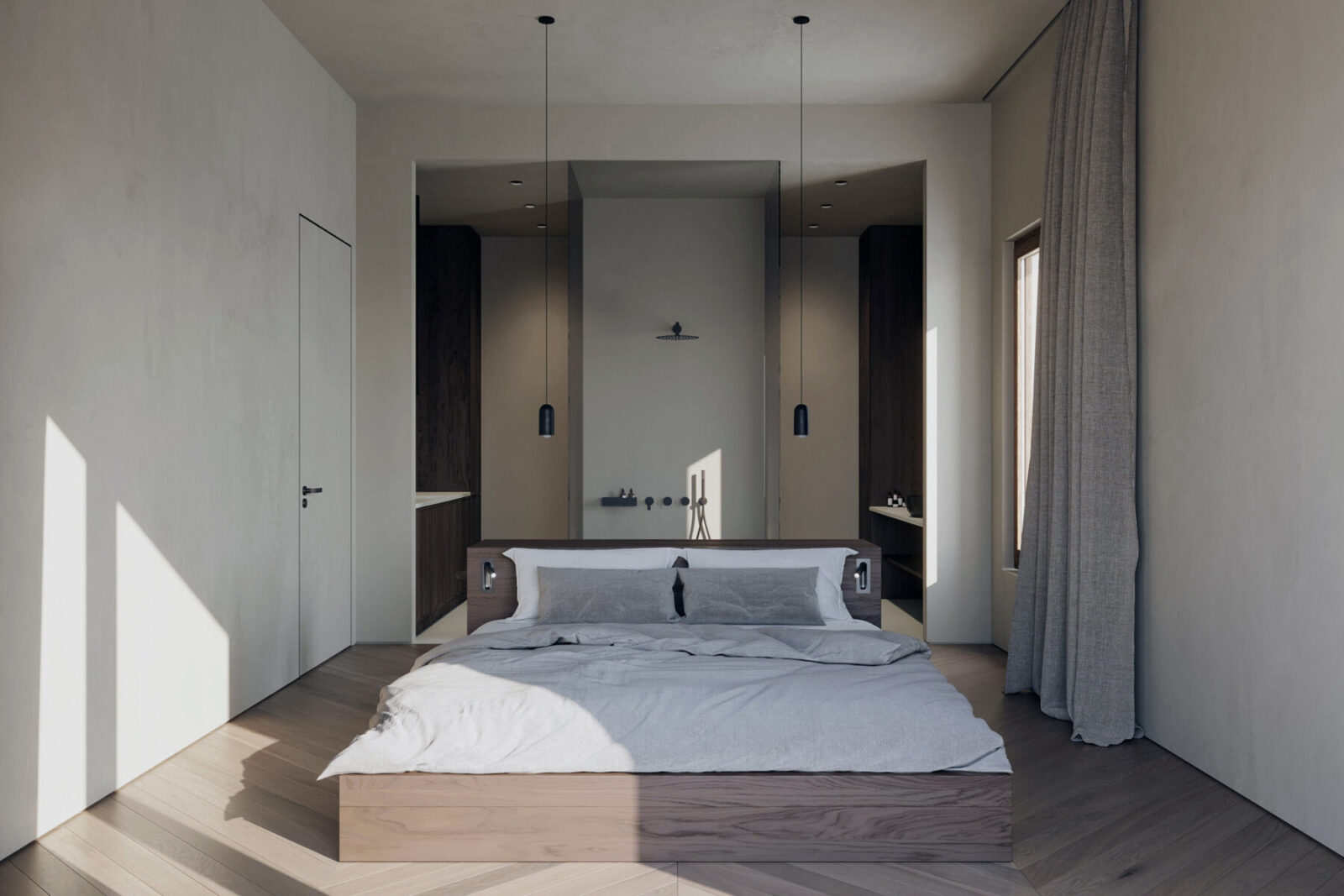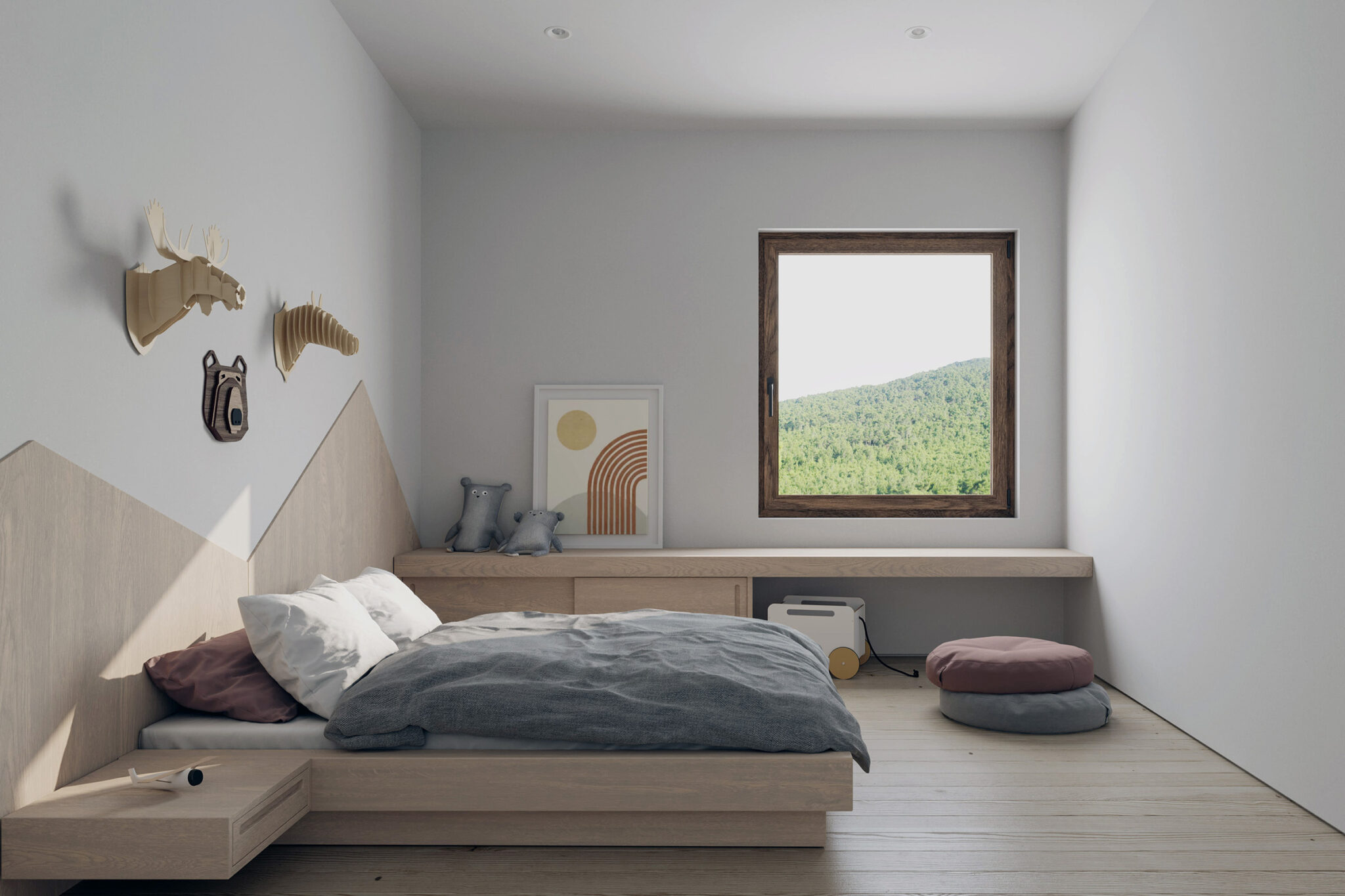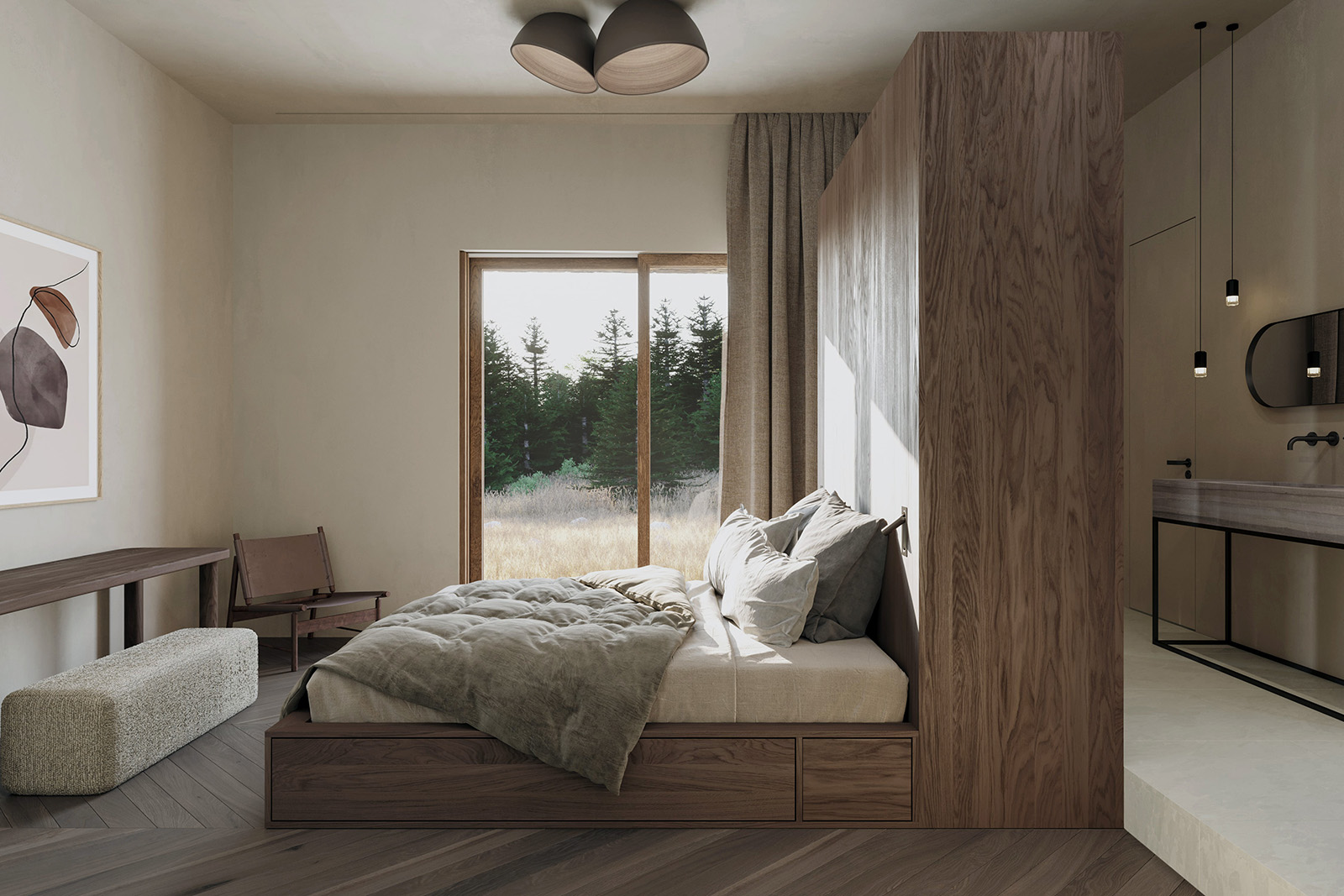 Η περιβαλλοντική μας ευαισθητοποίηση μας οδήγησε να σχεδιάσουμε εντάσσοντας ομαλά την κατοικία στο τοπίο. Το κτίριο και οι χρήστες του συνυπάρχουν με το φυσικό περιβάλλον καθώς επιχειρείται η ελάχιστη παρέμβαση. Η χρήση φυσικών υλικών όπως το ξύλο και η πέτρα, η άμεση πρόσβαση στο έδαφος, χωρίς τεχνητή μετάβαση, και η απόκρυψη των οχημάτων στο υπόγειο καταδεικνύουν την φιλική προς το περιβάλλον προσέγγισή μας.
Credits & Details
Έργο: Snowfall House
Αρχιτεκτονική μελέτη: dotn (Design Over The Norms)
Εσωτερικός σχεδιασμός: dotn (Design Over The Norms)
Απεικόνιση: Studiotaf
READ ALSO:
Content Marketing for Architects: How to position yourself as an expert online?