The following project by the architecture office Tzagkarakis + Associates, includes the design and the costruction of a residence in Agia Gallini village, in Rethymno Crete. The starting point of the creation was the word keras, a symbol coming from ancient greek history.
"kéras [Greek: κέρας] : the horn, hard permanent outgrowth found in pairs on the heads of certain mammals".
-text by the authors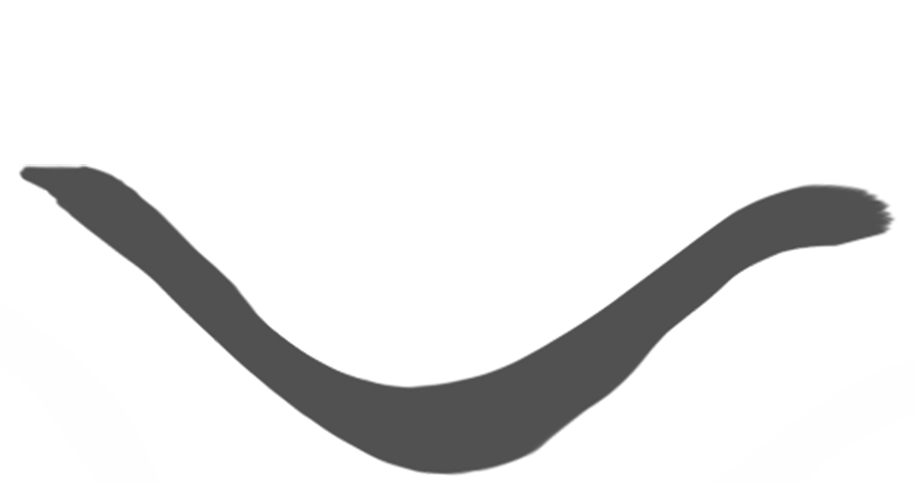 One of the main inspirations for this project is the «Horns of Consecration», a symbol of the Minoan civilization. This geometry is translated through several elements of the design of the house and it is also placed in the topography of the site. The site is located 2,6 km west of Agia Galini village, in the southern coasts of  Rethymno, Crete.  The plot offers unobstructed views to the southern Cretan sea as well as the small uninhabited Paximadia islands. The building is positioned following the topography lines of the plot, where it drops to the sea. This allows for maximum views throughout the house.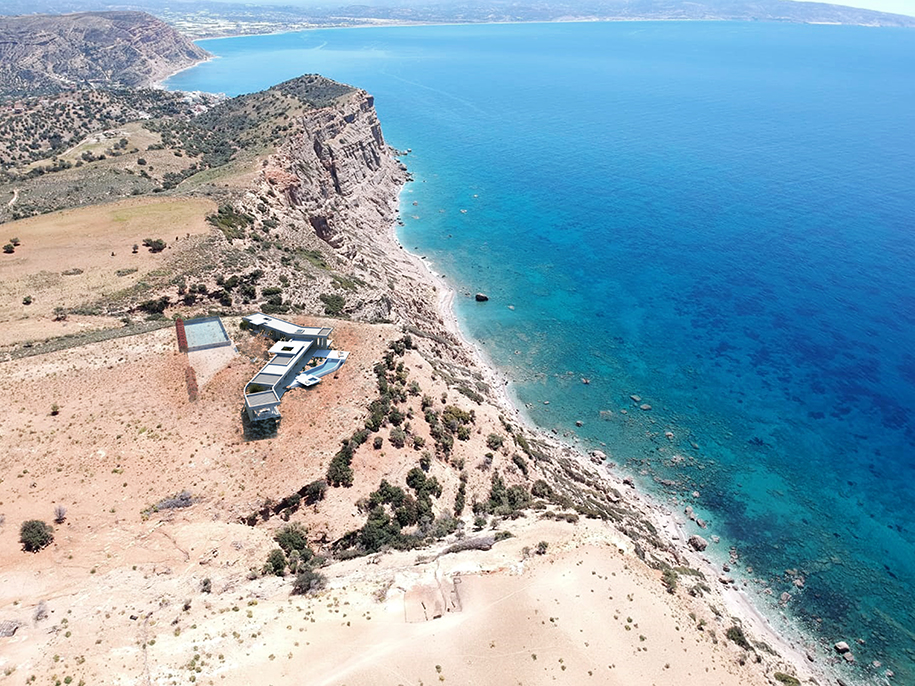 The residence is formed by two main volumes, one housing the living areas which includes the kitchen, dining, lounge, spa, exterior seating and dining rooms and the other housing three en-suite bedrooms as well as the master suite.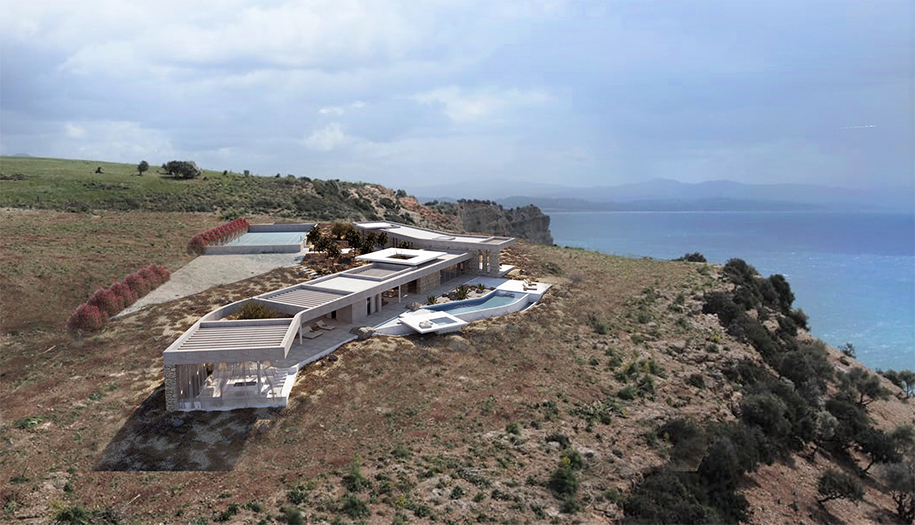 The two volumes forming the house are curved mimicking the geometry of the symbol that inspired the design, the Minoan "horns of consecration". Two curved exposed concrete slabs are formed over them, sheltering both indoor and outdoor living spaces, seamlessly connected to one another.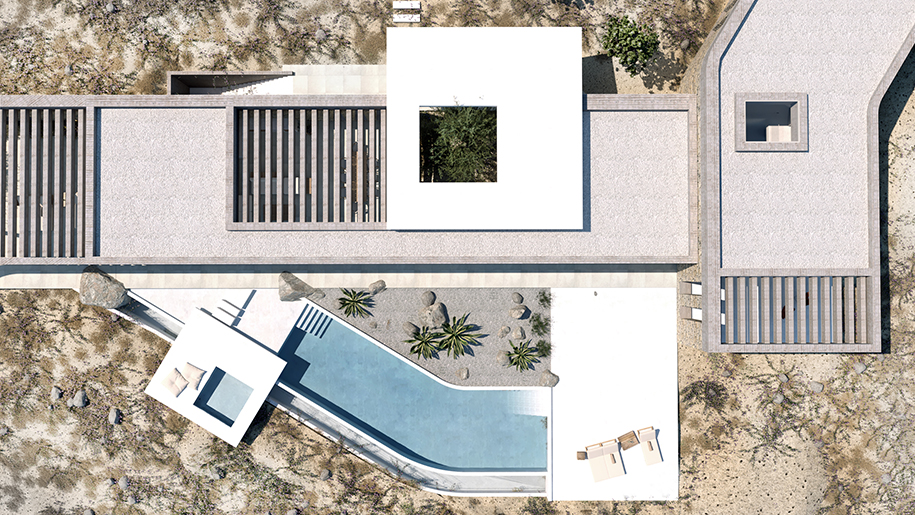 The entrance to the house is located at the north side of the plot. A covered space will be created above the entrance door, using a "floating" slab above a pillar inspired by the  Minoan "horns of consecration". Upon entering the house, will be a large glass panel with unobstructed views to the sea and the Paximadia islands. The project is currently under costruction.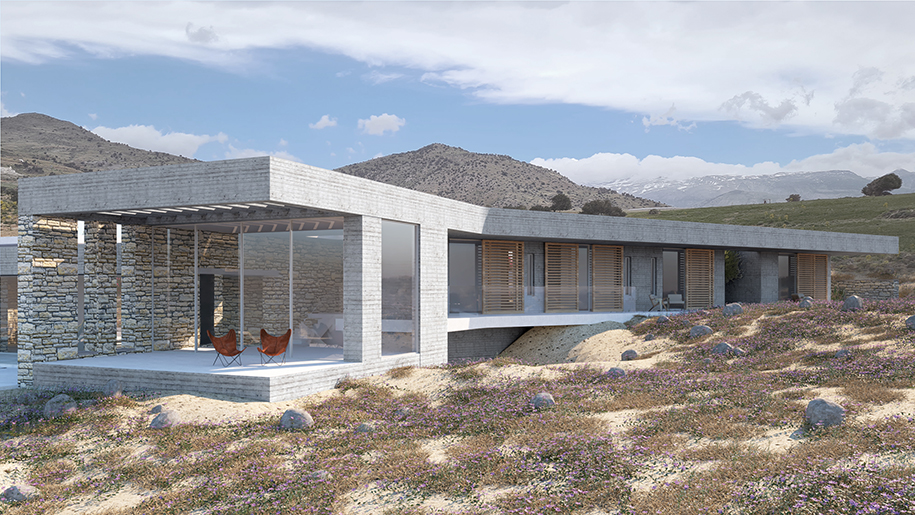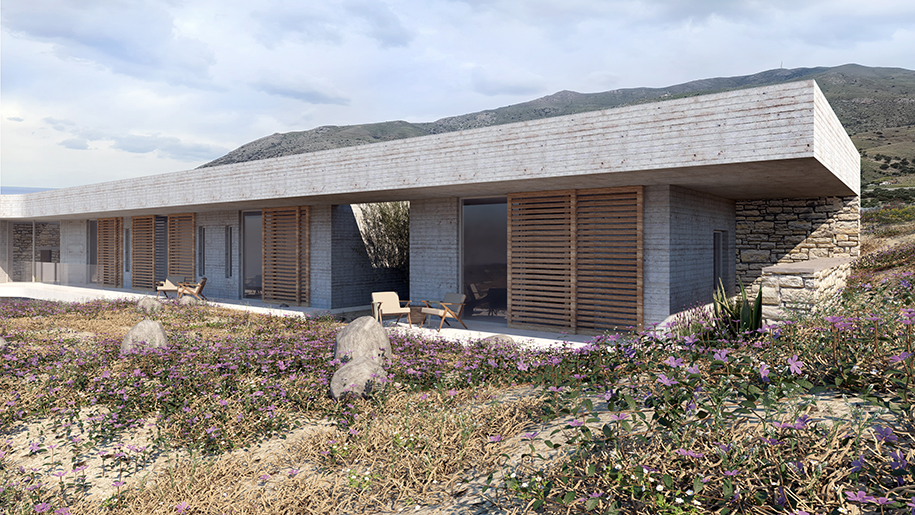 Facts & Credits
Τίτλος έργου Κέρας project 
Τυπολογία Κατοικία
Status Υπό κατασκευή
Τοποθεσία Αγία Γαλλήνη, Ρέθυμνο, Κρήτη
Αρχιτεκτονική Tzagkarakis +Associates 
Σχέδια Tzagkarakis +Associates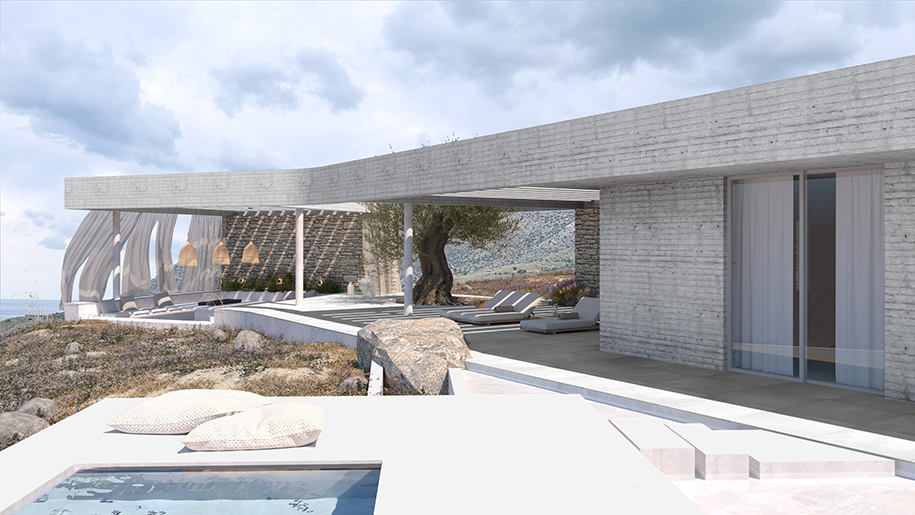 ---
Το παρακάτω έργο, σχεδιασμένο από το αρχιτεκτονικό γραφείο Tzagkarakis + Associates, αφορά το σχεδιασμό και την κατασκευή κατοικίας στον οικισμό της Αγίας Γαλλήνης, στο Ρέθυμνο Κρήτης. Αφετηρία της δημιουργίας ήταν η λέξη κέρας, σύμβολο που προέρχεται από την αρχαία ελληνική ιστορία.
"κέρας, το [kéras] : το κέρατο, σκληρή έκφυση που μεγαλώνει στο κεφάλι ορισμένων θηλαστικών, συνήθως σε ζευγάρι"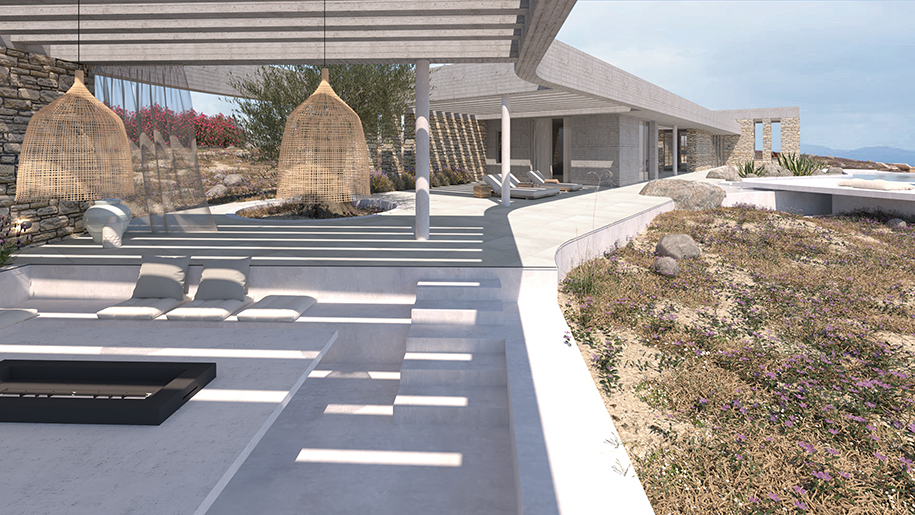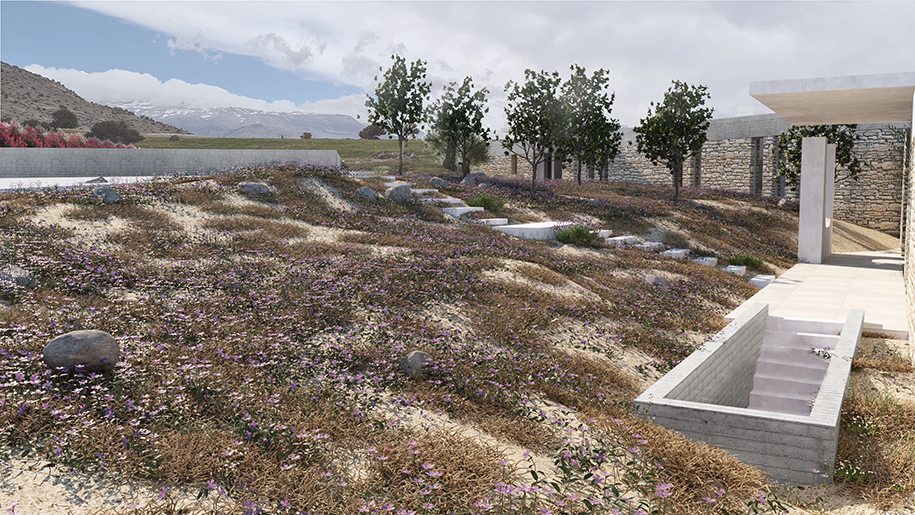 Μια από τις κύριες εμπνεύσεις για το έργο αυτό αποτελούν τα "κέρατα καθοσιώσεως", σύμβολο του Μινωικού πολιτισμού. Η γεωμετρία αυτή αποτυπώνεται στα διάφορα στοιχεία του αρχιτεκτονικού σχεδιασμού της κατοικίας.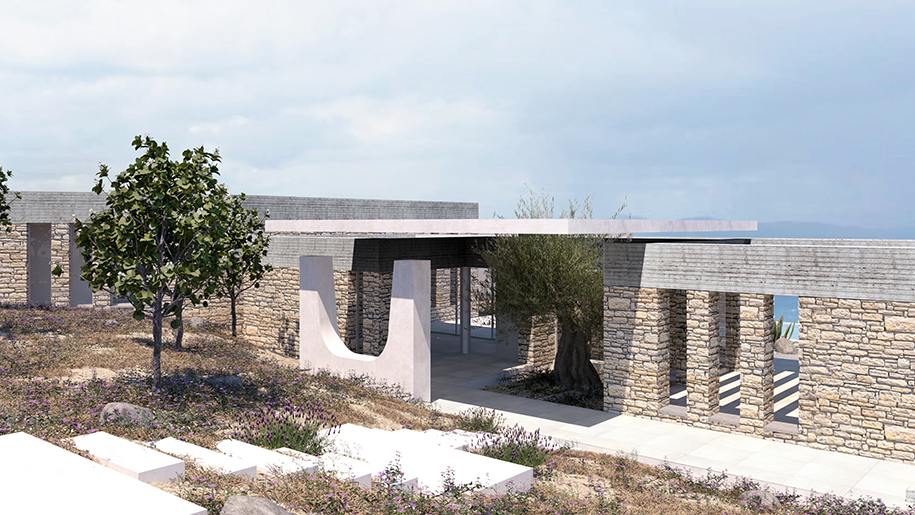 Το οικόπεδο βρίσκεται 2,6 χιλιόμετρα δυτικά του χωριού Αγία Γαλήνη, στις νότιες ακτές του Ρεθύμνου, στην Κρήτη. Το πεδίο προσφέρει απρόσκοπτη θέα στο νότιο Κρητικό πέλαγος καθώς και στα μικρά, ακατοίκητα νησιά Παξιμάδια. Το κτίριο χωροθετείται ακολουθώντας τις τοπογραφικές γραμμές του οικοπέδου, στο σημείο όπου αυτό "πέφτει" προς τη θάλασσα. Το γεγονός αυτό εξασφαλίζει βέλτιστη θέα από κάθε σημείο της κατοικίας.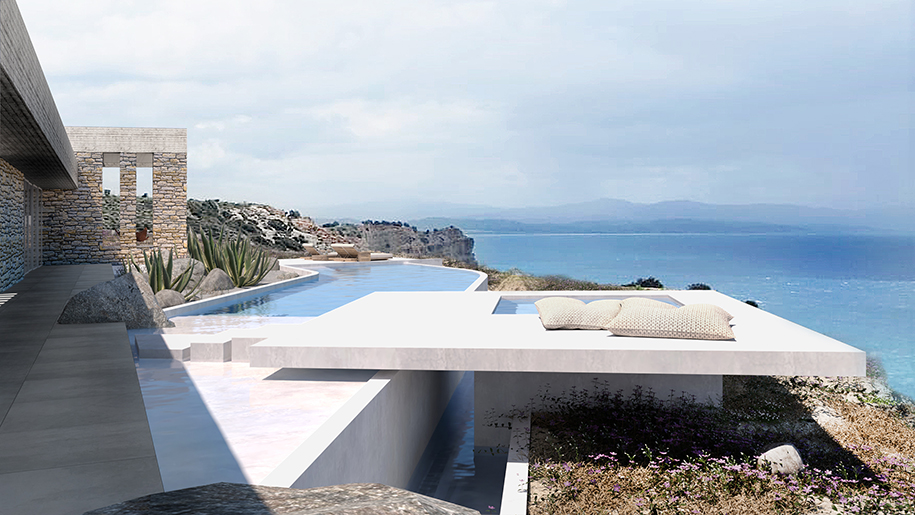 Η κατοικία αποτελείται από δύο κύριους όγκους, εκ των οποίων ο ένας στεγάζει τους χώρους διαβίωσης (κουζίνα, τραπεζαρία, σαλόνι, σπα, εξωτερικό καθιστικό και τραπεζαρία) και ο άλλος στεγάζει τρία υπνοδωμάτια με ιδιωτικό μπάνιο καθώς και το κυρίως υπνοδωμάτιο.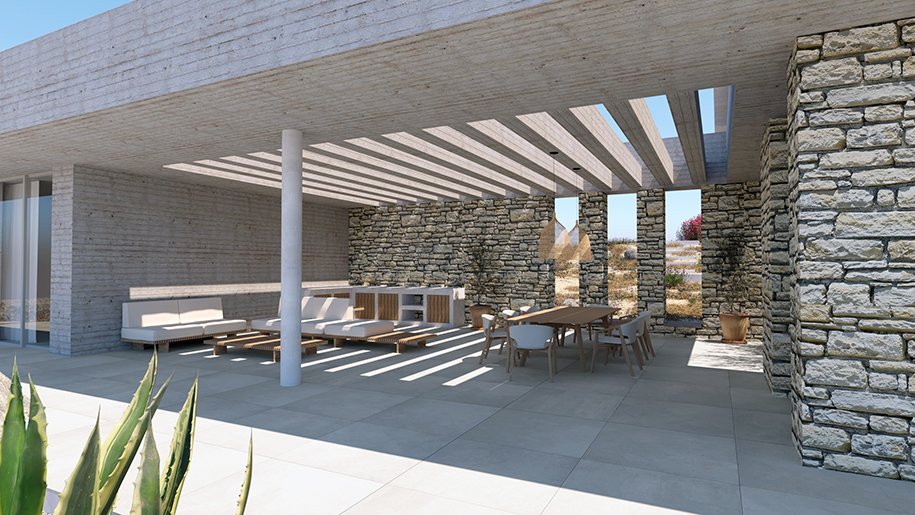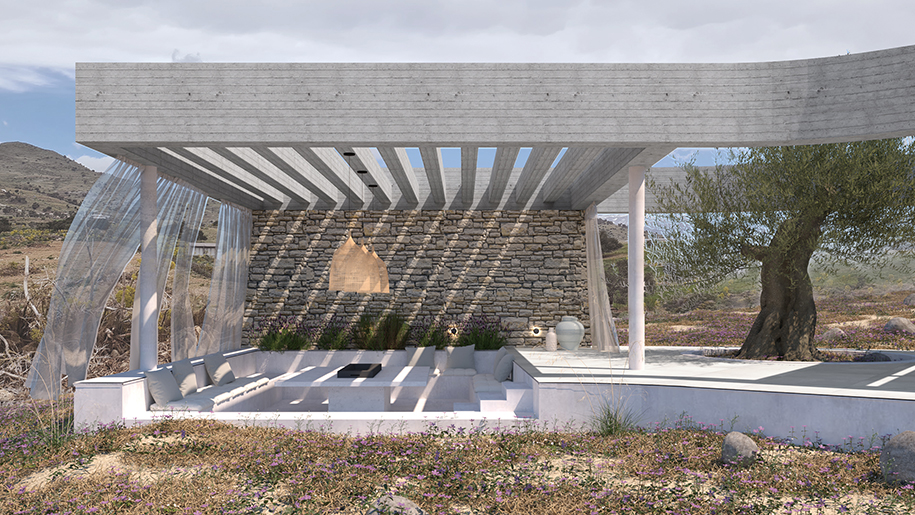 Οι δύο κτιριακοί όγκοι που συνθέτουν την κατοικία είναι κυρτοί, αποτυπώνοντας τη γεωμετρία του συμβόλου που ενέπνευσε τον αρχιτεκτονικό σχεδιασμό, τα μινωικά "κέρατα καθοσιώσεως". Δύο κυρτές εμφανείς πλάκες σκυροδέματος σχηματίζονται από πάνω τους, προστατεύοντας τόσο τους εσωτερικούς όσο και τους εξωτερικούς χώρους διαβίωσης, που συνδέονται αρμονικά μεταξύ τους.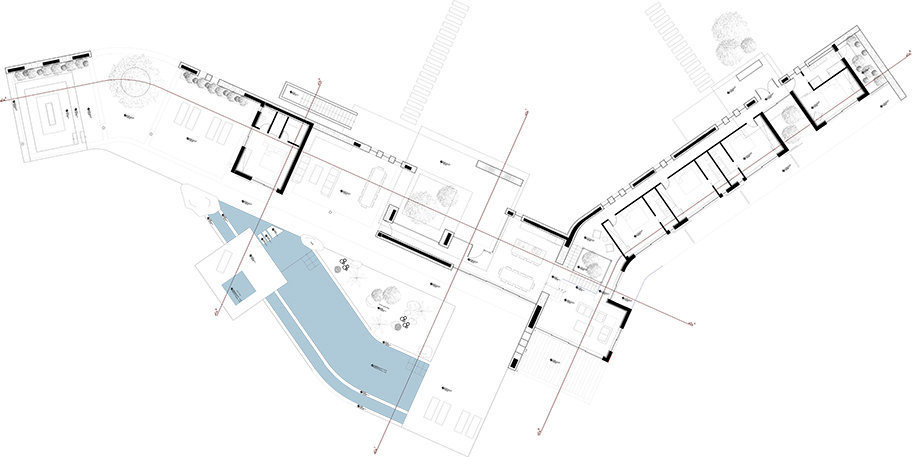 Η είσοδος της κατοικίας βρίσκεται στη βόρεια πλευρά του οικοπέδου. Ένας στεγασμένος χώρος δημιουργείται πάνω από την πόρτα της εισόδου, χρησιμοποιώντας μια "αιωρούμενη" πλάκα πάνω από ένα στύλο, έχοντας ως πηγή έμπνευσης τα μινωικά "κέρατα καθοσιώσεως". Κατά την είσοδο στην κατοικία, βρίσκεται μια μεγάλη τζαμαρία με ανεμπόδιστη θέα προς τη θάλασσα και τα νησιά Παξιμάδια.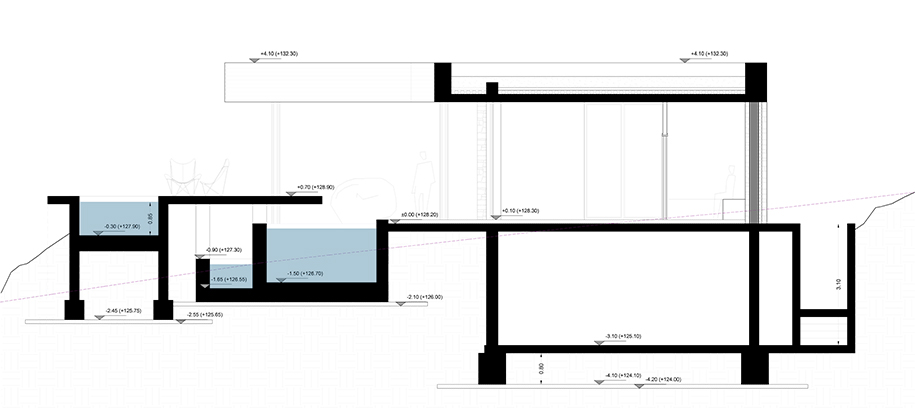 Facts & Credits
Project title Keras project
Typology Residence
Status Under construction
Location Agia Gallini, Rethymno, Crete
Architects Tzagkarakis +Associates 
Visuals Tzagkarakis +Associates 
READ ALSO:
Vasilikós Bar - Restaurant in Larissa | by GroundPlan Architects