text in

EN, GR
Kyranis Architects designed a small pizza-bar in Athens by integrating the he essence of the "wagon", which emerges as the "landmark" of the store.
-text by A. Kyranis
 In the center of Athens, on the ground floor of a preserved building of the last century, we were asked to design a new pizza-bar. The store area is quite small – just 42 m2 and 12.3m long- and it has a 3.9m to 2.4m wide storefront overlooking a small pedestrian street.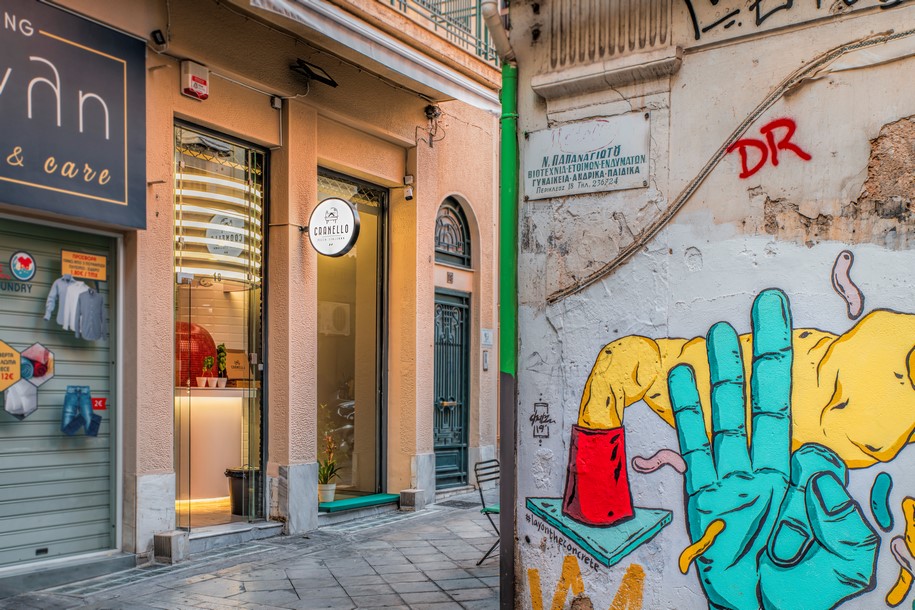 Our team faced two main concerns:
 The reflection of the indoor activity towards the outdoor public space, through a small and difficult façade, with zero intervention in the existing preserved building.
The inclusion of the dozens of individual functions required, in the least possible unified conceivable entities.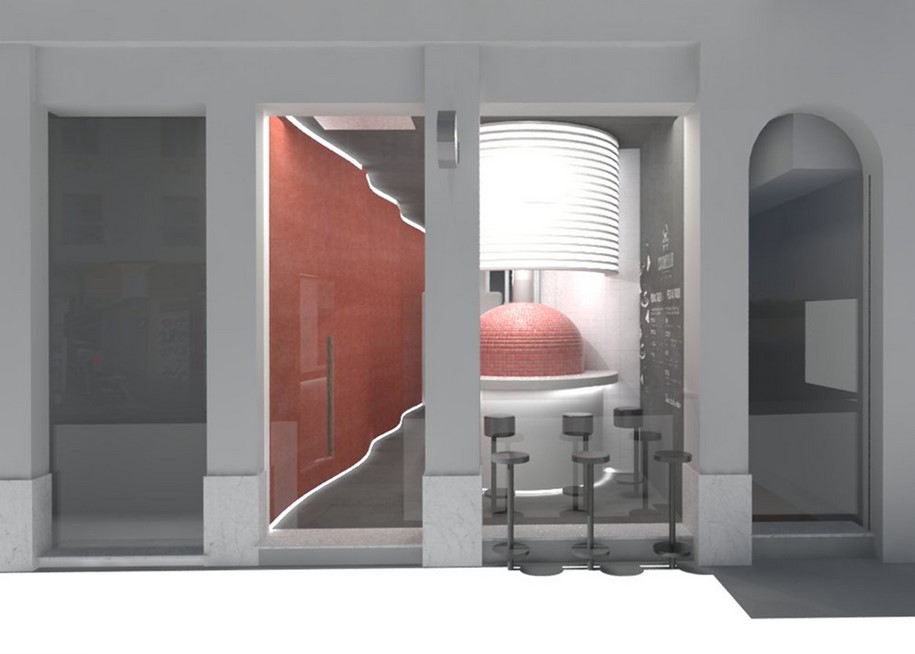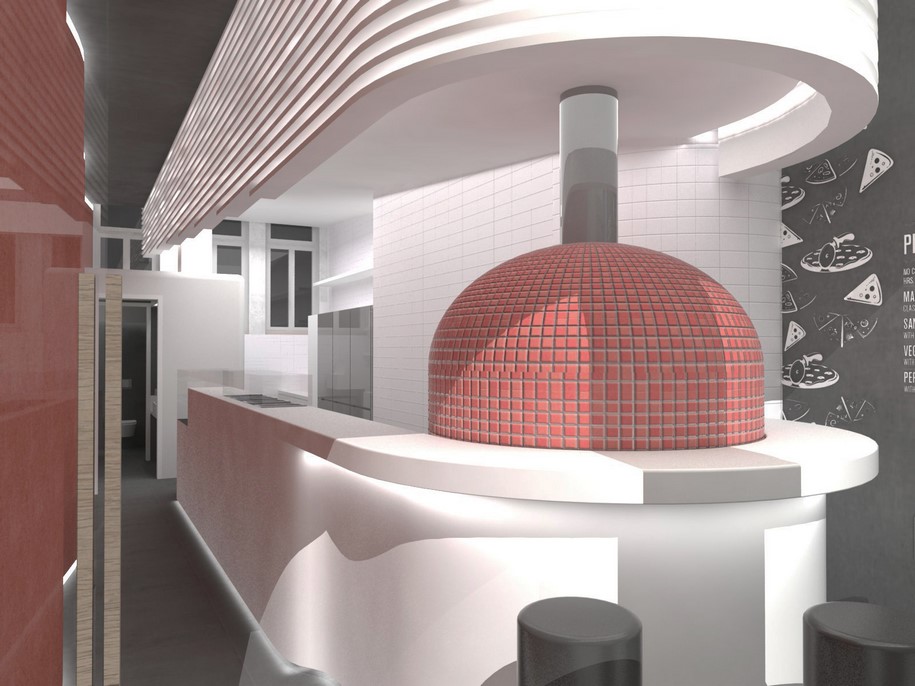 The in-depth study of the specific functions combined with the limited potentials of the space, led to the evolution of our architectural intervention into three main actions:
– The perceptional unification of the final stage of pizza preparation into a longitudinal "wagon", which emerges as the "landmark" of the store.
The primary function, which includes the hemispherical baking oven and its surrounding structures, functions as the starting point. This main volume incorporates the food counter and projects, as close as possible, to the façade and the exterior space.
The entire geometry of the composition, which is conceived as a jagged volume with a cylindrical origin decreasing gradually towards the back space, refers to early modernist patterns and it is defined by the vertical central axis of the oven. This axis directs the remaining curved lines and surfaces, and it is complemented by the serving counter that includes auxiliary spaces.

The essence of the "wagon" is completed by a self-lighting ceiling on the upper part, which projects on the largest part of the space and creates an imposing presence on the pedestrian street.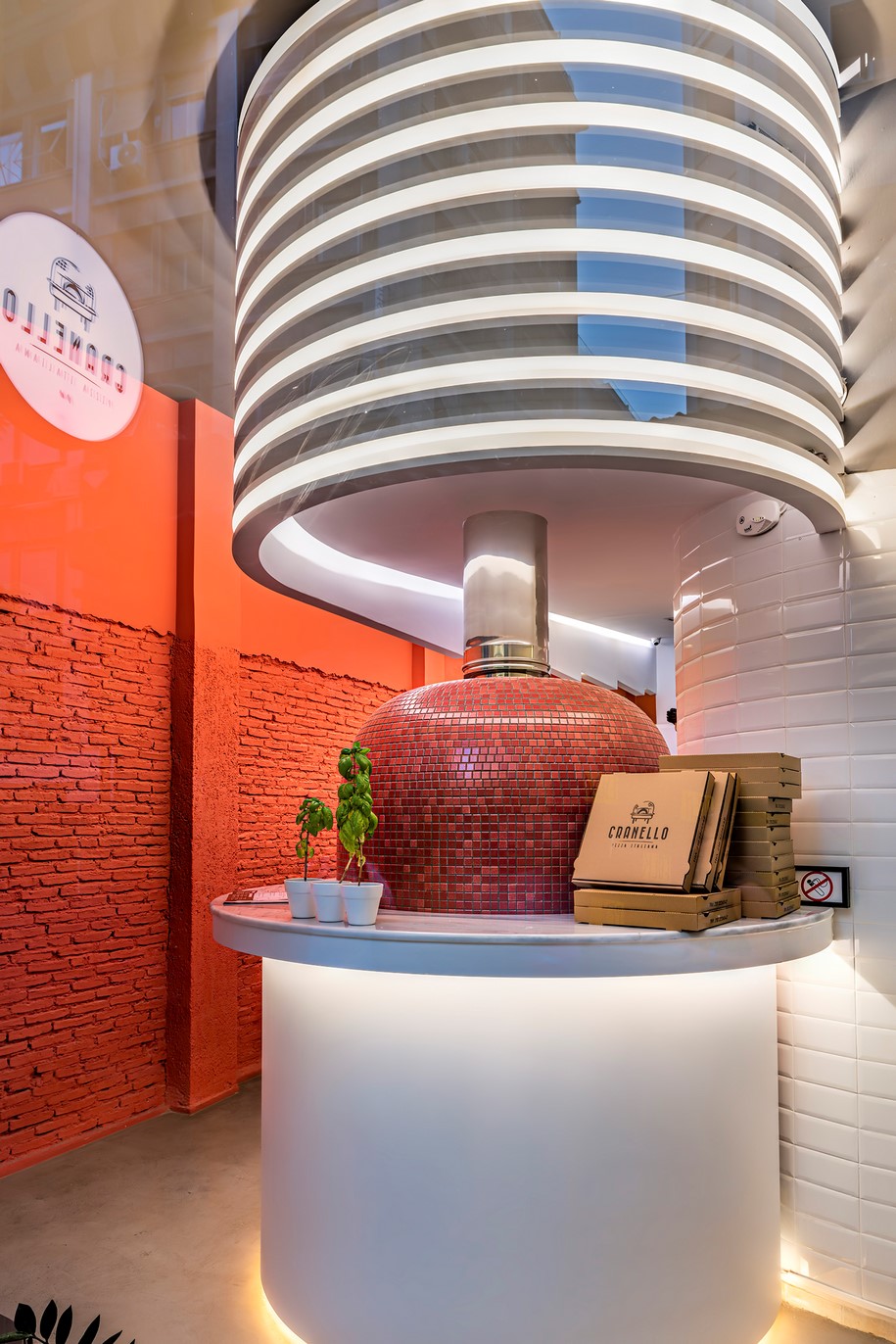 – All the sanitary facilities are concentrated into a cube with curved edges that is placed as an independent element, thus releasing both the roof and the remaining area in the back of the store with the pre-existing window frames.

– The remaining space is available for functions such as pizza dough making, washing machines, refrigerators and storage areas.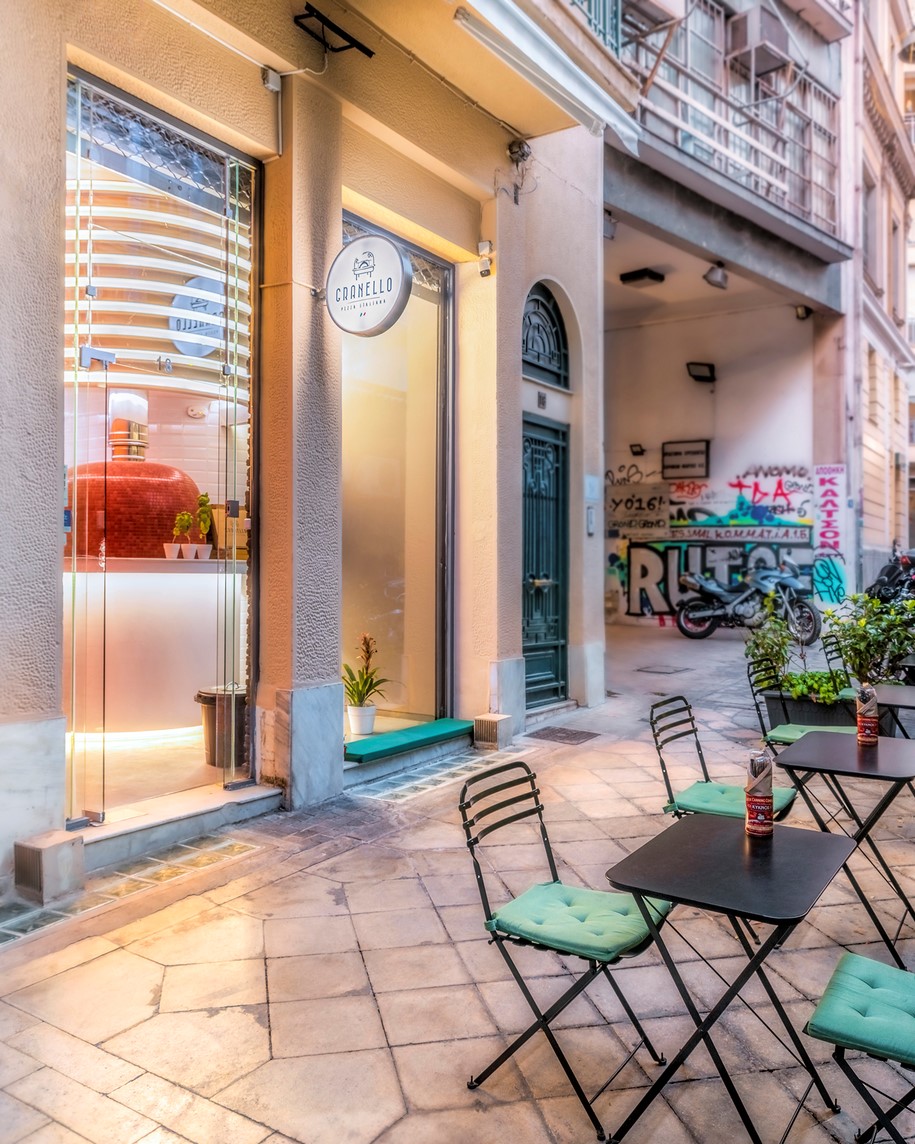 As for the color palette, throughout the whole composition the roof and the floor are degraded by a dark gray color. In this way, the whiteness of the worktops and countertops – which are coated with white tiles, white lacquer and white marble – and the warm hue of the oven mosaics are highlighted, attempting a dialogue with the opposite pre-existing brick wall.

Finally, all the constructions were designed in solid programs, while most of them were manufactured by CNC machines.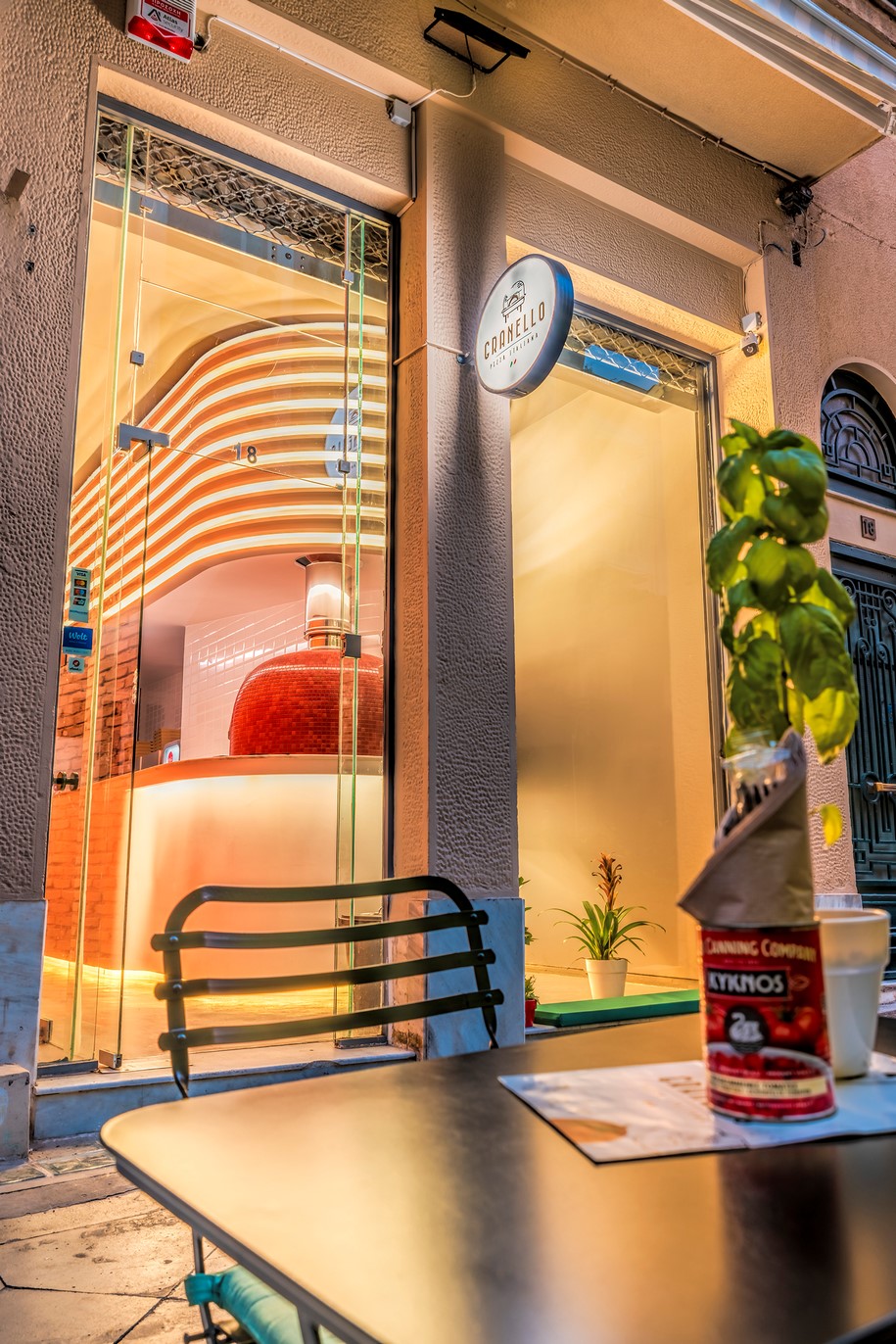 Facts & Credits
Project title       GRANELLO PIZZA
Type                    pizza – bar
Location            Athens, Greece
Year                   2019
Design               Kyranis Architects 
Team                 Α. Kyranis, Κ. Stefanidou, E. Maravelia, L. Theodoropoulou, M. Xydia
Manufacturer  Spiliopoulos G. & Co LP (EPTAGON)
Photography    Xanthinakis George
–
Το γραφείο Kyranis Architects σχεδίασε ένα μικρό παρασκευαστήριο pizza-bar στην Αθήνα, σαν ένα διάμηκες "βαγονέτο", το οποίο λειτουργεί ως "τοπόσημο" του καταστήματος.
-κείμενο του Ανδρέα Κυράνη
Στο κέντρο της Αθήνας, στο ισόγειο ενός διατηρητέου κτιρίου των αρχών του περασμένου αιώνα, σε ένα μικρό μακρόστενο κατάστημα με επιφάνεια μόλις 42 μ2, μήκος 12,3 μ και φάρδος από 3,9 μ έως 2,4 μ που βλέπει σε μικρό πεζόδρομο, ζητήθηκε να χωροθετηθεί ένα πλήρες παρασκευαστήριο πίτσας.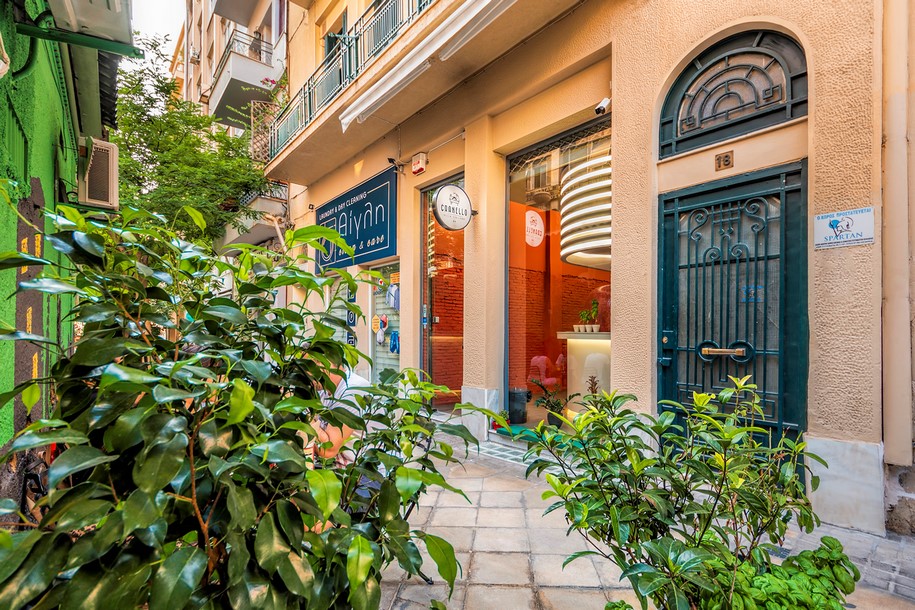 Δυο υπήρξαν οι κύριες έγνοιες των σχεδιαστών :
Η προβολή της εσωτερικής δραστηριότητας στον εξωτερικό δημόσιο χώρο, μέσα από μια μικρή και δύσκολη όψη, με μηδενικές παρεμβάσεις στο υφιστάμενο διατηρητέο περίβλημα.
Η συμπερίληψη των δεκάδων επιμέρους αναγκαίων λειτουργιών στις ελάχιστες δυνατές ενιαίες αντιληπτικά οντότητες.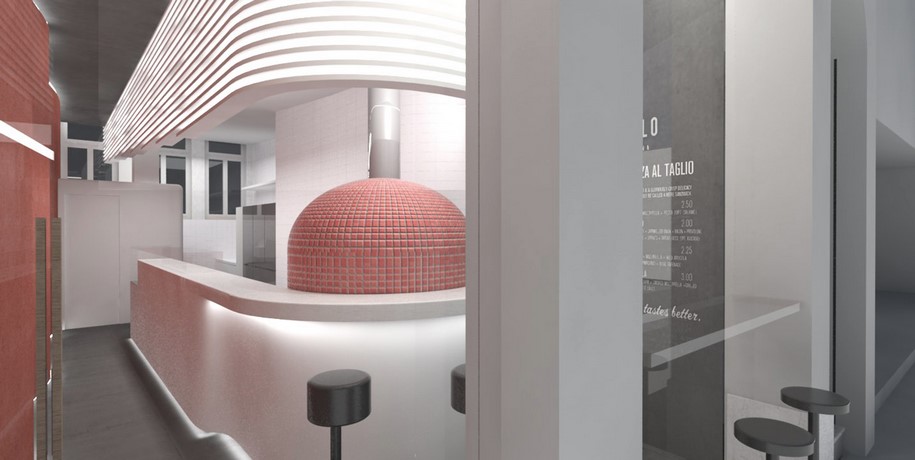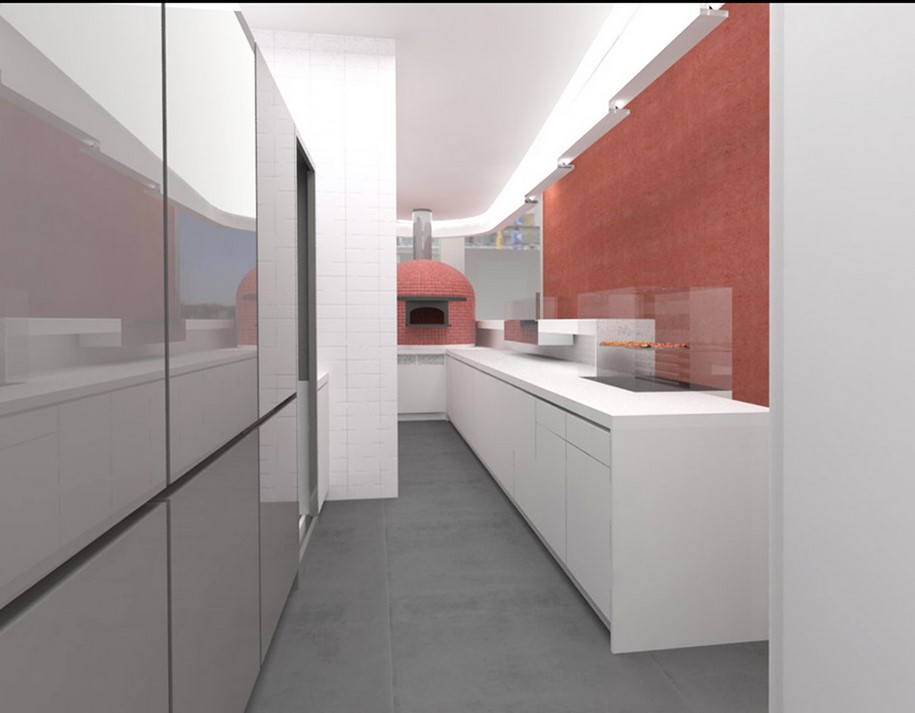 Η μελέτη των επιμέρους λειτουργιών σε σχέση με τις περιορισμένες δυνατότητες της υπάρχουσας συνθήκης οδήγησε την συμπύκνωση της παρέμβασης μας σε τρεις βασικές κινήσεις:
– Στην αντιληπτική ενοποίηση του τελικού σταδίου παρασκευής της πίτσας σε ένα διάμηκες "βαγονέτο", το οποίο λειτουργεί ως "τοπόσημο" του καταστήματος.
Η πρωταρχική λειτουργία, δηλαδή ο ημισφαιρικός φούρνος ψησίματος και οι κατασκευές γύρω του, συνιστούν την αφετηρία. Η σύνθεση ενσωματώνει και μια επιφάνεια πάγκου για γρήγορο φαγητό. Η όλη γεωμετρία της σύνθεσης,  η οποία προκύπτει ως ένας παραλληλεπίπεδος όγκος με κυλινδρική απόληξη και αναφέρεται σε πρώιμα μοντερνιστικά πρότυπα, ορίζεται από τον κατακόρυφο κεντρικό άξονα του φούρνου. Ο άξονας αυτός οδηγεί τις υπόλοιπες καμπύλες γραμμές και επιφάνειες, ενώ συμπληρώνεται από τον διαμήκη άξονα του πάγκου σερβιρίσματος που εσωκλείει βοηθητικές χρήσεις. Καθ' ύψος, το "βαγονέτο" ολοκληρώνει την υπόσταση της γεωμετρίας του με αυτόφωτη οροφή που προβάλει στην μεγάλη διάσταση του χώρου, κάνοντας αισθητή την παρουσία του στο μικρό πεζόδρομο της Περικλέους.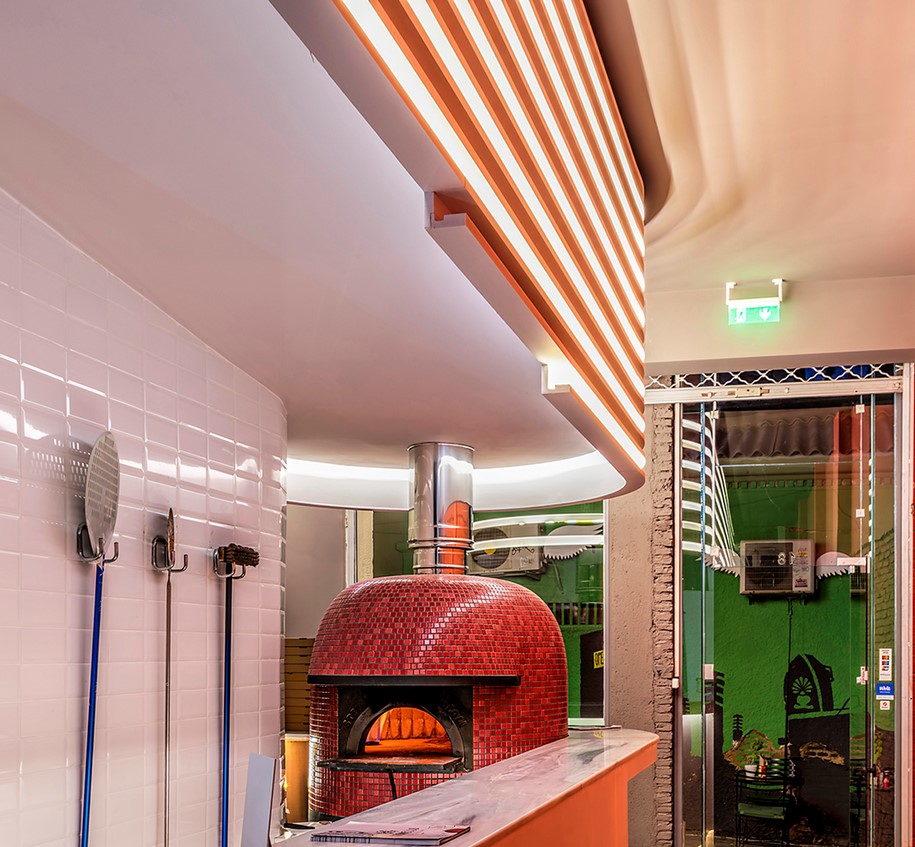 -Στην ενοποίηση των χώρων υγιεινής σε ένα κύβο με καμπυλωμένες ακμές που χωροθετείται σαν ένα "αντικείμενο"  στο χώρο και αφήνει ελεύθερα τόσο την οροφή, όσο και το βάθος του χώρου με τα προϋφιστάμενα παλαιά κουφώματα.
-Ο υπολειπόμενος χώρος διατίθεται για λειτουργίες όπως παρασκευή ζύμης, πλυντήρια, ψυγεία και αποθηκευτικοί χώροι.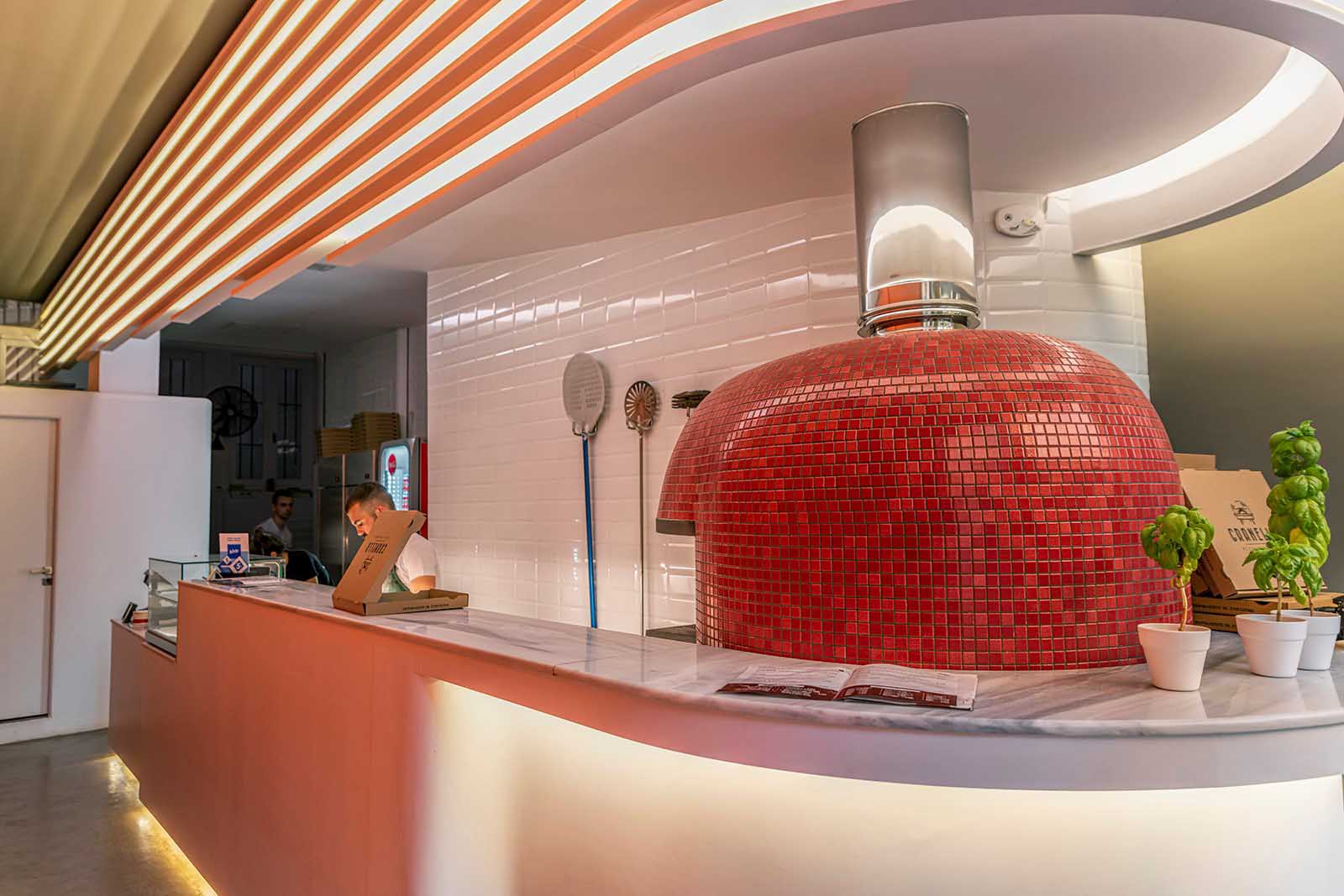 Χρωματικά, στην όλη σύνθεση η οροφή και το δάπεδο υποβαθμίζονται πίσω από ένα σκούρο γκρι χρώμα. Έτσι, αναδεικνύεται η λευκότητα των χώρων παρασκευής και του πάγκου – οι οποίοι επενδύονται με λευκό πλακάκι, λευκή λάκα και υπόλευκο μάρμαρο – καθώς και η "θερμότητα" των  ψηφίδων του φούρνου, που επιχειρεί έναν διάλογο με τον αριστερό τοίχο και με τα προϋφιστάμενα παλαιά  του τούβλα.
Τέλος, οι κατασκευές σχεδιάστηκαν σε solid προγράμματα και μεγάλο μέρος τους κατασκευάστηκε από CNC μηχανές.
Σχέδια / Plans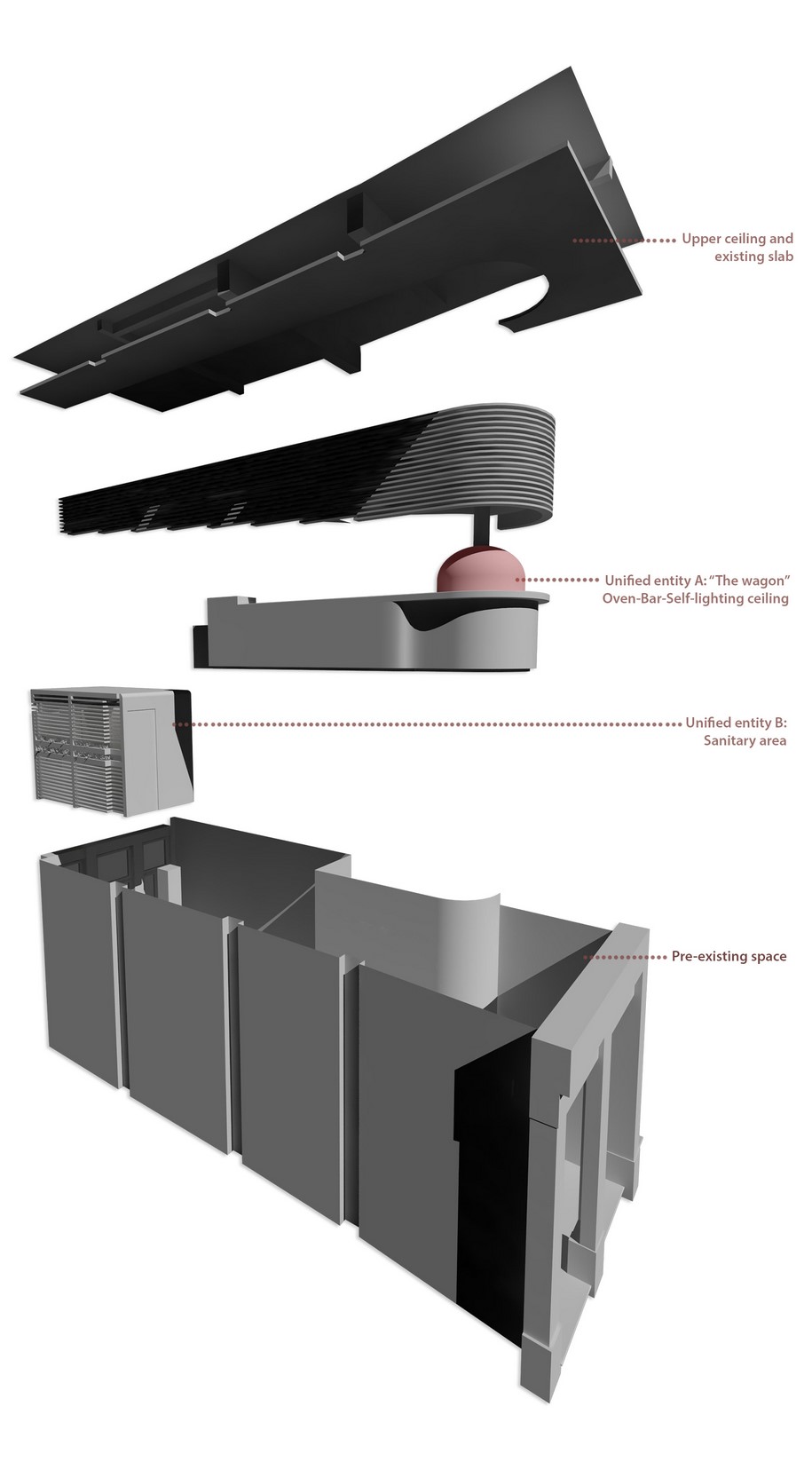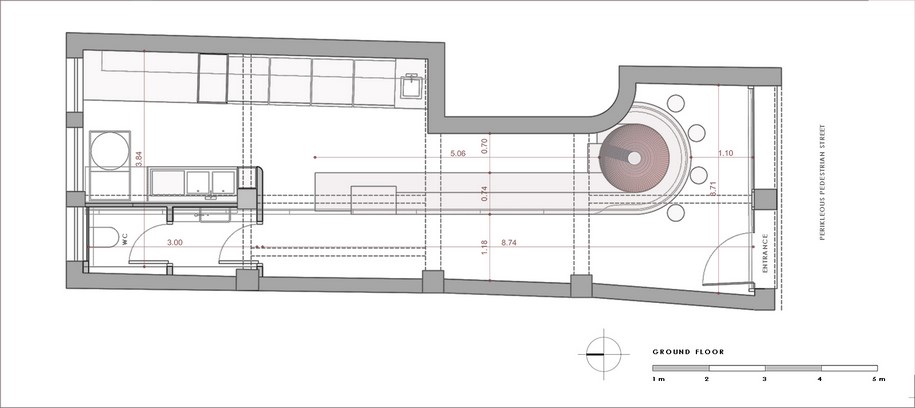 Στοιχεία έργου
Τίτλος έργου          GRANELLO PIZZA
Τύπος έργου          Μικρό παρασκευαστήριο πίτσας 
Τοποθεσία             Αθήνα
Έτος                        2019
Αρχιτέκτονες         Kyranis Architects 
Ομάδα                     Α. Kyranis, Κ. Stefanidou, E. Maravelia, L. Theodoropoulou, M. Xydia
Κατασκευαστής    Spiliopoulos G. & Co LP (EPTAGON)   
Φωτογραφίες         Ξανθινάκης Γιώργος
READ ALSO:
Casa Leone | AD ARCHITECTS