Το αρχιτεκτονικό γραφείο Deda & Architects ανέλαβε το σχεδιασμό της ανακαίνισης κατοικίας στο Πανόραμα Θεσσαλονίκης
Το συγκεκριμένο έργο αποτέλεσε  μια ενδιαφέρουσα πρόκληση, καθώς απαιτούσε -πέραν της εσωτερικής διαρρύθμισης- και μια δραστική ανανέωση της εξωτερικής μορφολογίας του.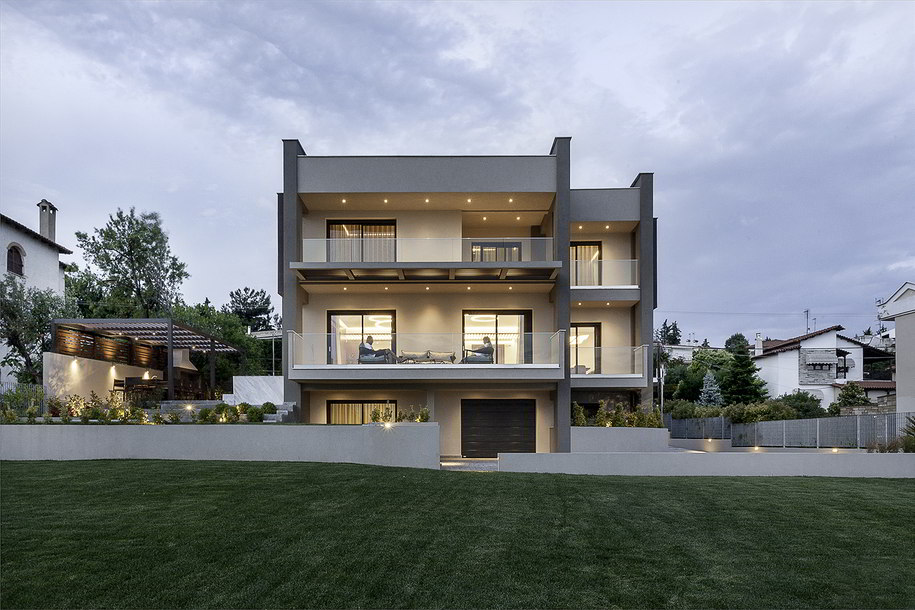 Διατηρήθηκαν οι ενδιαφέρουσες ογκομετρικές σχέσεις, ενώ καταργήθηκαν και μεταμορφώθηκαν στοιχεία που παρέπεμπαν σε παλιότερες δεκαετίες (κεραμοσκεπή, φλύαροι εξώστες).
Δόθηκε έμφαση στην εκμετάλλευση της προνομιακής θέσης και πανοραμικής θέας με διάνοιξη των ανοιγμάτων και μεγαλύτερη εξωστρέφεια στη διάταξη των χώρων.
Στόχος ήταν η καθαρότητα των γραμμών και των υλικών, η χρήση απλών γεωμετριών και παλέτας γήινων χρωμάτων.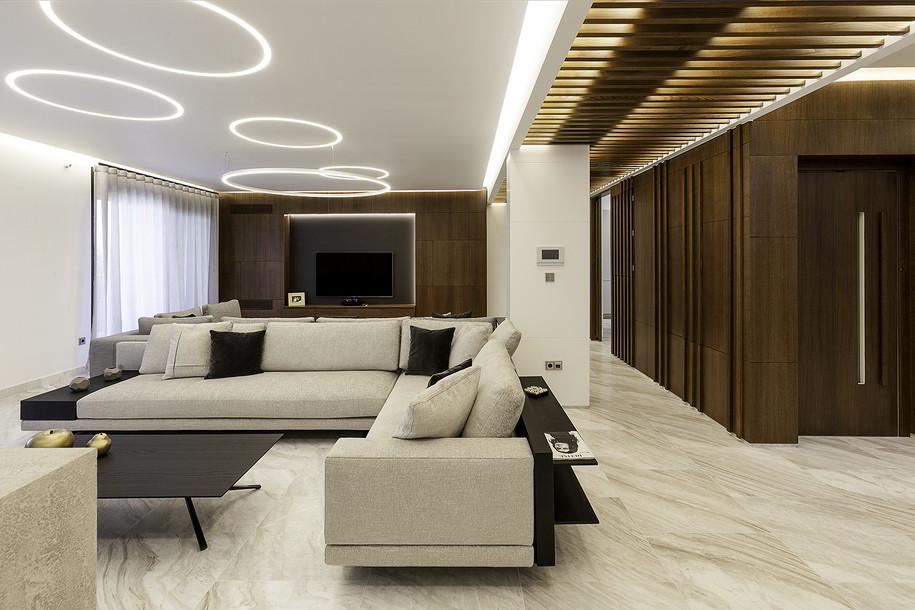 Όσον αφορά τις εσωτερικές διαρρυθμίσεις, το ισόγειο σχεδιάζεται πλέον ως ένας ενιαίος χώρος διημέρευσης, φαγητού και υποδοχής, ενώ η προσθήκη του ανελκυστήρα «καμουφλάρεται» με την ενσωμάτωσή του σε έναν ξύλινο όγκο, που περιβάλλει τους υγρούς χώρους και την κουζίνα.
Στον όροφο, οι χώροι αναδιαρθρώνονται, για να χωροθετηθούν τα υπνοδωμάτια, εξασφαλίζοντας απρόσκοπτη θέα για το καθένα.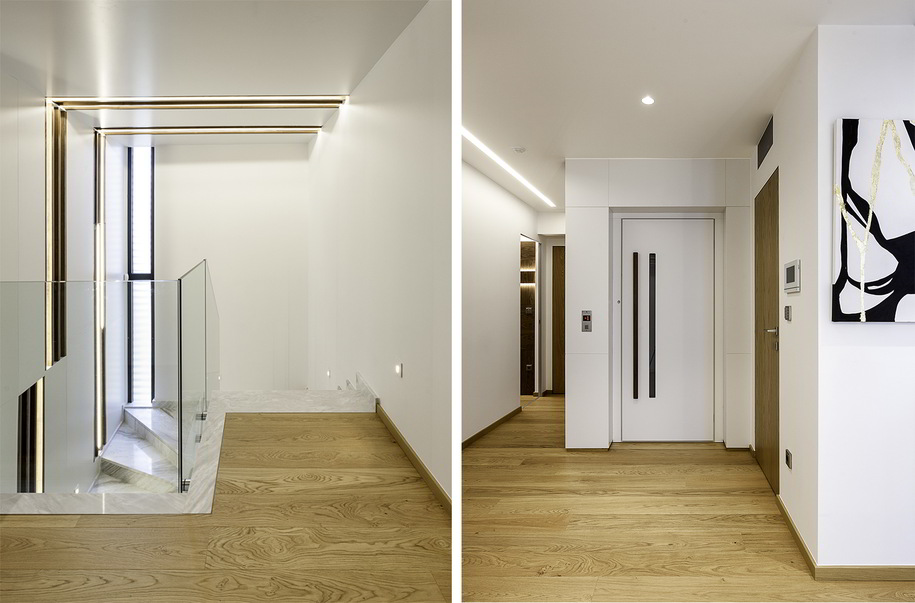 Τα βασικά υλικά τόσο στο εσωτερικό όσο και στο εξωτερικό της κατοικίας, είναι γκρίζα-λευκά μάρμαρα, δρύινα δάπεδα, στηθαία από υαλοπίνακες, ξύλινες επενδύσεις, σε συνδυασμό με πιο αδρές επιφάνειες, σκίαστρα και πέργκολες αλουμίνιου.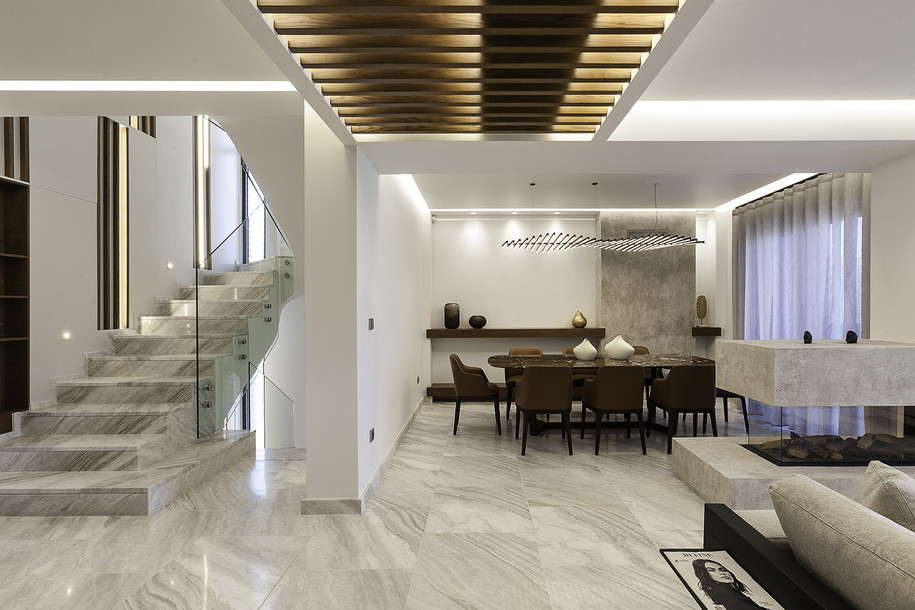 Ο περιβάλλων χώρος οργανώνεται σε υπό-περιοχές, με ξεχωριστή είσοδο οχημάτων, κατάφυτη αυλή, σε αντιδιαστολή με χώρους πιο προστατευμένους από πέργκολες, παρόμοιας μορφολογίας επενδύσεις με τους εξώστες, δημιουργώντας έτσι ένα αρμονικό σύνολο.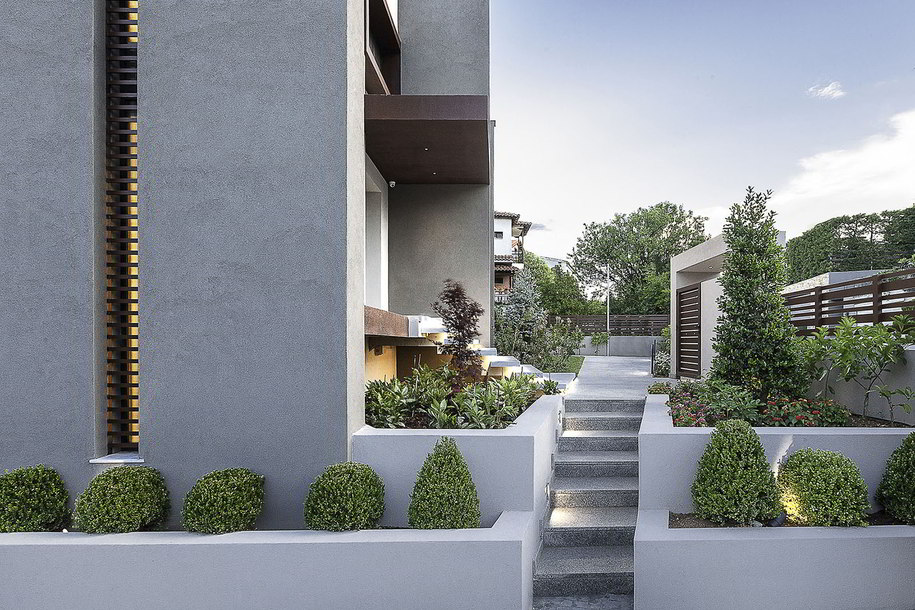 Τέλος, ιδιαίτερη προσοχή δόθηκε στο φωτισμό και την επιλογή της επίπλωσης, ώστε η τελική εικόνα του χώρου να αντικατοπτρίζει το σύγχρονο χαρακτήρα των αρχιτεκτονικών επιλογών, και να δίνει αίσθηση λιτής πολυτέλειας και άνεσης.
Credits & Details
Αρχιτέκτονες: (Deda & Architects)
Υπεύθυνη μελέτης: Μαρία Δέδα
Ομάδα μελέτης: Μαρία Δέδα, Βαρβάρα Καράογλου, Κουτσιούμπα Ηρώ
Στατική μελέτη: Σαπφώ Τσολάκη
Ηλεκτρομηχανολογική μελέτη: Καμπίτσης και Συνεργάτες
Κατασκευή/Επίβλεψη: Βασιλική Κώστογλου
Μελέτη φωτισμού: Άννα Γερασίμου – Δούφου
Φωτογραφία: Αλεξία Πρασσά
Συνολική επιφάνεια: 370m²
Χρόνος μελέτης: 2017
Χρόνος αποπεράτωσης: 2018 – 2019
Δάπεδα: Rountos Wooden Floors
Μάρμαρα: Αφοί Βάλη Ο.Ε.
Φωτισμός: Boss Foss
Κουφώματα: Aluline
Υαλοπετάσματα: Golemas Glass Inox Aluminium
Βαφές/Τεχνοτροπίες/Μόνωση: Artmix
Ειδικές κατασκευές: Interio Eleftheriadis
Κουζίνα: Stosa Cucine
Είδη Υγειινής: Sanity
Επίπλωση: Casa Vogue-Poliform
______________________________
Architecture office Deda & Architects designed and renovated a residence in Panorama, Thessaloniki
This particular project was an interesting challenge, due to the fact that  besides the usual issues addressed during a residence renovation, such as the adaptation to the functional and spatial needs of the client and the infrastructures upgrading, the property in question also required a drastic renewal of its external morphology.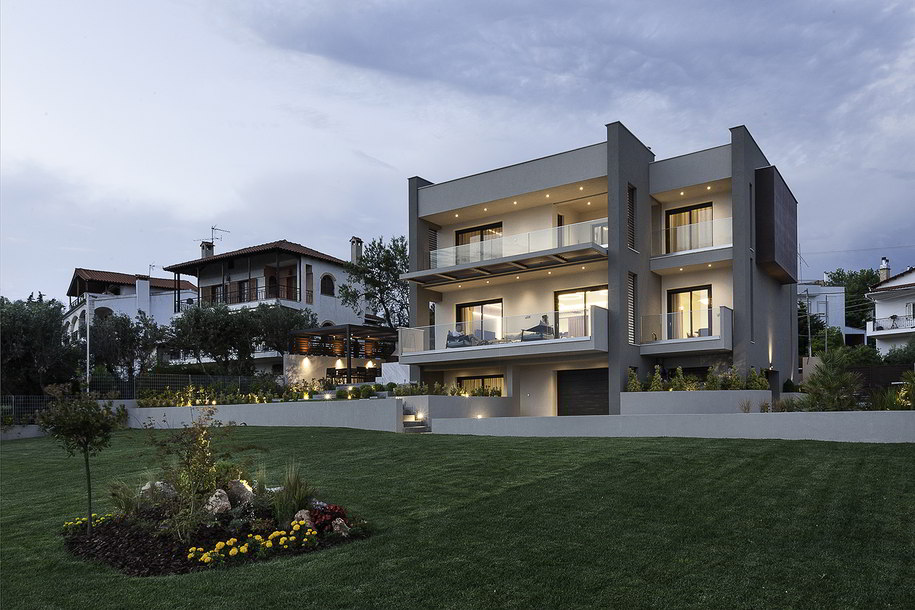 Great emphasis was given, on exploiting the privileged position and panoramic view by enlarging the openings and applying greater extroversion in the internal layout, thus achieving a more timeless aesthetics. The purity of the lines and materials, the use of simple geometries and colors of earthy color palette, contribute to the desired result.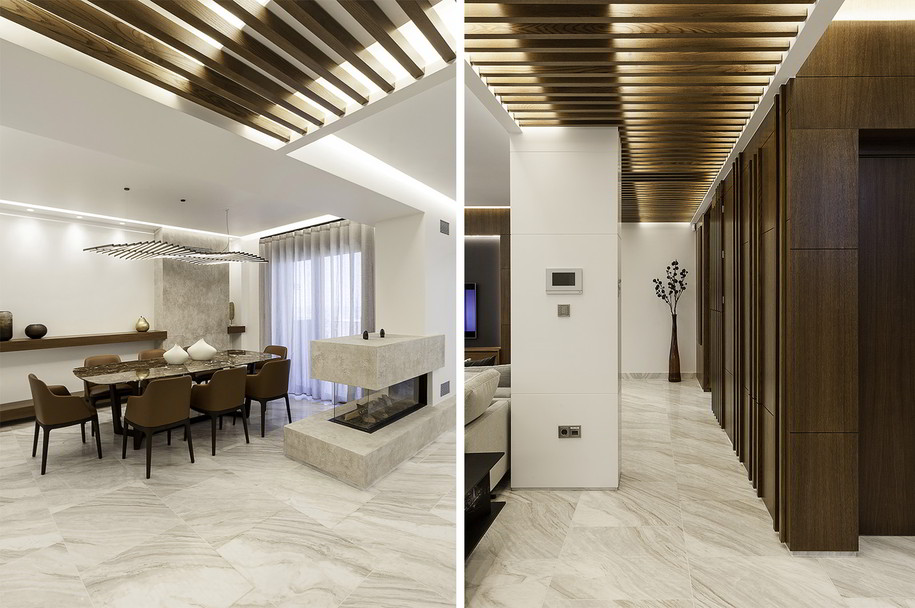 In respect to the internal spatial arrangements, the ground floor is now designed as a continuous unified space, while the addition of a lift is camouflaged by incorporating it into a wood-clad cube surrounding the WC and kitchen. On the first floor, the rooms are restructured to accommodate the required bedrooms for the family, ensuring unobstructed views for each one.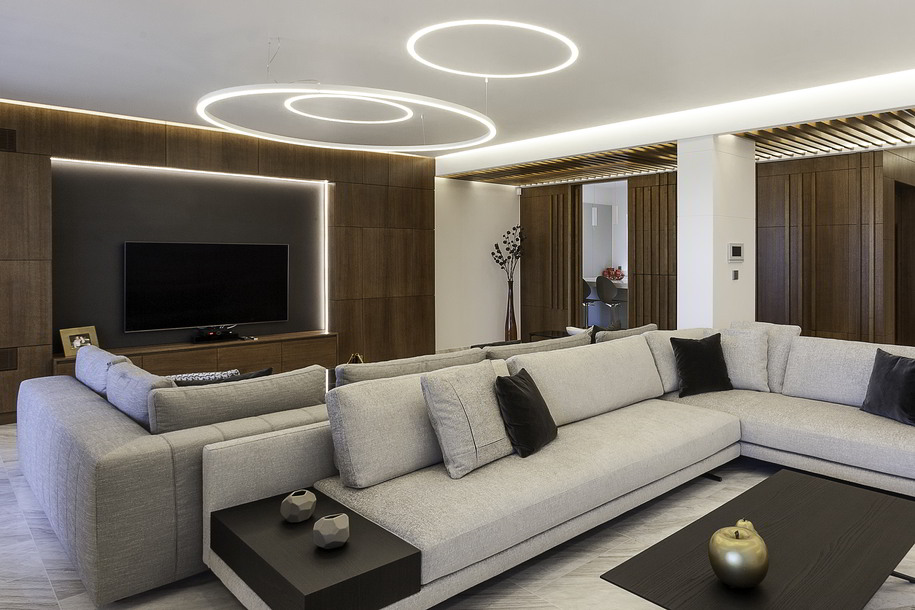 The main materials used, both in the interior and exterior of the residence, are gray veined marble, oak floors, glass parapets, walnut wall claddings combined with rougher surfaces, aluminum sun shades and pergolas.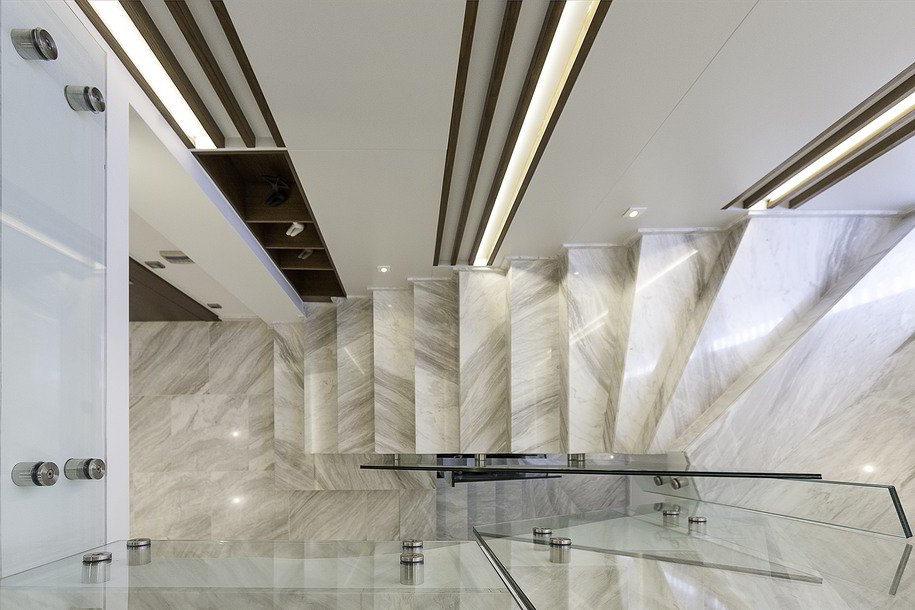 The surrounding area of the property is organized in various spaces, with dedicated vehicle and pedestrian entrances, a large plant-filled and sun-drenched yard, in contrast to a more protected terrace.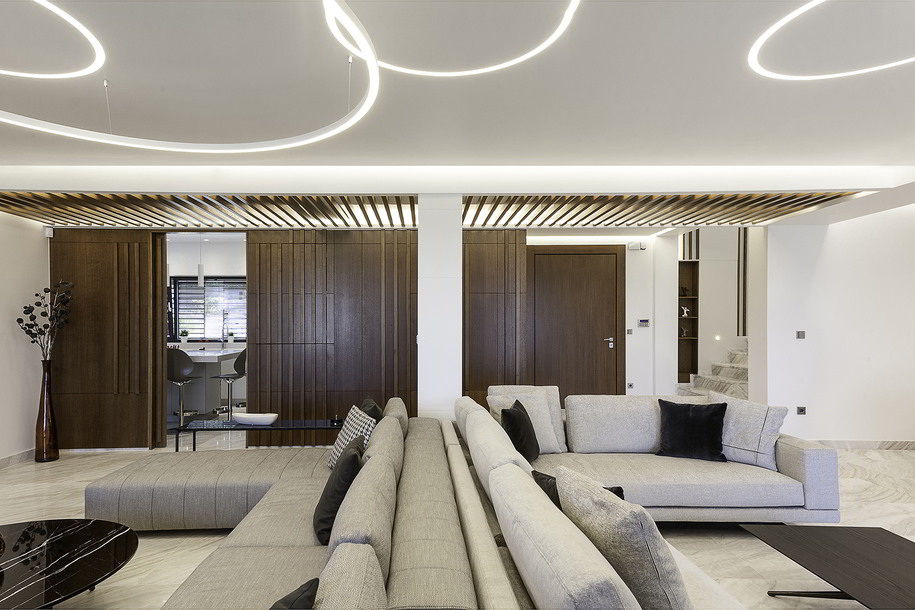 A special mention given for the lighting study and furnishing choices, so that the final outcome reflects the contemporary character of the architectural principles.
Credits & Details
Location: Thessaloniki
Year: 2018-2019
Area: 370 m2
Design Team: Maria Deda, Varvara Karaoglou, Iro Koutsimpa
Lighting Design: Anna Gerasimou Doufou
Structural Design: Sapfo Tsolaki
MEP Design: Cambicci & Associates
Construction-Supervision: Kostoglou Vasiliki
Photography: Alexia Prassa
______________________________________
READ ALSO:
Polychrome Flat in Athens, Greece | Amalgama Architects