NEW GENERATIONS FESTIVAL 2017, ROME (4th edition): Architects VS Rest of the World
September 23rd – 26th, 2017
The fourth edition of New Generations Festival, the international architecture event curated by Gianpiero Venturini (Itinerant Office) for the cultural association New Generations, will take place in Rome from
September 23rd – 26th, 2017.
The event is supported by the Chamber of Architects, Planners, Landscape Designers and Restorers of Rome and Province, the CNAPPC (National Council Architects, Planners, Landscape Designers and Restorers) and the Embassy of the Netherlands in Rome.
The initiative is part of Estate Romana's programme promoted by Roma Capitale, Department of Cultural Growth.
The festival, which will be hosted at the Casa dell'Architettura di Roma, within the fascinating Nineteenth century Acquario Romano, has welcomed, in previous editions (Milan, 2013; Florence, 2014; Genoa, 2015), the participation of more than 5.000 architects, designers, students, local authority representatives of administrations and research institutes.
Entitled "Architects VS Rest of the World", the event will unite more than 50 young designers and international experts.
Among them: Architecture for Refugees (CH), APPAREIL (ES), Joni Baboçi (General Director for Urban Planning and Development of Tirana's Municipality, AL), Emanuele Bompan (geographer, La Stampa, IT), Ricardo Devesa (editor-in-chief urbanNext, Actar, ES), ENORME Studio (ES), Fosbury Architecture (IT), JoséFran Garcia (director IED City Lab, ES), Luca Montuori (Councilor Urban Planning and Infrastructures of Rome's Municipality, IT), Orizzontale (IT), SET Architects (IT), Jean-Benoît Vetillard (FR), U67 (DK).
With a compact programme of lectures, roundtables, workshops and satellite events (projections, videointerviews,..), the festival spotlights three main themes:
URBAN VOCABULARY & PUBLIC SPACE

A new urban vocabulary examines how architects are increasingly becoming mediation figures in complex urban processes, by proposing new ways of thinking in terms of urban planning and collaboration with communities, with the aim of reactivating and regaining public space.

NEW ECONOMIES & VALUES

The crisis of 2008 has defined new sustainable and collaborative economic models. New Economies & Values investigates successful, emergent and innovative practices, with particular attention paid to topics such as urban metabolism, circular economic systems and alternative financing models that characterize various urban scale projects.

DIGITAL INFRASTRUCTURES & NEW MEDIA

New technologies and media have changed the way we work, by bringing new professional figures into the architecture sphere. The technology systems that underpin the development and change of urban fabric, and their importance in the field of design, are under discussion.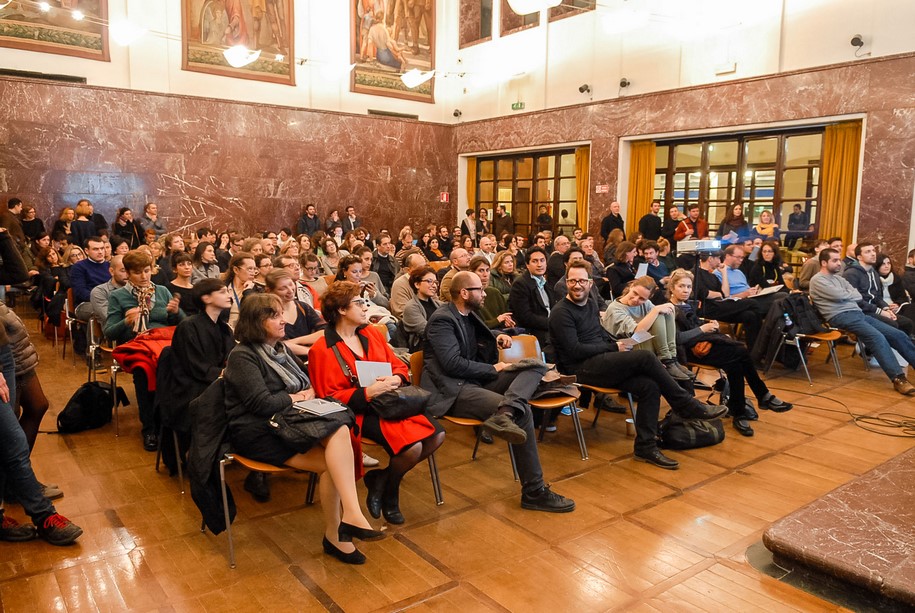 Perestrello 3.0 is a workshop curated by Orizzontale, which, during August, and from September 18th to 22nd, will involve the office and several local institutions in a public, participatory and self-constructed project.
Results will be presented by curator Gianpiero Venturini on Saturday September 23rd , to mark the occasion of the official opening of the festival.
What's more, inside the Acquario Romano, there will be Press Box, a site-specific installation by SET Architects, which will host a reading area curated by mint LIST.
A selection of publications, magazines and architecture books from major international publishing houses will be on display.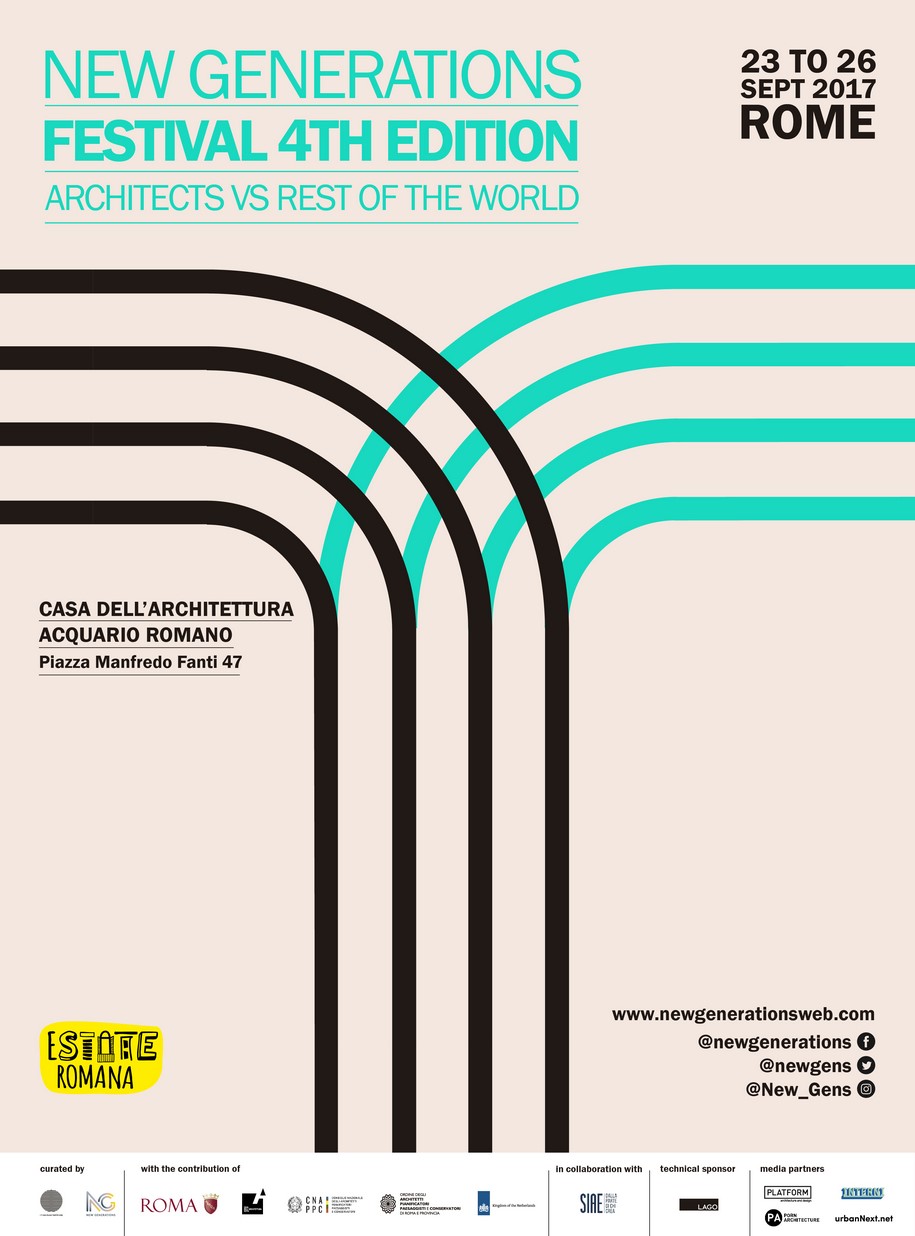 NEW GENERATIONS FESTIVAL 2017 – Architects VS Rest of the World

Curated by: Gianpiero Venturini – Founder of Itinerant Office
Within the New Generations Cultural Association's agenda

With the contribution of:
OAR (Chamber of Architects, Planners, Landscape Designers and Restorers of Rome and Province)
CNAPPC (National Council Architects, Planners, Landscape Designers and Restorers)
Embassy of the Netherlands in Rome
Estate Romana – Roma Capitale, Department of Cultural Growth

In collaboration with:
SIAE

Technical sponsor:
LAGO
To stay up to date on New Generations' activities, please follow the festival's social media (official hashtag #NGF2017):

FACEBOOK         New Generations – Itinerant Office
TWITTER            New Generations – Itinerant Office
INSTAGRAM      New Generations
READ ALSO:
Undo the stigma / Thesis by Lia Villotti & Aliki-Ioanna Tornazaki