Tom Lindblom, Gensler' s Architect and Principal in the London office, will be the keynote speaker of the upcoming 3rd Conference of Architecture and Tourism which will take place on the island of Rhodes, in Greece on 20-21 October.

Everybody's talking about experience. Defining it, that's another matter. The Gensler Experience Index proves that design is among the critical factors that create an enhanced human experience.
"Gensler's latest research provides hard evidence of the link between good design and our reactions to the spaces we use", says Gensler' s Architect and Principal in the London office, Tom Lindblom who will be the keynote speaker of the upcoming 3rd Conference of Architecture and Tourism in Rhodes


What is the impact of design on experience?
When it comes to design, Tom Lindblom states that Gensler' s main purpose is to "create memorable experiences".

With 5,000 employees across 47 offices in 114 countries, Gensler can certainly lay claim to being the largest architectural firm in the world.  Gensler is widely recognized as the world's leading collaborative design firm, not just the largest.
Gensler architects offer the design industry's deepest bench of expertise, matched with experience gained by working with their clients across the global economy and by bringing that broad knowledge on every project and location they work. Gensler's expertise lies on multiple sectors, always between community, lifestyle and work, and someone can find projects from Aviation to Health & Wellness and from Education to Hospitality and Leisure.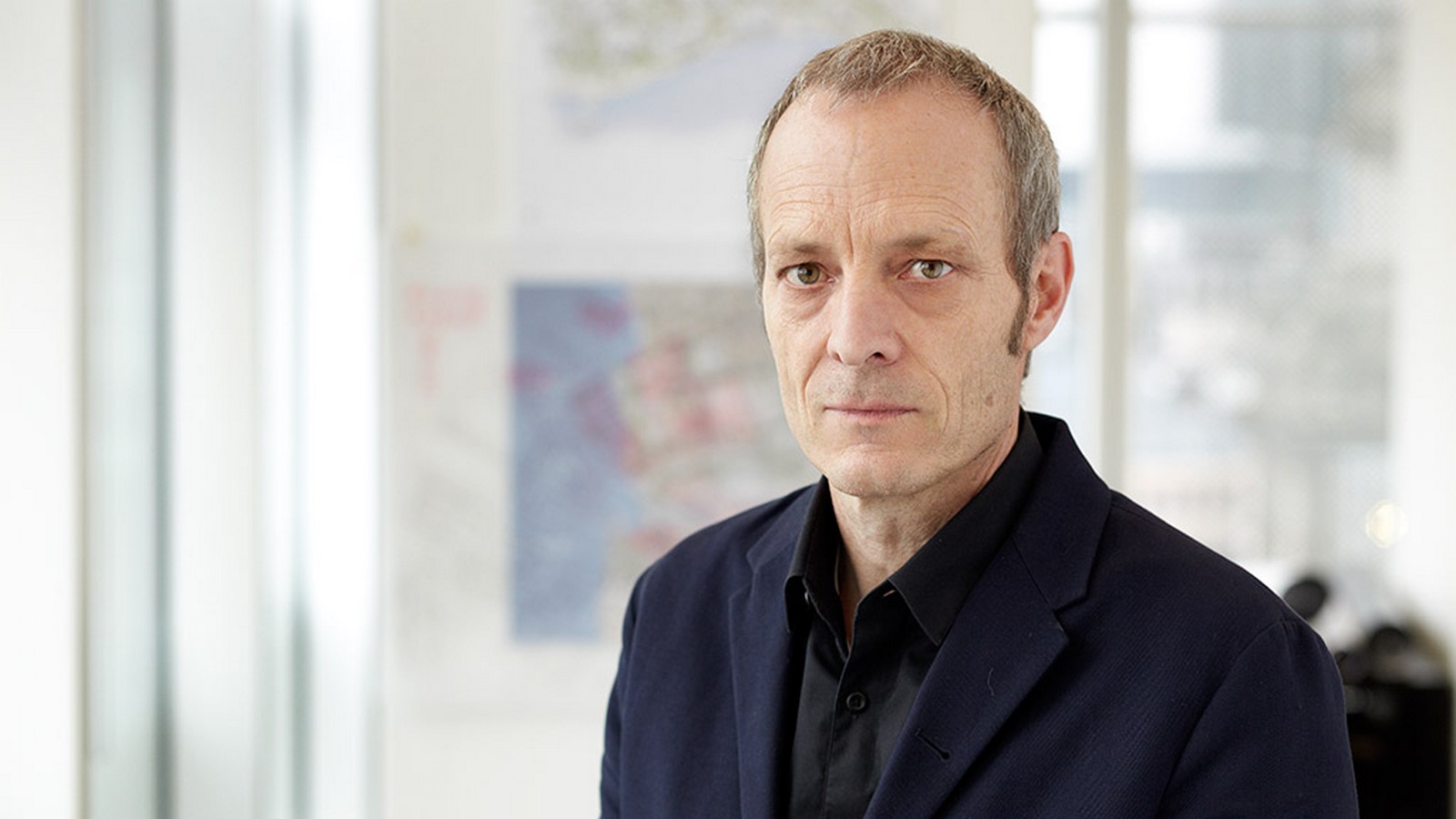 Tom Lindblom, Gensler' s Architect and Principal in the London office, points out the role of design in creating great experiences and in helping places of hospitality to stand out: "Our findings show that design is an important factor that can be leveraged to create a great experience. The Gensler Experience Index seeks to fill this gap by examining the multiple drivers of a great experience, and contextualising the impact of physical space among those drivers."
So how can the creation of great places engage people's emotions and keep them coming back?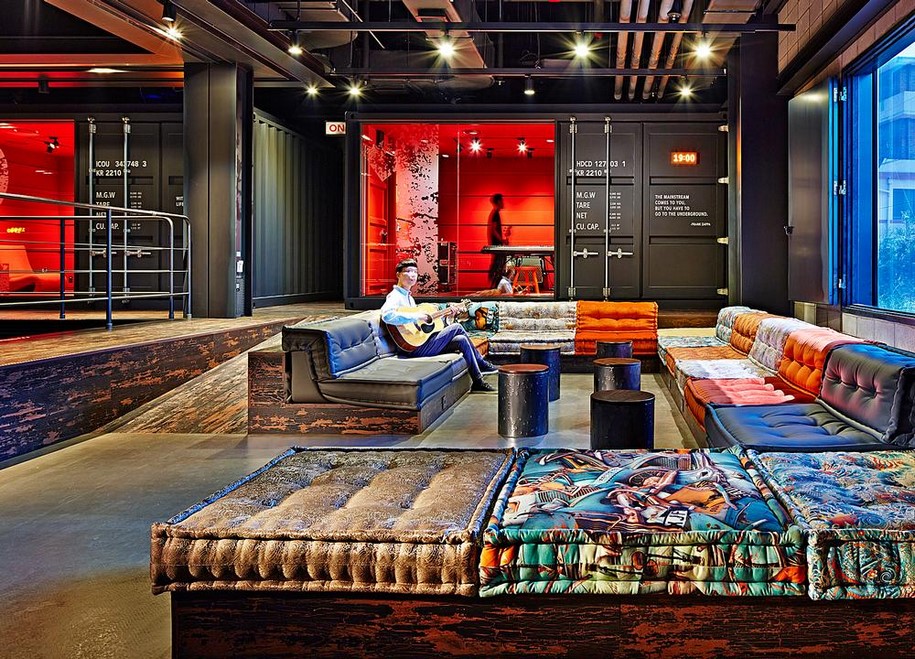 The Gensler Experience Index* identifies the key drivers of a great experience, quantifies the direct impact great design has on experience, and provides a holistic framework for understanding experience:
* The Gensler Experience Index is the result of a rigorous, mixed-methods research investigation that combined qualitative, ethnographic research— 30 two-hour observations and interviews with people in five markets across the US to gather insights about experience—with quantitative research that included a nationwide, panel-based survey of 4,000+ US respondents.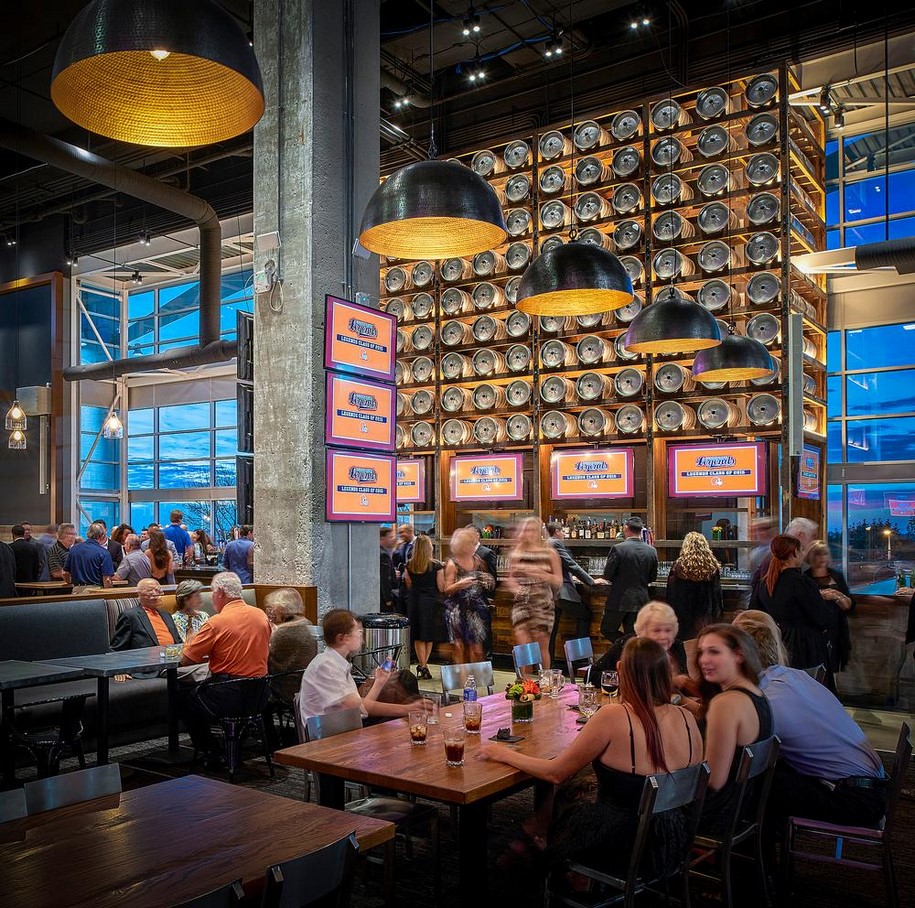 1. Better design, better experience
The design of physical space proves to have a significant, quantifiable impact on the quality of people's experience.
Acccording to The Gensler Experience Index, six factors emerged as having the most significant impact on experience: beauty, novelty, authenticity, clarity, inspiration, and a sense of welcome.
Places that are considered "beautiful, unique, authentic, inspirational, intuitive, and welcoming" offer the best overall experiences.
"We have hard evidence of the importance of design in creating experiences. Previous studies have evaluated human experience and its impact on business, but this is the first time that design's been measured along with traditional factors. The Gensler Experience Index is first-of-its-kind research proving that design is the differentiator between good experiences and great ones. This research quantifies what we as designers have always believed to be true: design is just as crucial to providing great experiences as any other factor", comments Tom Lindblom over the results of the investigation.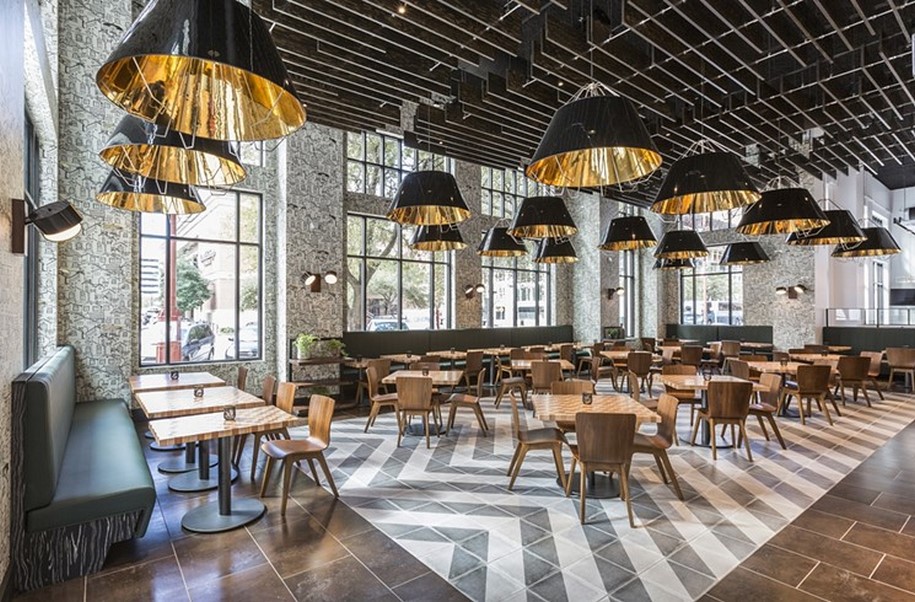 Osso & Kristalla's casual design is communicated through playful elements, butcher-block tabletops, and an open concept kitchen. The upscale counterpart, Potente, is designed with juxtaposed black and white marble evoking a high-fashion cosmopolitan city like Milan. The luxurious design employs a dark palette to give diners a sense of privacy and exclusivity. 
2. Everyone is doing everything everywhere.
The traditional uses of space are blurring. From work/life balance to work/life "blur," we live in an always-on era where multitasking is the norm and time is increasingly stretched.  People are taking classes in stores, socializing in hotel bars and lobbies even when they're not guests, having business meetings in malls, working at home and in public parks, and running errands at work.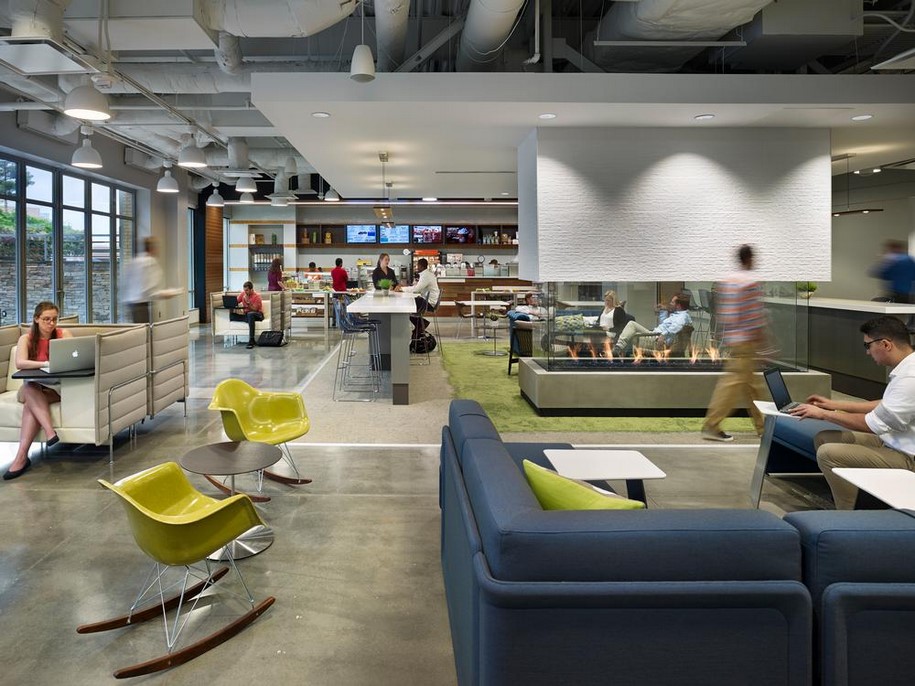 "Designers must prioritise multi-functional spaces: everyone is doing everything, everywhere", says Tom Lindblom.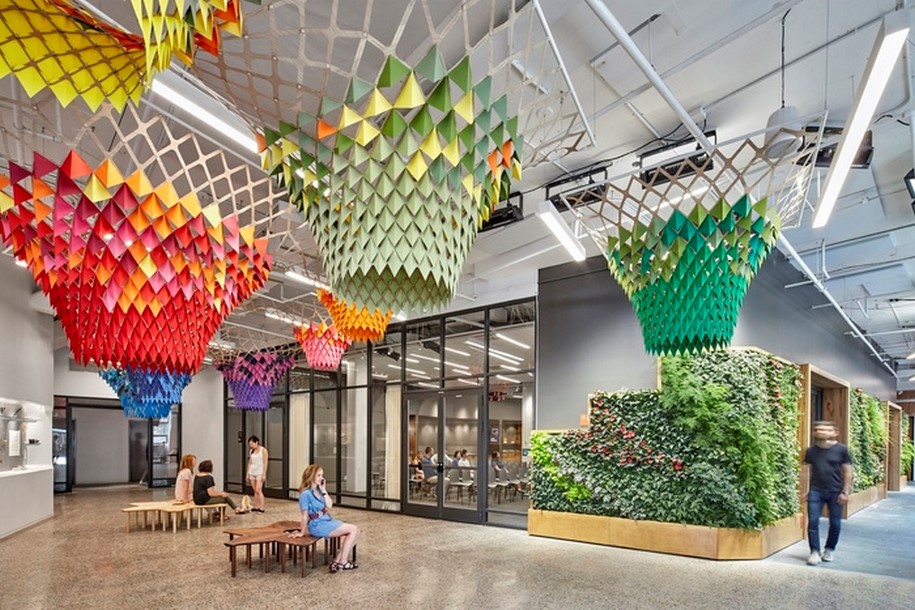 Blurring the lines between workplace and habitat, Etsy's new 200,000-square-foot headquarters is currently the largest Living Building Challenge (LBC) Petal-Certified building in New York City. 
Tom Lindblom suggests that designers "need to work with our clients to navigate what this means for the spaces and places that are increasingly accommodating everything, whether they were designed to or not."
He continues: "Flexibility and adaptability are the first step—we need to design spaces that meet a wide variety of needs for a wide variety of users, and are adaptable to change as activities shift or grow over time. For example, spaces that can flex, such as work cafeterias that can convert to event or community space, or public spaces that support pop-up retail or work activities, will prove most effective over time."
3. Single-use spaces are becoming obsolete
The Gensler Experience Index showed that most experiences involve multiple activities and more than one experience mode. It further confirmed that multimodal experiences and places that offer a variety of spaces tend to be more highly rated and are more likely to be noted as a respondent's favorite place.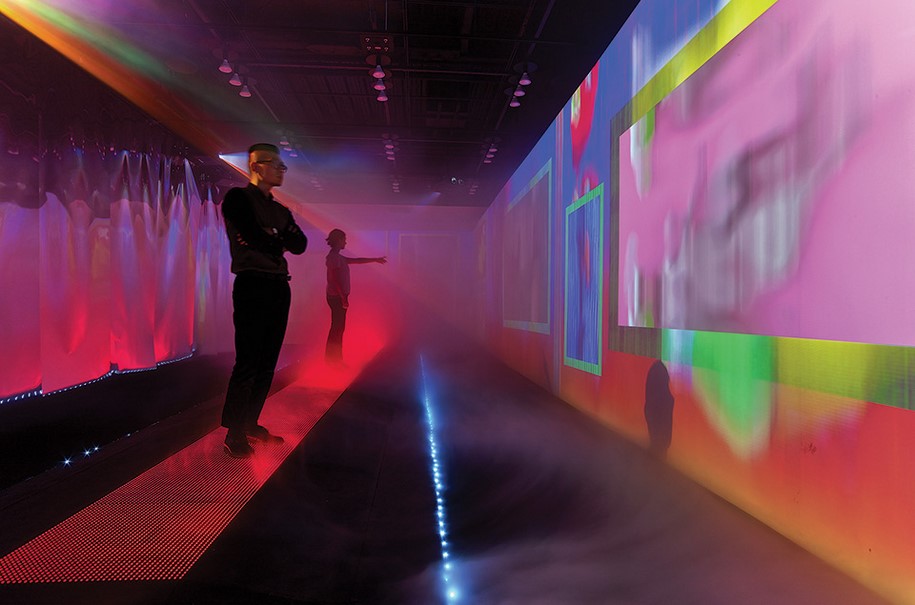 People who do more than one activity in a place rate their experiences significantly higher and are more likely to report it as their "favorite place.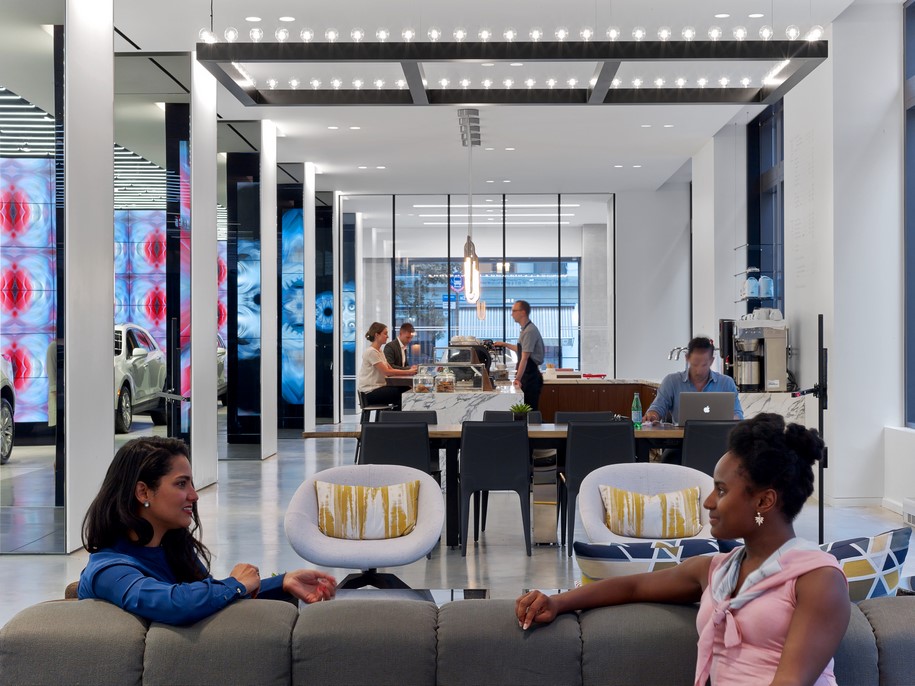 Creating spaces that accommodate myriad activities does not, however, mean that all activities and uses are created equal. Many spaces can, and should, maintain and prioritize a primary focus while layering in additional activities to expand the scope of a user's experience. At work, that means building in space for socializing, learning, and community-building—but without sacrificing the time, spaces, and tools people need to get their jobs done. For shoppers, a layered, multimodal experience is often desirable—but when it's time to make a purchase, the process still needs to be intuitive and seamless.

4. Ignore social space at your peril
Places that support community and social connection perform better—from higher job satisfaction in the workplace, to a greater likelihood of recommendation for retail stores and public spaces.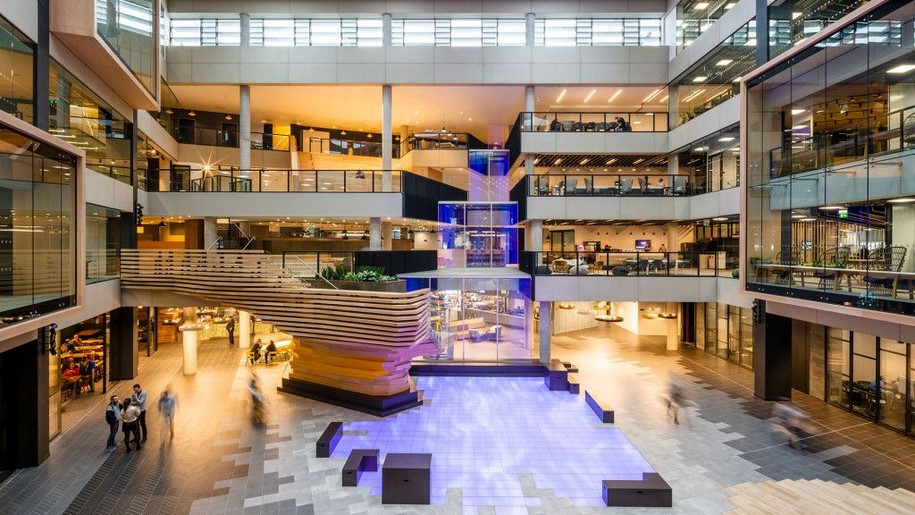 One Microsoft Place, the new campus fosters collaborative ways of working, helping Microsoft with its cultural transformation. Taking a human-centric approach, the design team created the Microsoft Island concept, mapping out how visitors and employees interact with the space given their diverse needs; the harbour is the arrival point, the beach is a social space, the grasslands are the open workspace, and the caves are focus rooms. 
As more time is spent online, people are increasingly seeking out places to connect in real life—and for good reason. 
Tom notes that "designers need to create spaces that encourage social behavior, and work with our clients and peers to ensure socializing is valued as a core aspect to a great experience, not just a nice-to-have. This may mean allocating greater space specifically for interpersonal connection, and creating places that build community and connection".
5. In-between time isn't wasted time
People who take time to reflect and unplug have better experiences, with direct business benefits: employees are more satisfied, and shoppers often end up making purchases despite not originally intending to do so.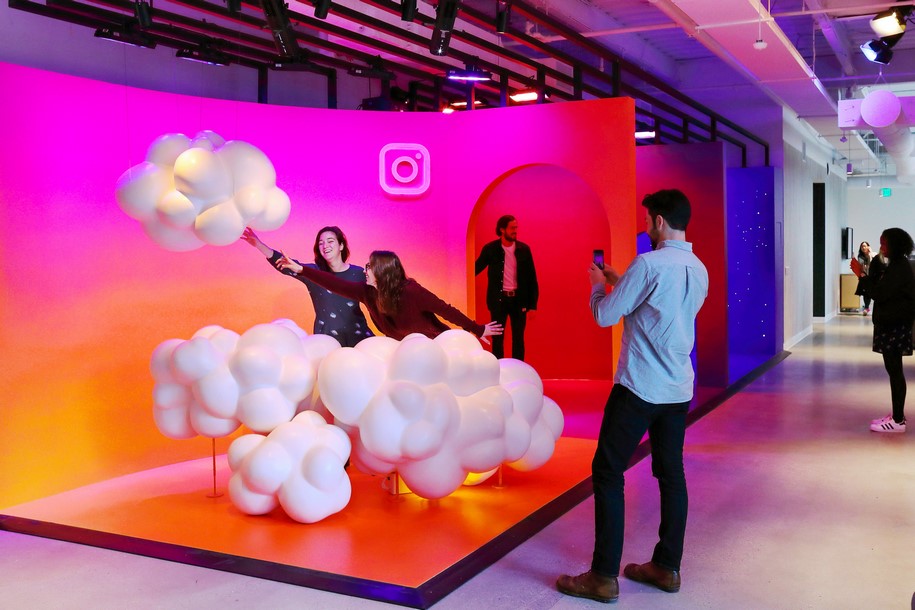 With a focus on providing an Instagram-like space as a tool for connectivity, the design of Instagram' s headquarters in Menlo Park becomes a clean canvas for employees and users alike to express themselves and celebrate their communities. 
Despite the hectic, time-stretched 71% lifestyle that seems pervasive today, it turns out people who are "always on" are often actually not. 
People who take time to unplug and escape report a better overall experience and a greater likelihood to recommend that place to family and friends. For workers, the benefits are even more direct: employees who take time to reflect or unplug during work are more satisfied and higher performing, in line with a significant body of existing research showing the importance of downtime for creativity, productivity,
and happiness. 
6. Technology matters, but not in the way you think
The presence of technology is a key driver of a great experience—spaces that users reported to have "the latest technology"
are more highly rated, more likely to be their favorite, and more likely to inspire a return visit. But having the latest technology and having a user actually interact with that technology turn out to be quite different things.
According to Tom Lindblom the role of the designers today is to "restore humanity and authenticity to design, and move away from design forms driven solely by algorithms and the latest technology. Creating positive experiences depends on it."
It's clear that technology makes a significant impression on users of a space, whether a park or a workplace. But users may be less interested in technology that they interact with or use directly, and more interested in technology that is embedded in the space and contributes to the overall designed experience. For instance, integrated technology that displays changing graphics and offers an overall impression may be preferable to a navigational map that users might download to their phone to find their way around a store.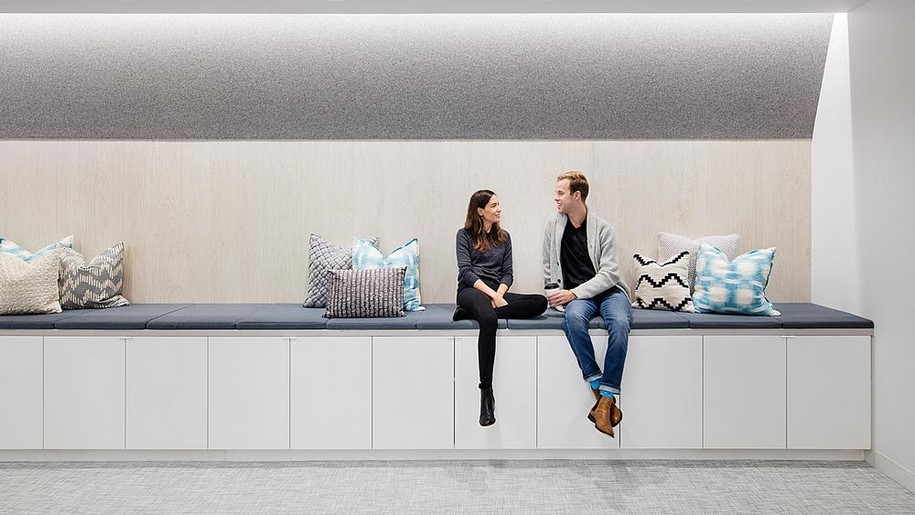 About Tom Lindblom
Tom is a Hospitality Leader and a Studio Director in Gensler's London office. He has more than 25 years of experience on a variety of projects, with a special focus on hotels, resorts, and museums. Working with diverse clients in Europe, the Middle East, Southeast Asia, and the United States has broadened his understanding and appreciation for unique opportunities in a variety of markets. Tom is active with clients in the Mediterranean and Adriatic to develop sustainable resorts that operate efficiently from an economic, social and environmental position. His experience also includes design and planning for several museums and galleries in the United States and Europe. He teaches and lectures on architecture, lighting design, and museum design at universities in the U.S. and London. Tom holds a Masters of Architecture from the University of Utah and an undergraduate degree in the History of Science and Technology from Hampshire College in Amherst, Massachusetts.

Read Gensler's publication, Dialogue 29, with a focus on their lifestyle sector, including hospitality here!



READ ALSO:
The 6th Athens Biennale ANTI presents Microclimate Heat Shelter by artists Annechien Meier and Gert-Jan Gerlach