The project is a renovation of the penthouse apartment of a 1960's "polykatoikia" with a panoramic view of the city of Athens. It did not entail altering the interior layout of the apartment, the position and dimensions of the existing façade openings, or the ceiling design, inherent to the apartment from a previous renovation.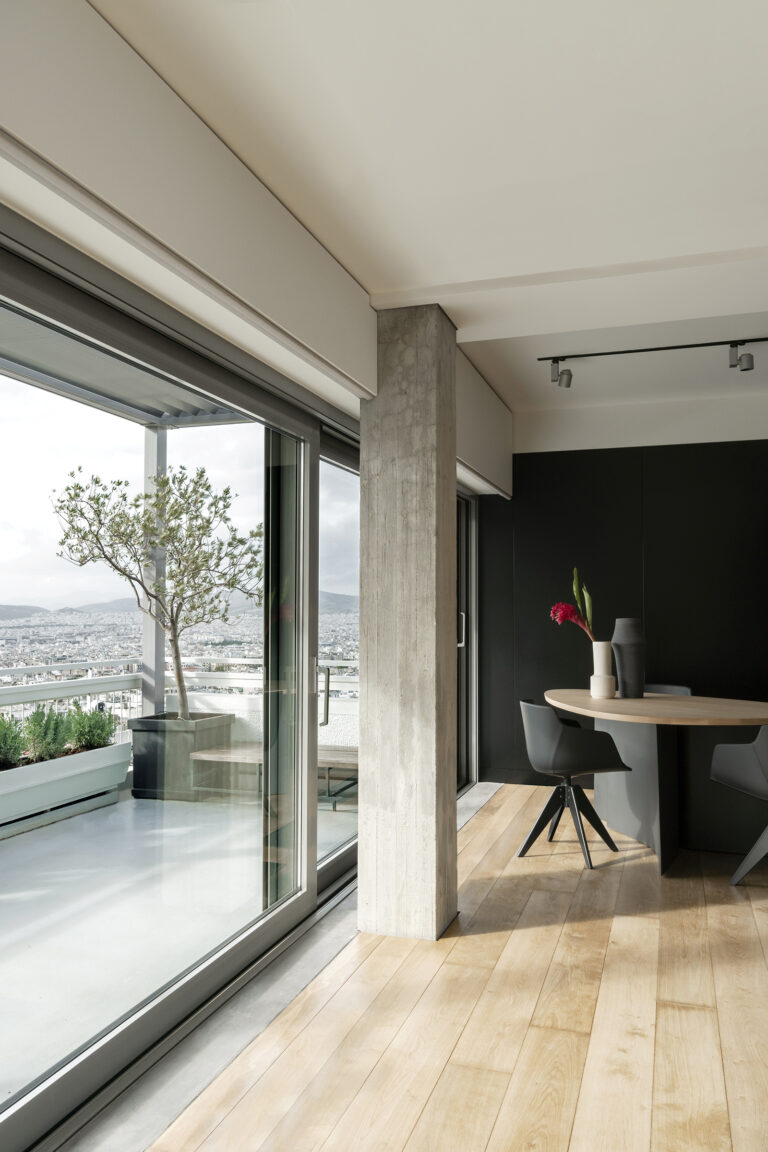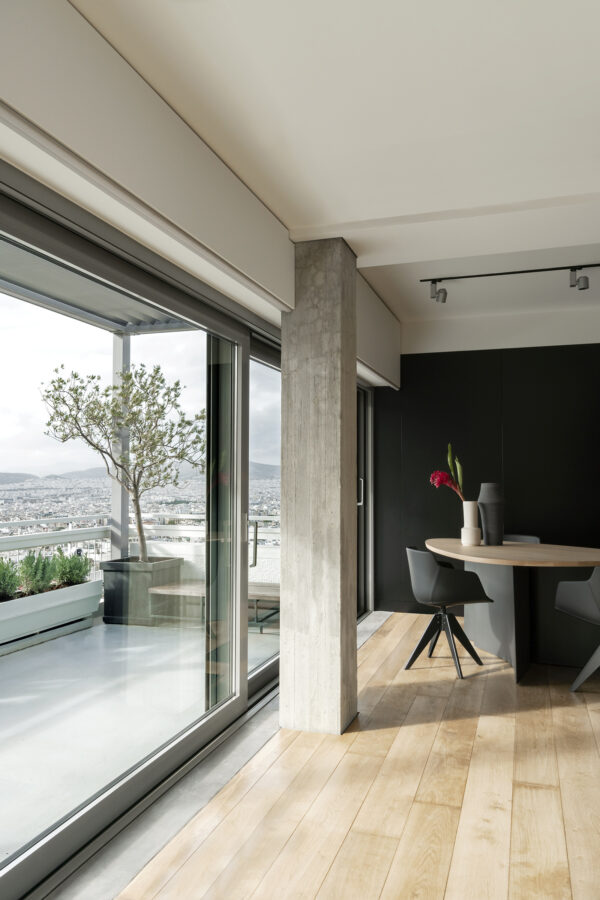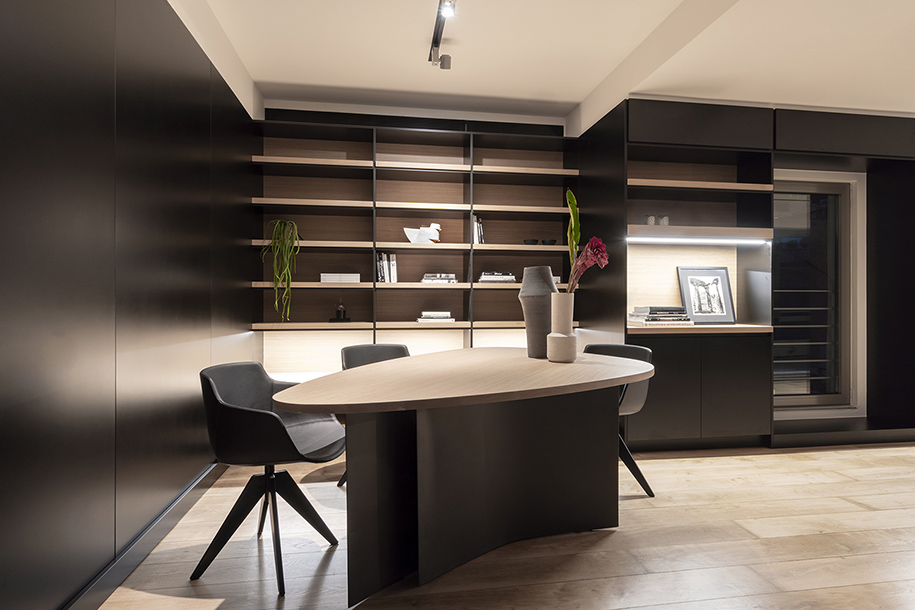 All the pre-existing built-in furniture in the open plan living / dining / kitchen area were removed and designed a new, creating a continuous custom composition which from built-in kitchen furniture evolves into a bookcase. As a result, the open space can be used alternatively as an area to sit, dine or study.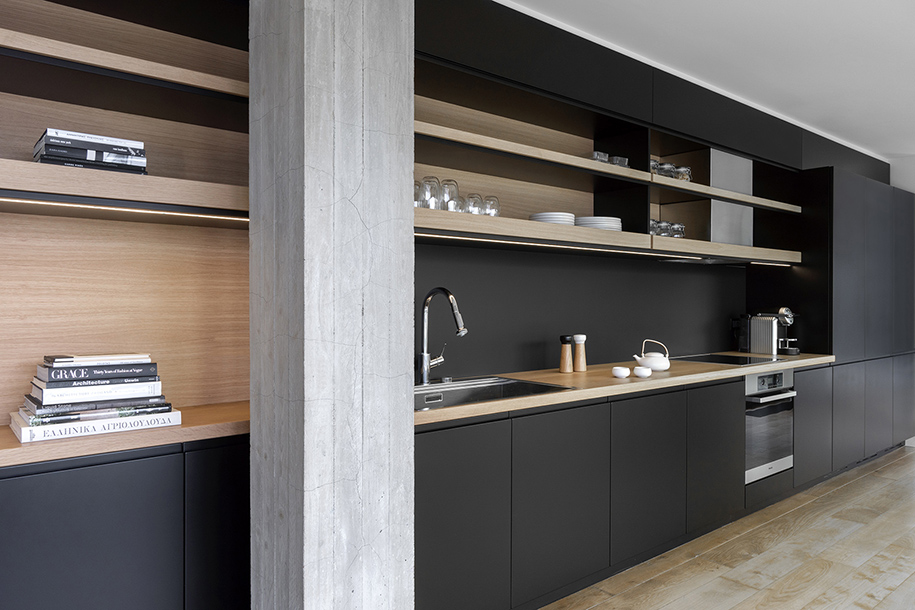 This new composition visually prevails in the apartment interior due to its solid black vertical surfaces of matte lacquer, satin glass cabinet doors and interior wall cladding.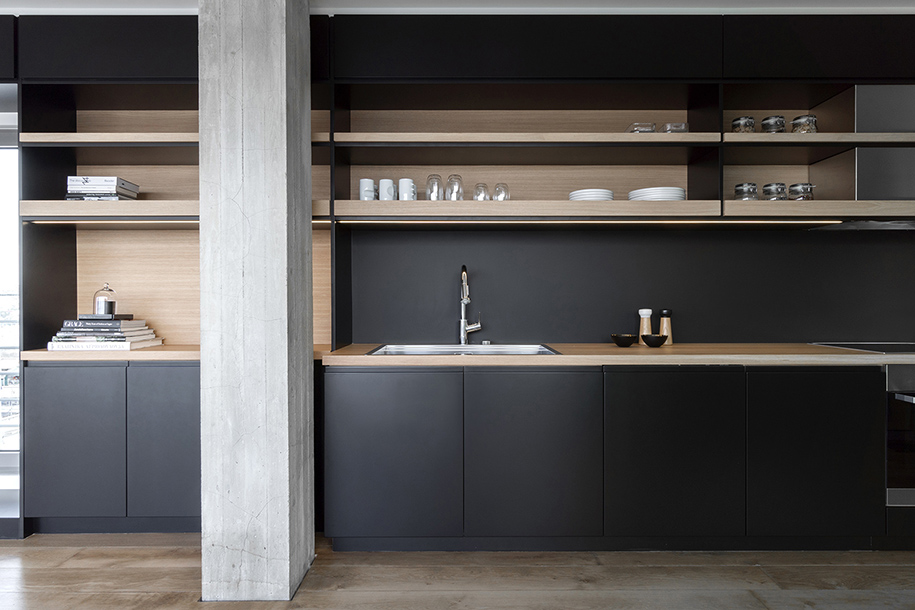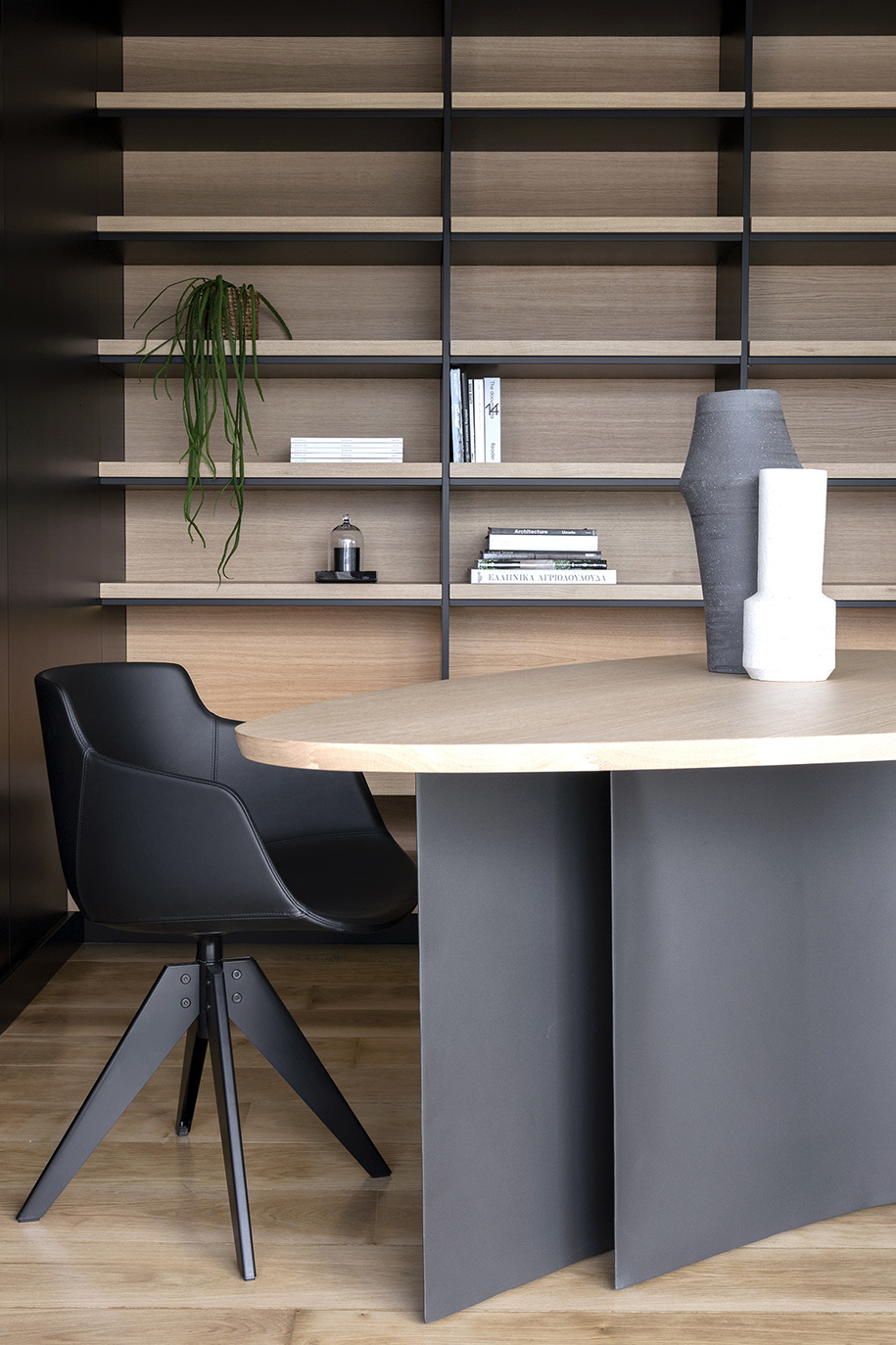 All horizontal surfaces, exposed or concealed behind cabinets, are made out of natural oak wood, complementing the oak wood floor, which was treated in order to reveal its natural tone and texture. In that open space, the fireplace hood was designed and built out of a single piece of sable-textured metal sheet and the hearth was clad in volcanic lava stone.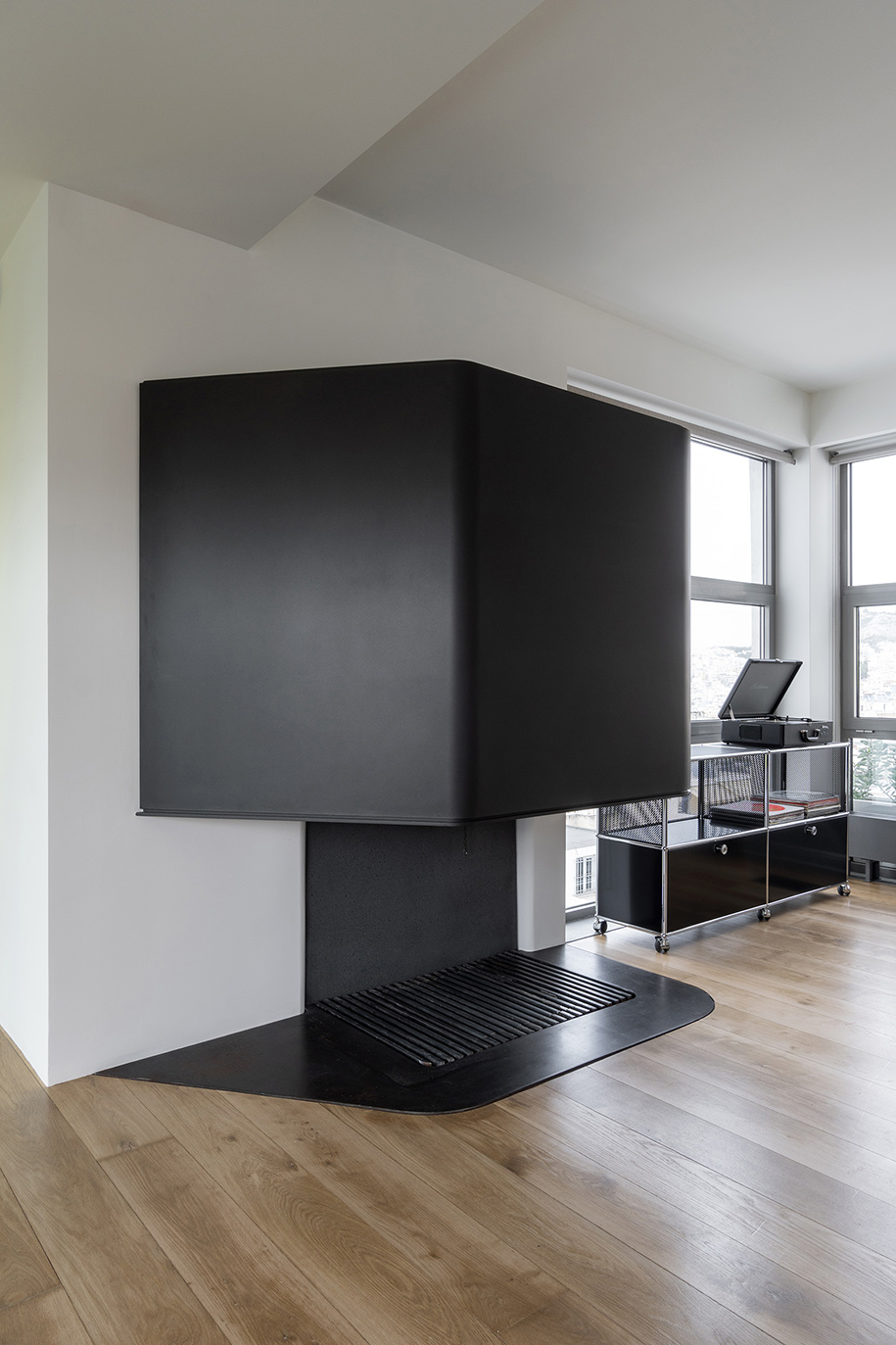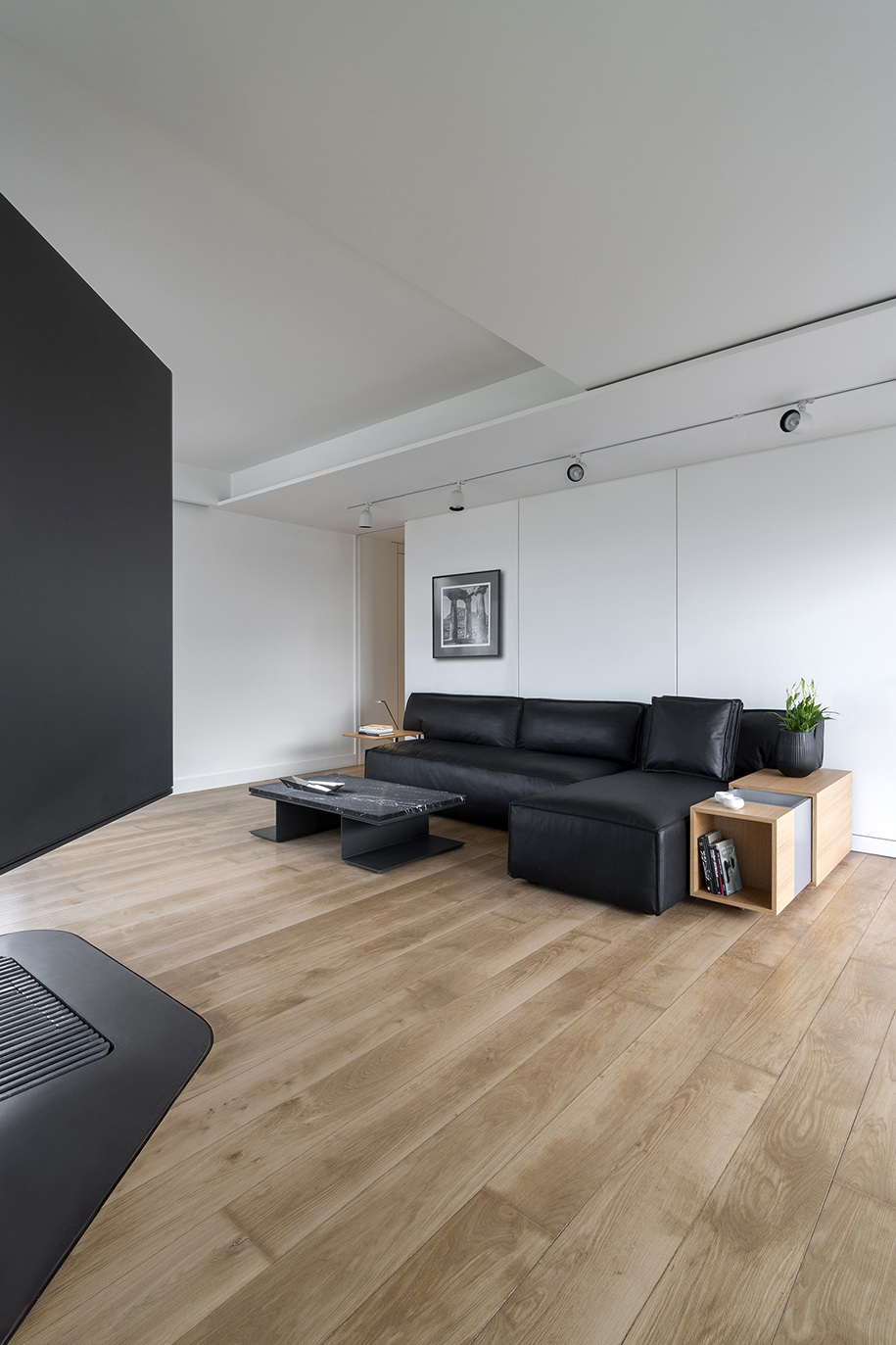 The architectural proposal for the renovation also included the design of a series of furniture pieces made of black marble, sable-textured metal sheet and oak wood, setting the tone of the apartment interior.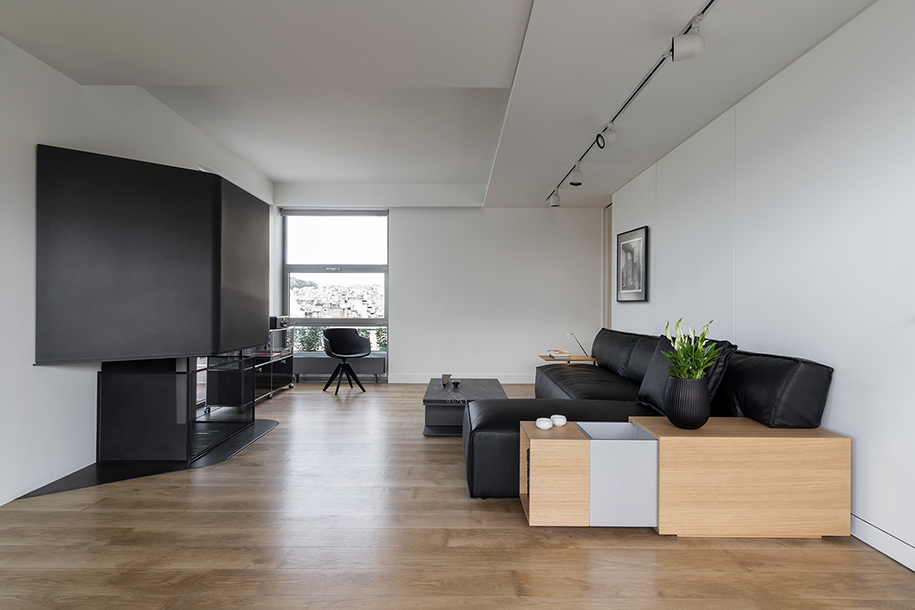 The solid black color of the surfaces is counter balanced by the pristine white wall and ceiling, but most of all by the abundance of light drawn into the apartment from all around its perimeter.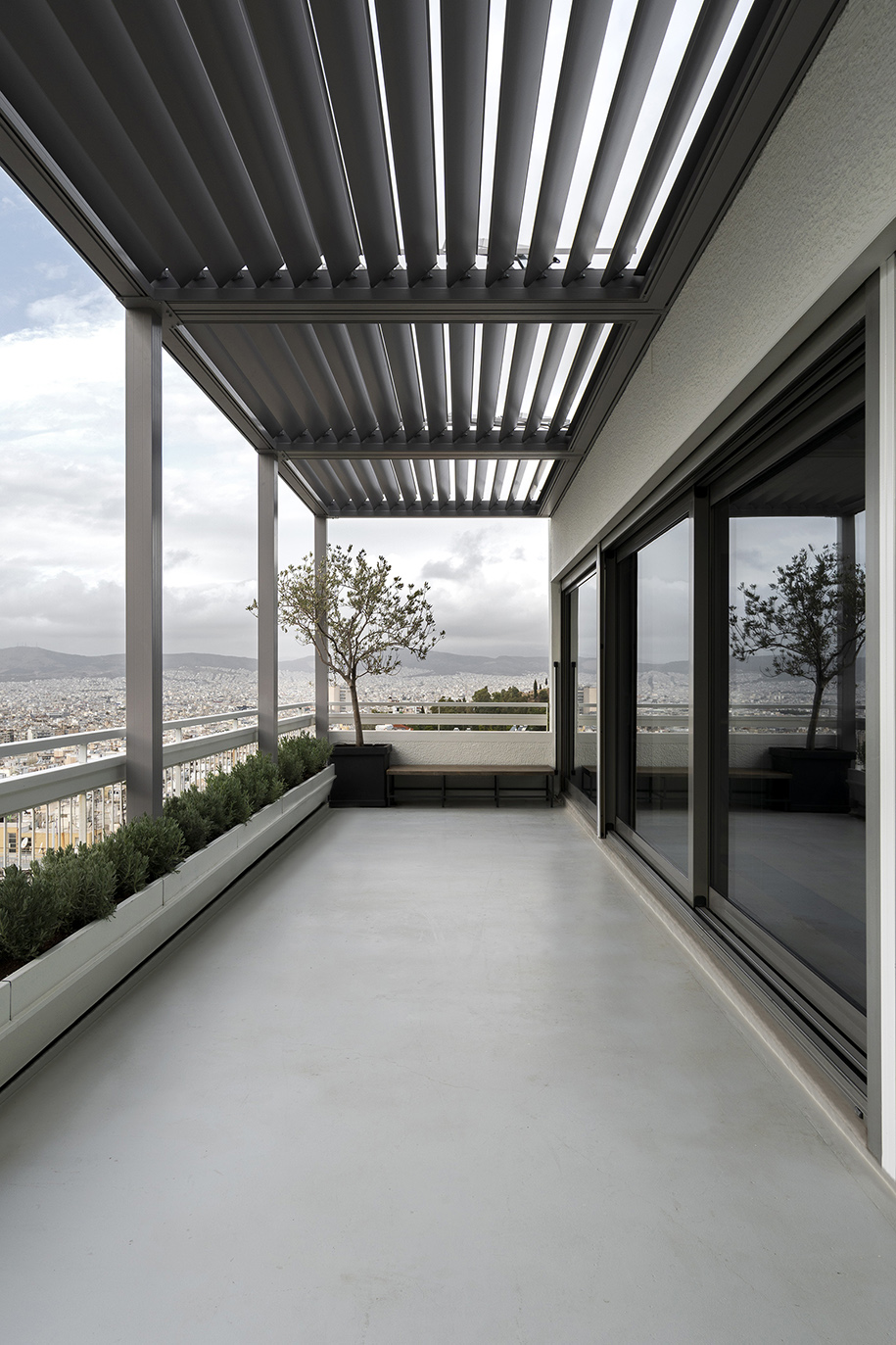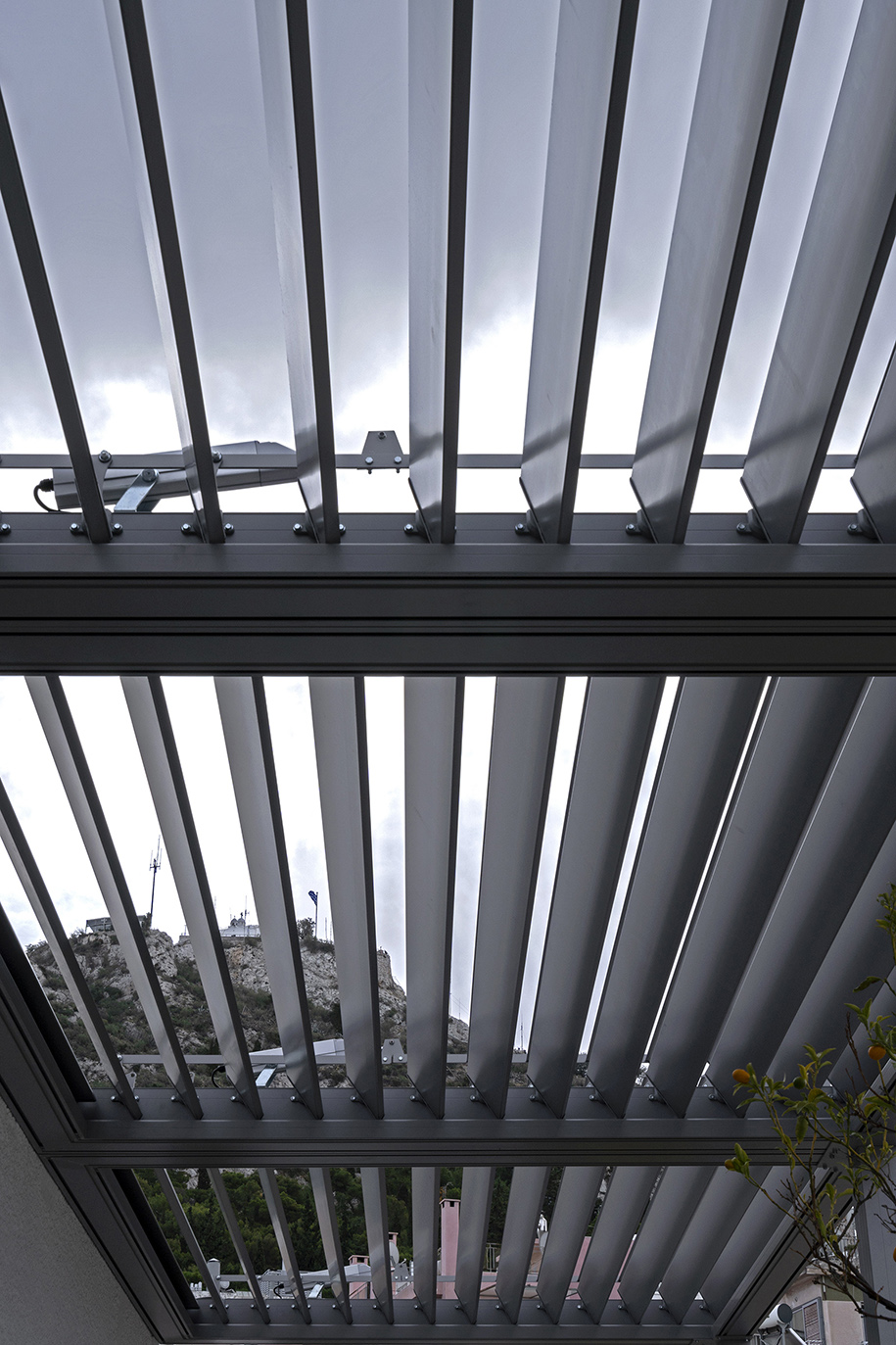 In the balcony, a new customized metal pergola structure was designed and constructed with automated rotating louvers and an integrated and fully concealed water drainage system. This pergola allows for the adjustment of light intensity and air ventilation of both the interior and exterior space and hence for the extended use of the balcony.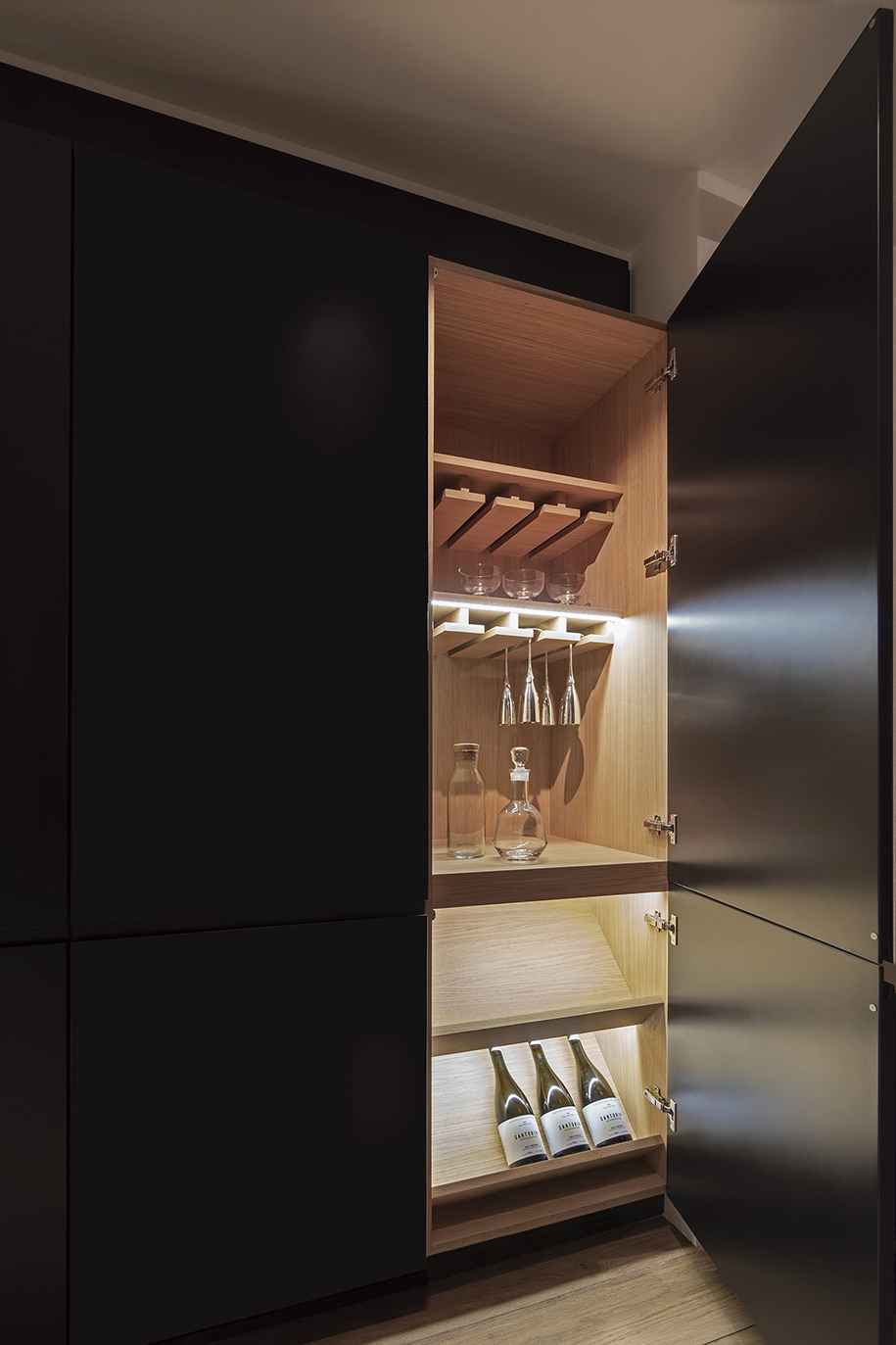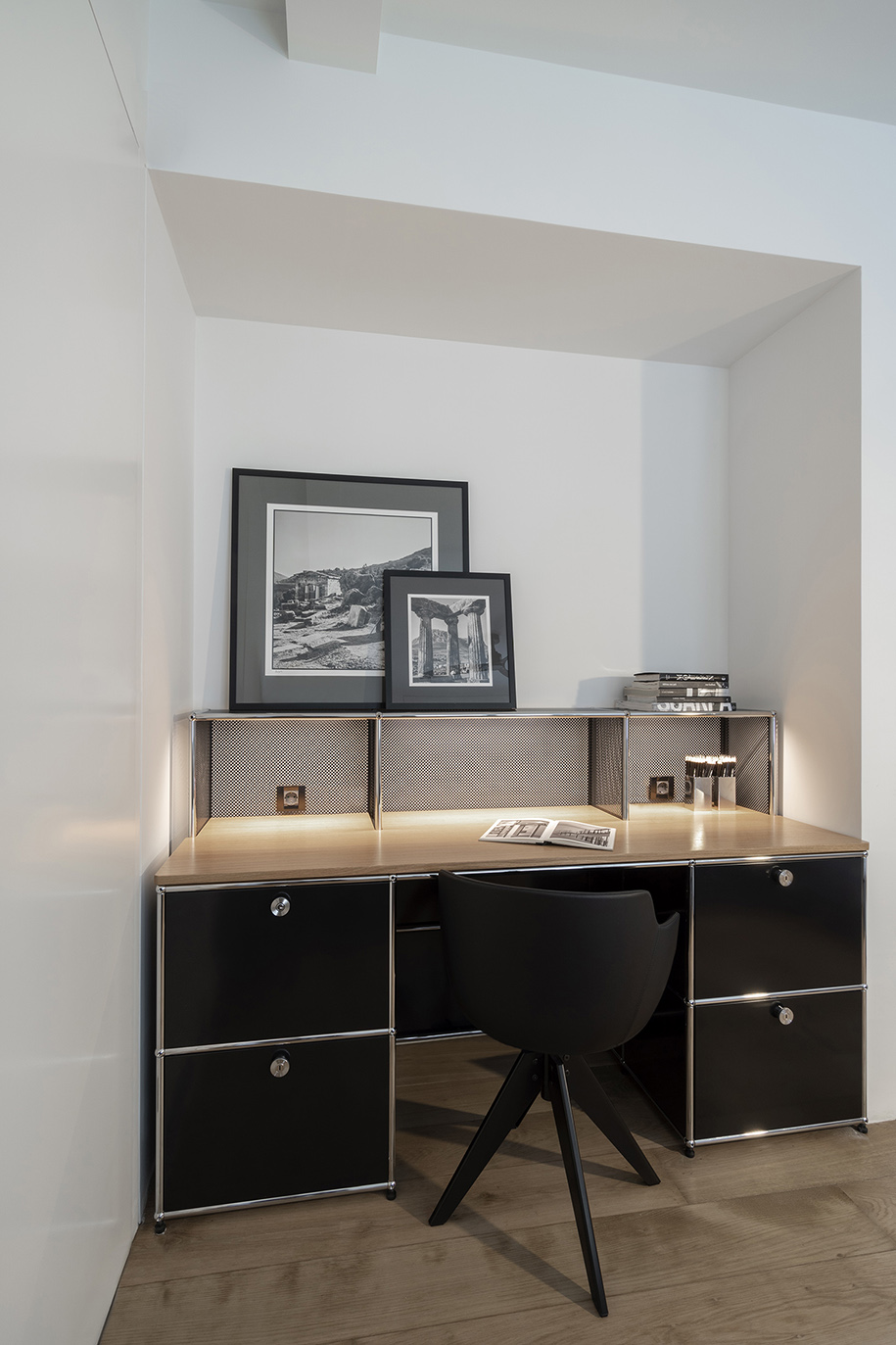 Facts & Credits
Project title Mount Lycabettus Penthouse Apartment Renovation
Typology  Renovation
Location Mount Lycabettus Neighborhood – Athens
Status  Completed 2020
Area  140 sqm
Architectural and Interior Design Consultant Anastasia G. Filippeou
Construction & General Project Management AP ERGONplus
Construction Supervision Angeliki Petrou, Miltos Chavelos
Photography Vassilis K. Makris
READ ALSO:
ITURRIBIDE apartment in Bilbao's old town, Spain | BABELstudio