text in

EN, GR
Το Monogram που σχεδιάστηκε από το γραφείο InDetail Architecture είναι ένα καφέ και πρατήριο μέσα στην Παλιά Πόλη των Χανίων. Φιλοσοφία του μαγαζιού είναι η παρασκευή και το κόψιμο του καφέ μπροστά στον πελάτη, ώστε να βιώνει όλη την εμπειρία.
-κείμενο από τους αρχιτέκτονες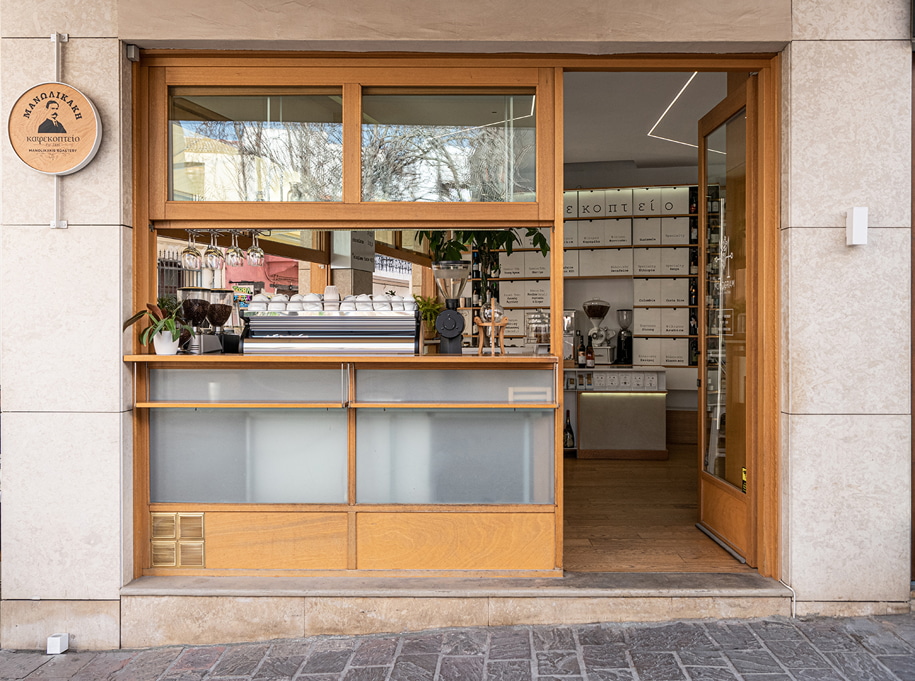 Στο πνεύμα αυτό, σχεδιάστηκε μια διάταξη και επίπλωση που ευνοεί την αντίληψη των λειτουργιών από τον πελάτη, με ένα μινιμαλιστικό ύφος που δρα ως φόντο γι' αυτές. Η κάτοψη οργανώνεται ώστε ο πάγκος παρασκευής να υποδέχεται τους πελάτες, ενώ στο βάθος του χώρου γίνεται το άλεσμα του καφέ, διαλέγοντας από μία βιτρίνα διαφορετικών ποικιλιών. Η τουαλέτα κρύβεται διακριτικά πίσω από ένα συρόμενο πέτασμα.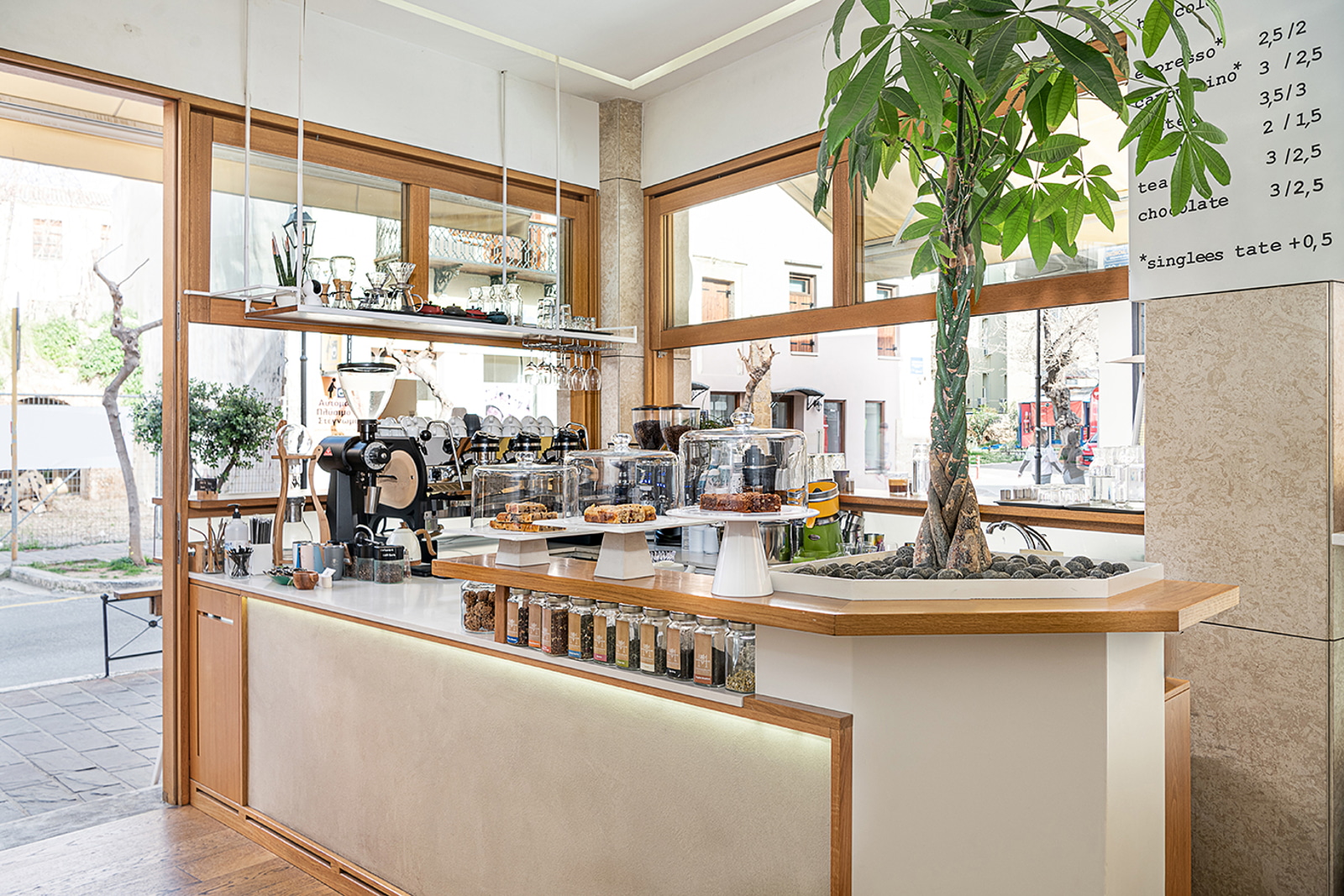 Οι πάγκοι εργασίας είναι χαμηλοί, από λευκό τεχνογρανίτη και επενδεδυμένοι με φυσική δρυ και ανοικτή γκρι τσιμεντοκονία. Ένα στοιχείο πρασίνου τοποθετείται στην άκρη του πάγκου παρασκευής, διαχωρίζοντάς τον από τα ψηλά καθίσματα των πελατών.
Η βιτρίνα των καφέδων στηρίζεται σε μία πολύ διακριτική κατασκευή από λεπτή λαμαρίνα, πάνω στην οποία ενσωματώνονται τα κουτιά αποθήκευσης. Στο ίδιος ύφος έχουν σχεδιαστεί και μικρά τραπέζια στο εσωτερικό του καταστήματος με στήριξη στον τοίχο. Η τουαλέτα σχεδιάστηκε πάνω στις ίδιες γραμμές με λευκούς τόνους, τσιμεντοκονία και ξύλο.
Στις όψεις τοποθετούνται κουφώματα γκιλοτίνες που ανοικτά λειτουργούν και ως πάγκοι σερβιρίσματος.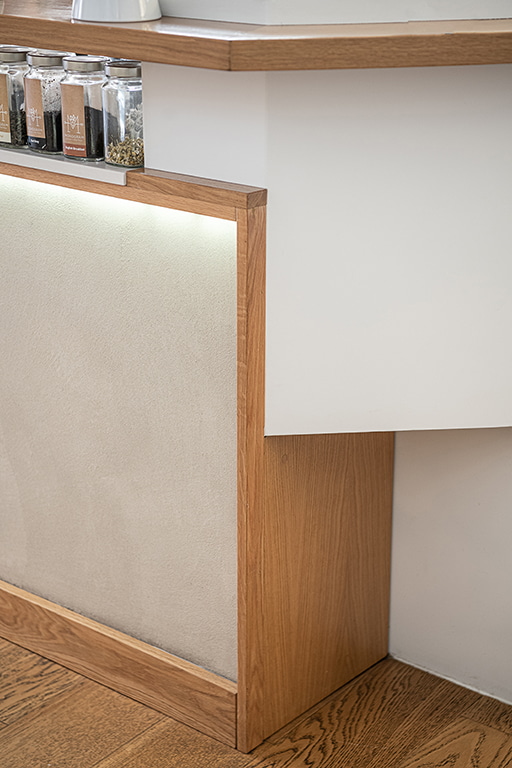 Στοιχεία έργου
Τίτλος έργου Monogram
Τύπος έργου Εσωτερικός σχεδιασμός
Τοποθεσία Χανιά, Κρήτη
Αρχιτεκτονική InDetail Architecture
Επιβλεψη κατασκευής InDetail Architecture
Συνολική επιφάνεια 32,48 m2
Φωτογραφία Γιώργος Αναστασάκης | SOUTH space for photography Βάσια Κατραμαδάκη
---
Monogram, designed by InDetail Architecture is a coffee house and shop in the Old Town of Chania. Its' concept is that coffee preparation and grinding takes place in front of the customer's eyes, so they can witness the whole process.
-text by the authors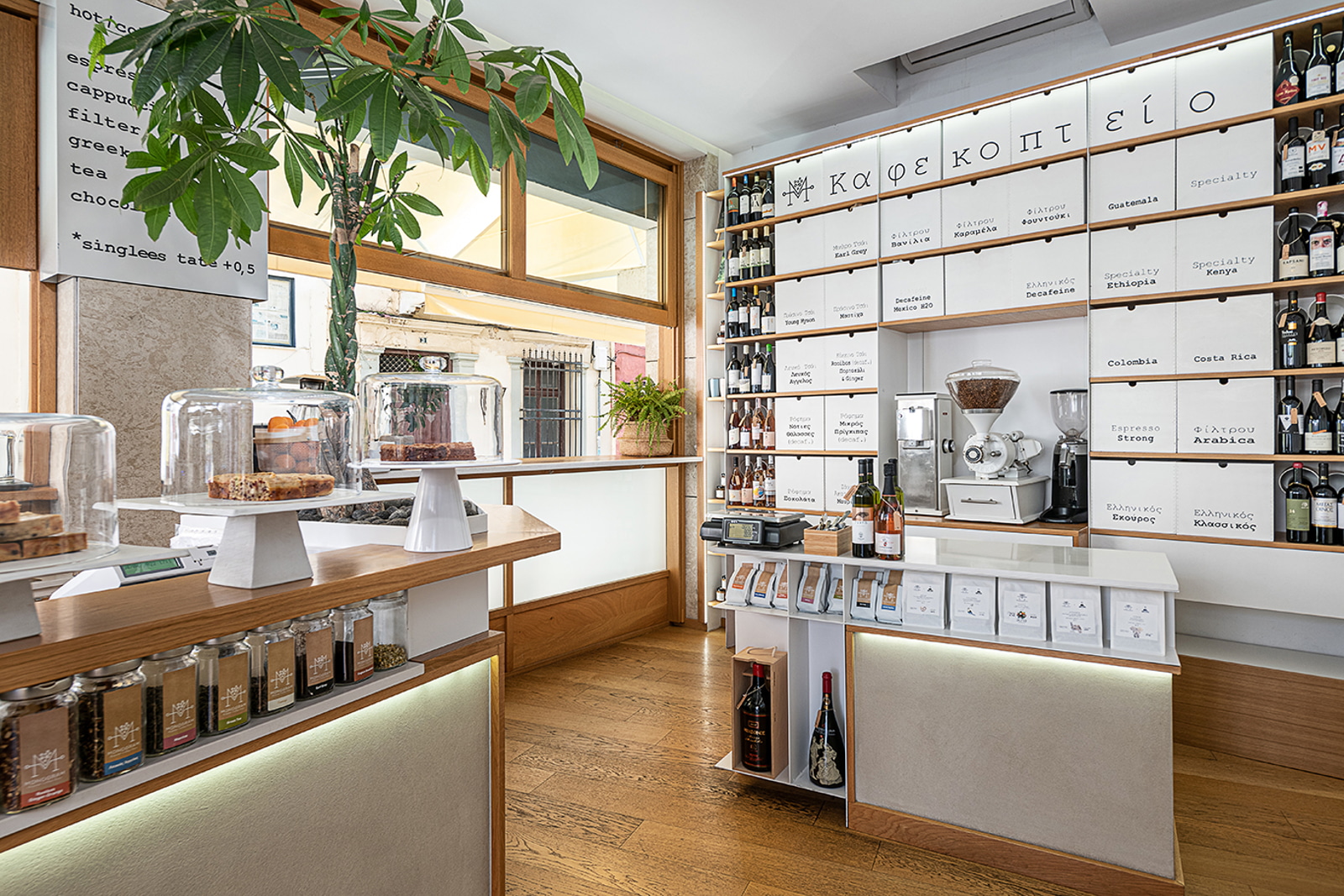 Following this guideline, the shop was designed in a minimal style that acts as a background for what is going on inside. The floor plan is arranged so that the preparation bar welcomes customers, while the grinding takes place directly across the room, where a large showcase of a variety of blends is located. The toilet is placed behind a discreet sliding door.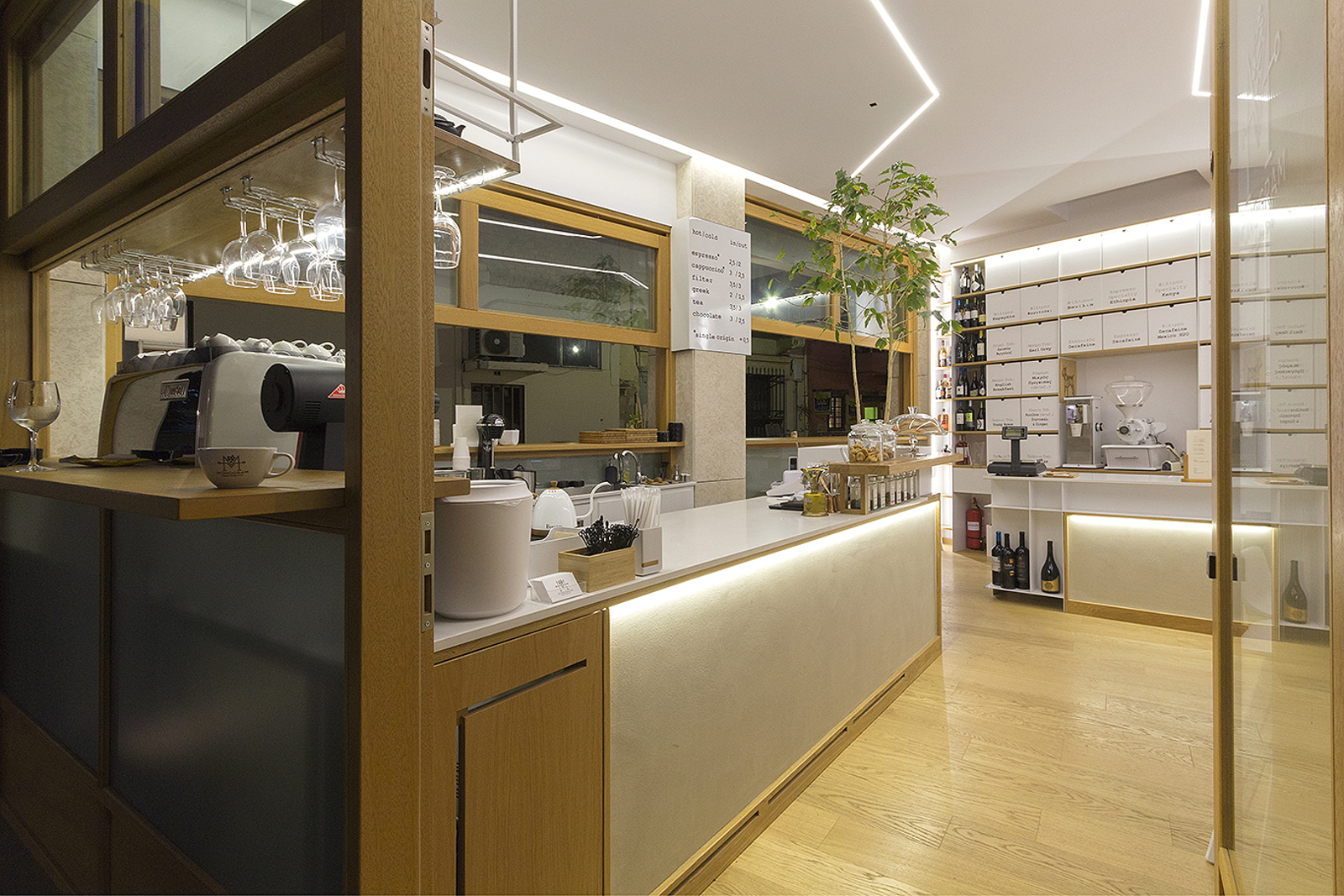 Bars are small in height, made of white synthetic granite and lined with oak veneer and light gray forged cement mortar. A plant is placed at the edge of the preparation bar, separating it from a high bar for customers to sit on the facade. The coffee showcase is made of a discreet structure of thin metal sheets.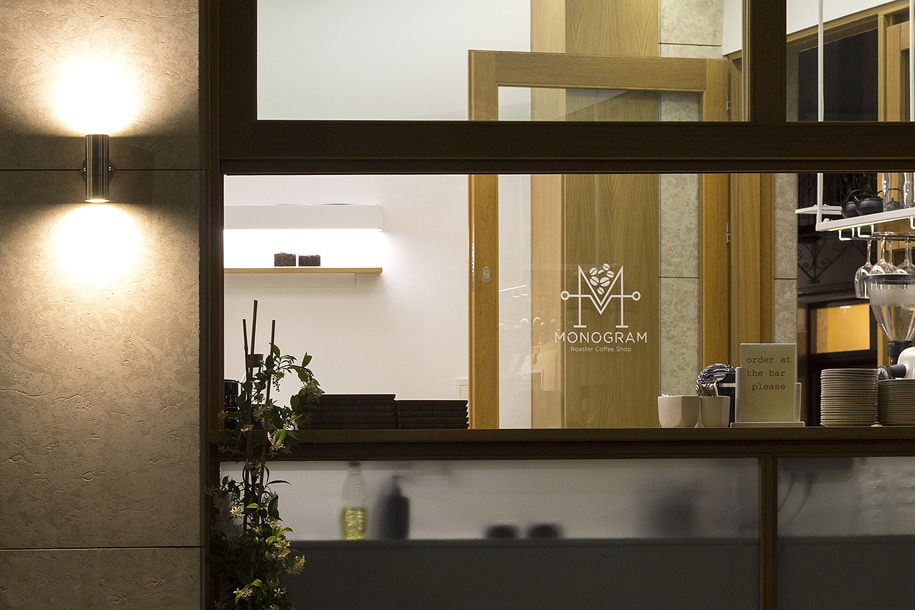 Small tables are made in the same manner for the customers to sit inside. The interior of the toilet is also designed in accordance with the bars, with white surfaces, veneers, and cement.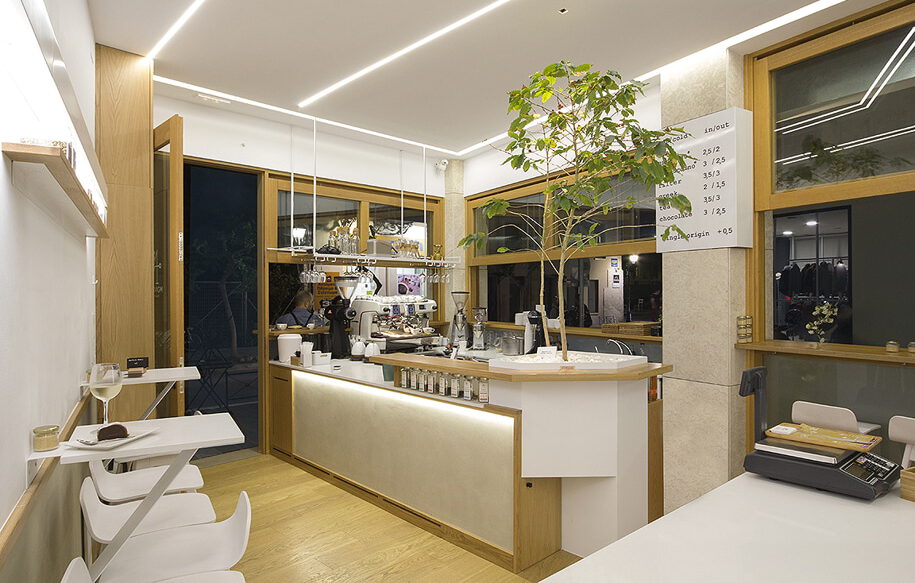 Facades are designed with guillotine windows, which when open act as serving surfaces.
Plans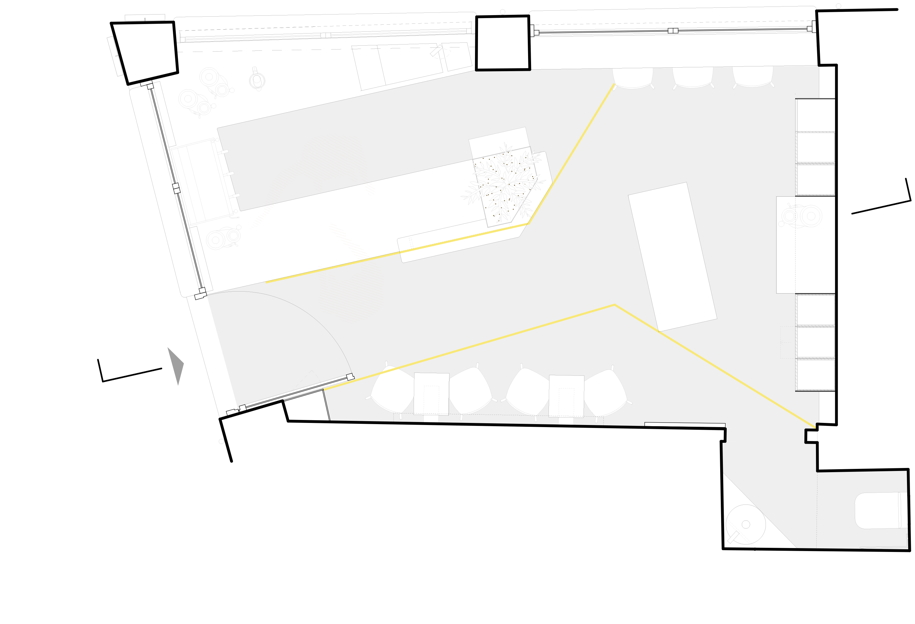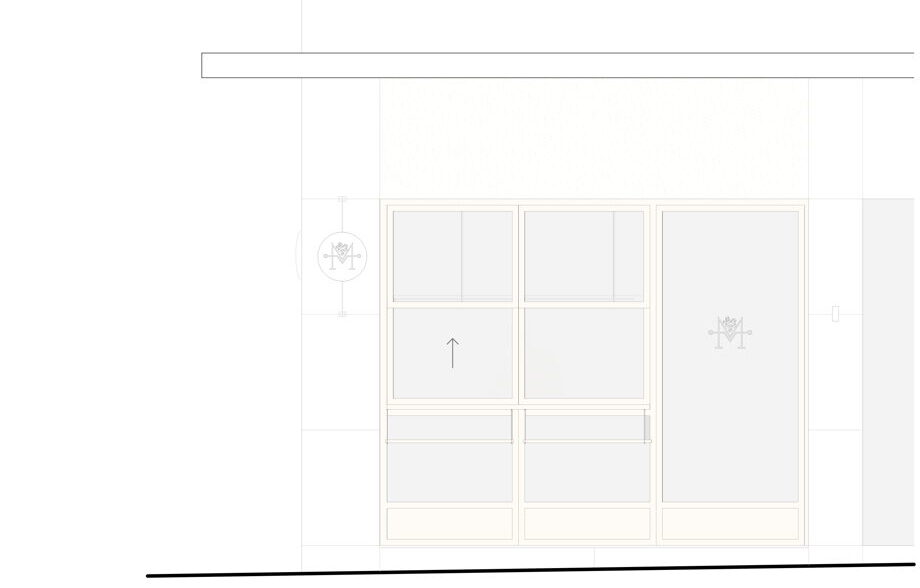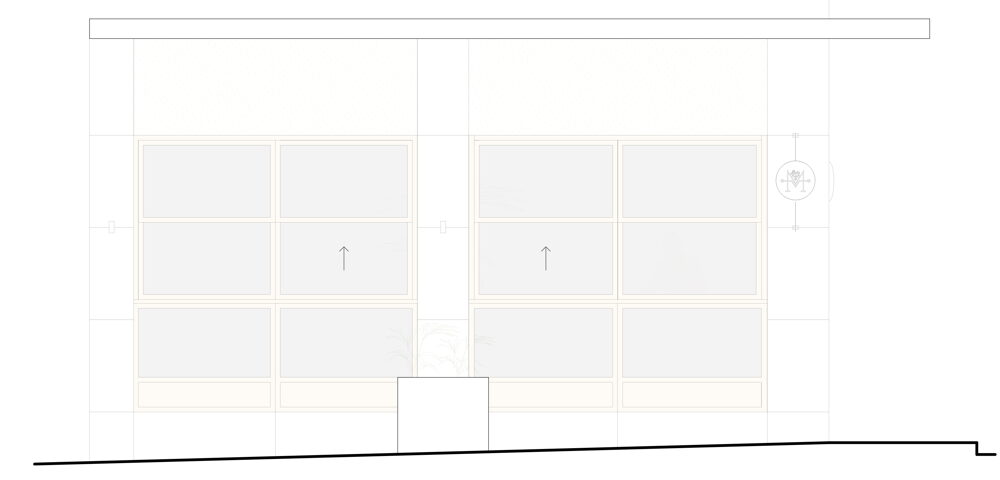 Facts & Credits
Project title Monogram
Project type Interior Design
Location Chania, Crete
Architecture InDetail Architecture
Building supervision InDetail Architecture
Total area 32,48 m2
Photography George Anastasakis | SOUTH space for photography, Vasia Katramadaki
READ ALSO:
SOLAR studio created "Brando" in the historic center of Madrid