Το αρχιτεκτονικό γραφείο Plaini and Karahalios Architects ανέλαβε την ανακαίνιση διαμερίσατος στην Αθήνα. Πρόκειται για διαμέρισμα, σε πολυκατοικία της δεκαετίας του '80, η χωροταξία του οποίου, ως επί το πλείστον διατηρήθηκε. Οι αρχιτέκτονες πραγματοποίησαν ορισμένες διαρθρωτικές παρεμβάσεις προκείμενου να εξασφαλιστεί η λειτουργικότητα και η άνεση εντός του διαμερίσματος
Το οροφοδιαμέρισμα βρίσκεται σε πολυκατοικία της δεκαετίας του 1980. Η χωροταξία του διατηρήθηκε σχεδόν στο ακέραιο, ειδικότερα στους χώρους διημέρευσης, ενώ αλλαγές υπήρξαν στους ιδιωτικούς χώρους.
Τα δύο μικρότερα λουτρά ενοποιήθηκαν σε ένα μεγαλύτερο, ενώ το τρίτο βοηθητικό δωμάτιο συνδέθηκε απευθείας με την κύρια κρεβατοκάμαρα και μετατράπηκε σε χώρο βεστιαρίου.
Η κουζίνα, που βρίσκεται στην καρδιά του διαμερίσματος, μετατράπηκε από κλειστό δωμάτιο σε ανοιχτό χώρο αφού καθαιρέθηκαν οι τοίχοι. Αυτό είχε σαν αποτέλεσμα η σχέση κύριας εισόδου και κουζίνας να γίνει άμεση.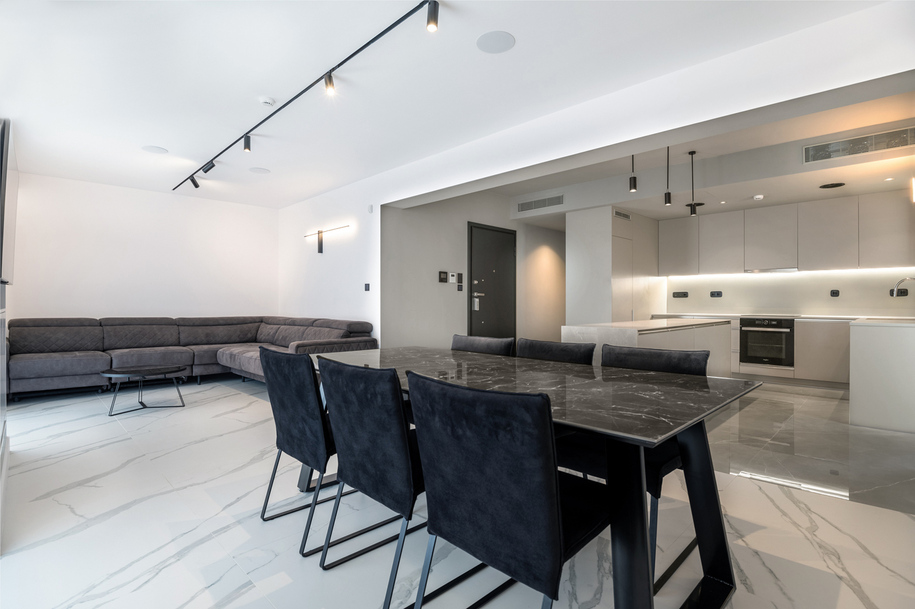 Ελεύθερα αντικείμενα, όπως η σειρά από ψηλά ερμάρια και η νησίδα, τοποθετήθηκαν στο ενδιάμεσο αυτών των χώρων για να λειτουργήσουν ως φίλτρο ανακατεύθυνσης των κινήσεων. Αυτός ο ενδιάμεσος χώρος της εισόδου, της κουζίνας και του διαδρόμου που παραλαμβάνει όλες τις συνδέσεις υλοποιείται σε χρωματικό επίπεδο με τρόπο ολιστικό. Το γκρι καταλαμβάνει όλες τις επιφάνειες, είτε ως βαφή, είτε ως επένδυση.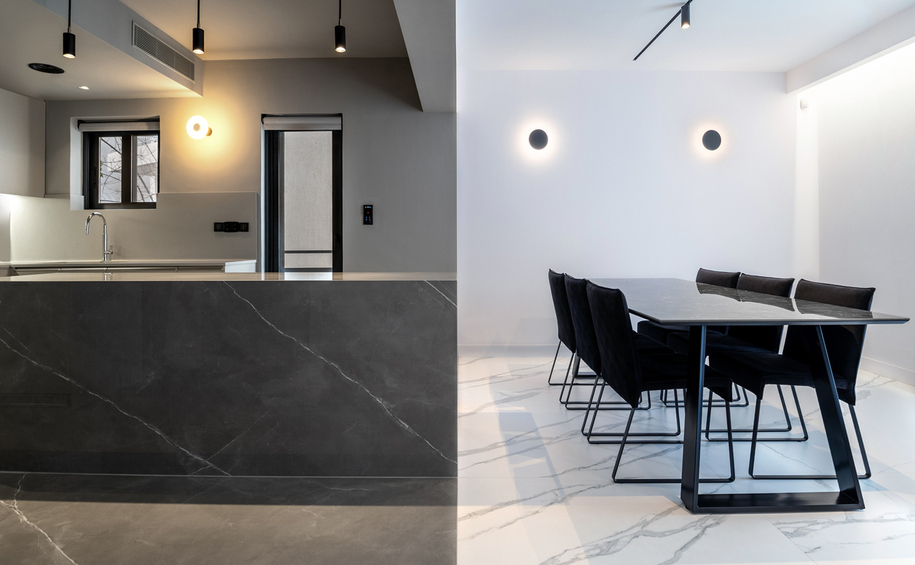 Ο χώρος του καθιστικού περιγράφεται ως ένα απόλυτο και καθαρό ορθογώνιο σχήμα που βάφεται λευκό και έρχεται σε αντιδιαστολή με την παρακείμενη γκρι περιοχή.
Η μετάβαση από το λευκό στο γκρι εκφράζεται μέσα από ένα σκληρό όριο που διαπερνάει και τις τρεις διαστάσεις.
Τα υπνοδωμάτια ακολουθούν την λογική του λευκού, το δάπεδο τους ωστόσο είναι σκούρο ξύλο υπογραμμίζοντας την παρουσία του. Αυτό γίνεται ακόμα πιο εμφανές στο χώρο του βεστιαρίου που επενδύεται καθ' ολοκληρία από το ίδιο υλικό.
Η επιλογή του διαχωρισμού του διαμερίσματος σε ζώνες υποδηλώνει τις λειτουργίες και οργανώνει τις χρήσεις με τρόπο οπτικό. Με την απλή λύση της χρωματικής και υλικής διαφοροποίησης οι μεταβάσεις σκηνοθετούνται και μετατρέπονται σε μια ενσυνείδητη συνθήκη.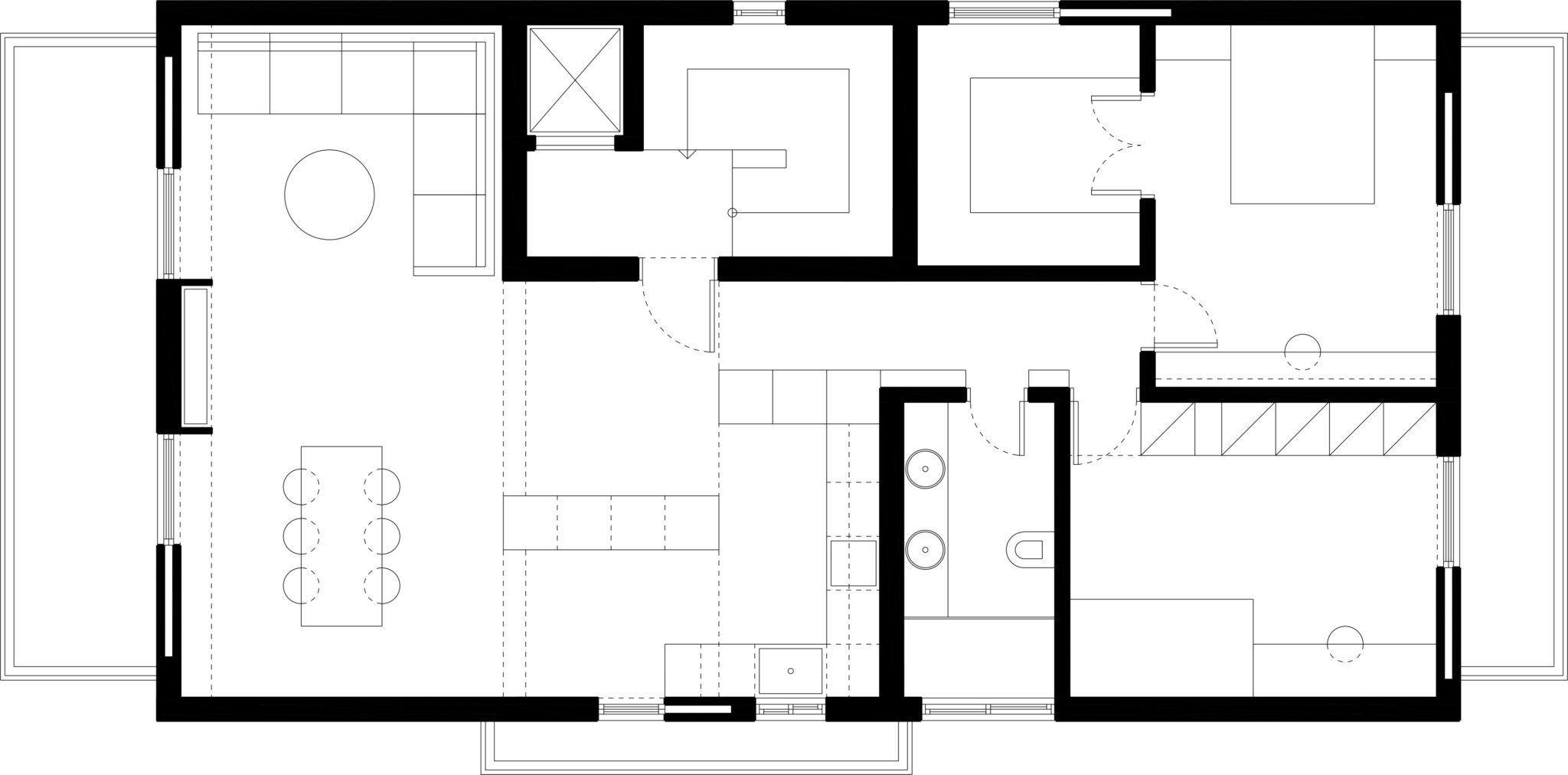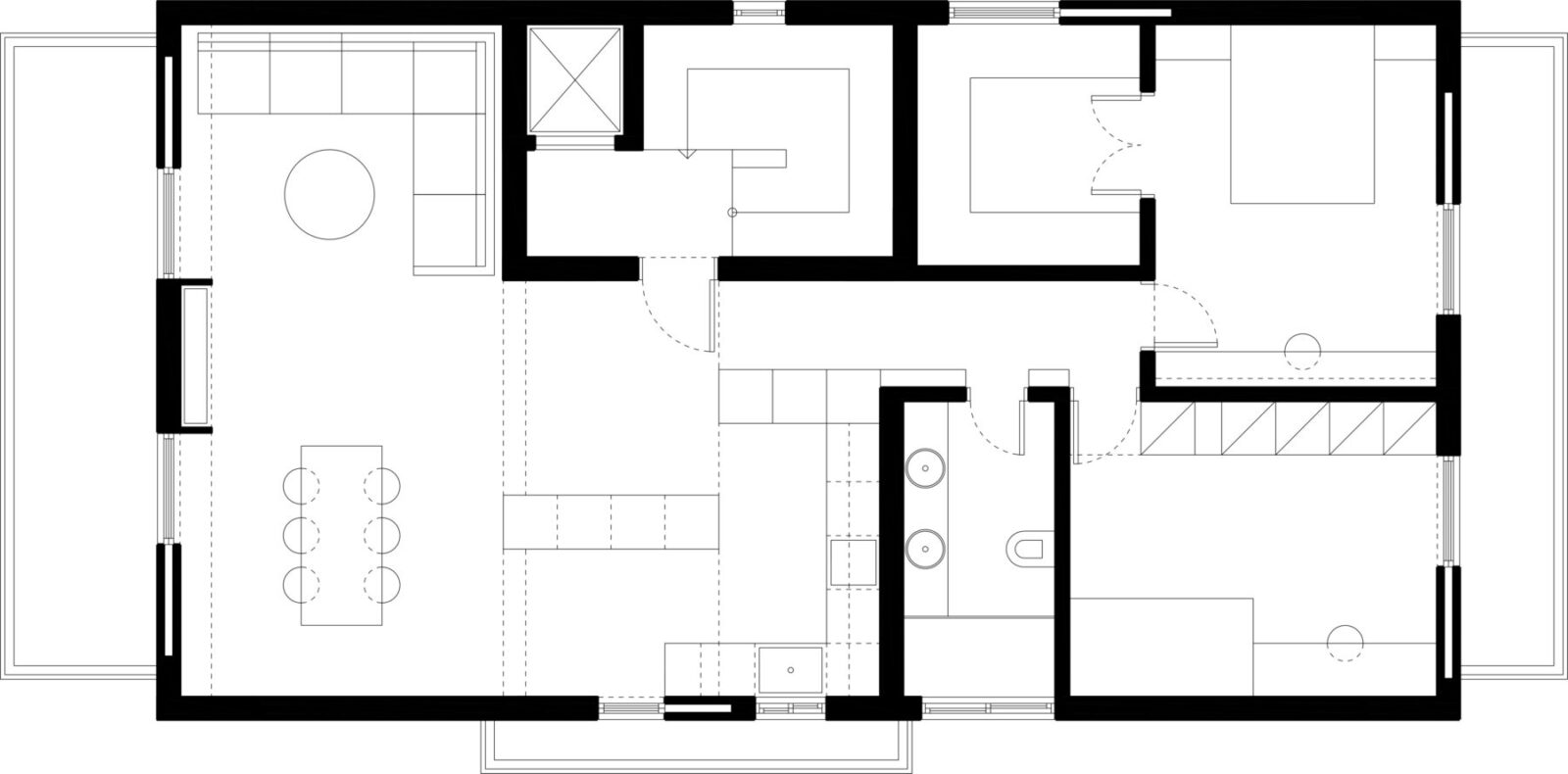 Credits & Details
Τίτλος έργου: Διαμέρισμα στον Άλιμο
Γραφείο: Plaini and Karahalios Architects
Τοποθεσία: Άλιμος, Αθήνα
Χρονιά: 2020
Μέγεθος: 100μ2
Αρχιτέκτονες: Γιάννης Καραχάλιος, Ελισάβετ Πλαΐνη
Κατασκευή: ReaktoR
Φωτογραφίες: Γιάννης Πασχάλης
---
Plaini and Karahalios Architects designed the renovation of an apartment in Alimos, Athens. The apartment is part of a building of the 80s. Its spatial planning remained, but the architects made some signifigant changes. 
The apartment is located in a 1980s building. The layout is preserved almost intact, especially in the living areas. The changes mainly occur in the private areas.
The two smaller bathrooms are united into a bigger one, while the third smaller bedroom is directly connected to the master bedroom and becomes the walking closet.
The kitchen is placed in the heart of the apartment. Its walls are demolished and it is transformed from a closed room into an open plan area.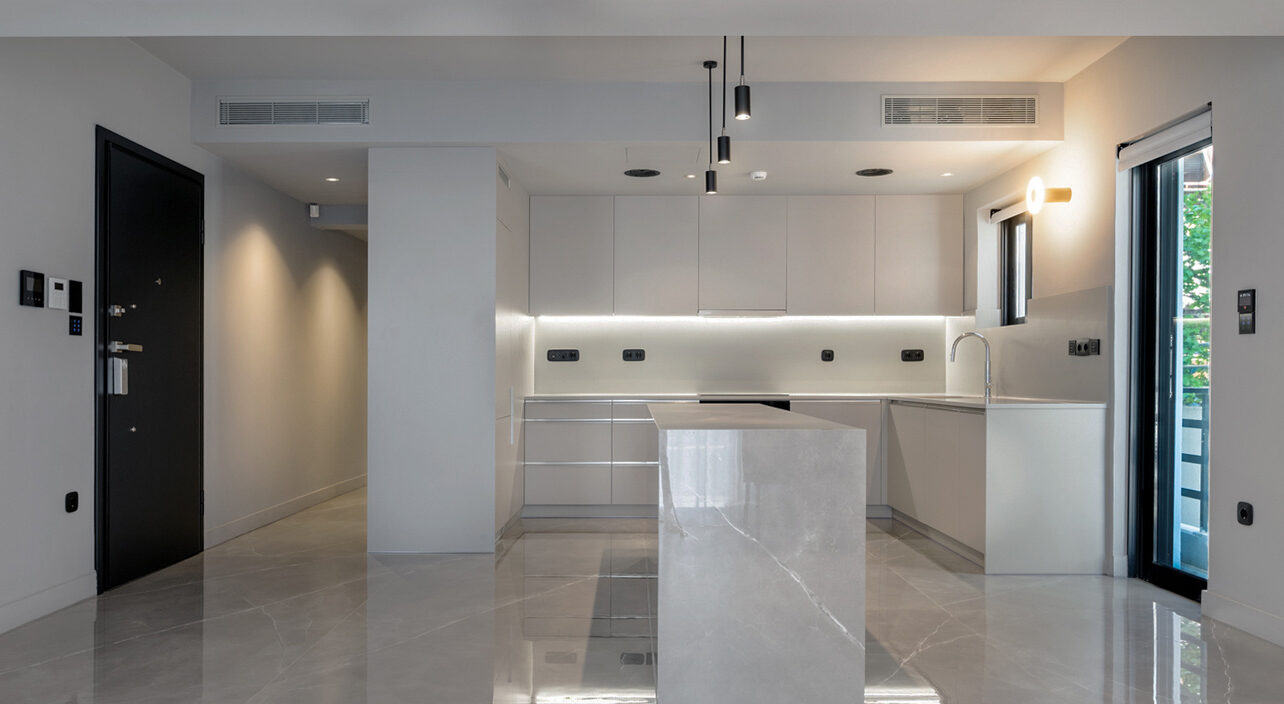 This choice makes the spatial relationship of the entrance with the kitchen more direct. Free standing objects, like a line of tall cabinets or the kitchen island, are placed in the intermediate space to filter and redirect the movements.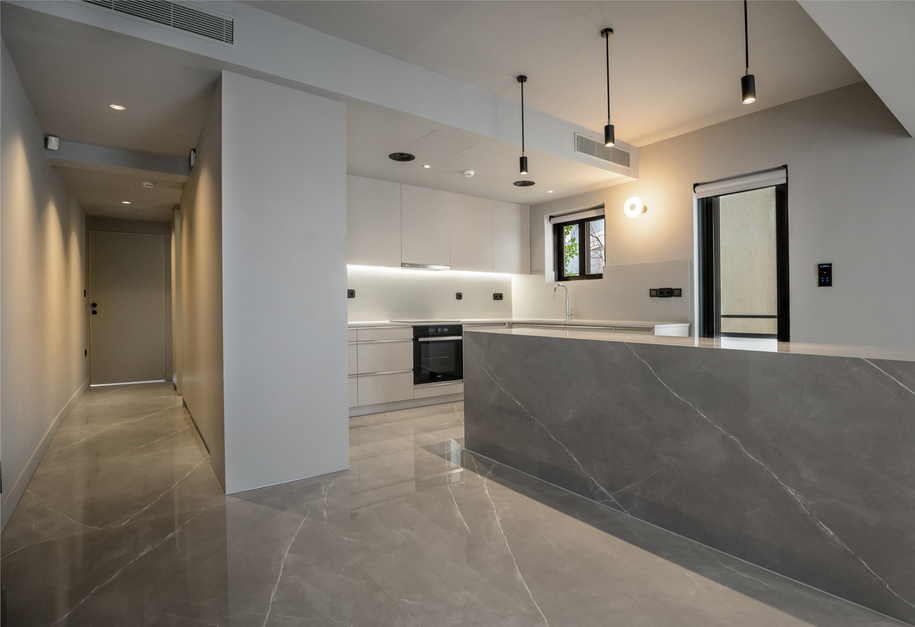 This intermediate space of the entrance, the kitchen and the corridor hosts all the connections and is materialised in a holistic way through the choice of a common color. Gray transcends all surfaces either as paint or as cladding.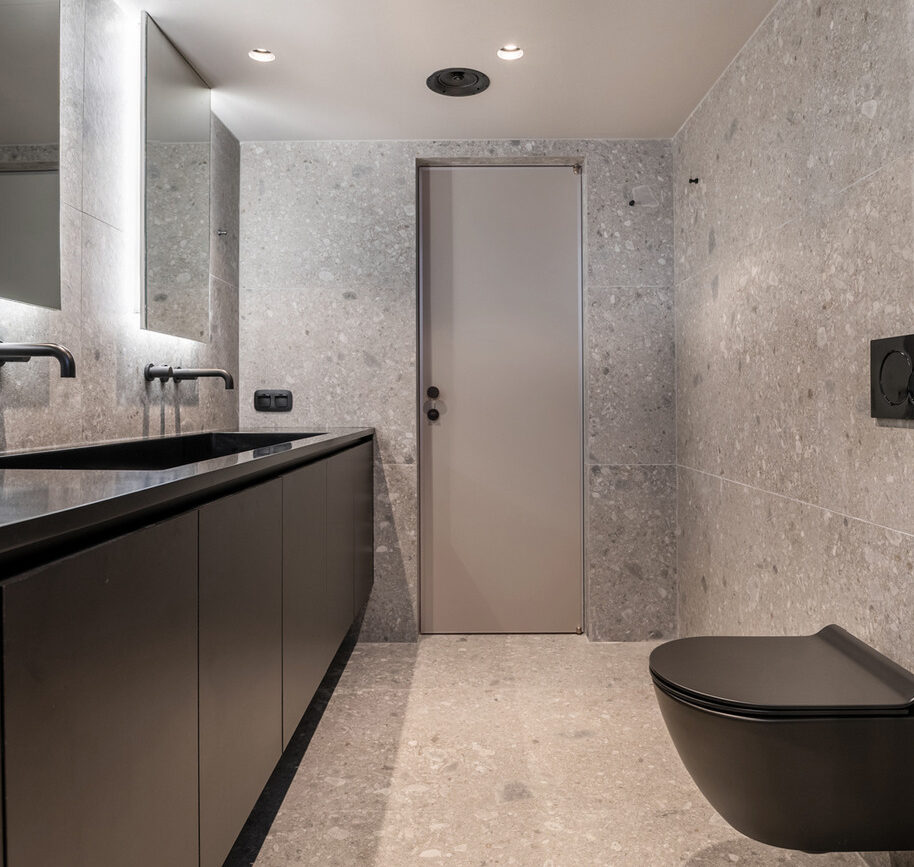 The living area stands as a clearly defined rectangular and is painted white. It forms a direct contrast with the adjacent gray area.
The transition from white to gray is a strict line expressed in all three dimensions.
The bedrooms also follow the white canon but their floors are covered with dark wood. This choice is even more dominant in the walking closet were all surfaces are unified by the material.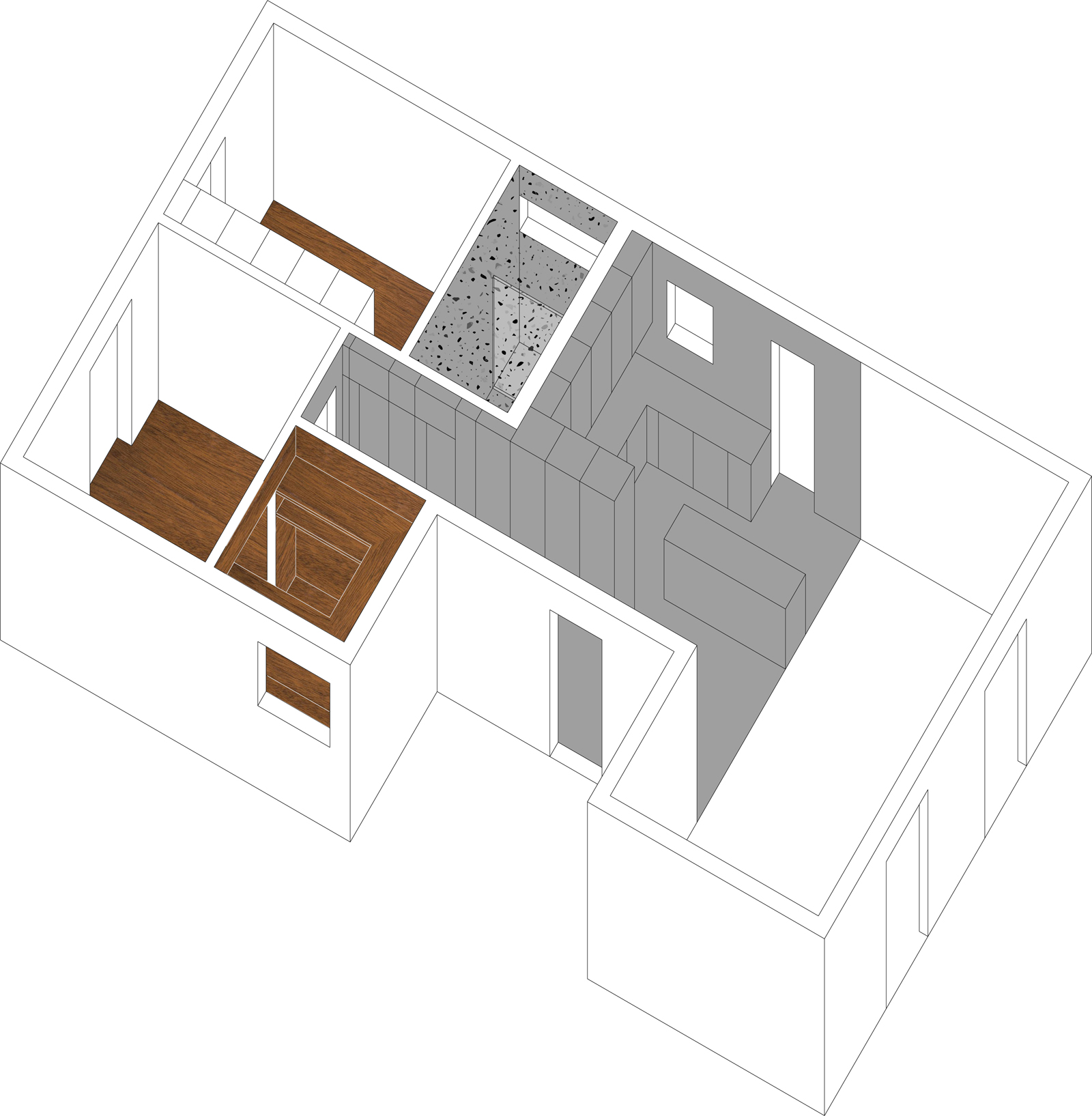 The apartment is divided into zones of functions in a visually apparent way. The simple choice of color and material differantiation underlines the transitions and transforms them into a conscious condition.
Credits & Details
Project Title: Apartment in Alimos
Firm: Plaini and Karahalios Architects
Location: Athens, Greece
Year: 2020
Size: 100m2
Architects: John Karahalios, Elisavet Plaini
Construction: ReaktoR
Photos: Yannis Paschalis
READ ALSO:
Montolivet apartment in Lausanne, Switzerland | Bureau Brisson Architectes