text in

EN, GR
4k architects turned a single space into a workplace and a meeting point for the office of Wiz Creative, located in the area of Kato Petralona.
-text by the authors
Wiz Creative is a graphic design studio located at the neighborhood of Kato Petralona in Athens. The office consists of a 70m2 ground floor and a 40m2 loft and features glass facade, double height entry space and ter­razzo flooring.
The main purpose of the refurbishment was to divide the office to two distinct zones: a common use zone for meetings with clients and a quiet private zone for working.
The basic design challenges were positioning the staircase and relocating an earlier furniture composition, designed and constructed by Constantinos Schinas.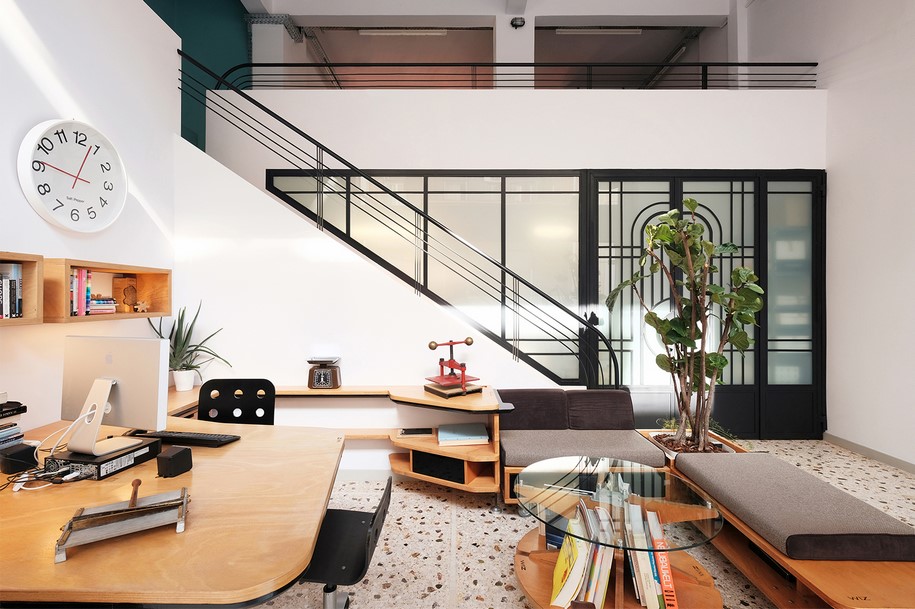 The main concept was designing a space with references to the traditional Athenian courtyard, a space quite common in house-buildings during the beginning of the 20th century.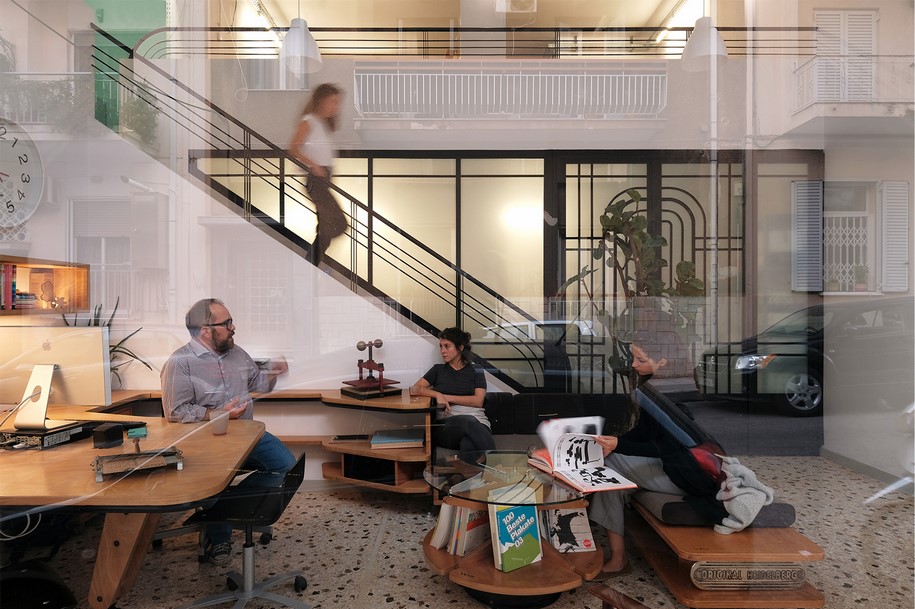 The double-height entry space is the "courtyard"-inspired common use zone, where meetings are intended to take place. This is behind a transpar­ent glass facade to underline the social character of the area. A second facade is designed in the interior, defining the two zones. The new wooden staircase is located along this second facade. Semi-transpar­ent glass panels limit the visibility to the workspace, offering the team privacy.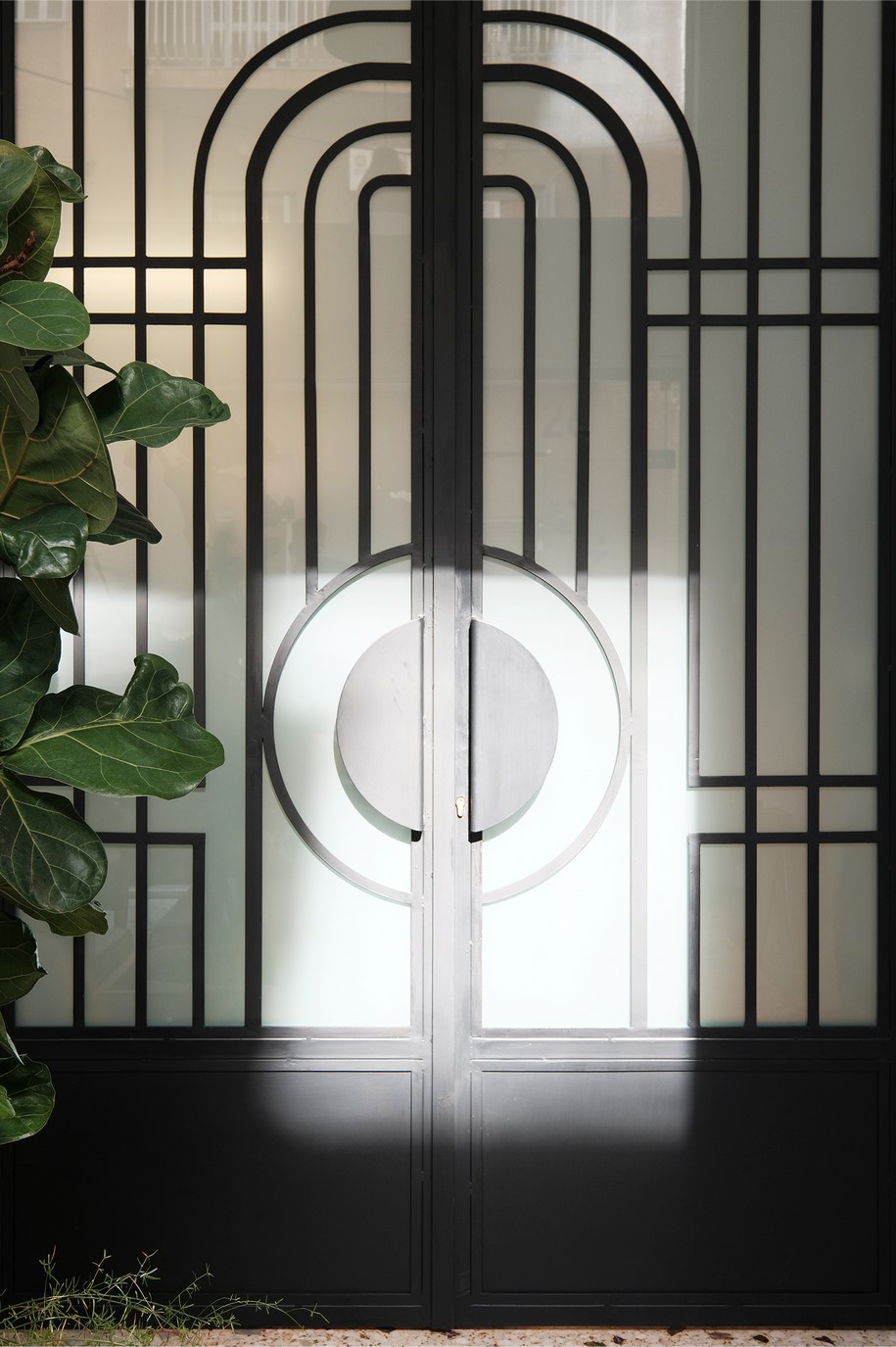 The material pallet consists of iron, glass, terrazzo and plywood. Laser-cut wooden desks and shelves with organic geometrical shapes designed and constructed by Constantinos Schinas are combined with minimal metallic elements. The staircase railing and interior glass facade with the three paneled door are references to mid-century athenian archi­tecture.
The end result is characterized by brightness, contemporary design and historical references that create a balanced contrast and highlight the ar­chitectural qualities of the space.
Facts & Credits
Architecture    4k architects
Year   2017
Location    Kato Petralona, Athens
Area    110sqm
Furniture design and construction  Constantinos Schinas, 2007
Photography  Dimitris Kleanthis
–
Το αρχιτεκτονικό γραφείο 4k αρχιτέκτονες μετέτρεψε έναν ενιαίο χώρο σε χώρο εργασίας και χώρο συναντήσεων για το δημιουργικό γραφείο των Wiz Creative, που βρίσκεται στη γειτονιά των Κάτω Πετραλώνων.
-κείμενο των δημιουργών
Ο χώρος έχει γυάλινη πρόσοψη και είναι 70τμ ισόγειο και 40τμ πατάρι. Ζητούμενο ήταν ο διαχωρισμός του γραφείου σε χώρο για συναντήσεις και παρουσιάσεις και σε χώρο εργασίας στον οποίο θα έχουν πρόσβαση μόνο οι εργαζόμενοι.
Επιπλέον θέματα προς επεξεργασία ήταν ο σχεδιασμός της νέας πρόσβασης στο πατάρι και η ένταξη στα νέα γραφεία της υπάρχουσας σύνθεσης επίπλων σχεδιασμού και κατασκευής του Κωνσταντίνου Σχοινά.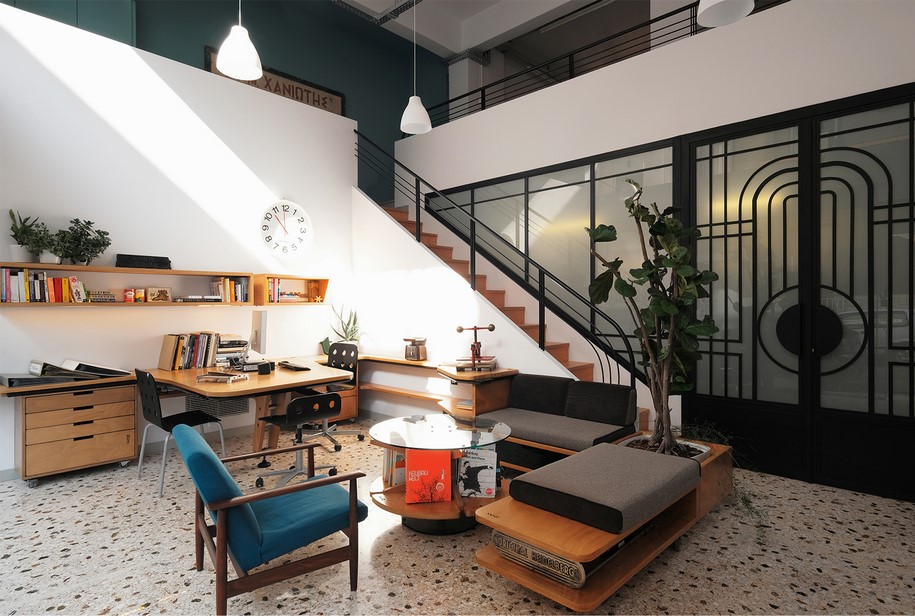 Σημαντικό ρόλο στο σχεδιασμό μας έπαιξε ο συγκερασμός της λειτουργικότητας και της οργάνωσης των χρήσεων με την αγάπη των γραφιστών για την αρχιτεκτονική και το design των μέσων του 20ου αιώνα. Η κεντρική ιδέα είναι η δημιουργία ενός σκηνικού, που παραπέμπει στην παλιά Αθηναϊκή κατοικία με την κοινόχρηστη αυλή.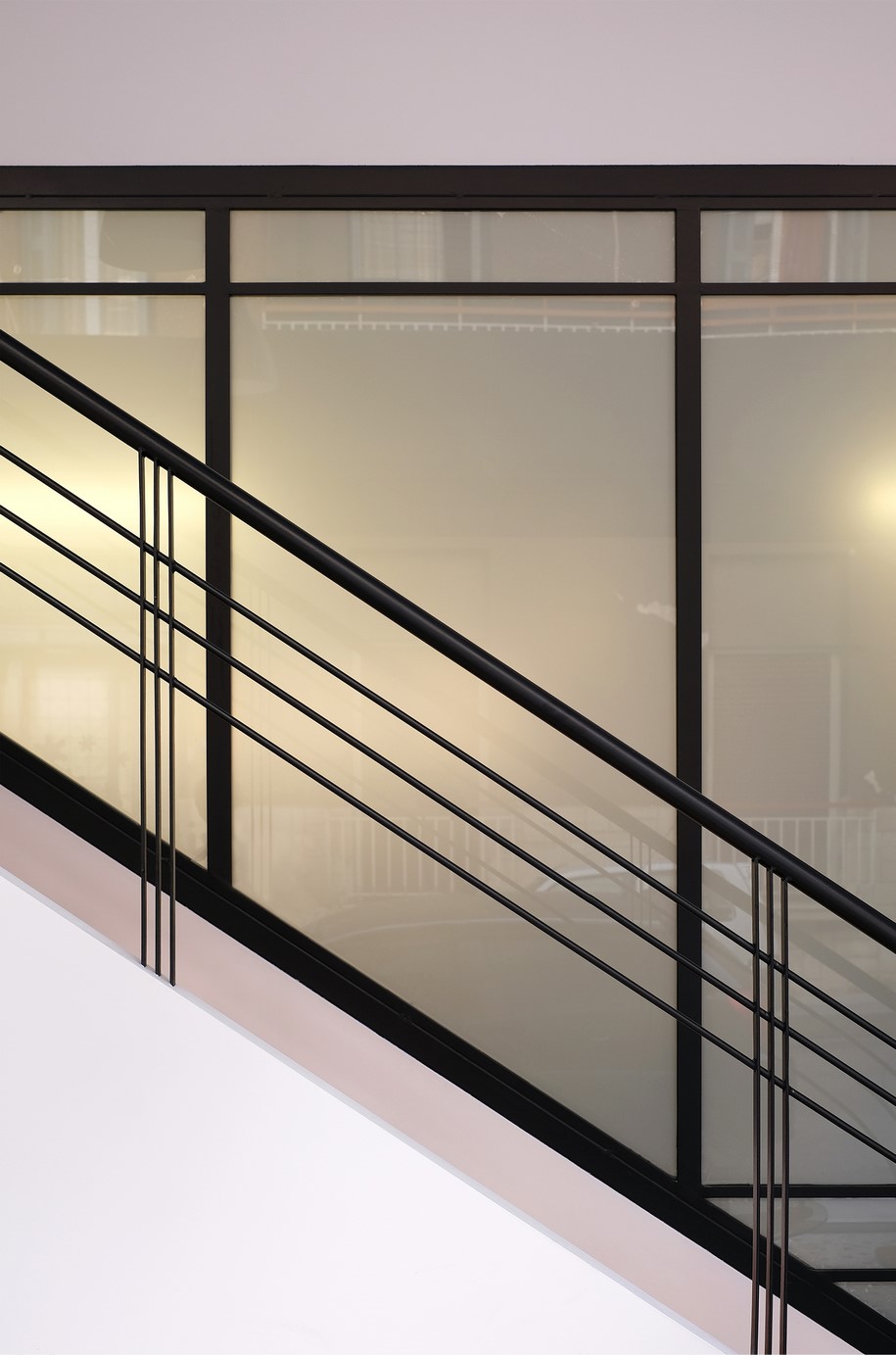 Ο φωτεινός χώρος των επισκέψεων, η "αυλή", είναι ορατός από τον δρόμο και την πρόσοψη του γραφείου, ενώ οι χρήσεις που φιλοξενεί είναι συζητήσεις και συναντήσεις μεταξύ γραφιστών και πελατών. Μία δεύτερη, γυάλινη εσωτερική όψη αποτελεί το όριο μεταξύ της "αυλής" και του "σπιτιού". Τα ημιδιαφανή υαλοπετάσματα εμποδίζουν την ορατότητα στη συνέχεια του χώρου, που λειτουργεί ως χώρος εργασίας και τυπογραφικό εργαστήριο ενώ επιτρέπουν το φυσικό φως να εισέρχεται στο χώρο. Σε αυτό το όριο χωροθετείται και η σκάλα για την πρόσβαση στα γραφεία του παταριού που προορίζονται για πιο ιδιωτική χρήση.
Στην παλέτα των υλικών του χώρου πρωταγωνιστεί το σίδερο και το γυαλί, της εσωτερικής όψης του εργαστηρίου και της χειρολαβής της σκάλας με άμεσες αισθητικές και σχεδιαστικές αναφορές στην Αθηναϊκή αρχιτεκτονική του Μεσοπολέμου.
Στο δάπεδο διατηρείται το υπάρχον μωσαϊκό. Συμπληρωματικό στοιχείο στην ταυτότητα του χώρου έχουν τα vintage αντικείμενα τυπογραφίας από την προσωπική συλλογή των γραφιστών.
Σχέδια / Plans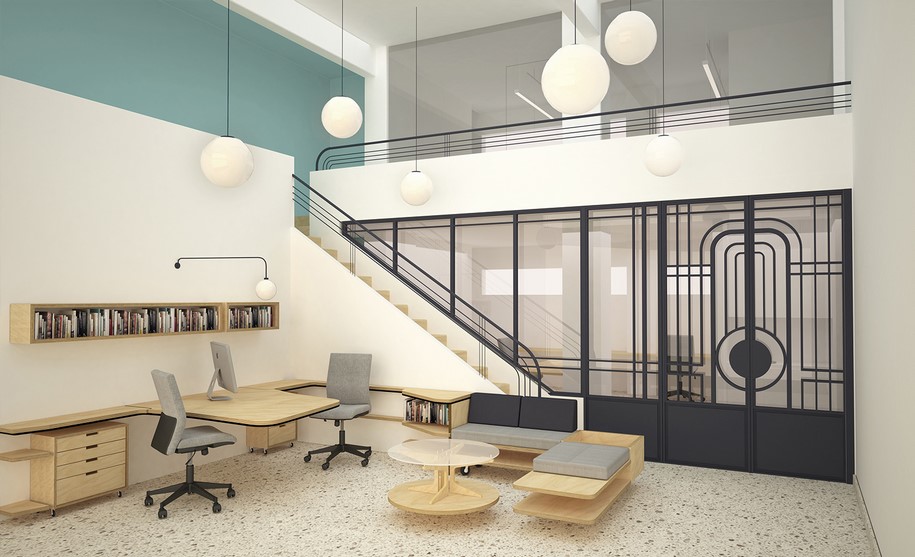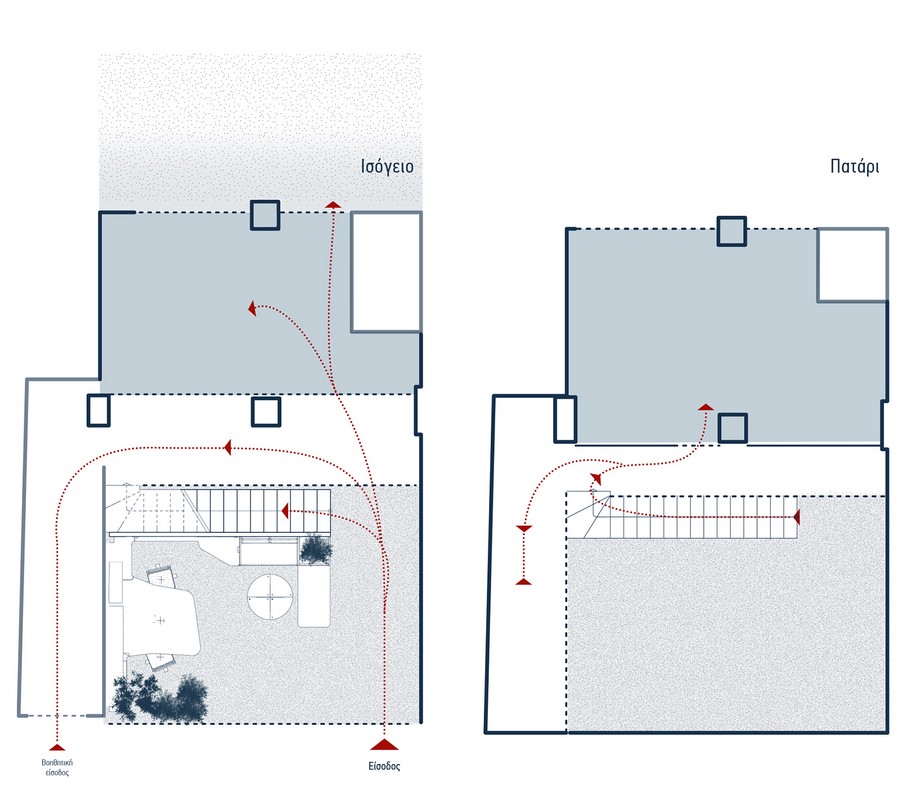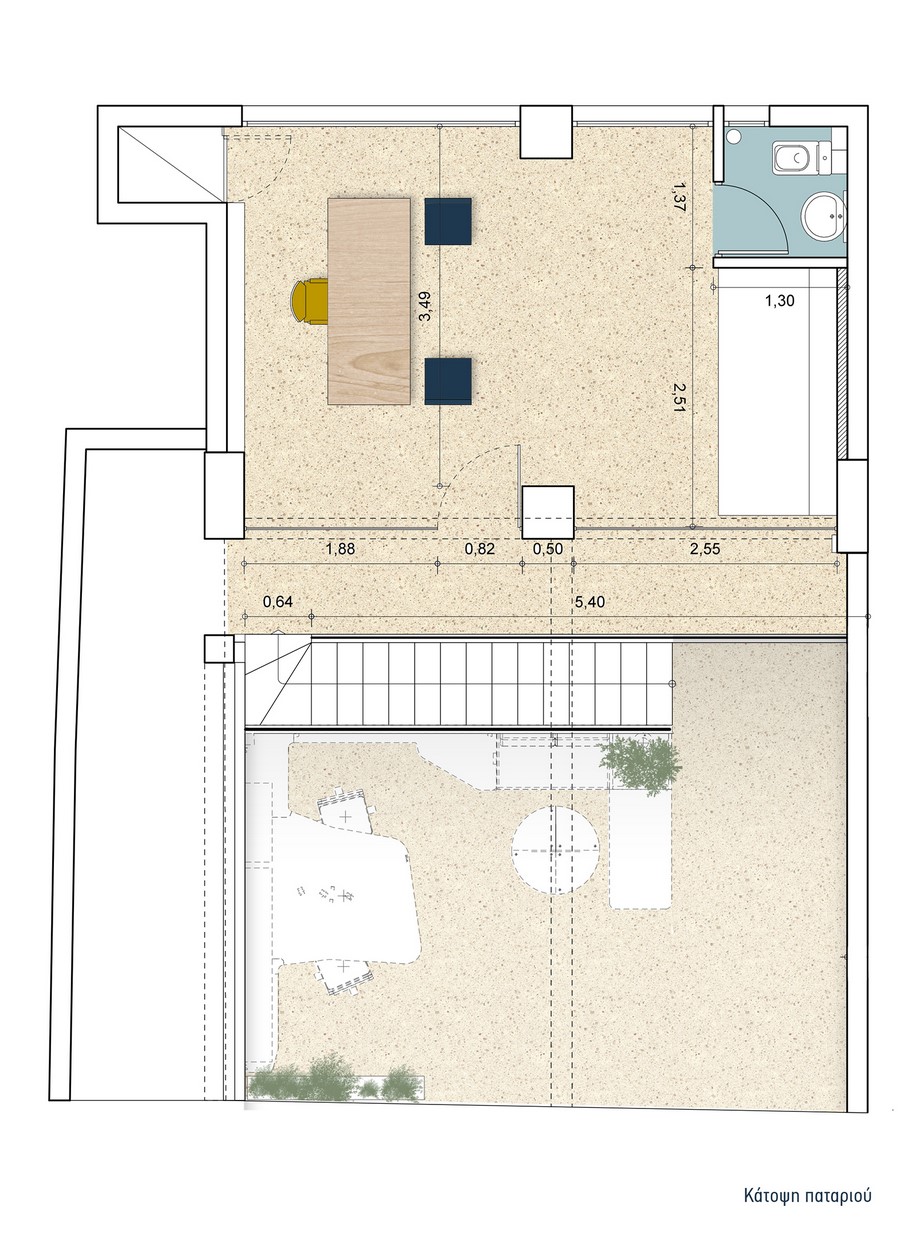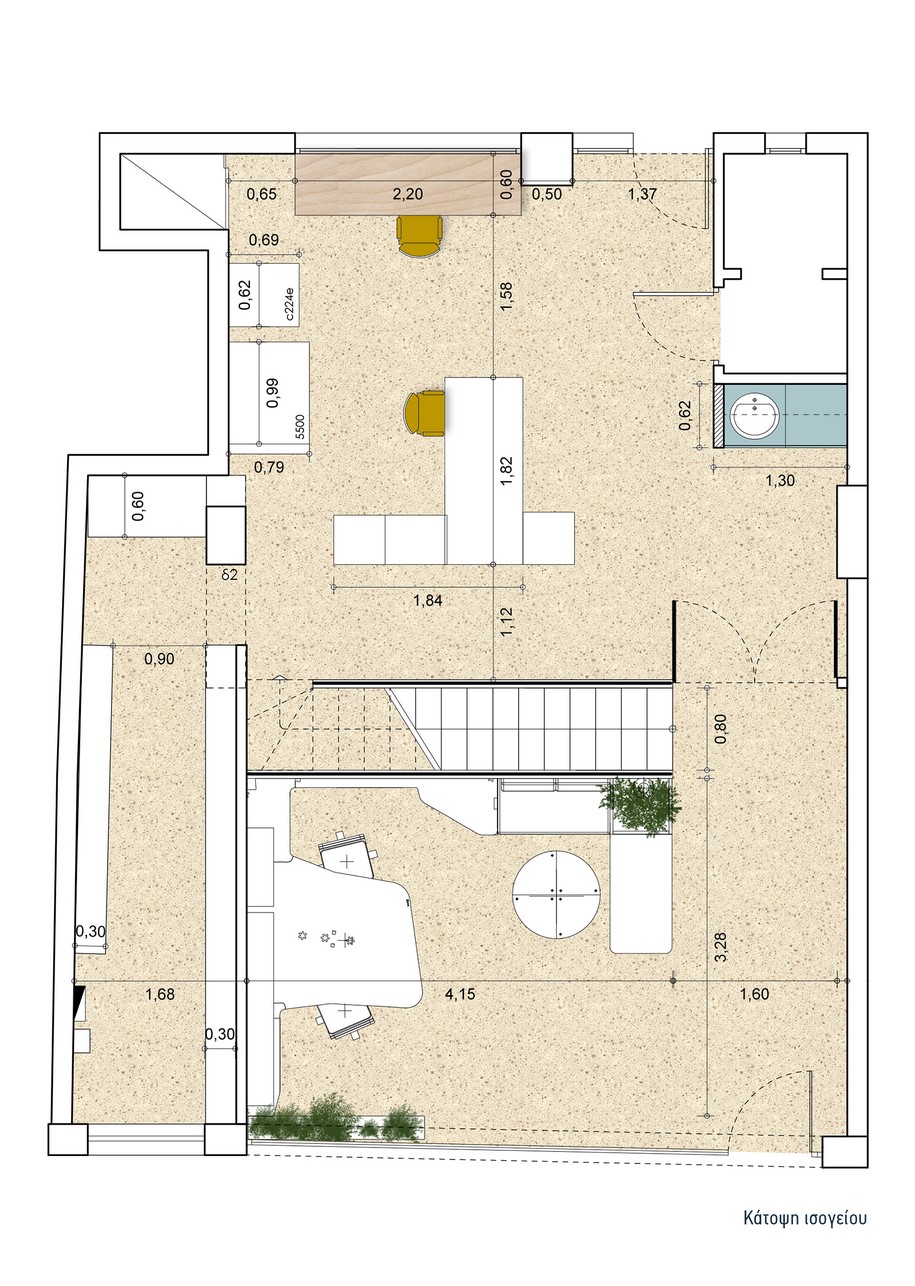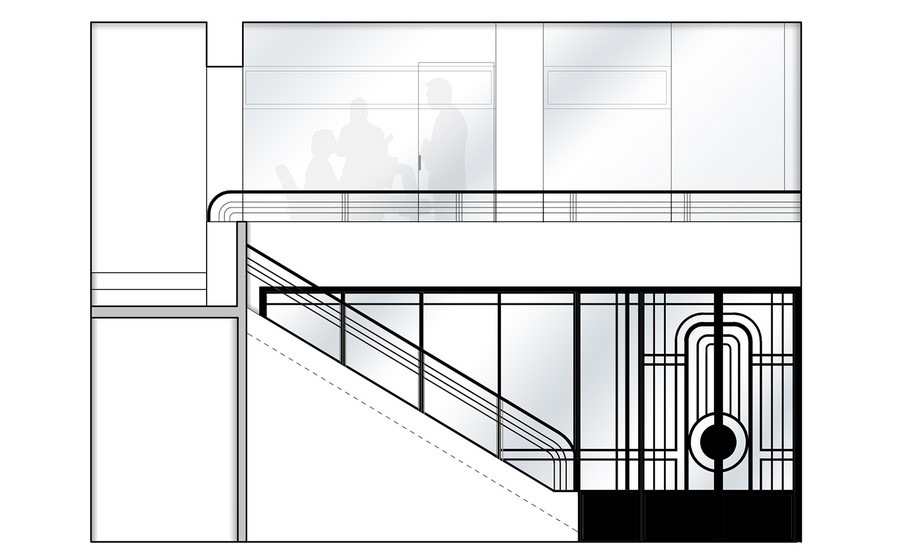 Στοιχεία έργου
Αρχιτεκτονική μελέτη /επίβλεψη  4Κ αρχιτέκτονες
Έτος  2017
Τοποθεσία   Κάτω Πετράλωνα, Αθήνα
Έκταση    110τμ
Σχεδιασμός και κατασκευή επίπλων  Κωνσταντίνος Σχοινάς, 2007
Φωτογραφία  Δημήτρης Κλεάνθης
READ ALSO:
Angelo Bucci - SPBR architects ON HOUSES | themata