It all begins with a canvas. Then comes color.
An explosion of shades and hues. Color is the message.
Silk is the medium. Art becomes fashion.
And fashion is embraced by art.


Bridging abstract color with silk 
The Art & Fashion Project connects the aesthetics and uniqueness of contemporary  art with the elegance of silk. The idea was born out of the artwork itself. The vidid colors and their combinations,  the image that creates euphoria and sentiments of joy. That's how the search began.
And the pieces of the puzzle came together with a silk-processing artisan in Soufli,  who preserves the tradition of the past and uses the latest digital printing technology requirements.
Being surrounded by her mother's colors all her life, Christina Poutetsi attempts to combine the uniqueness of artwork with the aesthetics of everyday life and fashion. From the start, the Project was defined by the aim to be based and implemented in Greece, thus enhancing and supporting both contemporary art and artistry.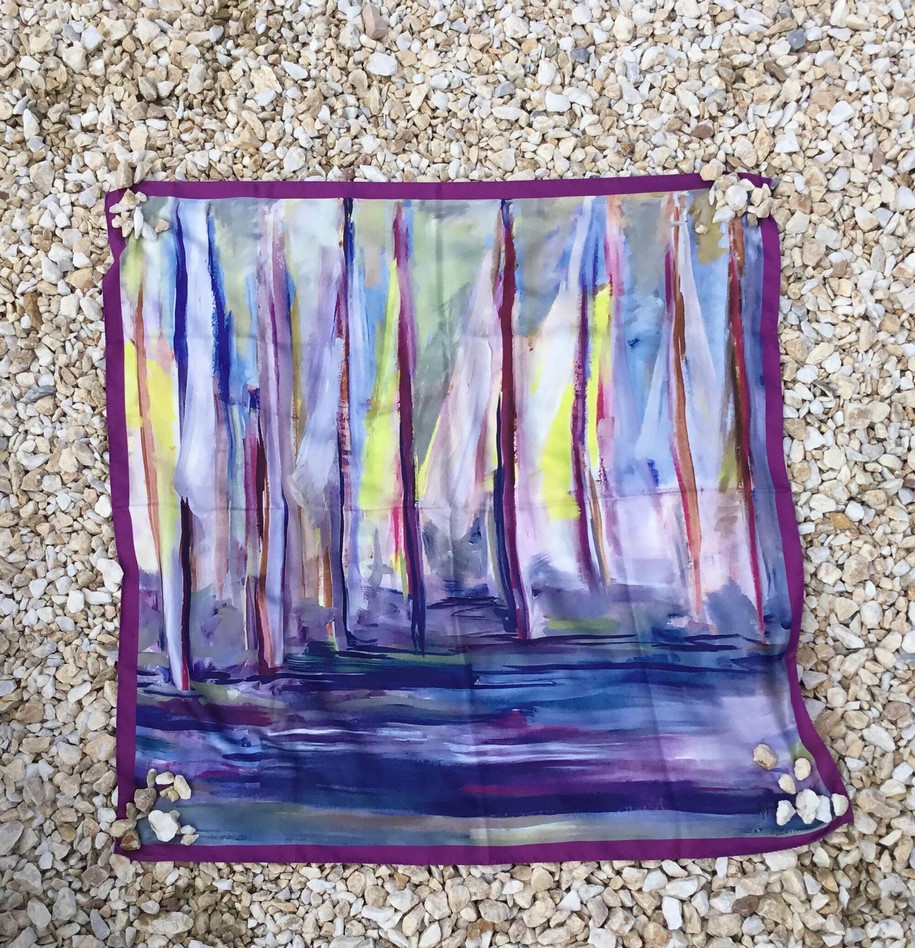 The Project's first silk collection features five abstract designs, named by the dominant color: Orange abstract, Red abstract, Purple abstract, Grey abstract, Sky blue abstract. They are in a square dimension of 90 x 90 cm.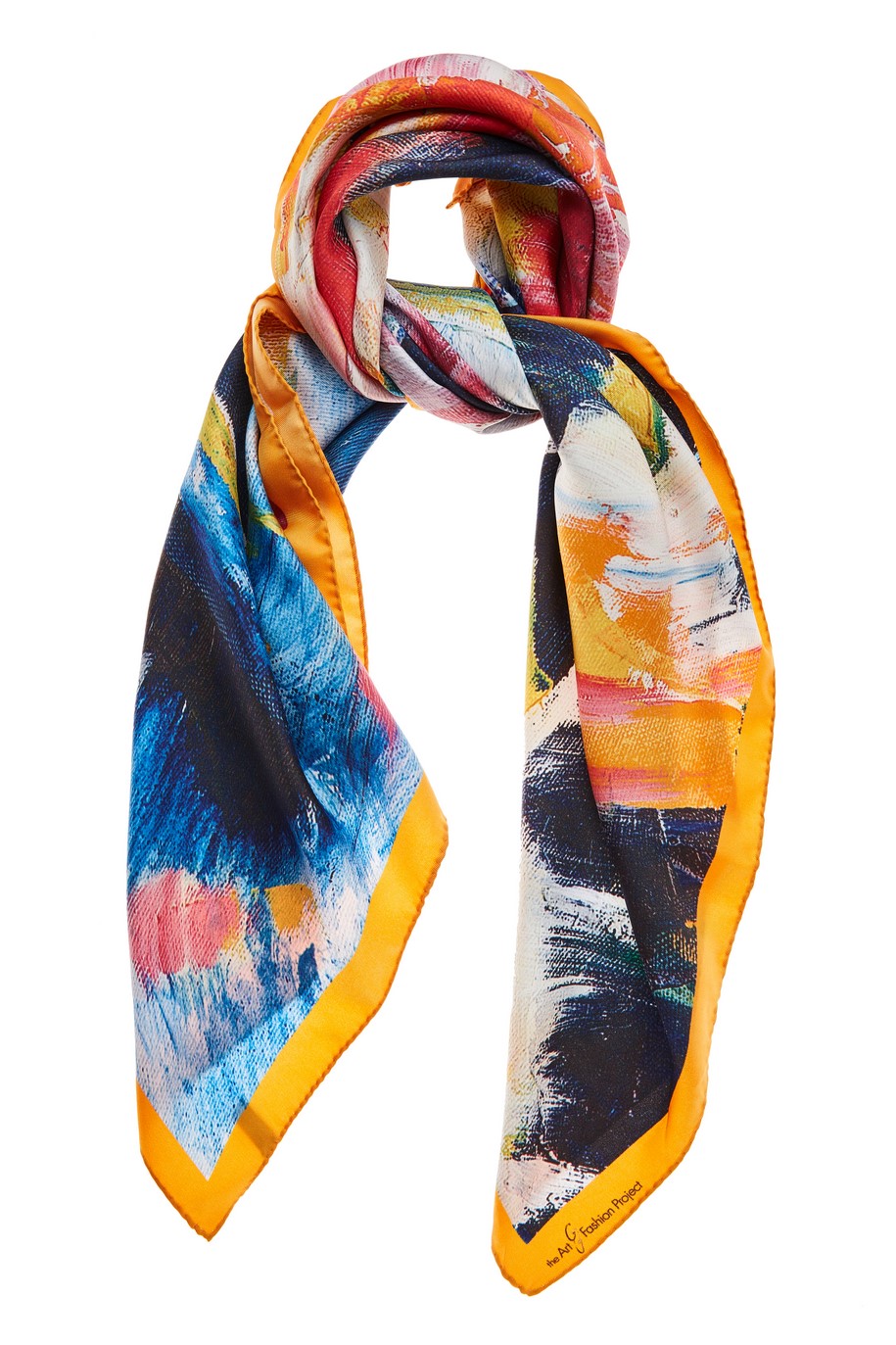 All of the designs are featuring parts or whole artwork created by Ekaterini Athanassiadou – Poutetsi, an abstract expressionist artist based in Greece, focusing on color and its intense correlations.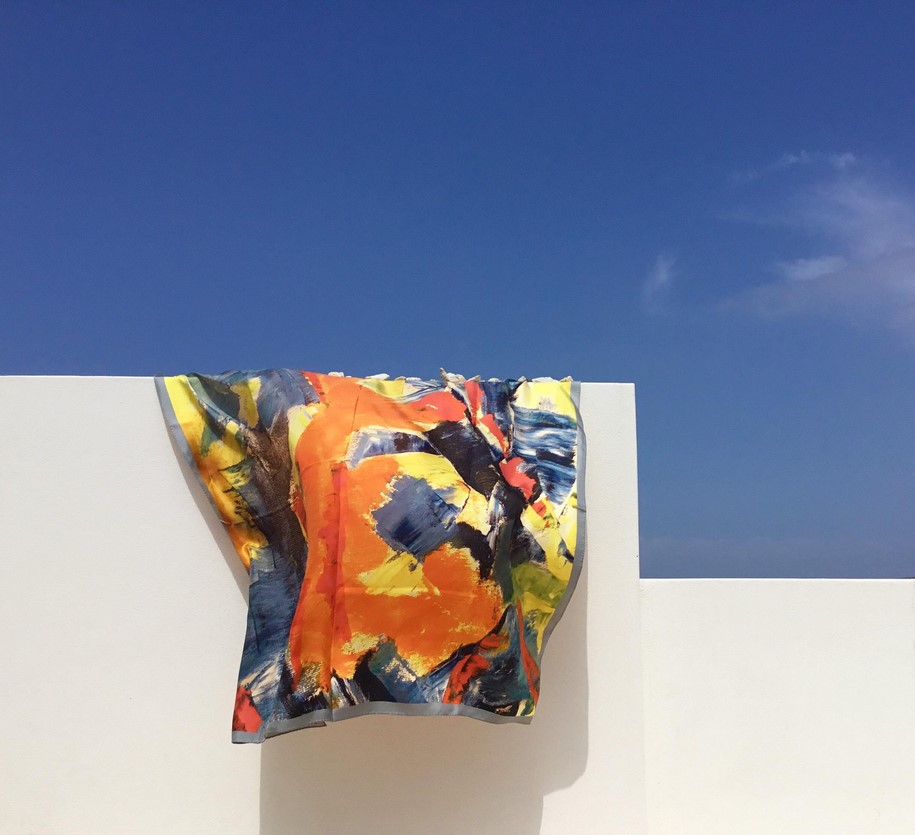 The works of art are oil drawings on canvas. The scarves are digitally printed on 100% pure Twill silk with a hand – rolled seam finish.
They are made in Soufli (Greece), a province renowned for its exceptionalquality traditional silk and handicrafts.
The Art & Fashion Project scarves are available in selected points of sale in Athens and Mykonos.

About Ekaterini Athanassiadou – Poutetsi
Devotee of abstract expressionism, in which she has been distinguished as an aquarelle artist, Ekaterini Athanassiadou – Poutetsi is also characterized by her dedication to vivid colors, creating a color explosion in her paintings.

A graduate of the School of Fine Arts in 1972, her teachers were Nikos Nikolaou and George Mavroidis in painting and Thalia Voila and John Kolefas in mosaic.She has participated in many group exhibitions and has had numerous solo exhibitions, always giving intense stigma of a personal search.
__________________________________________
Όλα ξεκινούν από τον καμβά. Στη συνέχεια έρχεται το χρώμα.
Μια έκρηξη χρωμάτων και συνδυασμών. Το χρώμα είναι το μήνυμα.
Το μετάξι είναι το μέσο. Η τέχνη γίνεται μόδα.
Και η μόδα αγκαλιάζεται από την τέχνη.                         
Γεφυρώνοντας το χρώμα με το μετάξι
Η ιδέα για το The Art & Fashion Project ξεπήδησε μέσα από τα ίδια τα έργα. Τα ζωντανά χρώματα, το τολμηρό «πάντρεμά» τους, δημιουργούν θετικά συναισθήματα. Χαρά.
Έτσι ξεκίνησε η αναζήτηση. Και το παζλ «κούμπωσε» με μια βιοτεχνία μεταξιού στο Σουφλί, η οποία διατηρεί την παράδοση συμβαδίζοντας παράλληλα με τις απαιτήσεις της τεχνολογίας για την ψηφιακή εκτύπωση των χρωμάτων.
Στόχος εξαρχής ήταν το εγχείρημα να βασιστεί και να υλοποιηθεί στην Ελλάδα, αναδεικνύοντας και στηρίζοντας τόσο τη σύγχρονη τέχνη στη χώρα, όσο και την ελληνική χειροτεχνία.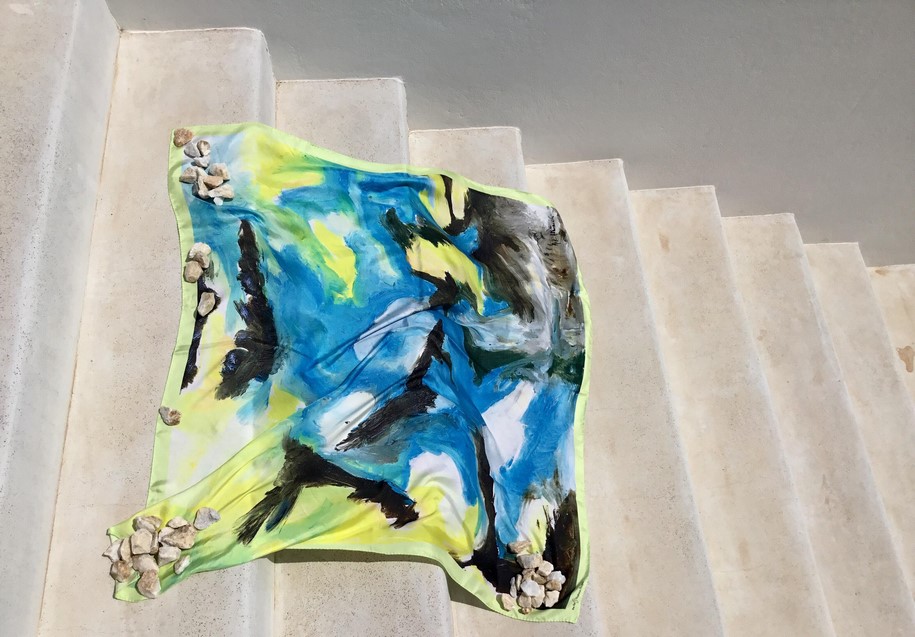 Πέντε αφηρημένα έργα αποτελούν την πρώτη σειρά μεταξωτών φουλαριών.
Τα φουλάρια, από 100% μετάξι Twill και χειροποίητο τελείωμα, είναι τετράγωνα, σε διαστάσεις 90 x 90 εκατοστά.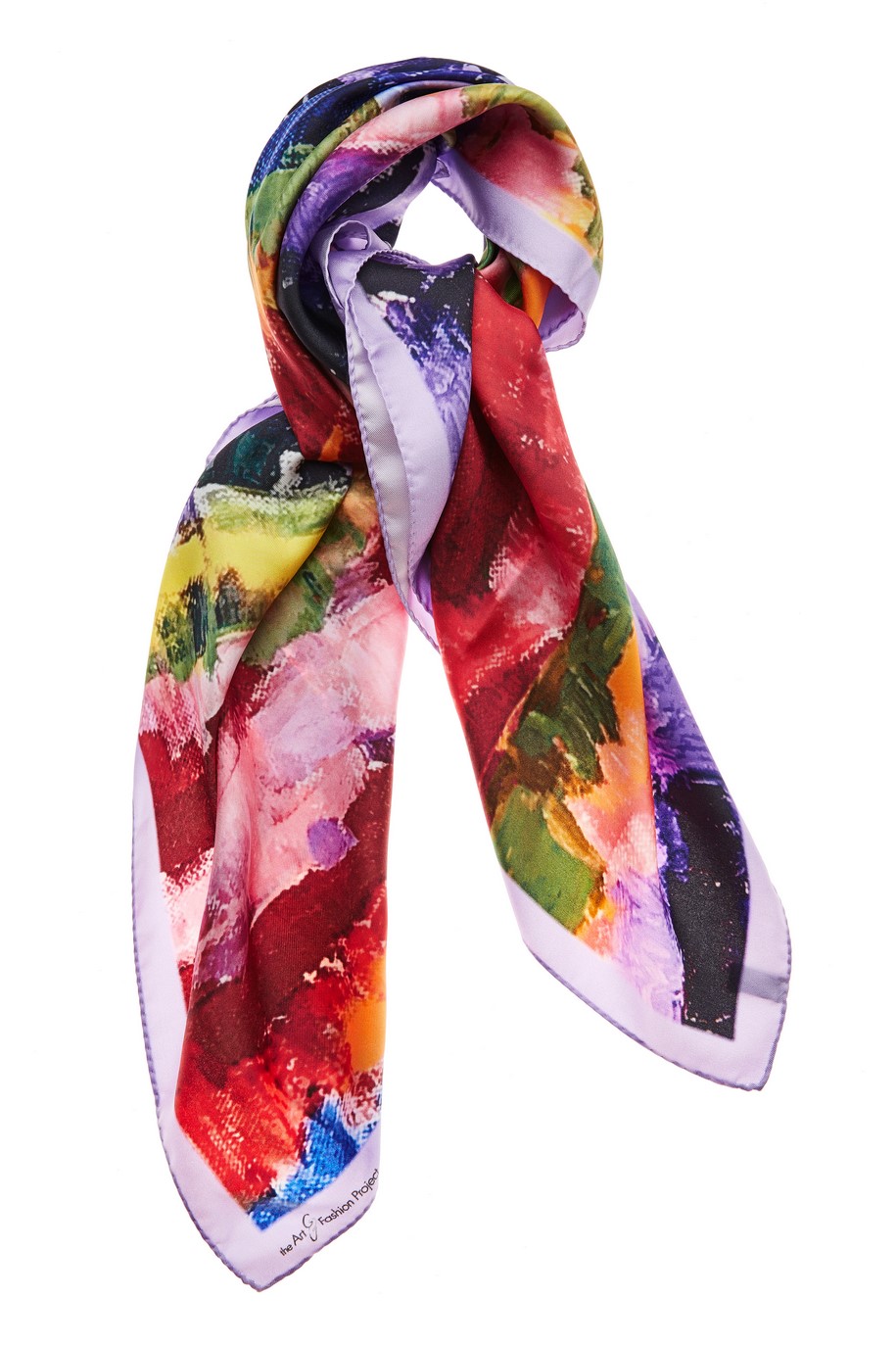 Τα σχέδια απεικονίζουν εικαστικά έργα της αφηρημένης εξπρεσιονίστριας ζωγράφου Αικατερίνης Αθανασιάδου-Πουτέτση, η οποία εστιάζει στο χρώμα και στους έντονους συνδυασμούς του.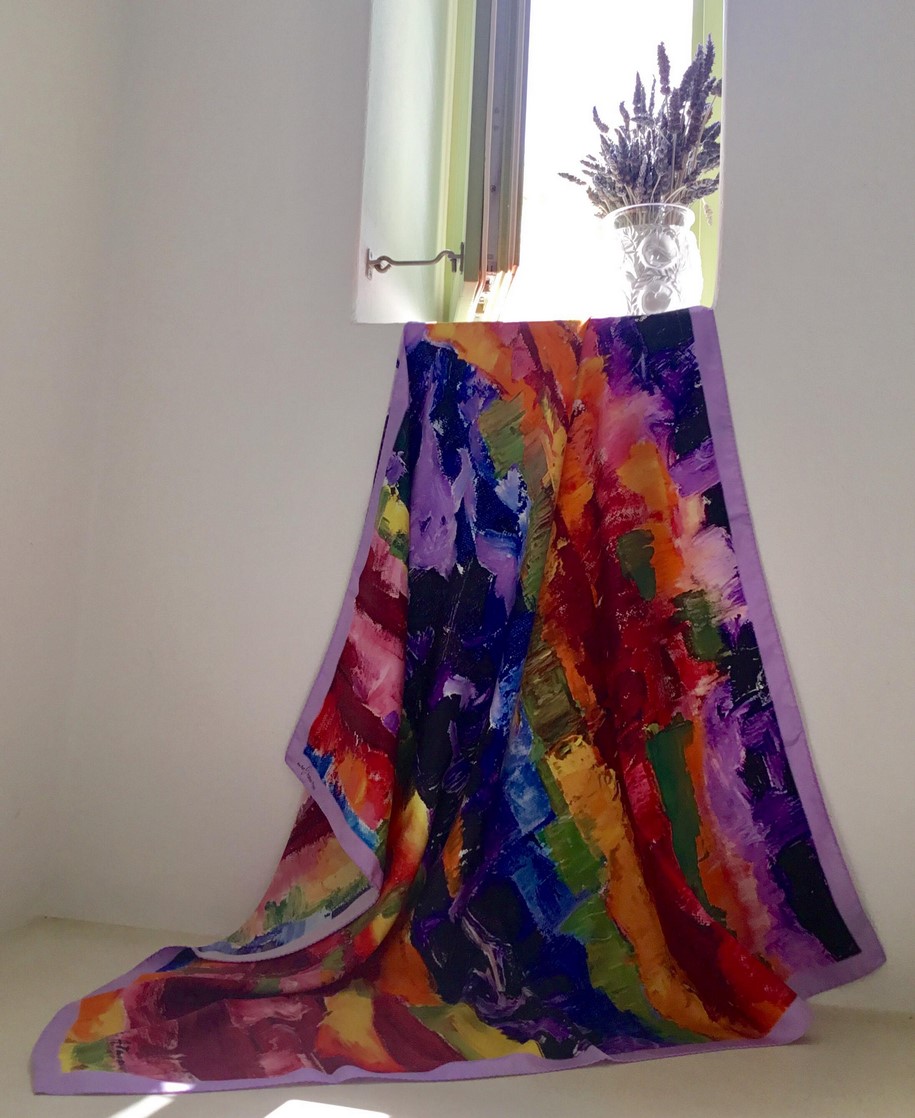 Τα έργα είναι λάδι σε καμβά. Όλα τα φουλάρια έχουν τυπωθεί ψηφιακά σε 100% μετάξι Twill, με το τελείωμά τους ραμμένο στο χέρι. Δημιουργήθηκαν στο Σουφλί, μια περιοχή της Ελλάδας γνωστή για τα εξαιρετικής ποιότητας μεταξωτά της και τη χειροτεχνία.
Τα φουλάρια διατίθενται σε επιλεγμένα σημεία πώλησης στην Αθήνα και στη Μύκονο: στα I-D Concept Stores στην Αθήνα, στο Golden Hall και στο online shop τους, στο shop του Μουσείου Μπενάκη στην οδό Κριεζώτου, στο ξενοδοχείο Belverdere στη Μύκονο και στο The Greek Designers Store στο αεροδρόμιο "Ελευθέριος Βενιζέλος". 
Λίγα λόγια για τη ζωγράφο Αικατερίνη Αθανασιάδου – Πουτέτση
Θιασώτης του αφηρημένου εξπρεσιονισμού, που έχει διακριθεί και ως εξαιρετική ακουαρελίστρια, η Αικατερίνη Αθανασιάδου-Πουτέτση χαρακτηρίζεται επίσης για την αφοσίωσή της στα έντονα χρώματα, δημιουργώντας μια χρωματική έκρηξη στους, άλλοτε μικρών και άλλοτε μεγάλων διαστάσεων, πίνακές της.
Απόφοιτη της Σχολής Καλών Τεχνών το 1972, με δασκάλους τον Νίκο Νικολάου και τον Γιώργο Μαυροΐδη στη ζωγραφική και τη Θάλεια Βοΐλα και τον Γιάννη Κολέφα στο ψηφιδωτό, έχει συμμετάσχει σε πολλές ομαδικές και έχει πραγματοποιήσει πολλές ατομικές εκθέσεις, δίνοντας πάντα έντονα το στίγμα μιας προσωπικής αναζήτησης.
READ ALSO:
Steelcase SILQ™ Chair Wins Red Dot Award | EKA Hellas